This Dairy-Free Creamy Mushroom and Crab Bisque with Tahini packs way more flavor than the old classic, with added protein and mood-boosting vitamins.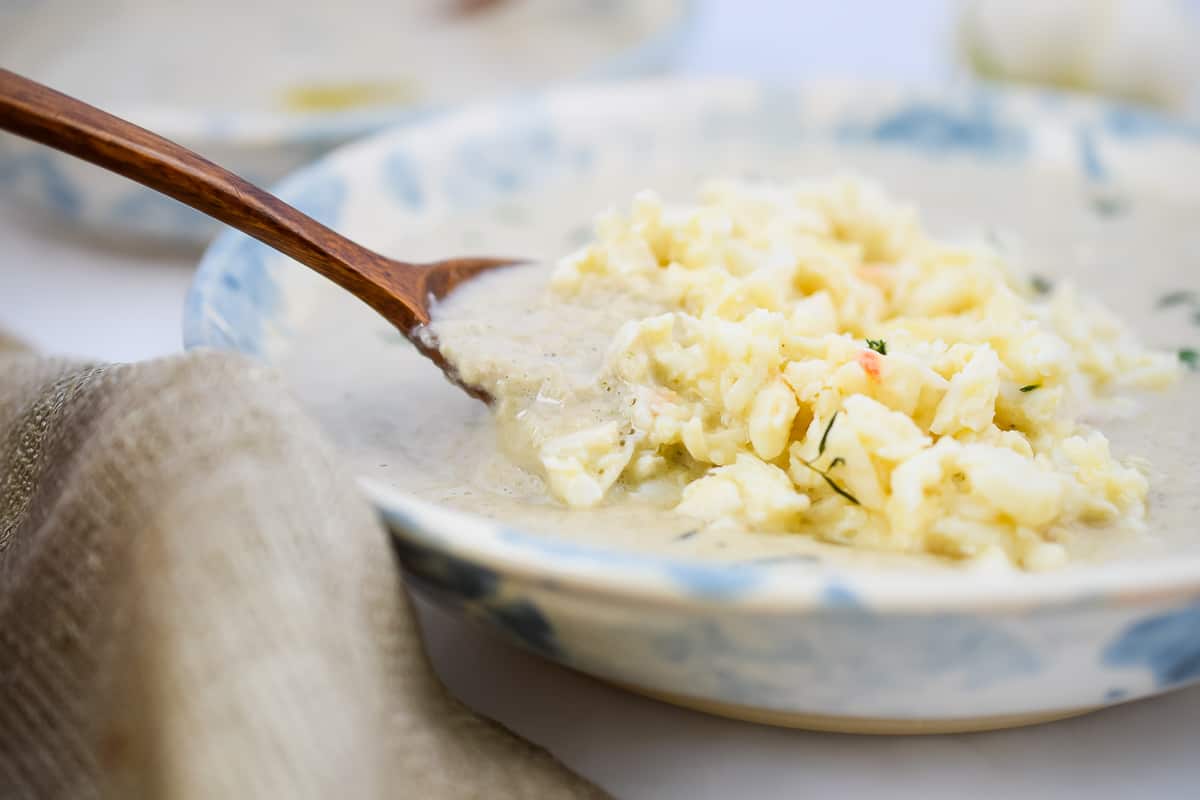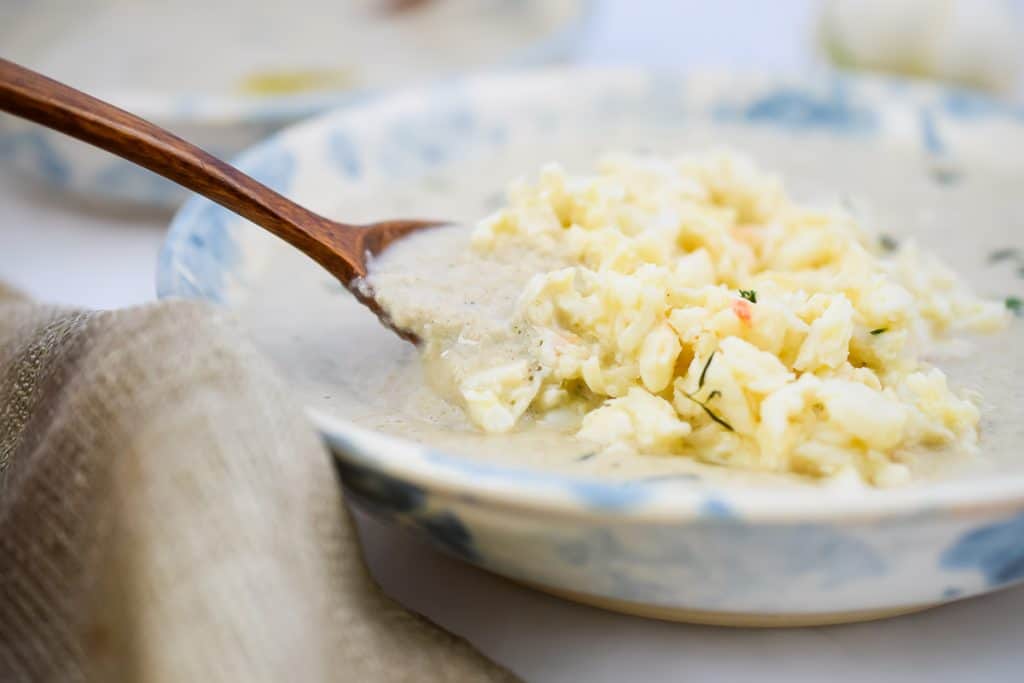 Table of Contents
This cream of mushroom soup is on another level
Not only is this mushroom and crab bisque a one pot meal full of creamy, garlicky, lemon tahini goodness, seasoned with nutmeg, salt, and thyme, but it's also really dang good for you.
This Whole30 soup recipe starts with antioxidant-rich mushrooms for a natural immune boost. Mushrooms are also great because they contain spermidine, a compound that enhances autophagy.
Tahini is blended into the soup towards the end — tahini is a seed paste made from ground sesame seeds. This middle eastern staple is rich and delicious, and a great source of essential fatty acids and fiber, plus magnesium, phosphorus, potassium, iron and calcium! The phosphorus and antioxidants in tahini can help lower inflammation and blood pressure.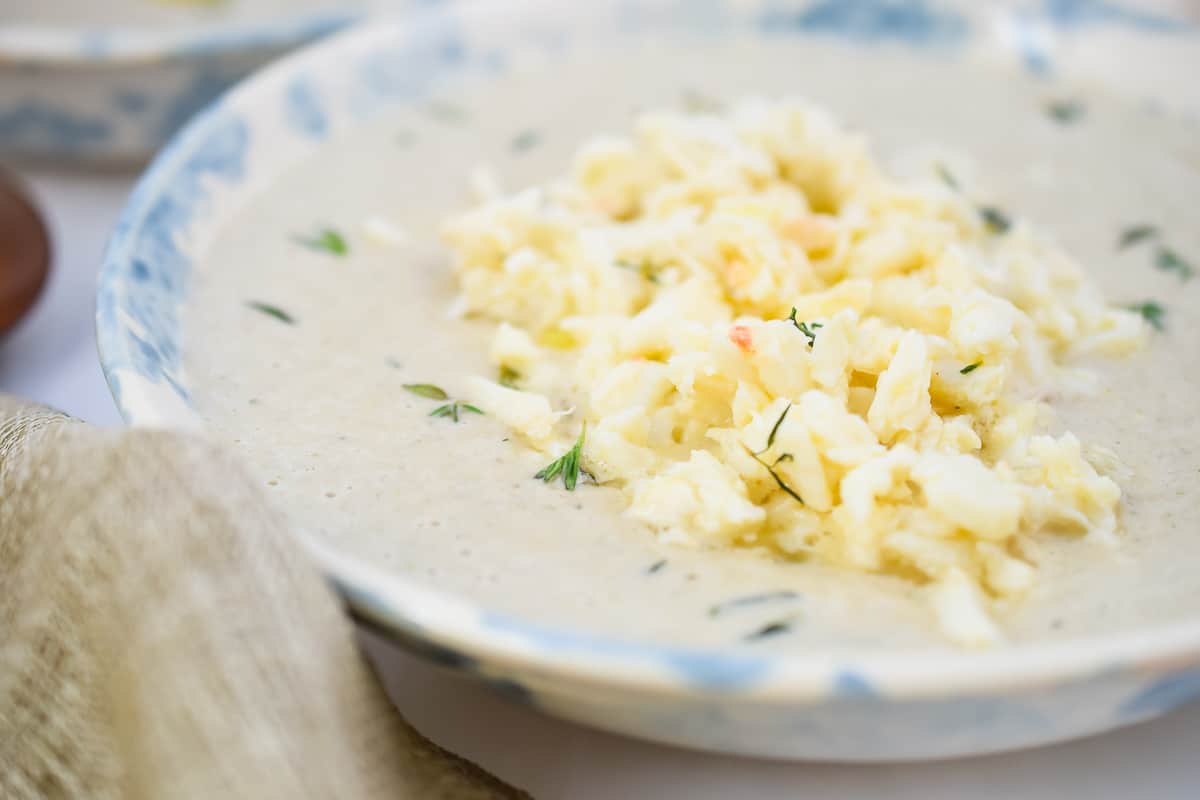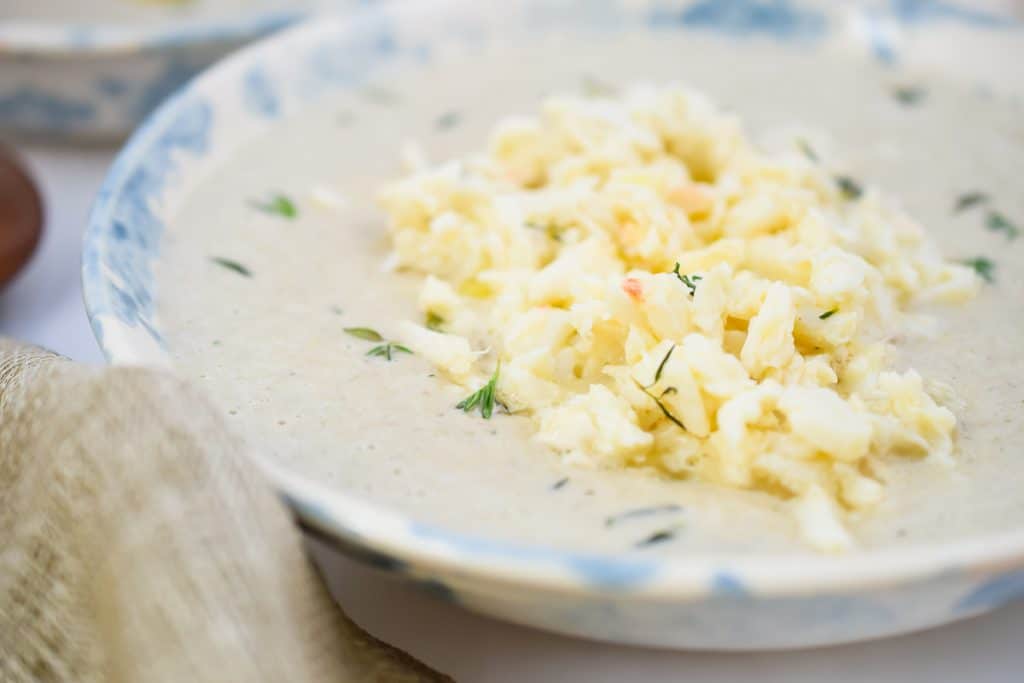 More benefits of this Dairy Free Creamy Mushroom and Crab Bisque with Tahini:
Each serving of soup has 1931IU of vitamin D, 124mg of calcium, 258mg of phosphorus, 937mg of potassium, and it's a decent source of B2, folate, vitamin A and copper! The base of this keto soup recipe is gut healing bone broth for an extra immune boost.
This 30 minute soup recipe contains a lot of nutrients that help to keep your mood and energy stable, which is super important during the winter months.
Other ways to boost your immune system this flu season:
While I definitely prefer getting my nutrients in via real food, if you live somewhere with a harsh winter, it can be beneficial to fortify your diet a bit.
I keep the following supplements in my seasonal mood first aid kit and take as needed:
Another great way to boost your immune system? Protein. Protein is essential for repairing body tissue and recovery, which leads us to my next point …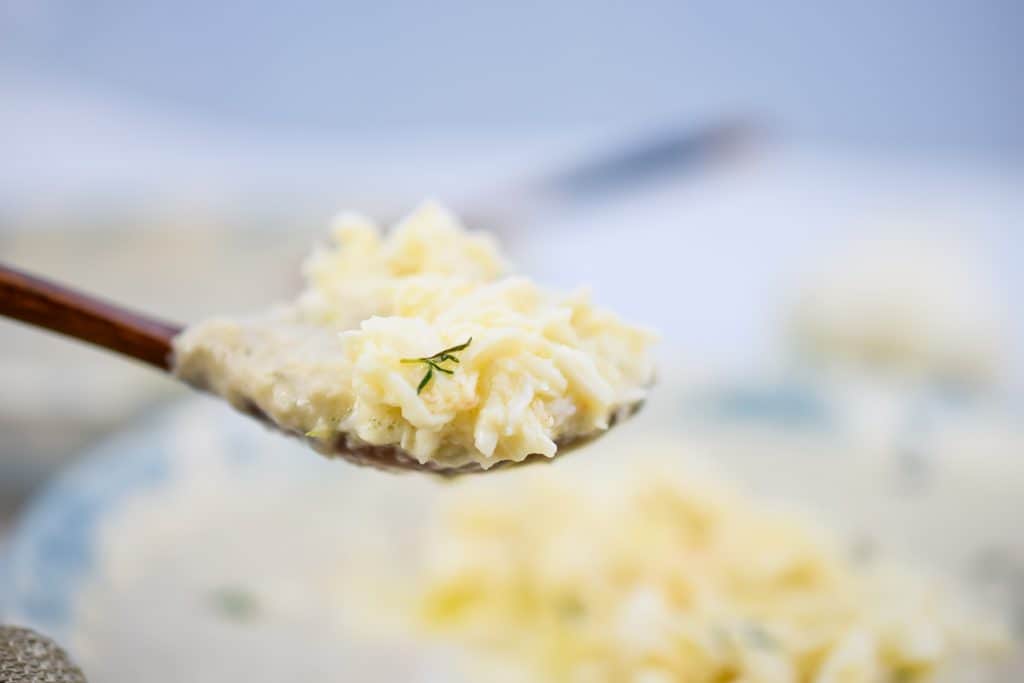 Is crab keto? Real crab is!
Crab is pure protein; a quarter cup of jumbo lump crab meat has 0g carbs, 0g fat, and 11g of protein, with only 45 calories. If you're looking for an easy way to boost your protein intake, crab is a great option.
Plus, like all other seafood, crab is loaded with omega-3 fatty acids and sodium, which is essential for electrolyte balance on a low carb diet.
Not a fan of crab? Omit it. This recipe is still bomb on its own.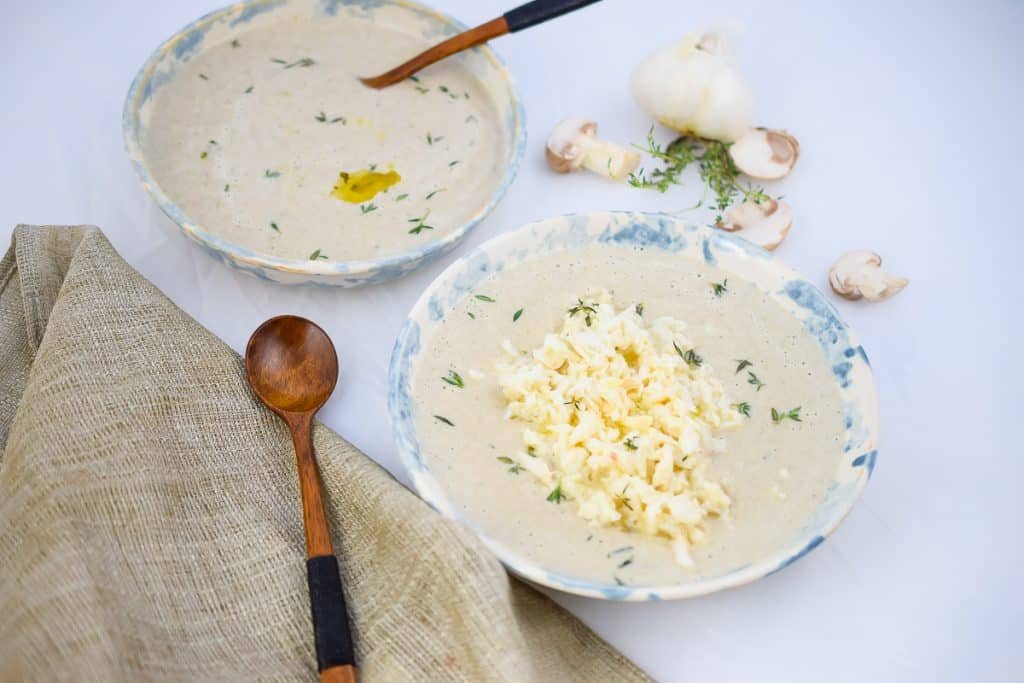 Should I make my own bone broth?
While you can make your own bone broth (there's a homemade recipe in Made Whole!), I like Bonafide Provisions beef or frontier bone broth. Using a premade bone broth is a great way to further simplify this 30-minute meal and save you more time so that you can make this recipe, enjoy it, and rest.
The real secret to creating a good defense against flu season? Eat well, hydrate, and prioritize sleep. It sounds simple, but it's true … so eat up and enjoy!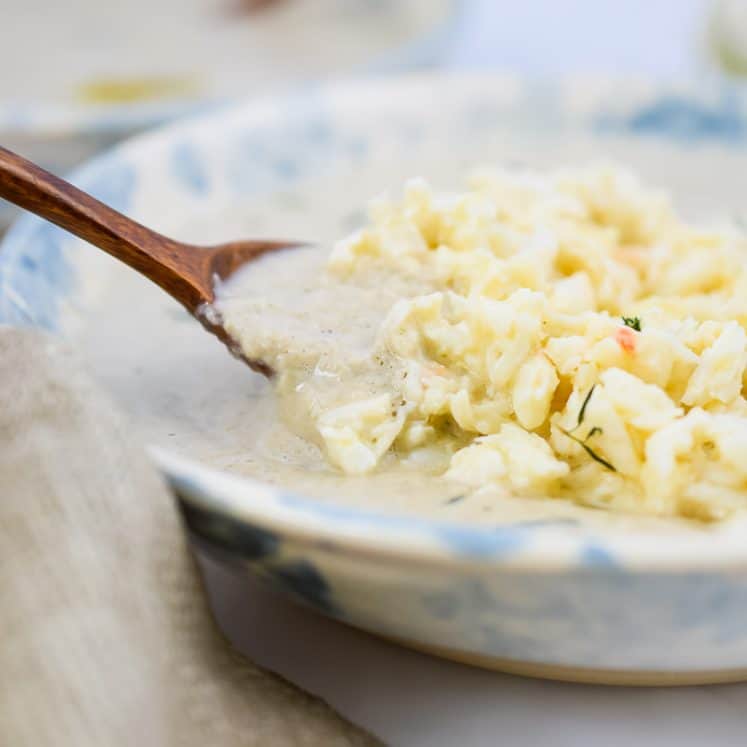 Dairy Free Creamy Mushroom and Crab Bisque with Tahini (Keto, Whole30, Nightshade Free, Nut Free)
---
Author: Cristina
Prep Time: 10 minutes
Cook Time: 20 minutes
Total Time: 30 minutes
Yield: 3 servings 1x
Category: Entree
Method: Saute, simmer, blend
Cuisine: Soup
Description
This Dairy Free Creamy Mushroom and Crab Bisque with Tahini packs way more flavor than the old classic, with added protein and mood-boosting vitamins.
---
Scale
Ingredients
3 tablespoons ghee or coconut oil, divided
4 cloves garlic minced
1-pound sliced cremini mushrooms
2 tablespoons fresh thyme leaves minced
2 tablespoons white wine vinegar
1 teaspoon fine salt
½ teaspoon ground black pepper
Pinch of nutmeg
3 cups bone broth
2 tablespoons tahini (or sunflower seed butter)
1-pound jumbo lump crab meat
Juice of one lemon
---
Instructions
Heat a 6-quart pot over medium heat. When it comes to temperature, add in 2 tablespoons ghee. Once the ghee has melted and begins to brown, add in the garlic, mushrooms and thyme. Sauté until tender, stirring often, about 10 minutes.
Mix in the salt and black pepper, then deglaze the skillet with the vinegar and stir in the bone broth. Bring to a simmer, and let simmer for 5 minutes. Turn off the heat.
Carefully transfer the soup to a blender. Add in the tahini and blend until smooth.
Add the remaining ghee to the pot, heat over medium heat. Add the crab to the pot and the lemon juice, stir here until warmed through.
Serve the creamy soup into three bowls and pile warm crab into each bowl. Dig in!
Recipe Notes:
You can make this recipe without crab, just omit. It's still absolutely delicious.
8.6g net carbs per serving
Nutrition
Serving Size: 1 serving
Calories: 417
Fat: 23.6g
Carbohydrates: 10.6g
Fiber: 2g
Protein: 43.4g