Crispy chicken breast, fried until golden and drizzled with a silky caper sauce, flavored with lemon zest, fried garlic, and cooking wine. Paleo perfection.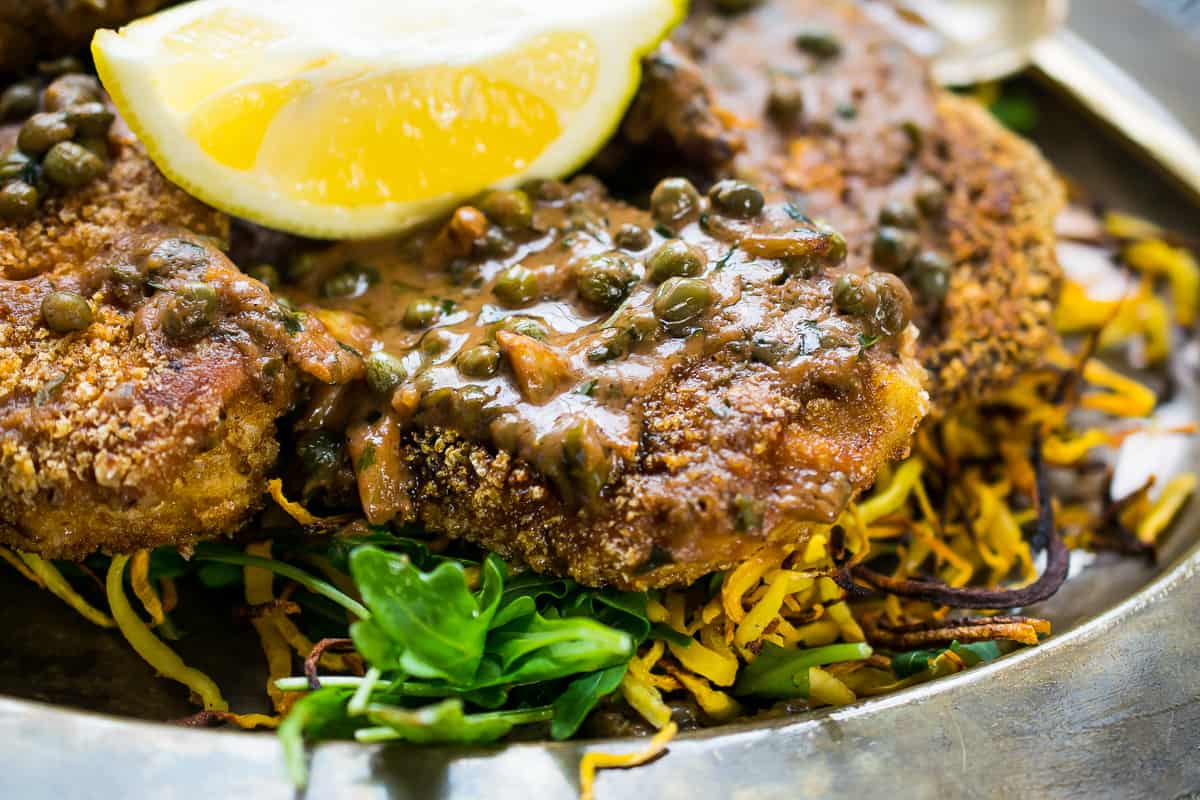 Table of Contents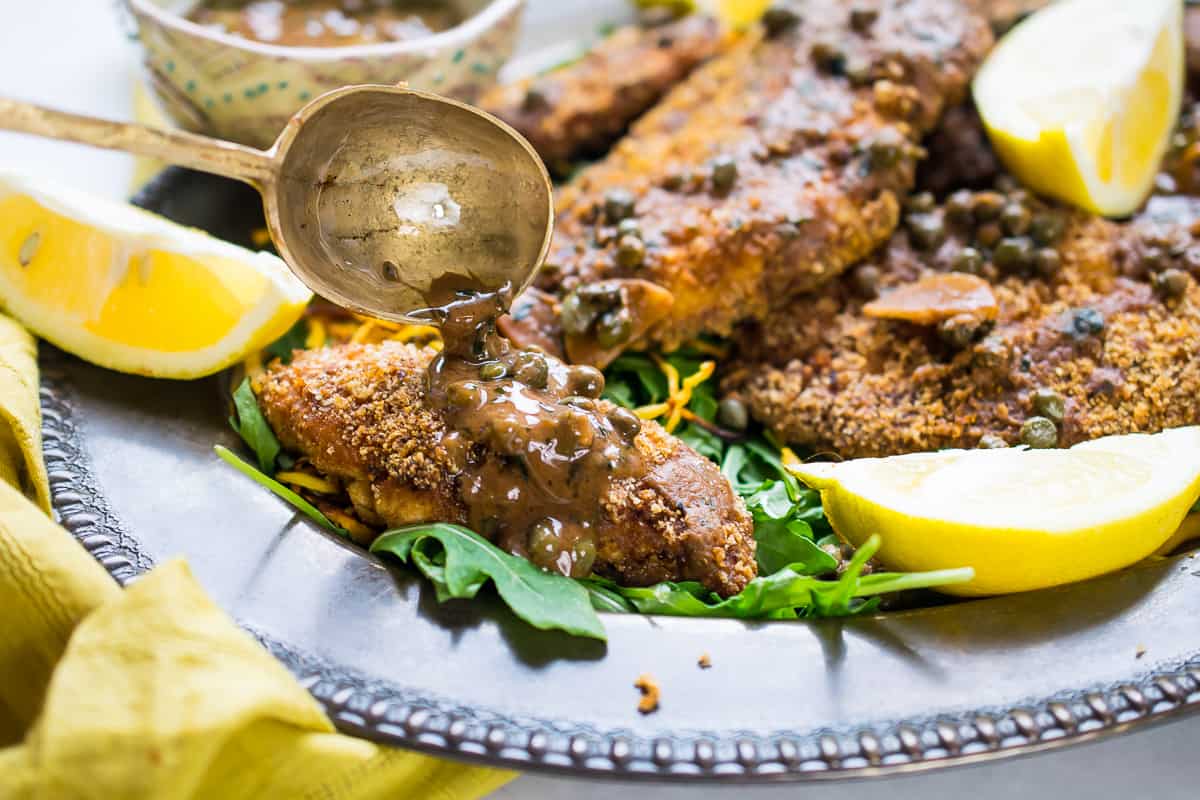 Gluten-free fried chicken is only the start to this nut-free chicken piccata
Elegant. Dreamy. Crispy. Creamy. This gluten-free chicken piccata is all of the above. Chicken breast dredged in seasoned coconut flour and a cooking wine egg wash, then coated in crunchy pork panko and fried until deliciously crispy. You could stop there for the best paleo fried chicken ever, but then you'd miss the real show stopper in this recipe: the paleo piccata sauce.
Unlike traditional chicken piccata that uses a roux for the sauce, I use toasted coconut butter. It doesn't make the dish taste like coconut at all, instead, the coconut butter gets nice and toasty and develops this beautiful dark golden brown color. Then, you spike it with lemon zest, capers, fried garlic, and a bit more cooking wine … the result is a lusciously silky concoction that tastes like heaven!
This one-pot paleo chicken piccata is nut-free and absolutely innovative! It's a restaurant-worthy meal that anyone can make and everyone can enjoy.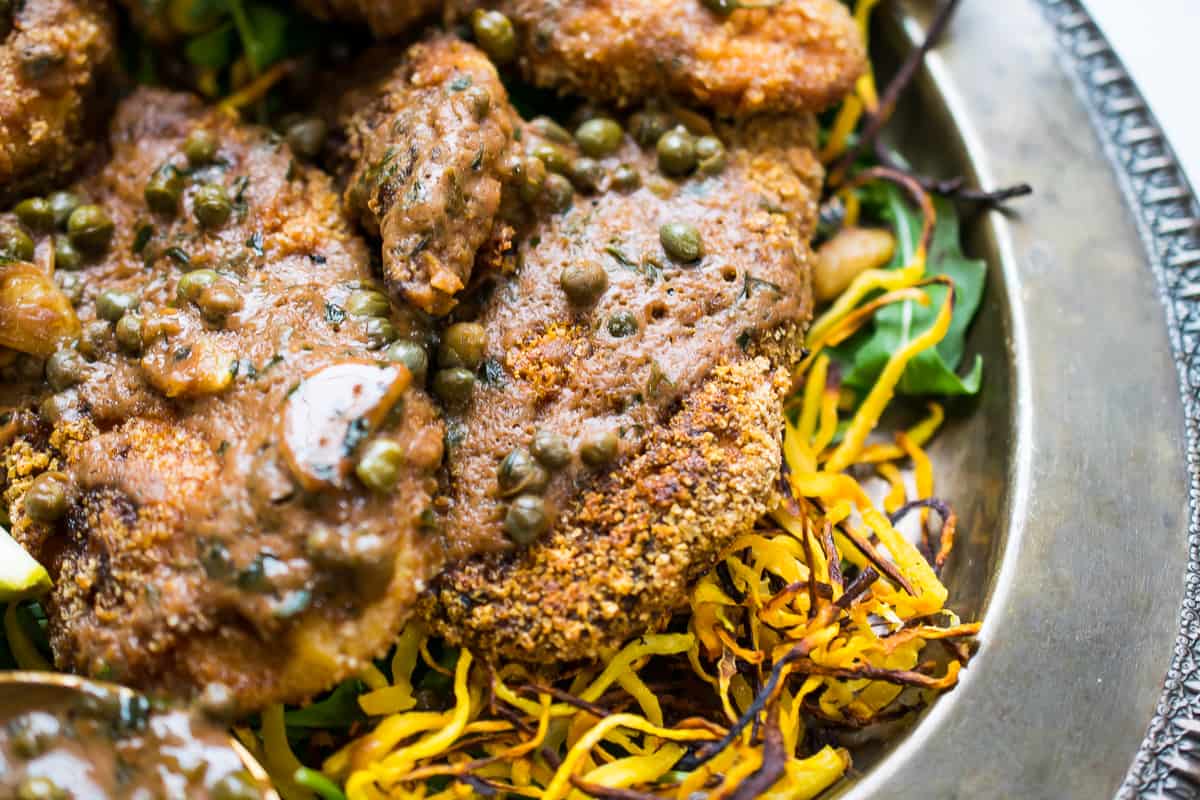 Coconut butter in paleo chicken piccata?
Using coconut butter for a toasty roux in this paleo chicken piccata is pretty savvy! The reason coconut butter works as a paleo swap for roux is the consistency — it mimics the silkiness of flour and butter but develops a deeper flavor without getting super bitter. Coconut butter (or coconut manna they're the same thing, really) is actually really versatile and easy to cook with, and this recipe is proof.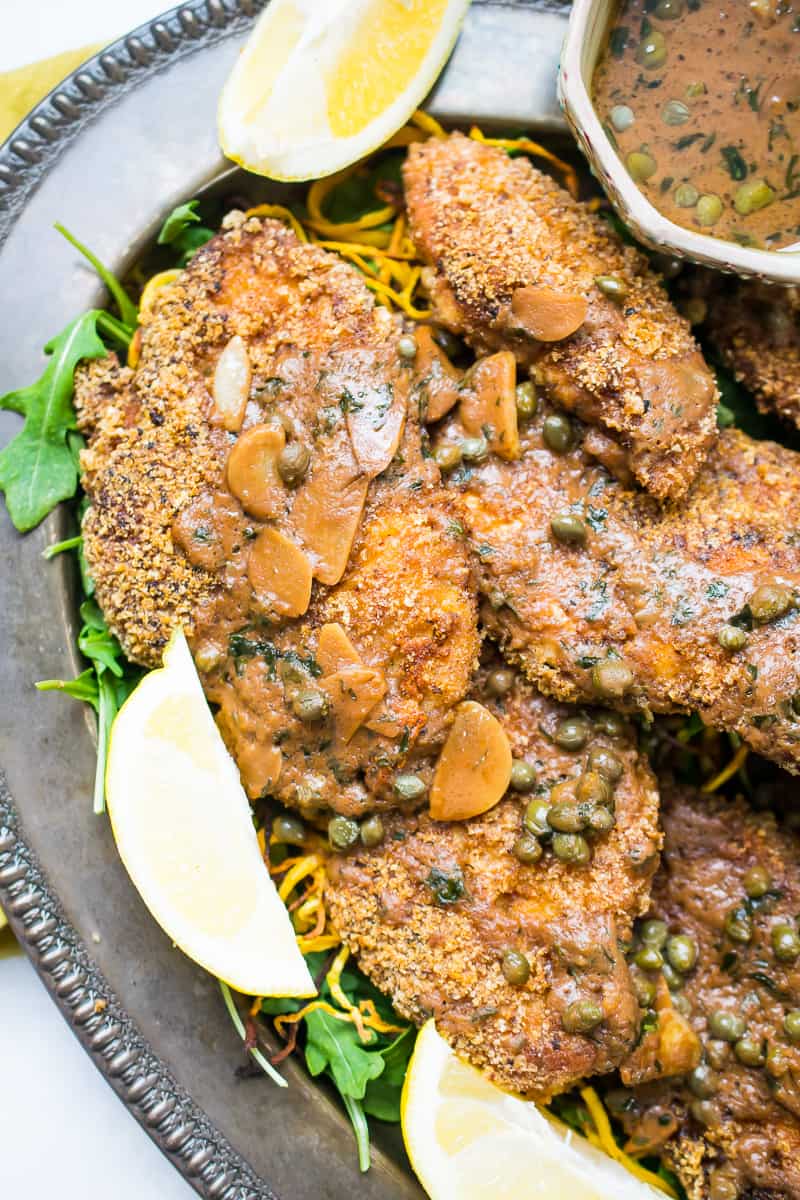 More about the ingredients
I like Nutiva or Artisana coconut butter or coconut manna, you can get them online or at Whole Foods. I love toasted coconut butter in recipes, like my Toasted Coconut Butter Fat Bombs and the famous Toasted Coconut Butter Salmon from Made Whole! 
The trick with coconut butter, AKA coconut manna, is to run the jar under warm water so it's nice and soft. The coconut butter separates when cold and the oil comes to the top, so warming it and mixing it back together is essential. If you only scoop out coconut oil, you will have an oily sauce that won't thicken. You want to make sure you're scooping out pureed coconut meat, the thick, opaque white mass. That's what will make the perfect swap for roux.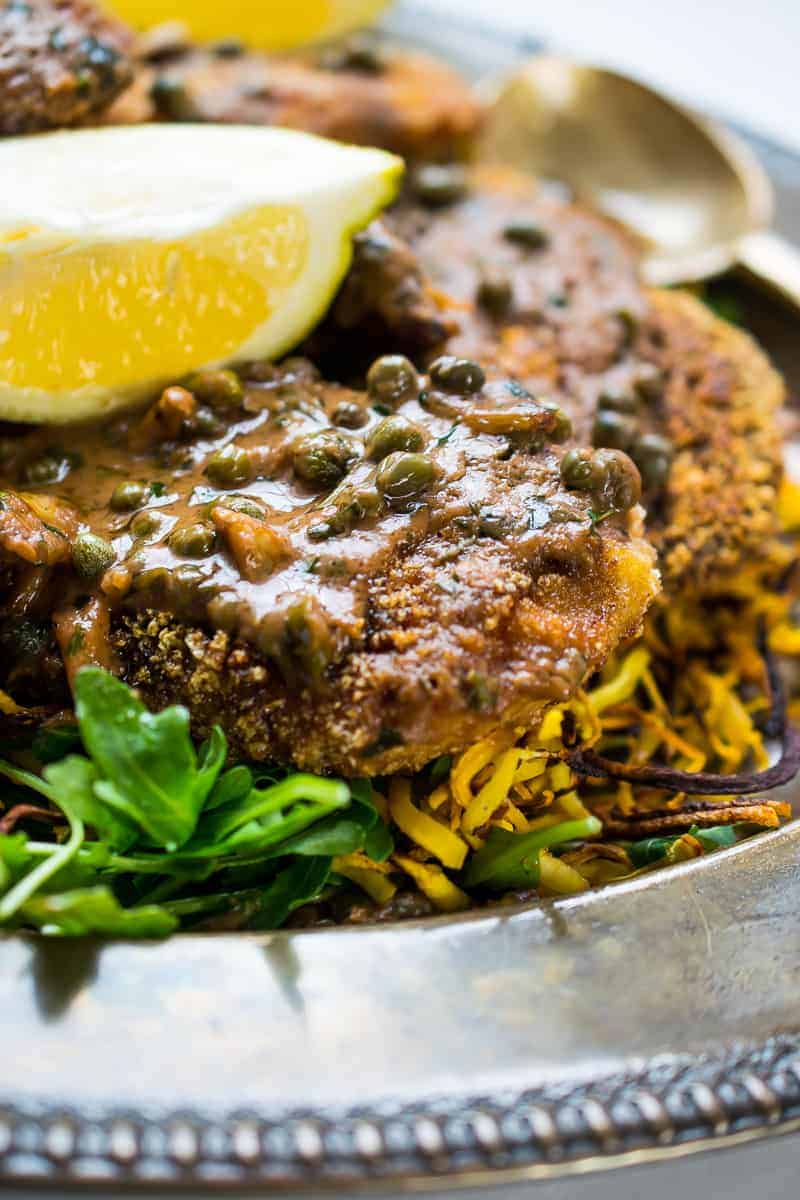 My favorite crispy paleo breading
Yes, I'm using Pork Panko again, I love the stuff. Have you even tried my Keto Fried Fish yet? In my new book Made Simple, I show you how to make your own pork panko, but most of the time, I just buy it on Amazon from Bacon's Heir. Pork panko is the perfect breading: it's low carb, it's crispy AF, it's nut free and gluten free, and most of all it doesn't have any polyunsaturated fats that will oxidize in the frying.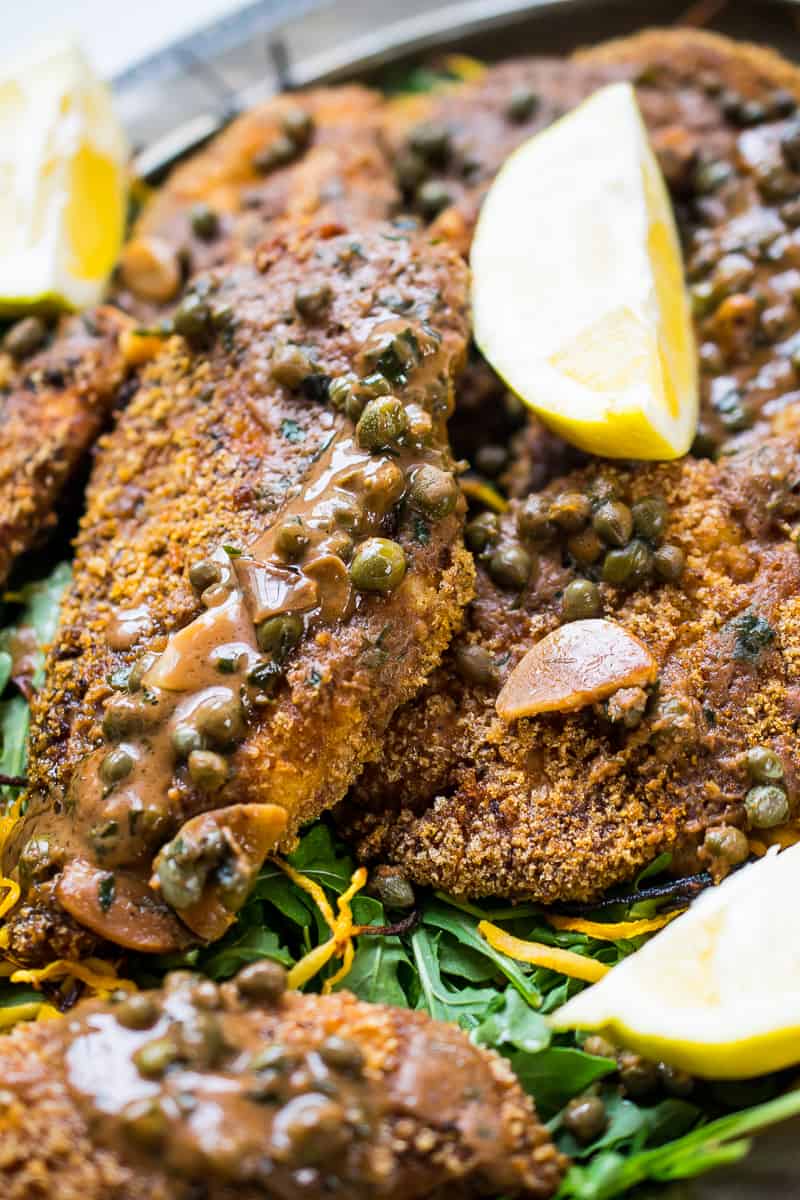 Substitutes for this paleo chicken piccata
If you don't eat pork, you can use almond meal instead. If you don't do coconut, because you don't like the taste, I highly encourage you to try this recipe anyway. It doesn't have an overwhelming coconut flavor, and if you didn't read the ingredient list, you might not even notice.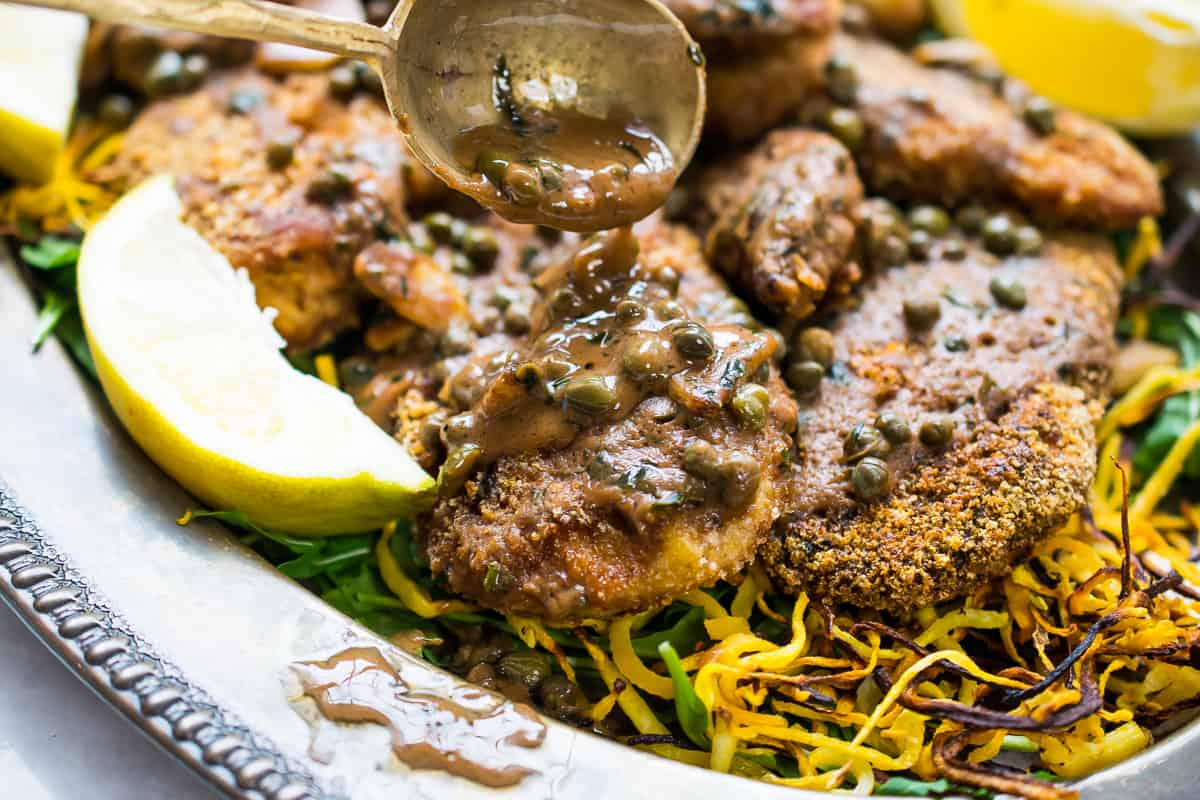 If you have a coconut allergy, this recipe probably isn't for you. I mean, you could tweak it, but you'd be missing the main components. You could try cassava flour instead of the coconut flour and use it to make a traditional roux instead of using the coconut manna, but you see, now it's not even my paleo chicken piccata anymore … it's any paleo chicken piccata. The genius use of coconut manna is what makes this gluten free chicken piccata mine!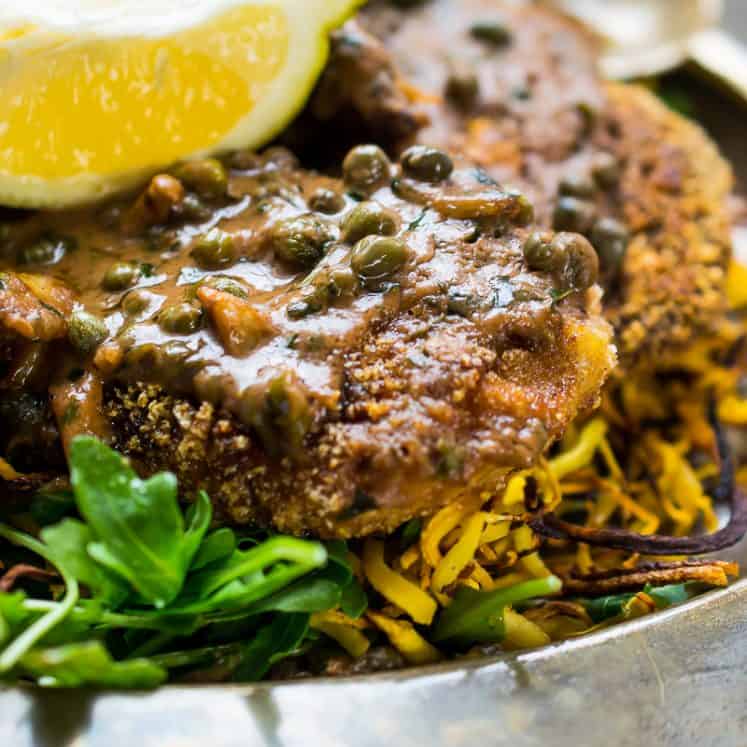 Paleo Chicken Piccata (Dairy-Free, Keto, Gluten-Free, Nut-Free, One Pot Meal)
---
Author: Cristina Curp
Prep Time: 20 minutes
Cook Time: 25 minutes
Total Time: 45 minutes
Yield: 3 servings 1x
Category: Entree
Method: Fry
Cuisine: Chicken
Description
This is not yo' mamas chicken piccata! Gluten, dairy free and oh-so-dreamy
---
Scale
Ingredients
For the Chicken
3 boneless skinless chicken breasts (about 1 1/2 pounds)
1 1/2 teaspoon fine salt 
1/3 cup coconut flour
1 teaspoon baking powder (see this post for grain free)
1 teaspoon ground cumin
1 teaspoon orange zest (I use this one)
1 teaspoon dried oregano 
1 teaspoon black pepper 
2 large eggs 
Splash of cooking wine 
1 1/2 cups pork panko
1/2 cup coconut oil or lard for frying 
For the Sauce
1 teaspoon ghee or olive oil
4 cloves garlic, sliced
1/4 cup coconut butter
 1/4 cup capers, drained
2 teaspoon lemon zest 
1/4 cup cooking wine
2 teaspoons dried parsley 
1/2 cup bone broth
Pinch of salt
---
Instructions
Heat a large cast iron skillet over medium heat, I use a 15-inch skillet. Add the coconut oil and let it warm up while you prep the chicken. 
Pat your chicken dry then cut each breast in half horizontally, so you're making chicken cutlets. Sprinkle with salt and set aside.
In a shallow bowl combine the coconut flour, baking powder, and dried seasonings, whisk to blend. In a second shallow bowl whisk together, the eggs and a splash of cooking wine. In a third shallow bowl put the pork panko.
One piece at a time, dredge the chicken in the coconut flour, then the egg, and lastly the pork panko before adding it to the hot oil. Only fry 2-3 pieces at a time so you don't crowd the skillet. Fry for 4 minutes each side then transfer the chicken to a wire rack while you fry up the rest. When all the chicken is fried you can keep it warm in the oven while you make the sauce. 
Clean the skillet. Put it back on the heat. Melt the ghee and when its warm tilt the skillet so the ghee pools to one side, add the garlic to the pool of ghee and fry here for 3 minutes or until golden brown. Spoon out and set aside. 
Put the coconut butter in the skillet and let it melt, and then stir slowly as it begins to brown. Once it's an even light brown, add in the capers and lemon zest, stir well. Add in the wine, it will temporarily separate the coconut butter, making it look clumpy, just keep stirring the mix as it darkens to a deep brown. 
Stir in the parsley and the bone broth, and as you stir in the broth, the mix will smooth out again. Once it's well combined, let it simmer for 2-3 minutes to reduce until stirring with a wooden spoon leaves streaks in the sauce. Taste, add salt if needed. Remove from the heat. 
Plate the chicken and spoon the sauce all over it. I like serving this over arugula or with veggie noodles.
Recipe Notes:
To make this Whole30 Compliant, use almond meal instead of pork panko and use red wine vinegar instead of cooking wine. 
net carbs per serving: 6g
Nutrition
Serving Size: 1 serving
Calories: 506
Fat: 27.9g
Carbohydrates: 13.2g
Fiber: 7.2g
Protein: 47.8g
Keywords: Paleo chicken piccata, Nut free chicken piccata, Gluten free chicken piccata, gluten free fried chicken, one pot meal