Just in time for the Super Bowl or whatever social and/or sporty thing you want to celebrate… I made you ABSOLUTELY CRISPY baked chicken wings that are taken to the next level with a tangy glaze-like sauce made with ginger and lime.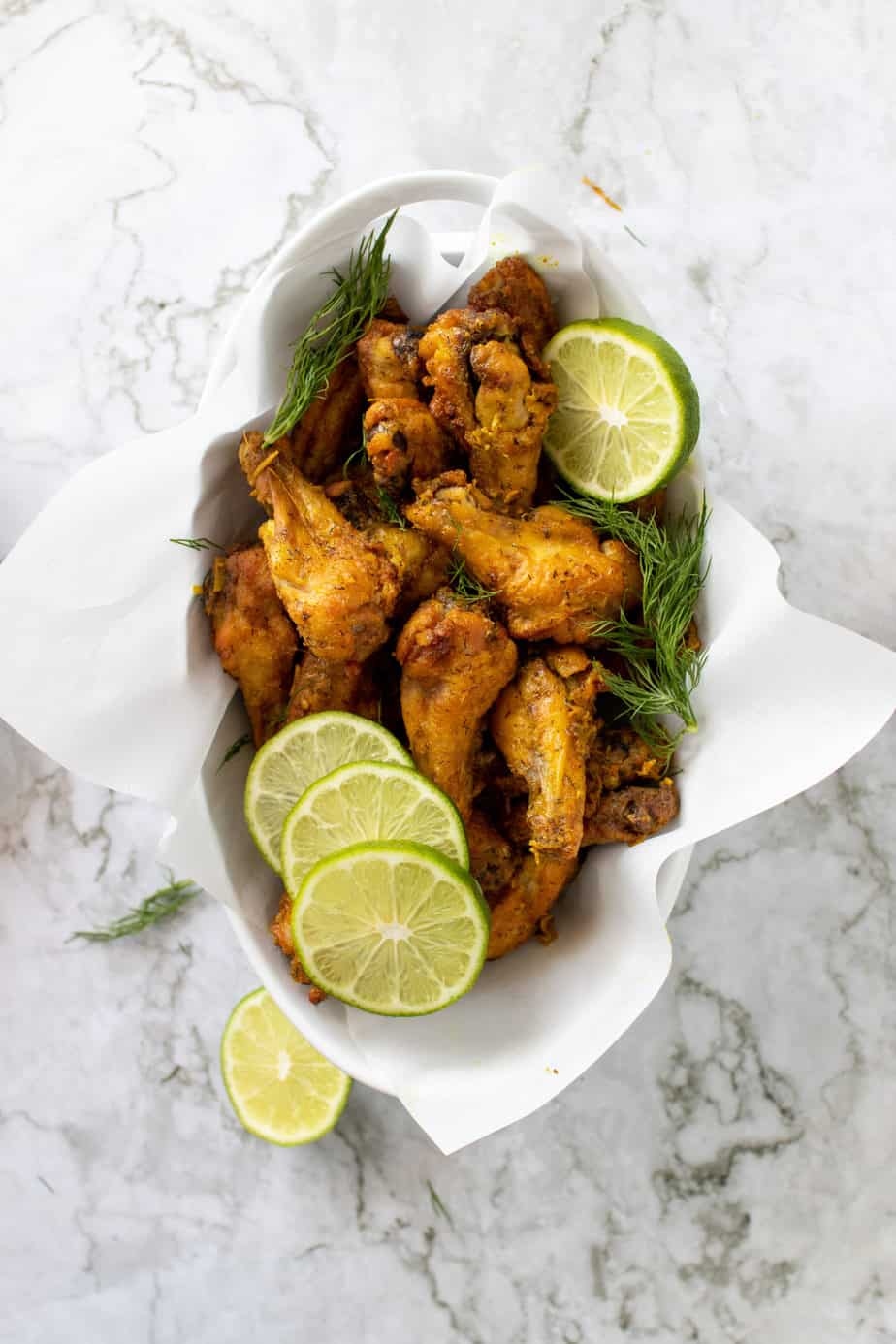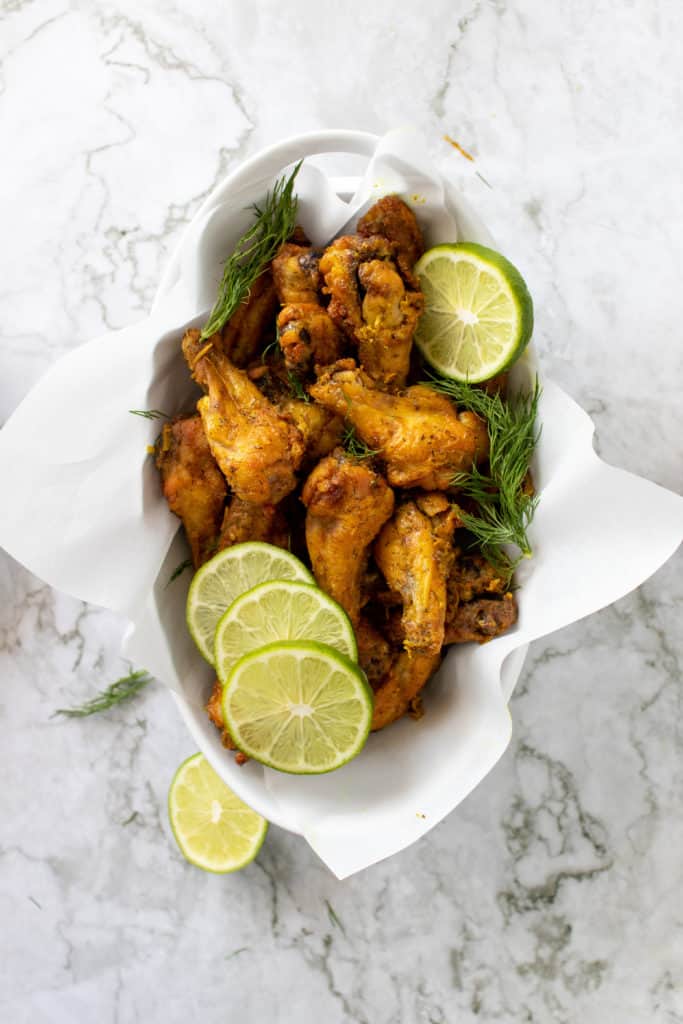 The BEST AIP Wings
The best thing about these crispy wings is that they are 100% Whole30 compliant and AIP (autoimmune protocol) elimination phase compliant. This means they are squeaky clean, anti-inflammatory… these wings are actually REALLY GOOD FOR YOU! Oh! And low carb to boot.
I went with a three-part approach. For one I cut the wings at the joints. We're using the little drumsticks (drumette). Then we have the wingette and lastly the tip. I threw my tips into a pot of bone broth, save yours for the same purpose. We're not using the tips here because we want this chicken Crispy with a capital C and we can't be worried about burnt wing tips.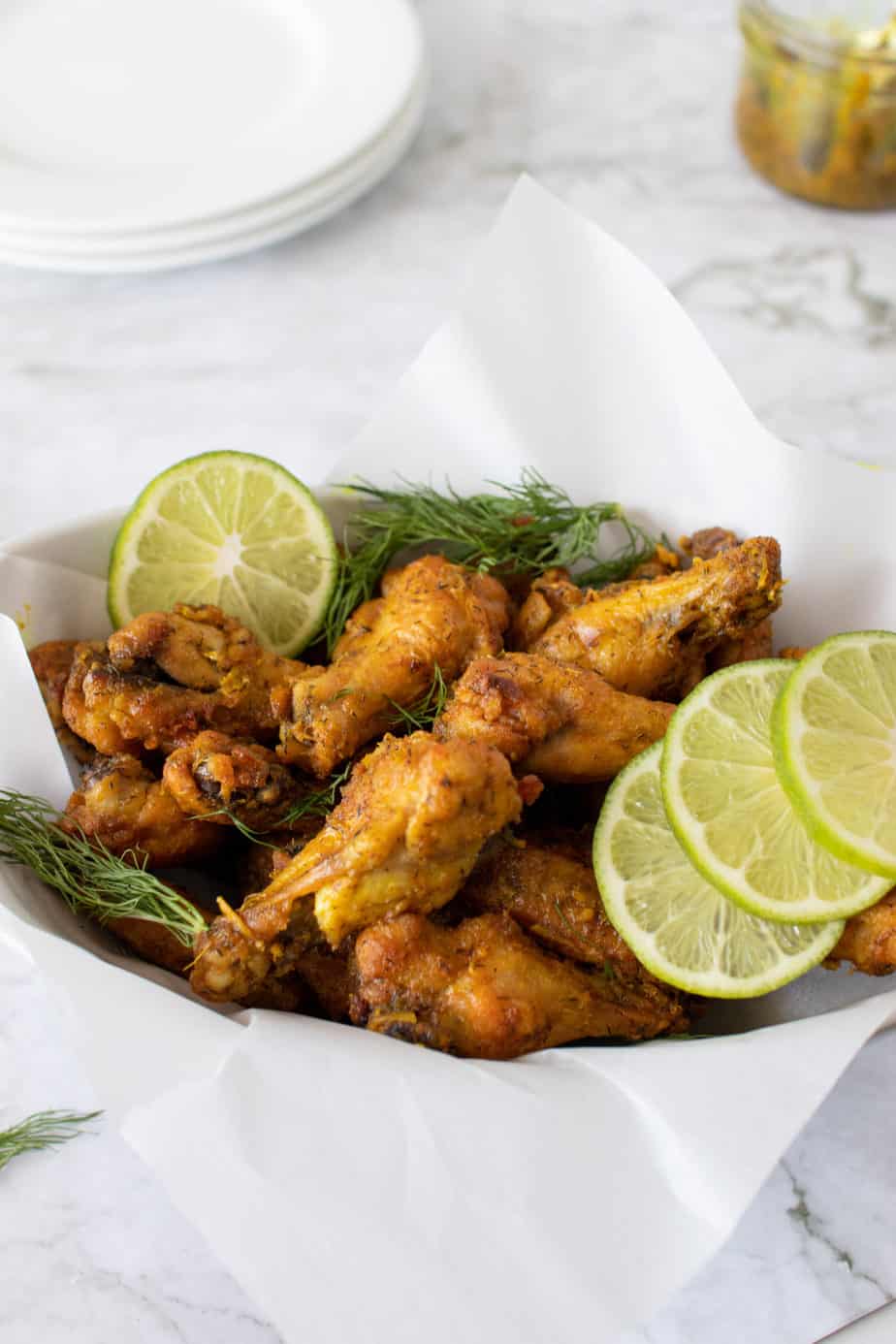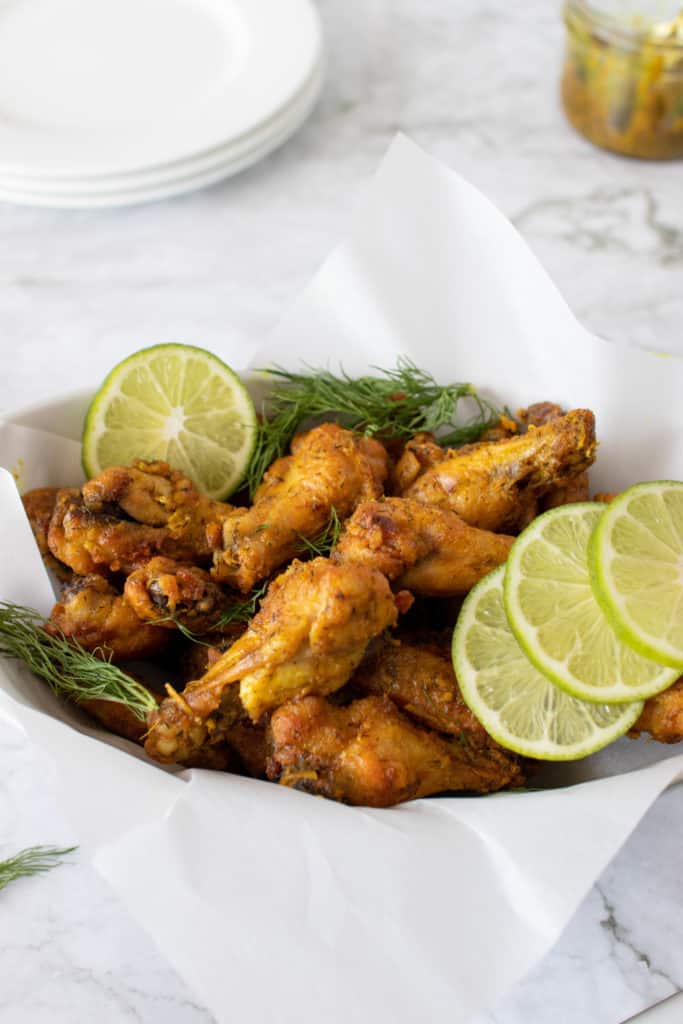 Not to worry it is easy peasy to cut the wings. You lay your wings flat on the cutting board and with your knife going diagonally across once joint, cut straight down, then repeat at the second joint.
The Secret To Crispy Baked Chicken Wings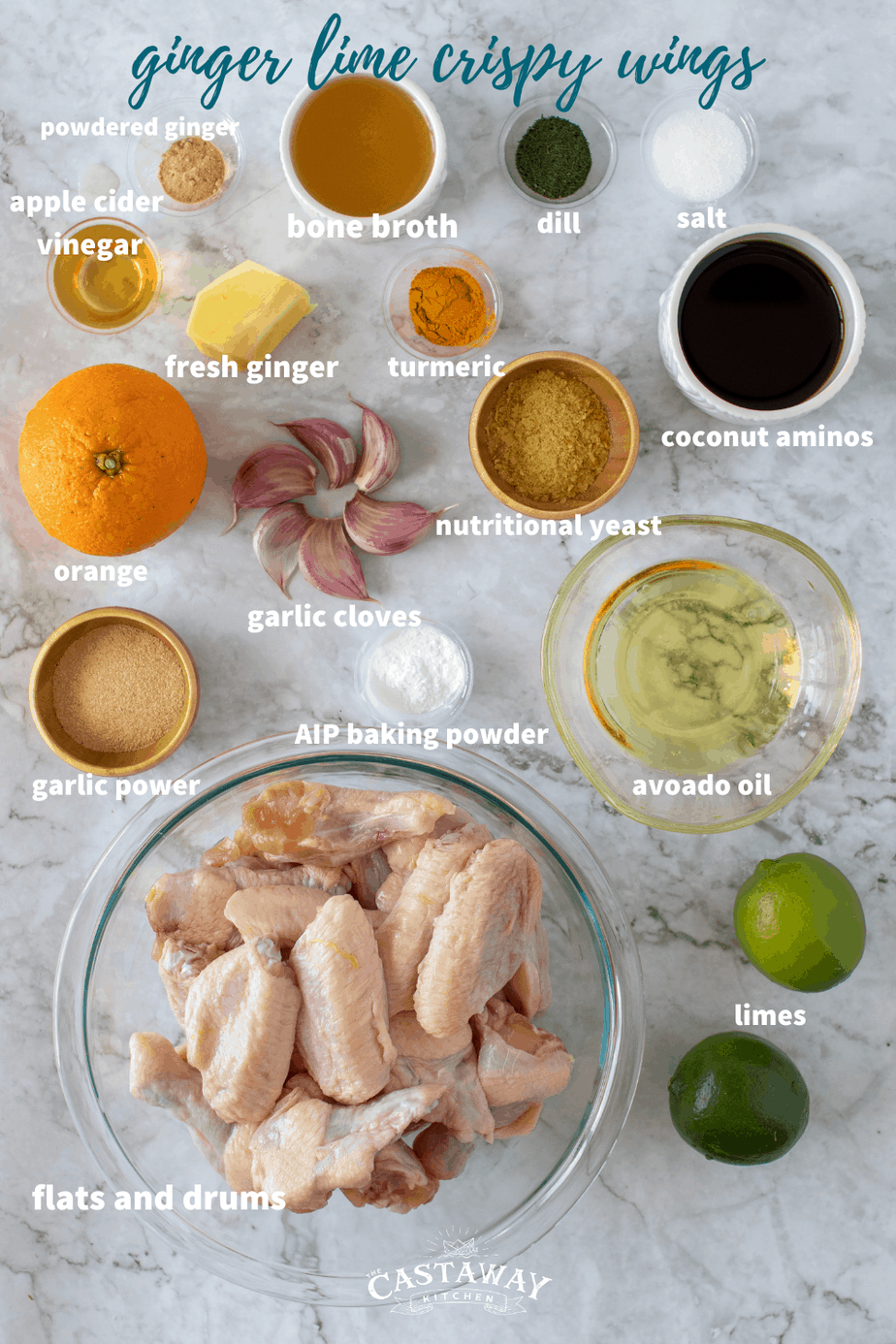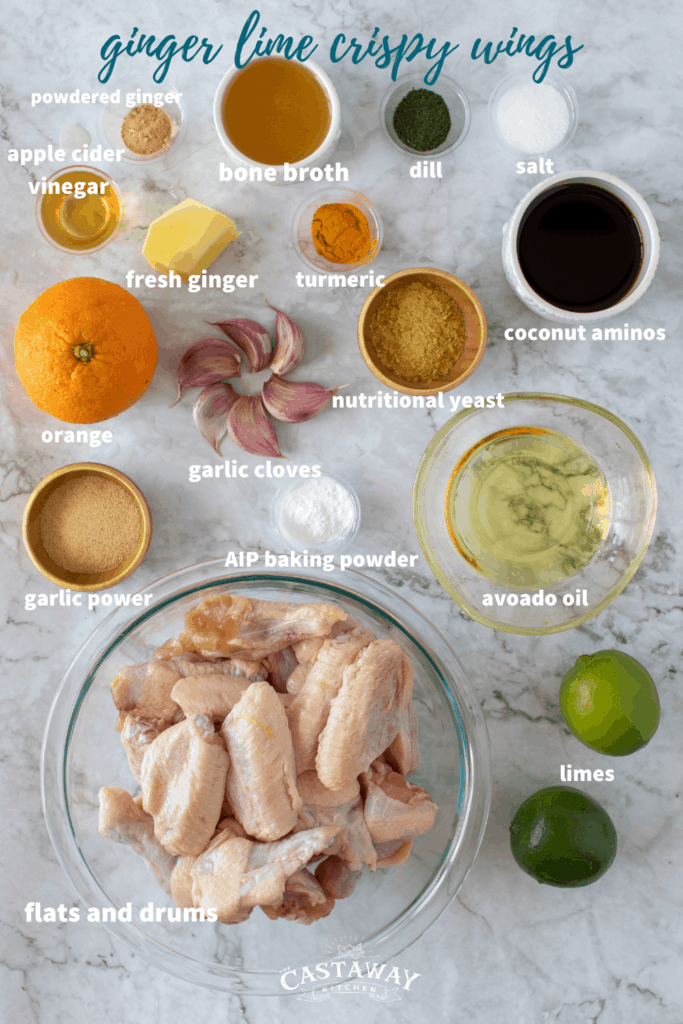 Baking Powder, not baking soda, you will need baking powder, but do not let this deter you from this recipe. I learned early on in my AIP days to make my own baking powder and it's a no-brainer.
The best way to do this is to sift them all together. I usually mix up about ½ cup of each and store for all my paleo, AIP, and other baking needs. This baking powder works GREAT and it's totally allergen friendly!
So we toss the chicken with baking powder, salt, and garlic powder! Yes! This makes some seriously crispy skin. Then we crank up the heat and let them get all delicious.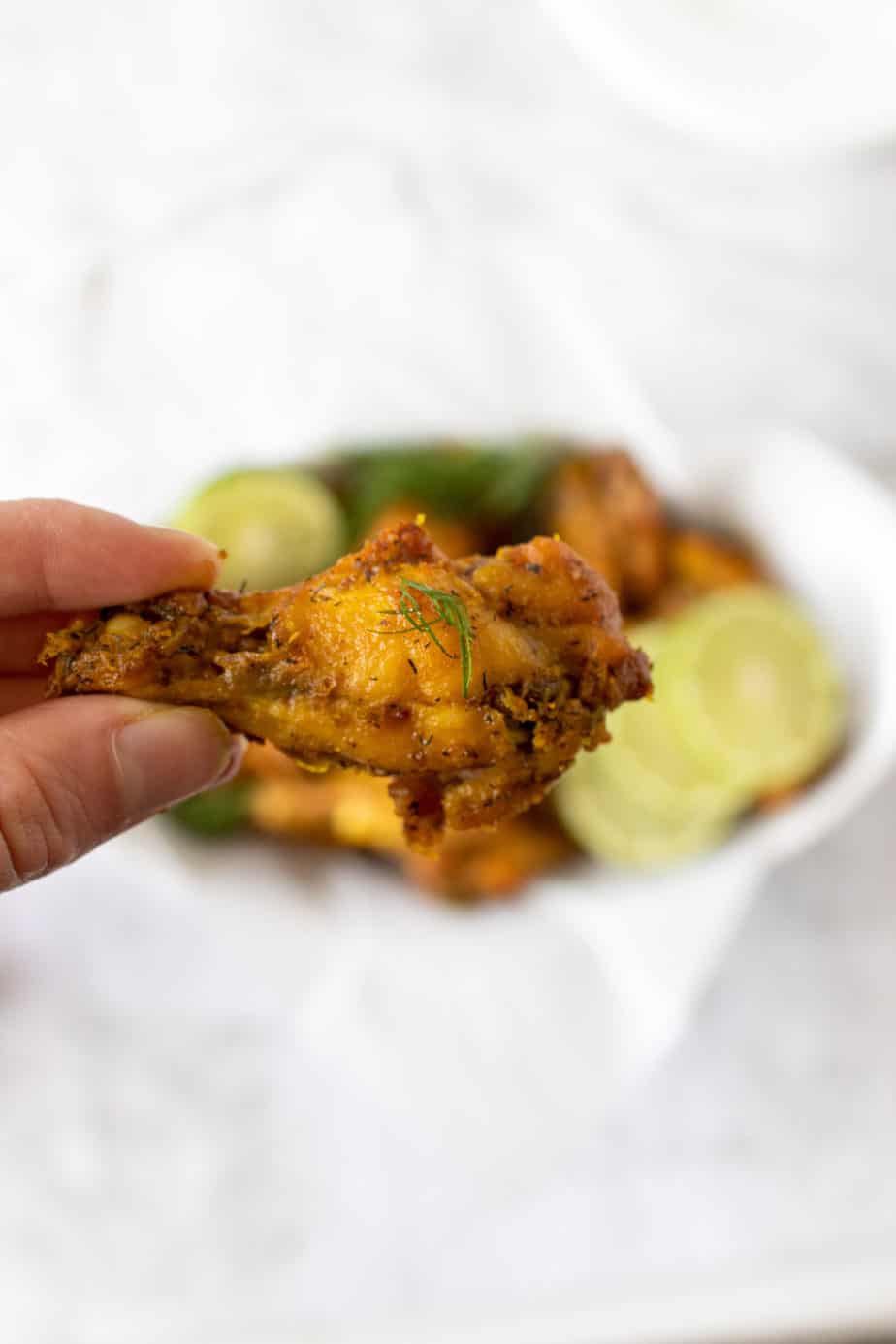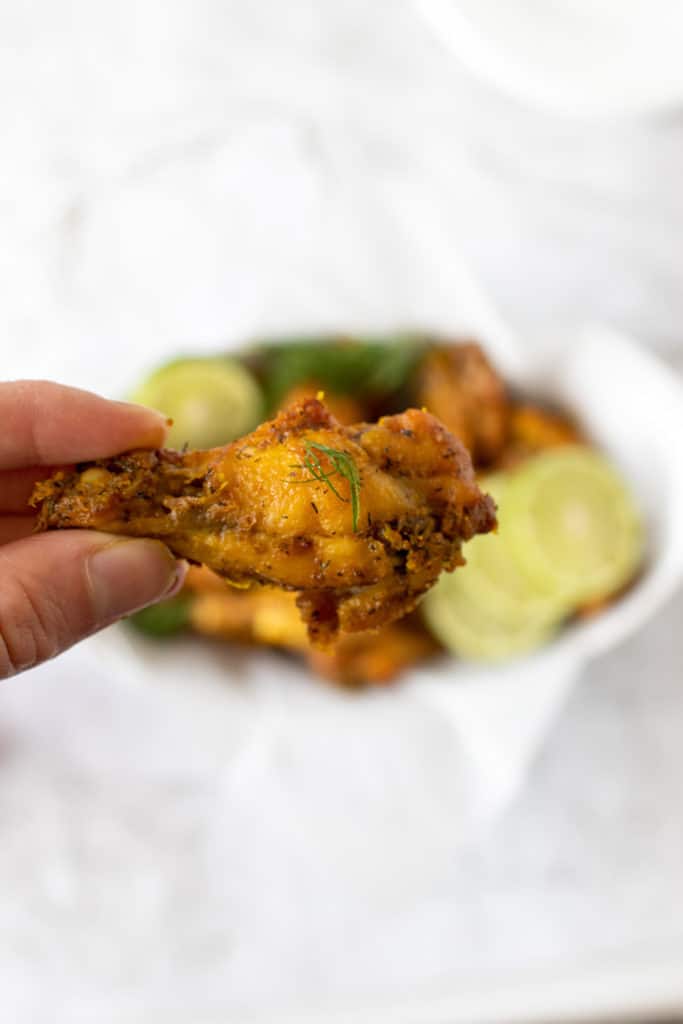 The Sauce
Is a tangy combination of orange, lime, ginger, and garlic with a somewhat sticky base of coconut aminos, apple cider vinegar and avocado oil. A little dill for coolness and nutritional yeast for umami and hot damn if this sauce isn't addictive AF. Bonus the sauce recipe makes extra, as to say, for 15 wings (30 pieces) using half of it will do.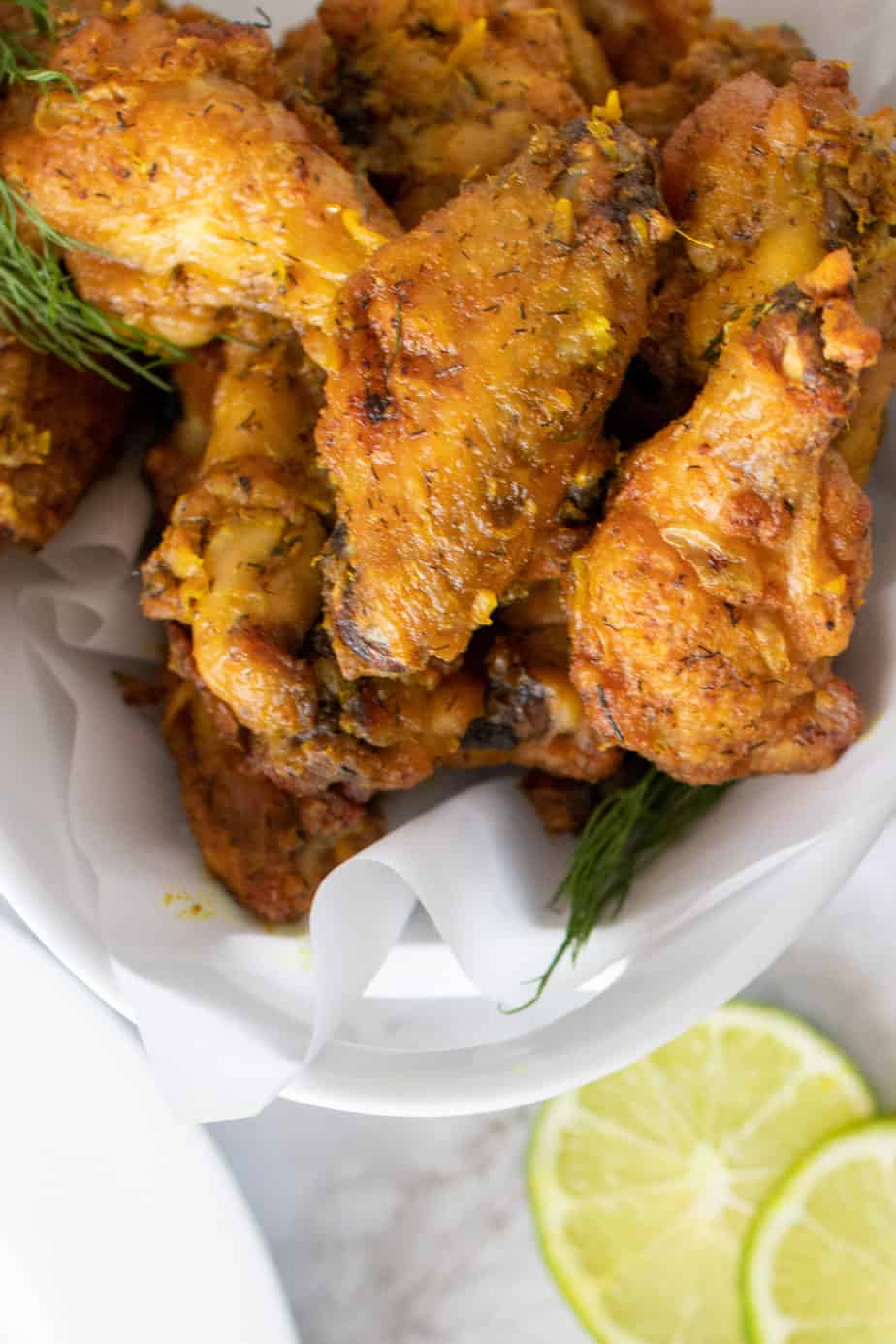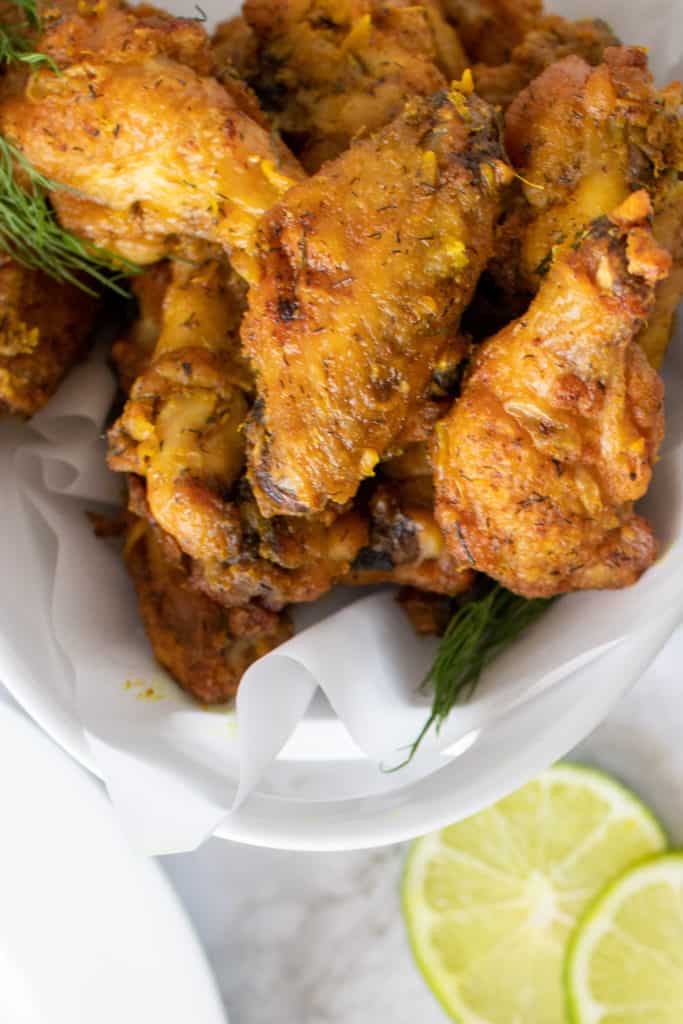 Let's Make Crispy Ginger Lime Wings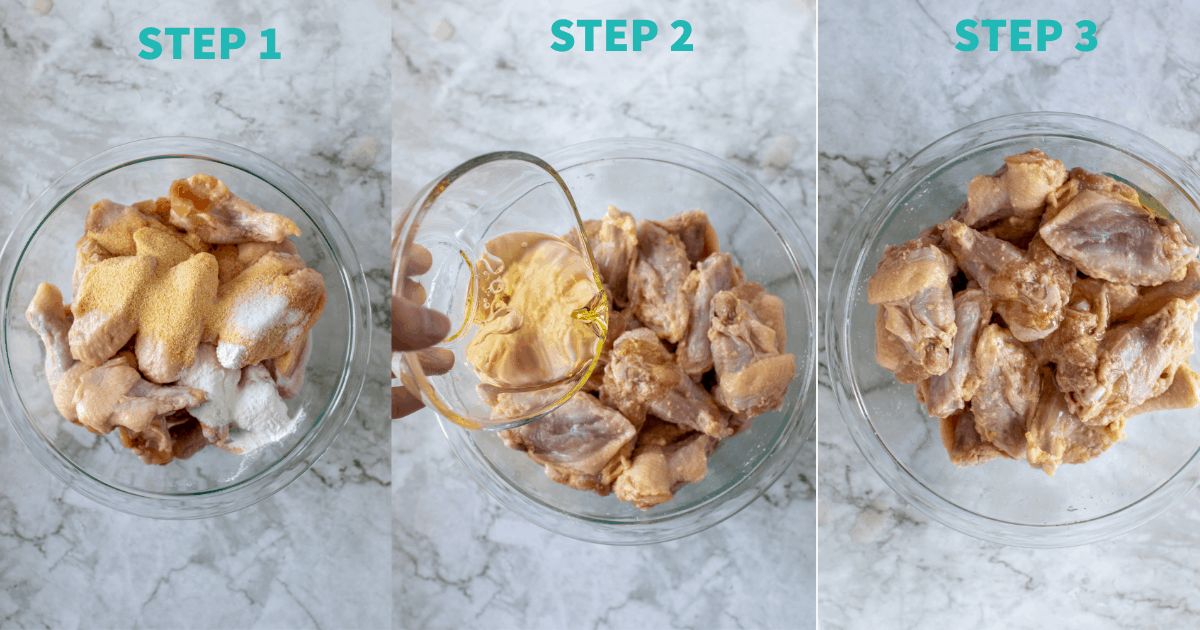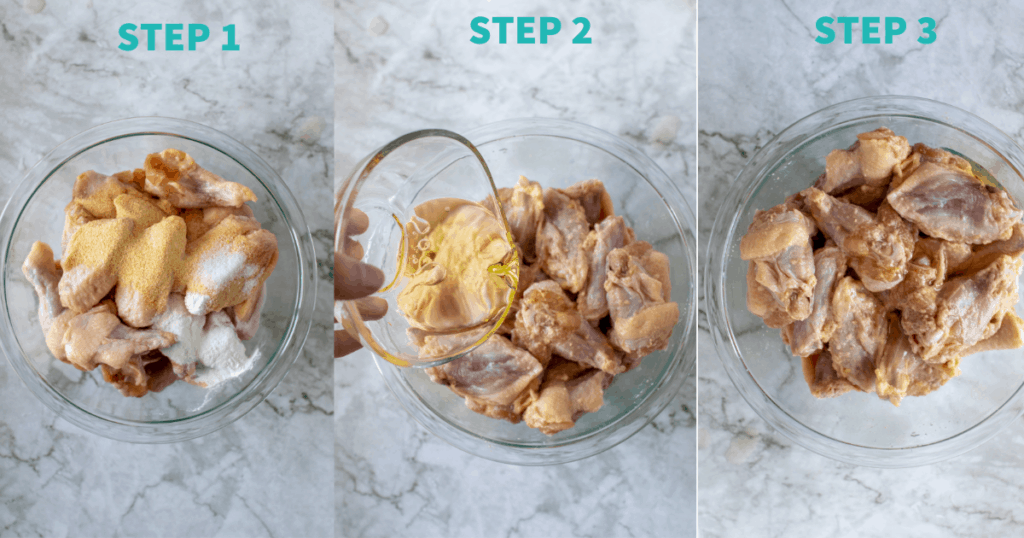 Start by tossing your wings (drums and flats) with baking powder and seasonings.
Then add in the oil and toss again. They will have a nice coat on them that feels almost a little bubbly.
Make sure your oven is preheated to 250F.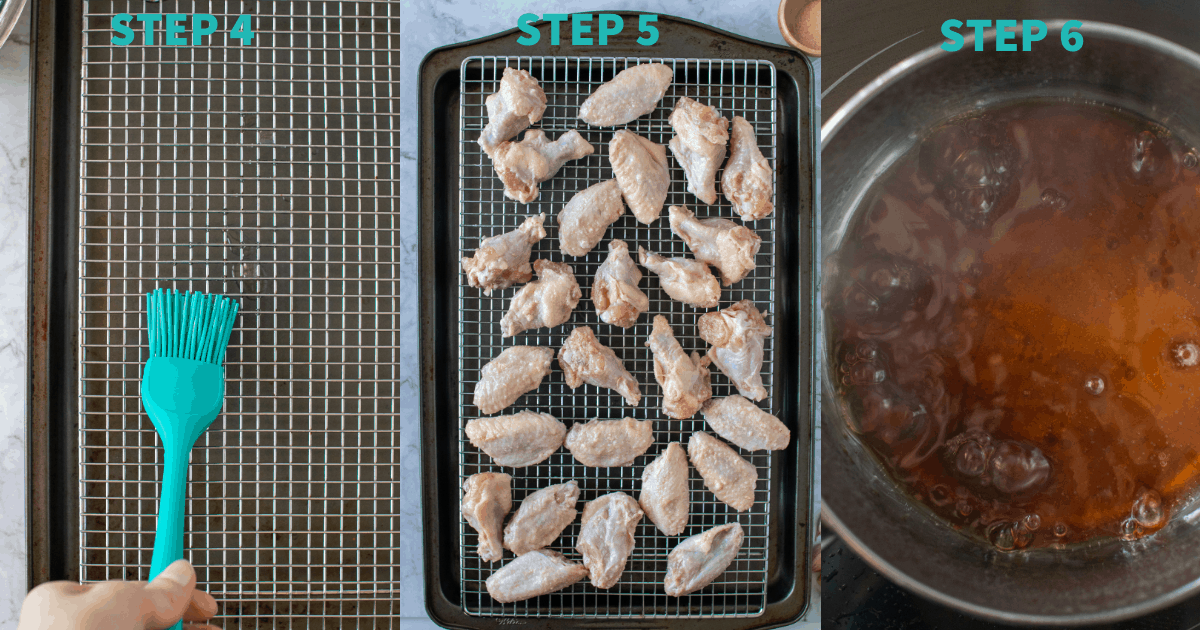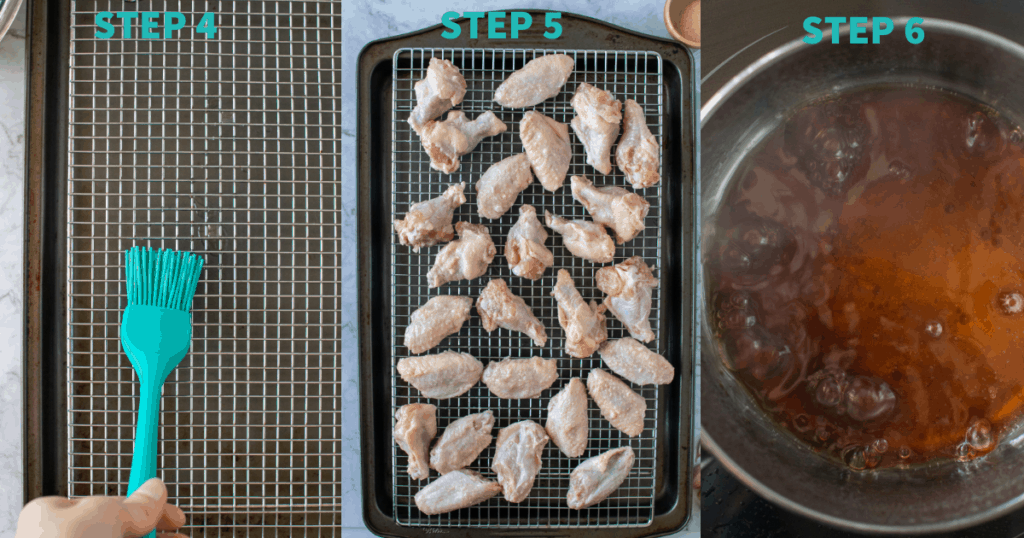 Put a rack over a sheet pan and brush with oil.
Arrange the wings on the an so they're not touching. Then put them in the oven.
While they bake make the sauce. Bring the aminos, broth, and juice of the orange to a simmer.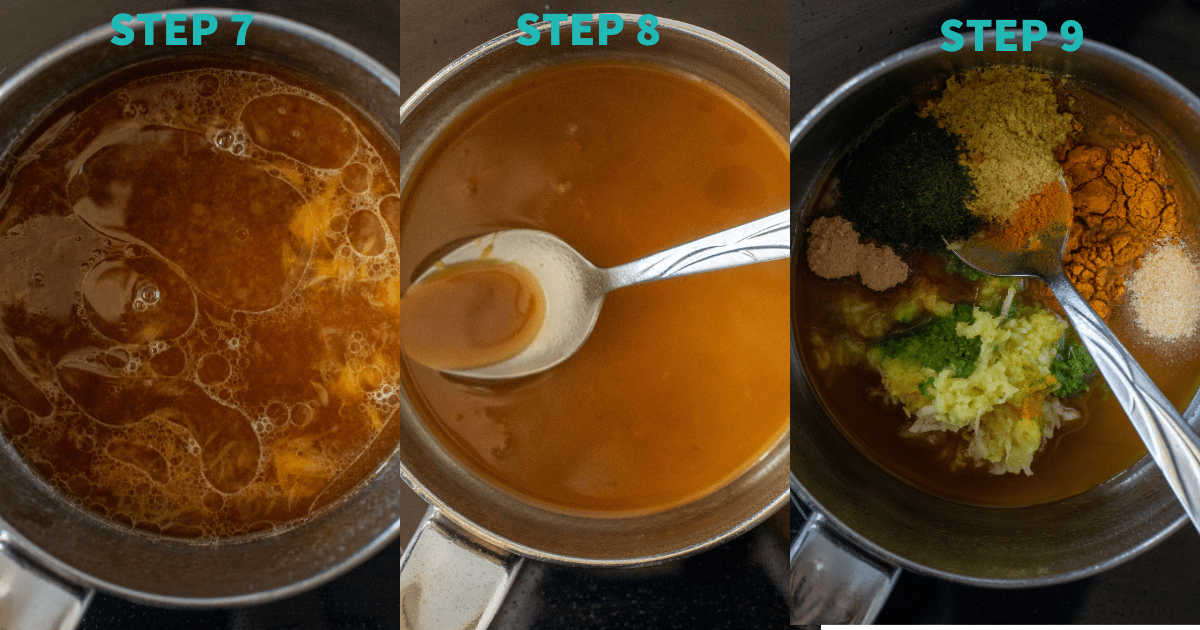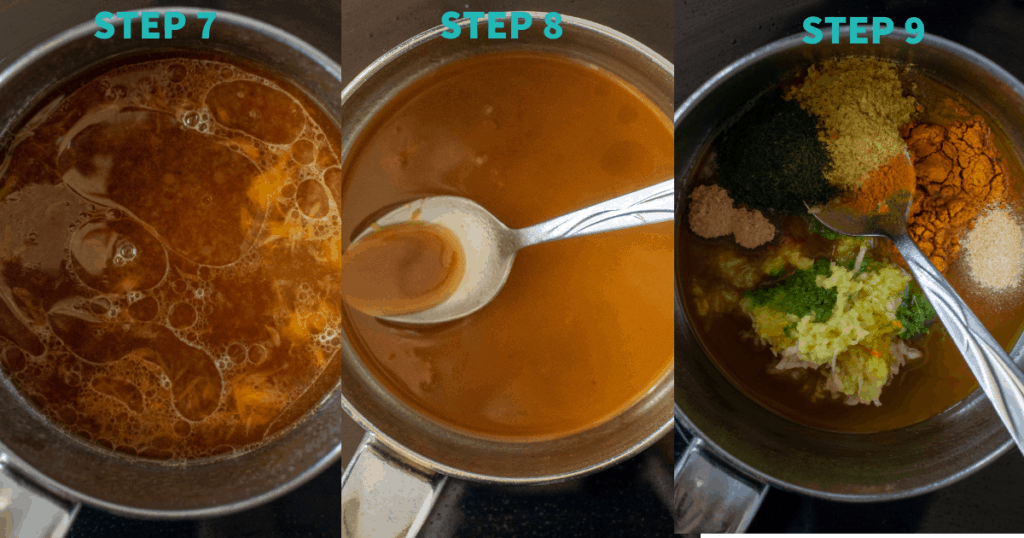 Once the sauce begins to thicken add in all of the seasonings and zest.
Mix well and continue to simmer until thick.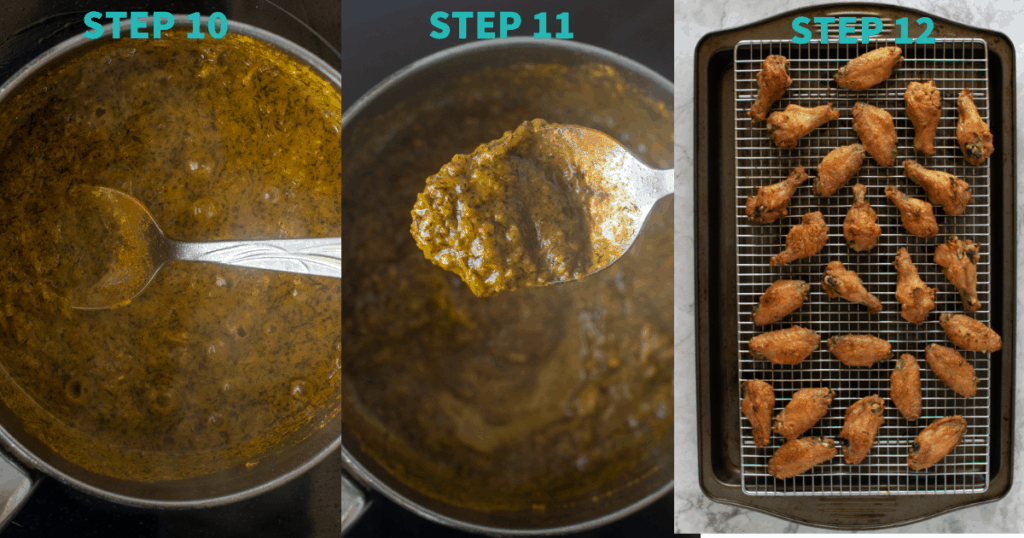 This is what the ginger-lime sauce will look like. It's a little chunky, really umami and a little sweet.
At the 45 minute mark up the oven temp to 425F and bake the wings for another 40 minutes or until super crispy.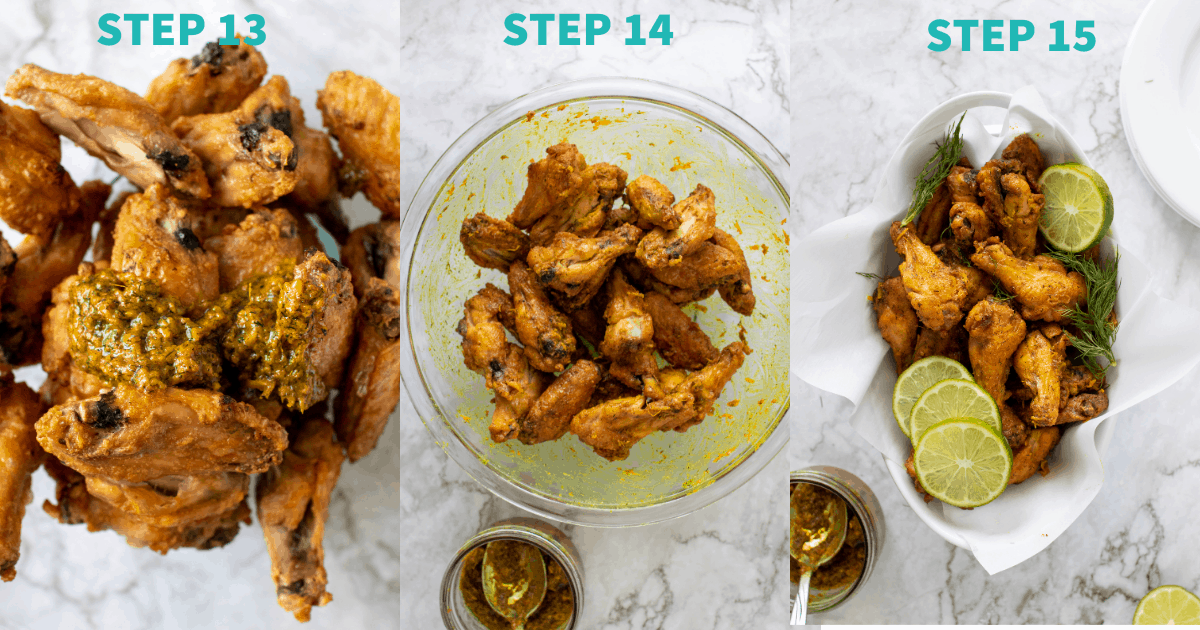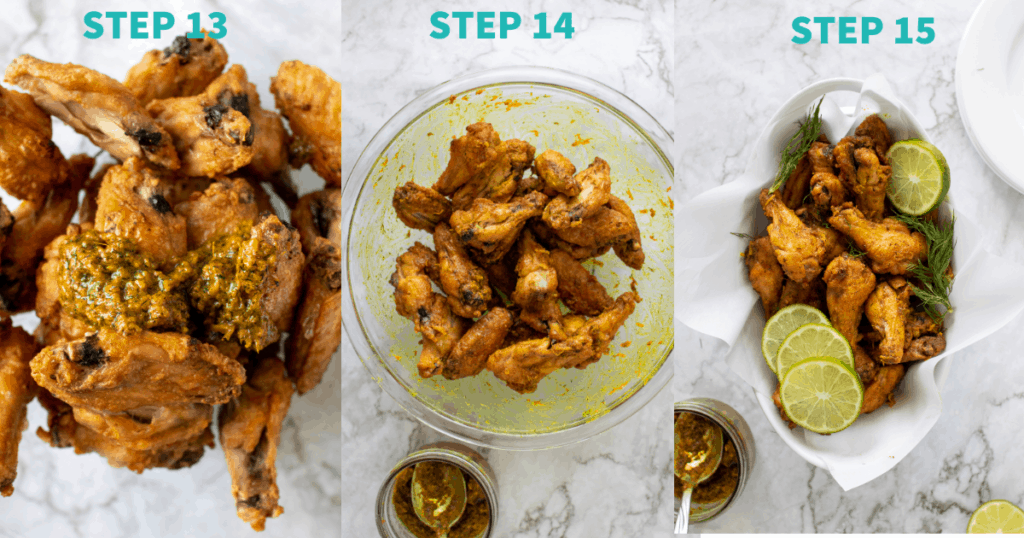 Toss your super crispy wings in a large bowl with sauce, start with 2 tablespoons but add more as needed.
The leftover sauce is amazing on stir fry etc. Serve and enjoy!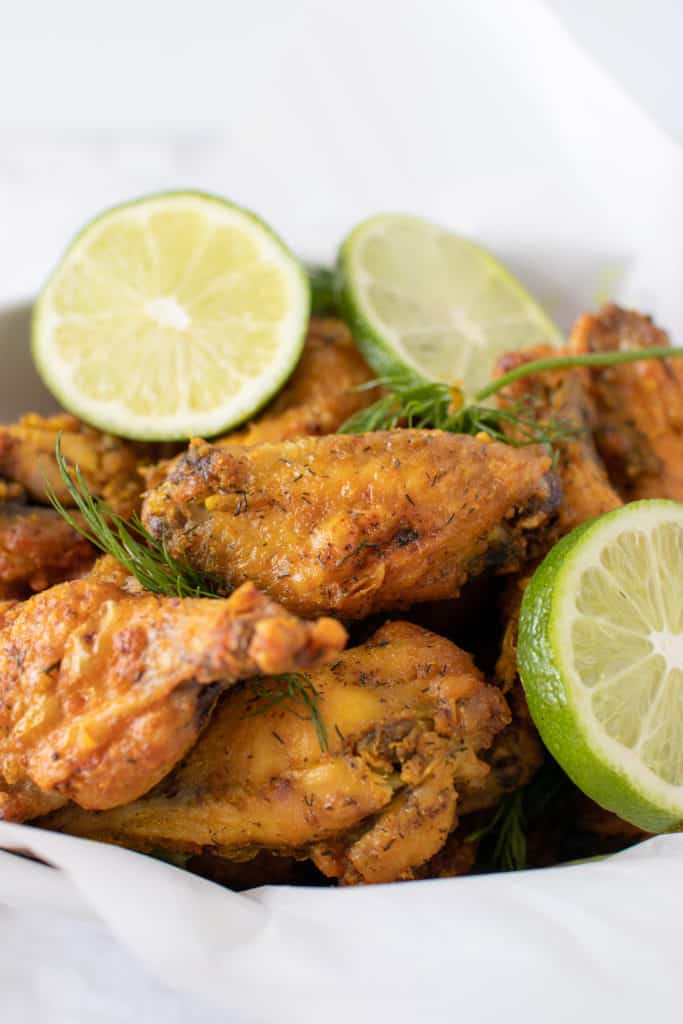 Frequently Asked Questions
Can I use regular baking powder?
Yes, if you tolerate corn, which is a common ingredient in store-bought, aluminum-free baking powder, you can use that. I recommend my AIP Baking Powder by Legit Bread.
Can I make these in an air fryer?
Absolutely! Make the wings in your air fryer and toss with the sauce.
If you can have soy, could I use soy sauce over coconut aminos?
No, because the aminos are sweet and get sticky when reduced. This is important for the sauce flavor.
What else can I use this sauce for?
It's an awesome AIP stir fry sauce, I also use it as a base for saag that I make in the pressure cooker, that recipe is in my second book Made Whole Made Simple.
Can I bake these wings directly on the sheet pan if I don't have a rack?
Yes, lightly oil it and use a spatula to scrape them up.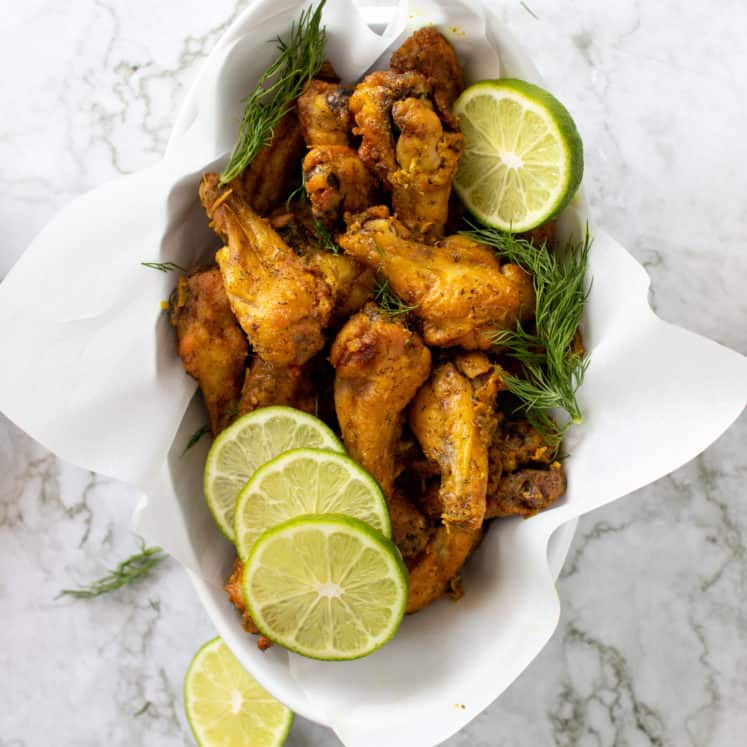 Crispy Ginger Lime Chicken Wings (Whole30, Keto, AIP)
---
Author: Cristina Curp
Prep Time: 15
Cook Time: 70
Total Time: 85
Yield: 30 1x
Category: Poultry
Method: Bake
Cuisine: American
Diet: Gluten Free
Description
Crispy Baked Wings, Tangy Sticky Sauce!
---
Scale
Ingredients
For the Wings
15 pastured chicken wings (cut into 30 pieces)
½ tablespoon AIP baking powder 
1 tablespoon fine salt
1 tablespoon granulated garlic
2 tablespoons avocado oil
For the Sauce
2 tablespoons avocado oil
3 tablespoons coconut aminos
2 tablespoons apple cider vinegar
¼ cup bone broth
¼ cup juice from the orange
zest of orange
zest of 2 limes
6 cloves garlic, zested
1-inch nub of ginger, zested
1 tablespoon nutritional yeast
1 teaspoon turmeric
1 teaspoon dried dill weed
½ teaspoon garlic powder
½ teaspoon ginger powder
---
Instructions
Pre-heat oven to 250F. Place a rack over a sheet pan and lightly oil it. Pat your chicken dry.
Cut your wings per the instructions above at both joints. Store the tips for later use like broth.
Put all of the drumettes and wingettes in a large bowl and toss with salt, garlic and baking powder. Drizzle in the oil and toss again.
Line all of the chicken pieces up on the rack, you might have to crowd them a little, but make sure none of the pieces are actually touching.
Bake at 250F for 35 minutes. Then crank the oven up to 425F degrees. Bake for another 45-50 minutes until crispy, golden and delicious.
While the wings bake, heat a small sauce pot over medium heat. Once it is hot add in the avocado oil, coconut aminos and apple cider vinegar.
Bring it to a simmer while you measure out the rest of the seasoning and zest the fruit.
Add the orange juice and broth to the mix and bring it to a simmer again until the liquid is reduced by half and lightly coats a spoon.
Mix in the zest, yeast and seasonings. Stir until the sauce is like a thick, kind of chunky glaze. Remove from the heat. Go relax, you have some idle time.
When the wings are done remove them from the oven and toss in a large bowl with the sauce! Serve hot and enjoy.
Recipe Notes:
The recipe as written makes 30 pieces, so you would half of the sauce on a batch of wings.
Nutrition
Serving Size: 5
Calories: 450g
Fat: 38g
Carbohydrates: 5g
Fiber: 1g
Protein: 42g
Keywords: AIP Keto Chicken Wings