These are the perfect wings. They're crispy and so flavorful, then paired with a dreamy creamy sauce that's dairy-free. This healthy rub is nightshade and sugar-free, which makes these crispy keto wings anti-inflammatory and really, really good for you. Also, really delicious. Your family will fight over who gets the last one!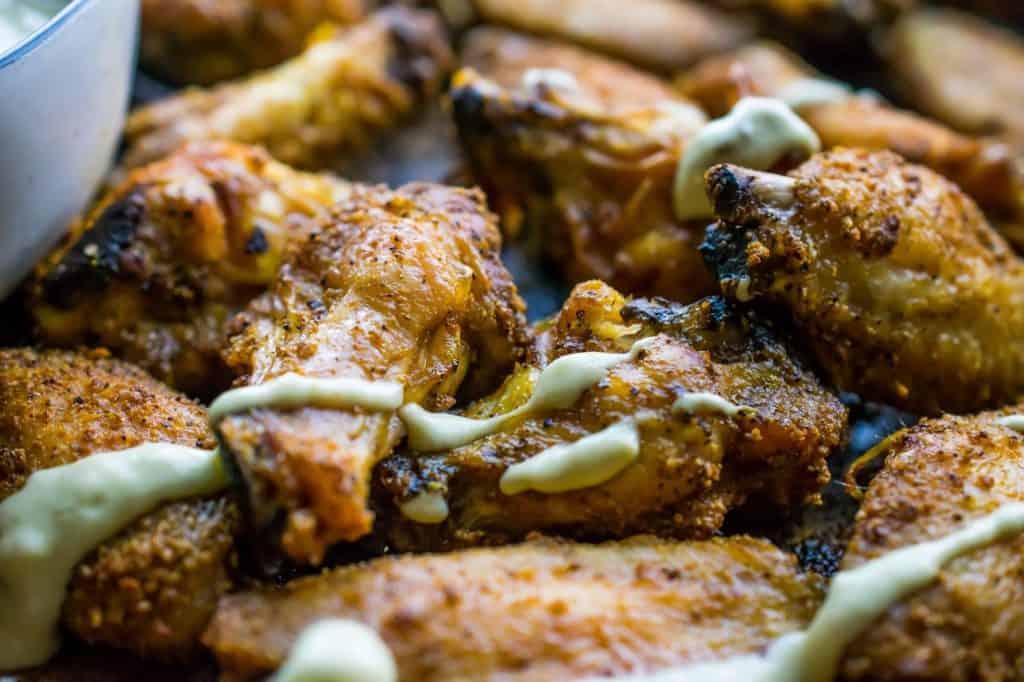 Best Healthy Wings EVER
I'm not sure why I'm so late to the wing game, but I came in swinging. Ever since I made my Crispy Ginger Lime Chicken Wings, we're obsessed. Well, I'm obsessed, and my husband isn't mad about it! These crispy keto wings are crunchy perfection. They really satisfy that need for crispy or crunchy food that I get on keto. I have JUST begun to add nuts back into my diet, so for a long time, pork rinds were my only solace.
When I make wings I am always so surprised at how they satisfy the meal and snack craving all at once. The flavor possibilities are endless, oh yes, more recipes to come! These wings are a win for the whole family! Even Jack, my almost 5-year-old, gobbled up like 8 of them! Bonus, they're not fried. These crispy keto wings are BAKED BABY!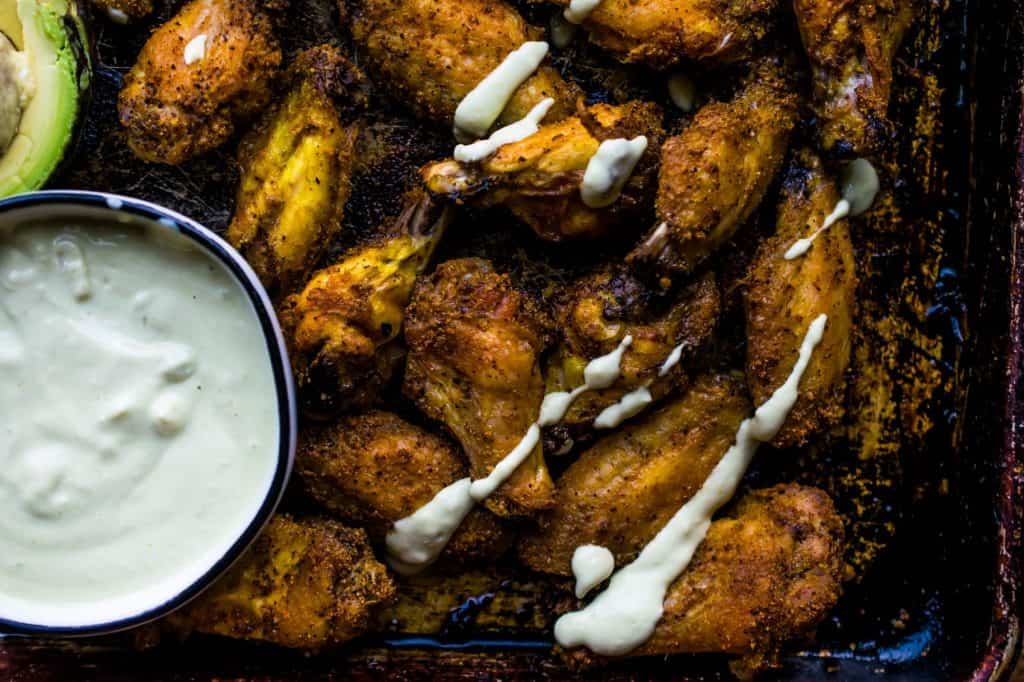 Why Dry Rub?
Because EXTRA CRISPY is everything. Then you can dunk these wings in this put on all things good creamy sauce that can I just say makes this whole wing situation a full meal. The dry rub is nightshade and sugar-free because, hello… it's me! That's how we roll at the castaway kitchen! The mix is made of turmeric, cumin, mustard powder, Chinese 5 spice and black pepper! MMMmmmMM! Using my favorite baking powder, dehydration and bake method, this recipe is rock solid.
The Sauce
Creamy, silky, cool and garlicky. The sauce is a combination of soaked cashews, fresh avocado, raw garlic and avocado oil. A concoction that blends up in minutes. It's almost mayo-like but not greasy or heavy although it packs lots of yummy fats and potassium. The perfect sauce to make these wings a complete meal. Also doubles as a killer salad dressing or mayo for my egg-free folks! The crispy dry rub wings combined with the creamy sauce is a magical combination!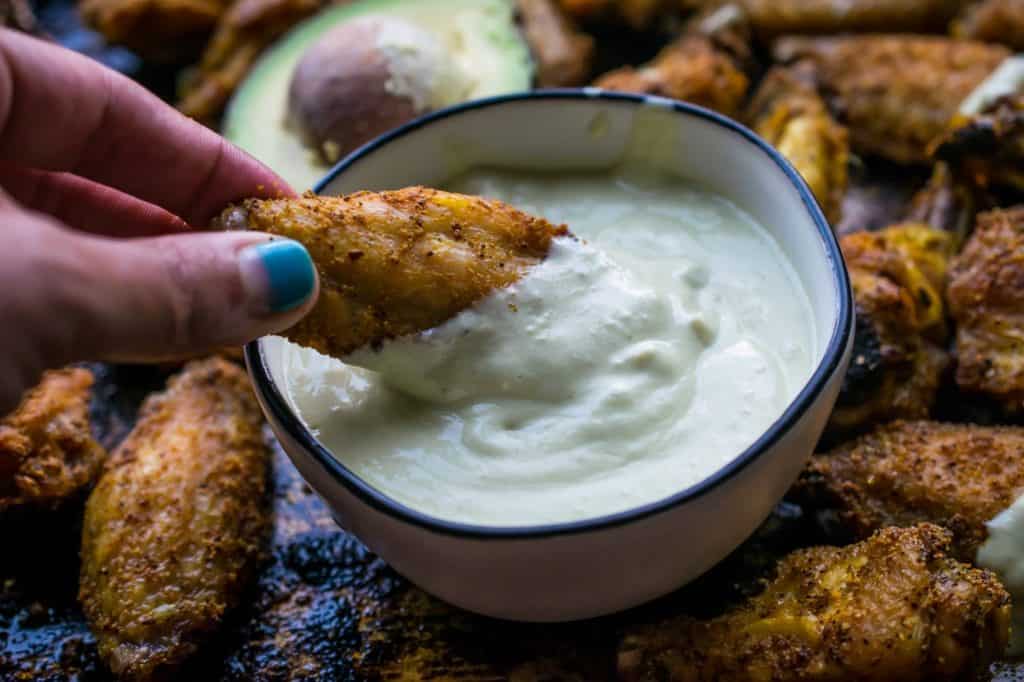 AIP Modifications
Omit the mustard, black pepper, 5 spice and cumin.
Use ground ginger, onion powder, and a pinch of nutmeg instead.
For the sauce, omit the cashews and use coconut cream. Omit the mustard seed powder. Viola!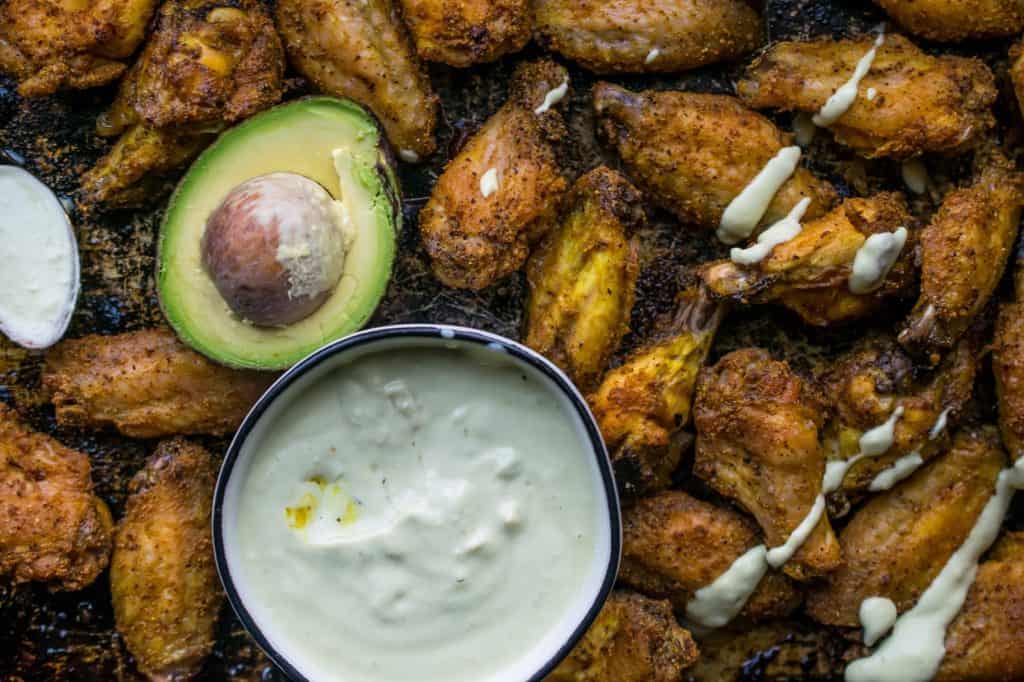 If you have questions about the prep method, check out my Ginger Lime Wings, the post has step by step and a video: CLICK HERE.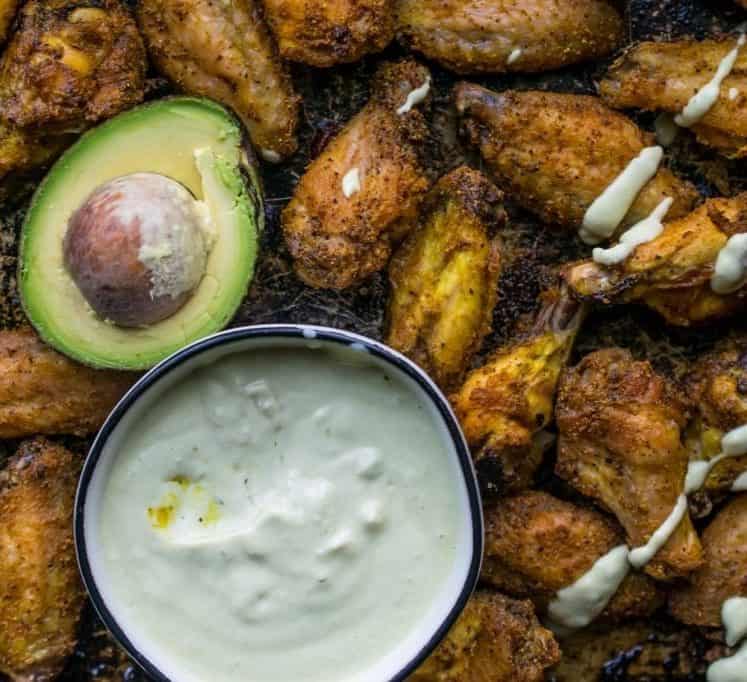 Crispy Keto Wings with Creamy Garlic Sauce
---
Author: Cristina Curp
Prep Time: 10
Cook Time: 90
Total Time: 1 hour 40 minutes
Yield: 4 servings 1x
Category: Entree
Method: Bake
Cuisine: American
Diet: Gluten Free
Scale
Ingredients
Crispy Wings
2 pounds chicken wings
2 teaspoons baking powder (see recipe above)
2 teaspoons fine Himalayan salt
1 teaspoon garlic powder
1 teaspoon ground mustard seeds
1 teaspoon ground cumin
1 teaspoon ground black pepper
1/2 teaspoon Chinese 5-spice
2 tablespoons avocado oil
Creamy Garlic Sauce
1/2 cup whole cashews
1 cup filtered water
(or 6 ounces homemade cashew milk)
1/2 large hass avocado
5 cloves garlic
2 tablespoons apple cider vinegar
1/2 teaspoon fine Himalayan salt
1/2 teaspoon ground mustard seeds
2 tablespoons avocado oil
---
Instructions
Pre-heat the oven to 250F.
Cut the wings at the joints to separate the wingettes and the drumettes and remove the wing tips.
In a small bowl combine all of the rub ingredients (baking powder, salt, spices).
Add all of the wingettes and drumettes to a large bowl. Add the dry rub and toss well to coat the wings. Add in the avocado oil and toss to coat.
Place racks over your sheet pan, and lightly grease. Arrange your wings on the racks.
With one rack in the middle and the other on the bottom, put your sheet pans in the oven and roast at 250F for 30 minutes.
Switch the pans from racks and then crank the heat up to 425F. Roast for 40 minutes.
Remove the sheet pans from the oven and use a spatula to gently separate the wings from the racks.
While the wings cook, put the cashew to soak. Submerge them in water and sprinkle with salt. After 30 minutes drain and rinse the soaked cashews.
Combine all of the sauce ingredients in a blender and blend until smooth.
Serve the wings with the cool garlic sauce on the side.
Dip, eat, enjoy!
Nutrition
Serving Size: 1/4 recipe
Calories: 695
Fat: 60g
Carbohydrates: 10g
Fiber: 3g
Protein: 49g
Keywords: crispy keto wings