Everyone loves tacos, it's a fact. When you're on AIP, Mexican-inspired cuisine can be hard. This recipe brings warm and bold textures, lots of colors,s and a great sauce, over a bowl of lettuce with avocado. A great AIP Taco Bowl, made Sheet Pan Dinner that will hit the spot.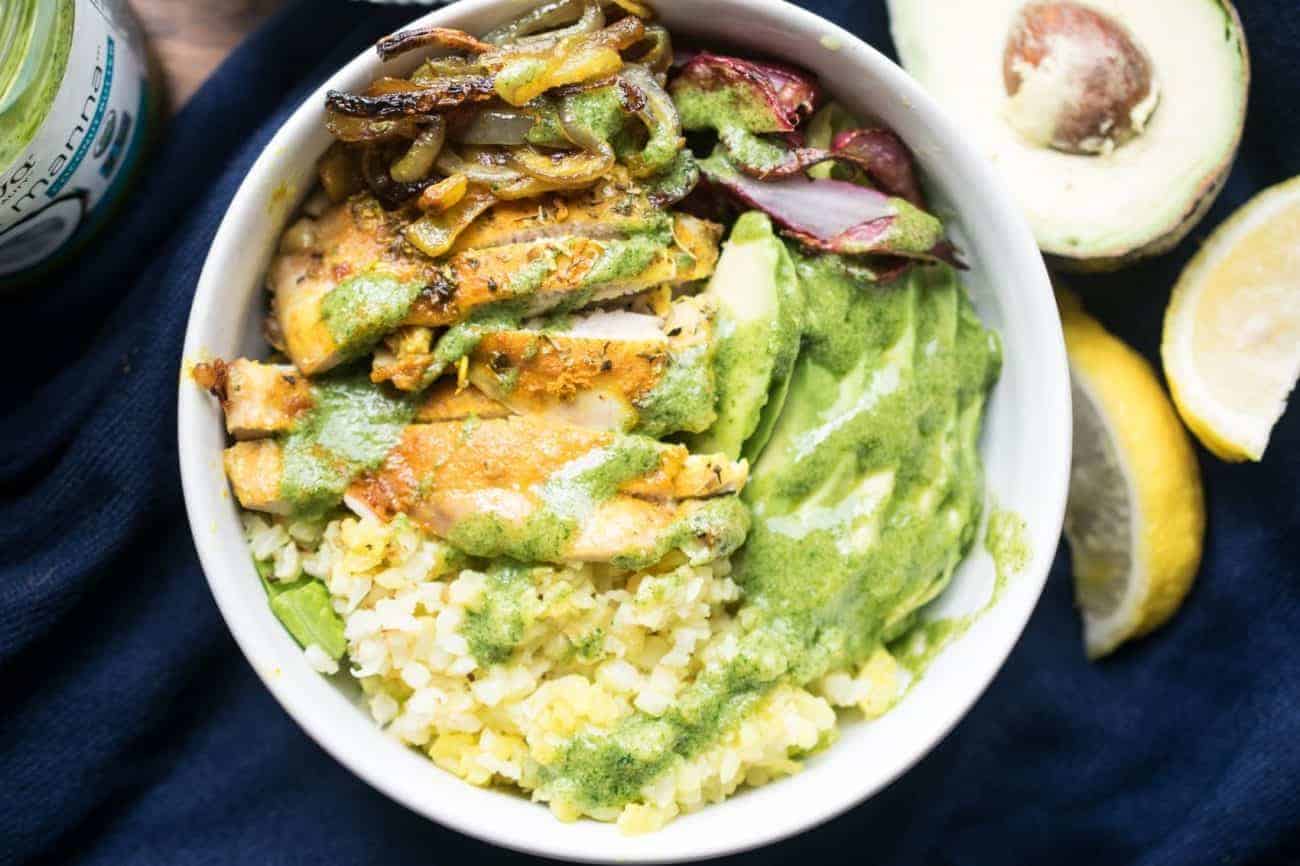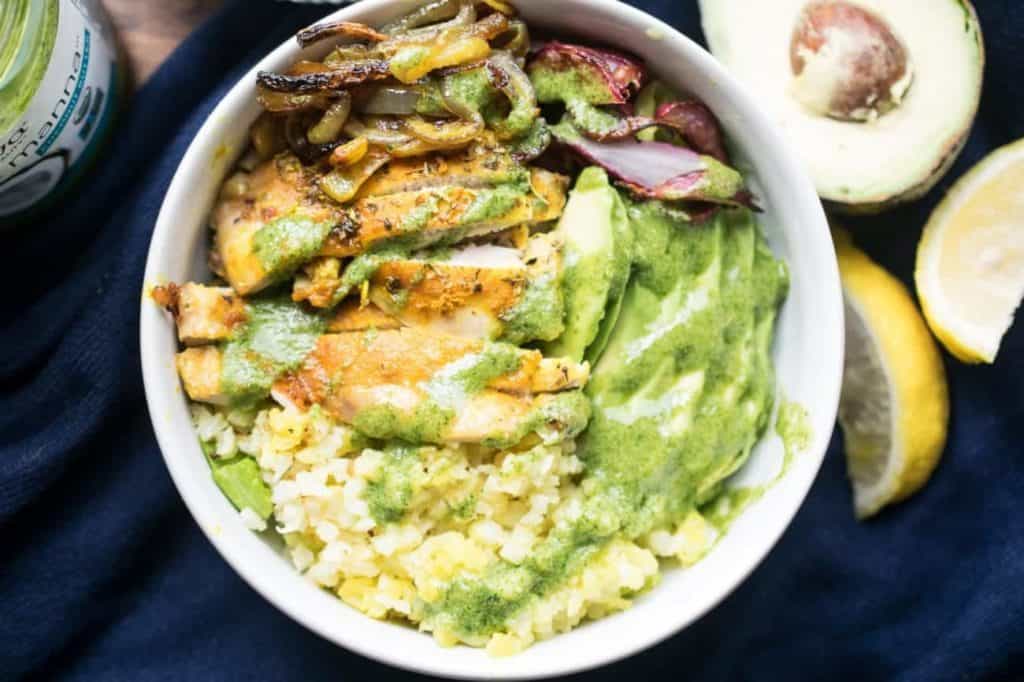 Table of Contents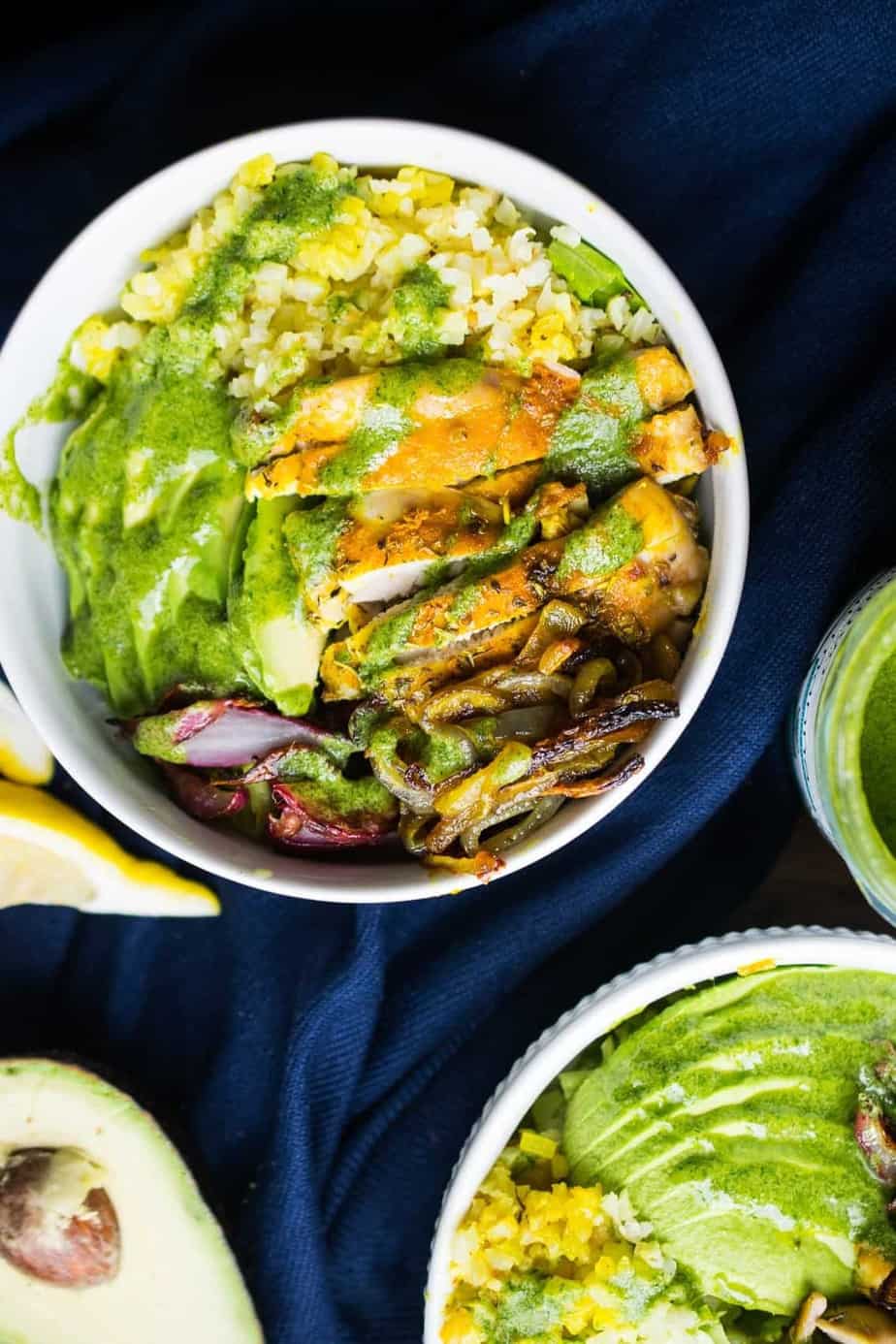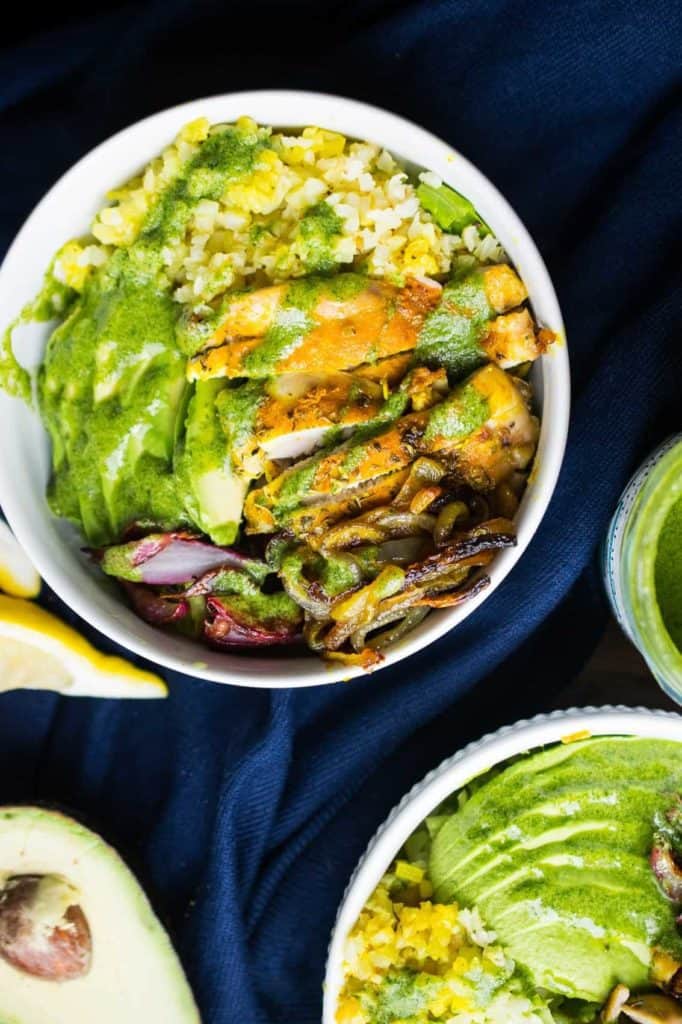 AIP + Keto?
It's a niche of a niche of a niche… I get it. One that is quickly growing as AIP veterans find the magic in low carb eating, and low carb lifers find the magic in elimination diets. Why not marry them? Even if for a short while! I already eat a nut, nightshade, and dairy-free keto… so what's a little more? Okay, coffee, eggs, chocolate… those are going to be though, but for you all, for the sake of self-experimentation, I will do it, and in this time I will create more recipes and resources for those who want to do AIP and/or keto! If you want to learn more about KETO, PALEO AND AIP read THIS POST.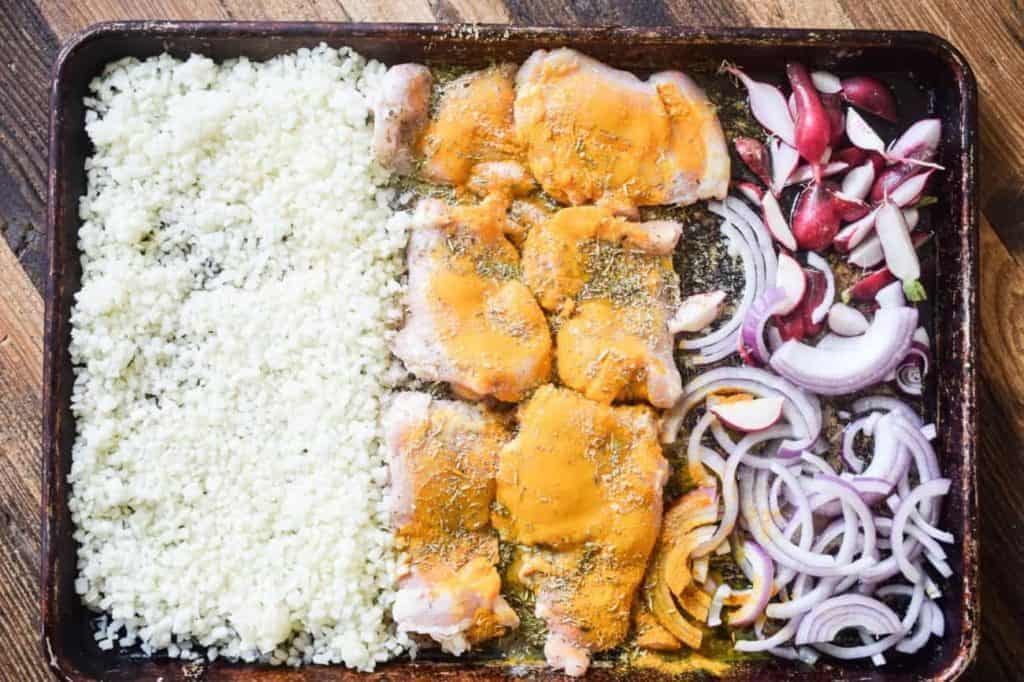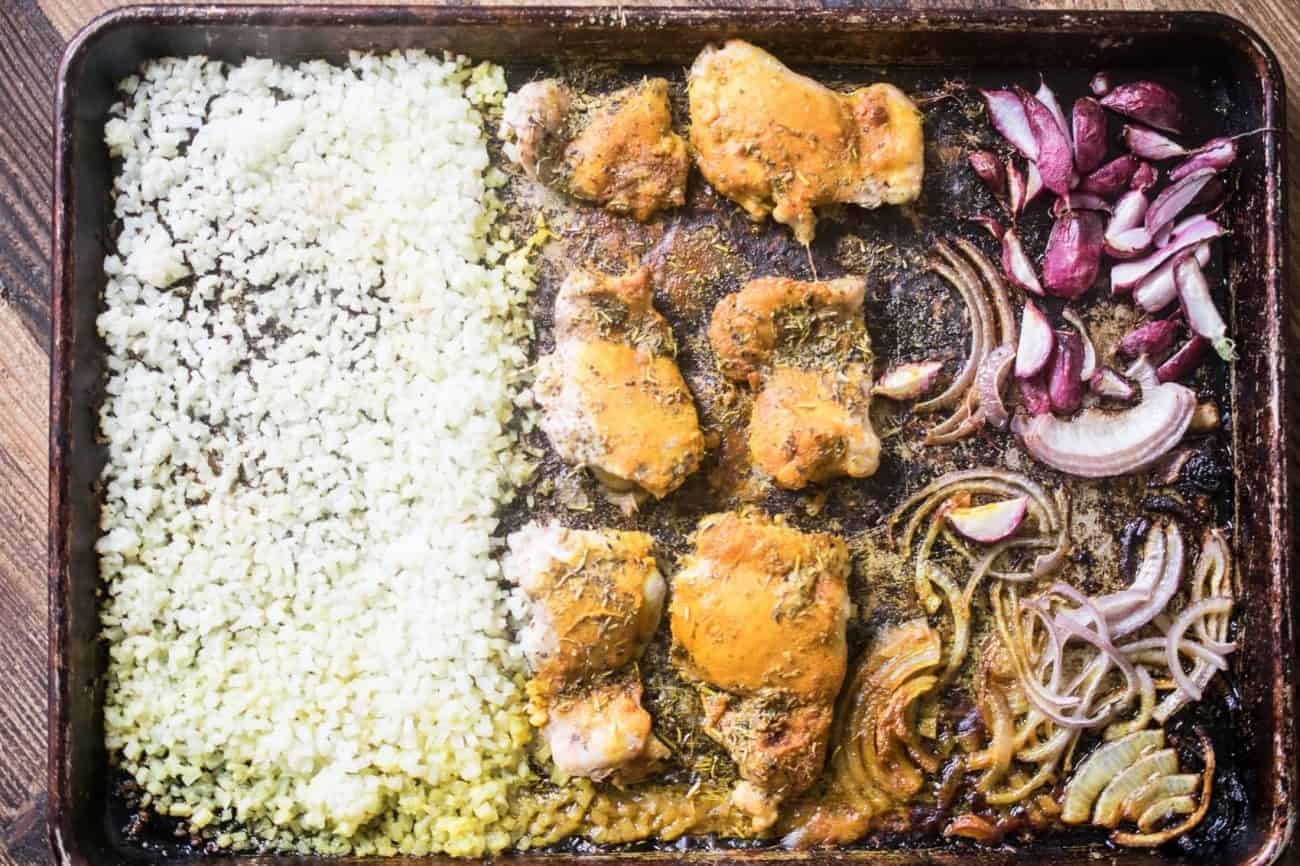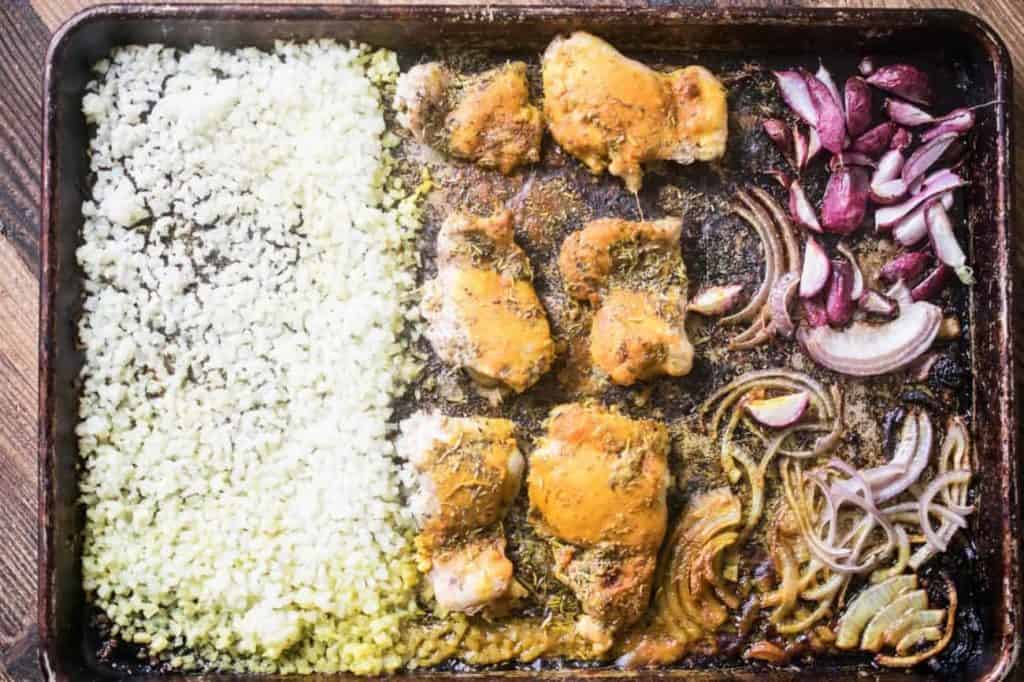 About These AIP Taco Bowls
These anti-inflammatory, nutrient-dense sheet pan AIP taco bowls have it all. Turmeric and ginger for spice, herbs, garlic for flavor. Roasted onions for sweetness. Textures, sauciness, and a whole lotta yummy fats! I love sheet pan meals, they're a hands-off approach that can yield amazing results!
You can make these AIP taco bowls if you're shopping off of the AIP Keto Shopping List, HERE. Also, they come together super fast and taste amazing.
I like to use chicken thighs because they are so juicy, cook fast and get a little crispy.
My AIP taco seasoning consists of salt, turmeric, garlic, ginger, and parsley.
The green sauce is so yum, a salsa verde without nightshades made of cilantro, coconut butter, nutritional yeast, coconut aminos, and lemon.
Warm and saucy yet fresh and tangy! I like to roast my radishes and red onion for a sweeter flavor, but toss them in raw to get the full-on radish spice, or throw some arugula in the mix for a peppery flavor. That's the best part about these sheet pan taco bowls, you can make them your own!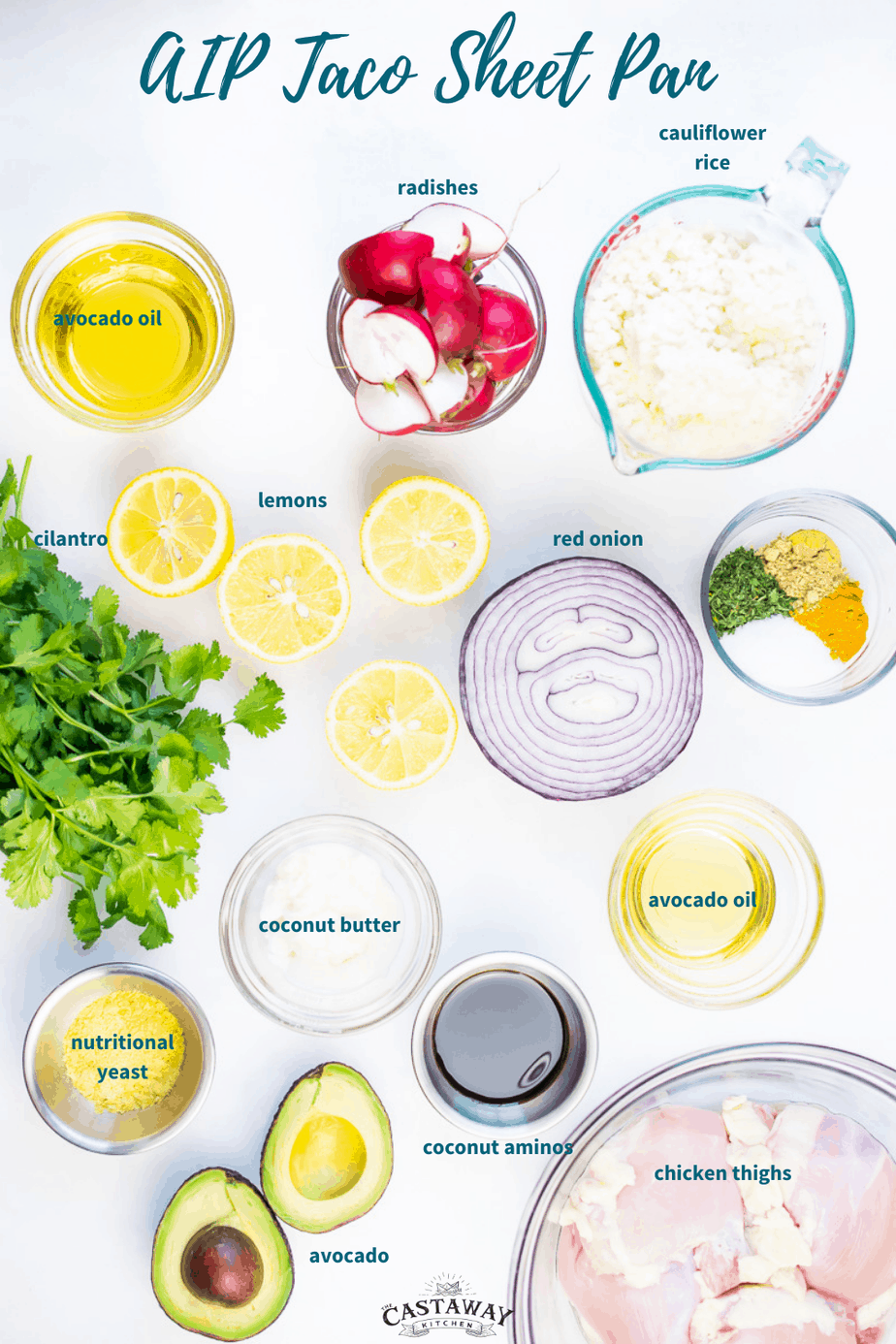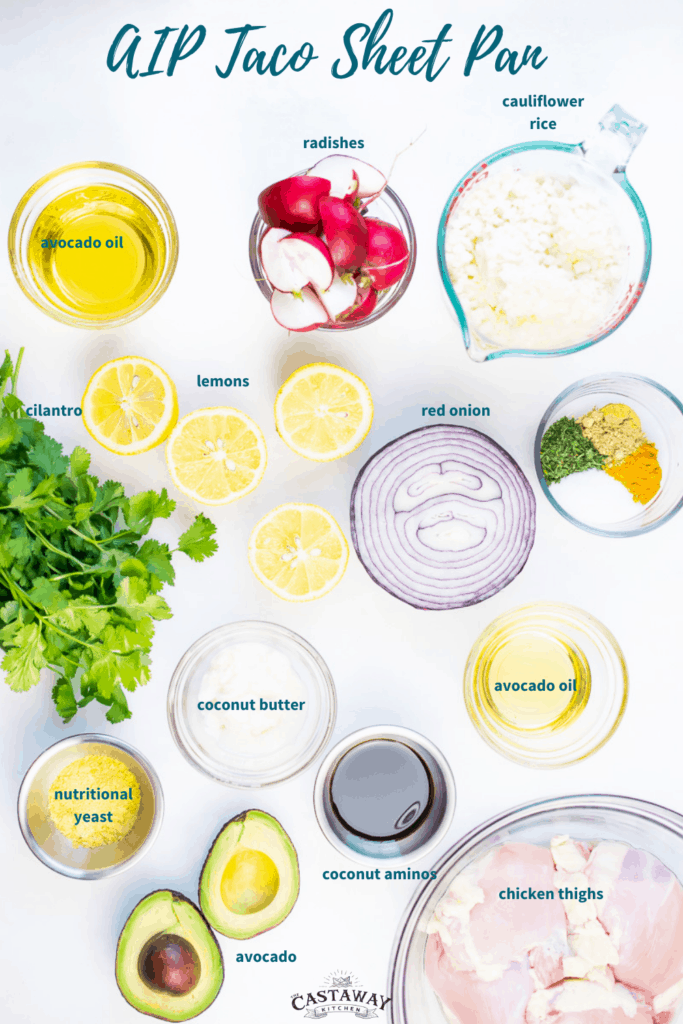 AIP Taco + Sheet Pan: Step by Step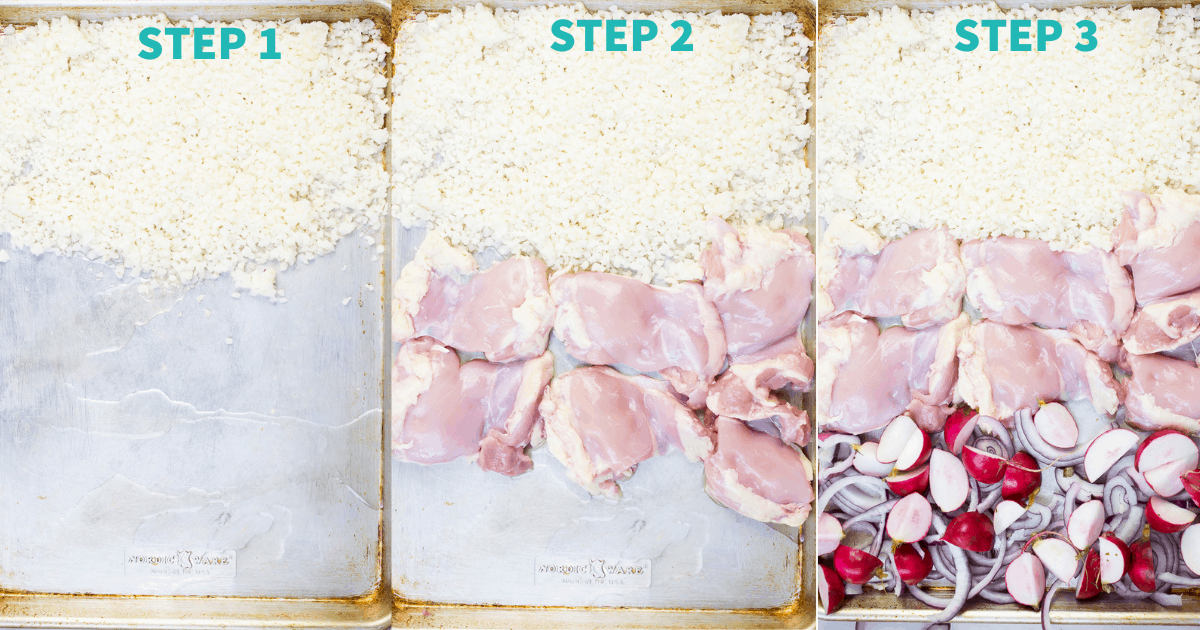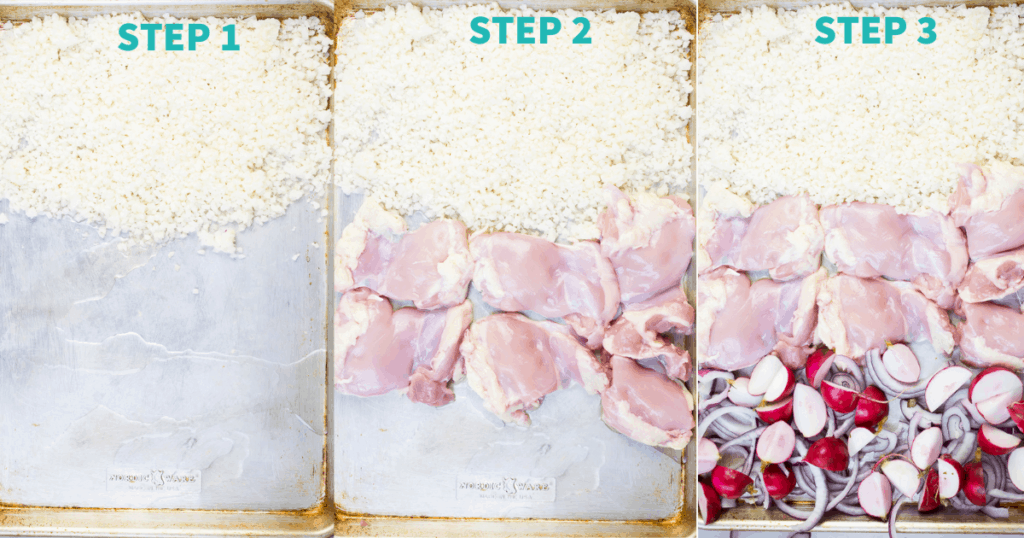 Start by putting the cauli-rice on the oiled sheet pan, to one side. Then arrange the chicken thighs so they're flat and not overlapping. On the space left add the radishes and red onion.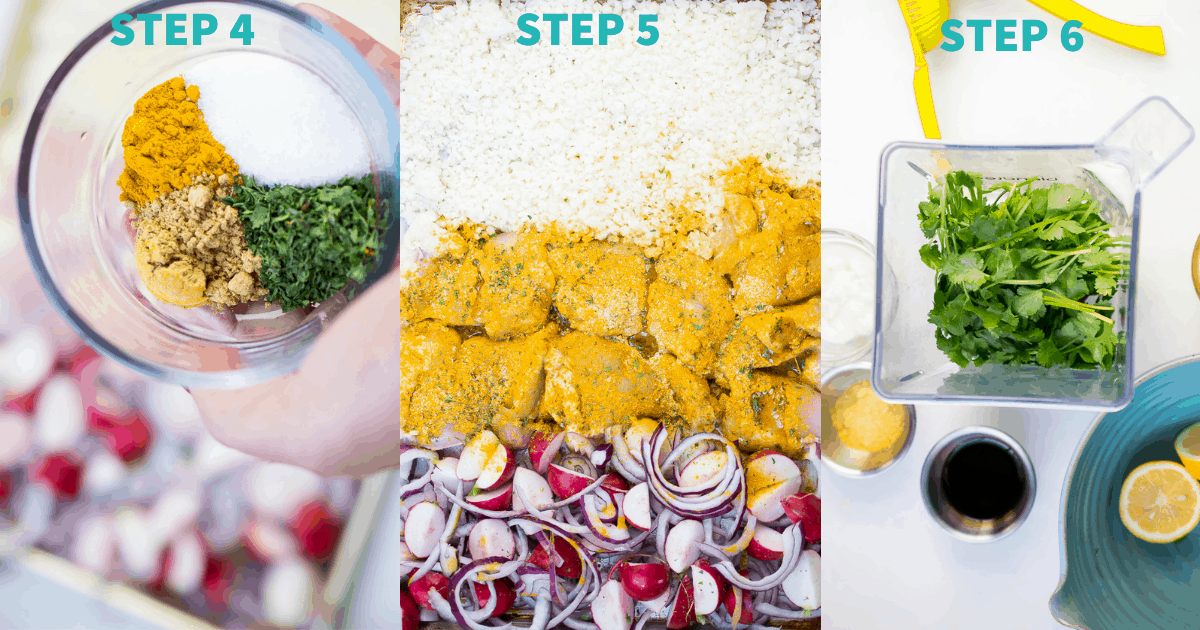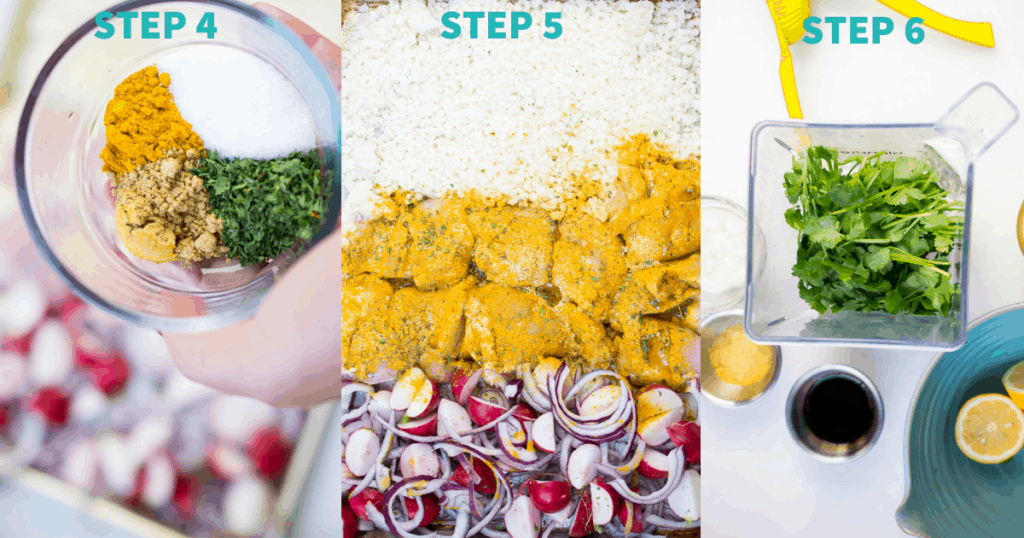 Grad your seasonings! Salt goes over everything, with 1 teaspoon on the chicken. The turmeric, ginger, parsley and garlic go on the chicken. Put the sheet pan in the oven. While it roasts, combine all of the sauce ingredients in your blender.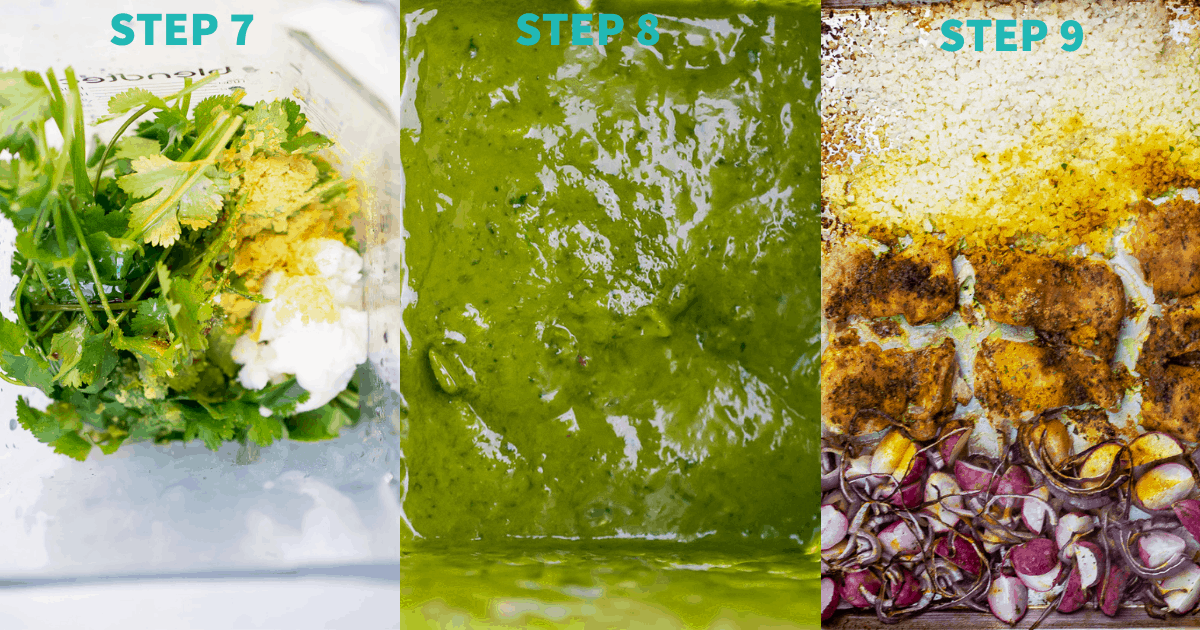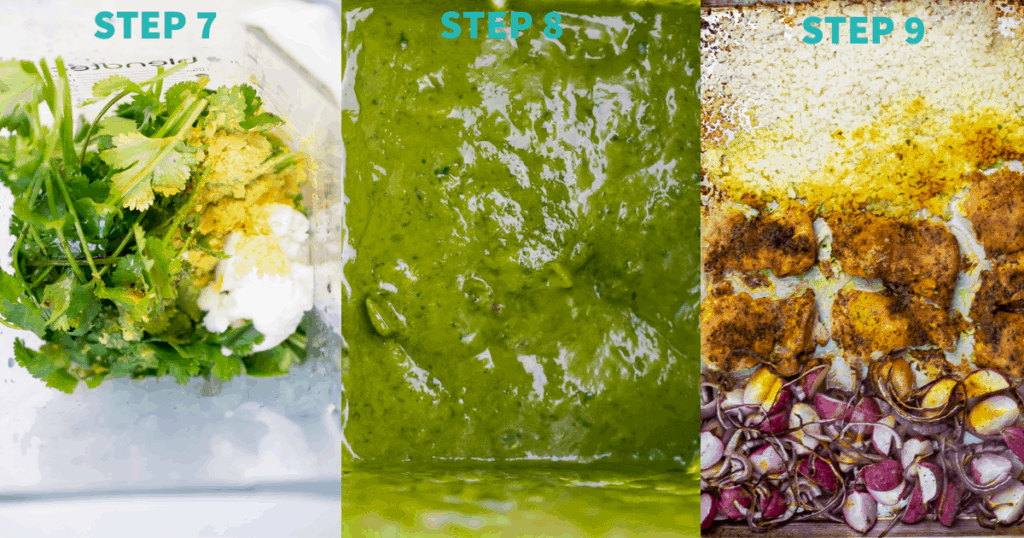 Blend until smooth and set aside. Take your sheet pan out of the oven at 30 minutes. Then arrange your bowls and drizzle with sauce!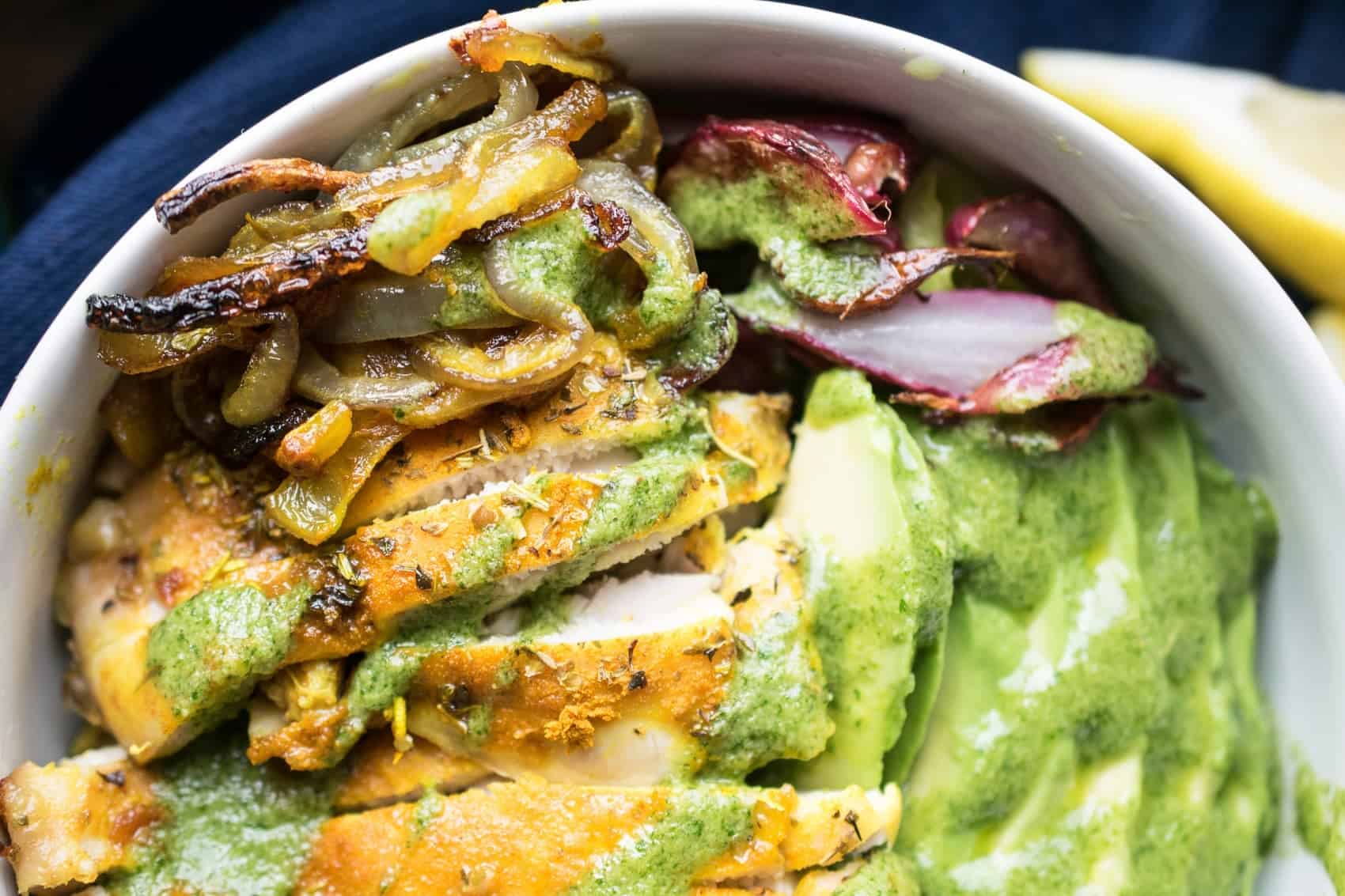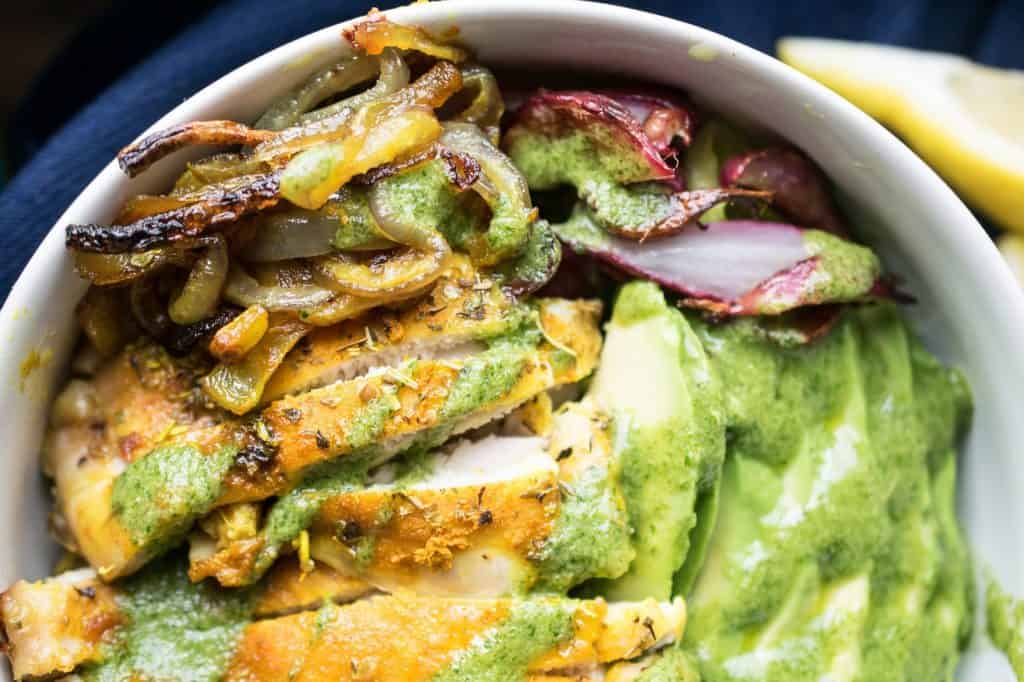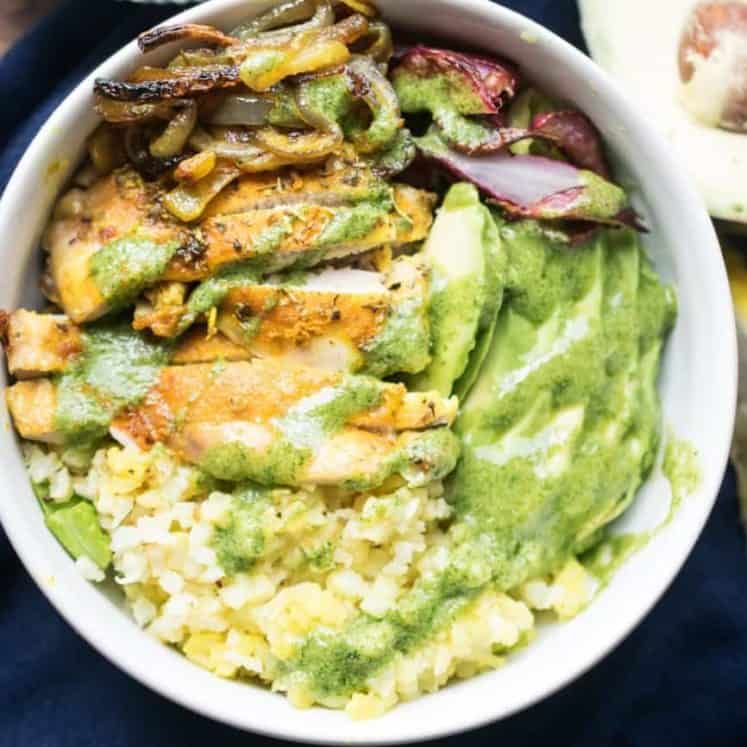 AIP Taco Bowl
---
Author: Cristina Curp, FNTP
Prep Time: 10
Cook Time: 35
Total Time: 45 minutes
Yield: 4 1x
Category: Dinner
Method: Sheet Pan
Cuisine: Latin Inspired
Diet: Gluten Free
Description
A delicious AIP (nightshade-free) Taco Bowl recipe! It's perfect for Whole30, Paleo and Keto diets.
---
Scale
Ingredients
For the Sheet Pan
3 tablespoons avocado oil, divided
2 cups cauliflower rice, frozen
1 pound bonesless skinless chicken thighs
½ red onion, sliced
1 bunch radishes, quartered
2 teaspoons pink Himalayan salt
1 teaspoon ground ginger
1 teaspoon dried parsley
1 teaspoon ground turmeric
For the Sauce
1 bunch cilantro, stems trimmed
juice of 2 lemons
1 tablespoon apple cider or coconut vinegar
2 tablespoons coconut manna or coconut butter
½ teaspoon fine Himalayan salt
1 tablespoon nutritional yeast
1 tablespoon coconut aminos
½ cup avocado oil
To Serve
1 heart of romaine, shredded
1 ripe avocado, sliced
---
Instructions
Pre-heat the oven to 400F.
Drizzle one tablespoon of avocado oil all over a sheet pan.
One on side spread out 2 cups of frozen cauliflower rice.
Next to it, line up the chicken thighs so they are lying flat, snug but not overlapping.
In the space that is left arrange the red onion and radishes. Sprinkle the salt over everything, getting about 1 teaspoon on the chicken thighs.
Next add the remaining seasoning only to the chicken.
Then drizzle the rest of the oil all over the chicken and rice.
Put the sheet pan in the oven and roast for 30 minutes. Then broil for 5 minutes.
In the meantime, prepare the rest of the bowls. Shred the lettuce, slice the avocado and make the sauce.
Combine the cilantro, nutritional yeast, lemon juice, coconut manna, salt and coconut aminos in the blender, and blend on low until almost smooth. Then slowly drizzle in the avocado oil until the sauce is fluid. Remove from the blender and store in the fridge until ready to serve!
To assemble your bowls make a bed of romaine in two bowls. Then spoon the rice on one side, the radishes and onions on another. Find a spot for your avocado. Slice 2 chicken thighs per bowl. Then drizzle sauce over everything.
There will be extra sauce. Store it in the fridge and use as salad dressing!
Recipe Notes:
macros listed are without the sauce, sauce makes more than needed for the recipe 🙂
Nutrition
Serving Size: 1/4 recipe
Calories: 319.9
Fat: 20g
Carbohydrates: 7.4g
Fiber: 4.2g
Protein: 26.4g