I am thrilled to partner with The Feedfeed and Vitamix to bring you this delicious mini mahi burger recipe. The opinions expressed in this post are my own.
I was first introduced to Vitamix when I had my first restaurant job. Since then they have been a staple in every commercial kitchen I ever worked and eventually in my own home too.
My mother gifted me a 300 Professional Series when I was pregnant, you know, for baby food… It was the wider, shorter design… the amazing power and versatility of this machine now fit under my cabinets! Make baby food it did, and everything else.  For five years I have used this blender every single day. Now I am beyond excited to get my hands on the new Vitamix Venturist! This machine comes with everything – 3 blender jar sizes (64, 20 & 8oz), an amazing blade scraping spatula & their new tamper holder – it is a serious step up.  Thee perfect tool for these Mini Mahi Burgers!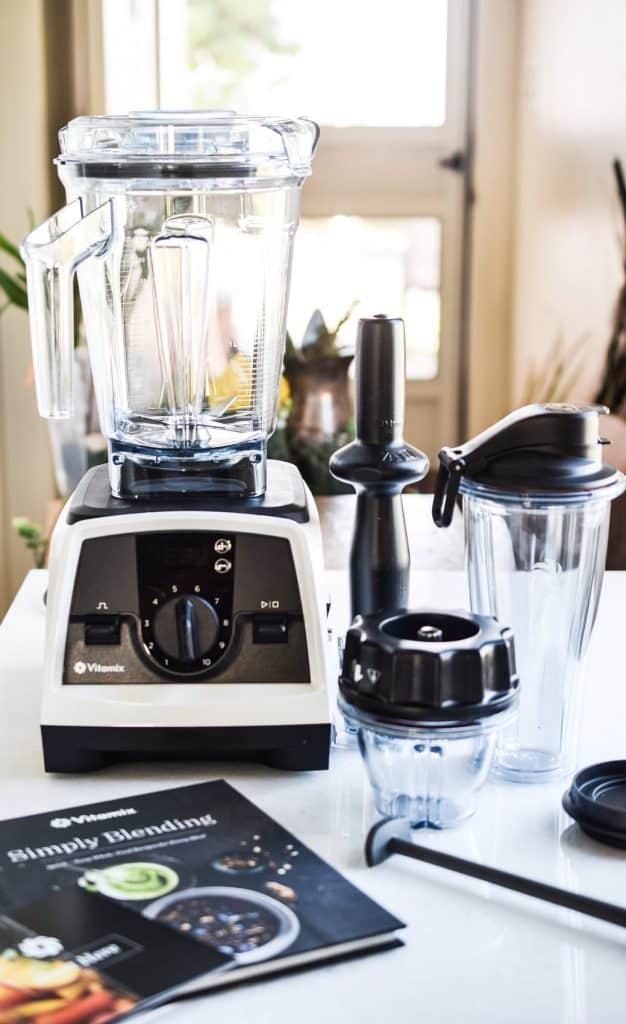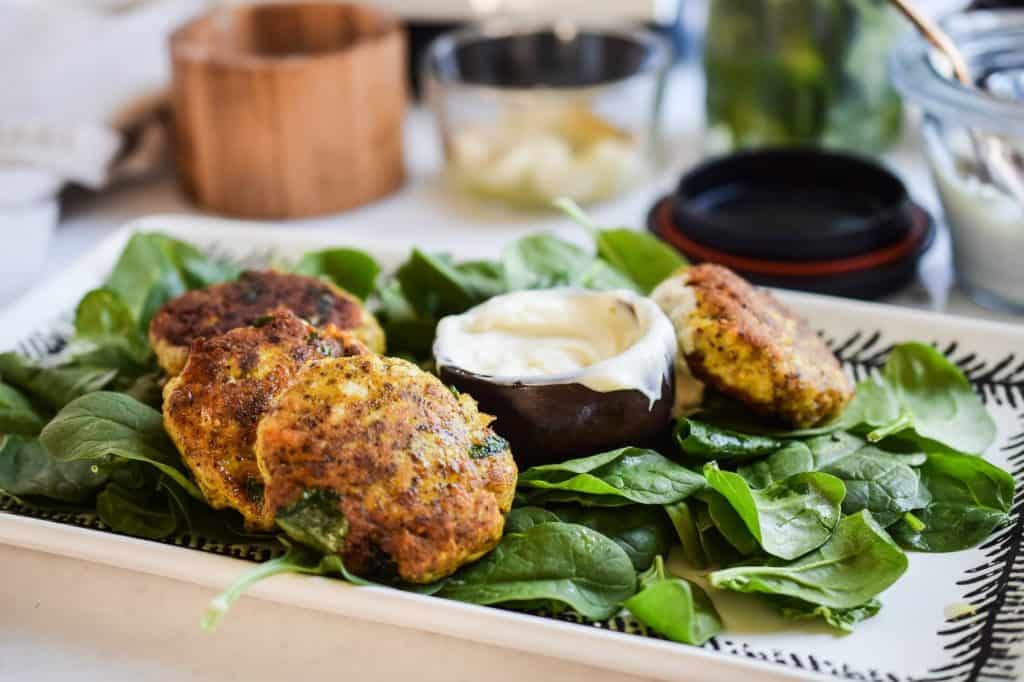 Right Tools for The Job
From restaurant chef to home chef, preparing large quantities of food at a time are my thing. I love the cook once, eat twice (or all week) approach. When you have a family, a job, hobbies, etc. It can be difficult to cook from scratch every single day. Meal prep is something which keeps me on track.
Even if you don't want to spend all day cooking on Sunday, you can cook every 2-3 days in double or triple batches and enjoy leftovers. This is my preferred method. The large 64-ounce container of the Vitamix is perfect for making huge batches of homemade dairy-free milk, coconut butter, sauces, mayo, and soup!
While all of those are staples in my kitchen, I use this high-powered machine for so much more. Think outside the blender box, the possibilities are endless with a tool that performs at this level.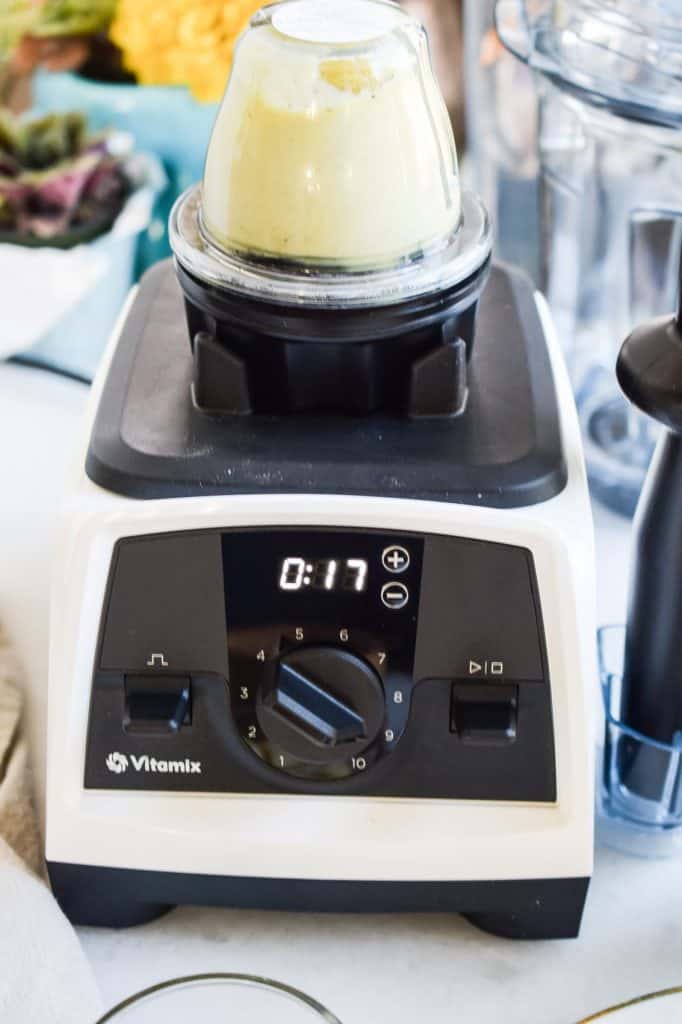 From grinding my coffee beans and my own flour mixes to making a fish paste for these burgers. I find my Vitamix to be one essential tool taking my meal prep to the next level. Efficient, fast and easy to use! From a prod holder to a blender specific spatula, to 3 sized containers, this model has it all.
As a long time Vitamix user, I feel like they took their consumers' wishes, concerns and suggestions and put them all into this new machine. It's pretty darn cool.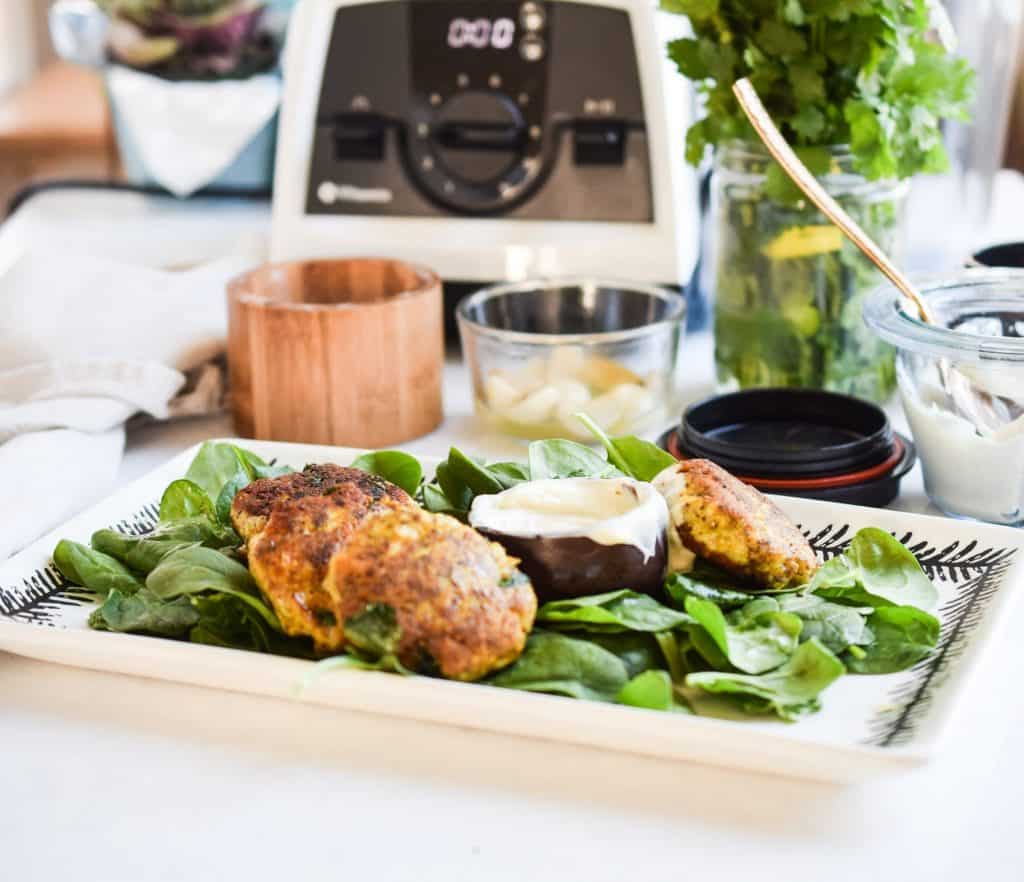 The Recipe
These mini mahi burgers are made with fresh fish and whole food ingredients. No fillers here. Curry, roasted garlic and cilantro combine to make a fish burger like you've never tasted before. Amazing structural integrity, these fry up crisp without falling apart. They also store and reheat well.
Curried and crispy, these mahi burgers are perfect over salad, dunked in homemade mayo or served with a fried egg. From brunch to dinner, these mini mahi burgers are the perfect Whole30 compliant, paleo, keto-friendly recipe.
They're not fishy at all, juicy and full of flavor. Trust me on this one, the whole family will gobble these up!
I get wild caught, center cut filets at Costco in a three-pound bag from the freezer section. It's affordable and I love the thick white meat fillets. That's what I used to make these.
Although the first time I made these I used some line-caught mahi-mahi, local from Hawaii. Here's a tip, cut the vein out, the dark red or brown line that runs through your fish, that is where the fishy flavor will be.  I save that part and use it for seafood stock or mince it up into my dog's food.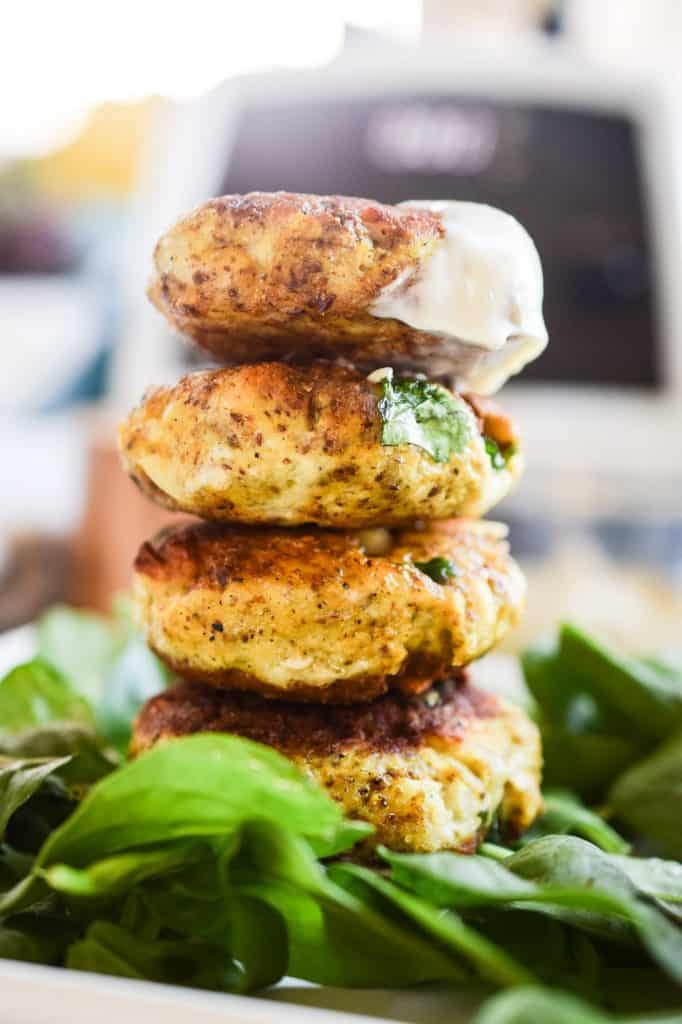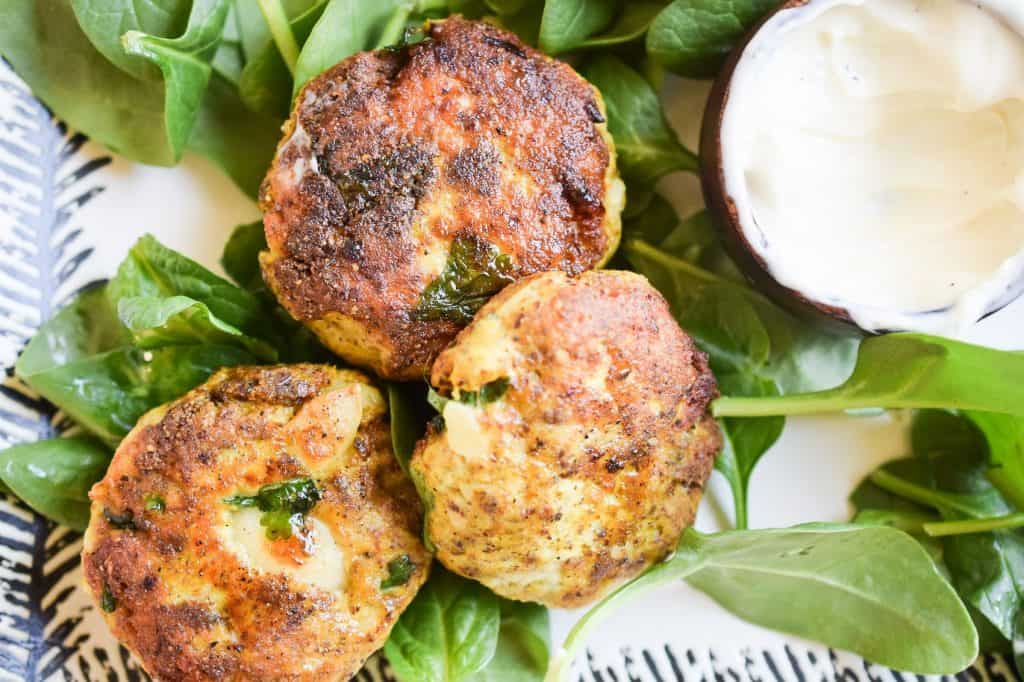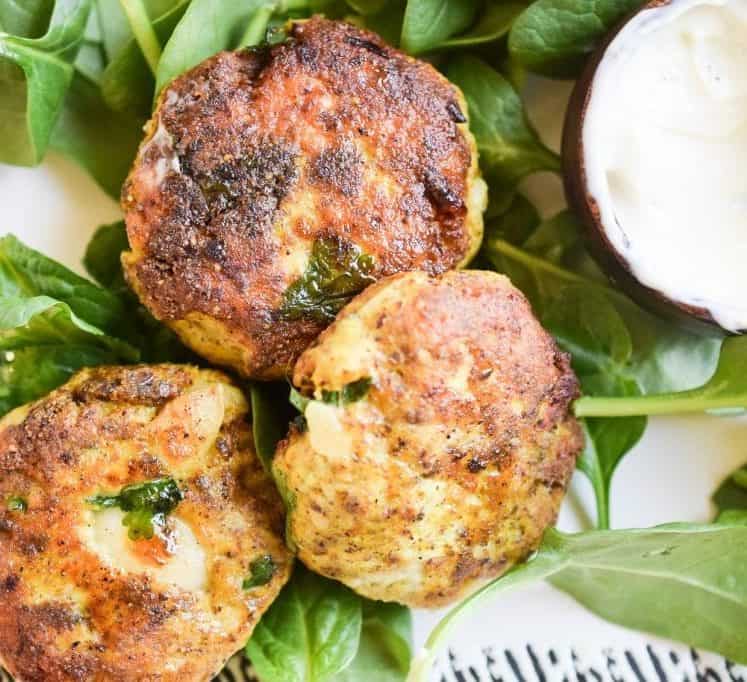 Mahi Mahi Burgers
---
Author:
Prep Time: 10
Cook Time: 20
Total Time: 30
Yield: 16 sliders 1x
Category: entree
Method: fry
Cuisine: seafood
Description
Curry Fish Burgers!
---
Scale
Ingredients
2 pounds de-boned, skinless mahi mahi filets
2 large egg whites (tip: use the yolks for mayo)
¼ cup garlic confit, with oil (recipe link in notes)
2 teaspoons fine sea salt
2 teaspoons ground cumin
2 teaspoon ground turmeric
2 teaspoons ground black pepper
2 teaspoons onion powder
¼ teaspoon ground nutmeg
6 tablespoons flax meal or fine ground almond meal
½ cup torn cilantro leaves
avocado oil for frying
---
Instructions
Heat a large cast-iron skillet over medium heat. While it comes to temperature prepare the mini burgers.
Cut your mahi in to 1 inch cubes and add it to the large Vitamix container. Add in the egg whites and blend on medium power for 20 to 30 seconds.
Add in the garlic confit and blend on low, bringing the power up to high until a fish paste has formed.
Use the blender spatula to scrape all of the fish paste into a large bowl. Add in the seasonings, flax meal and cilantro leaves.
Mix until a dough has formed. Then shape 14-16 mini patties.
Add the avocado oil to the hot skillet so it is about ¼ inch in depth. Fry 4-5 patties at a time to not crowd the skillet.
Cook 3 minutes, or until golden brown, flip and cook another 3 minutes. Use a spatula to remove the mini burgers from the skillet and place on a paper towel lined plate.
Repeat with the remaining mini mahi burgers in batches until they are all cooked. Let them cool to room temperature then store in an airtight container in the fridge for up to a week.
To re-heat pop them in the toaster oven for 5 minutes at 300F.
Recipe Notes:
Garlic Confit: https://instagram.com/p/BYrpVf9HOGw/
You may use fresh garlic browned in avocado oil
Keywords: Whole30 fish burger