These Pan Fried Beets with Creamy Mint Sauce are elegant and quite delectable. This recipe is easy, flexible, oh-so-satisfying, and totally lacking in dirt taste.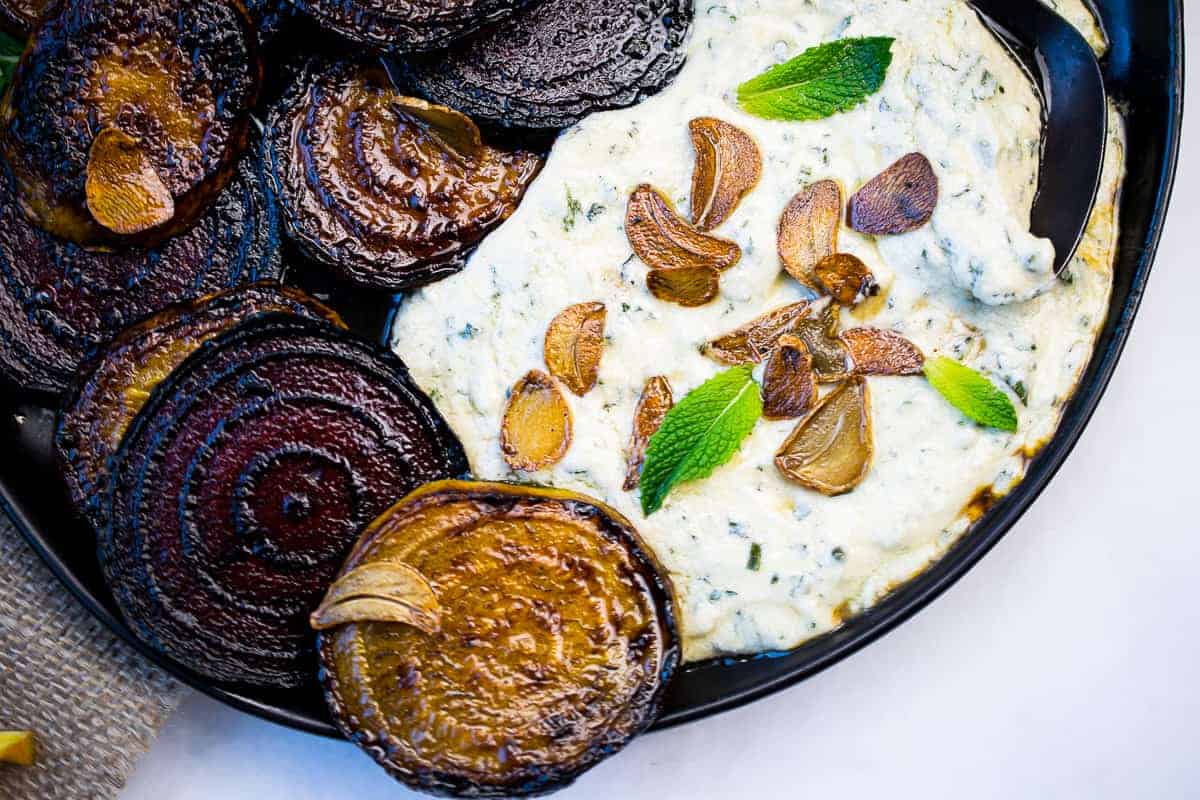 Table of Contents
This is not your average beet recipe
If you've tried beets in the past and you were turned off by the dirt undertones, this recipe is going to blow your mind. The pan-fried beets in this recipe develop a beautiful caramelization, creating a delicious semi-sweet chip that contrasts the savory and tangy creamy sauce (that gets a pop of brightness from mint). The flavors in this recipe are crave-worthy — it's a stunning veggie dish that is perfect to serve alongside a roast or steaks, or you can serve it as a plant-based appetizer.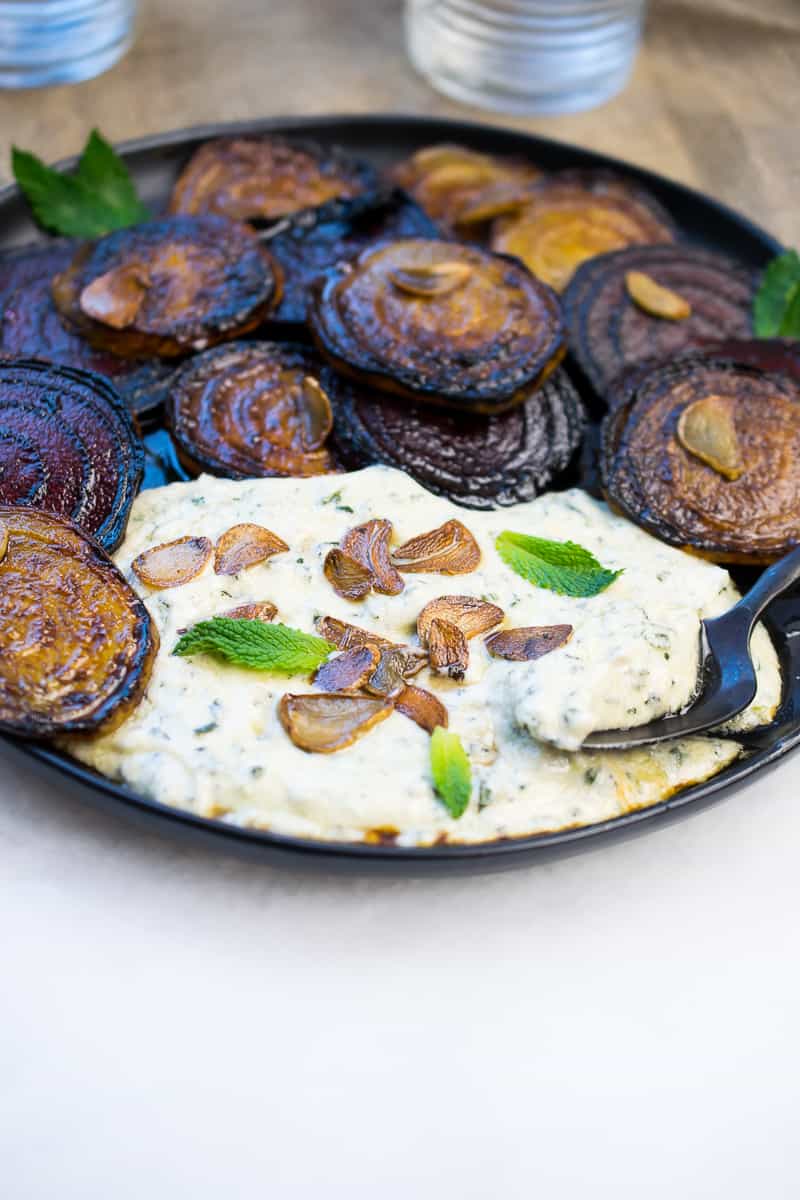 How to create a dairy-free cream sauce
For this recipe, I used Miyoko's Dairy Free Cream Cheese for the sauce; I like the plain version. If you can't find Miyoko's where you live, then you can use my Dairy Free Cream recipe. I have a cashew base and a cauli base so you can make it nut free too.
If you do well with dairy, you can use regular cream cheese or sour cream if you please. The star of the sauce is really the mint, so whatever base you use, don't skip the mint!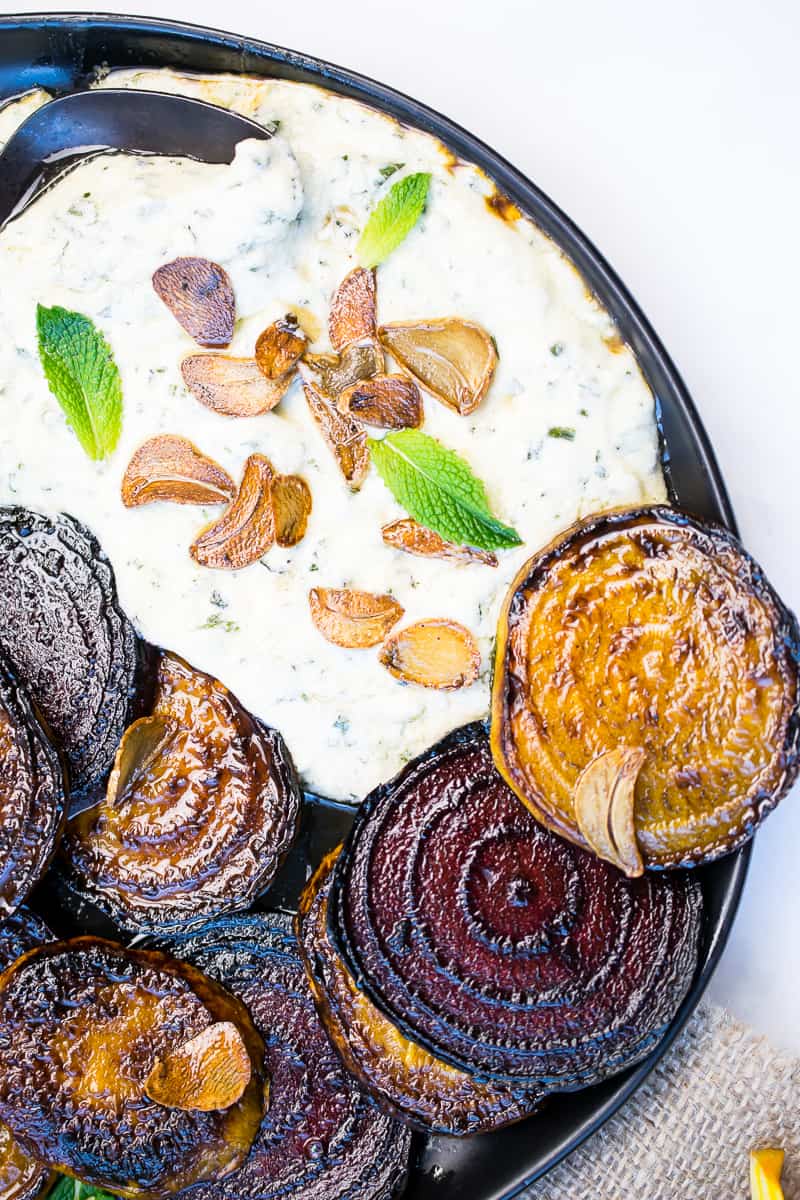 Why you should eat these Pan Fried Beets with Creamy Mint Sauce
Beets are loaded with vitamins and nutrients, and this easy beet recipe is the best way to enjoy them. Flavor and nutrient density, it's a beautiful marriage.
Let's look at the nutritional benefits of beets:
Fiber — may improve digestion and gut health
Folate — important for tissue growth and cell function
Vitamin C — an antioxidant, important for immune health and skin health
Manganese — an essential trace element, important for hormone health
Potassium — helps reduce blood pressure, an electrolyte that helps keep you hydrated
Iron — an essential mineral, important for the transport of oxygen in red blood cells
Beets are also a good source of inorganic nitrates, which have been found to significantly reduce resting blood pressure, diastolic blood pressure, improve endothelial function, and reduce arterial stiffness (source).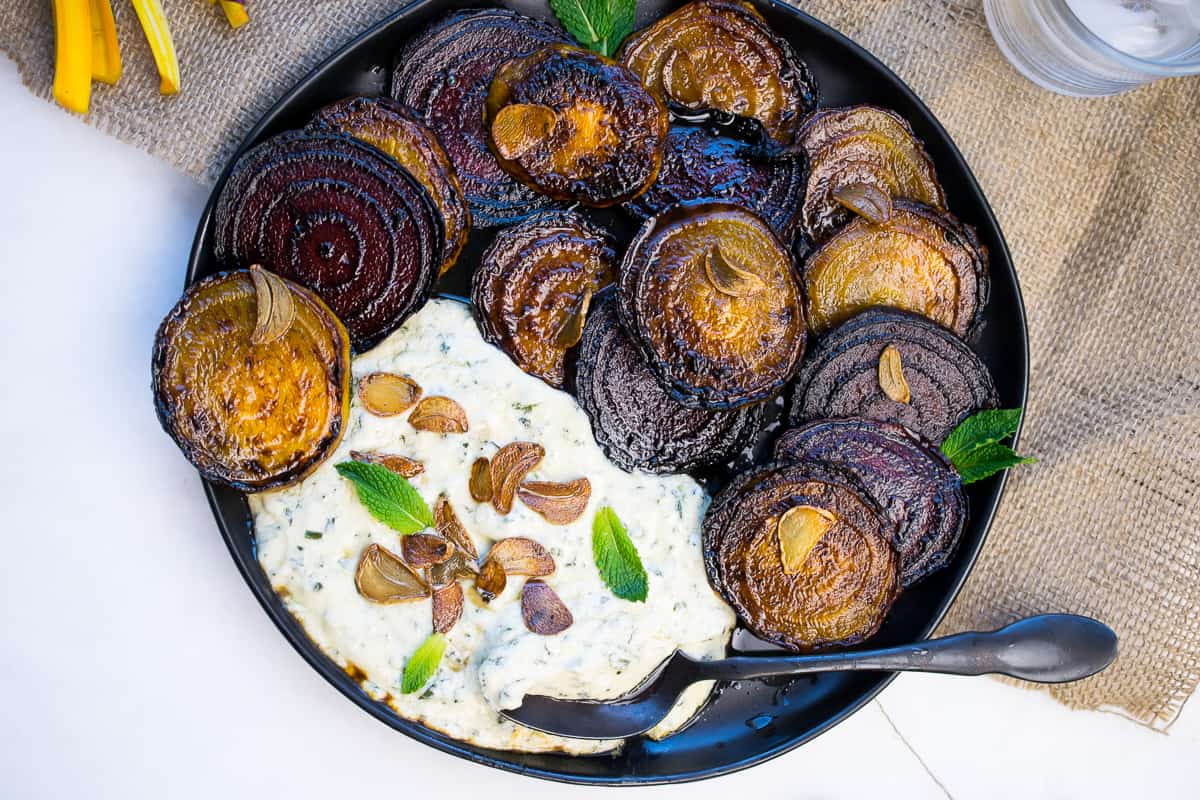 Tips for pan frying in cast iron
I'm a diehard cast iron fan, and I do everything with my cast iron. The key to getting perfectly caramelized beet slices for this recipe is to follow my cast iron pan frying tips:
The oil is ready when you dip a wooden spoon in and it sizzles
Make sure each slice has full contact with the surface of the pan (lay flat, not crowded, cook in batches)
Add more fat if you don't see a sizzle — it's okay, fat is our friend
Rotate the pan every few minutes, especially if you notice one side cooks faster
Don't flip until you see a nice brown/sear
Always cook on medium, and give it a while to heat up
These tips are a great guideline for any time you fry in cast iron. Don't be afraid, the end result is worth the learning curve!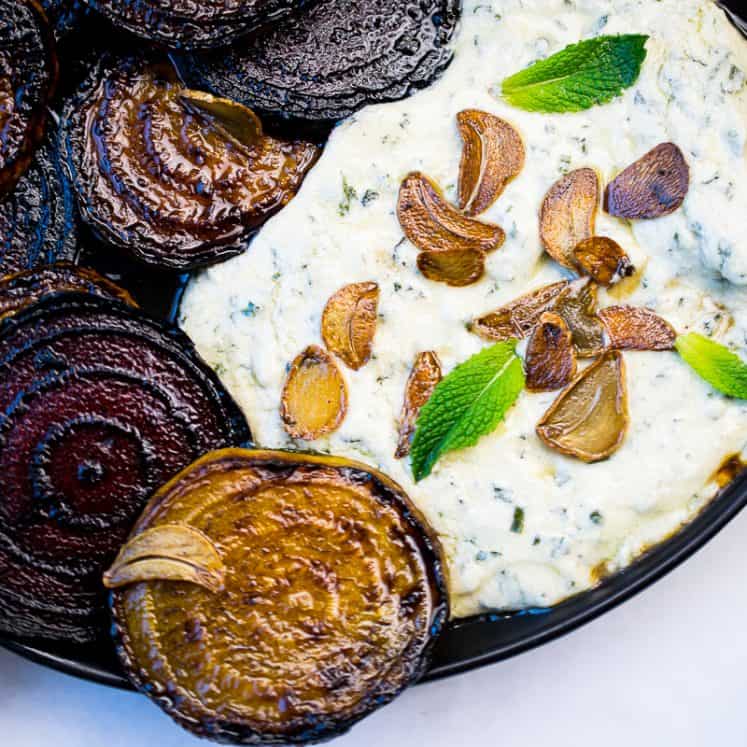 Pan Fried Beets with Creamy Mint Sauce (Dairy-Free, Keto, Grain-Free, Gluten-Free, 30 Minute Recipe)
---
Author: Cristina
Prep Time: 10 minutes
Cook Time: 20 minutes
Total Time: 30 minutes
Yield: 4 servings 1x
Category: Vegetables
Method: Fry
Cuisine: Appetizer, Side
Scale
Ingredients
For the Beets
For the Sauce:
6 ounces dairy free cream cheese, softened 
¼ cup minced fresh mint
3 tablespoon olive oil 
2 tablespoon red wine vinegar 
---
Instructions
Heat a large cast iron skillet over medium heat (I use a 15-inch). 
Use a potato peeler to peel the beets and slice them in to ¼ inch thick slices. Melt half of the ghee in the skillet. When hot, place one layer of sliced beets in the skillet so they all lay flat (you will have to do this in batches). 
Pan fry for 5 minutes then flip and cook another 5 minutes, drizzling 1 teaspoon of the aminos over them in the last 2 minutes. Transfer to plate and repeat with the remaining beet slices. 
While the beets cook, whisk together all of the sauce ingredients in a bowl until smooth. Set aside.
When you're done cooking the beets and you have transferred them all to a plate, add the garlic slices to the skillet. Tilt the skillet up so all of the fat pools together and the garlic slices are fully submerged in the fat, hold it here, letting the garlic fry until golden brown. 
Spoon the garlic chips over the beets. Serve the mint cream on the side and sprinkle more garlic chips over that too! Enjoy!
Recipe Notes:
net carbs per serving: 9.9g
Nutrition
Serving Size: 1 serving
Calories: 351.6
Fat: 30.5g
Carbohydrates: 15.3g
Fiber: 5.4g
Protein: 6g
Keywords: beet recipe, fried beets, dairy free cream sauce, low carb side dish, plant based meal, 30 minute meal