Forget cow milk butter, I know it's delish… but this stuff will take your cooking to the next level. Made with roasted herbs and garlic and a little bacon for kicks, take your roasted veggies and seared steaks to the next level, while giving your body some optimal nutrition!
Sounds fancy and expensive right? Think again!!!! If you can find a butcher in your area, soup bones, marrow bones… or sometimes even called dog bones are usually really cheap! Like $3-5/ cheap. I scored 4 pounds of marrow bones at Union Market in DC for $4/lb and this recipe was born.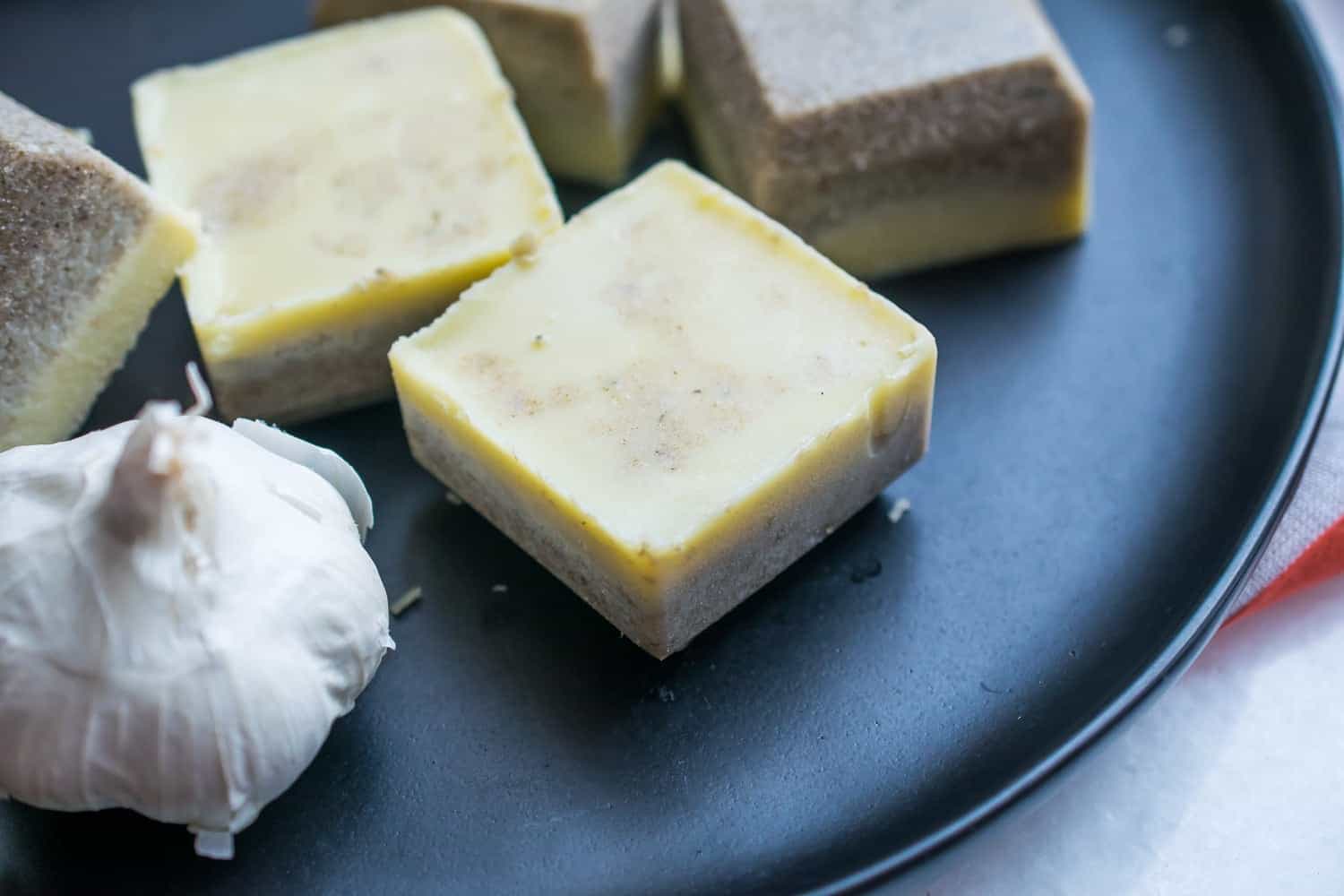 Benefits of Bone Marrow
We've all heard how amazing gelatin and bone broth are for us. Gut healing, amazing for hair, skin, nails. A great source of protein that patches up the gut lining. Well… this is getting it from the source! This stuff is what makes bone broth so amazing. Bonus, it's delicious!
"A University of Michigan-led study shows that the fat tissue in bone marrow is a significant source of the hormone adiponectin, which helps maintain insulin sensitivity, break down fat, and has been linked to decreased risk of cardiovascular disease, diabetes, and obesity-associated cancers."
You can buy bones and freeze them, thaw in the fridge when you're ready to cook. Also as your butcher to cut them the long way for you if you can.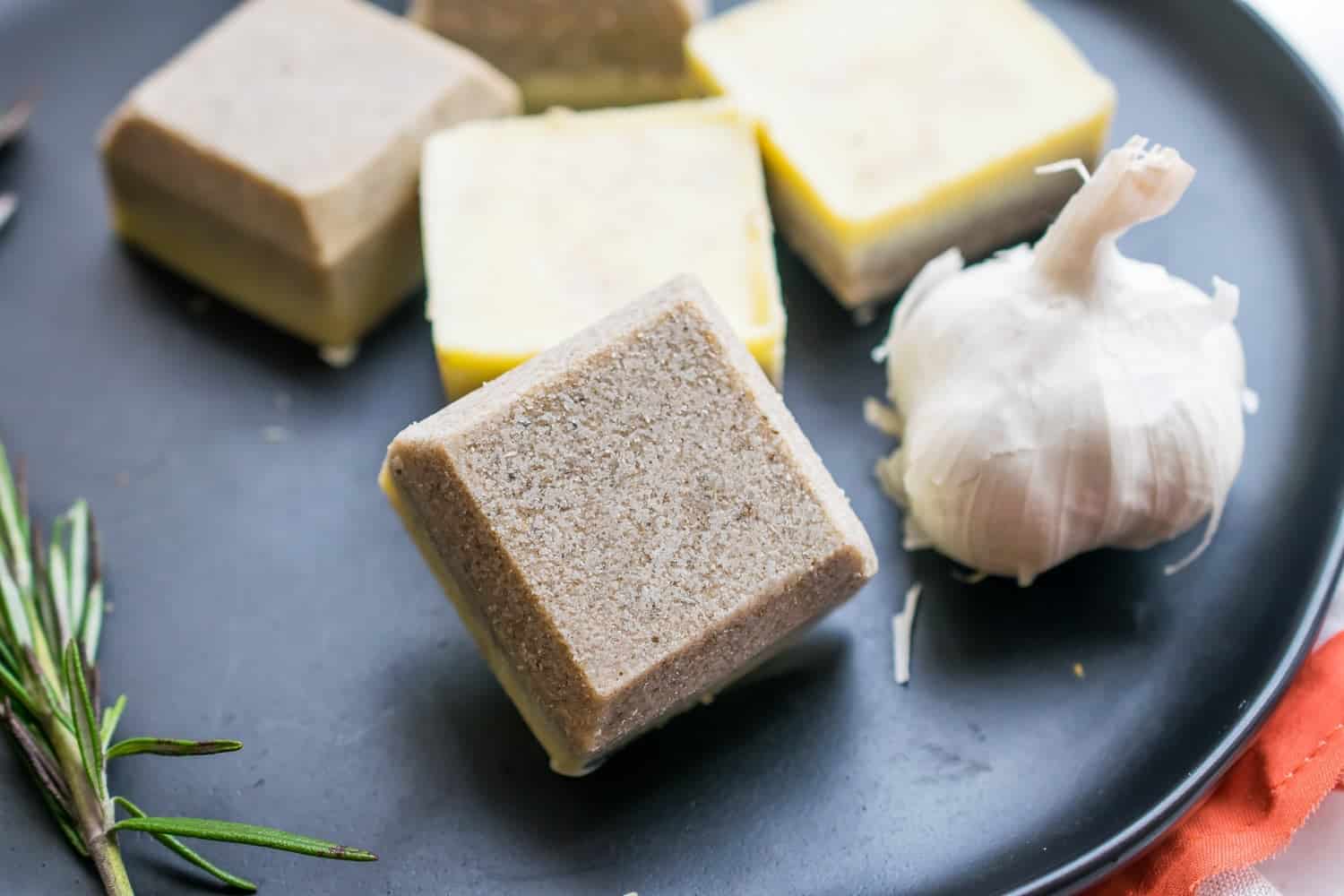 How to Use Bone Marrow Butter
To cook steak.
On roasted vegetables.
Smeared on toast.
To roast chicken or duck.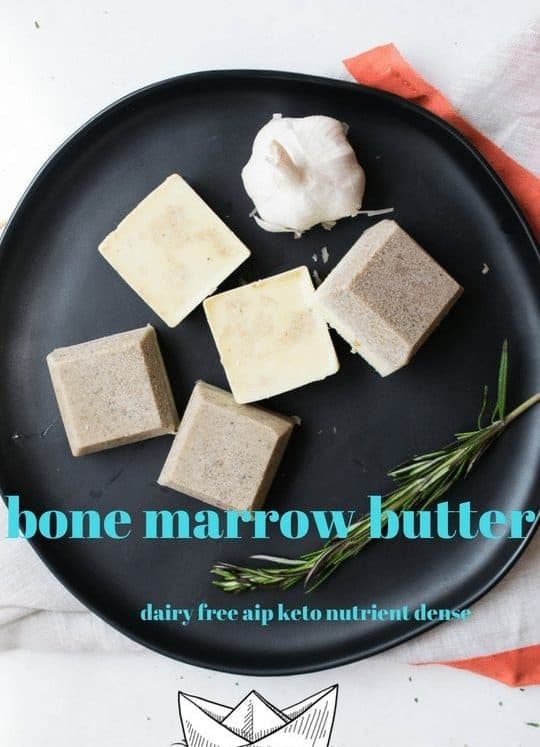 Marrow Butter (Dairy Free, Keto)
---
Author: Cristina Curp
Prep Time: 5
Cook Time: 22
Total Time: 27 minutes
Description
A super nutrient dense option for cooking fat. Perfect for those with dairy allergies.
---
Scale
Ingredients
4 pounds marrow bones, cut in half long way
2 tablespoons avocado oil
2 teaspoons fine salt
4 sprigs rosemary
5 cloves garlic
1/4 cup bacon fat or lard
---
Instructions
Pre-heat oven to 400F.
Line your bones up on a sheet pan and sprinkle with salt and drizzle with oil.
Arrange the rosemary and garlic over the bones. Roast for 20 minutes until the marrow, is softened.
Remove the bones from the oven, let them cool so you may handle them.
Use a spoon to scoop you the marrow into the bowl of your blender.
Add the rosemary and garlic too.
Blend on medium speed while you add in the bacon fat or lard.
Blend until smooth. Use a spatula to transfer the smooth marrow mix to silicone trays, ice cube tray or tupper ware and set in the fridge to harden.
I like the cubes because I can pop one out when needed. Use it like you would herbed butter for cooking!