Fat burgers? Like are they made of JUST fat? No, silly! But they ARE a delectable combination of BACON, ground pork and ground beef for a super easy, protein option that's got plenty of yummy fats in it. Coming from the paleo camp, lowering my protein was quite hard for me when I first went keto.
Although now that I have found my groove, I don't track macros and let the natural ebb and flow of my bodies needs dictate my food choices, I still love my meat. What can I say, I am a butcher's daughter.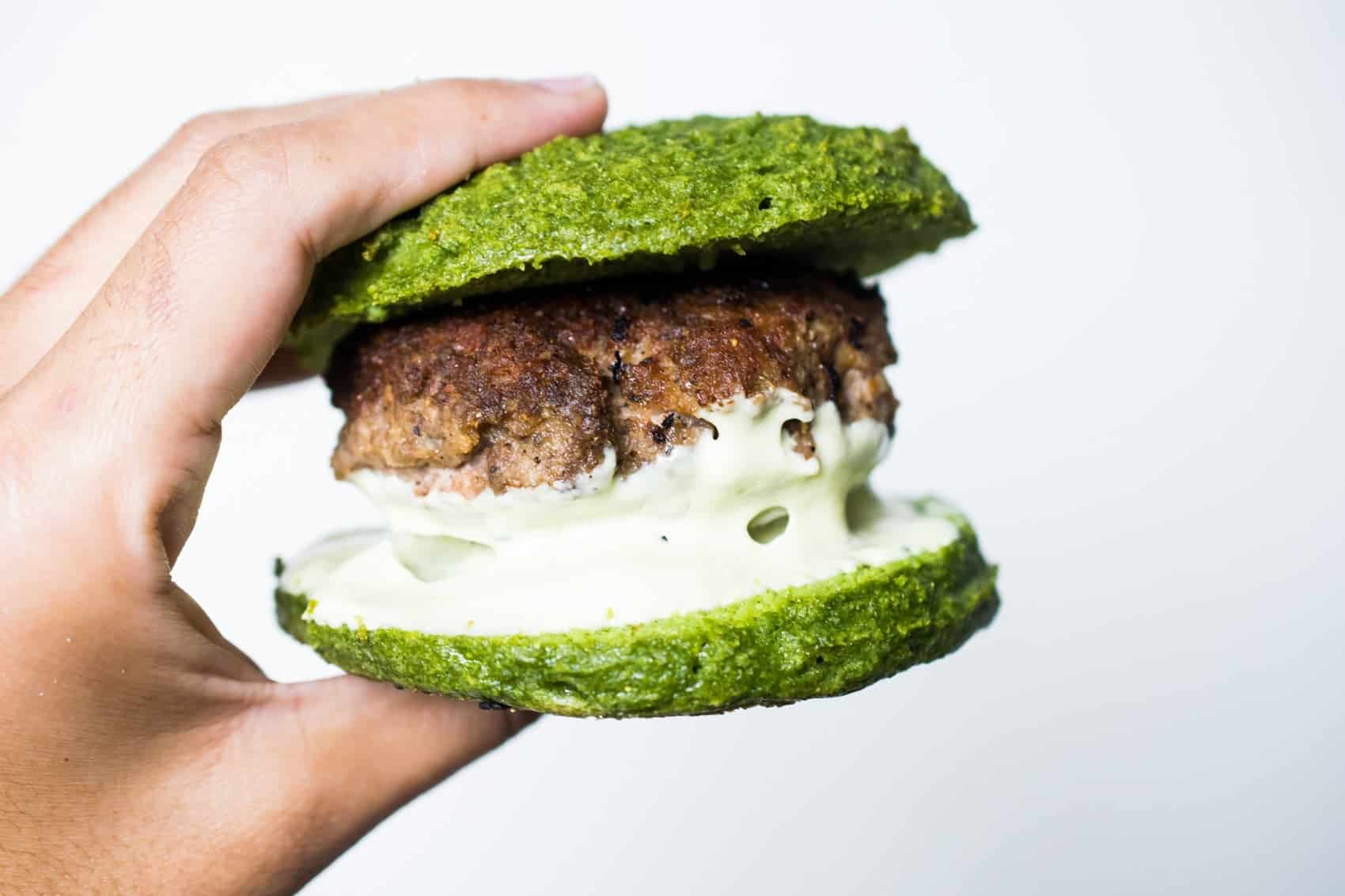 Fat Burger, The Perfect Keto Burger
Not only do I love protein, I also work out quite a bit and have quite the appetite. I eat two of these, one with the bun, one without. Yup, this girl likes to eat. So making my meat patties extra fatty keeps me fueled up and filled up for hours. It's like magic. The satiating nature of dietary fat, it blows my mind how long I feel full… the hours that go by that I don't think of food. Well not in a work-related way. Ha! I look at food all day. But I don't want to eat it, and that's sayin' something!
So if you're like me, a meat-loving ketonian, this is your burger baby.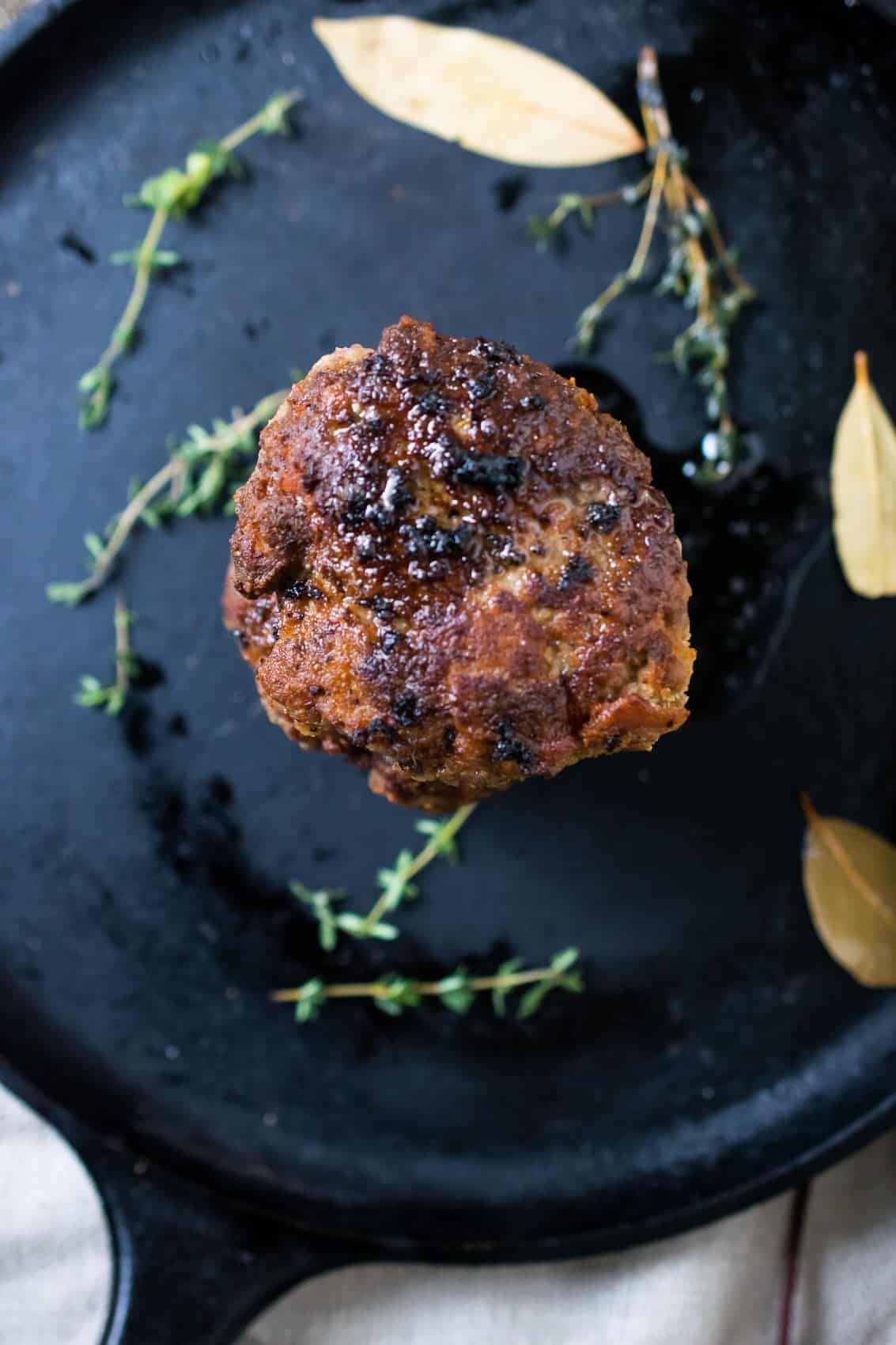 How to Eat It
You can have it over greens. Diced up into some soup! Served with Avocado Garlic Sauce (HERE). On My famous Veggie Keto Buns or A Nut Free Version of Famous Diet Doctor Keto RollsNut Free Keto Rolls. Another awesome keto burger hack is to slice your patty in half, making two rounds and filling it up like a sando! Works everytime. I like adding greens and avocado to mine… maybe some mayo too!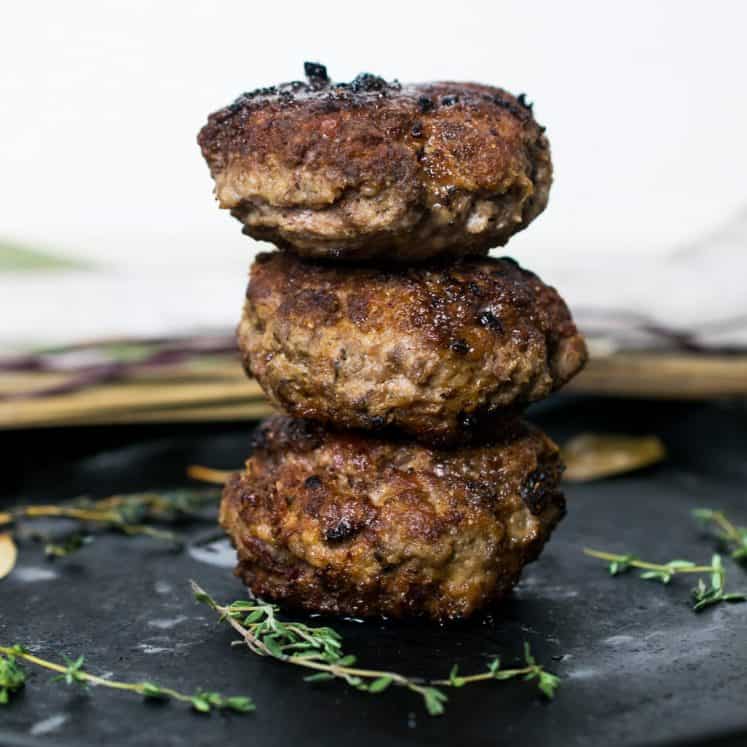 Fat Burger (Keto, Paleo, Whole30, AIP friendly)
---
Author: Cristina Curp
Prep Time: 10
Cook Time: 20
Total Time: 30 minutes
Yield: 10 1x
Category: entree
Method: pan sear
Cuisine: american
Description
The pertfect fatty patty!
---
Scale
Ingredients
10 ounces pastured bacon, minced
3 sprigs thyme or rosemary, leaves removed and minced
1 shallot, minced
1 pound ground pork
1 pound ground beef, 85% lean
1 teaspoons black pepper
2 teaspoons garlic powder
¼ teaspoon 5 spice (optional)
2 teaspoons fine Himalayan salt
---
Instructions
Pre-heat oven to 400F.
Heat a large skillet over medium heat. Add in the chopped bacon, and cook, stirring occasionally until browned.
Add in the shallots and thyme and saute until bacon bits are crispy. Remove the skillet from the heat.
Use a slotted spoon to transfer the bacon and shallot mix to a large bowl. Leaving the bacon fat in the skillet for later use.
Once the bacon has cooled off, add the ground pork and ground beef, as well as all the seasonings to the bowl. Mix thoroughly.
Shape 10 large patties and gently flatten.
Heat the skillet with the bacon fat on high heat.
Sear the burgers for 2 minutes a side, then put on a sheet pan. When all the burgers are seared, pop the sheet pan in the oven to finish cooking the burgers all the way through, about 10 minutes.
Recipe Notes:
For AIP leave out the black pepper and 5 spice. Check bacon labels for spices.
Nutrition
Serving Size: 1 patty
Calories: 299
Fat: 19g
Carbohydrates: 1g
Fiber: 0g
Protein: 23g