Keto casseroles are a thing, people! This dairy free keto casserole is inspired by mac and cheese… and steak! Made with a dairy free, nutritional yeast sauce and marinated skirt steak I guarantee this keto casserole will be a family favorite.
Bonus, I've made it so this baby can be EASILY made AIP compliant (autoimmune protocol). It's already nut and dairy free but does have some seed-based spices. Ever since my AIP Keto Reset program went live, I see the need for more recipes in this area. It's a struggle because this blog has always chronicled my own personal healing journey and I have had a lot of successful reintroductions (eggs, seeds, nuts, coffee, chocolate-praise Jesus!)
However, I live to help you all! So I will continue to focus on NUT FREE, NIGHTSHADE FREE KETO RECIPES, with AIP modifications… much like my book… Made Whole (shameless plug).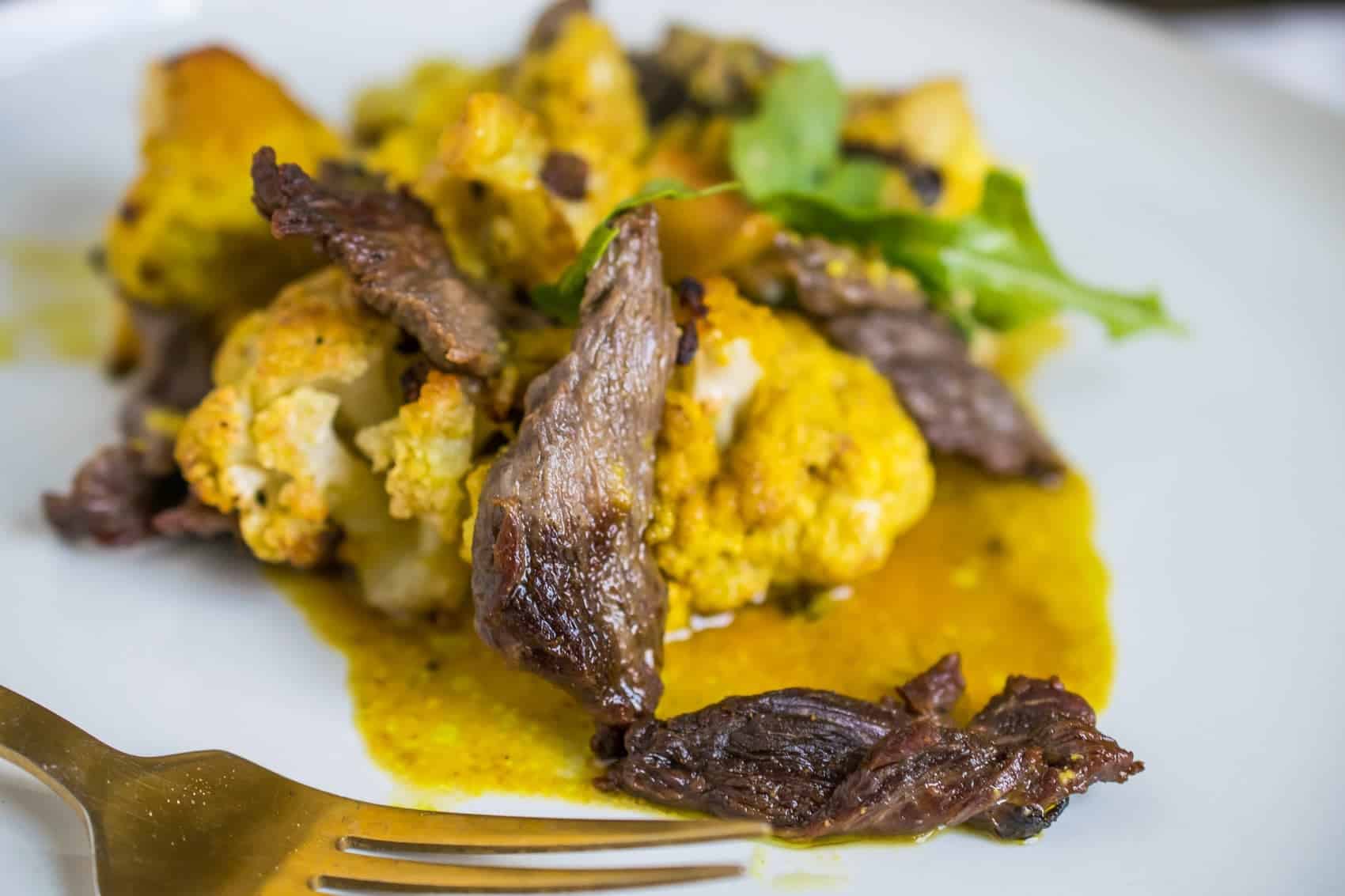 Dairy Free Keto Casserole Variations
Coconut Free/ Extra Cheesy: Use cashew cream (recipe here) instead of coconut cream.  Halve the bone broth, double the cream. Add a splash of fish sauce.
AIP compliant: Omit the mustard and black pepper. Add in 1 tablespoon granulated garlic.
Make it a bake: Add 2 whisked eggs to the cheese sauce base. this will bake up firm for a casserole you can slice and serve.
If you can't find skirt steak: You can use hangar steak, flap meat or sirloin steak.
All these variations sound amazing, right? They are! But the original recipe for this dairy free keto casserole is amazing too.
Simple, clean flavors. Easy to make. Hearty an comforting. This creative recipe is perfect for getting you out of your food rut!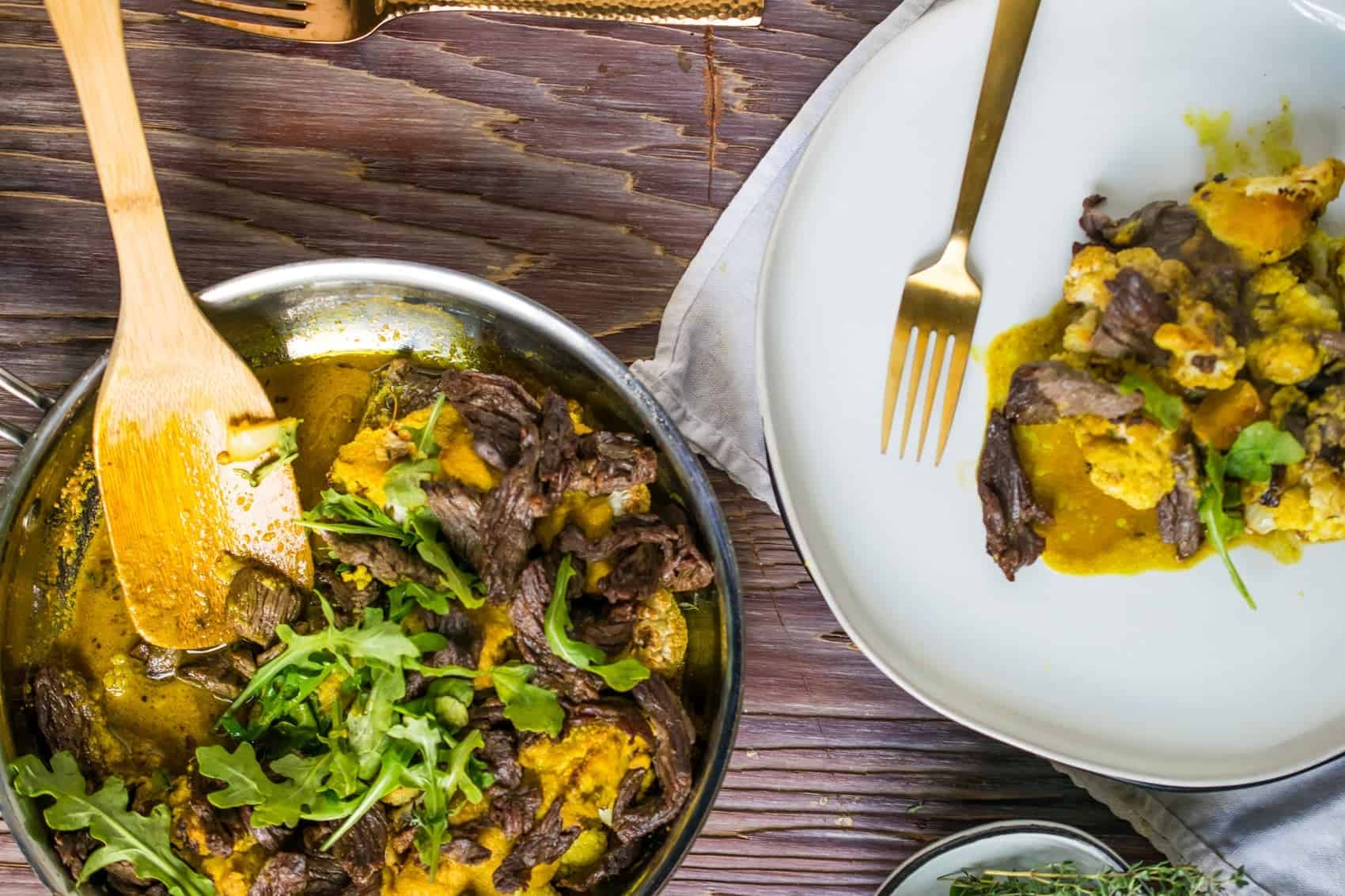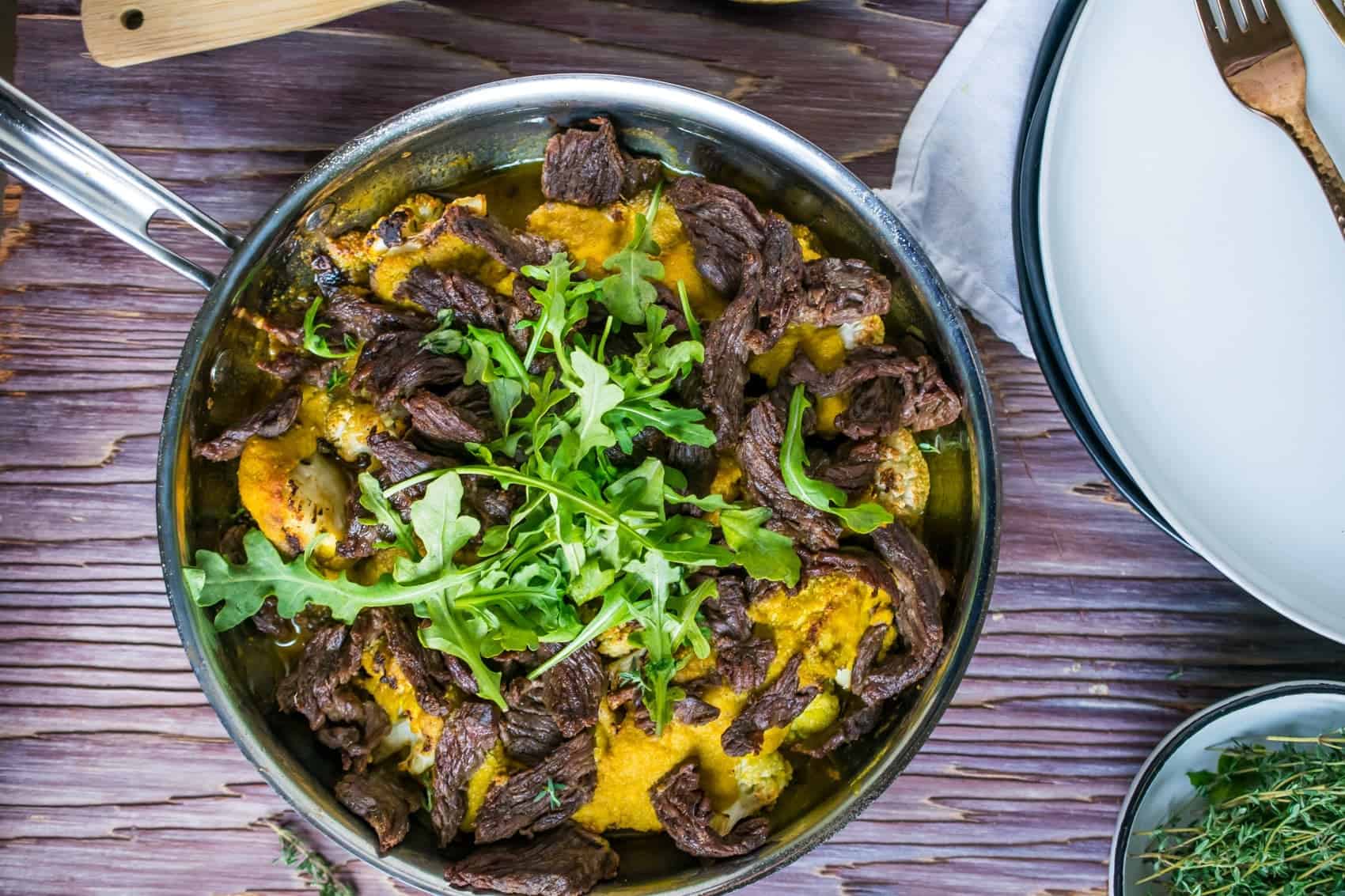 Shop For Recipe Essentials: Make this Dairy Free Keto Casserole and be a dinner hero!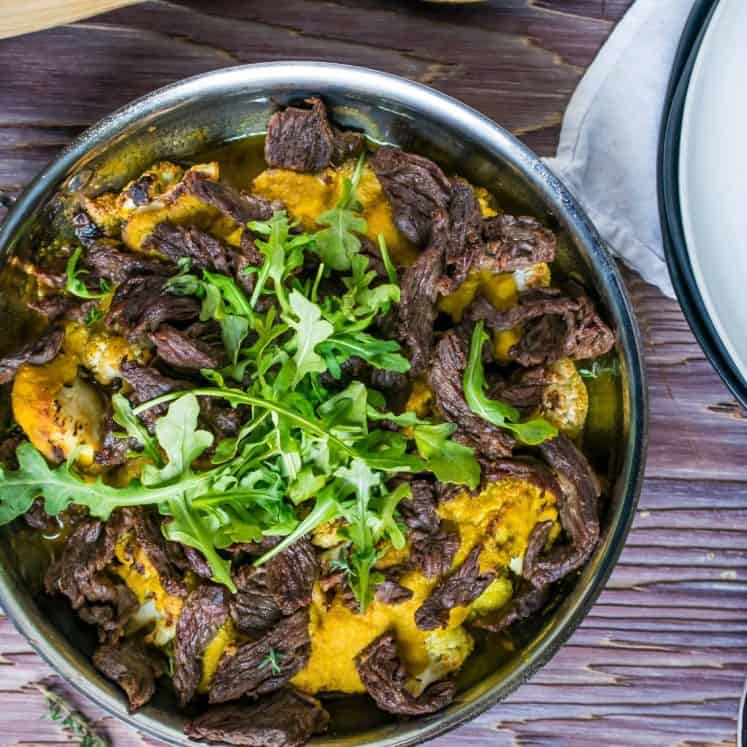 Dairy Free Keto Casserole: Steak and Cauliflower
---
Author:
Prep Time: 10
Cook Time: 45
Total Time: 55
Description
A delicious, dairy free, keto paleo casserole that is AIP friendly and Whole30 compliant!
---
Scale
Ingredients
1 head of cauliflower, cut into florets
2 sprigs thyme
4 cloves garlic, minced
2 tablespoons avocado oil, divided
2 teaspoons fine salt, divided
1 1/2 pounds skirt steak, cut into thin slices
1 teaspoon coconut aminos
1 tablespoons red wine vinegar
½ cu bone broth
¼ cup coconut cream
¼ cup nutritional yeast
1 tablespoons Dijon mustard
Pinch of black pepper
2 tablespoons coconut flour (or other paleo flour)
Arugula (optional)
---
Instructions
Pre-heat oven to 400F.
Toss the cauliflower florets, thyme, garlic, 1 teaspoon salt and 2 teaspoons oil together in a large skillet or casserole dish. Then spread the florets out so they're not crowded.
Roast for 25 minutes, until the cauliflower looks toasty.
In the meantime, combine the bone broth, coconut cream, nutritional yeast, Dijon, pink of salt and pepper and coconut flour together to make a thick yellow sauce.
When the 25 minutes are up, open the oven, use a spatula to scrape up the cauliflower florets and give them a stir Remove the thyme sprigs, then pour the cheese sauce all over them. Close the oven.
Heat a large skillet on high heat. Toss the steak strips with 1 teaspoons salt, coconut aminos, and red wine vinegar. When the skillet is hot, remove the steak from the marinade.
Add the remaining oil to the skillet and add in the steak. Cook, sautéing on high for 3-5 minutes until browned. Add in the marinade and let it come to a quick boil.
Open the oven and add the steak to the casserole. Use tongs to distribute it all over the top.
Set the oven to broil, 500F. Broil for 10-15 minutes until the steak is browned and very crispy!
Remove from the oven and top with fresh arugula! Serve, share enjoy!