I have zero qualms about my family eating them for breakfast, snacks, or after-meal treats. My toddler might declare war when I put avocado slices on his plate…. but Mami gets the last laugh… because AVOCADO BROWNIES, bitch. No, I don't call my four-year-old names… although, sometimes…. I want to. #Realtalk Toddlers are little emotional terrorists.
Table of Contents
I don't know what I love more about these flourless avocado brownies… the fact that they are made entirely in my blender (or food processor) or the fact that they are 80% avocado and eggs but taste like fudgy goodness…. it's a toss-up.
About The Recipe
In the recipe, I say 1 Hass avocado. I use a whole one, I consider these medium-sized, about the size of my fist. If you have massive (I'm looking at you Florida) avocados, use half of one, or your best judgment.
The sweetener…. again, I just like to repeat this so I don't get yelled at. I am currently on the Lakanto train because it's working for me. Use what works for you, be that coconut palm sugar or cane sugar. It's your body loves. You know it best.
Ingredients
These flourless brownies are made up of nut or seed butter and avocado. This is what makes the batter. You can't skip either ingredient. Then if course cacao powder to make it chocolatey. Your sweetener of choice and the usual things like eggs, vanilla, baking soda, and love! Don't skip the chocolate chips on top either.
For the fat, I recommend lard or coconut oil to keep them dairy-free, but butter works too.
My nut butter of choice are unsweetened, unsalted almond butter or cashew butter (or sunflower seed butter for nut-free)
I find that Lakanto (erythritol+ monk fruit) works best for this recipe!
You can use cocoa but I prefer cacao powder
This is vanilla extract I use.

Frequently Asked Questions for My Famous Avocado Brownies!
What size should the avocado be?
Make sure your avocado is medium-large and ripe!. When you scoop it out, measure it in a measuring cup. 3/4 -1 cup of avocado gently pressed down.
Why did mine turn out cakey?
You over mixed it. DO NOT OVER MIX! This will result in cakey brownies. If you need to stop the blender or food processor and continue mixing/mashing the avocado by hand to get it to fully incorporate.
Do I need the nut butter?
Or seed butter, YES. No Coconut butter won't work, and you can't replace it with ghee or regular butter. Don't skimp on the nut or seed butter.
Can I make them sweeter?
Yes! My palate isn't used to really sweet stuff anymore. If you still eat "regular" sweets then you'll probably want to add more sweetener. About 2 tbsp more.
Why type of pan should I use?
These bake best in a metal loaf pan.
Can I skip the gelatin?
Yes, but I like them better with it in.
Can I skip the chocolate on top?
You can, but why? It's so much better with it. I like using a 85% dark cacao bar that melts into a mess on top. Takes these avocado brownies to the next level.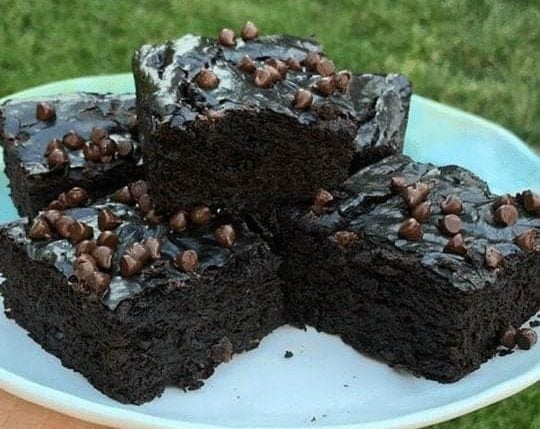 Thank You!
Thank you! All of you who make and share this recipe! I love seeing your posts on Instagram! Yeay Team Flourless Avocado Brownies. This recipe, my first viral one, even made it into my book: Made Whole!
If you want a more traditional brownie experience check out my KETO FUDGE BROWNIE (dairy and nut-free).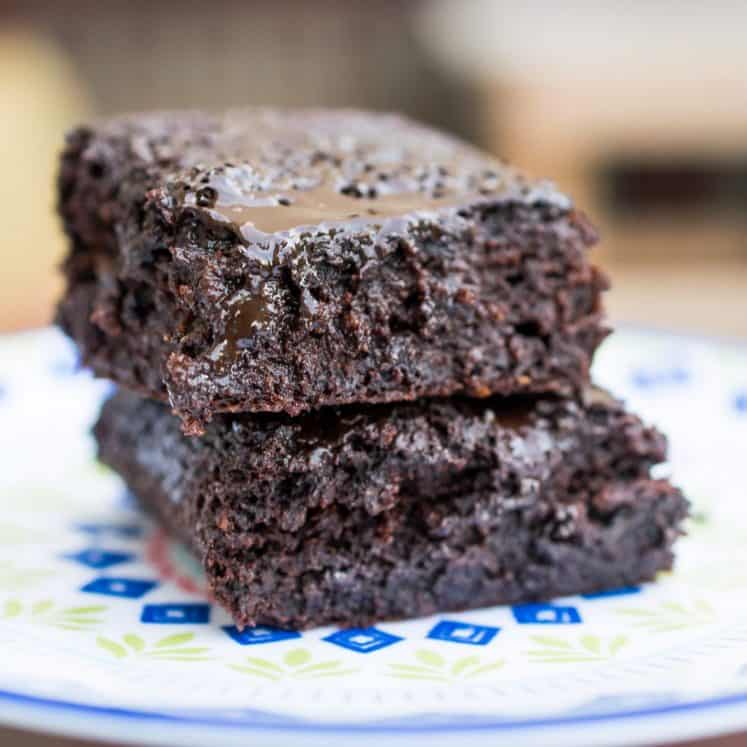 Flourless Avocado Brownies
---
Author: Cristina Curp
Prep Time: 10
Cook Time: 30
Total Time: 40
Yield: 8 servings 1x
Category: Dessert
Method: Baking
Cuisine: Keto
Description
 Fudgy flourless brownies!  READ FAQs before making these!
---
Scale
Ingredients
2 large eggs
1 medium, ripe, hass avocado (3/4 cup)
1/4 cup melted ghee (lard or coconut oil)
3–4 tbsp unsweetened, unsalted almond butter, cashew butter (or sunflower seed butter for nut-free)
1/2 tsp baking soda
1/4 tsp salt
1/3 cup Lakanto  (erythritol+ monk fruit) or preferred granulated sweetener (xylitol, coconut palm, maple sugar etc)
1/3 cup cacao powder
1 tsp vanilla extract
2 tablespoons gelatin (optional, makes them chewy)
1/2 cup low carb chocolate chips or chopped up chocolate
---
Instructions
Pre-heat oven to 350F.
Line a small baking dish, like a loaf pan with parchment paper.
In the bowl of your food processor combine all of the ingredients.
Blend om medium, low power until just smooth. No more than 30 seconds. If you overmix the batter they will be cakey. You can use a spatula to scrape down the mix and then fold it together, mashing up any chucks of avocado left.
Use the spatula to transfer the batter to the baking dish and smooth it out evenly.
Top with fun things.  I'm partial to chocolate chips!
Bake for 25 minutes. Until the edges begin to separate from the sides.
Remove from the oven and let it cool for 15 minutes before handling.
Pick it up, carefully, by the parchment paper and set it on a cutting board.
Cut into 8 squares! Enjoy! Store leftovers in tupperware in the fridge for up to a week.
Nutrition
Serving Size: 1 square
Calories: 152
Sugar: (alcohols) 4.5g
Fat: 13.8g
Carbohydrates: 10g
Fiber: 1.73
Protein: 3.9g
Keywords: flourless avocado brownies