Whole chickens are among my favorite things to roast too. Mostly because I love the crispy skin, but also because I use the bones to make broth. This Lemon Dill Chicken Roast turns out so good. When you buy the whole bird you get more bang for your buck too! A 5lb chicken can feed a family of 3 or 5 with some leftovers too… and then you can use the bones… I mean, I just love the lack of food waste that goes on with using the whole animal. I even feed the giblets and heart to my pup!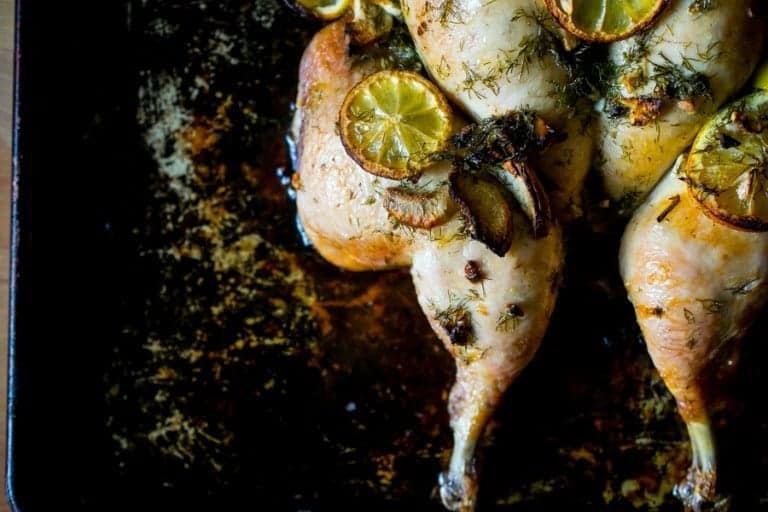 Table of Contents
I love a good simple roast.
Yup, the whole family gets in on the whole chicken goodness. I usually buy Mary's Free Range Chickens. I've been lucky enough that Whole Foods has had them on sale quite often lately so I can get them from anywhere $9 to $15, the full price they are close to $20. In that case, I get the Organic Foster's Farms from my on the base grocery store for $15. Although I have my suspicions about Foster's Farms… But hey, we do the best we can.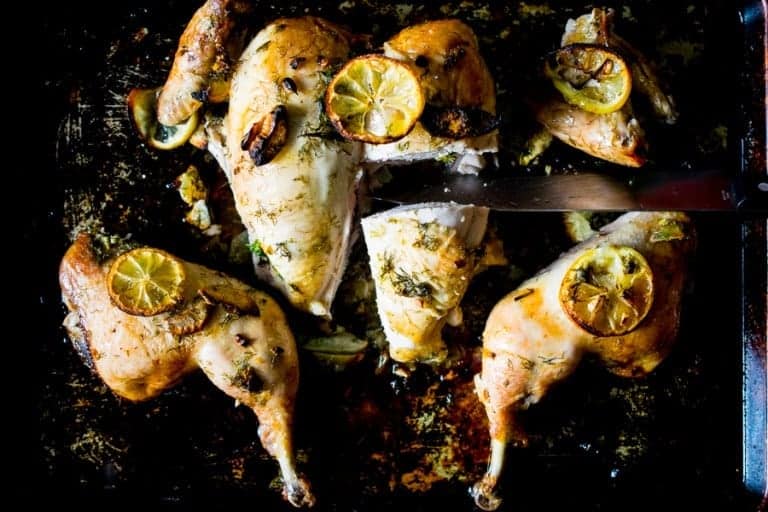 Why Spatchcock?
It's faster. It's easier to carve. All of the skin gets crispy. You don't need any fancy equipment. Kitchen shears, or some sort of heavy-duty scissors. A big bowl or container to marinate. Sheet pan.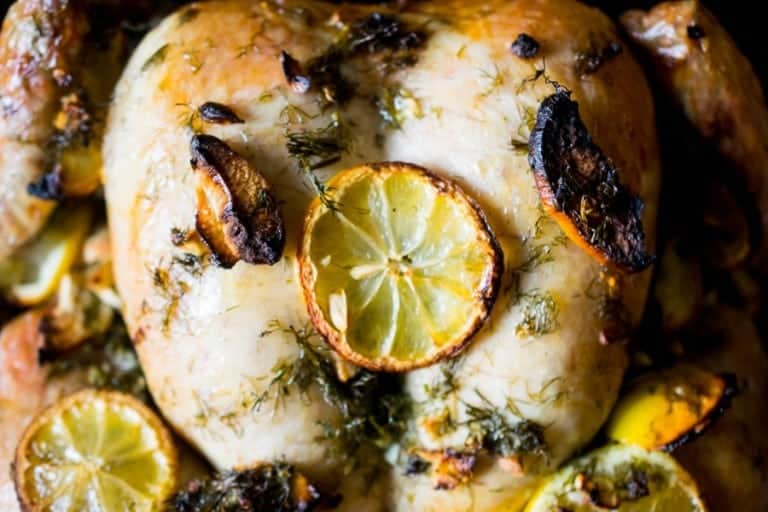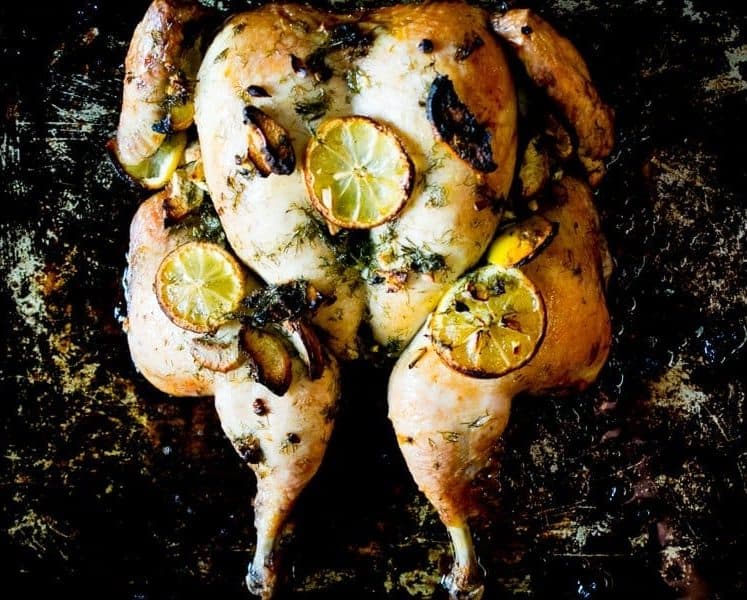 Lemon Dill Spatchcock Chicken Roast (Whole30, Paleo)
---
Author: Cristina Curp
Prep Time: 20
Cook Time: 40
Total Time: 1 hour
Yield: 1 whole chicken 1x
Category: Entree
Method: Roast
Cuisine: Classic
Description
An easy and flavorful spatchcock chicken!
---
Scale
Ingredients
1 4lb pastured chicken
kosher salt or real sea salt (about 1-2 tbsp)
1 tbsp coarse black pepper
2 lemons
1 bunch dill (2 cups rough chop)
2 cloves elephant garlic (or 6 cloves regular garlic)
1/4 cup ghee (or softened butter)
---
Instructions
First get all your ingredients ready. This way you won't have to be running to wash your hands between every step. We call this mise en place, it makes cooking so much easier and cleaner.
So, slice your lemon. Measure out salt and pepper. Peel and dice your garlic (it doesn't have to be tiny). Mince your dill. Measure out butter or ghee. Put all these things in little bowls or ramekins around your work area.
Now, remove your chicken from packaging. I like placing it on the butcher paper it came wrapped for this. Easy clean up and less dishes.
Place it breast side down. Take your kitchen shears and cut along one side of the vertebrae all the way up. Repeat on the other side. Remove the vertebrae and set aside (I save it for the broth!)
Flip the chicken over and firmly press down on the breast until you hear the crack. You want to crack the breast plate so it lays flat.
Transfer the chicken to a large bowl or container. Salt it liberally. Get every nook and cranny. Add the pepper.
Rub it down with ghee. Then add the garlic and dill. Rub and turn, get it all over the place.
Next place your lemon slices over your chicken, a few on the breast, some underneath, between the body and the thighs.
Let your bird sit here for 30-40 minutes are room temp or marinate overnight, then bring to room temp before roasting.
Pre-heat to oven to 400F.
Place the chicken, breast side up with the legs flipped outward and the wings tucked in. Arrange the herbs and garlic over and under the chicken. Ensure your lemon slices are strategically placed.
Pop it in the oven. Set the timer for 45 minutes.
Roast until skin is golden and crispy. The garlic bits will char a bit (yum!).
Once fluid runs clear from the bird or internal temp is 165F remove from the oven and let it sit for 5 minutes before taking a sharp knife and cutting your bird into quarters.
The thigh and leg will come off easily. Just run a knife between the body and the thigh.
Next, I like to remove the wings. Then cut the breast into 4 pieces, or you can slice it.
Serve with lots of toasty lemon slices, garlic bits, and pan drippings.
Nutrition
Serving Size: 1/6 chicken
Calories: 426
Fat: 32.7g
Carbohydrates: 3.5g
Fiber: .5
Protein: 30.3g
Keywords: spatchcock chicken