This Whole30 Shredded Chicken Salad is the perfect meal prep recipe! Fresh, crunchy, savory, and slightly sweet for a totally satisfying easy paleo meal. Double the chicken recipe — you can have some warm right away for dinner and make the rest into this delicious chicken salad. This shredded chicken salad is a meal prep dream.
Table of Contents
Easy Whole30 Chicken Salad
This shredded chicken salad has it all: it's fresh, it's crunchy, it's sweet and savory. And as a bonus, it's 100% paleo and good for you!
This chicken salad is so easy to prepare. Just season your chicken and pop it in the oven. While the chicken roasts, dice up all your veggies and put all your ingredients in a large bowl. When the chicken is done, shred with a hand mixer (yes, best hack ever) and mix everything up.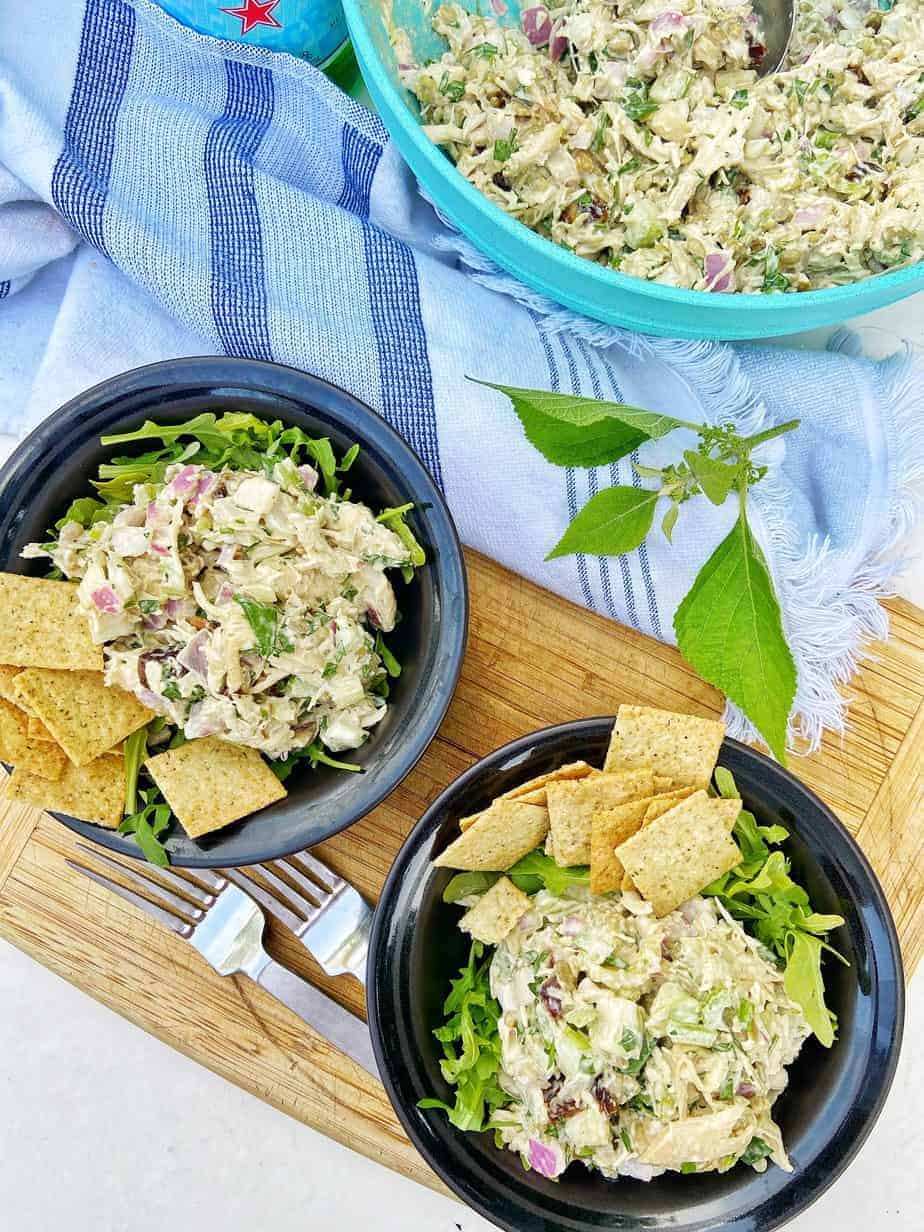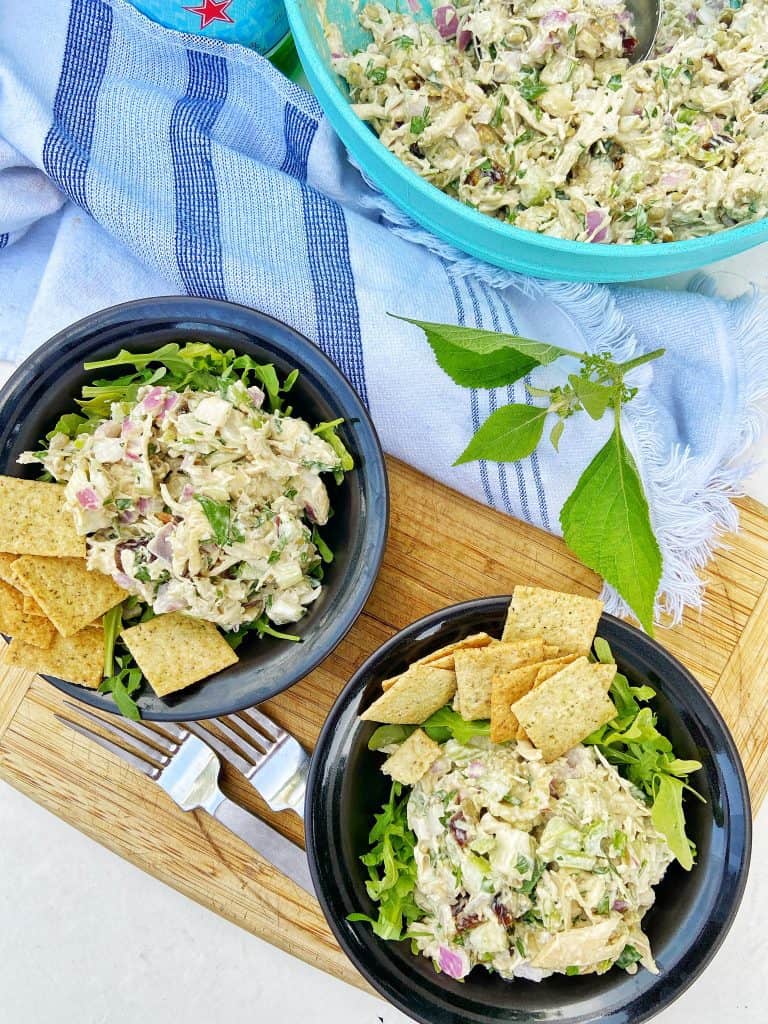 Step by Step Chicken Salad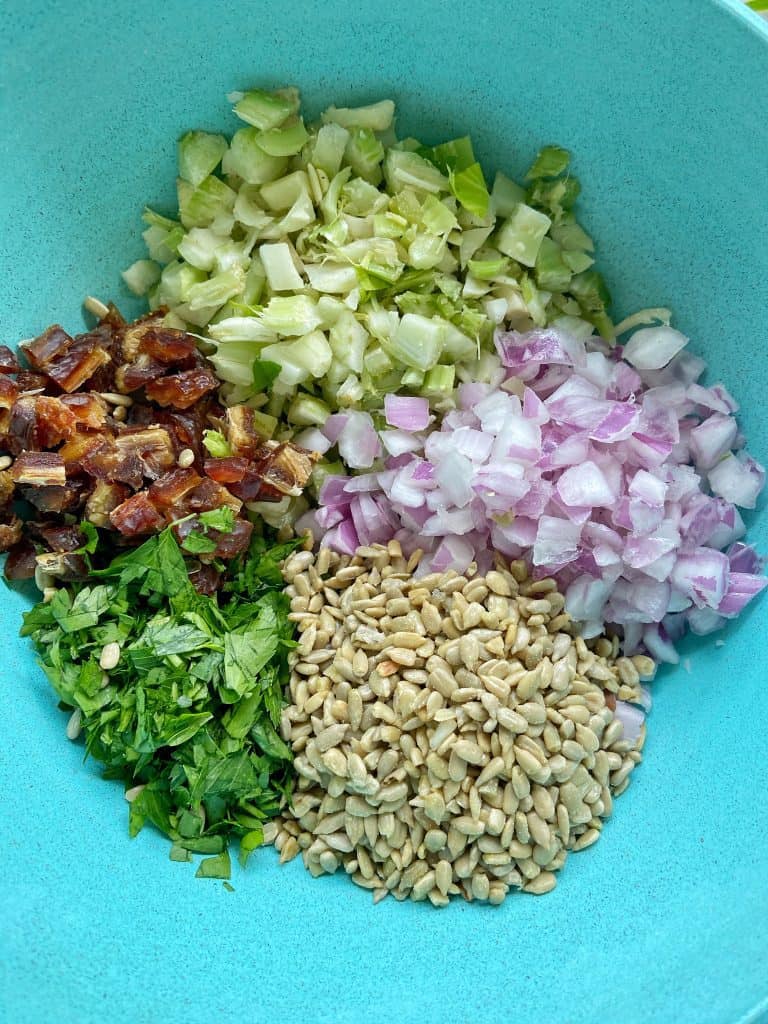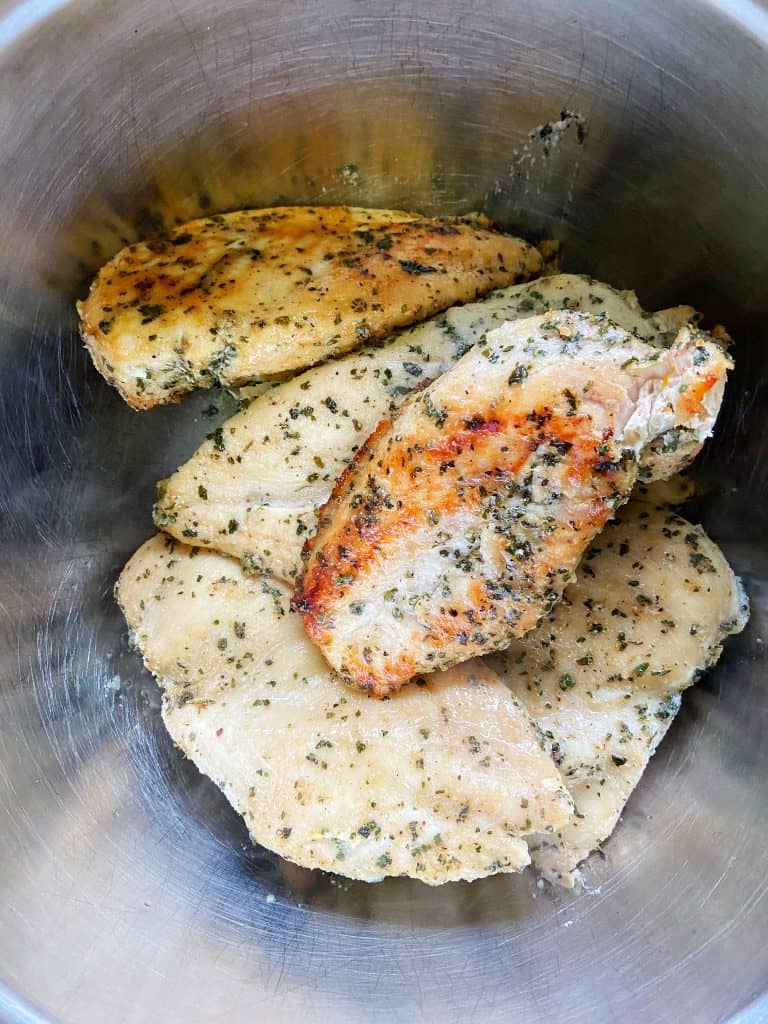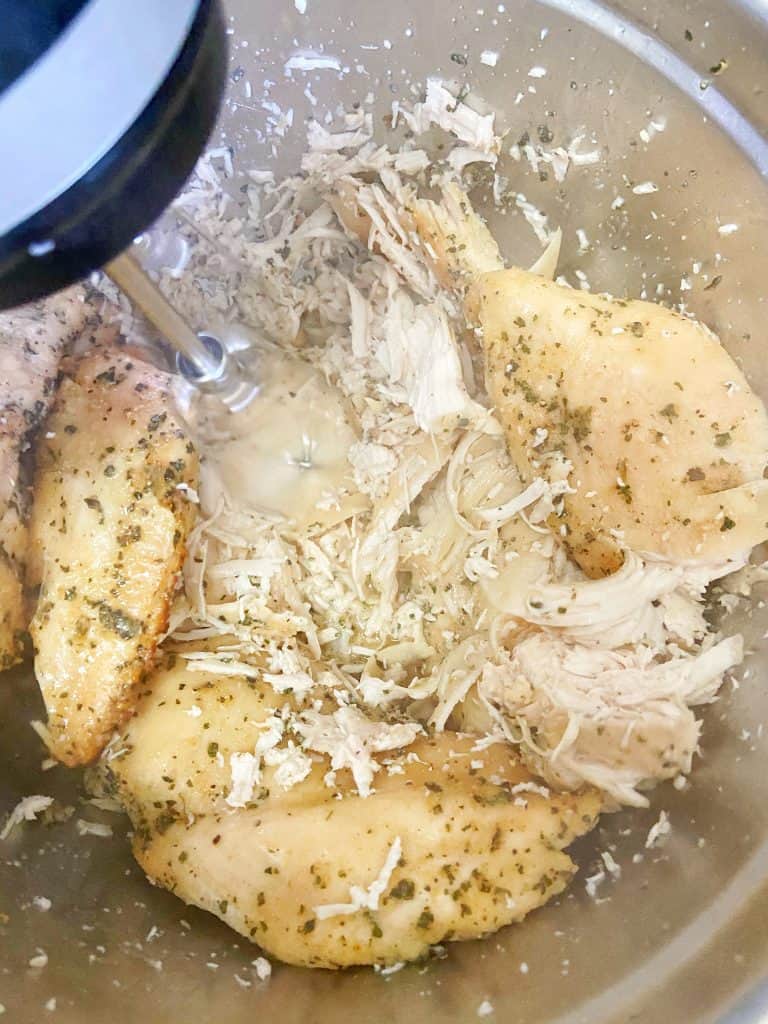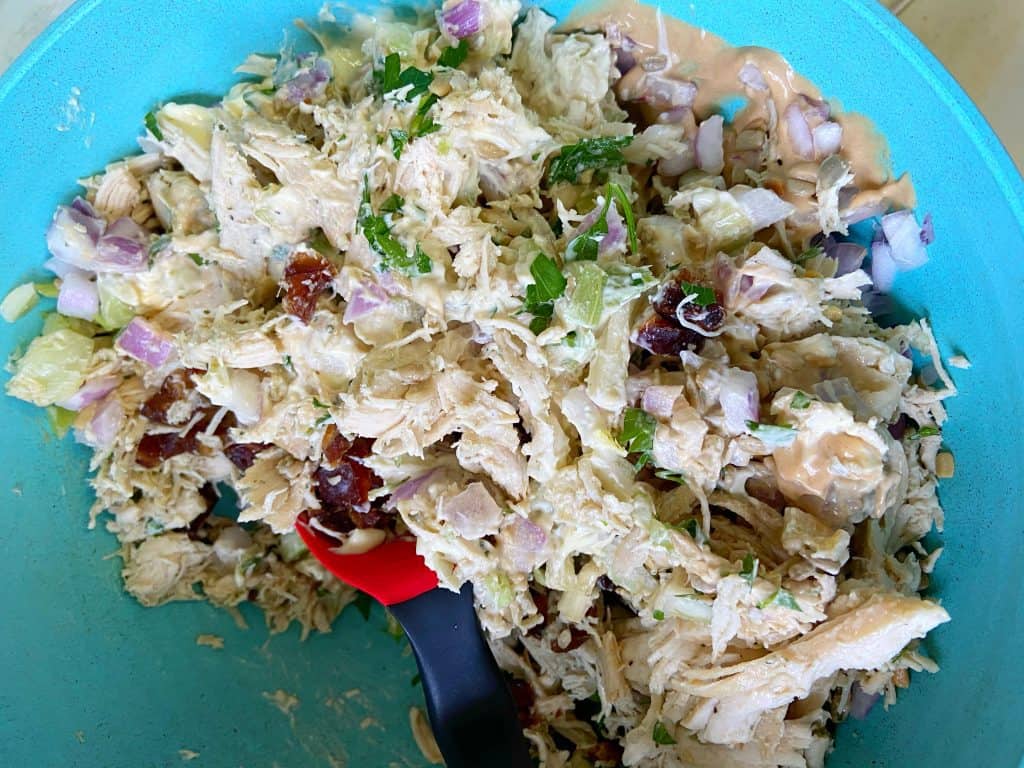 How to make the most of your meal prep
I'll let you in on a secret: I actually bought the pre-diced celery and red onion from the store. Yup, I'm in full-on "EASY BUTTON" mode these days. You can do it, too! I also used Primal Kitchen Mayo, but you can make your own if you like (here is my recipe for One Minute Mayo).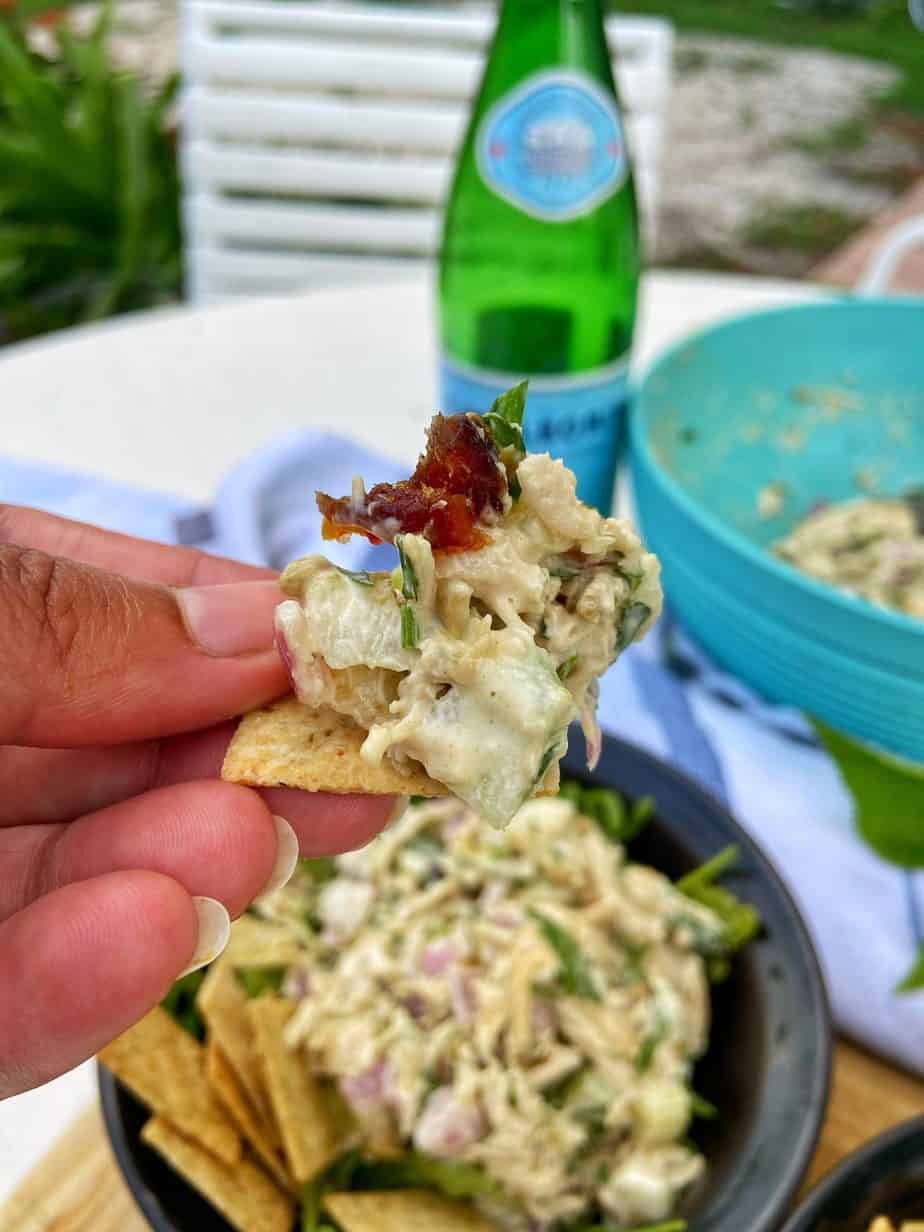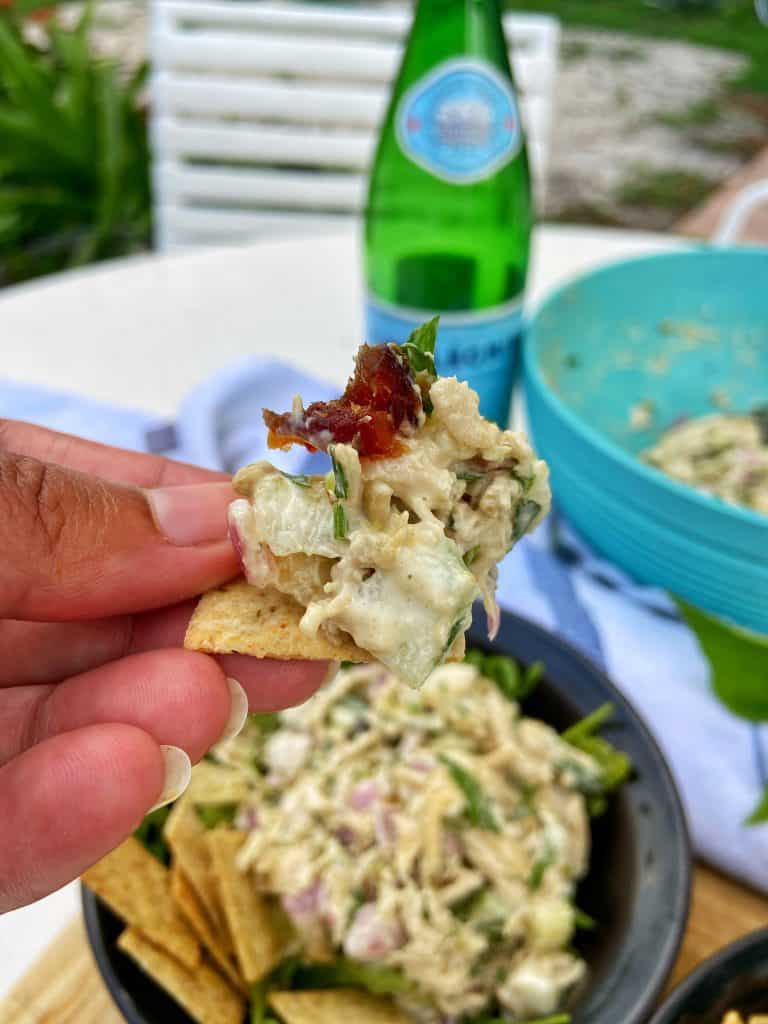 Variations for this easy Shredded Chicken Salad recipe:
Use red or white onion — red gives it a bit of color, but it's based on your preference/what you have on hand.
Omit the dates or use dried cranberries.
Sub sunflower seeds for any chopped nut or seed you like (except sesame, it won't work here).
You can use any chicken you have on hand and mix it in, although mine is herb-roasted for extra flavor.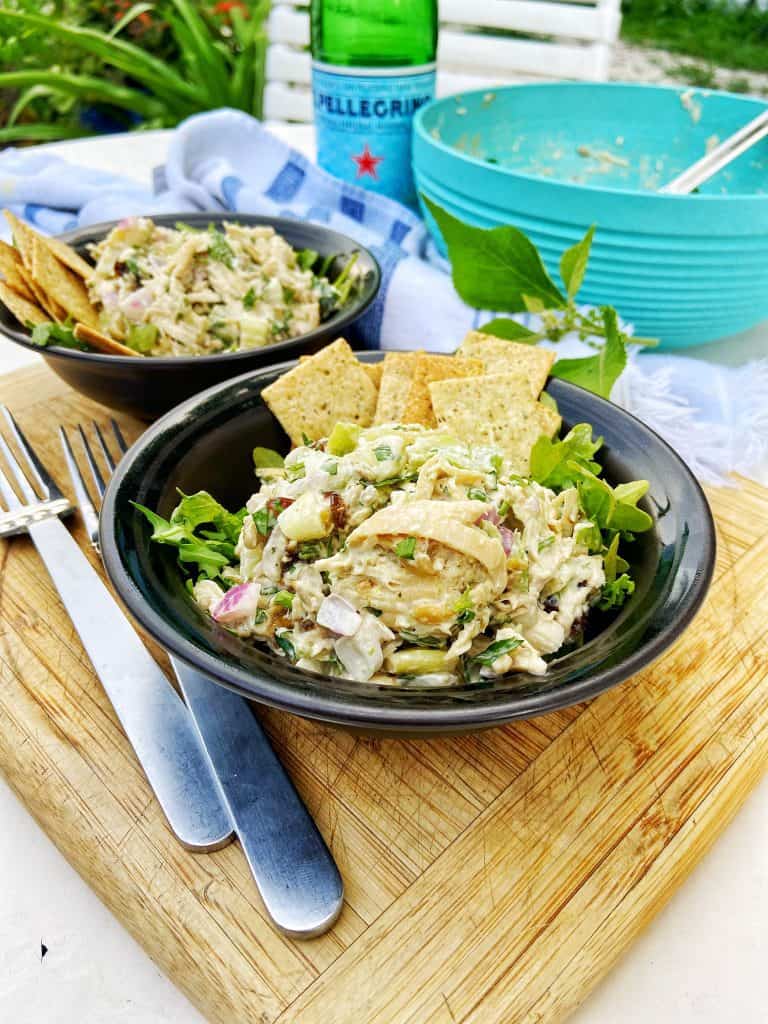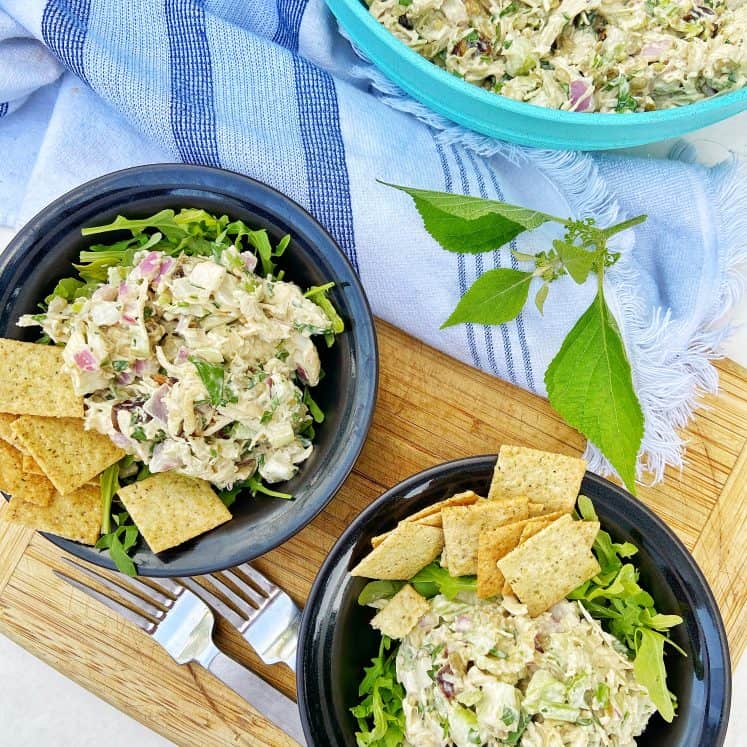 Shredded Chicken Salad (Paleo, Whole30, Keto)
---
Author: Cristina Curp
Prep Time: 20 minutes
Cook Time: 25 minutes
Total Time: 45 minutes
Yield: 5 servings 1x
Category: Entree
Method: Roast and Mix
Cuisine: Chicken
Scale
Ingredients
For the Chicken
1 1/2 pounds boneless, skinless chicken breast
1 teaspoon Real Salt
1 teaspoon garlic powder
1 teaspoon onion powder
1 teaspoon dried cilantro
1/2 teaspoon black pepper
2 tablespoons olive oil (I use this one)
For the Salad
1 1/2 cups diced red onion
1 1/2 cups diced celery
1/2 cup chopped pitted dates
1/2 cup raw sunflower seeds
1/4 cup minced parsley
2/3 cup avocado oil mayo
2 tablespoon dijon mustard
---
Instructions
Pre-heat the oven to 400°F. Unwrap your chicken and pat it dry. Toss in a large bowl with all of the seasonings, then coat with olive oil.
Place on a sheet pan and roast for 20 minutes or until fully cooked. (You can double the chicken recipe to make leftovers easily).
While the chicken cooks, measure out the salad ingredients and combine in a bowl, but do not mix.
When the chicken is done cooking, transfer it to a large bowl or the bowl of your stand mixer. Use the paddle attachment of your stand mixer or a hand mixer and shred the chicken. Trust me, just let her rip: the chicken will shred perfectly and quickly.
Add the shredded chicken to the bowl with the salad ingredients and mix well. Store in the fridge for up to 5 days. Best served chilled with paleo crackers (I like Simple Mills Rosemary Crackers or Mary's Gone Crackers from Thrive Market)
Recipe Notes:
net carbs for serving: 18.7g
Nutrition
Serving Size: 1 serving
Calories: 608
Fat: 44.3g
Carbohydrates: 23.7g
Fiber: 5g
Protein: 31g
Keywords: shredded chicken salad, whole30 chicken salad, easy chicken salad recipe, keto chicken salad, paleo chicken salad recipe, easy whole30 lunch, keto food prep