The first time I saw an egg roll-up I was in AWE of the simple genius of the idea! The reshaping of whole food ingredients into a handheld, fun, delicious, and filling meal… that right there is my jam! Case in point: my paleo sushi rolls. Luckily I always have eggs on hand. Then I just grabbed whatever else was lurking in my fridge. Bacon. Arugula. Oh, Basil! Mayo. A little cashew cream for the egg. Salt, Pepper… oh, mustard. Oh and Avocado. Ok… let's rock and roll.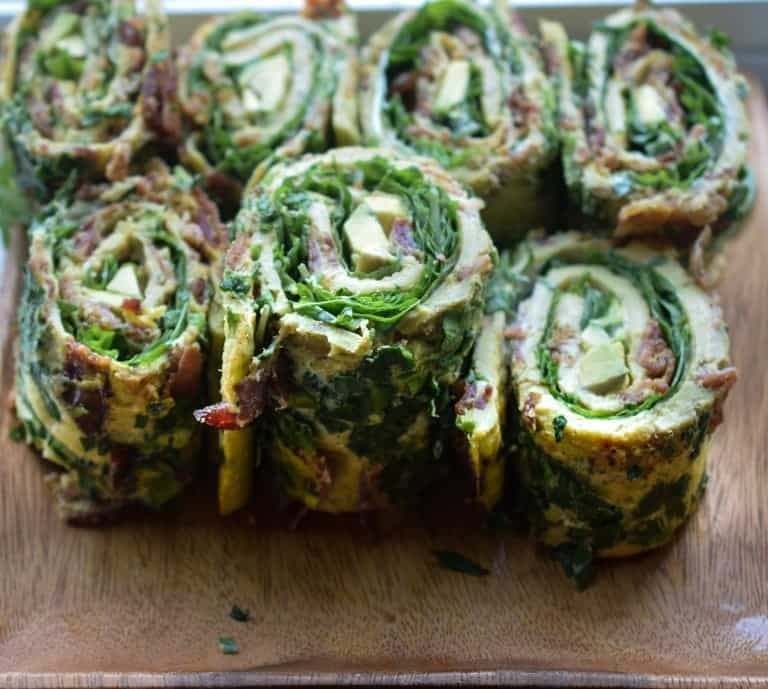 This combination turned out so extraordinarily delicious I have replicated it various times since. The last is the welcome home meal for my husband and brother-in-law after their 139-mile bike ride around the island of Oahu (where we live)! The boys were raving about these, and my brother in law, on his way back to Arizona said it was his favorite thing he ate in my house all week… and as you can imagine when I have guests, I like to pull out all the stops when feeding them… so that's saying something.
NAILED IT!
You can really make it any way you want. I love the addition of basil and arugula here. These super tasty herbs and greens add a fresh and tangy flavor. The avocado adds creaminess and the crispy bacon in the omelet gives it a welcome crunch and saltiness. Seriously, while you can always make these how you wish, I urge you to try it with the basil and all. I really feel that I hit it out of the park with the flavor combination here!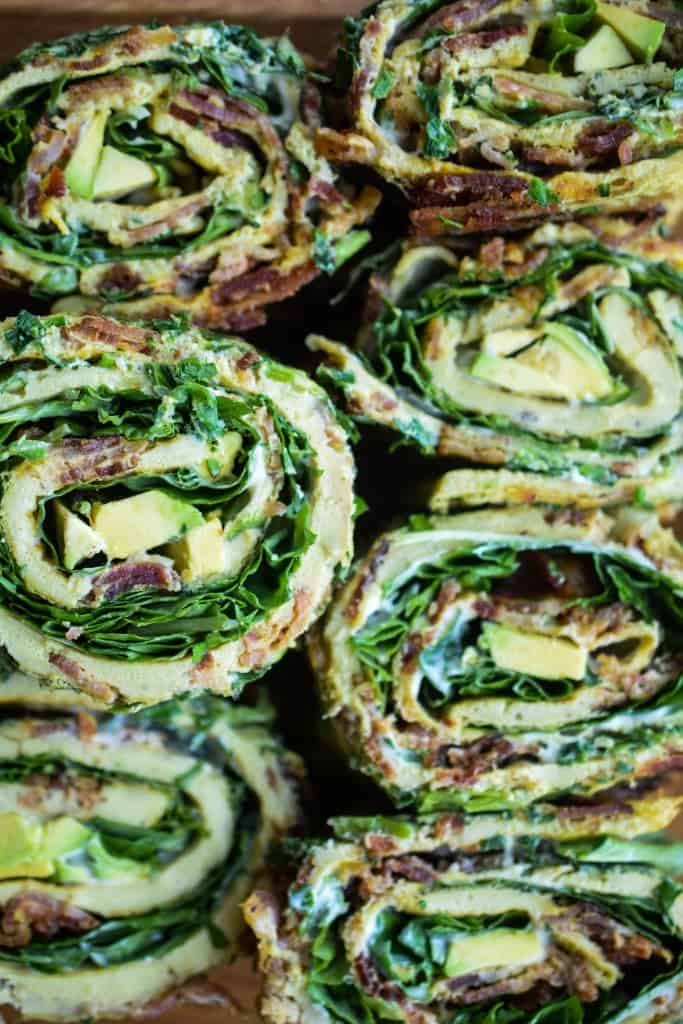 I have tried it with the bacon INSIDE the wrap. It works too… but the bacon tends to tear up the egg. But putting the bacon in the egg, you get the goodness AND structural integrity. We eat these with our hands' folks. Just sayin'.
MEAL PREP
While I think one sheet pan counts as meal prep for ONE person. At least one person who eats like me…. a lot. Two sheet pans are ideal for a family. Just double the recipe and rotate the sheet pans in the oven halfway through baking so they both cook evenly.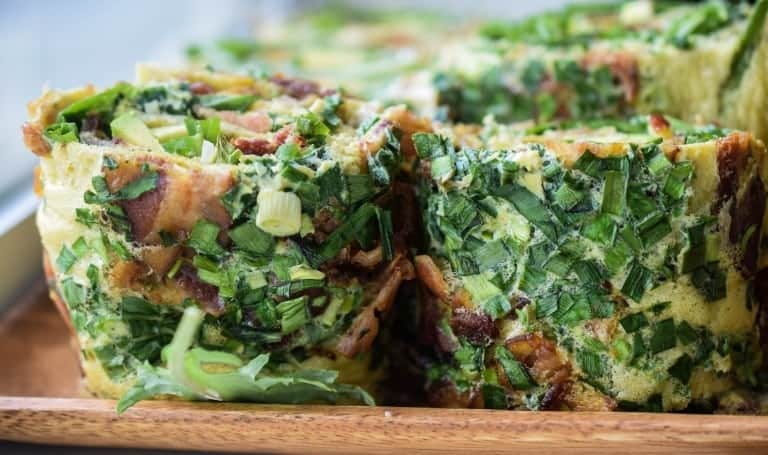 MAYO!
Here are two great options!
Primal Kitchen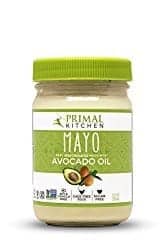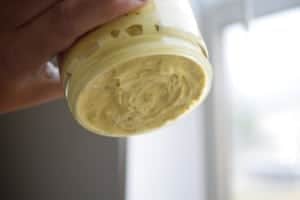 Don't be intimidated by the wordy instructions, I just wanted to make sure I explained it thoroughly. It's actually quite simple!
Bacon, Basil, & Greens Egg Roll-Ups (Paleo, Keto, Whole30)
---
Author: Cristina Curp
Prep Time: 15
Cook Time: 20
Total Time: 35
Yield: 6 pieces 1x
Category: breakfast
Method: Baking
Cuisine: Clever!
Description
The perfect brunch recipe or meal prep, you decide!
---
Scale
Ingredients
10 large eggs
1/2 cup nut milk (I like my cashew cream or coconut milk)
pinch of salt
dash of pepper
tsp of mustard
8 slices of bacon
1 cup chives
2 handfuls fresh, whole basil leaves
1 cup fresh arugula
1 ripe avocado
3 tbsp paleo mayo
Things You Will Need
1 half sized sheet pan with a 1 to a 2-inch rim (21x15in)
a blender
parchment paper
coconut, avocado or another cooking spray, ideally.
---
Instructions
Lay your bacon flat on a baking sheet, all in a row, the slices should not touch or overlap. Pop the sheet pan in the oven, middle rack. Set to 400F.
Once the oven reaches temp, check on the bacon, it will be par-cooked. Set a timer for 8-10 minutes. That should be enough time for it to cook up nice and crispy.
In the meantime, prep the rest of your ingredients. Crack the eggs into the blender. Add in the salt, pepper, milk, and mustard. Dice up chives. Get your basil leaves and arugula ready.
When the bacon is ready, remove from the oven. Use tongs to transfer the bacon to a cutting board. Don't turn off the oven!
Drain the fat from the sheet pan (to a jar, you better save that goodness).
Line that same sheet pan with parchment paper. Center it as much as possible so the sides reach the rim. Leave a little slack on either end so you can pull on it later. Then grease on the sheet pan will make it easy to flatten and smooth out the paper! Win!
Spray the top of the paper lightly with oil.
Crank that blender and whiz up the egg mix for 30 seconds.
Make sure your sheet pan in on an even, flat surface when you pour in the egg mix. If it's not settling evenly, help it out with a spatula.
Sprinkle the chives evenly all over your eggs.
Chop up the crispy bacon and sprinkle over the egg as well.
Bake for 20 minutes or until edges are golden and the center is completely set (it shouldn't jiggle at all).
Remove the sheet pan from the oven and let it cool for 10 minutes.
Check to see if your omelet is stuck to the parchment paper. If it's not, pick it up carefully and place it bottom side up on the cutting board.
If it is sticking to the parchment paper, then use the parchment paper to slide it onto the cutting board. Then flip it quickly. Peel the parchment paper, starting on a corner and using your fingers to old the omelet down.
Once all the parchment paper has been removed, use a spatula to smear mayo all over this bad boy.
Starting about 2 inches from one end, let's say the left side, arrange your avocado slices in a vertical stripe. Next, the basil leaves and then the arugula, alternating until you have about an inch left.
Make sure your avocado is flat and there aren't any hard edges, for these could puncture your egg.
From the left side (where you have the two inches) gently pick it up and pull it over your avocado then fold in with your fingers and begin to roll it as you would a burrito. If it tears a little at the sides in the first or second pass, don't worry, the outer layers will still hold it together.
Once you've rolled it up and have a massive egg log. Yes, it will be beastly! Slice it up. I like to cut it into 2-inch pieces.
Serve right away to a crowd or store in an airtight container for meal prep.
Recipe Notes:
If you're making for meal prep, skip the avocado, or it will brown and get mushy.
Nutrition
Serving Size: 1 piece
Calories: 264
Fat: 22g
Carbohydrates: 3g
Fiber: 2g
Protein: 14g