This week I decided to show folks how to use my Paleo Sushi rice to make sashimi style sushi, rolls and nor wraps. With a smorgasbord of ingredients at my fingertips, it was fun mixing and matching. I made a classic roll with sushi grade ahi tuna marinated in sesame oil and coconut aminos, add in some avocado, red onion and mango! Another was packing crispy bacon, mango, avocado and green onion. I know!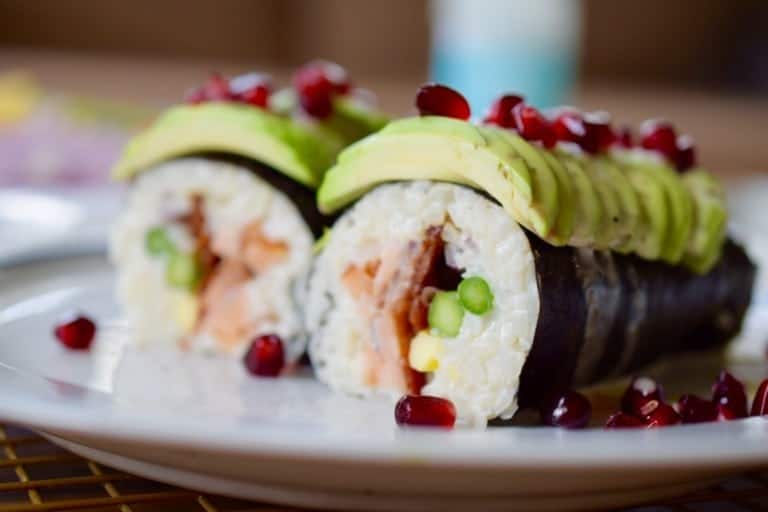 I also went to the beach today. It's a full moon tonight and I'm feeling all sorts of cuckoo. So I skipped the gym, cleared up my day a little and made some time for me. Of course, I went to the beach, Vitamin D therapy is my jam… also I live in Hawai'i… so there's that. Yup, winter here is rough you guys…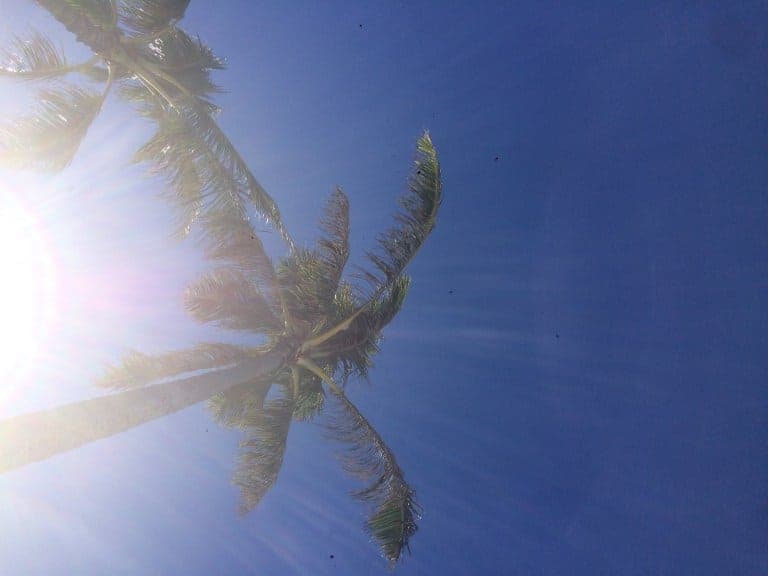 Facebook Live
Here is the sushi tutorial playback… I did it using Facebook Live so it's not edited, just real, awkward at times, rambling me… lol
Sushi Burrito or Nori Wrap?
The crown jewel of my sushi show and tell was the smoked salmon nori wrap. This super combination of smoked salmon, bacon, asparagus, opal apple, and red onion… what!? Wrapped in sticky cauliflower rice, nori (seaweed) and topped with thinly sliced avocado, pomegranate, and RANCH! Yup. Thank you Primal Kitchen!
The cauliflower rice comes together in ten minutes, and if you chill it while you cook your bacon and slice your veggies, the prep for this veritable Japanese inspired feast should only take 15 minutes. The rest is just handy work. Don't get scared of this flavor combination. Think of this as a salad in disguise! The cauliflower (rice) are the base of the salad and all the other goodies are like the toppings!
The instructions might seem long, but this really doesn't take long to assemble! The video is 13 minutes and in that time I made 3 wraps! So you know this is easy peasy. I love these kinds of fun meals that are so out of the box your tastes buds really go for a ride. Eating paleo this long, you really have to change it up to keep things interesting. Also, these wraps keep well in the fridge for meal prep, and they travel well too! Be the envy of the lunchroom with paleo sushi! Who knows, you might even convert a few folks… buahahahaha!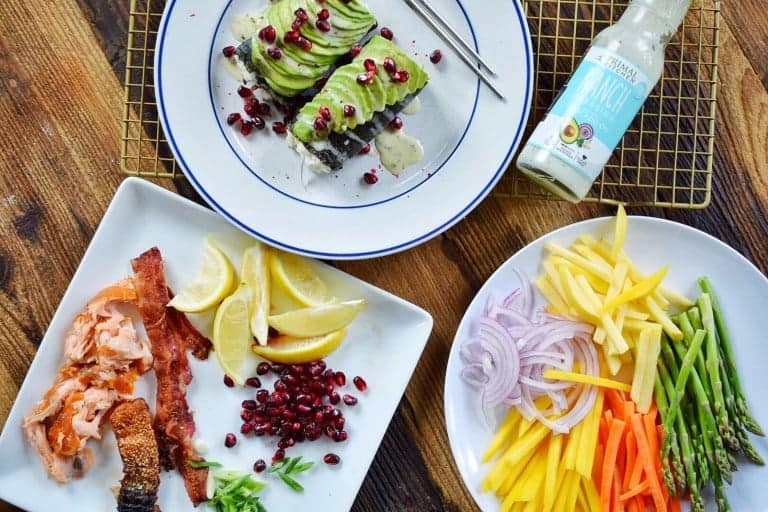 Paleo Sushi
---
Author: Cristina Curp
Prep Time: 20
Cook Time: 10
Total Time: 30
Yield: 4 1x
Category: Entree
Method: No Cook
Cuisine: Sushi
Diet: Gluten Free
Description
Grain Free Sushi with Salmon!
---
Scale
Ingredients
For the "rice"
5 cups riced cauliflower (use frozen, riced cauliflower to save time!)
3 tbsp sesame oil (coconut oil for AIP)
2 tbsp apple cider vinegar
1 tsp salt
2/3 cup cashew creamer, homemade cashew milk (or canned coconut milk)
2 heaping teaspoons Great Lakes Beef Gelatin, red can
Other Ingredients
4 sheets of nor (large sheets of seaweed)
1 large Opal apple
4 slices crispy bacon (Whole30 compliant, sugar free)
5oz hot smoked salmon (Whole30 compliant, sugar free, I used Changing Seas)
1/4 red onion
8 thin asparagus stalks
1/4 cup Primal Kitchen Ranch dressing
1/2 hass avocado
2 tbsp pomegranate seeds
---
Instructions
Make the cauliflower rice:
In a large pot heat oil on high heat.
Add in the riced cauliflower and saute for two minutes, stirring constantly.
Add in the apple cider vinegar and sprinkle in the gelatin.
Stir well.
Add in the milk and stir it continuously as it comes to a boil.
Continue to stir until most of the liquid is evaporated.
As you stir it, if the liquid still pools at the bottom, keep cooking.
It's done when you can see the bottom of the pan when you make a hole in the rice with a spoon (cashew milk will cook faster than coconut).
Then flatten the rice to the bottom of the pot and set to cool under a fan or by a window.
Let it come to room temperature or lukewarm before serving.
I suggest you let it chill in the fridge for a while first, the cooler it gets the stickier it will be.
Prepare the other components:
Lay your slices of bacon flat on a baking sheet, set it in the oven and set to 350F. Once the oven pre-heats, check on the bacon, might need another 10 minutes. It needs to be flat and crispy.
While the bacon cooks, cut the apple, asparagus, and onion into matchsticks, thin long pieces.
Get your pomegranate ready, open and scoop out seeds.
Halve your avocado, the side without the seed; peel it carefully, place cut side down on your cutting board, the long way. And then cut across the width of it in thin slices. Gently push your slices avocado down until it creates a long flat slanted sheet. (This will go over the top of your roll).
Unwrap your smoked salmon and crumble the filet into small pieces.
Assemble th rolls one at a time as follows:
Lay a piece of paper towel on your cutting board and place your sheet of nori on it.
Spoon cauliflower rice onto the nori on the side closest to you. Spread it out flat on the sheet of nori, except the last two inches of it on the side opposite you. (See video for reference).
Add the salmon, then the bacon, apple, asparagus, and onion to the cauli rice in a thin vertical shape on the side closest to you along the edge. Think symmetry and balance. (See video for reference).
Drizzle in a spoonful of the ranch dressing.
Lift the paper towel on the side closest to you.. and pull forward, using your fingers to keep the goodies inside.
Once you've rolled it over once, release the paper towel and continue until the seam of the nori meets the bottom. Stop.
Wet your hands, and gently wet the strip of nori you left empty.
Continue to roll forward and use the wet nori to seal your wrap shut.
Use gentle pressure the whole way to ensure a nice and tight wrap.
Again, you can watch me do this in the video above!
Use the blade of your knife to pick up your sliced avocado and place it over the roll. Use your hands to mold it onto the nori.
Slice your roll in half. Sprinkle pomegranates over it.
Drizzle remaining ranch on it.
Repeat this with the remaining four wraps!
These hold well in the fridge. If you want to make them for meal prep,
just store them in airtight containers in the fridge.
You can also cut them into 4 pieces as appetizers!
Nutrition
Serving Size: 1 roll
Calories: 736
Fat: 35g
Carbohydrates: 79g
Fiber: 8g
Protein: 40g