The inspiration from this dish came from a New York Times article with traditional Butter Chicken recipes (yogurt, tomato paste, etc), and what stood out to me was how they described this dish as comfort food, and a crowd-pleaser, everyone's go-to… the General Tso's of Indian Food. Ha! Before I even got to the end of the article the inventory of ingredients I had in my kitchen at the moment ran through my head. Tin Star Foods Ghee, check. Boneless Skinless Chicken Thighs, check. Garam Masala, Turmeric, Lemon, Cinnamon Stick, check.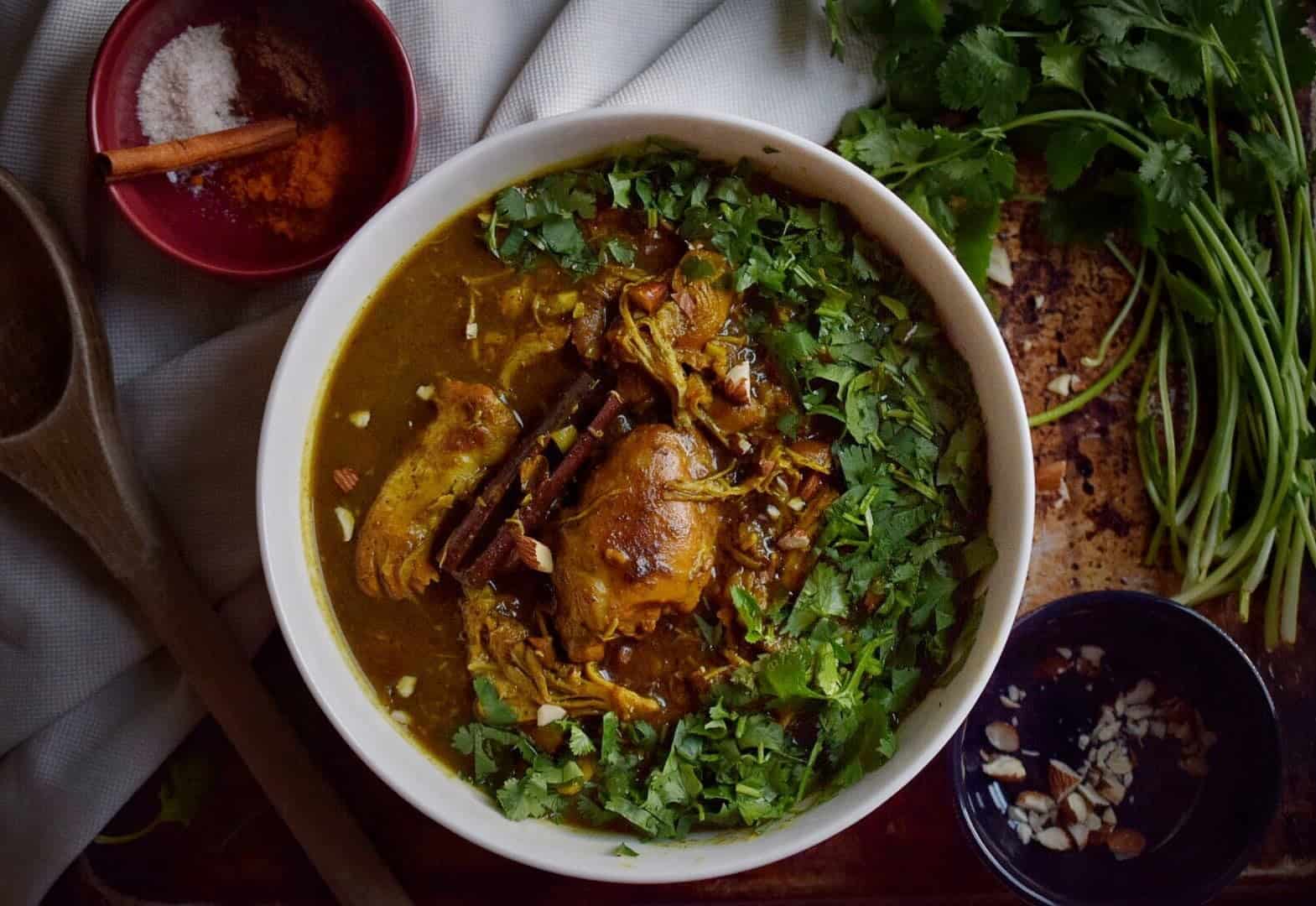 DO COMFORT FOOD RENDITIONS HAVE A PLACE ON WHOLE30?
This is a question I wrestle with every round. If the purpose of Whole30 is to separate food from emotion, then are these kinds of meals now considered SWYPO (sex with your pants on, the Whole30 term for paleo-fied treats)? M
y logic tells me No. It's in our nature to gravitate to what we know, so many of the most popular paleo and Whole30 recipes are healthy, compliant renditions of dishes from your pre-paleo or Standard American Diet days. Yet, I can't get over that little feeling that asks…"are you sure?"
Maybe it's just old food guilt. I find that I have a hard time letting go of that old friend. Even with my 18 months, unbroken streak of paleo-Whole30-AIP eating (read: lifestyle) I still find ways to feel crappy about food. Too much sweet potato, too many grapes, are you feeling xyz because of something you ate? It sucks. I know I have come a long way since my food addictions/emotional eating days, but it's hard to let go of some of these habits.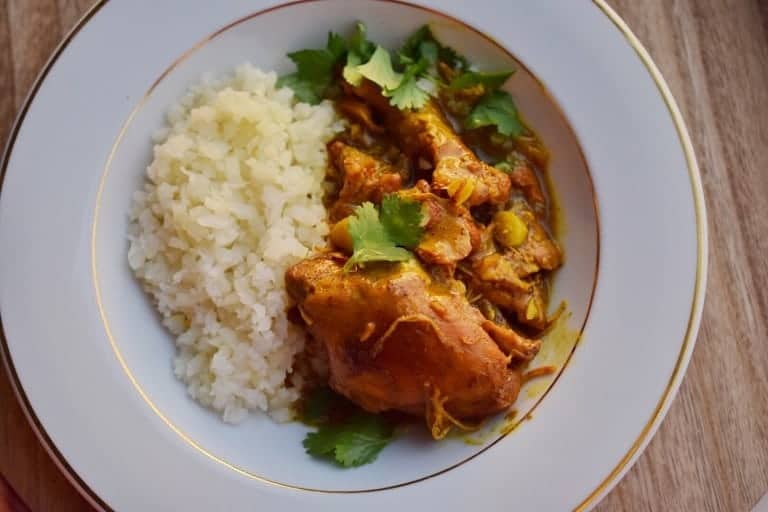 RECREATING A CLASSIC
For dinner. Tonight. Forgoing the marinating process would usually impact that flavor… enter the pressure cooker. One of the benefits of the electric pressure cooker (besides speed) is that it locks in all of the flavors! Full disclosure, it was my first time making butter chicken… so how do I know if it was legit? I had a very qualified taste taster. My neighbor, Abir, grew up on this stuff. Yup. His dad's family is from India. So I recruited him for my test kitchen. Final verdict: totally legit and flavorful.
ABOUT THE INGREIDNETS
The Milk: If you don't do coconut, you can use almond milk or cashew creamer. If you use cashew milk, the milk will thicken to a cream when stirred it. Add in a cup of bone broth or chicken stock before closing the pressure cooker.
The Almonds: You can omit them if you want. You can also use cashews.
Tamarind Paste: Add 2 tbsp of this goodness for a sweeter and tangy flavor, it's a good alternative to tomato paste (found in the original recipe). I didn't use it because I wanted to keep this simple and easy. If you have it on hand, add it!
Garnish: Other than cilantro I added halved red grapes over my bowl and I will tell you it was glorious! Alternately adding golden raisins to the recipe would work really well for a sweet contrast.
If you don't have a pressure cooker: Make it stove top, in large pot with a tight fitting lid. Brown the onions etc same as the pressure cooker instructions, on medium high heat. Add in everything in the same order, but instead of closing to pressure cook, you will lower the heat, cover and simmer for 40 minutes. Then open, stir and reduce the same.
Pressure Cooker Indian Butter Chicken (Whole30, Paleo, Keto, AIP)
---
Author: Cristina Curp
Prep Time: 10
Cook Time: 30
Total Time: 40
Yield: 5 1x
Category: Entree
Method: Pressure Cooker
Cuisine: Indian
Description
Indian Butter Chicken made nightshade free and with ghee.
---
Scale
Ingredients
2lbs boneless skinless chicken thighs
2 tbsp lemon juice
1 tsp Redmon Real Salt
1 tbsp garam masala
1 1/2 tbsp turmeric
1 tbsp cumin
1 tsp black pepper
3 tbsp Tin Star Foods Ghee
1 large sweet onion
2 inch piece of fresh ginger
3 garlic cloves
2 bay leaves
1 cinnamon stick
1 cup coconut milk
1 tsp apple cider vinegar
1 tbsp beef gelatin (optional, if using cashew milk/broth don't use it)
1/2 cup chopped almonds
1/2 bunch fresh cilantro
---
Instructions
Peel and slice your onion. Mince the garlic. Peel and slice the ginger.
Open your pressure cooker and heat on saute mode. Add in the ghee.
Add in the onion, garlic, ginger and bay leaves.
Saute until tender and aromatic (5-6 minutes).
Add in the chicken, all the spices and salt. Stir well.
Add in the lemon juice, apple cider vinegar and cinnamon stick.
Stir well. Cook, moving occasionally until the chicken is lightly browned.
Add in the coconut milk, stir and bring to a simmer.
Cancel the saute function. Stir in the gelatin.
Close the lid and set to pressure cook: poultry mode. Mine takes about 20 minutes.
When it's done, release the pressure manually.
Open the lid and cancel the pressure cooker mode, set to reduce or saute mode.
Stir in the chopped almonds and simmer for 10 minutes.
Serve with chopped cilantro on top.
This goes great with cauliflower rice, mashed sweet potatoes and crispy plantains!
Recipe Notes:
To make this AIP use coconut oil or avocado instead. Omit the cumin, black pepper and garam masala. Use 2 tablespoons turmeric, 1 tablespoon ground ginger and 1 tablespoon garlic powder. Leave out the almonds.
Nutrition
Serving Size: 1/5 recipe
Calories: 446
Fat: 24g
Carbohydrates: 20g
Fiber: 10g
Protein: 39g
Keywords: Pressure Cooker Indian Butter Chicken