I MADE IT!
Today is the last day of my HOLIDAY WHOLE30! I made it. I still had great time.Christmas was still Christmas without the cookies or wine. We ate well. We felt amazing. I'm bringing in 2017 feeling really fantastic, no crash diets or purging for me (not that I recommend that).
Despite being on a Whole30, I will tell you this month has been rough. I talked about that in my last post. Due to non-food related variables (read: stress) I had my first full-blown autoimmune flare up in over a year. I was mildly devastated (ok, I was furious). We will not name the source of my stress, as that person and I have reconciled and moved forward.
But at that moment, in those first few days, when I saw my HS rear it's ugly head…. I yelled, I cried, I got really angry. Then I realized that holding on to that anger would only do me more harm. I took a deep breath. I focused on the positive. I thought about how this full blown flare was mild compared to my pre-paleo days. I was thankful for my Whole30, I am certain the absence of sugar and alcohol in my diet really helped. I recovered in two days (record time) and just in time for Christmas.
So… all is well. I am well. No more trouble in paradise. Phew!
Teamwork Makes The Dream Work!
If you're planning on doing a Whole30 in the new year… do it with a buddy. My neighbor, best pal and gym partner did her first one…. she doesn't eat paleo all the time… so it was a big transition for her. Khristen did amazing. She is sticking to her paleo coffee (no more cream and sugar), she loves how she feels and I can tell she's proud of herself too. We kept each other accountable. We could also vent and complain to each other. We could share hardships and victories. We also celebrated the holiday together, which was nice. That meant that there were lots of Whole30 options because we both cooked. Buahahaha!
I shared these Whole30 Turkey Burgers on my social media outlets during my Whole30. They were sooooo good. If I don't post them here then the recipe will be lost to the interwebs forever.
So…. here you go…. because Basil Mango Zoodle Turkey Burgers are so blog worthy. Amiright?!?!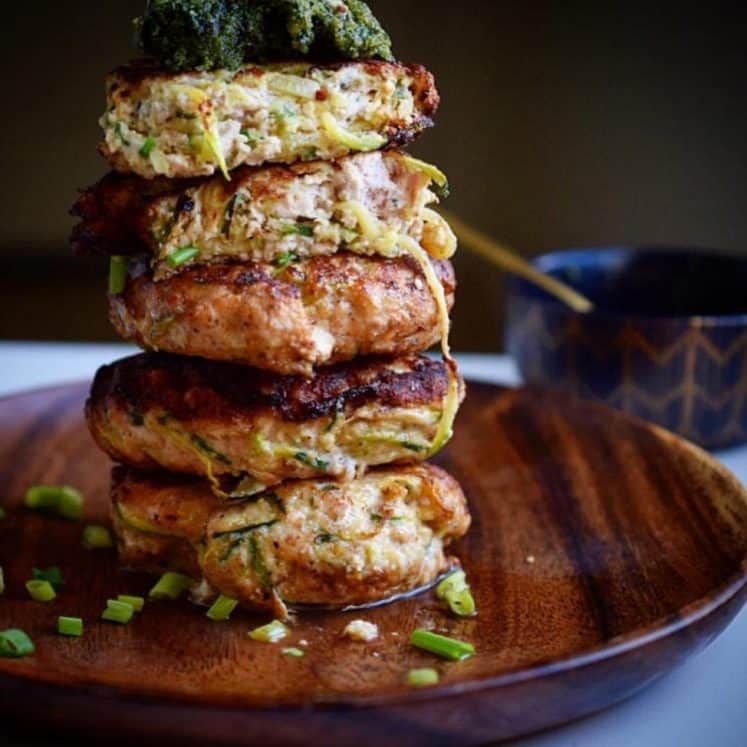 Whole30 Turkey Burger
---
Author: Cristina Curp
Prep Time: 10
Cook Time: 30
Total Time: 40 minutes
Yield: 4 1x
Category: entree
Method: Pan Sear
Cuisine: International
Diet: Gluten Free
Description
Delicious paleo turkey burger with basil, mango and zoodles!!
---
Scale
Ingredients
1lb ground turkey
1 tsp Real Salt garlic salt
1 cup cut Thai basil leaves
1/2 cup diced mango
1/4 cup minced red onion
2 cup thin crisp zoodles (salted and dried with liquid squeezed out)
A squeeze of lemon
1/4 cup fine group almond meal
1 egg
2 tbsp Epic Pork Lard
---
Instructions
In large bowl mix the the ground turkey with salt, mango, basil, onion and almond meal.
Mix in the zoodles then the egg, until fully and evenly incorporated.
Separate the mix into 4 large patties.
Preheat the oven to 350F.
Heat the lard in a large skillet on medium heat until hot.
Add the burgers to the skillet.
Brown for two minutes on each side, then place in the oven for 10 minutes.
Done!
Nutrition
Serving Size: 1 burger
Calories: 461
Sugar: 5g
Sodium: 470mg
Fat: 34g
Carbohydrates: 8g
Fiber: 2g
Protein: 39g
Keywords: Whole30 turkey burger