Wee- Morning Writing
You'll have to excuse me. This post might be a little low energy, but its about 5:30 am here and I haven't had coffee. I'm a little jet lagged from my trip and I woke up really early but skipped the coffee because I need to take my morning supplements on an empty stomach. You see, during my recent trip home I went to see my integrative medicine doctor.
I was finally fed up with my conventional (military) healthcare as it wasn't helping me. I had started to think that maybe I was crazy. Here on base they just tell me that it all looks normal, that I'm fine, that I look great! And I'm telling them that I need help, that I still get fatigued, that my body while it's healed a lot is still in such a delicate state. I live in fear or flaring. I can't slip up. Not even a little. It gets exhausting. My goal is to get to a place where I can relax a little. Where maybe I can add something back into my diet. Where I don't have to do a full-scale investigation before eating out.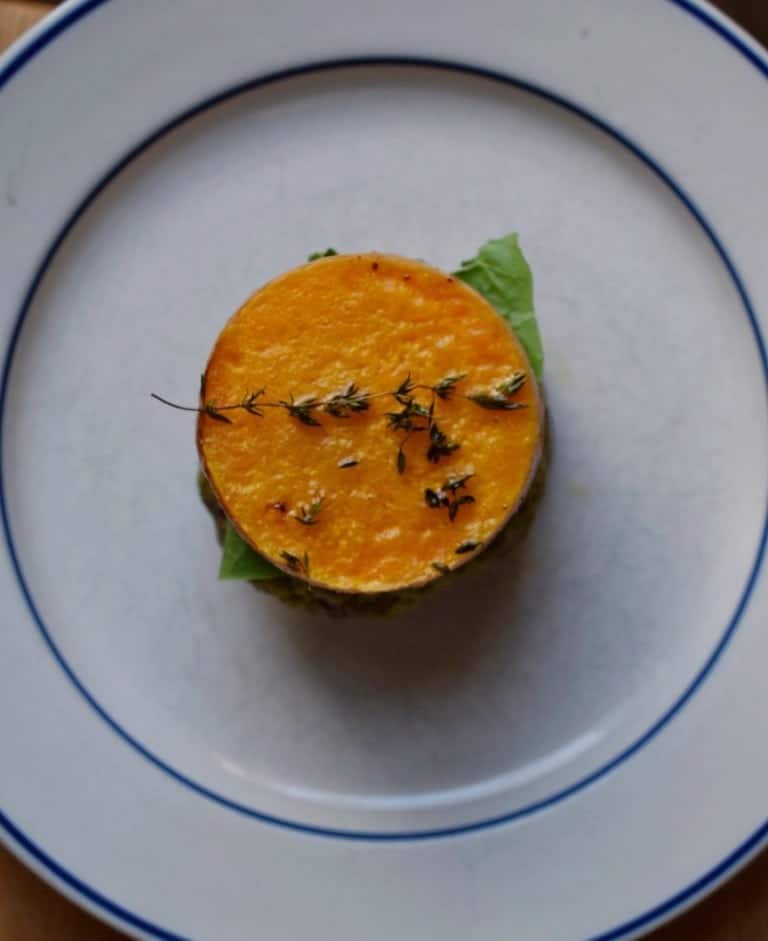 When Conventional Medicine Sucks So You Pay Out Of Pocket….
Seeing my doc back home, it was nice to hear someone get it. That I've come a long way on diet alone, but health isn't only about diet. That I need help to get the rest of the way. After his exam and some acupuncture, he told me that I had bacteria in my stomach, like an infection and he gave me two supplements for that. He urged me to get further blood/urine testing done. Unfortunately, my trip was too short to do it there. He also gave me a hormone balancing supplement. Dr. Bravo also does energy work. Which I have done with someone else. He said that I have a lot more work to do that my body won't heal until I release those emotions.
 Pee Tests & Weight Loss
I have ordered the DUTCH test, a comprehensive hormone mapping test, done at home, and will have Dr. Bravo and Dr. Ben Jacob analyze the results for me. I'm excited to see what they say. I have two main concerns right now. First: to further heal so that my remission is only successful when the start and the moon align and I am extremely vigilant with my diet and lifestyle. Secondly: to get my body out of this plateau. My journey to lose weight has been paralleled to my gut healing journey. When I did the AIP in 2015 I lost 40lbs. 2016… zilch. I did enjoy many "non-scale victories though." I don't talk about it often.
Mostly because I do want you all to focus on the non-scale victories, on healing your gut… my goals are not for vanity. I have gotten very fit in the last year. I have a lot of muscle. I feel great. I am proud of how far I have come. But I still need to lose weight. Not because of bikini season…. but for my health, for my fitness level. I'm heavy. I am one of those people that weigh a lot more than I look. It makes it hard to do push up, burpees. Moving my body around is exhausting sometimes. So yes. To lose more weight. I want to be able to do a push-up! That's my goal. When I can pull this body of mine up and down and move it around with ease… then I'm done.
I'd like to note that I am certain my plateau has nothing to do with my diet. I eat the right things. I work out, a lot. I reap the benefits of my diet in other ways (energy, remission, overall health). My docs think it's a metabolic problem… hence the DUTCH test. I really hope that we can figure out what is keeping my body from metabolizing the stored fat in my body as a source of energy. I'm also trying this new thing soon. It's like ketones that you ingest that put your body in ketosis. So I will definitely be reporting back with lots of things soon. I'm a genuine pig ? I like to make sure things are worth it before telling you all about it.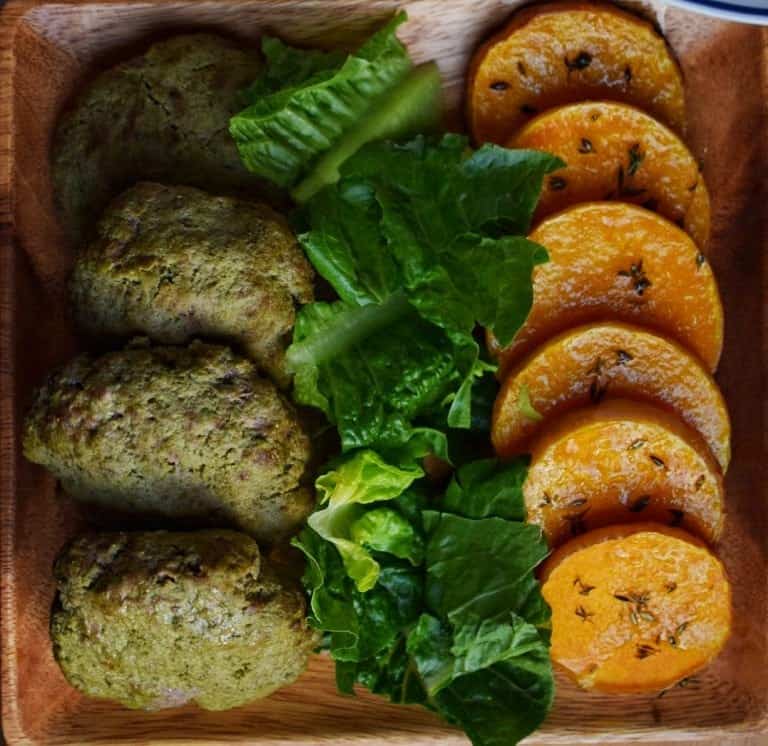 THIS RECIPE:
It's a winner. My toddler was gobbling up the beef patties wrapped up in a cassava flour tortilla. My husband, who isn't super in to squash has these babies just as they came. The green tinge of the burgers comes from the two cups of spinach blended into them. Oh yeah, they also pack sauerkraut, coconut flour and are egg free. Yup. This recipe is totes AIP. Whole30 compliant and packing some serious nutrition!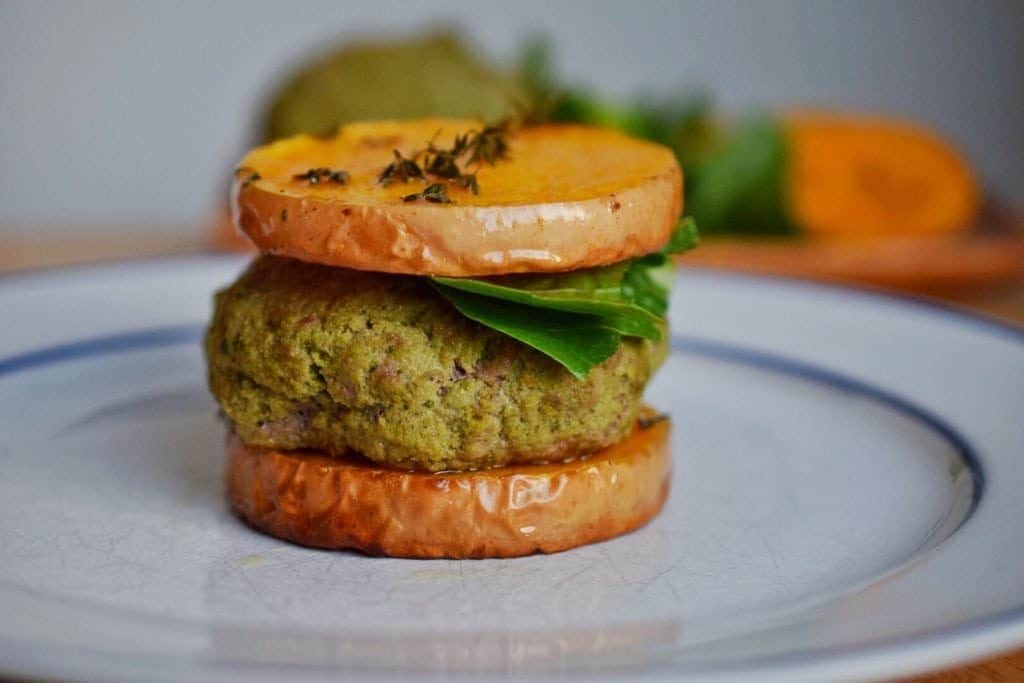 Hidden Veggie Beef Patties with Butternut Buns
---
Author: Cristina Curp
Prep Time: 10
Cook Time: 25
Total Time: 35
Yield: 6 1x
Category: Entree
Method: Oven
Cuisine: Hidden Veggie
Description
These hidden probiotic veggie burgers on butternut buns are a fun way to get extra nutrition!
---
Scale
Ingredients
2lbs grass fed ground beef, 15%fat
2 cups Spinach
1 cup Sauerkraut (AIP compliant)
3/4 cup milk coconut milk
1 tsp salt
1/2 tsp onion salt
1 tbsp dried parsley
2 tbsp coconut flour
1 butternut squash
A few sprigs Thyme
Olive oil
---
Instructions
Pre-heat oven to 400F convection roast.
In your blender combine the spinach, sauerkraut and milk. Blend until smooth.
Pour the mix into a bowl.
Add in the seasoning and mix well.
Add in the ground beef mix to fully combine.
Add in the coconut flour. Mix well until mix dries up a bit.
Shape 6 burger patties
Drizzle olive oil on sheet pan, place patties on the sheet pan.
Drizzle a little oil over them too. Place in the oven.
Roast for 25 minutes.
If you have space in the oven, roast your squash at the same time.
Slice the neck of your squash into 1/4 inch thick slices, toss with olive oil.
Lay flat on another sheet pan, sprinkle with thyme.
Pop in the oven with the burgers! Cook the same amount of time.
Load your burgers up with lettuce, and your favorite condiments!
Nutrition
Serving Size: 1 burger
Calories: 372
Fat: 22g
Carbohydrates: 9g
Fiber: 3g
Protein: 31g
Keywords: Hidden Veggie Burgers
1