Quiche's Cuban Cousin
Football season is upon us! While many of you are still knee deep in your January Whole30's, some you are getting the hang of your 80-20 paleo lifestyle… and the rest of us… well, we're paleo for better or worse, 100% of the time. When you're paleo for health reasons there aren't any days off. But that's a-okay because I will tell you… with recipes like these, we're not missing out. This savory egg dish is super versatile. Great in the morning or at night. Perfect hot out of the oven or served cold. Frittatas are quiches casual cousin. In this case… the loud Cuban cousin with a lot of personalities…and I guarantee you she'll be the star of the party.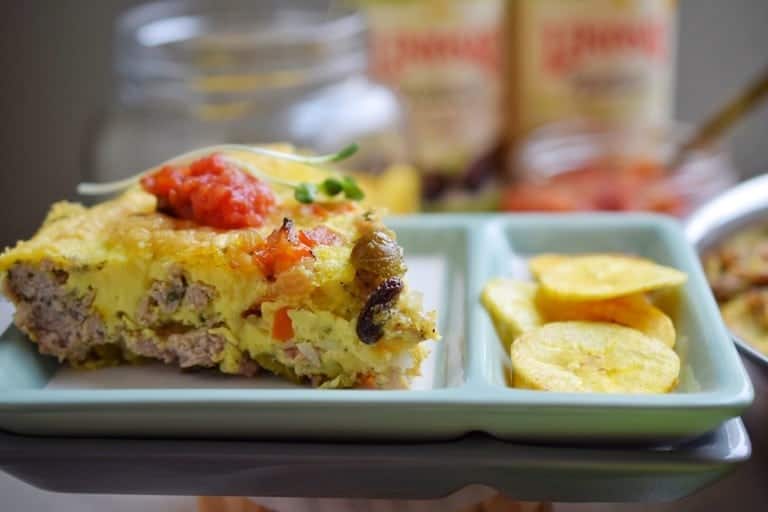 If you're not familiar with Cuban Picadillo, let me break it down for you.
This is a traditional ground beef dish made with a base of sauteed onions, carrot, garlic and peppers. The beef is then browned and simmered in tomato sauce. What sets this dish apart though from your garden variety chili is the addition of green olives and raisins. This unassuming pair gives the dish an addicting sweet and salty combination. The texture of the buttery olives and plump raisins play well in your mouth. It's a staple in any Cuban home.
For this dish, I used ground turkey to keep it on the lighter side, omitted the tomato sauce (because you can top with salsa) and threw this winning meat-olive- raisin combo is a party-friendly frittata!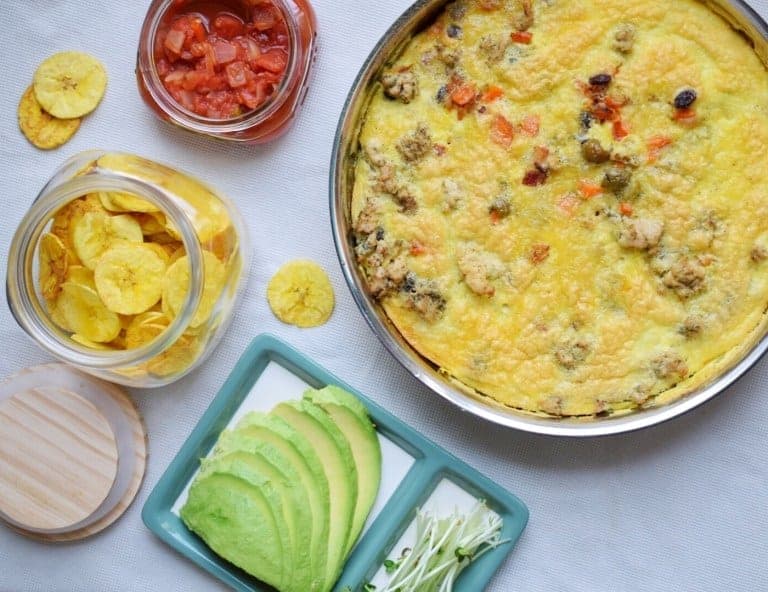 Great Dishes Come From Great Ingredients: Fact
Great dishes like these are always built on great ingredients. When you read labels as I do, you really begin to narrow down your packaged food consumption. Luckily brands like Lindsay Olives exist. Brands that take their job seriously that love their product for its quality and purity and don't add a bunch of junk to it, they don't add ANYTHING. When you can't do nightshades, or preservatives or are just wary of added color, artificial flavors and other filler ingredients, buying things like olives can become a hassle. I have seriously spent fifteen minutes standing in front of the olives at Whole Foods unable to confidently take home a jar. Luckily the Safeway close to the house carries these guys. Not only are these olives packed in JUST SEA SALT AND WATER. They are so mild in flavor, seriously butter and just downright tasty! I must have eaten a handful before adding them into the recipe (oops!).
If you're an olive lover like me you need to find these near you. Use this STORE LOCATOR to find Lindsay Olives near you.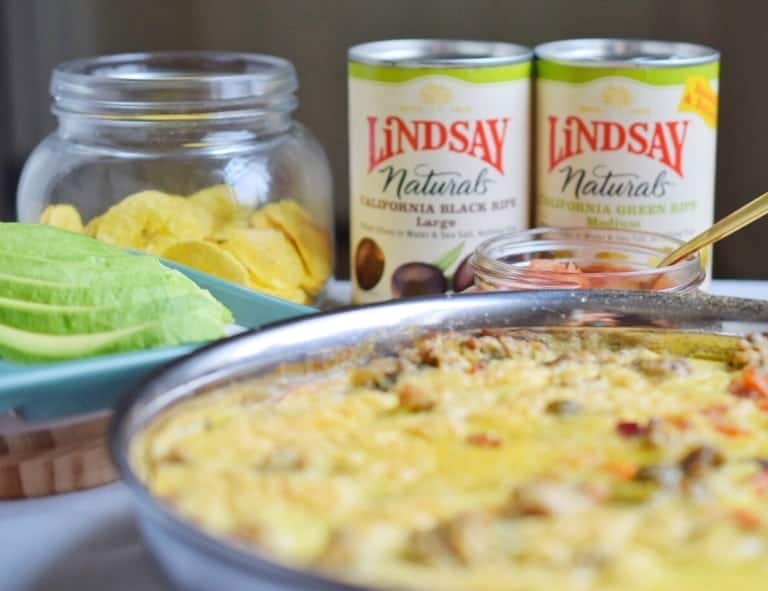 Take Her Traveling
One thing I know about tailgates, they don't always take place in the comfort of your home. For those of you that brave the cold to celebrate, and cheer your team on in solidarity at the game. Take this spread on the road and up your parking lot tailgate game to the max! The frittata travels great in the skillet, just fasten a lid on it. Take a jar of salsa and a bag of plantain chips with you and you're in business. If you're grilling, you can even keep it warm on the grill, these bake really well in cast iron skillets.
From cozy living rooms to freezing parking lots you can feed your football fans with this hearty, healthy, crown pleasing spread! And don't forget your Lindsay Olives!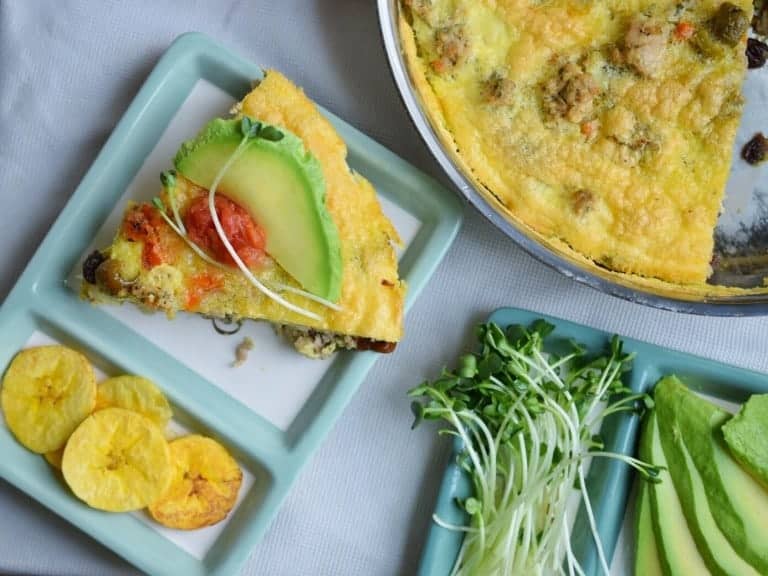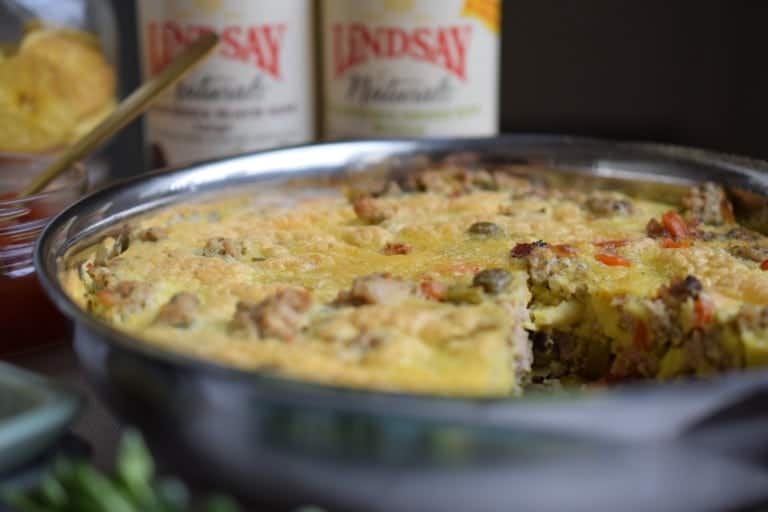 Cuban Picadillo Frittata (Whole30, Paleo, Low Carb)
---
Author: Cristina Curp
Prep Time: 5
Cook Time: 30
Total Time: 35
Yield: 8 1x
Category: Breakfast
Method: Oven
Cuisine: Cuban
Description
Cuban Picadillo Frittata! A delicious tailgate option with a Cuban twist!
---
Scale
Ingredients
1lb ground turkey
1 medium yellow onion
2 garlic cloves
2 large carrots
2 slices bacon (I use Pederson Natural Farms, Whole30 Approved)
1 can Lindsay Naturals Green Olives
1/2 cup raisins
6 large eggs
2 tbsp milk (I use almond milk)
1 tsp salt
1 tsp onion salt
1 tsp black pepper
1 tbsp dried parsley
2 tbsp olive oil
---
Instructions
Pre-heat oven to 350F.
Heat a large skillet on medium heat.
Small dice your onion, carrot and garlic.
When the skillet in heated add in the olive oil.
Add in the diced vegetables.
Chop up the bacon and mix in. Stir frequently, cook for 8 minutes.
Add in the ground turkey with the parsley, salt and pepper, mix in, stirring constantly until it's all crumbled up and browned, about 5 minutes.
Open and drain your Lindsay Olives. Place them on a cutting board and chop.
Add the olives and raisins to your skillet. Mix well.
Crack your eggs open into a bowl or blender. Add in the milk and onion salt. Blend or whisk until frothy.
Pour over skillet evenly. Let is sit on the stove for 2-3 minutes until the edges begin to cook. Then carefully place it in the oven, on the middle rack.
Bake at 350F for 15 minutes.
After fifteen minutes it should be done. You will know it's done when the center is set.
Remove from oven and let it sit a few minutes before slicing and serving!
Top with avocado and salsa, yum!
Nutrition
Serving Size: 1 slice
Calories: 247
Fat: 16g
Carbohydrates: 12g
Fiber: 4g
Protein: 17g
Keywords: Cuban Picadillo Frittata