Seafood soup is such a great way to get omega 3's into your diet, especially if you're not confident cooking fish. In soup, you don't have to worry to much about overcooking it. This delicious and light soup is chock full of veggies and uses Mahi Mahi or cod or halibut. I've added some cashew butter for the creamy base and loads of ginger, water chestnuts, and bok choy for a paleo Thai soup that you will love!
Let's talk ingredients
Before we get into the recipe, I just want to clarify things and highlight easy substitution and alterations.
The Base: Bone broth and cashew butter.
You can also use: chicken stock, vegetable stock or any broth of choice. You can also use almond butter. You can omit the nut butter and use coconut milk (1-2 cups).
The seafood: I am partial to center cut mahi fillets. Shrimp is traditionally used for this soup. You can use tilapia, cod or any other white fish. You can use chicken, even pork.
The Vegetables: I used onion, carrot, garlic, ginger water chestnuts, bok choy, lemon and lots of cilantro. You can use any vegetables you want and omit the water chestnuts if you're doing low starch.
The Wasabi: If you don't want the hint of spice, leave out the wasabi, which is just powdered horseradish.
Soup Day
I set out to re-photograph a chowder then realized I couldn't use coconut milk because the folks I was cooking for have a coconut allergy and then I just made a whole other soup. I think it's so good though. A great AIP-friendly option, which hey, leave out the cashew cream or add coconut milk if you want. It's a soup kind of day around here. Crazy winds and rain. Crazy politics and I need to stay off of Facebook because I'm learning things about people that I like that I don't want to know. You know it's bad when you mother-in-law tries to bait you in a political Facebook debate. Nope. I will not bite. Lot's of amazing things in my feed too. My heart swelled with pride (and my eyes with tears) and the images of millions of my sisters marching, showing the power of numbers and unity. It is such an emotional roller coaster. Soup is indeed appropriate for days like these.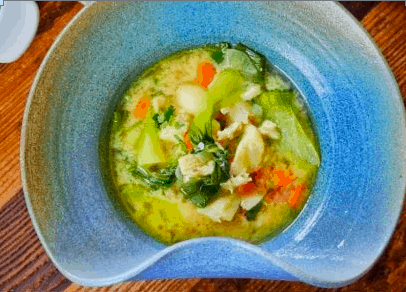 Sum Yung Gai
Ok, that's kind of an inside joke. Growing up in Miami, there was always this one shady Chinese restaurant called Sum Yung Gai (which sounds like Some Young Guy) aaaannndddd since it was on south beach… we figured it was a front for some sort of prostitution ring. Ha! The things you grow up around in Miami. Anywho… this soup isn't Chinese inspired, although the name reminds of Sum Yung Gai. This soup is Thai Inspired. The traditional Tom Yum Kung is made of hearty chicken stock infused with lemongrass, full of veggies, and spiked with chili peppers.
Here I've made a clean, simple version with easy-to-find ingredients and a hit of none nightshade spice. Whoot Whoot. The recipe makes a huge batch. Like 8-9 servings, so whip out the stockpot and add this goodness to your meal prep list.
Tom Yum Kung (Thai Seafood Soup without Coconut Milk)
---
Author: Cristina Curp
Prep Time: 10
Cook Time: 30
Total Time: 40
Yield: 8 1x
Category: Soup
Method: Stove
Cuisine: Thai
Diet: Gluten Free
Description
A delicious Thai Seafood Soup
---
Scale
Ingredients
2 tbsp fat (ghee, olive oil)
4 cups bone broth (any kind you like)
3 tbsp cashew butter (or 1 cup cashew creamer/ sup coconut cream for AIP)
3lbs white fish filet (no scales or bones)
2 bay leaves
1 large Vidalia onion
2 inch nub of ginger
4 garlic cloves
3 carrots
2 tsp salt
4 baby bok choy
2 cans water chestnuts
3 lemons
To taste: fish sauce (I used about 2 tbsp)
1 bunch cilantro
2 tbsp wasabi powder
---
Instructions
In a large stock pot heat 2 tbsp of fat on medium heat.
Small dice garlic, ginger, onions and carrots.
Once the pot is heated add the diced veggies to the pot with the bay leaf.
Cook stirring occasionally until tender, about 8 minutes.
In the meantime cut your fish into 1-inch pieces, and cut, wash and pull apart your bok choy.
Peel a few strips of lemon rind off of your lemons, add them to the pot.
Add the fish into the pot and stir well, until all the fish is seared.
Add the salt and the cashew cream, fish sauce, and wasabi powder. Mix well.
Add the broth, bring to a boil, let it boil for 10 minutes.
Add the bok choy, water chestnuts. Stir. Bring to a simmer.
Juice all your lemons. Set aside.
Let the soup simmer for another 10 minutes.
Dice your cilantro.
Add in the lemon juice. Stir. Taste, adjust salt and needed. If you want it thinner, add in a cup of water.
Serve with plenty of fresh cilantro!
Nutrition
Serving Size: 1/8 recipe
Calories: 245
Fat: 8.8g
Carbohydrates: 8.8g
Fiber: 1.8g
Protein: 37.9g
Keywords: thai seafood soup