Whole30 Turkey Chili is made without beans, but it's hearty and delicious. I use the pressure cooker to make quick work of this creamy, sweet potato-based chili. The epic flavor comes from the combination of bacon, leeks, and a pinch of nutmeg! This chili has won awards ya'll!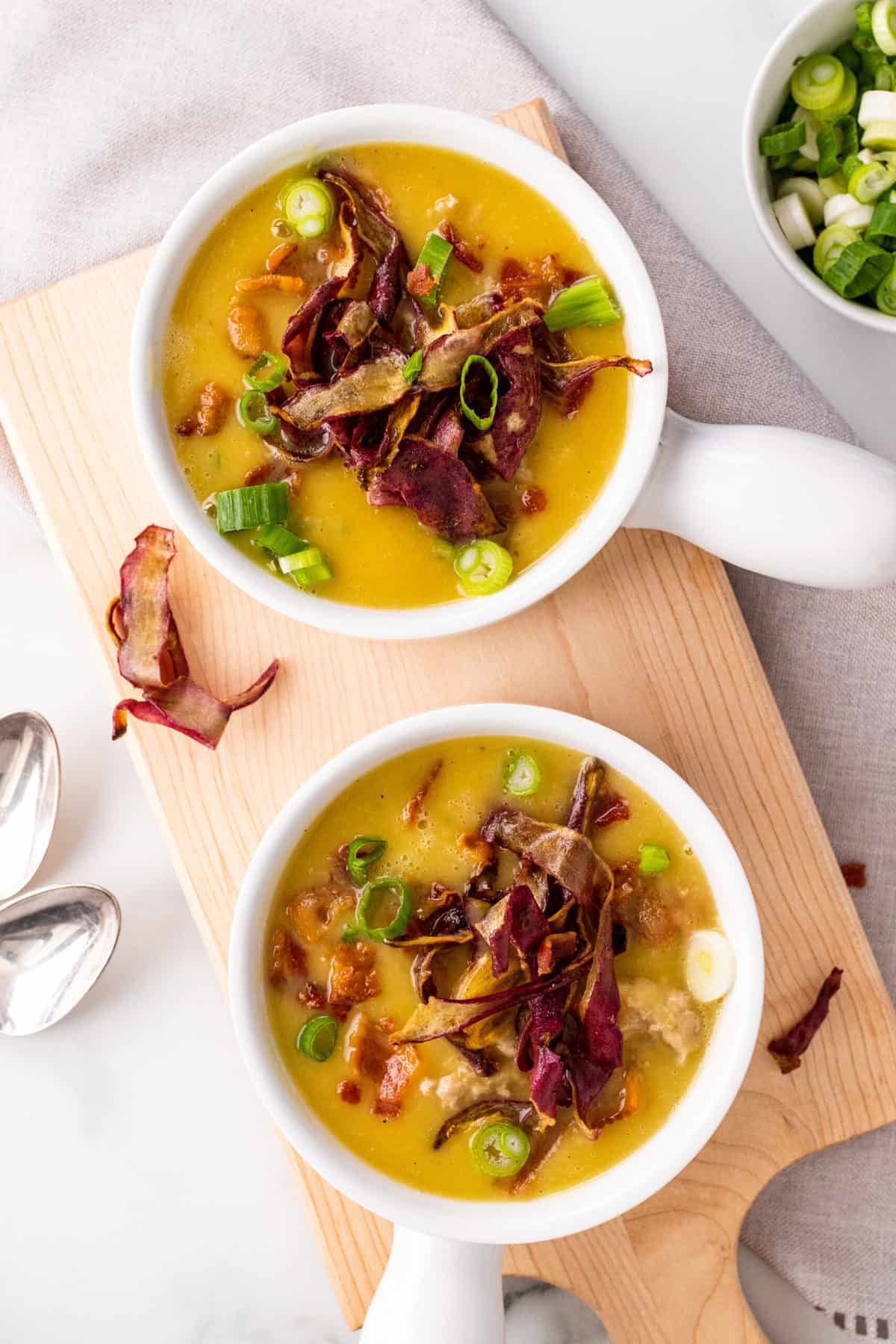 Table of Contents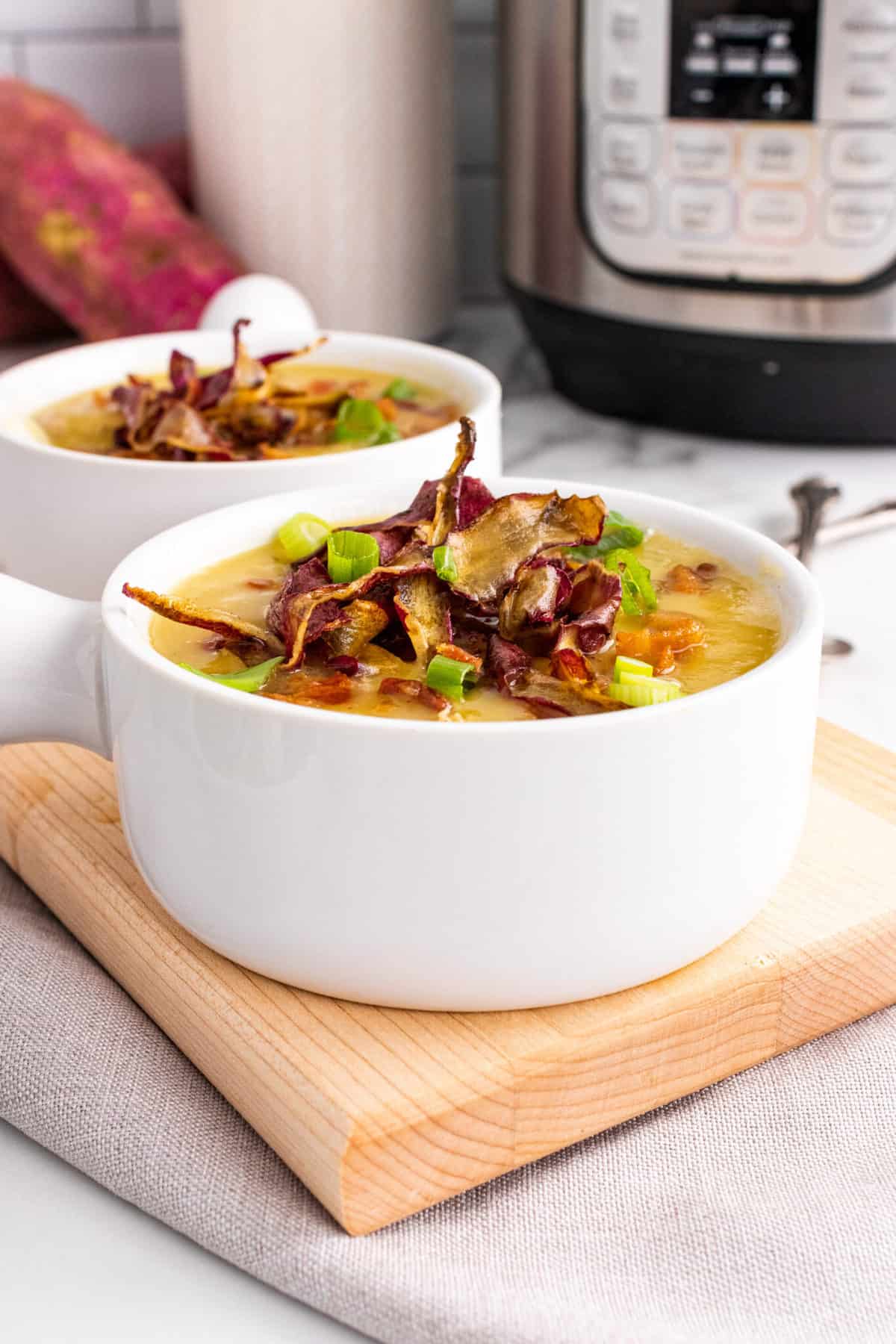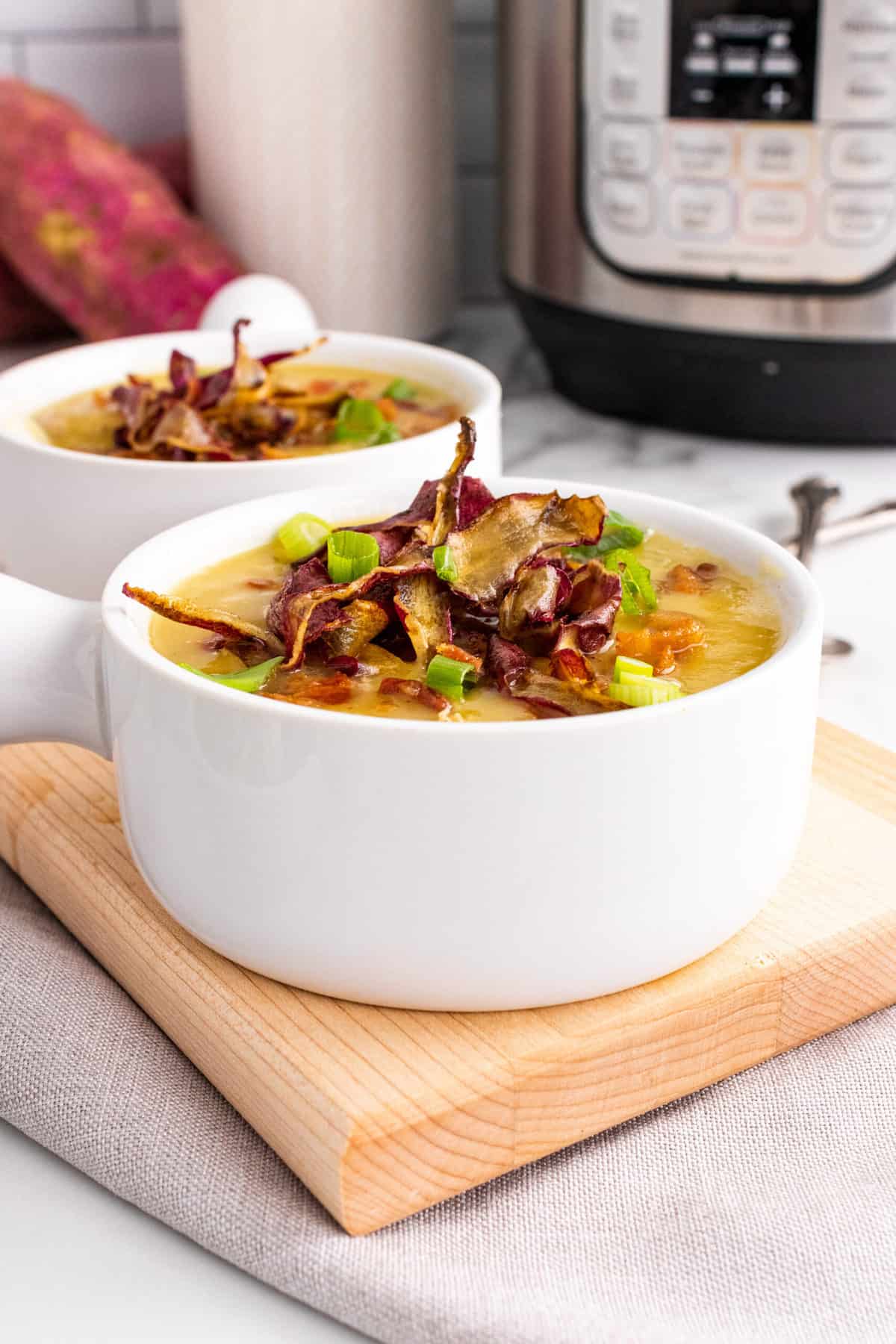 You're Going to LOVE this Whole30 Turkey Chili
This soup takes a few extra steps but it'sso with it. Luckily it makes a big batch because we had it for lunch, dinner and then lunch the next day and still didn't tire of it. It's thick and creamy, it's got lots of flavor, fantastic texture, and bonus, it's just begging to be topped with all sorts of fun stuff. My fav, of course, crispy sweet potato skins!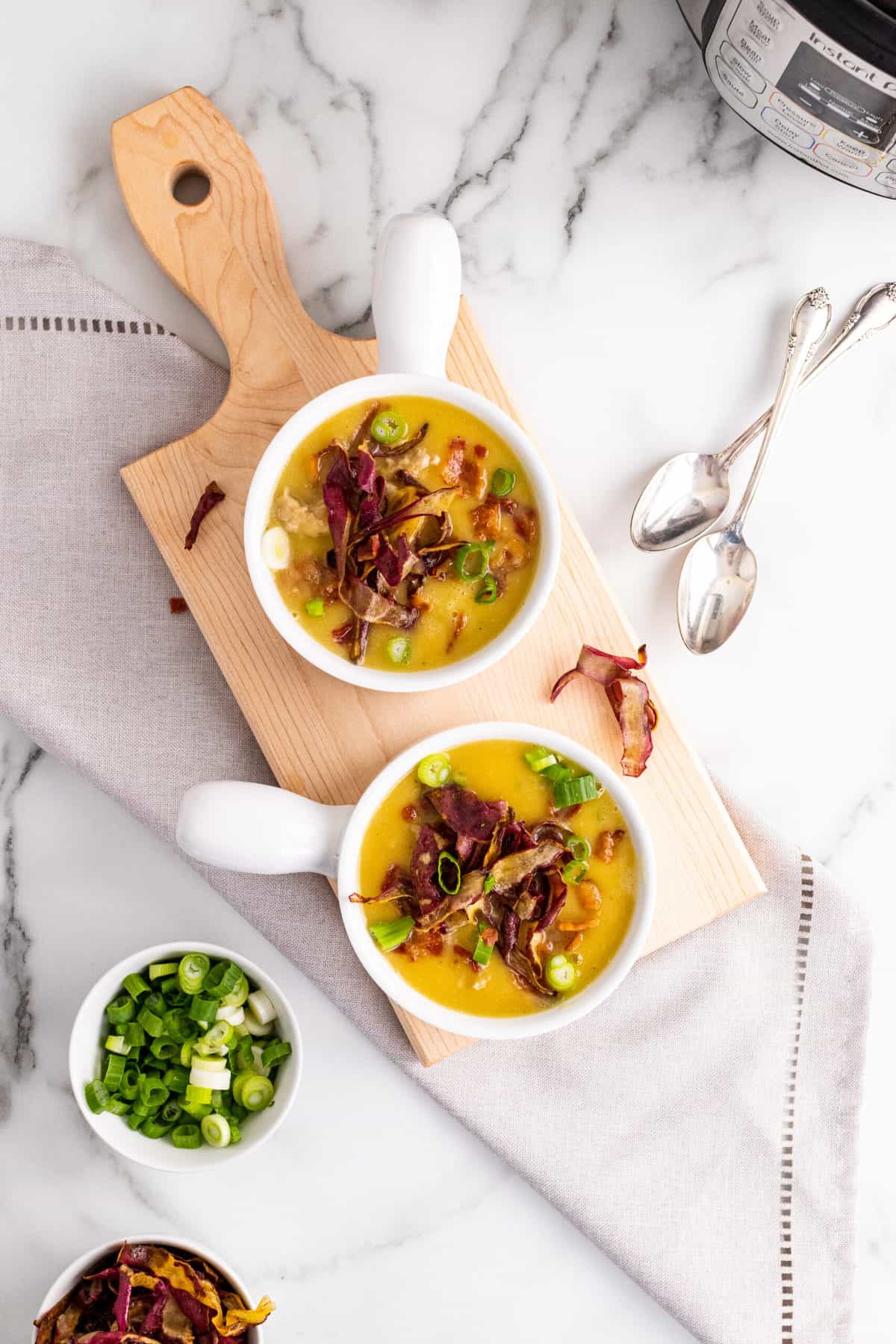 Nightshade Free Turkey Chili Ingredients
Japanese sweet potato, white sweet potato or a white chili or garnet or jewel for orange – this Whole30 Turkey Chili, you can also use CAULIFLOWER, for a LOW CARB version.
Bacon which lends flavor and fat to the bland turkey.
Lots of leeks because I'm a sucker for potato leek soup.
Ground turkey (mostly to keep in with the white color, you may also use chicken). This can be made stove top, but using the pressure cooker reduces the cooking time like crazy and the cleanup. Win!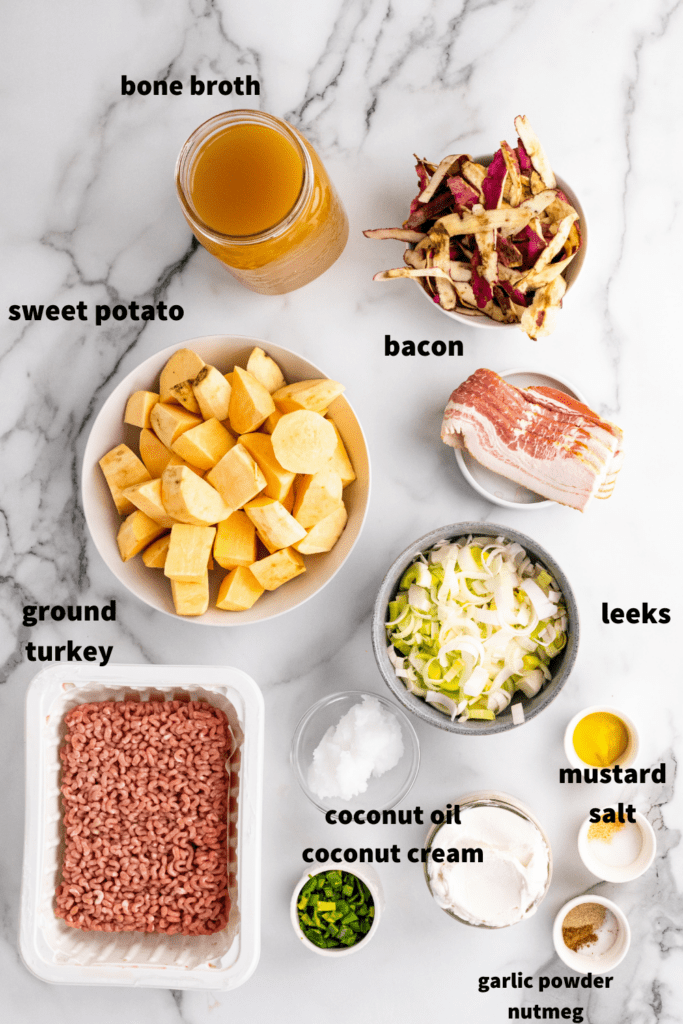 Step by Step Whole30 Turkey Chili
Heat your pressure cooker on saute mode – cook the chopped up bacon until crispy, then remove from the pressure cooker.
Add in the sliced leek, white parts only, and saute in the bacon fat.
Once tender add in the sweet potato and seasonings and the broth.
Close the lid and cook for ten minutes or until tender.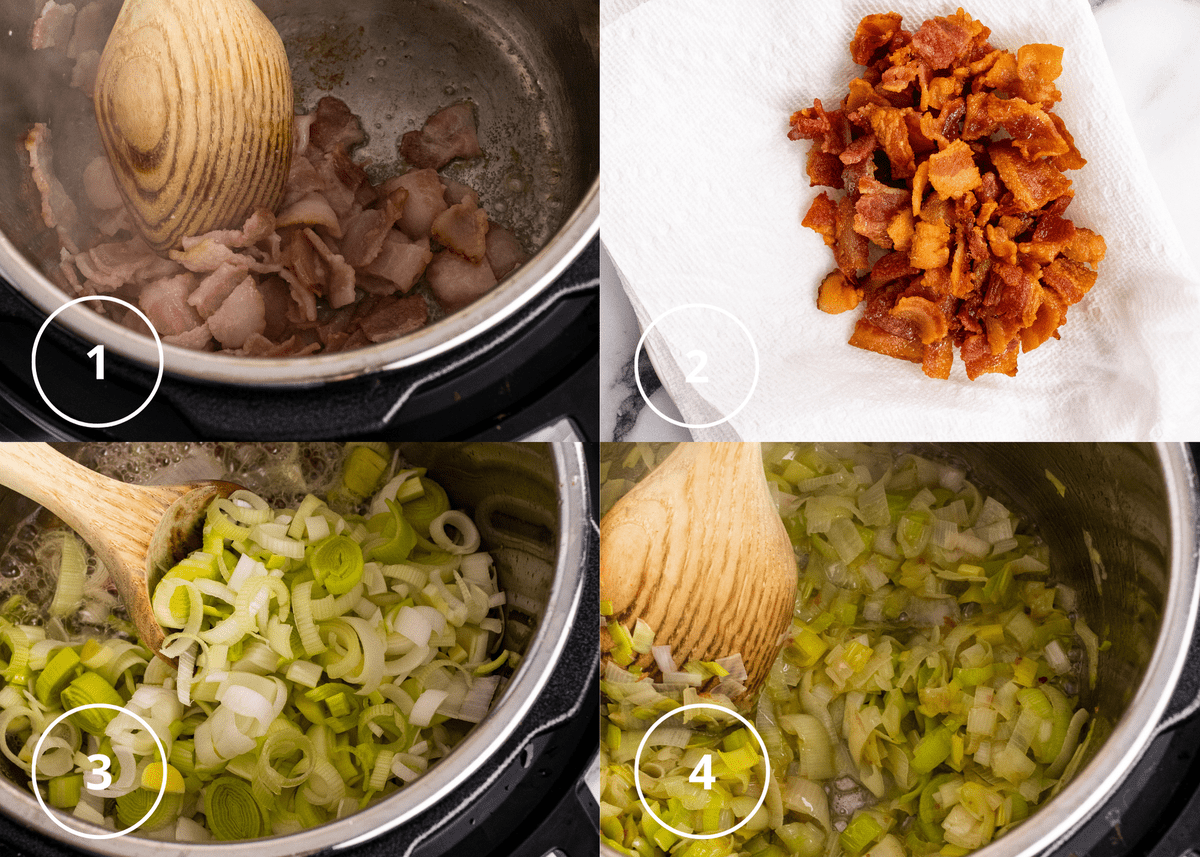 While the soup base cooks in the pressure cooker – season the ground turkey and set aside.
In a skillet, heat up the coconut oil.
Once hot, fry the sweet potato skins in batches until crispy. Set aside.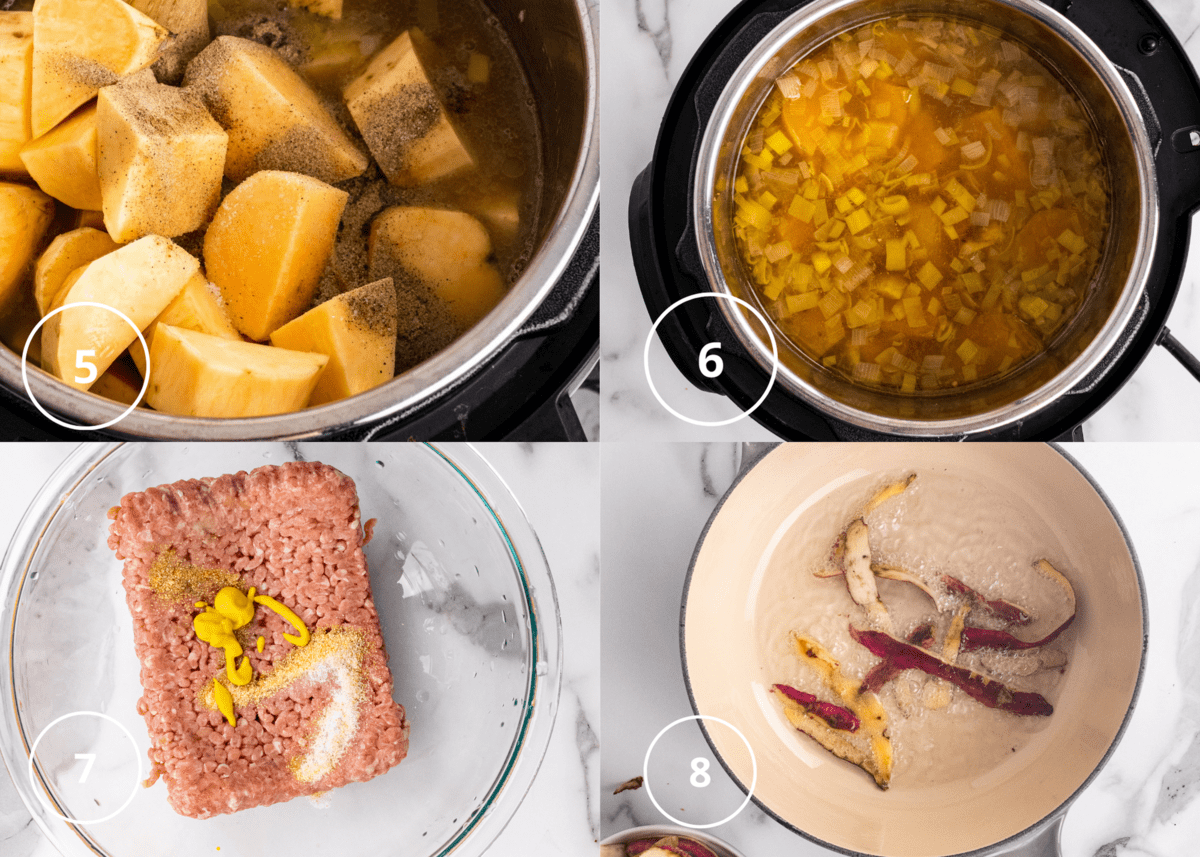 Carefully transfer the sweet potato soup base to a blender.
Add the cream and blend until smooth.
In the pressure cooker brown the ground turkey with the leek greens.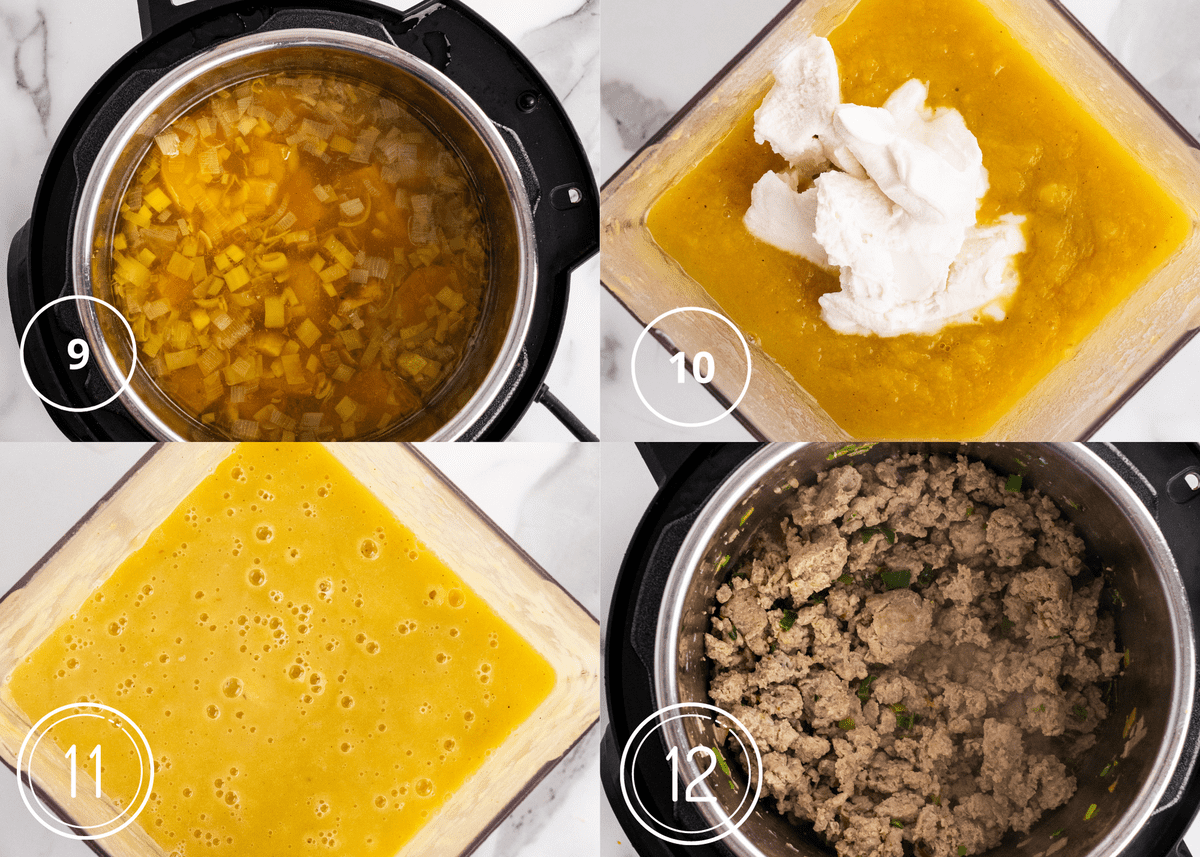 Once the ground turkey is fully cooked, pour the sweet potato soup base into the pressure cooker with it.
Mix well and reduce the Whole30 Turkey Chili until desired thickness.
Mix in most of the crispy bacon, reserving some to garnish the Paleo Chili with sweet potato skins.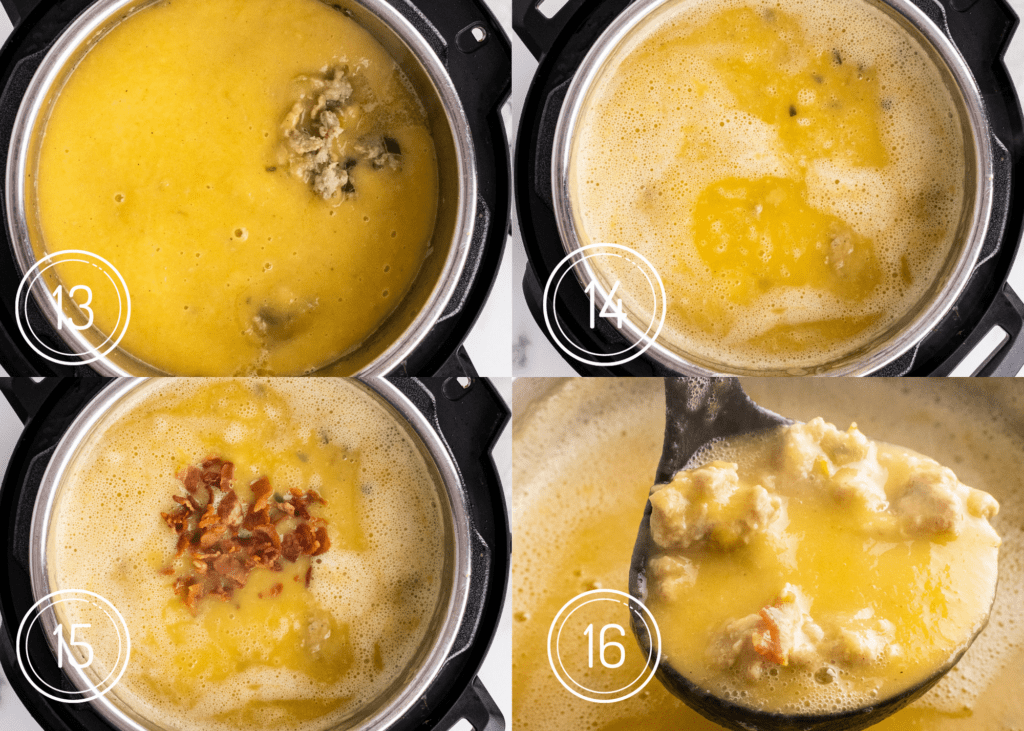 Tips and Tricks for Perfect Paleo Chili
You can make parts of this soup ahead of time if you want. Cook up the turkey and bacon the day before!
If you can't find white sweet potato, you can use any variety, or cauliflower.
To make this stove top, use a Dutch over or heavy bottomed pot to cook the bacon, then add in the leeks, an then sweet potato with broth to simmer. While you fry the sweet potato skins and brown the turkey in another skillet to make it go quicker.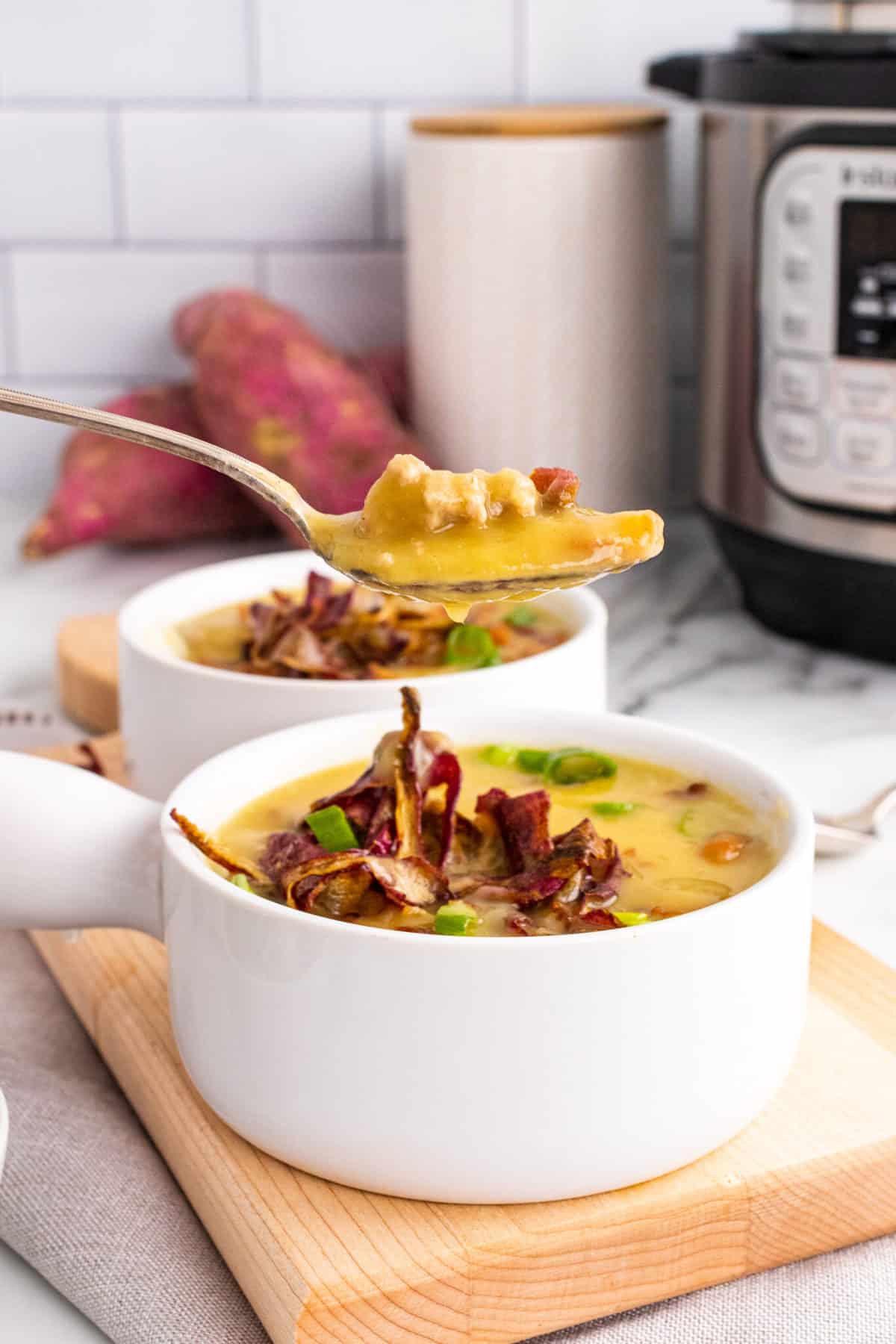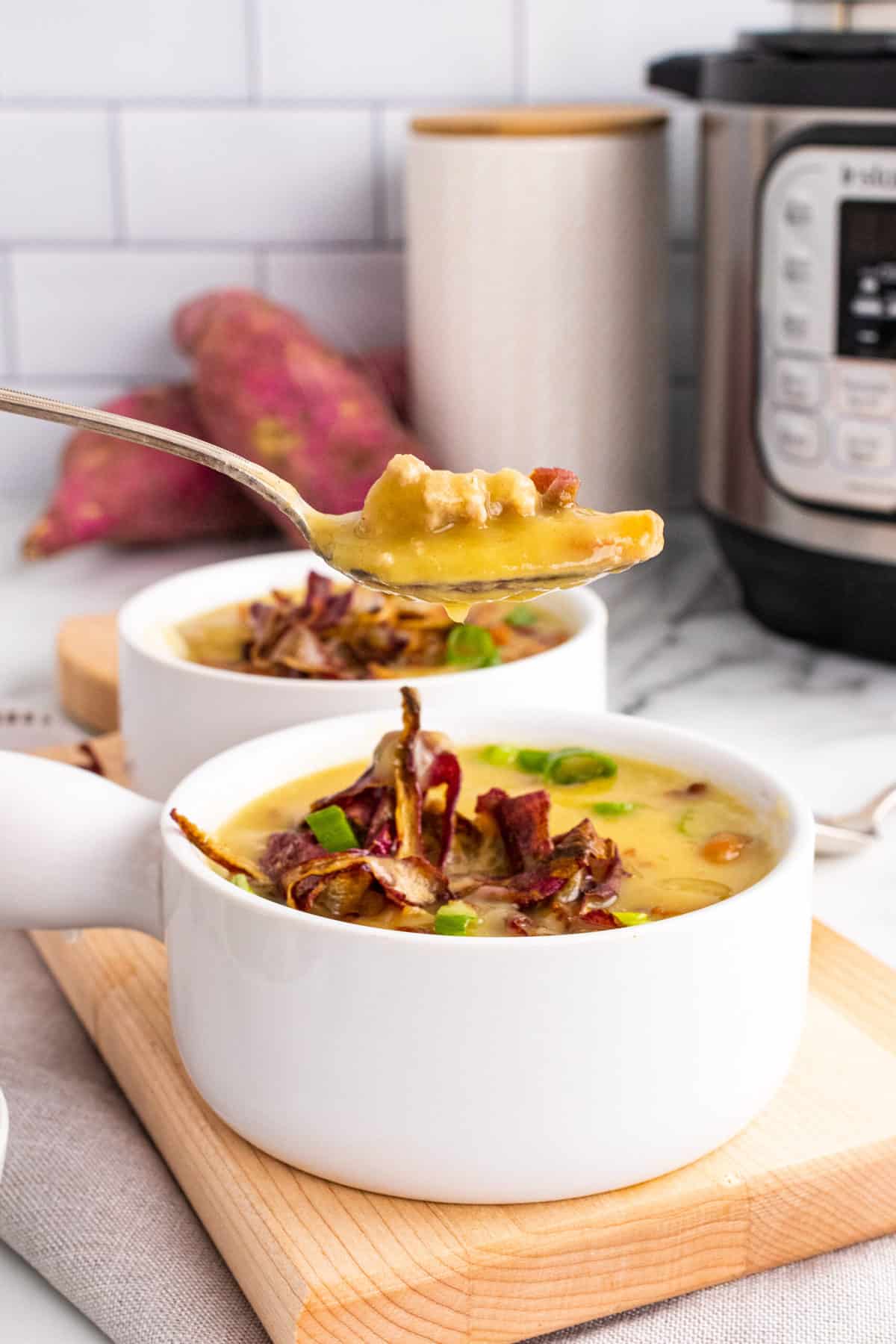 Frequently Asked Questions
Can I make this AIP?
Yes, I have listed the modifications in the recipe box.

Can I freeze this?
Yes! It freezes really well – and you can thaw it in a fridge overnight or in the microwave.
Can I use regular potatoes?
If you tolerate them yes! White potatoes are Whole30 compliant.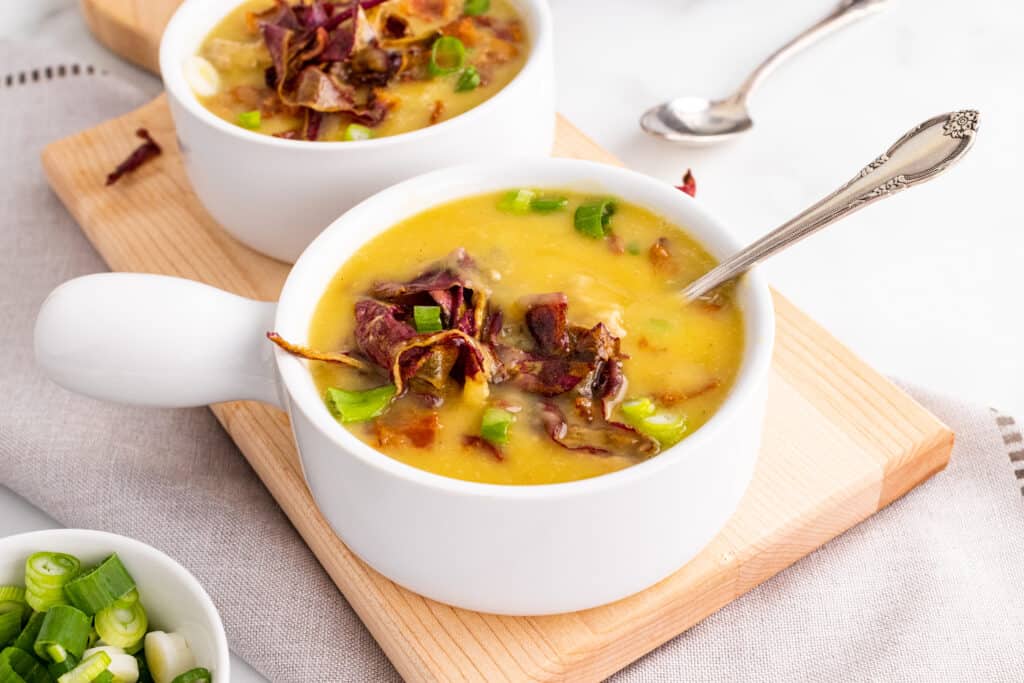 You May Also Like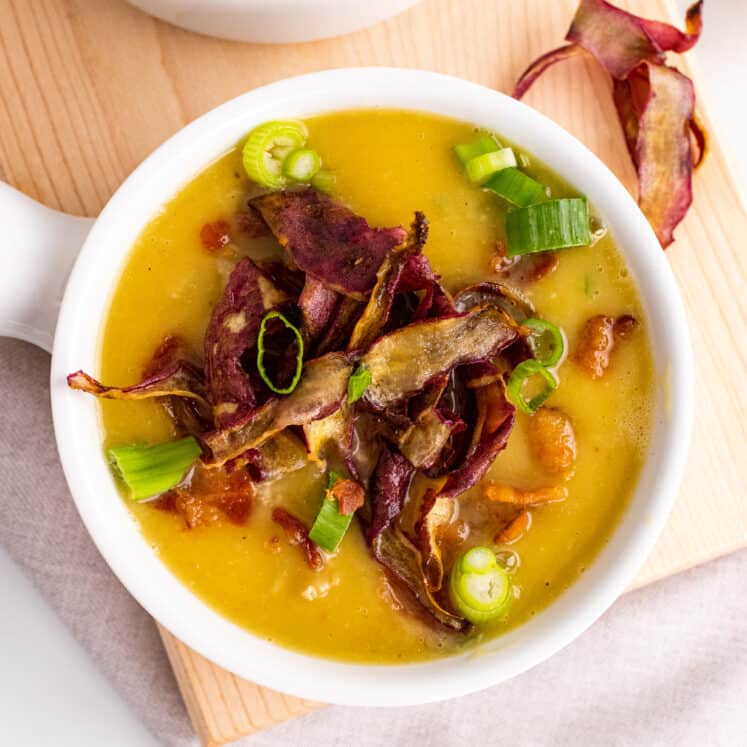 Whole30 Turkey Chili
---
Author: Cristina Curp
Prep Time: 10
Cook Time: 30
Total Time: 40
Yield: 5 1x
Category: Soup
Method: Pressure Cooker
Cuisine: American
Diet: Gluten Free
Description
A creamy, white soup with ground turkey, bacon and loads of flavor!
---
Scale
Ingredients
For Soup Base:
2 cups chopped leek whites
4–5 cups diced white sweet potatoes or 6 cups diced cauliflower
2 tablespoons bacon fat
1 teaspoon salt
1 teaspoon white pepper
Pinch nutmeg
3 cups bone broth, more to taste
1 cup cashew or coconut cream
For Turkey
1 pound ground turkey
½ teaspoon salt
½ teaspoon mustard
½ teaspoon ground garlic
¼ cup minced leek greens
4 slices bacon
For Crispy Potato Skins 
Sweet Potato Peels
1/4 cup coconut oil
Skillet
---
Instructions
First begin by peeling your sweet potatoes and setting the skins aside, DO NOT DISCARD. Or dice your cauliflower. 
Start The Soup
Heat pressure cooker on saute mode.
Cut your bacon into 1/4 inch pieces.
Add it to the pot and cook until crispy.
In the meantime; slice your leeks until you hit the green part.
Once your bacon is crispy remove it from the pot and add in the leeks.
Saute until they begin to brown. Add in the sweet potato (or cauliflower)
Add in the broth, salt, white pepper and nutmeg.
Cancel saute function. Close the lid. Set to PRESSURE COOK: steam or vegetable mode or on low for 10 minutes.
During this time mix your ground turkey in a bowl with salt, mustard, ground garlic. Set aside.
Wash and mince the leek greens. Set aside.
Make Crispy Skins (if using potato)
Heat coconut oil in the skillet.
Line a plate with paper towel and set it close to the stove.
When a wooden spoon inserted in the oil sizzles, add in a handful of the potato skins.
Once they become golden brown (30-45 seconds) remove them with tongs and set them on a paper towel-lined dish.
Repeat until all the skins are fried.
Back To the Soup
When the pressure cooker is done, release the pressure manually to speed up the process.
Then transfer all of the contents to a blender, carefully.
Place the insert back in the pot an heat on saute mode.
Add in the leek greens and ground turkey, saute until browned and cooked, about 5 minutes.
Stir often, you want to crumble the turkey with your spatula or spoon.
Blend the potato (or cauliflower) mix until smooth. Add in the cream. Blend again.
Pour your soup base into the pressure cooker and bring to a simmer with the turkey, this won't take but a minute or two.
If you want the soup thinner, add in more broth here. I like mine pretty thick!
Stir in MOST of the bacon, save some for garnish.
Serve soup. Top with crispy skins, bacon and green onion! Boom! Delicious.
This will make a lot, about 5-6 bowls, which is about 8-10 cups.
Recipe Notes:
AIP MODIFICATIONS: OMIT ALL THE SEED BASES SPICES LIKE PEPPER, NUTMEG & MUSTARD. USE HORSERADISH, GINGER AND A LITTLE CINNAMON INSTEAD. USE COCONUT CREAM INSTEAD OF CASHEW CREAM. ENSURE YOUR BACON IS AIP COMPLIANT.
To make this low carb use cauliflower instead of sweet potato. 
You can use ground chicken instead of turkey
Nutrition
Serving Size: 5
Calories: 530
Fat: 34g
Carbohydrates: 17g
Fiber: 4g
Protein: 37g
Keywords: Whole30 Turkey Chili