Although the weather isn't cooling off around here, I have still been really into soup lately. This keto chili made with pumpkin really hit the spot. I think it's the bone broth and the warm spiced. They make my me feel nourished and whole. More and more I've become a fan of soups, but only if it's super hearty and I can chew the ingredients. Ha! A good compromise and this chili is perfect!
Other Reasons For Soup
In Chinese medicine, my autoimmune issues are often referred to as dampness. Which is related to cold things. I've been told by my acupuncturist to never eat cold food. In all honesty, I don't follow that rule, I love salads and smoothies… however, during my period each month, I really CRAVE hot soup… despite the 87F blazing outside (thank goodness for AC).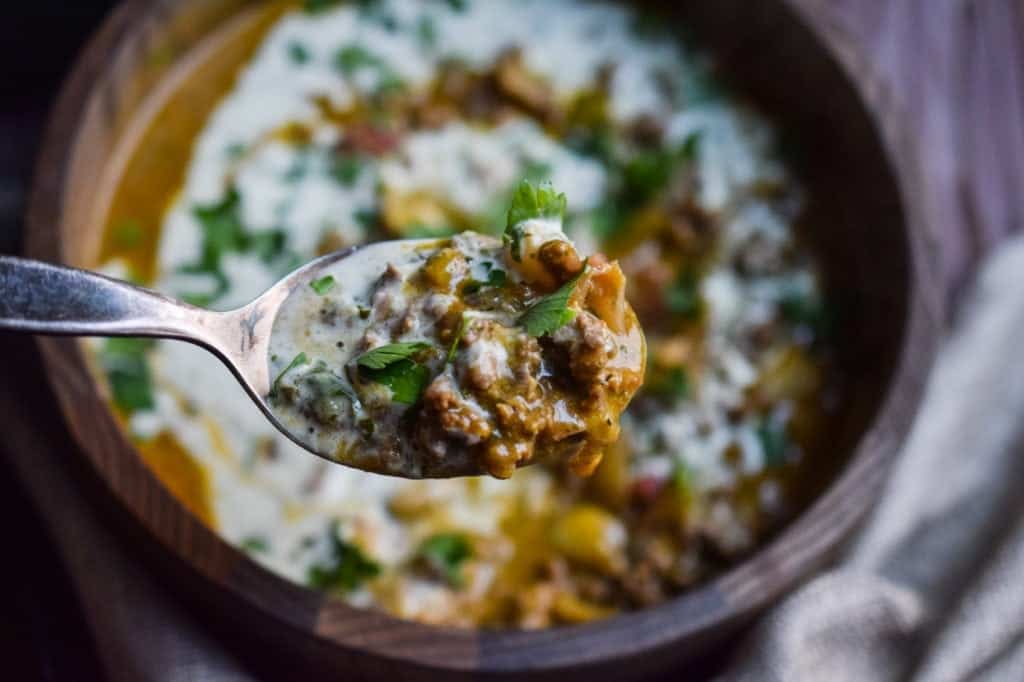 The Good Stuff
Soups by nature have healing properties, this, of course, comes from the bone broth, the simmering of ingredients, the love and care put into it. Hydrating and nourishing, and let's not forget the comforting factor. Placebo effect or not, a hot bowl of goodness is calling my name! This nightshade free, keto chili uses bone broth as the base, organic pumpkin to thicken and avocado oil mayo for creaminess. So much goodness!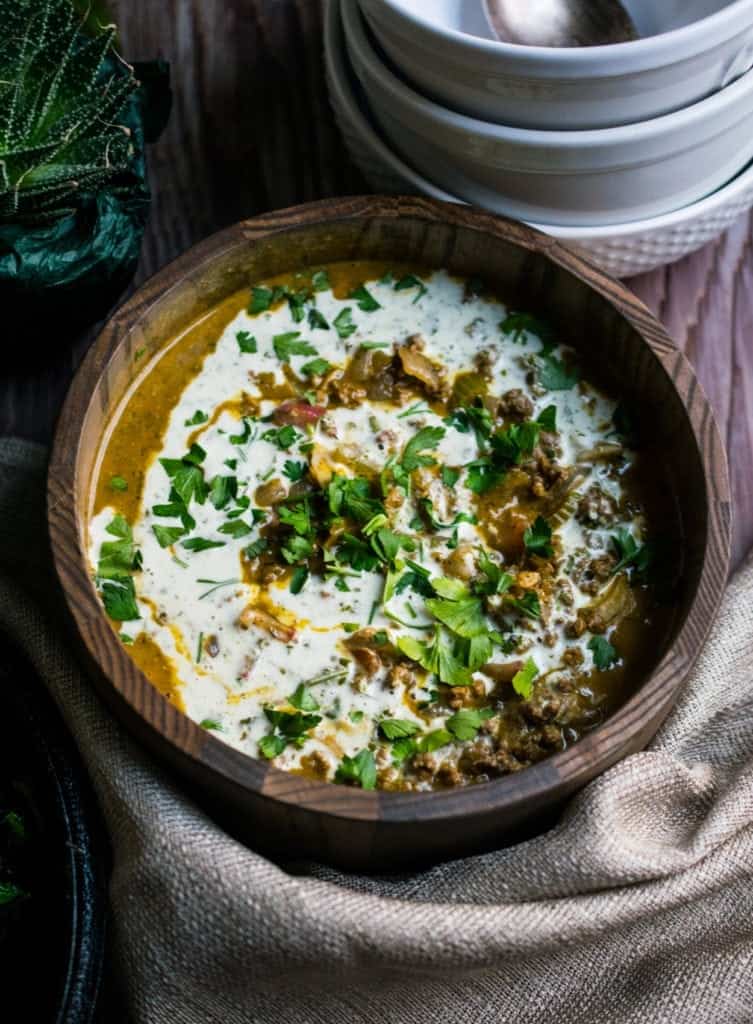 This Chili
Comes together really quickly! Lot's of sauteing on the front end, not too much liquid and 15 minutes of simmering is all this bad boy needs. You can always make it in your Instant Pot too!
The Ingredients
For the beef, I used Five Mary's Farm Grass Fed Ground Beef. They sent me a box last week, and it's official, I need to be adopted by this awesome farming family!
I like this organic pumpkin, it comes in a box which is cool!
If I'm not using homemade bone broth, I'm using Bonafide Provisions. I love their beef broth and always find it in the freezer section of my Whole Foods.
Same with the homemade mayo…I often keep this recipe is stock, but if I'm out, I'm using Primal Kitchen Mayo!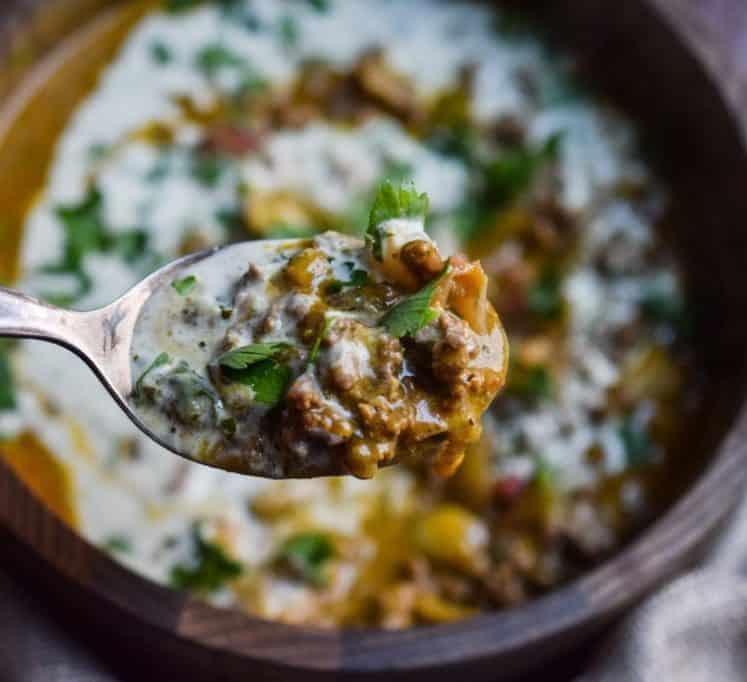 Creamy Pumpkin Chili
---
Author:
Prep Time: 10
Cook Time: 30
Total Time: 40
Yield: 4 1x
Category: Soup
Method: Stove Top
Cuisine: Winter
Description
A creamy and delicious pumpkin chili!
---
Scale
Ingredients
1 tablespoon grass fed butter or ghee
1 medium onion, diced
3 radishes, diced
2 garlic cloves, minced
4 celery leaf stalk, diced
1 teaspoon pink Himalayan salt
1 teaspoon garam masala
1 teaspoon black pepper
1 teaspoon mustard powder
1 pound ground beef
½ cup pumpkin puree
1–2 cup bone broth
¼ cup mayo
2 tablespoons coconut cream
¼ cup minced cilantro
---
Instructions
Heat a large pot over medium high heat.
Melt the butter then add in the onion, radishes, garlic and celery. Sauté, stirring often until the onion is translucent and aromatic, about 8 minutes.
Add in the seasonings and mix well until they too become fragrant. Add in the ground beef, crumbling it up as you go. Use a whisk to make sure it breaks apart well. Stir often until all of the ground beef is browned and crumbly.
Add in the pumpkin puree and the broth and bring to a simmer. Lower the heat and simmer for 10 to 15 minutes.
Stir in the mayonnaise until well dissolved.
Serve the soup and swirl in the coconut cream, garnish with cilantro. Enjoy!
Nutrition
Serving Size: 1
Calories: 359
Fat: 24g
Carbohydrates: 5.8g
Fiber: 1.4g
Protein: 29g