It happened. They packed up my house. The move from Hawaii to Virginia has begun. Oddly enough, amiss the madness I found solace in creating new recipes, recipes like this nightshade free, dairy free, delicious KETO HAMBURGER SOUP!
With zero food props or even decent plates to photograph in. I made do. I even had to borrow the pot that I used to cook this recipe in from my neighbor. But so worth it, this keto hamburger soup is one of my most beloved creation.
For those of you who don't know, I'm a military spouse. My husband is active duty Navy and we've been living in Hawaii for the past three years. Next month we're on to the next duty station, in DC. We found a great townhouse in Alexandria, VA, and holy shit, this is really happening.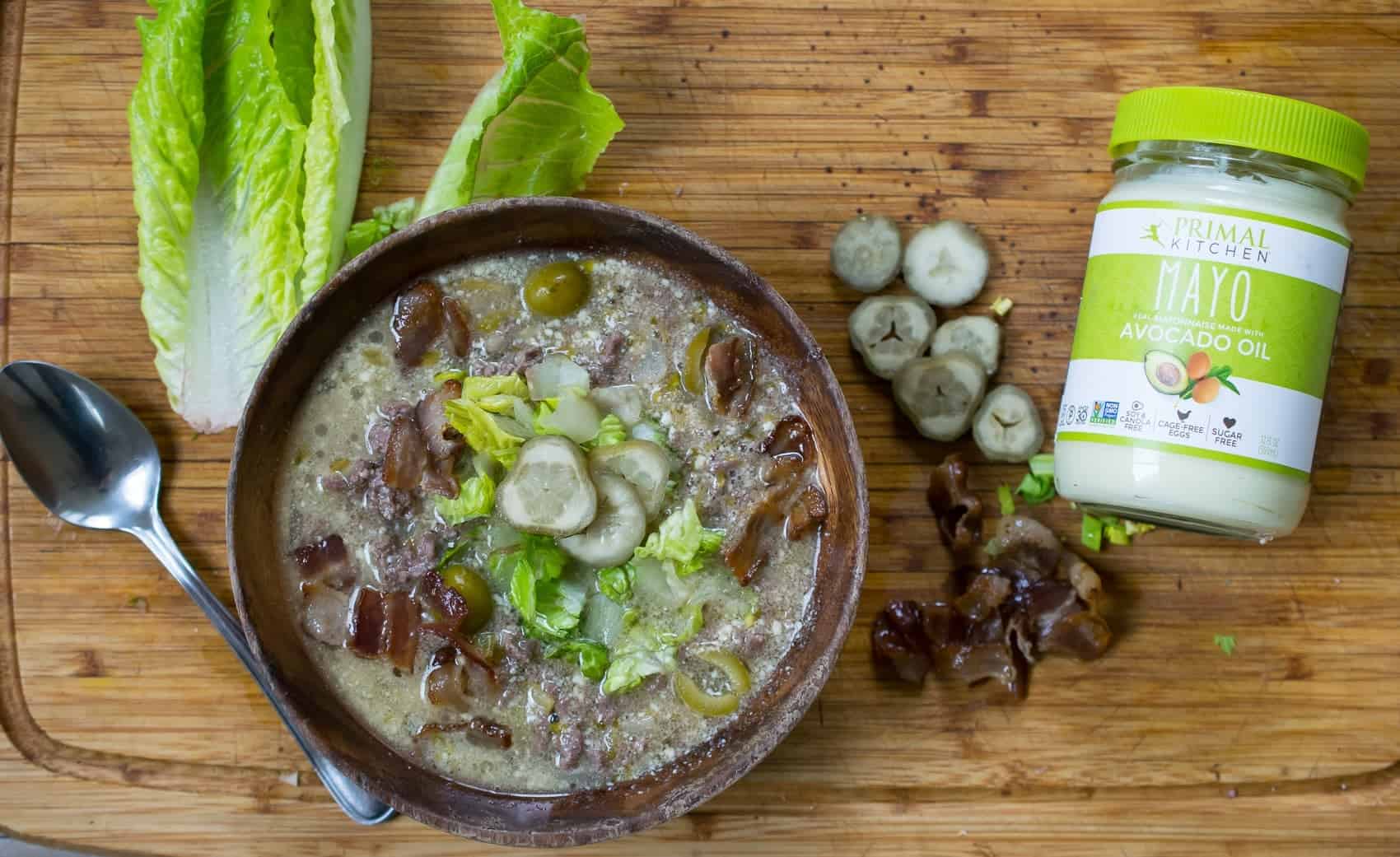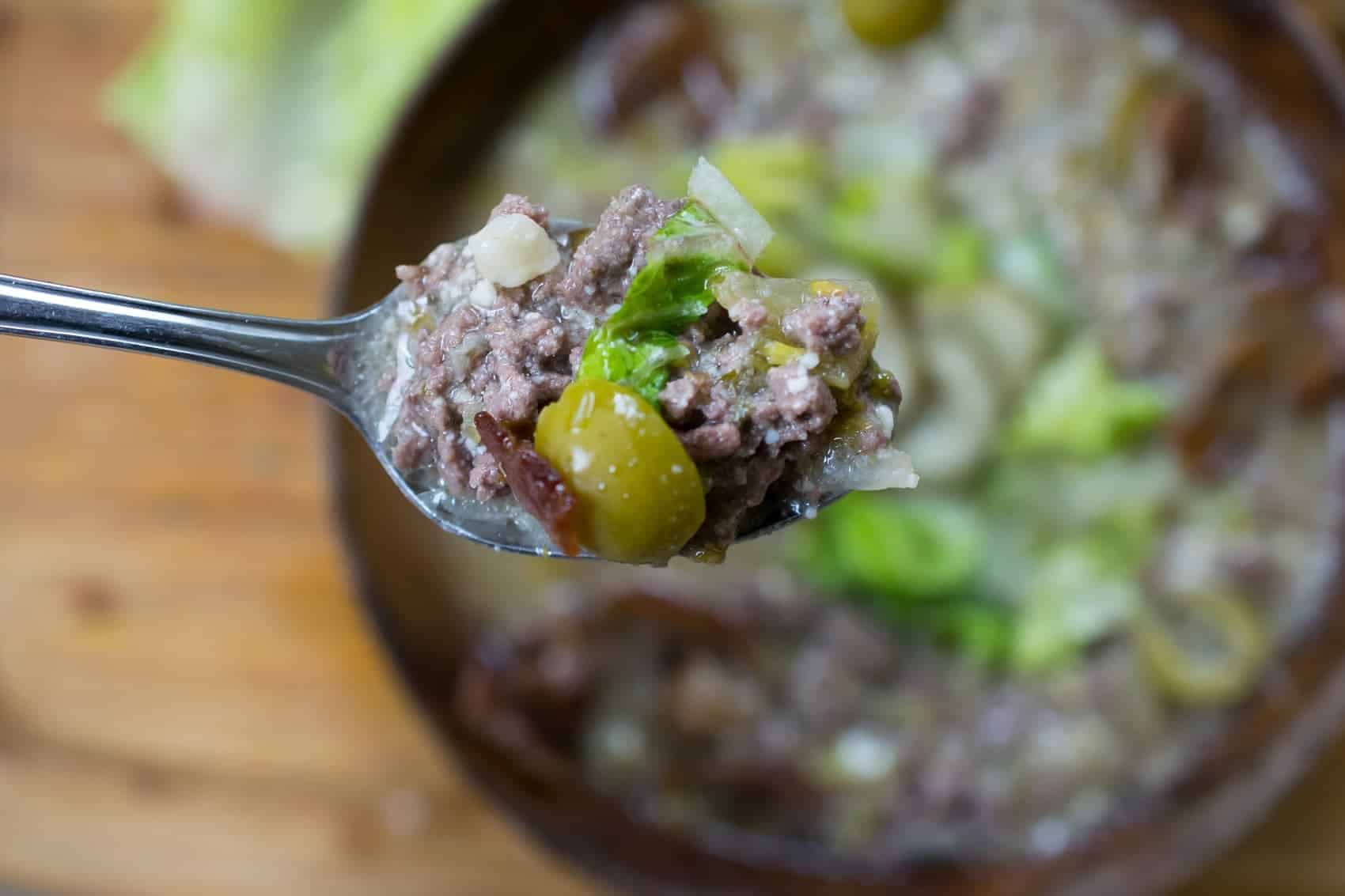 Ch-Ch-Ch-Changes
Through this move, despite all my efforts, I am seeing some inflammation creep in. This has me livid. I've been inflammation and flare-free for a long time. This nightshade and dairy free, mostly nut free, paleo but also keto with a splash of Whole30 and AIP mixed in way of eating I have created for myself has been the most transformative stuff ever. So I'm kinda mad about this hot, red, tender knuckle on my left hand.
I am also aware that STRESS IS A KILLER. Sometimes there will be things you can't control and I just have to cope. One thing is for sure, my eating habits remain unchanged. This keto hamburger soup is just the kind of meal I would eat anytime. Its packed with goodness, it's anti-inflammatory, and it's tasty AF.
So, red spot or not… I'm going to keep calm and carry on. Trust the process and the work I've put in. Trust that once things settle down, so will my stress levels and inflammatory symptoms. Besides, my worst day today, is still better than my best day 3 years ago!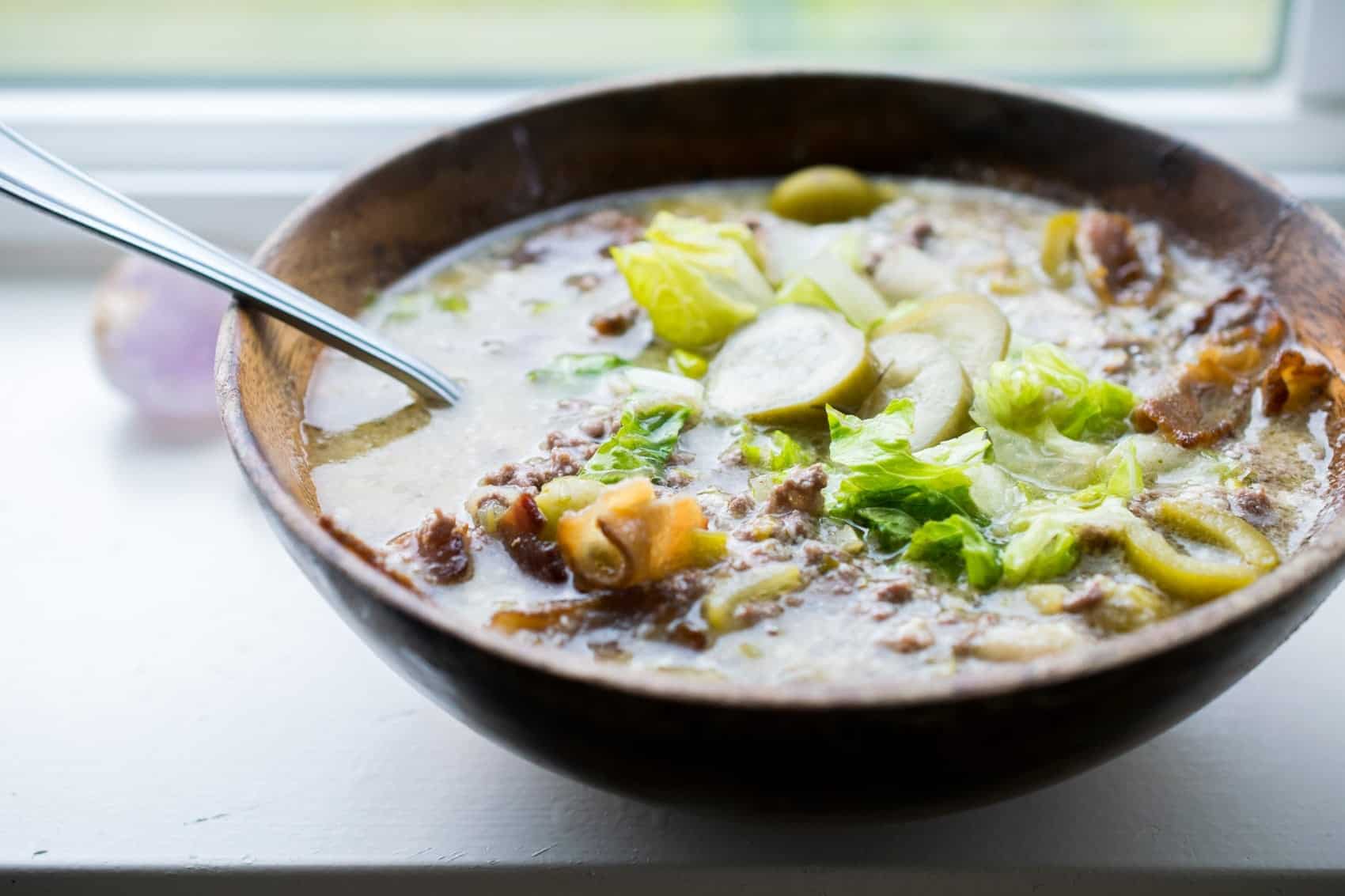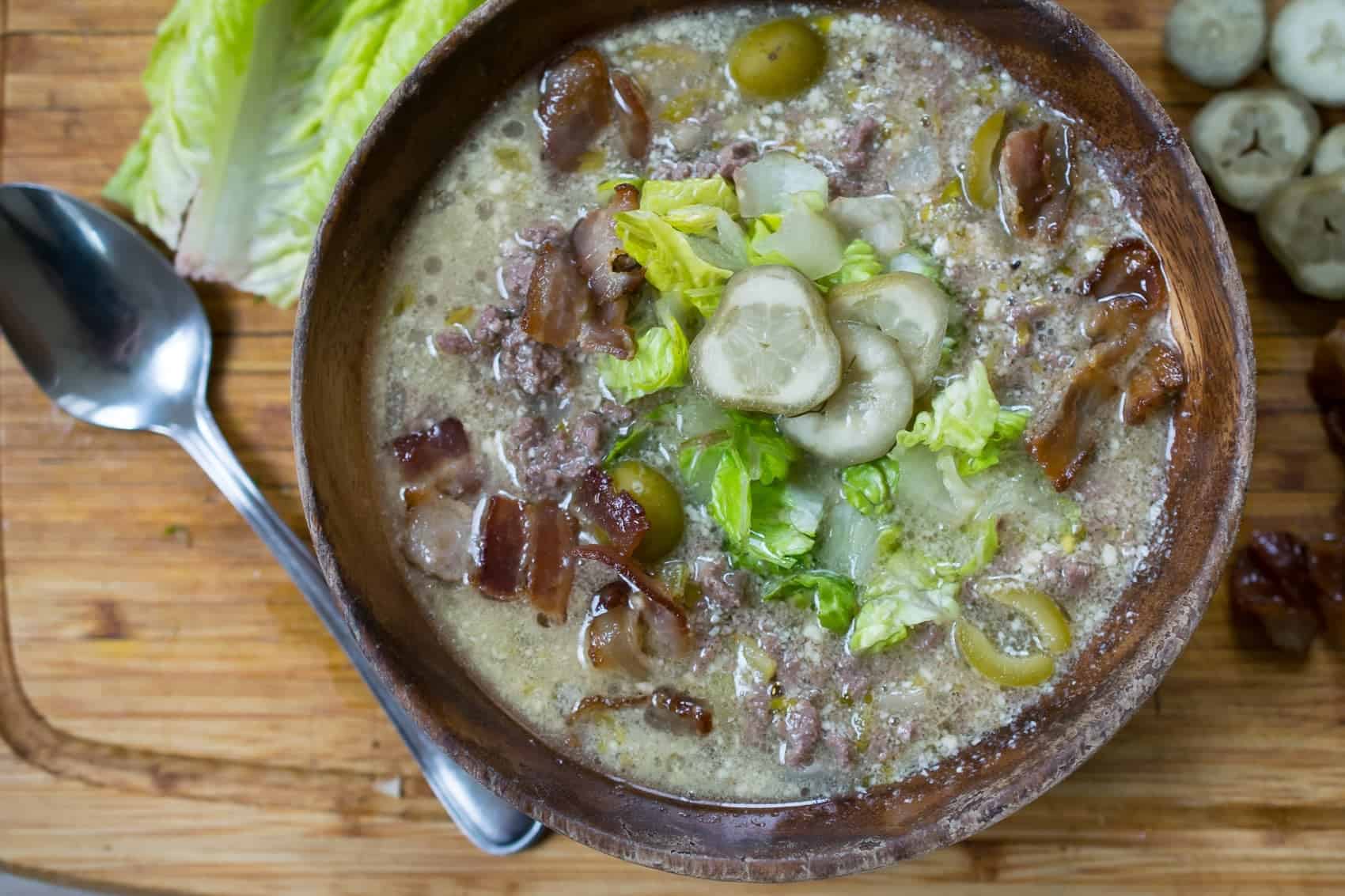 Tastes Like A Whole30 Approved Whopper
Seriously, this keto hamburger soup tastes like you threw a burger in a blender. It's got all the savory, juicy, fatty, saucy, tangy taste. My husband was a huge fan. He even says to remind you all to make a double batch! This recipe creates two large bowls… which apparently wasn't enough for my household, so you have been warned!
What Are Nightshades?
Tomatoes, Potatoes, Eggplant and any kind of pepper (not peppercorns, but chili pepper, paprika etc). If you hadn't noticed, I don't cook with them ever. They are very inflammatory to me. I haven't had them in three years. It IS doable. My cookbook, Made Whole is also nightshade free. More info on them. HERE.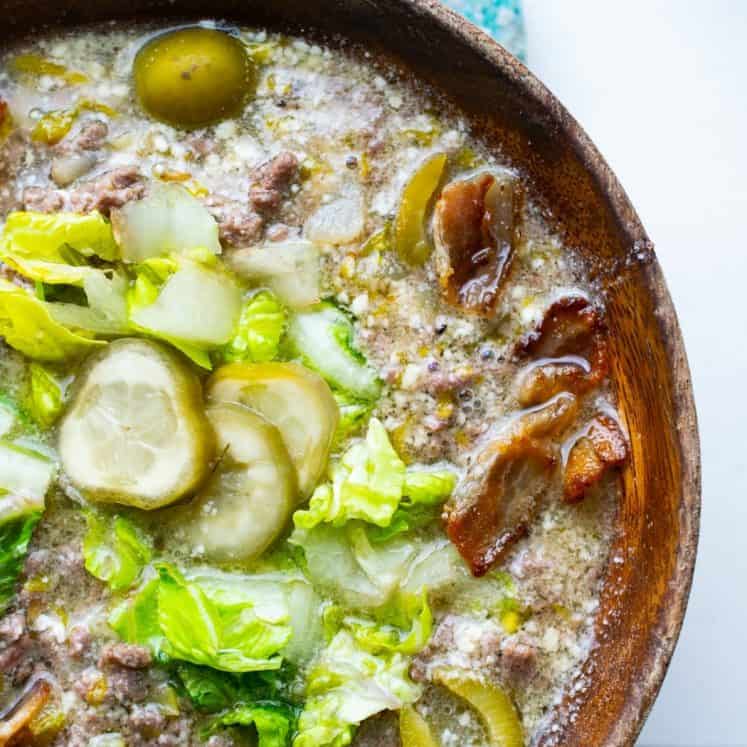 Keto Hamburger Soup (dairy free, paleo, nightshade free)
---
Author:
Prep Time: 5
Cook Time: 40
Total Time: 45 minutes
Description
Comfort food at it's finest, and healthiest!
---
Scale
Ingredients
2 tablespoons avocado oil
1 small onion, diced
2 sticks celery, diced
2 cloves garlic, minced
1 pound 90% lean ground beef
1 teaspoon fine salt
1 teaspoon dried parsley
1 teaspoon garlic powder
½ teaspoon dried oregano
2 tablespoons paleo mayo
2 tablespoons Dijon mustard
3 cups bone broth
2 tablespoons dill pickle brine (optional)
To garnish and optional: (not included in macros)
Sliced pickles
Crispy bacon
Shredded lettuce
Green Olives
---
Instructions
Heat a large pot over medium heat. Add in the cooking oil.
When it comes to temperature add in the onion, celery and garlic.
Sauté until softened and aromatic, about 8 minutes.
Crumble in the ground beef and the seasoning, breaking up and stirring with a whisk.
Cook, stirring often until browned, about 8 minutes.
Mix in the mayo and the mustard until creamy.
Then add in the broth and brine. Stir well then cover.
Simmer for 20 minutes.
Open the lid and bring to a boil, stirring often for 5 minutes.
Take it off the heat.
Serve hot!
Add toppings and garnishes if desired.
Recipe Notes:
Make a double batch, trust me!
Nutrition
Serving Size: 1/3 recipe
Calories: 468
Fat: 31g
Carbohydrates: 2g
Fiber: 0g
Protein: 40g
Shop This Recipe: