A good soup is a staple in a Winter diet. They don't just keep you warm, they keep you healthy! This Creamy Beef and Cabbage Soup is sure to be a new staple in your home. Are you a soup lover? I've got loads of healthy soup recipes for you HERE.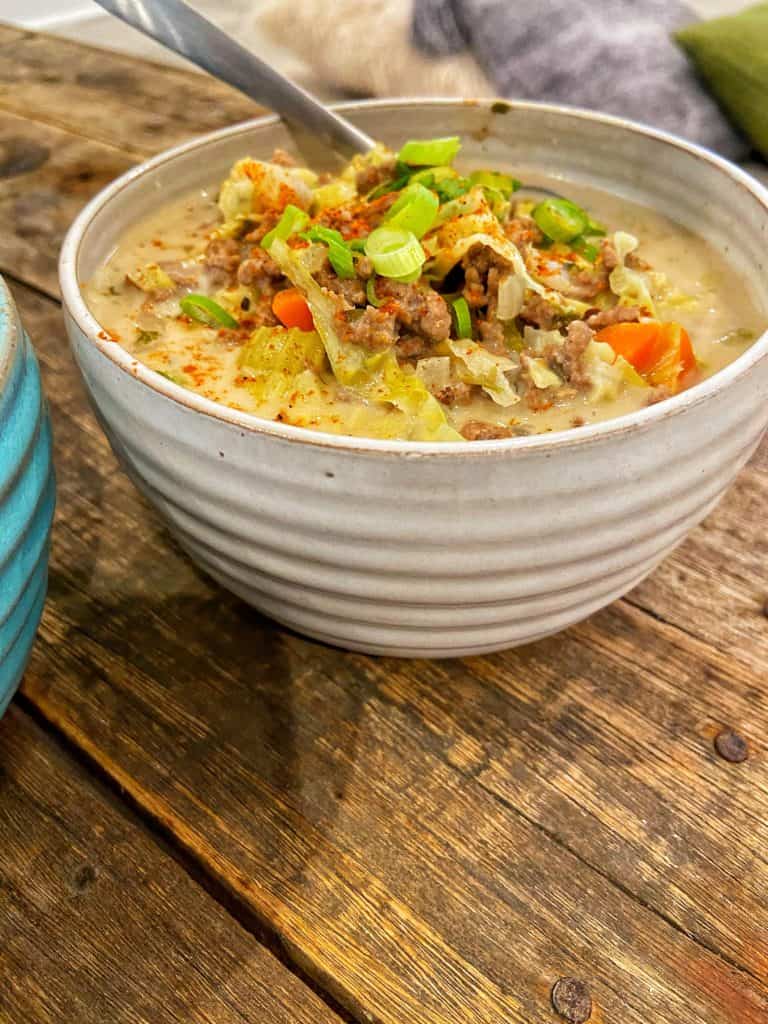 Table of Contents
Benefits of Bone Broth?
As covered in my second book, I use bone broth in many of my recipes due to the health benefits. This Creamy Beef and Cabbage Soup is no exception. Bone broth improves gut health, it's anti-inflammatory and very nutrient-dense. Simmering bones for a long time (not boiling) extracts the collagen, glycine, proline, and glutamine from them. Collagen is important to joint health as well as digestive health. Glycine is an essential amino acid and it helps you sleep. Proline plays important roles in protein synthesis and structure, metabolism (particularly the synthesis of arginine, polyamines, and glutamate via pyrroline-5-carboxylate), and nutrition, as well as wound healing, antioxidative reactions, and immune responses. Glutamine is produced in the muscles and is distributed by the blood to the organs that need it. Glutamine might help gut function, the immune system, and other essential processes in the body, especially in times of stress.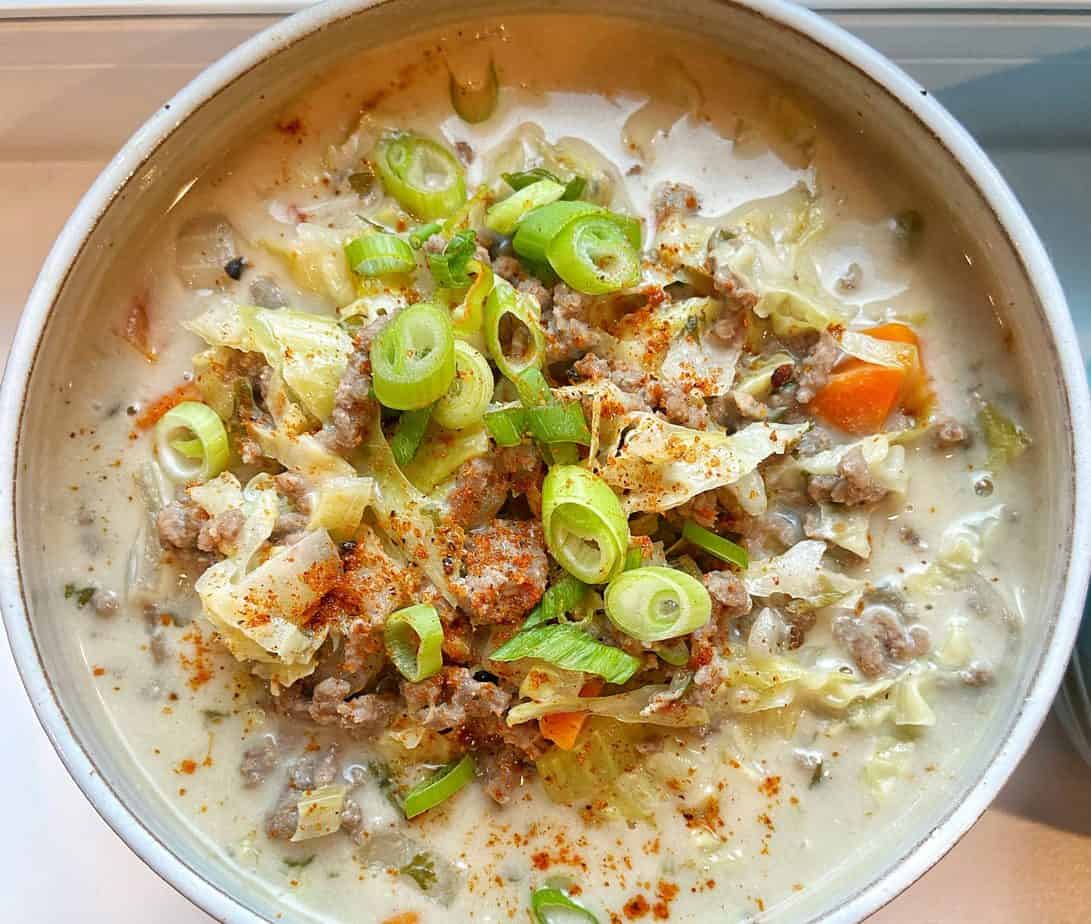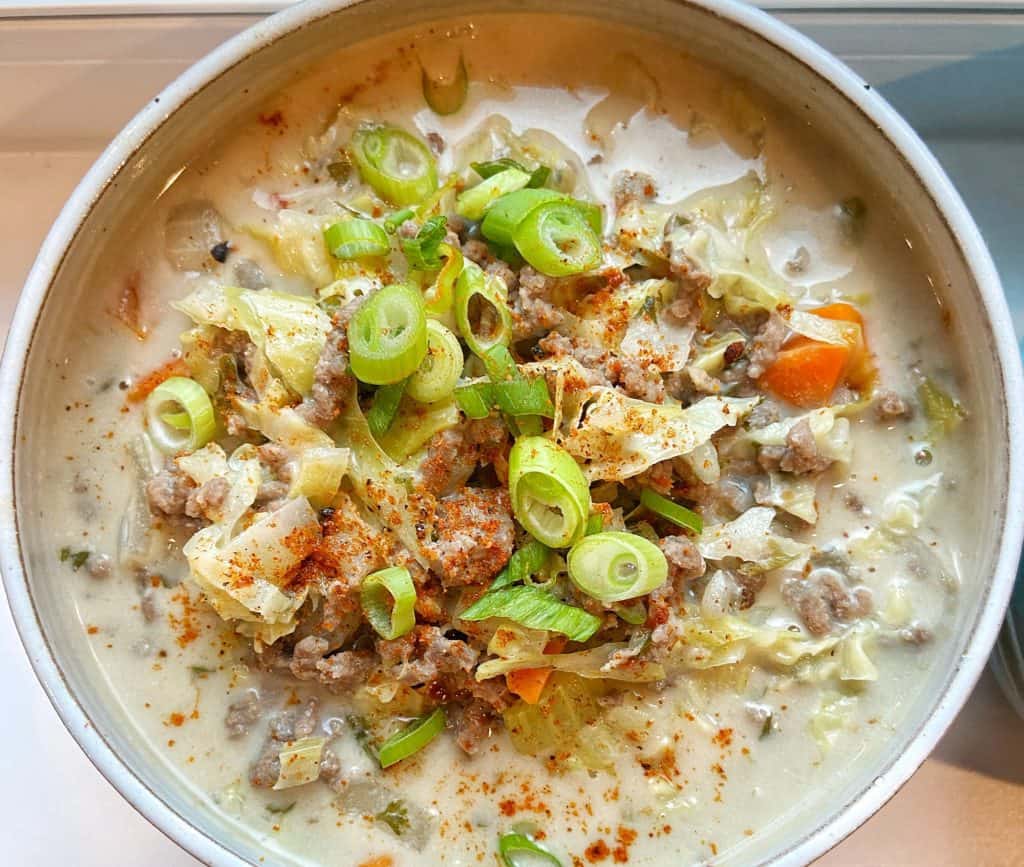 What Makes this Soup Work?
I use dairy-free cream cheese made from nuts that are also paleo-friendly like Miyoko's Creamery Cream Cheese or Kite Hill Cream Cheese. You can also use my homemade cashew or cauliflower cream (for nut-free) – If you don't want to purchase these specialty items. I find them at most grocery stores. Giant, Wegman's, Publix, or Whole Foods.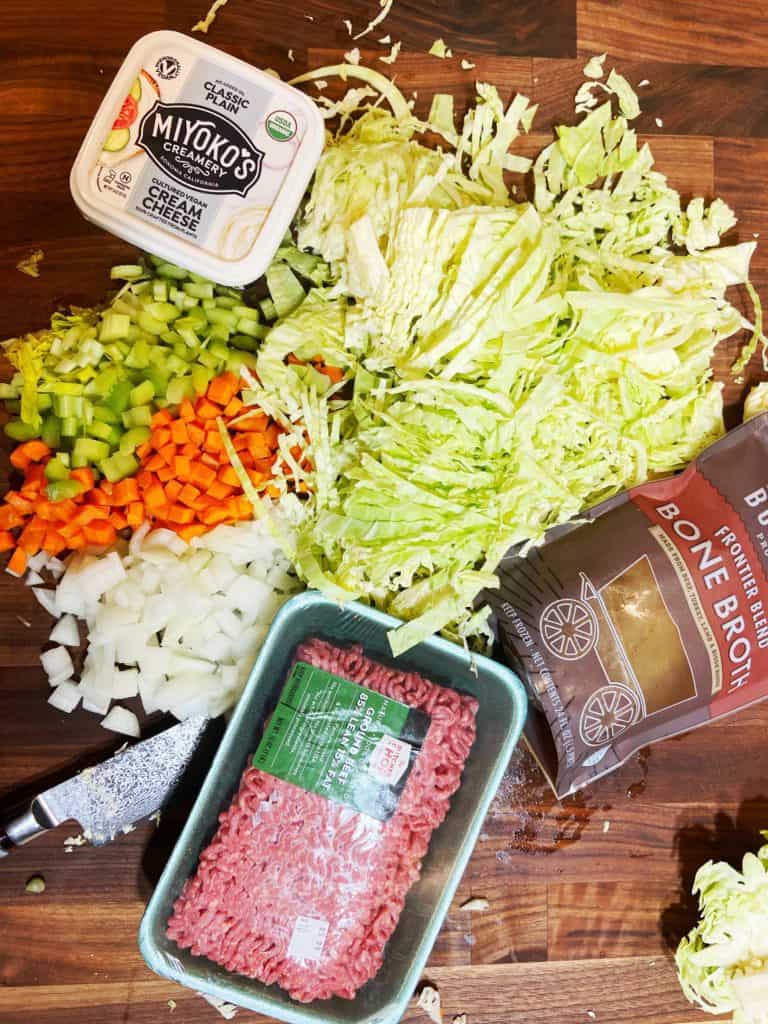 Creamy Beef and Cabbage, Yes Please!
This recipe comes together with just a few ingredients. Affordable cabbage, onions, and carrots, a pound of ground beef and then your choice of bone broth and cream. It's a pretty quick cooking soup that doesn't need to simmer all day. Perfect for a weeknight meal. Try serving it with some Nut-Free Keto Bread Rolls or Yuca Flatbread on the side!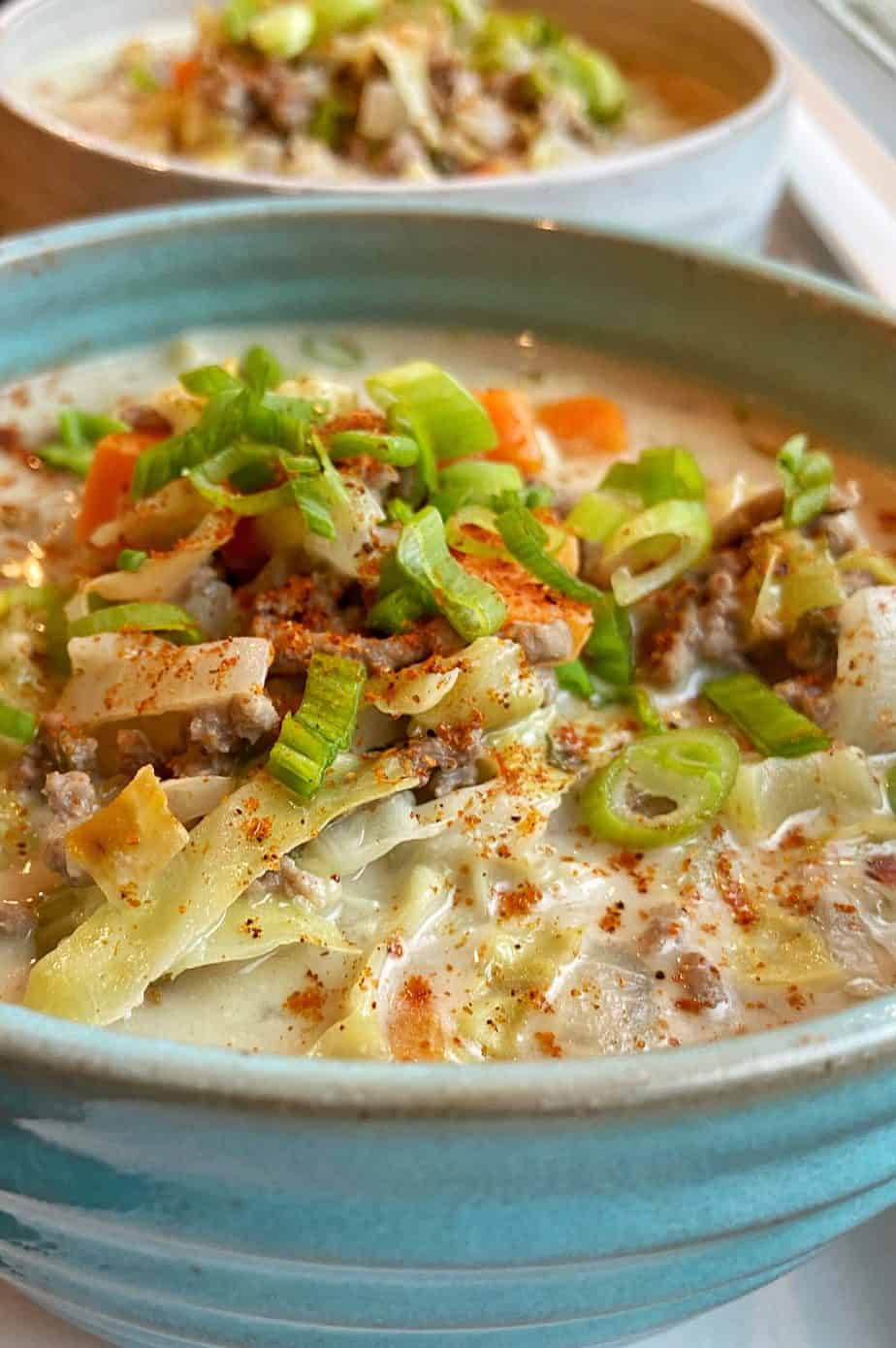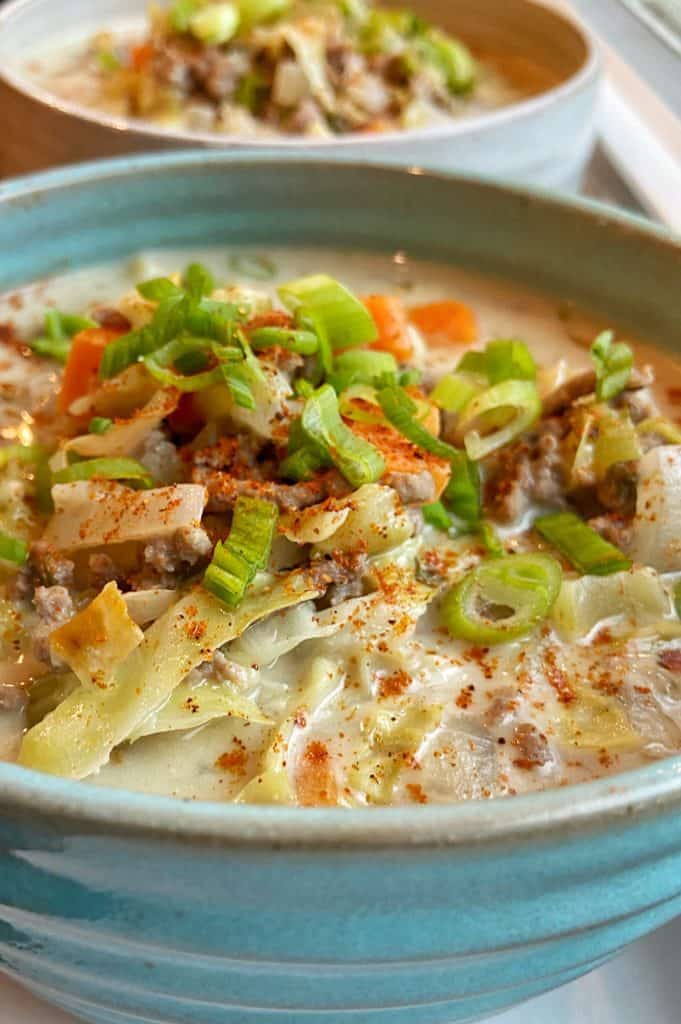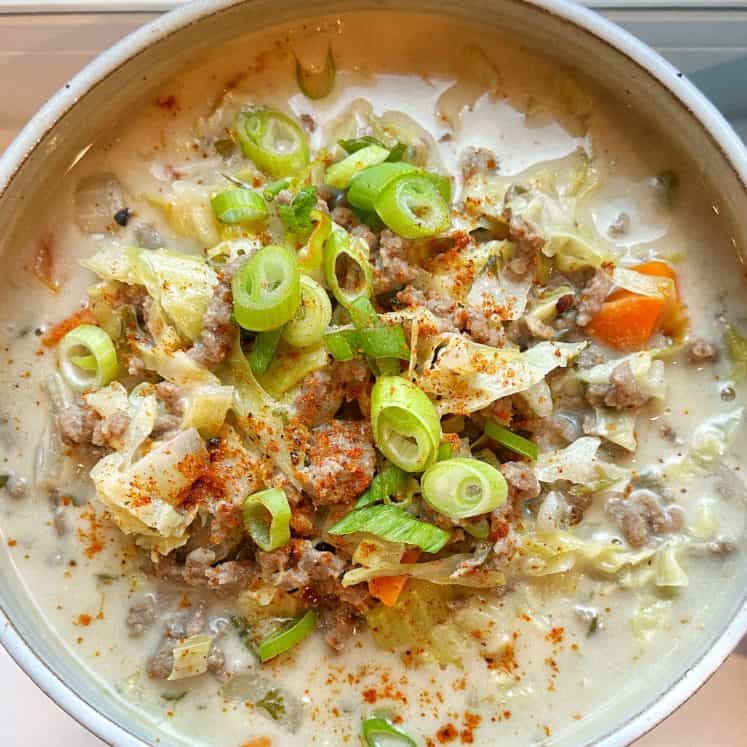 Creamy Beef and Cabbage Soup (dairy free, keto, paleo)
---
Author: Cristina Curp
Prep Time: 10 minutes
Cook Time: 30 minutes
Total Time: 40 minutes
Yield: 4 servings 1x
Category: Soup
Method: Stovetop
Cuisine: Healthy
Diet: Gluten Free
Description
A simple yet decadent soup that's perfect for weeknight dinner!
---
Scale
Ingredients
1 large onions, diced
2 medium carrots, diced
2 celery ribs, diced
2 tablespoons extra virgin olive oil 
1 teaspoon fine salt
1 1/2 teaspoon garlic power
2 teaspoons dried parsley
1 teaspoon coarse black pepper
1 pound 85% lean ground beef
1/2 cup dairy-free cream cheese (see post for details)
2 cups shredded cabbage
2 tablespoons white wine vinegar (or any vinegar)
24 ounces bone broth
1 teaspoon Sazón (optional to garnish)
1 greens onion, sliced (optional to garnish)
---
Instructions
Heat up a 5-quart pot and dice up all your veggies if you haven't already.
Drizzle the oil into the pot and add in your onion, carrots, and celery. Saute for 8-10 minutes, or until the onion is translucent, stirring often.
Add in the salt and garlic, parsley, and pepper. Stir well.
Crumble in the ground beef and keep mixing and crumbling until it's browned. Mix in the cream cheese until it's fully incorporated.
Add in the cabbage and cover for 4-5 minutes until it's nice and tender. Open the lid and mix it in with the ground beef. Deglaze the bottom of the pot by adding in the vinegar and scraping up anything that's stuck to the bottom with your spatula.
Pour in the bone broth and mix well. Bring it to a boil over medium heat. Then lower the heat to medium-low and cover the pot. Simmer for 15 minutes or until carrots and cabbage and very tender.
Garnish with green onion and a sprinkle of sazón for color if you like!
Recipe Notes:
read the post above for cream cheese substitutions 🙂
For LOW HISTAMINE use, homemade pressure cooked bone broth or veggie stock! Use the Kite Hill Cream Cheese (almonds not cashews) or make the cauliflower cream. Omit the vinegar.
For AIP omit the black pepper and use my cauliflower cream in my Dairy-Free Cream 3 Ways Post! 
Nutrition
Serving Size: 1/4 recipe
Calories: 380.5
Sodium: 297.4mg
Fat: 24.1g
Saturated Fat: 5.3g
Trans Fat: 0.5g
Carbohydrates: 9.7g
Fiber: 3.1g
Protein: 30.9g
Keywords: creamy beef and cabbage soup