Full disclosure: I used to LOVE restaurant french fries. Like really love them. I haven't had anything that came close until these Crispy Sweet Potato Fries! When I discovered that nightshades were inflammatory to my body I mourned my french fry escapades. Also, most restaurant sweet potato fries aren't gluten-free (or nightshade-free). Unless they have a dedicated fryer or cut their own fries. Most frozen fries come with potato starch on them to up the crisp factor. Also, most restaurants fry in crap oil that's inflammatory.
Healthy fries do exist though. This recipe for Crispy Sweet Potato Fries is it! For one, we're not using inflammatory oils to fry. We're also using sweet potato instead of white potato, sweet potato is not a nightshade plant.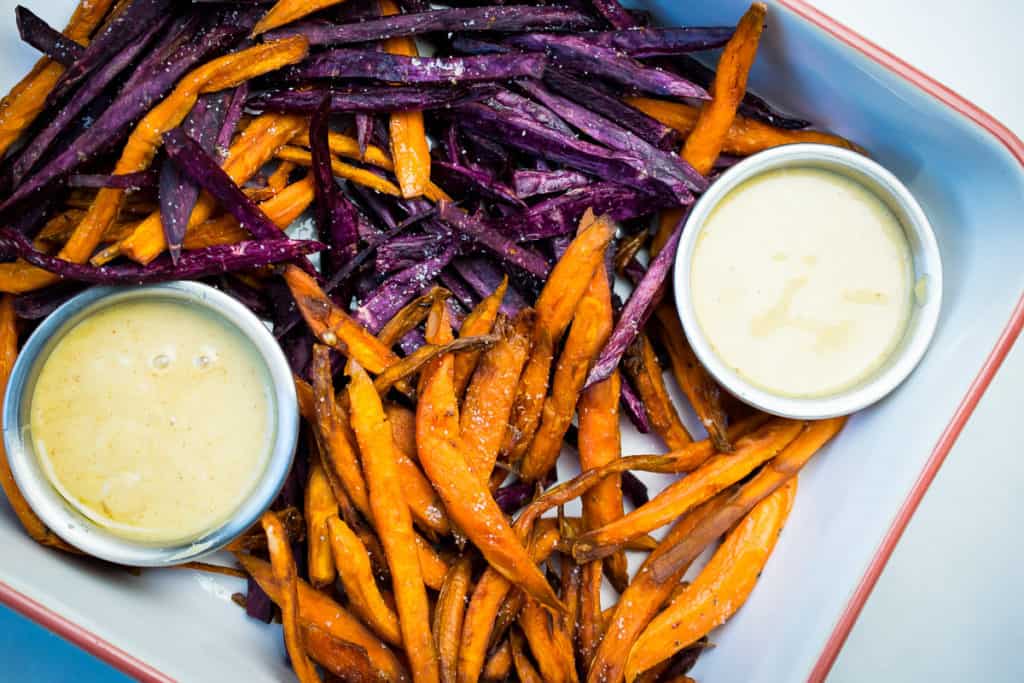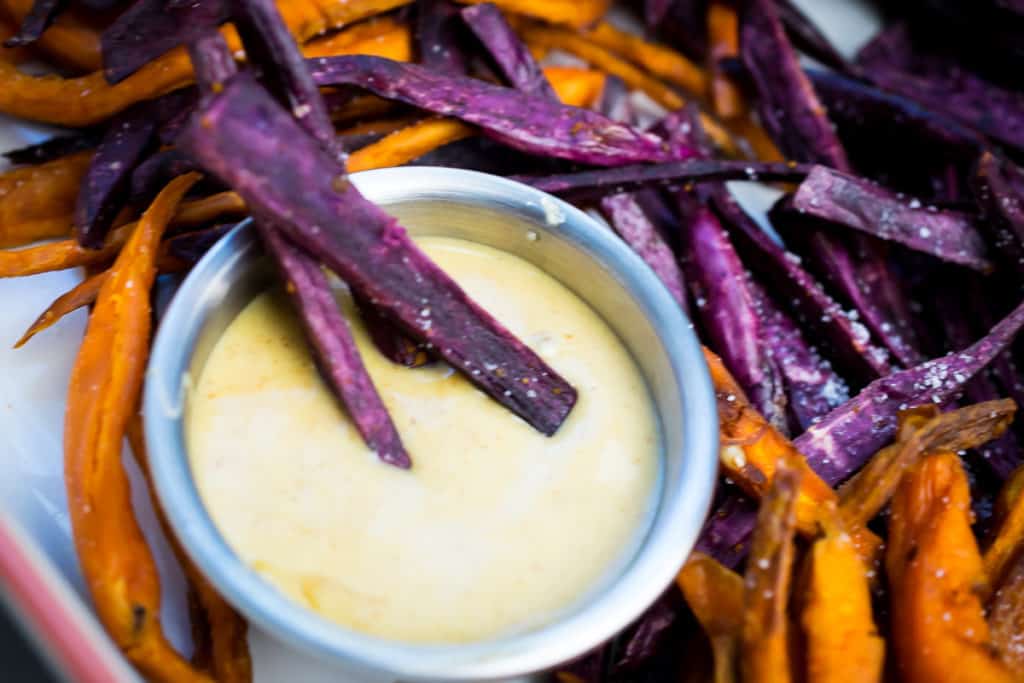 Benefits of Sweet Potato
This root vegetable is a good source of vitamin C, manganese, potassium, vitamin A, niacin, and magnesium. They've got about 7 grams of fiber per serving. They usually don't spike blood sugar, studies have found that they release sugar into the bloodstream slowly. Furthermore, sweet potatoes have a high concentration of choline, which is a very versatile nutrient. One of the main benefits of choline is that it reduces inflammatory responses in the body resulting in less inflammation (source).
These Crispy Sweet Potato Fries are fried in a combination of coconut oil and olive oil. Both of these fats have several benefits which you can read about in my Guide to Healthy Fats post.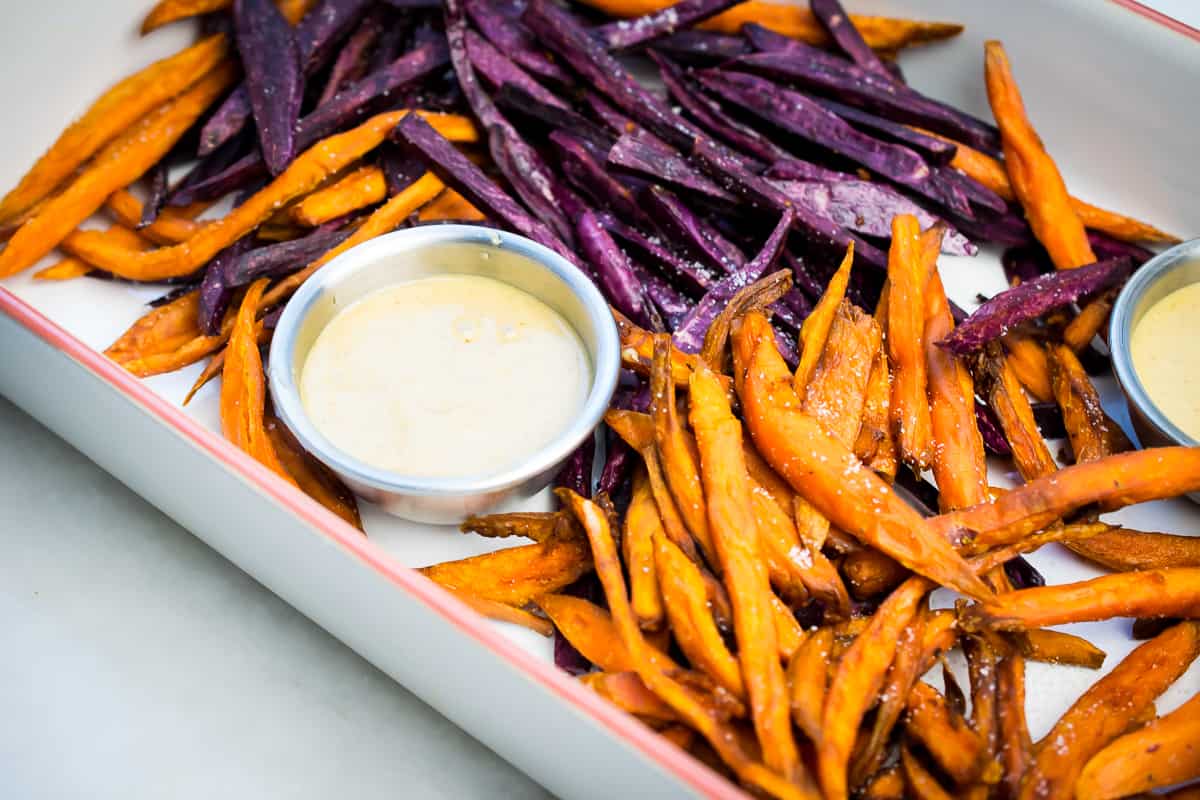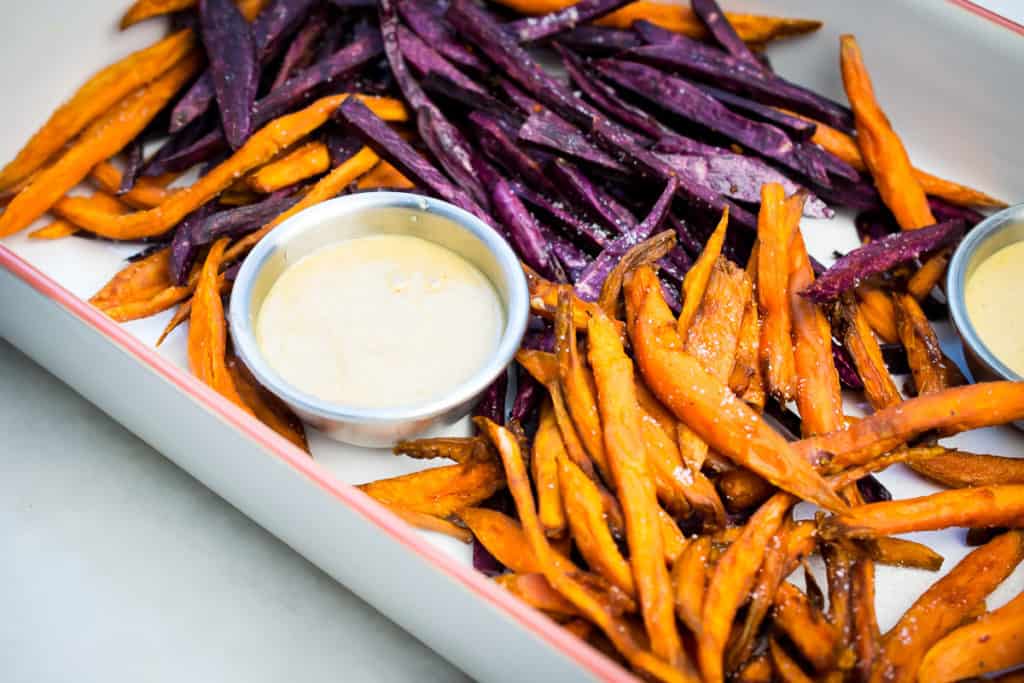 Best Sweet Potatoes for Fries
There are a few variations of sweet potatoes! We've got the more common, orange-fleshed sweet potatoes: Garnet, Jewel, and Beauregard. Then we've got the Japanese sweet potato with red skin and white flesh. The Hannah with light brown, almost beige skin, and white flesh. The Okinawa Sweet Potato with white skin and purple flesh and the Purple sweet potato with purple skin and flesh!
The purple and white-fleshed variations are starchier and make very crispy and less sweet fries. The orange ones you will fry twice to get the crispy fry, but that also retains some sweetness.
For these Crispy Sweet Potato Fries, you will need 2 garnet sweet potatoes and 2 purple sweet potatoes. You'll also need raw honey, dijon mustard, and mayo. Recipe video on Instagram- here.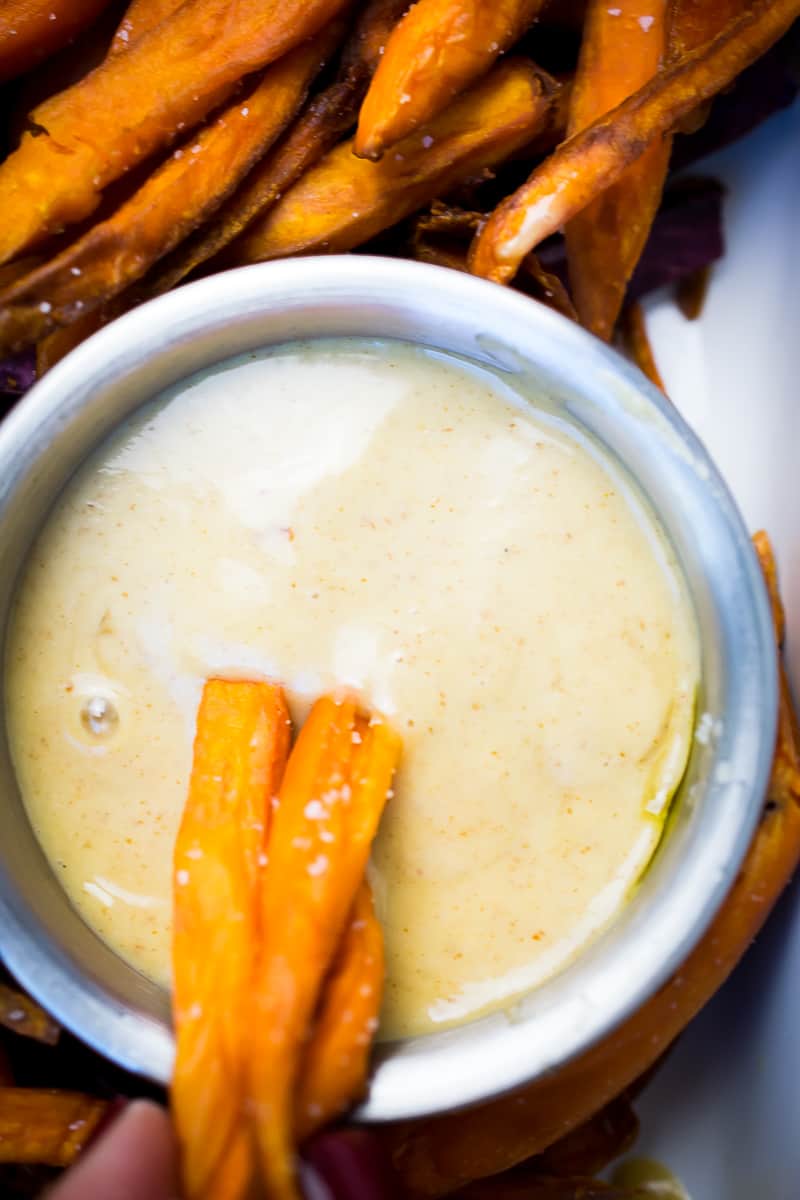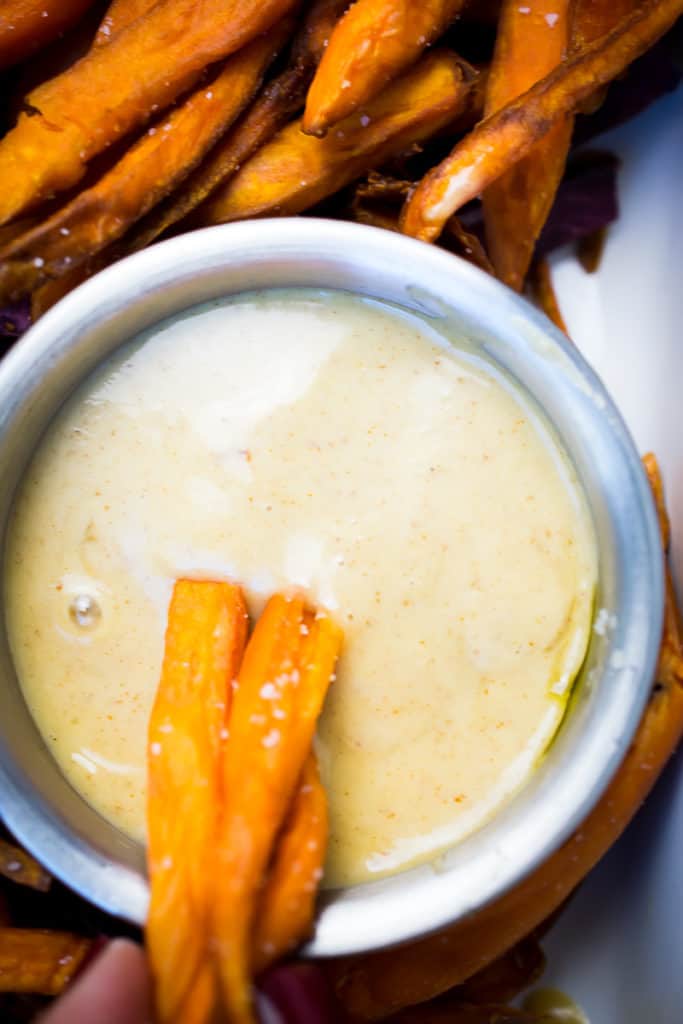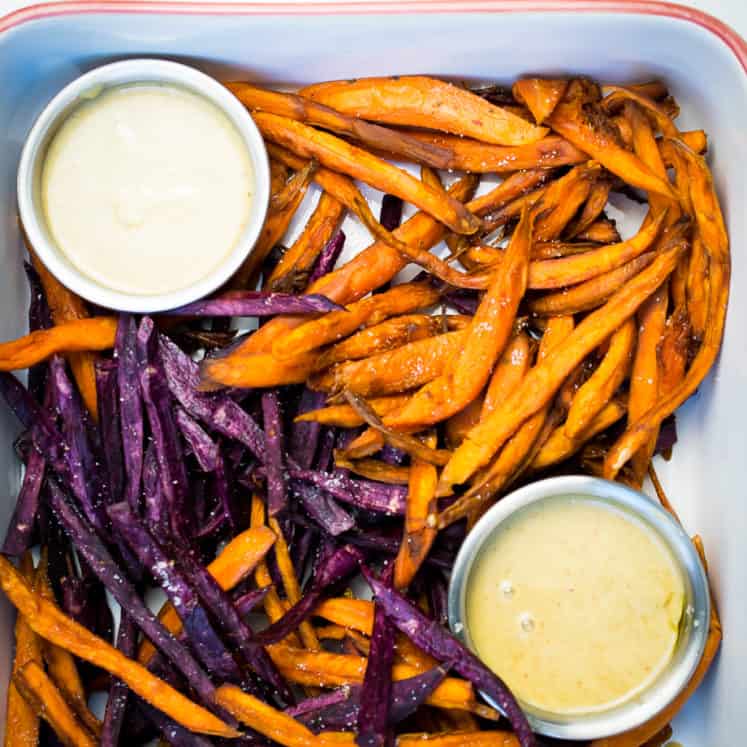 Crispy Sweet Potato Fries with Honey Mustard Sauce
---
Author: Cristina Curp
Prep Time: 10 minutes
Cook Time: 20 minutes
Total Time: 30 minutes
Yield: 4 servings 1x
Category: Sides
Method: Fry
Cuisine: American
Diet: Gluten Free
Description
Better than restaurant sweet potato fries! Crispy and dippable!
---
Scale
Ingredients
Sweet Potato Fries 
Honey Mustard Sauce 
---
Instructions
Peel your potatoes and cut them into thin sticks. Do this by slicing each potato lengthwise into 1/4 inch thick slices, as if you were going to make sweet potato toast. Then cut each slice into 1/4 inch thick sticks. Keep the purple and orange fries separate! 
Heat your oils in a 5-6 quart heavy-bottomed pot over medium heat until it reaches 350F or a wooden spoon inserted in the oil makes it sizzle.
Fry a hefty handful of fries at a time. Start with the orange ones because you need to double fry these. Fry for 6 minutes, then use tongs to remove them from the oil and place them in a colander to drain.
Fry the remaining batches of fries in the same fashion, still, keeping the two colors apart.
Once all the fries have been fried once, fry the orange ones again, this time for 3-4 minutes. Remove from the oil, place in the colander with the other fries. Give it a good toss.
Transfer them to a bowl or a serving dish and salt generously.
To make the sauce just whisk the ingredients together in a small bowl until fully combined. Boom!
Enjoy these right away or keep warm on a sheet pan in the oven at 250F for up to 20 minutes before eating. Leftover they're not super great, but you can roast them at 400F for 10 minutes to crisp up.
Recipe Notes:
You can use any variety of sweet potato, even use all-white sweet potato is you like, these are just prettier!
Yes, I eat sweet potatoes! Why I Carb Cycle article. 
Nutrition
Serving Size: 1 potato
Calories: 614
Fat: 43g
Carbohydrates: 57g
Fiber: 4g
Protein: 2g
Keywords: crispy sweet potato fries