You can still enjoy Whole30 Sushi on a grain-free diet with this "rice." Enjoy in a killer smoked salmon nori wrap, suitable for paleo, keto, and AIP!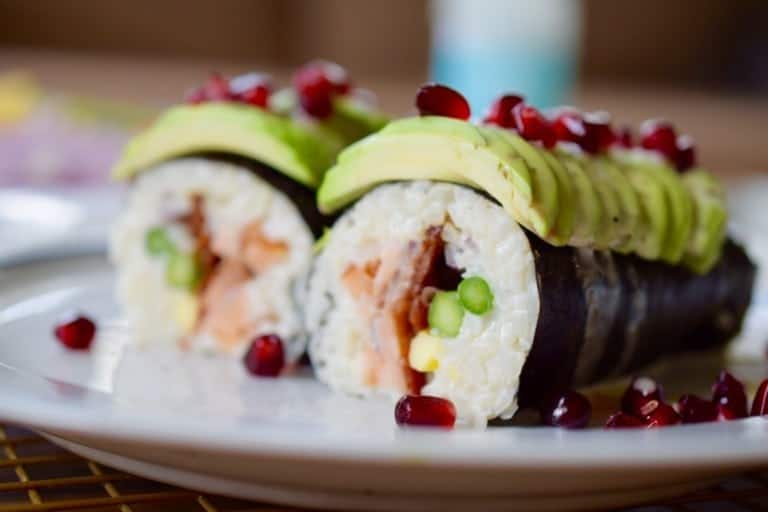 The best Whole30 Sushi
Sushi seems to be one of those foods folks mourn the most when they go grain free. Well, not anymore! This paleo sushi rice is absolutely legit! It really tastes and feels like the real thing.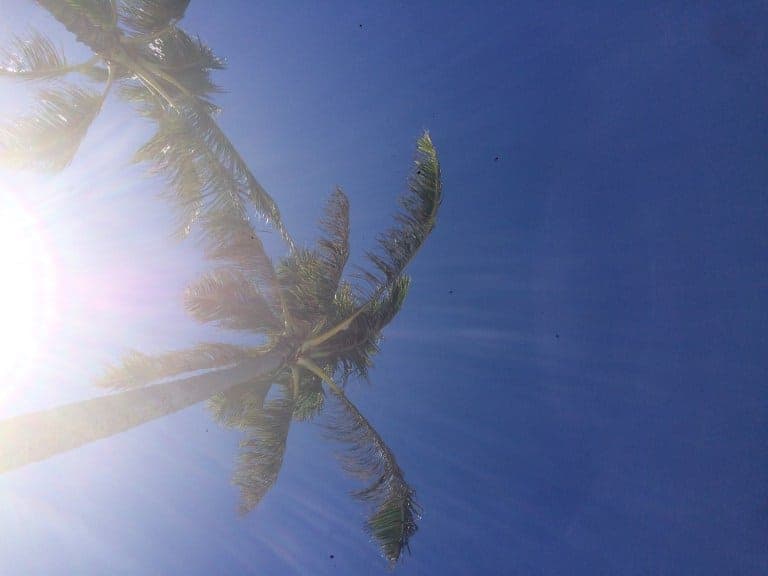 I also went to the beach today. It's a full moon tonight and I'm feeling all sorts of cuckoo. So I skipped the gym, cleared up my day a little and made some time for me. Of course, I went to the beach, Vitamin D therapy is my jam… also I live in Hawai'i… so there's that. Yup, winter here is rough you guys…
How to make Whole30 Sushi
Here is the Whole30 sushi tutorial playback… I did it using Facebook Live so it's not edited, just real, awkward at times, rambling me… lol
https://www.facebook.com/thecastawaykitchen/videos/1165512406901887/
Whole30 Sushi Burrito or Whole30 Nori Wrap?
The crown jewel of my Paleo sushi show and tell was the smoked salmon nori wrap. This super combination of smoked salmon, bacon, asparagus, opal apple and red onion… what!? Wrapped in sticky cauliflower rice, nori (sea weed) and topped with thinly sliced avocado, pomegranate and RANCH! Yup. Thank you Primal Kitchen!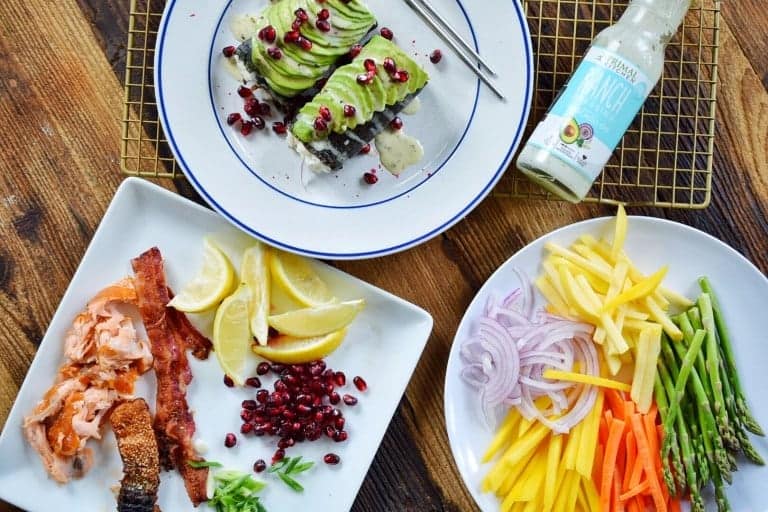 The cauliflower rice comes together in ten minutes, and if you chill it while you cook your bacon and slice your veggies, the prep for this veritable Japanese inspired feast should only take 15 minutes. The rest is just handy work. Don't get scared of this flavor combination. Think of this as a salad in disguise! The cauliflower (rice) are the base of the salad and all the other goodies are like the toppings!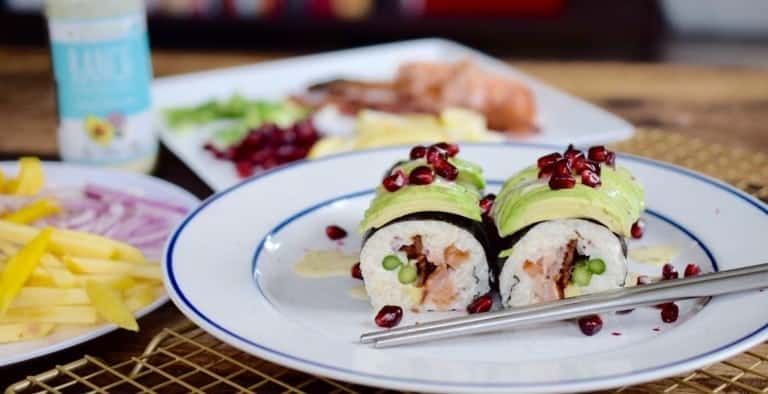 Perfect for quick and easy paleo meal prep
The instructions might seem long, but this really doesn't take long to assemble. The video is 13 minutes and in that time, I make 3 wraps. So, you know this is easy peasy!
I love these kind of fun meals that are so out of the box. Your taste buds really go for a ride. Eating paleo this long, you really have to change it up to keep things interesting. Also, these wraps keep well in the fridge for meal prep, and they travel well, too. Be the envy of the lunch room with paleo sushi! Who knows, you might even convert a few folks!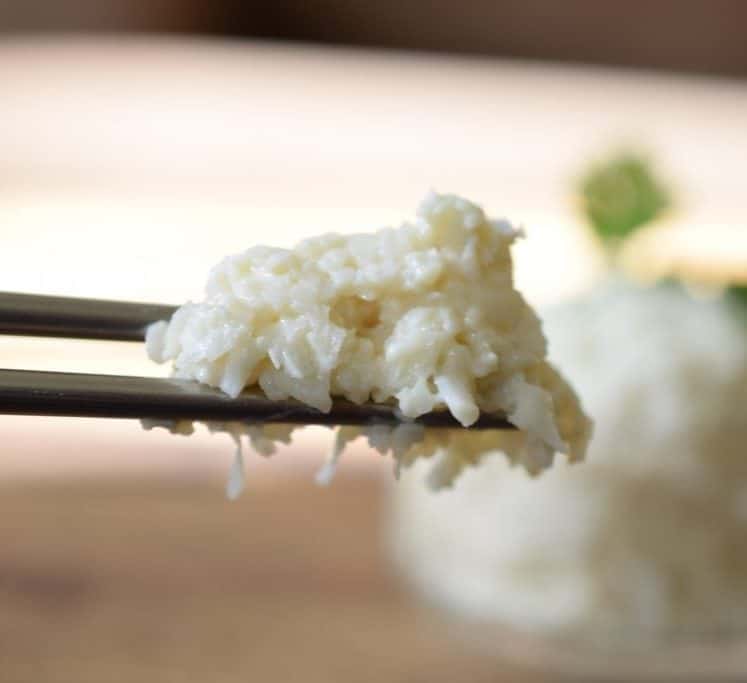 Whole30 Sushi Rice (Grain Free, Whole30, Keto, AIP)
---
Author:
Prep Time: 5
Cook Time: 15
Total Time: 20 minutes
Yield: 3 1x
Category: Side dish
Method: Stove top
Cuisine: Asian
Description
Grain free Sushi rice!
---
Scale
Ingredients
1 large head cauliflower, about 5 cups riced (grated)
3 tbsp coconut oil or other fat (sesame oil works really well!)
2 tbsp apple cider vinegar
1 tsp salt
2/3 cup full fat coconut milk
2 heaping teaspoons Great Lakes Beef Gelatin, red can
---
Instructions
First shred your cauliflower. I like to use the grater attachment of my food processor, but you can also use a cheese grater.
In a large pot heat oil on high heat.
Add in the riced cauliflower and saute for two minutes, stirring constantly.
Add in the salt, apple cider vinegar and sprinkle in the gelatin. Stir well.
Add in the milk and stir it continuously as it comes to a boil. Continue to stir until most of the liquid is evaporated.
As you stir, if the liquid still pools at the bottom, keep cooking. It's done when you can see the bottom of the pan when you make a hole in the rice with a spoon.
Flatten the rice to the bottom of the pot and set to cool under a fan or by a window. I suggest you let it chill in the fridge for a while, the cooler it gets the stickier it will be.
Nutrition
Serving Size: 1/3 recipe
Calories: 342
Fat: 29g
Carbohydrates: 15g
Protein: 11g
Keywords: Paleo sushi rice