Aloha folks!
Ahi Poke, pronounced poh-kay is a Hawaiian staple. While I have had a long standing affair with tuna tartar, there is something irresistible about soft, savory tuna morsels tossed in sesame and scallions with avocado. Too bad I can't do conventional soy sauce, because of the wheat in it. Yes, spoiler, if you didn't know, now you know, soy sauce is not gluten free. San-J makes tamari, which is wheat free soy sauce. If that's an option, like it is at the local Whole Foods, great. There is still probably some kind of pepper or chile in there, so I just make my own to be safe.
I always use coconut aminos to steer clear of the soy all together and compensate by adding a little salt to the mix. I've come up with a combination of clean, paleo ingredients to make a classic poke without any of the potentially non-compliant ingredients.
As you see in the pictures, I love to serve it over guacamole! But you can also dice the avocado and mix it right in!
If you're avoiding sesame oil and nuts/seeds all together I recommend using MCT oil, a drop of liquid smoke and a pinch of ginger! 
A few tips: Only buy fresh ahi that was packed the day you are purchasing it, and eat it that day or the following.
If you want to prepare this to eat the following day or even prepare it a few hours ahead, don't add the lemon until you are ready to eat (because I will slowly begin to cook your ahi).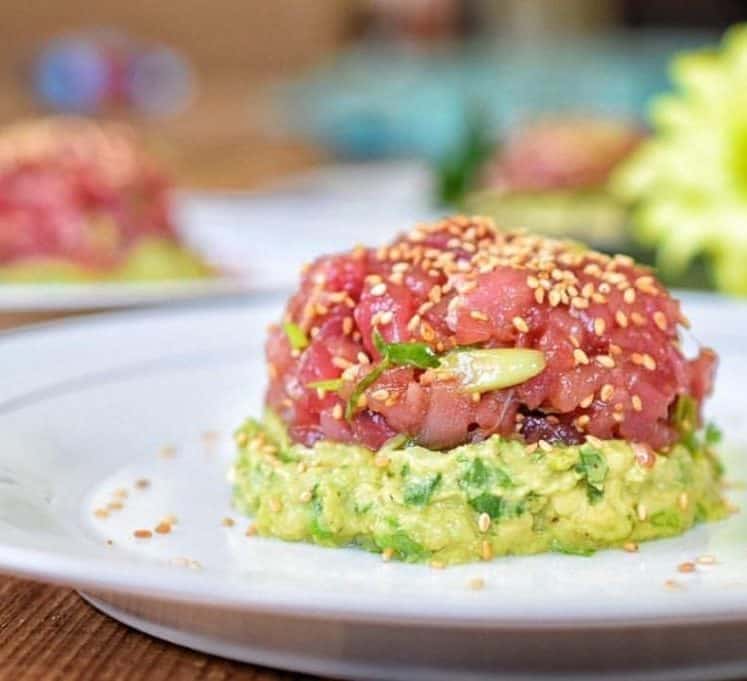 Soy Free Ahi Poke
---
Author: Cristina Curp
Prep Time: 10
Total Time: 10 minutes
Yield: 4 1x
Category: Entree
Cuisine: Asian
Description
Soy Free Ahi Poke
---
Scale
Ingredients
1lb give or take of sashimi grade Ahi tuna
2 tbsp coconut aminos
1 tbsp + 1 tsp sesame oil
1/2 tsp salt
1–2 tbsp toasted sesame seeds
1–2 stalk green onion
1/2 lemon
Cilantro (optional)
Other options: chopped macadamia nuts, mango, pineapple, red onion, lemon zest, minced ginger
---
Instructions
With a sharp knife cut your ahi in to 1/4 inch cubes & set in a bowl.
Add in oil, aminos, salt & squeeze in lemon.
Gently toss with hands.
Add in sesame seeds & sliced green onion.
Gently toss again.
You can add the avocado directly to the tuna or serve it over it.
Up to you.
I like to serve it with guacamole or avocado mixed with kraut!
Recipe Notes:
goes great with plantain chips!
Nutrition
Serving Size: 1/4 recipe
Calories: 172
Fat: 6g
Carbohydrates: 2g
Fiber: og
Protein: 27g
Keywords: Ahi Poke Soy Free
Make some SUSHI RICE and build your own epic PALEO POKE BOWL!