Toasted Coconut Kale Chips are the healthiest snack on the planet, these kale chips are as addictive as their seriously lacking counterparts. These crispy, green bites are ready in 30 minutes and satisfy your craving for crunch without the overbearing sodium. For the cooking temperature and time, I took my cue from the expert, Angela Liddon.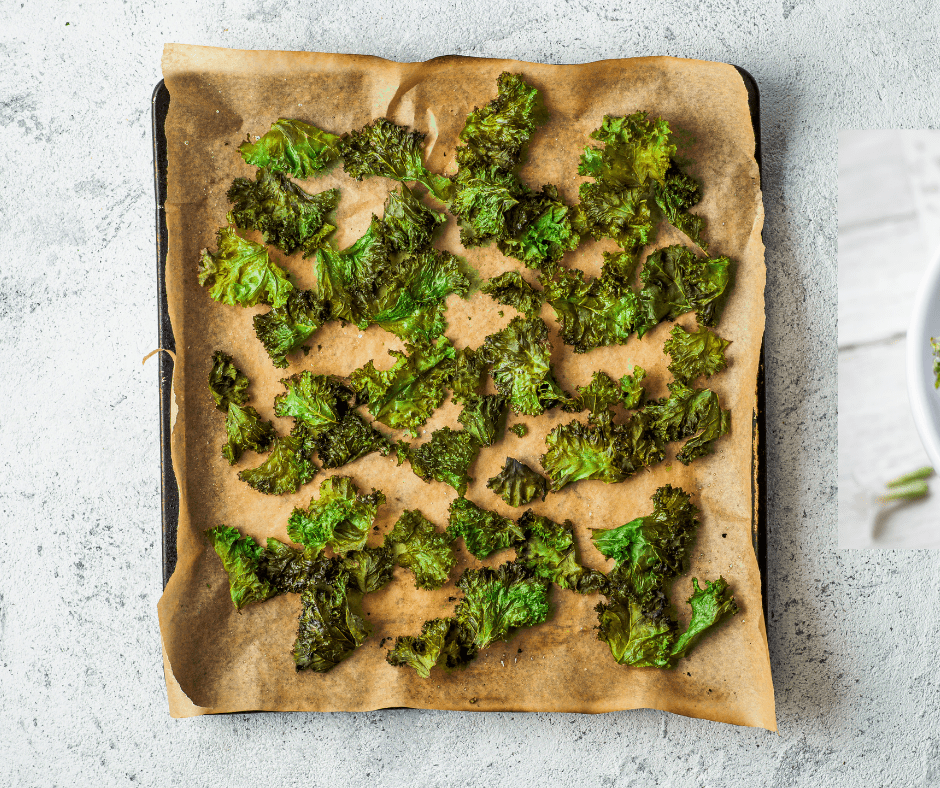 Why You Need Kale Chips
Kale is one of the most nutrient-dense veggies! Getting it in chip forms you will eat a full serving and not feel like an animal out to pasture. When eaten raw or even saturated kale can be hard to chew. When crispy it's divine.
A single cup of raw kale (about 67 grams or 2.4 ounces) contains (1):
Vitamin A: 206% of the DV (from beta-carotene)
Vitamin K: 684% of the DV
Vitamin C: 134% of the DV
Vitamin B6: 9% of the DV
Manganese: 26% of the DV
Calcium: 9% of the DV
Copper: 10% of the DV
Potassium: 9% of the DV
Magnesium: 6% of the DV
It also contains 3% or more of the DV for vitamin B1 (thiamin), vitamin B2 (riboflavin), vitamin B3 (niacin), iron and phosphorus
Kale is also a great source of antioxidants, which help fight free radicals, which cause inflammation (2). Read all about lowering inflammation while you eat your crispy kale chips.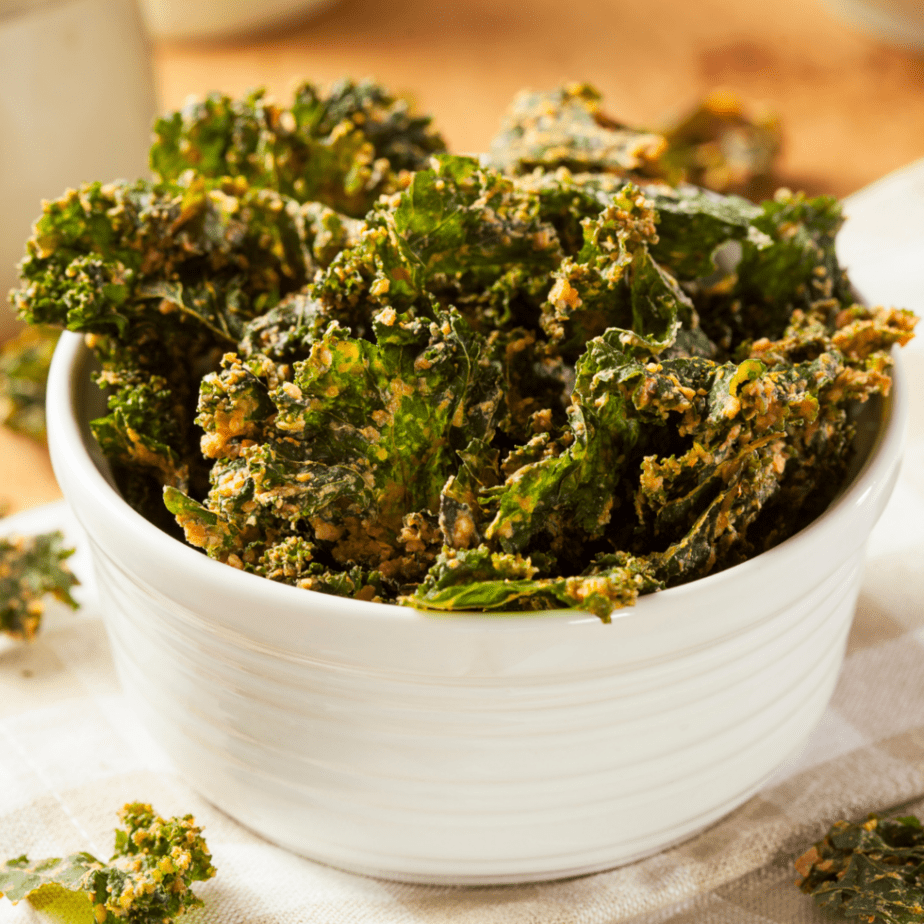 Toasted Coconut Kale Chips
---
Author: Cristina Curp
Prep Time: 8
Cook Time: 25
Total Time: 33
Yield: 10 1x
Category: Side
Method: Oven
Cuisine: Snacks
Diet: Gluten Free
Description
Coconut Kale Chips
---
Scale
Ingredients
2 bunches curly kale
2 tsp Tin Star Ghee
1 tsp salt
1 tsp garlic powder
2 tbsp toasted coconut flakes
2 sheet pans
---
Instructions
Wash & thoroughly dry your kale. You can even use a salad spinner then pat with a clean towel.
Preheat oven to 300F
Tear large pieces of leaves from the stems
Arrange on both sheet pans evenly without crowning or overlapping
Drizzle one teaspoon of ghee over each sheet pan evenly
Gently massage leaves distributing ghee on the leaves
Sprinkle 1/2 tsp of salt over each sheet pan, 1/2 tsp garlic powder & 1 tbsp toasted coconut flakes (for each sheet pan of leaves)
Make sure oven racks are 2 spaces apart, centered in the oven
Place sheet pans in oven set timer for 15 minutes.
Rotate pans, switch rack & turn them around.
Set timer for 10 minutes
Remove from oven & let cool for 5 minutes.
Nutrition
Serving Size: 1/10 of recipe
Calories: 21
Fat: 2g
Carbohydrates: 2g
Fiber: 1g
Protein: 1g
Keywords: Toasted Coconut Kale Chips