Made dairy-free and low carb with a steamed cauliflower layer that is whipped with eggs for richness, this casserole still goes down a lot lighter than your average shepherd's pie. Still boasts a good amount of good fats and protein but sans the starches. Making classic recipes keto and paleo and nut-free has become quite fun for me #challengeaccepted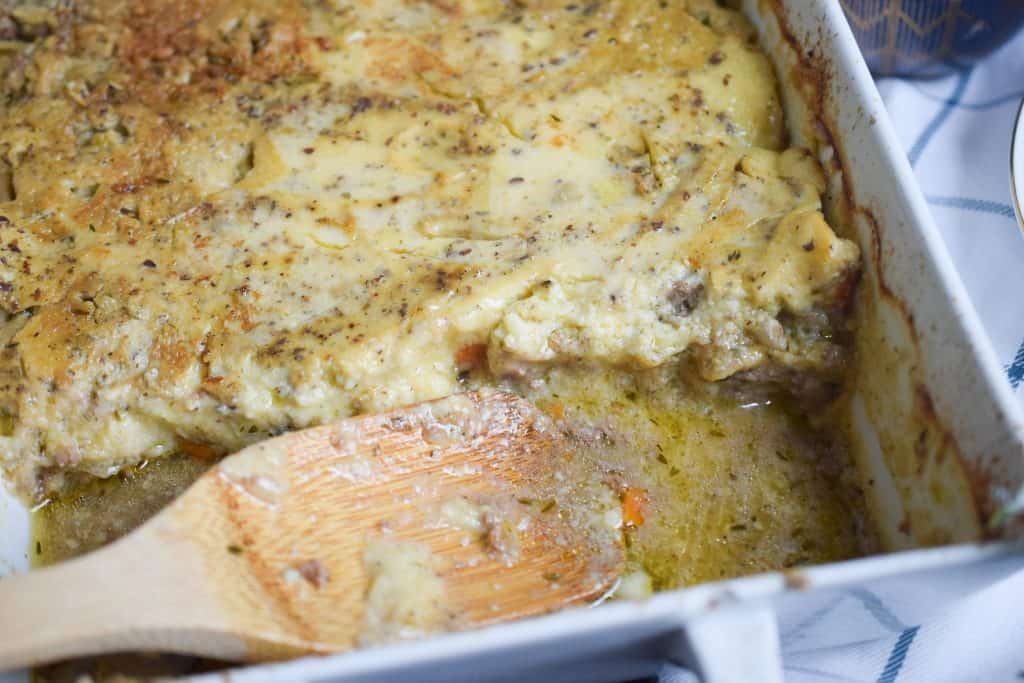 This Dairy Free Shepherd's Pie will be a hit!
For casseroles! Oven dinners are back! With the house cooler in the evenings, it's nice to crank the oven and make a warm meal everyone will love. I use beef in this dairy-free keto shepherd pie because the husband isn't a fan of lamb, but you can use ground lamb if you see fit.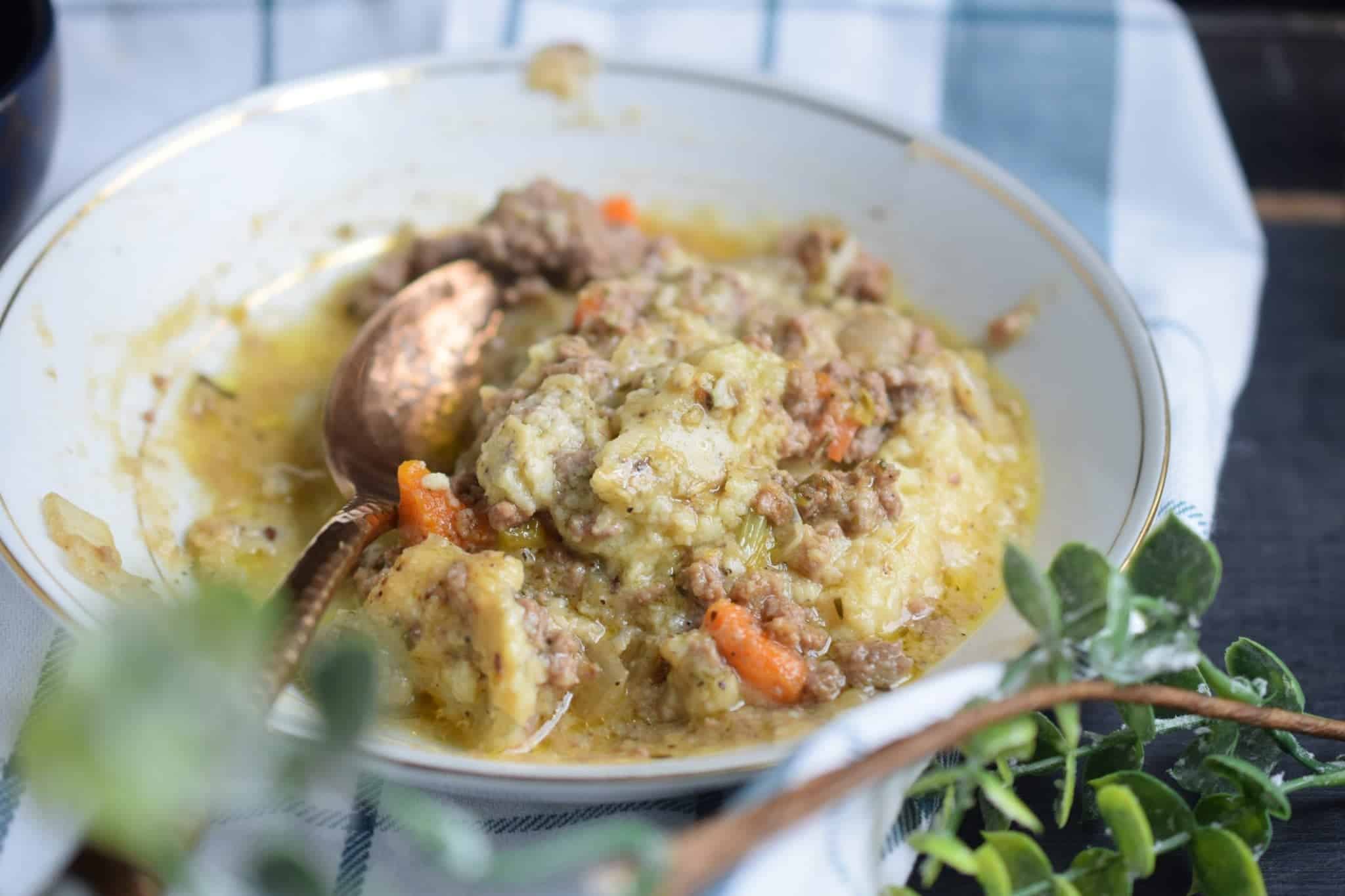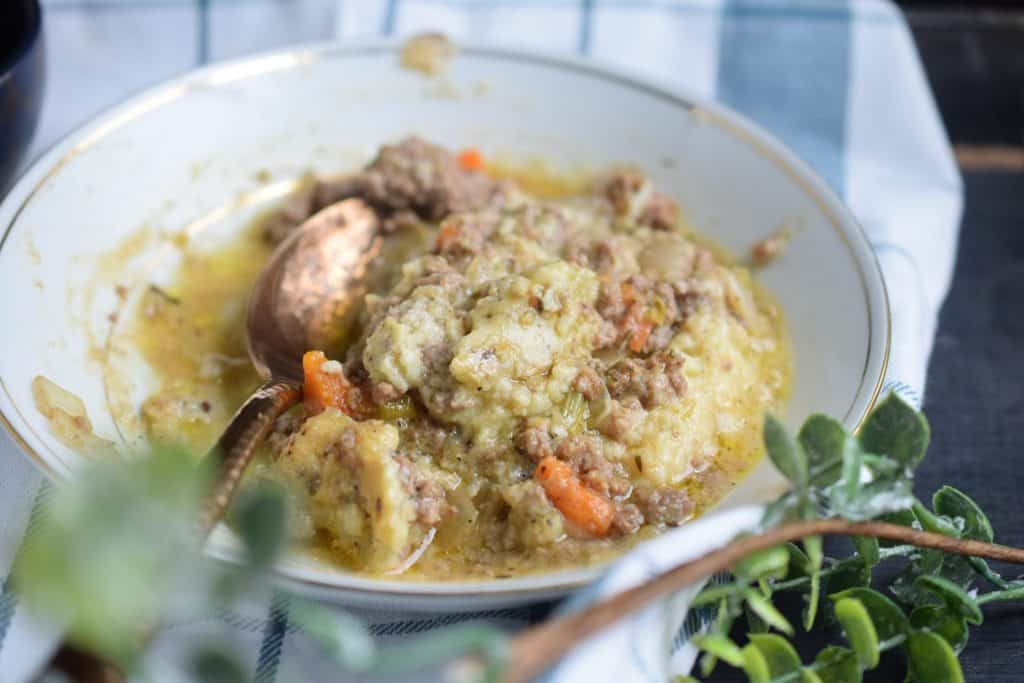 No Nightshades No Problem
I went very classic with this one, right down to the cooking method and seasoning. The two big changes are cauliflower for potato and pumpkin puree for tomato paste. The rest. Classic, all the way. Just you know, paleo, keto, Whole30 compliant, nightshade-free, nut free, gluten-free, low carb….
Come on! That's funny… at least to me. Okay, so I also left out the peas… but you can add them in if you want. It's a personal choice!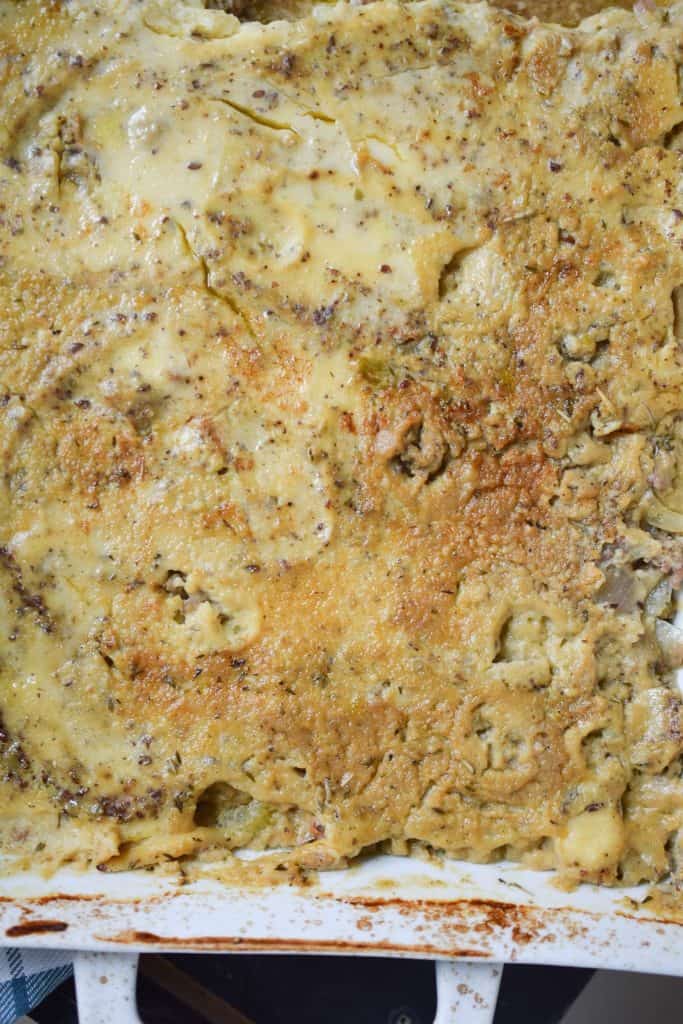 Keto Shepherd's Pie Ingredients
Click on any of the images below to shop for these essential ingredients or tools! Great ingredients are the basis of great recipes! This Skinny Shephard Pie is delicious and good for you.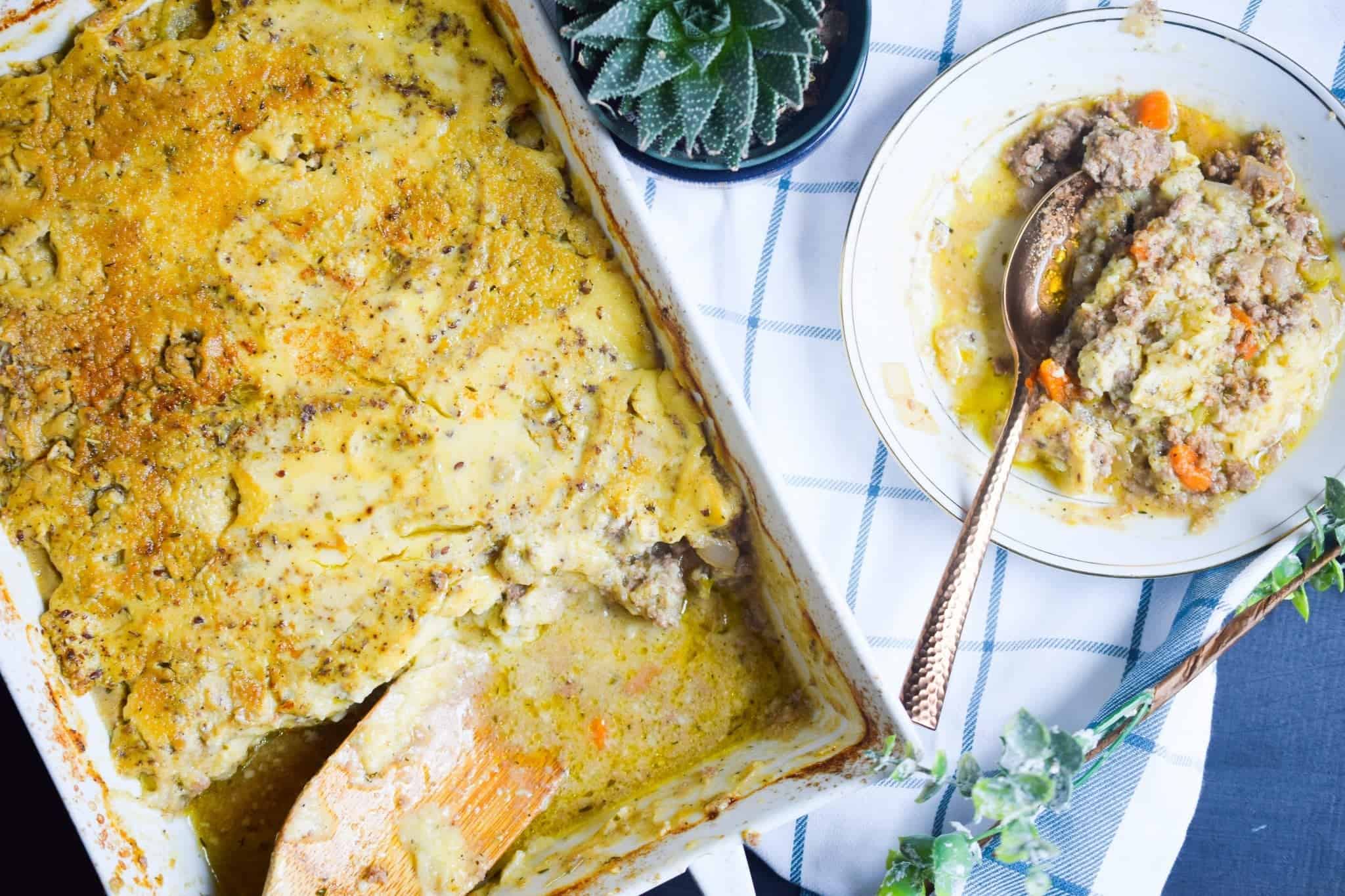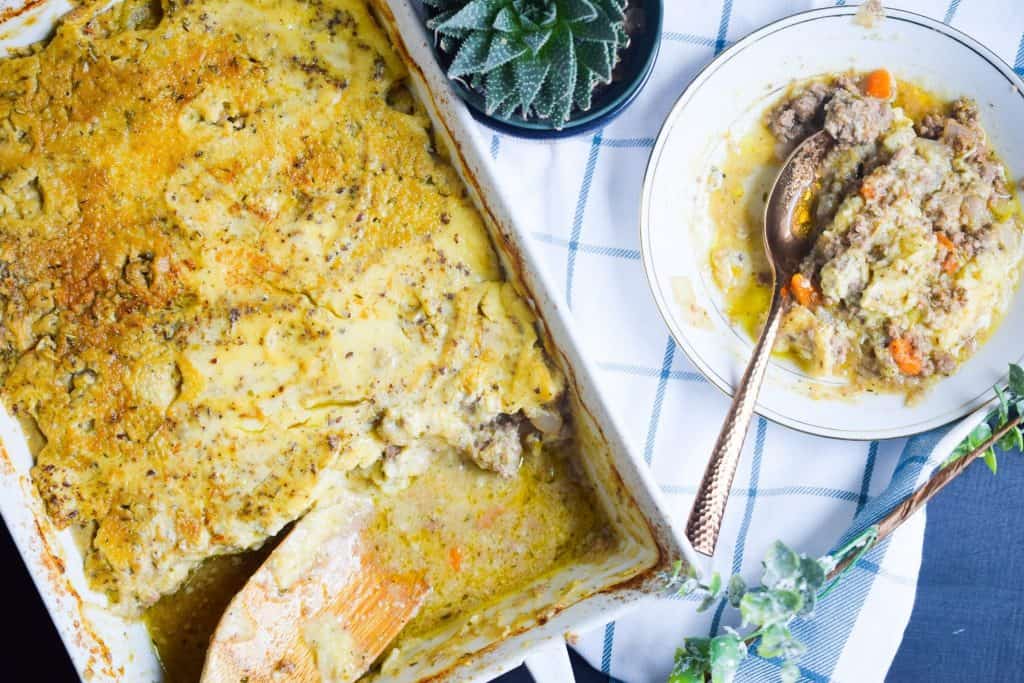 Dairy Free Keto Shepherd's Pie
---
Author: Cristina Curp
Prep Time: 20
Cook Time: 25
Total Time: 45 minutes
Category: Dinner
Method: Casserole
Cuisine: Classic
Description
Classic. Comforting. Casserole
---
Scale
Ingredients
The Top
6 cups diced cauliflower (about 1 ½ head)
1 cup bone broth
3 cloves garlic
1 teaspoons salt
3 tablespoons nutritional yeast
½ orange, juiced and zested
1 lemon, juiced and zested
2 tablespoons ghee, butter or avocado oil
3 large eggs
For Filling
2 tablespoons ghee, butter or avocado oil
1 large onion, diced
1 large carrot, 1 cup diced)
4 celery ribs, minced
2 cloves garlic, minced
2-pounds ground beef or lamb
2 teaspoon fine Himalayan salt
1 teaspoon black pepper
1 teaspoon dried thyme
1 teaspoon dried rosemary
2 tablespoons pumpkin pure
2 tablespoons grain free flour
1 cup bone broth
---
Instructions
Combine the cauliflower, garlic + broth in a large pot to steam/simmer, or throw it all in your pressure cooker and set to low for 10 minutes.
When the cauliflower is fork tender, transfer it and the garlic cloves the bowl of your stand mixer, drain out most of the liquid but keep it in case you need it later.
Mix the cauliflower with the whisk attachment until it's broken down and smooth on medium speed. Add in the salt, nutritional yeast, all of the citrus juice and zest and the ghee. Mix until smooth.
Add in the eggs one at a time until fully combined. If the mix is too thick or too dry, add in a tablespoon of the liquid you set aside until it is smooth.
Now it's ready to spread over the meat filling.
While the cauliflower cooks, prepare the meat filling.
Pre-heat oven to 400F.
Heat a large skillet over medium heat. Add in the cooking fat and then all of the diced veggies. Sauté for 8 minutes until aromatic and tender.
Add in the ground beef and mix crumbling up until browned, about 5 minutes.
Mix in the seasonings and the pumpkin puree. Then sprinkle the flour all over the beef.
Mix as you pour in the broth. Bring to a simmer. Cook, stirring occasionally until the broth reduces and the beef mix in saucy and thick, about 10 minutes.
Transfer the filling to a casserole dish and use a spatula to spread the cauliflower mix all over it and to the edges to seal all the liquid in there. Bake for 25 minutes or until the top is browned.
Sprinkle with extras if you wish before servings. My go-to us everything seasoning or more nutritional yeast.
Nutrition
Serving Size: 1/8 recipe
Calories: 356
Fat: 22g
Carbohydrates: 11g
Fiber: 5g
Protein: 31g
Keywords: dairy free shepherd's pie