It's not every day I envision a paleo and keto friendly pie-esque recipe that turns out PERFECT the first try.
I'd say it's cause for celebration! These mini keto quiches are to die for. Delicious, packed with veggies, fiber and sating fats! Make a dozen of these over the weekend and have your first meal at the ready all week!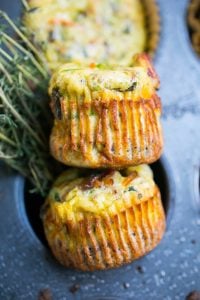 The Steps
First, you cook some bacon up in a skillet. When it's crispy you remove the bacon from the skillet and throw in a bag of veggie slaw. I like this one: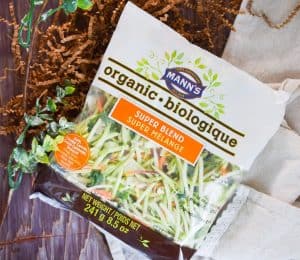 Sprinkle in a little salt and cover it. Stir it every 3 minutes for about 10 minutes. While those cooks make your dough.
In a small bowl mix together the coconut flour, flax meal and softened butter or ghee. Add in the cold water. Shape a ball. Put it in the fridge. (YES, easy AF keto/ paleo pie crust, you're welcome).
By now the veggies are done. Take them off the heat, and put them on a plate to cool with the bacon. Whisk together your eggs, coconut milk, and seasonings. Line a muffin tin with muffin liners and lightly spray with coconut oil.
Grab your dough ball. Break off little chunks of it and flatten it to the bottom of the muffin tins. I use about 1/2 inch pieces and use my fingertips to push it down. Bake those for 5 minutes.
Mix the bacon and veggies with the eggs. Spoon into the muffin tins and bake them up to breakfast gold. Boom.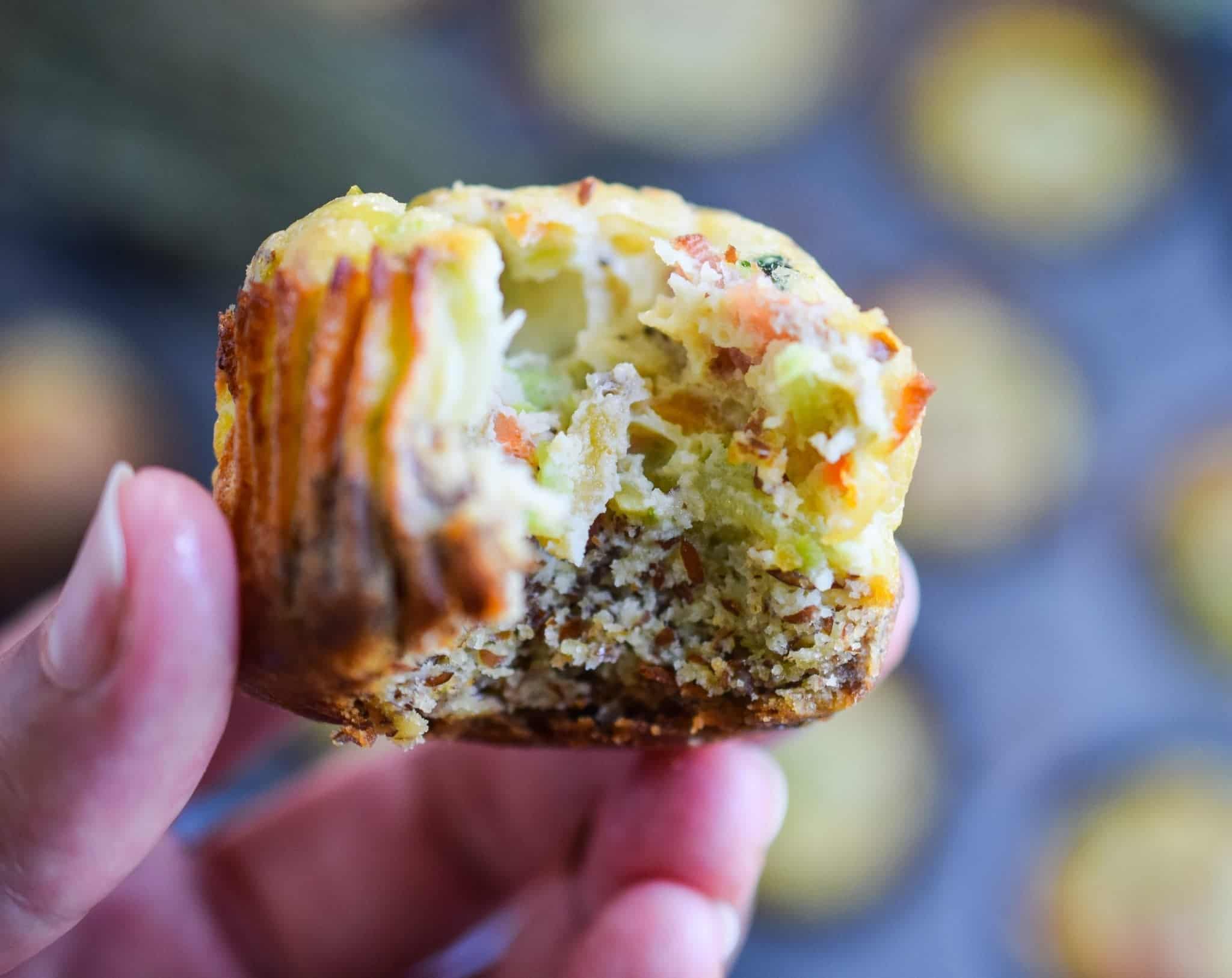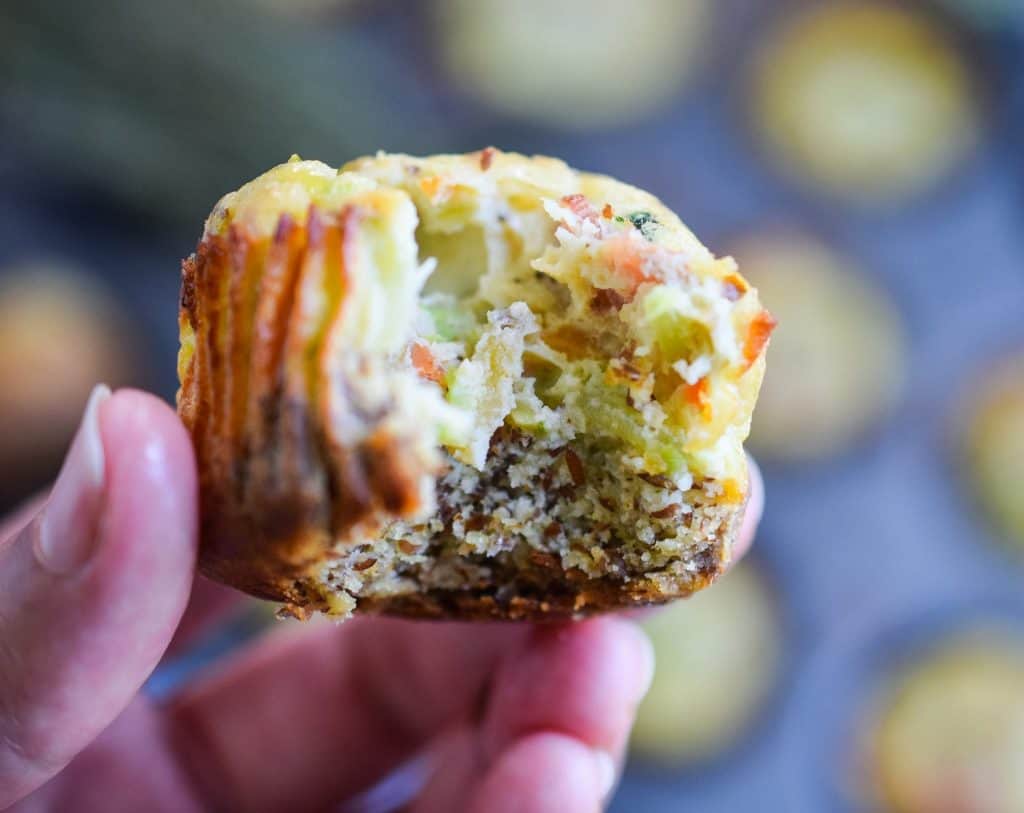 Why These Baby Quiche Muffins Are AWESOME…
For one, they are so, freaking delicious. They're crave busting, body fueling and visually pleasing. Yes, pretty food folks, it goes a long way. They're also versatile, whicheverch ever combination of veggies you have on hand. Use ham or chicken, sausage or ground beef. Make them your own. I promise these little keto quiches will be a staple in your home. Even your grain eating friends will love these people!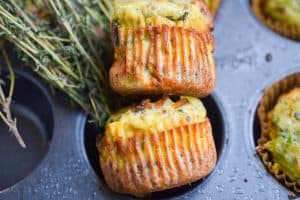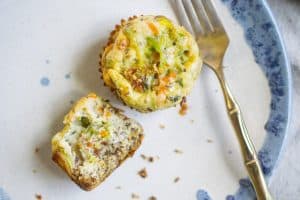 You Will Need:
Muffin Tin Mixing BowlWhiskMuffin LinersKeto/Paleo Cooking Spray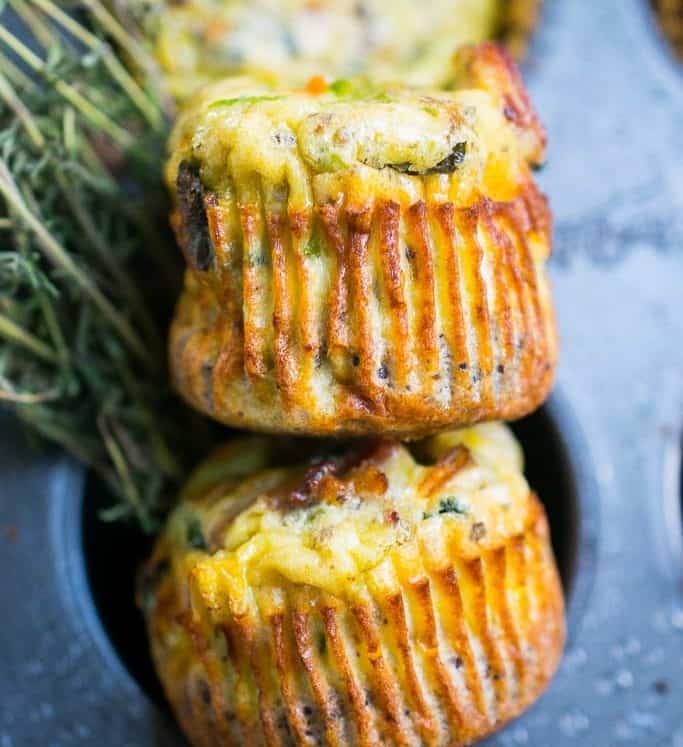 Easy Quiche Muffins
---
Author: Cristina Curp
Prep Time: 20
Cook Time: 20
Total Time: 40 minutes
Yield: 12 1x
Category: Breakfast
Method: Bake
Cuisine: French
Description
Easy Muffin Quiche!
---
Scale
Ingredients
For The Crust
1/4 cup coconut flour
4–5 tablespoons flax meal
1/4 cup softened butter or ghee
1–3 tablespoons ice cold water
For The Filling
4 slices sugar free bacon, diced
2 cups rainbow vegetable slaw
6 large eggs
1 teaspoon fine salt
1/2 teaspoon ground black pepper
1/4–1/2 cup nutritional yeast
1 cup full fat coconut milk
1/2 tsp dried herbs
coconut oil or olive oil spray
---
Instructions
Pre-heat oven to 400F.
In a large skillet cook the bacon over medium high heat, stirring occasionally until crispy.
Use tongs or a slotted spoon to remove the crispy bacon from the skillet leaving the fat behind. Set the bacon on a plate to cool and add in the vegetable slaw. Cook here, covered, stirring occasionally for about 10 minutes. Sprinkle half of the salt in to the veggies.
While those cook, mix together the coconut flour and flax meal in a small bowl. Add in the butter or ghee and use your finger tips to break up the butter until a crumbly dough forms. Add in the water one tablespoon at a time until the dough comes together and you can form a large ball with it. Cover and place it in the fridge.
The veggies should be done by now. Remove them from the skillet and add them to the plate with the bacon to cool off. Turn off the stove.
In a large bowl whisk together the eggs, seasoning and coconut milk. Add in the nutritional yeast and whisk until well combined, but not too frothy.
Line your muffin tin with muffin liners. Lightly spray with oil.
Grab the dough from the fridge. In 1/2 inch pieces, press it down to the bottom of the muffin tins creating a little crust.
Bake the crusts for 5 minutes.
In this time, mix the veggies and bacon into the egg mix.
Remove the crusts from the oven and ladle in the filling to each muffin tin, filling them 3/4 of the way up.
Bake for 15 minutes at 400F or until the centers are set and they are fluffy and golden.
Take them out of the oven, let them cool for 5 minutes.
Remove the muffin liners and serve!
Nutrition
Serving Size: 1 muffin
Calories: 155
Fat: 12.5g
Carbohydrates: 4.6g
Fiber: 2.3g
Protein: 6.6g