These Low Carb Coconut Flour Blueberry Muffins are ridiculously good! The texture is spot on with the real deal, lightly sweetened and with a lovely hit of citrus yum! I originally developed this recipe for my next book, but they are too good to hold on to until 2020, also, I'm seriously lacking in muffin recipes on the blog. But this coconut flour blueberry muffin recipe checks all the boxes! Keto blueberry muffins without cream cheese! Can it be? Yes, it can! These are oh so delicious. High in fiber, lightly sweetened, and the perfect snack or treat.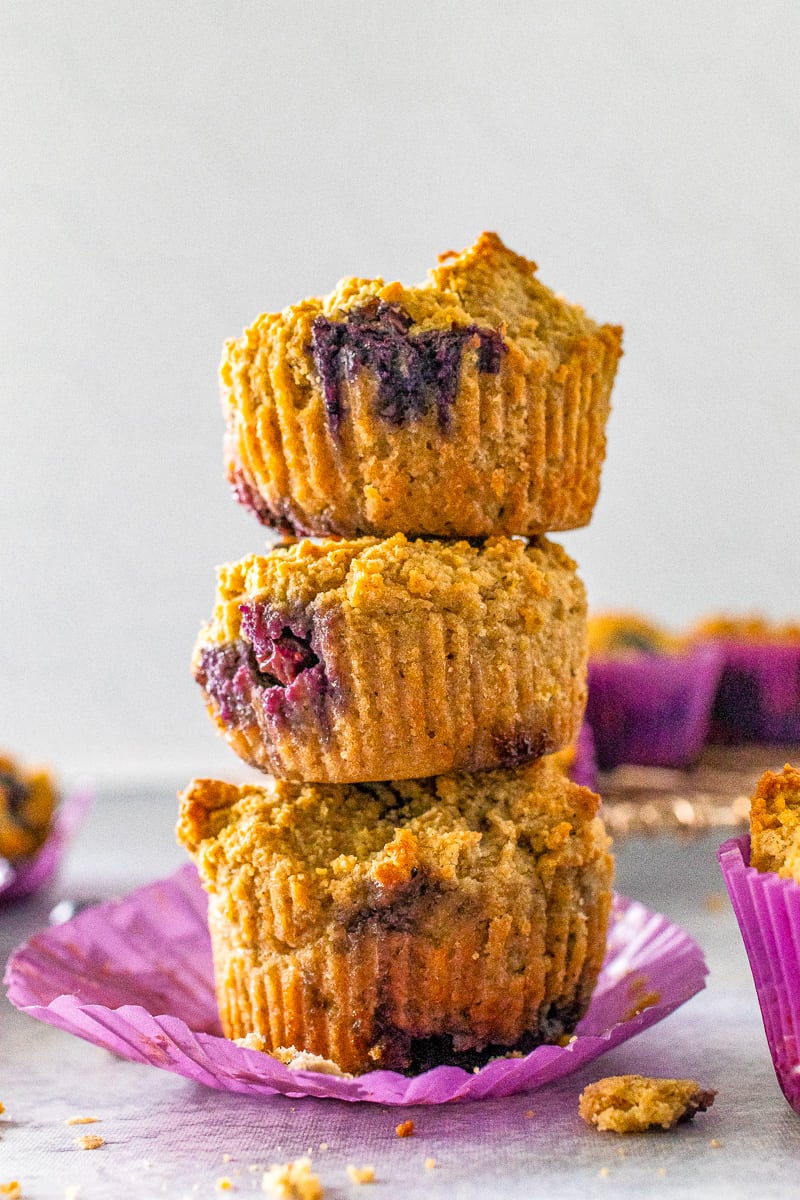 Table of Contents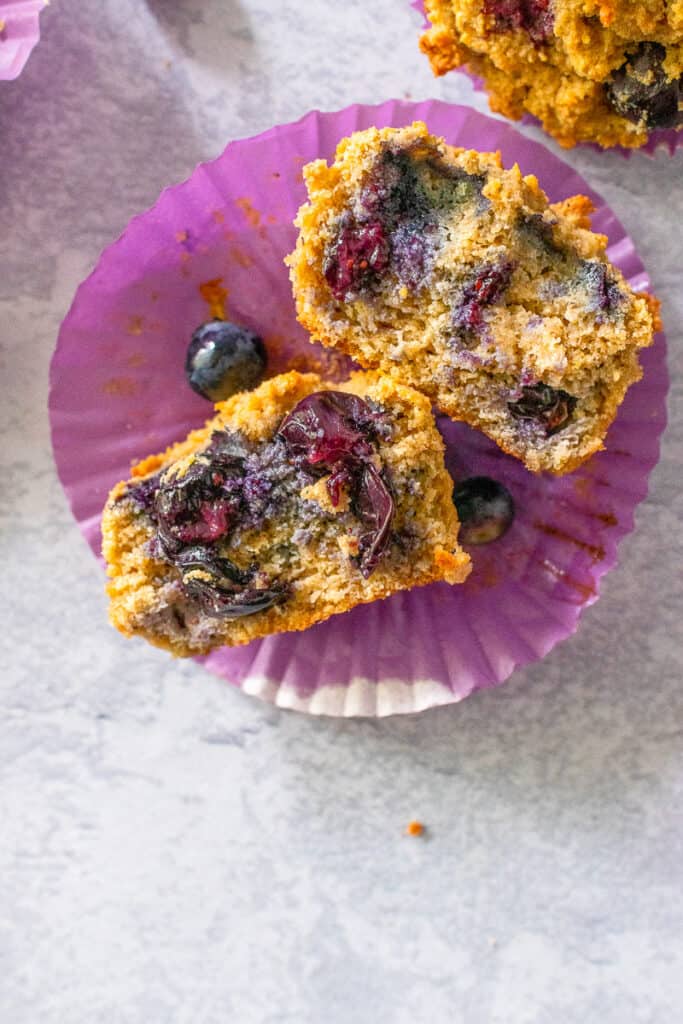 This One Bowl Recipe is all about the ingredients!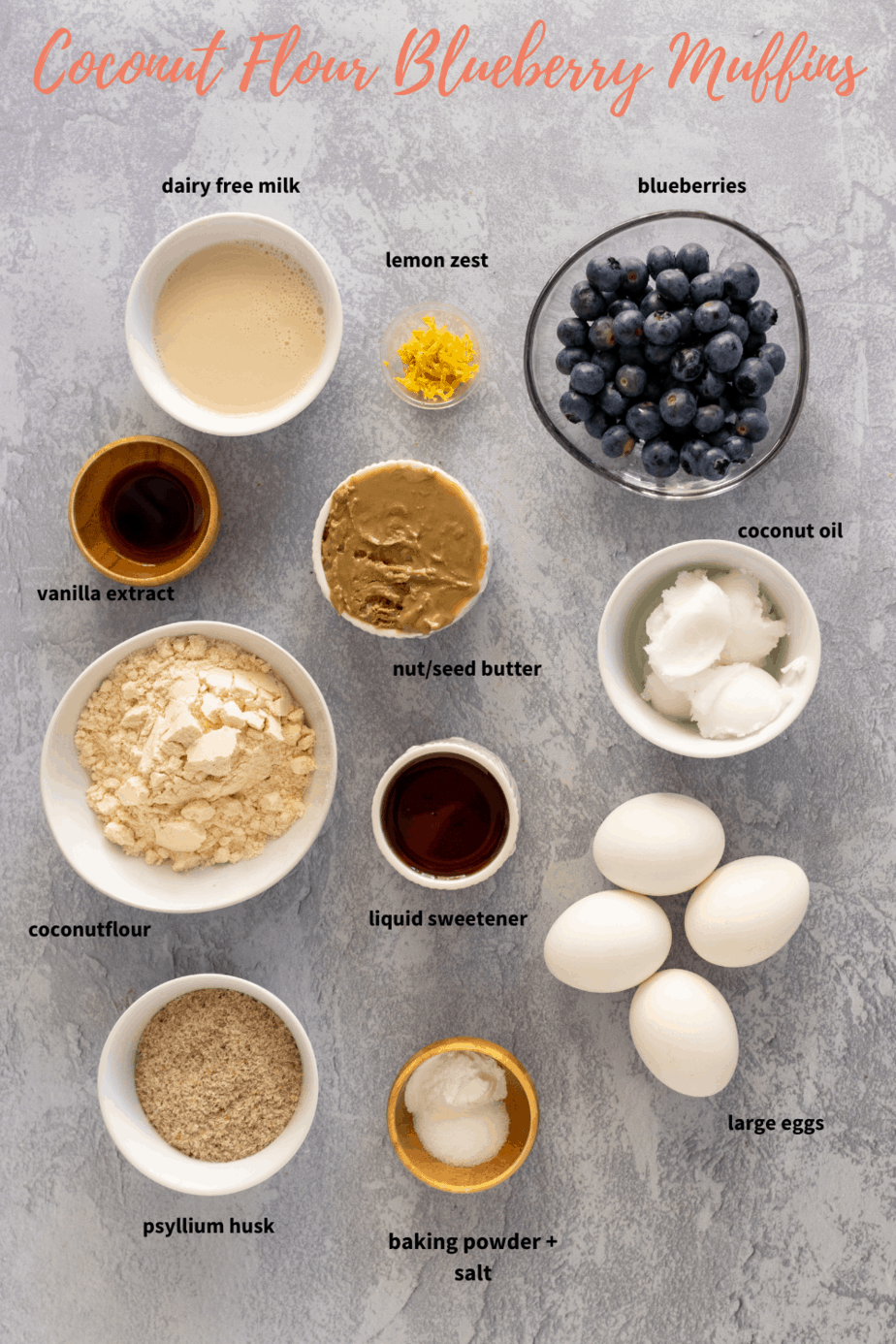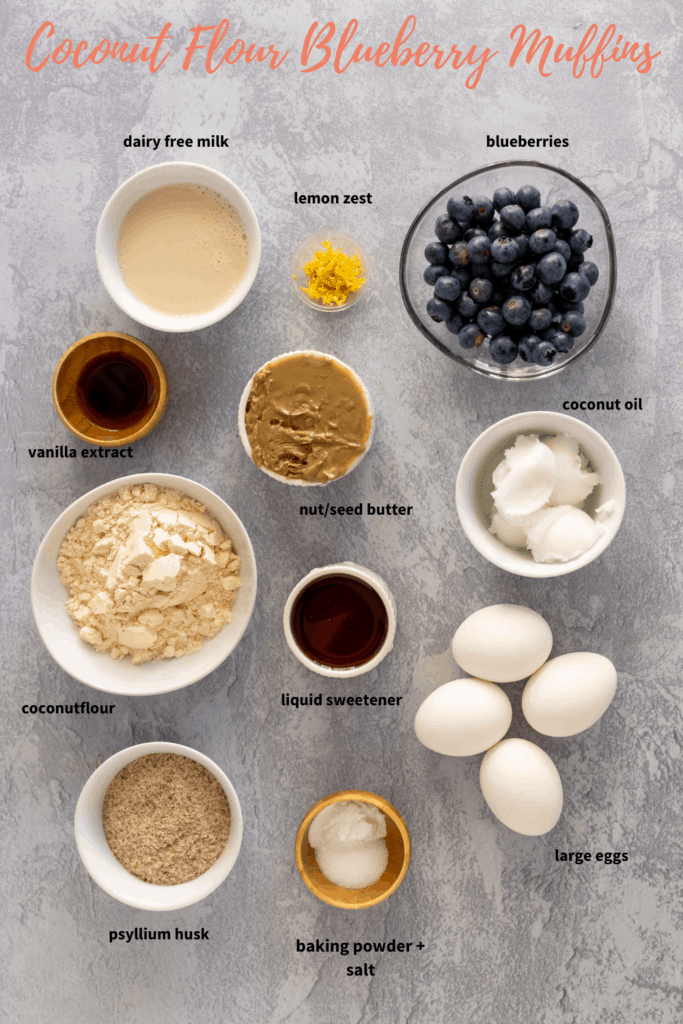 You know I'm all about healthy treats, and healthy treats mean good ingredients. Don't worry, nothing too crazy here and the ingredients are flexible! I'll list the substitution here too! I made these coconut flour blueberry muffins totally nut-free and dairy-free but you can always use what works for you.
You're going to love these low carb blueberry muffins! Perfect with some Vanilla Ghee smeared on top! We store them in an airtight container at room temperature for 5 days. Enjoy!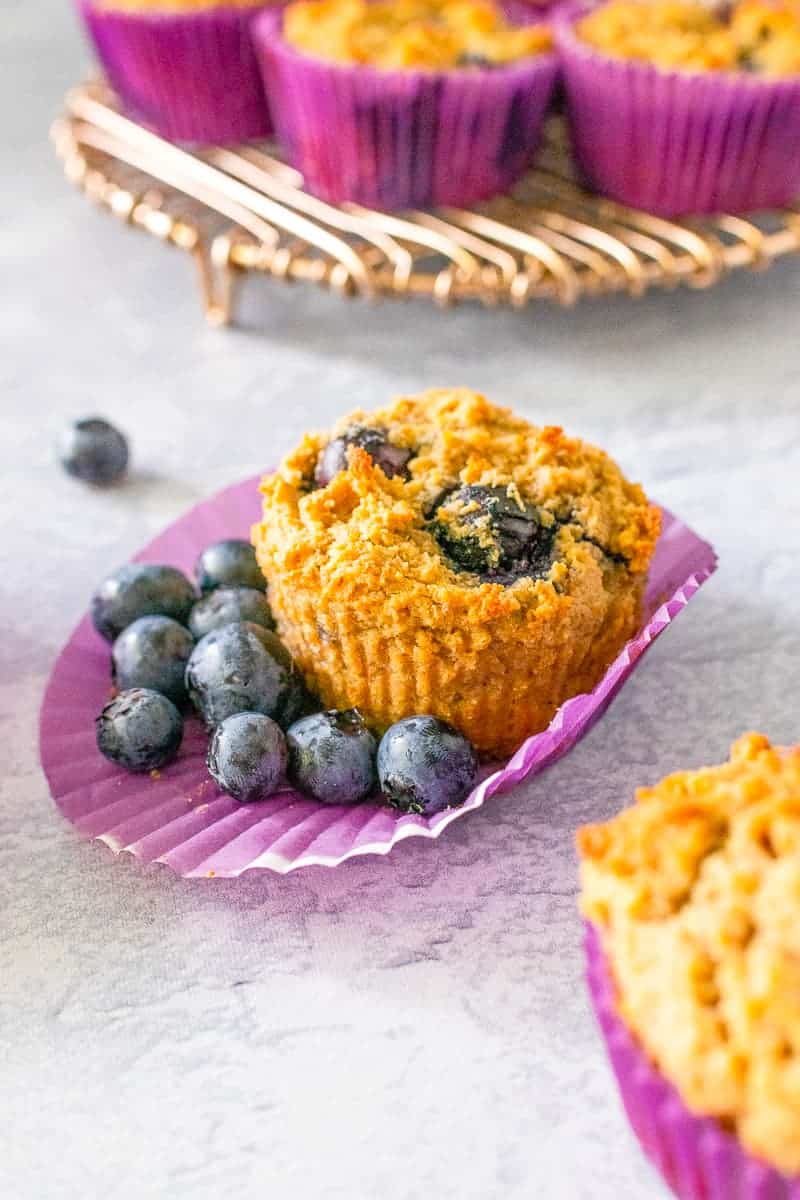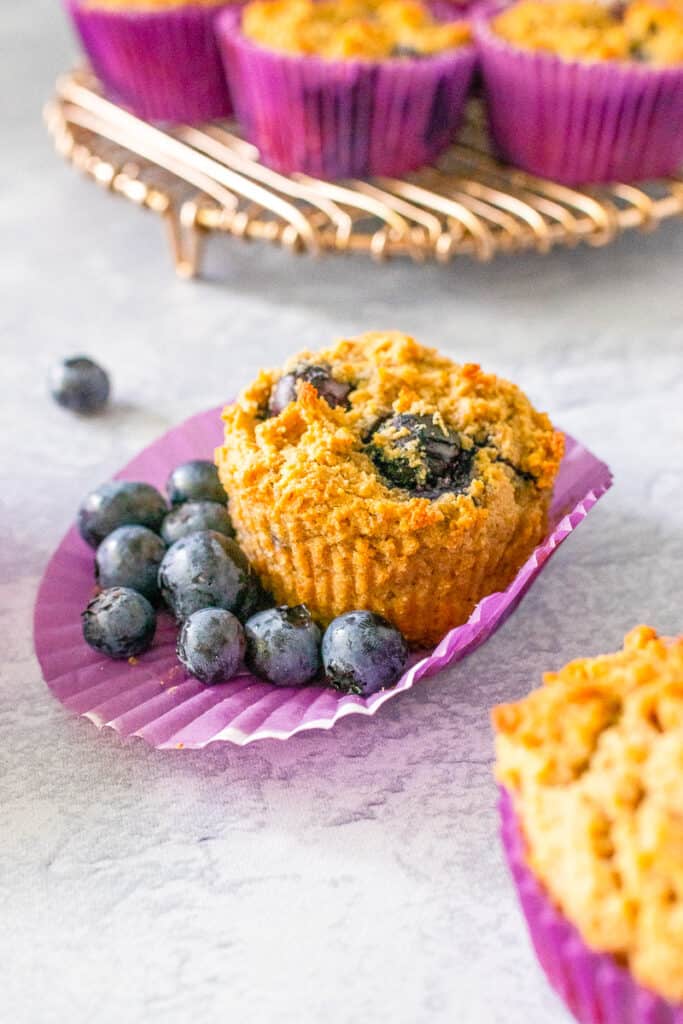 To Line or Not to Line
I made the muffins with liners (the smoother muffins in the images) and without the liners (the more textured muffins). While the outsides looked a little different, the inside and flavor was spot on with both batches! So bake on with confidence! I also tested different sweeteners. One batch with the honest syrup (the lighter one) and one batch with the yacon (the darker batch). But again, both great! These coconut flour blueberry muffins are tasty no matter which way you make them.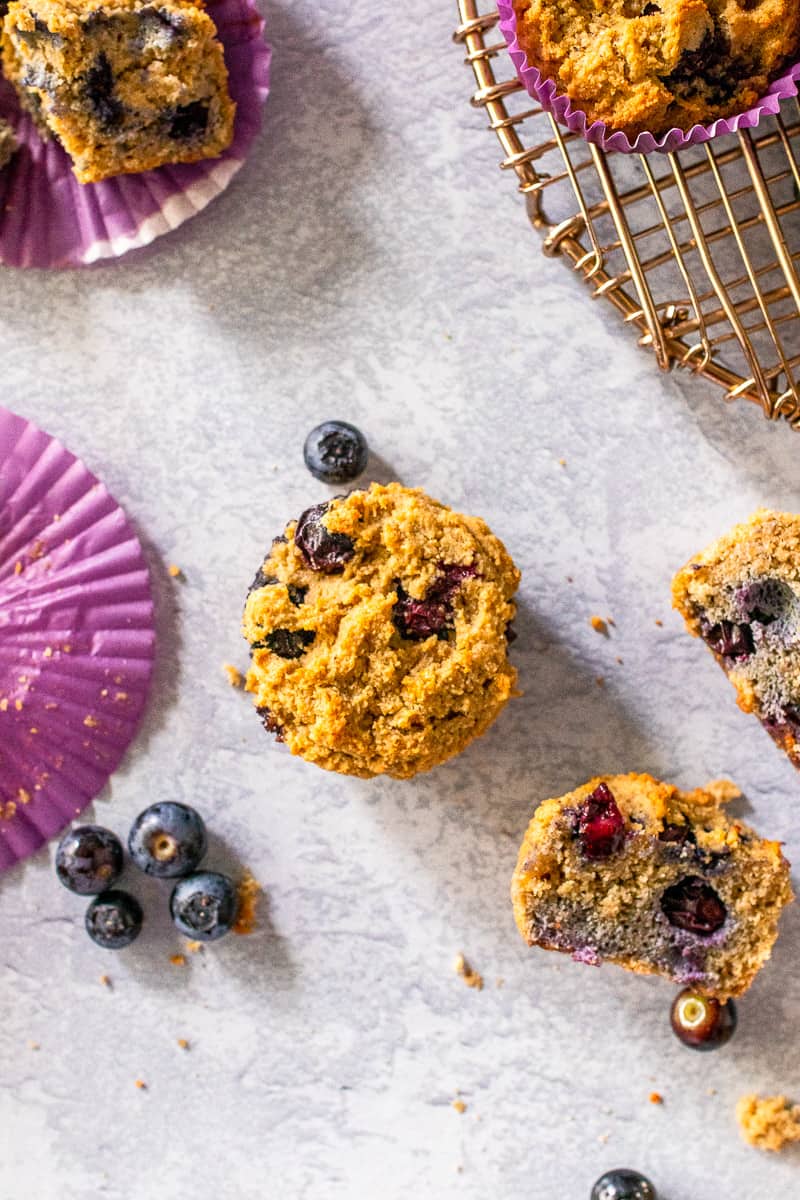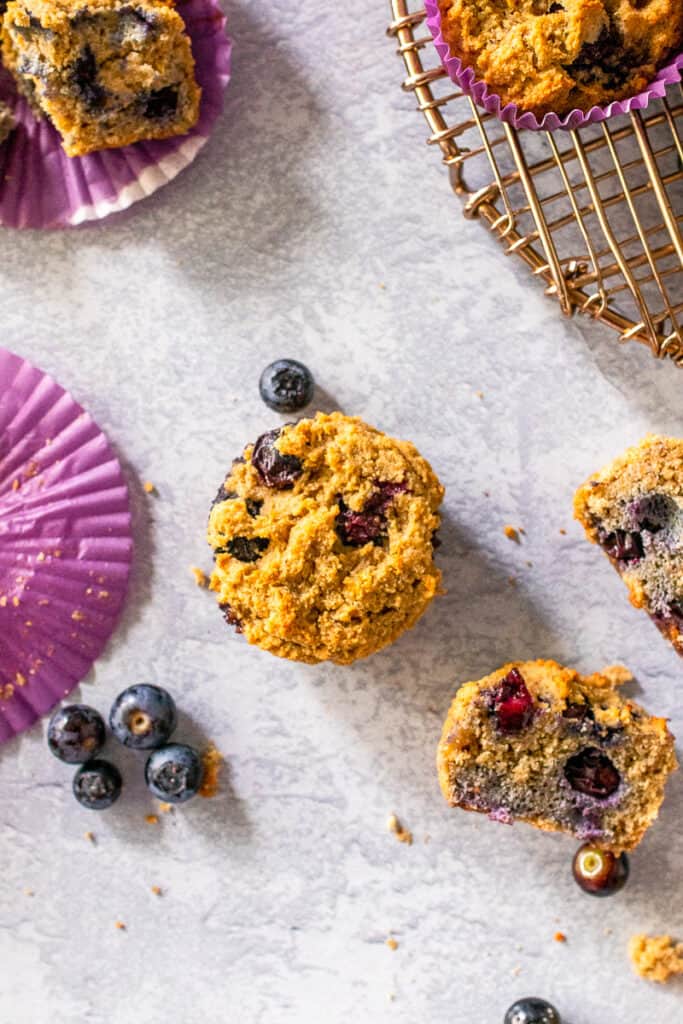 Frequently Asked Questions
Can I use almond flour?
I haven't tested that yet. But the rule of thumb is that you use 3x more almond flour than coconut flour.
What about the sweetener?
You can use whatever liquid sweetener you like as long as its a type of syrup like honey, maple or honest syrup or Lakanto or ChocZero.
Can I use frozen blueberries?
Yup! I love wild frozen blueberries.
Can I leave out the psyllium husk?
No, you just cant leave it out. You can substitute it with ground flax seed.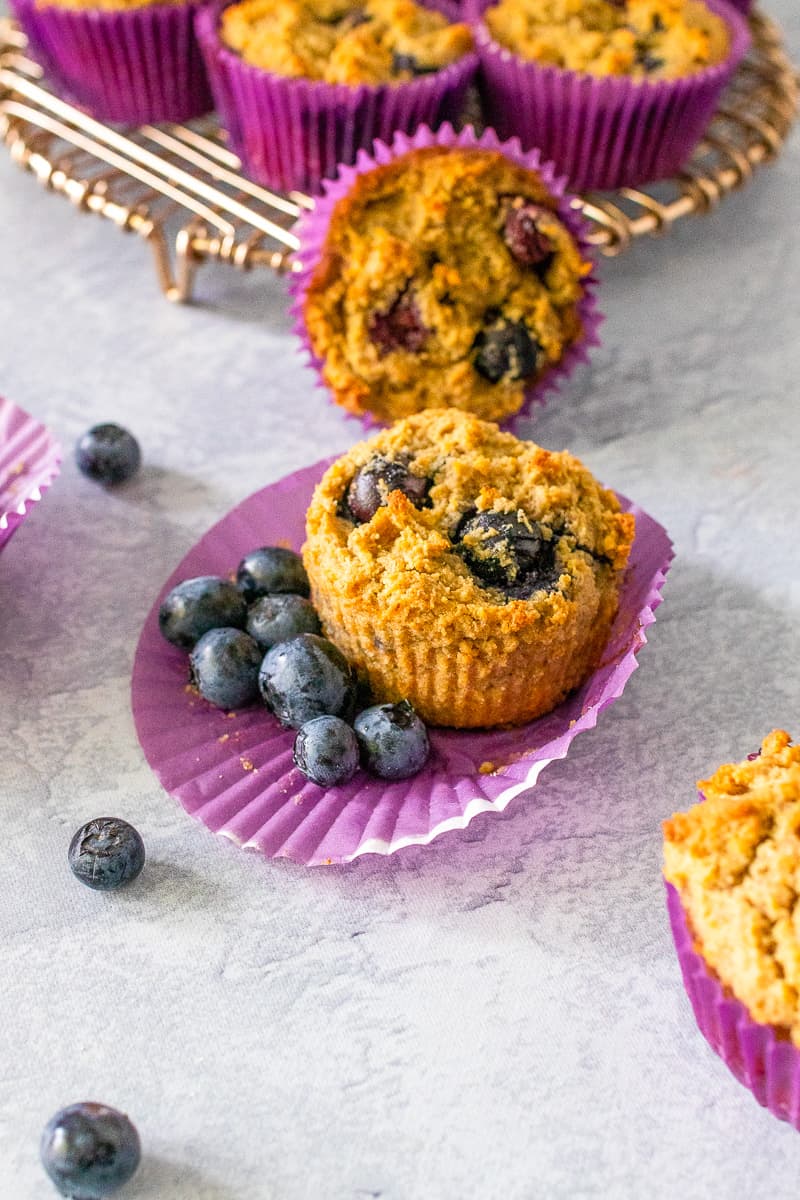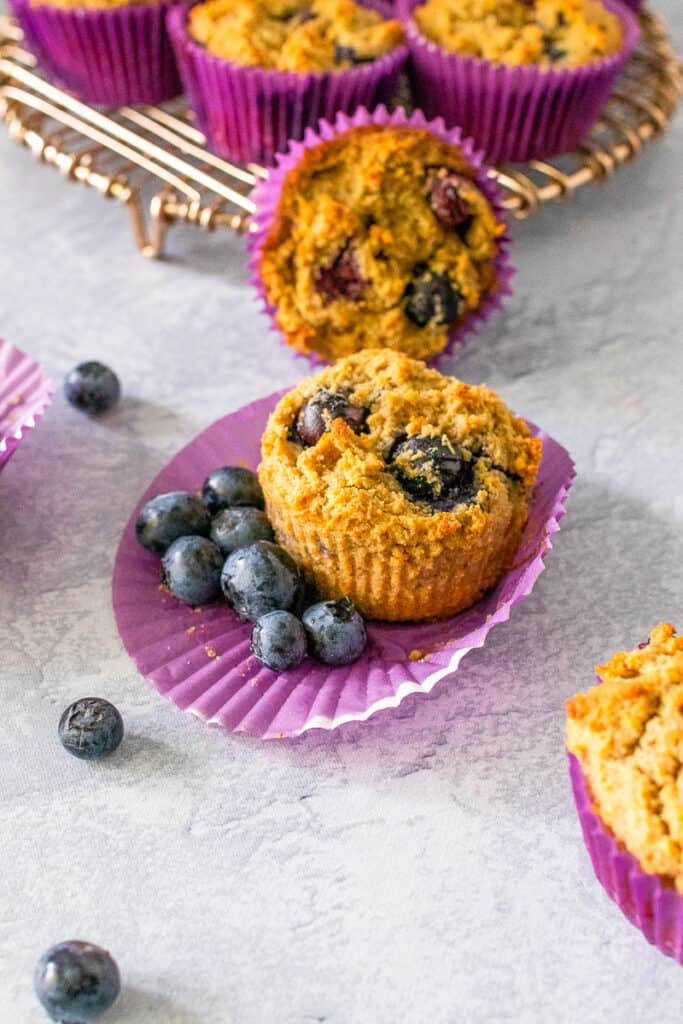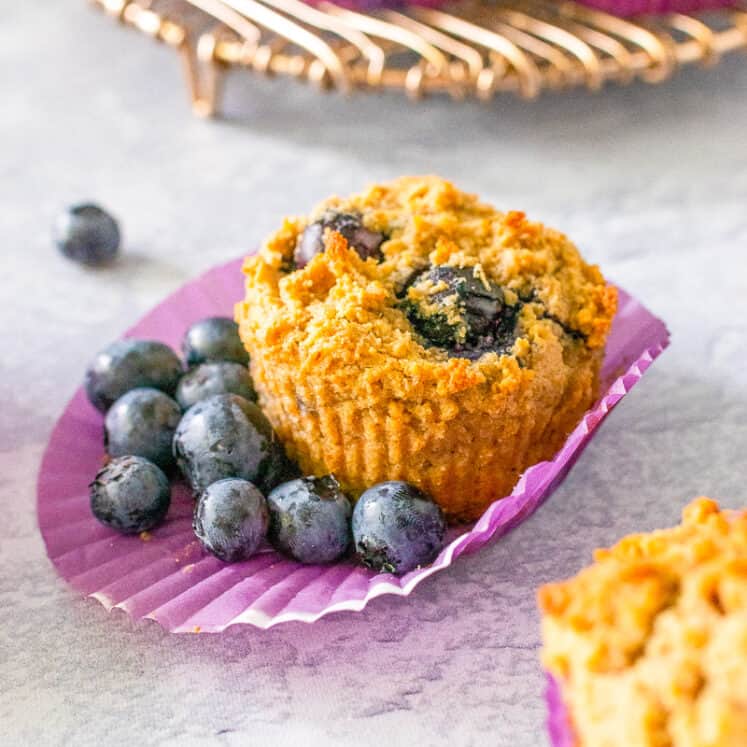 Low Carb Blueberry Muffins
---
Author: Cristina Curp, FNTP
Prep Time: 10
Cook Time: 30
Total Time: 40 minutes
Yield: 12 1x
Category: Sweets
Method: Baking
Cuisine: Muffins
Description
Dairy and nut-free delicious blueberry muffins!
---
Scale
Ingredients
1/2 cup coconut flour
5 tablespoons psyllium husk (whole)
1 teaspoon baking powder
1/2 teaspoon salt
1/2 cup unsweetened sunflower seed butter (or nut butter of choice)
1/4 cup softened coconut oil, ghee, or tallow
4 large eggs, room temperature
1/3 cup honest syrup (or maple syrup for paleo)
1/2 cup non-dairy milk of choice
1 teaspoon vanilla extract
2 teaspoons lemon zest
1 cup fresh blueberries
---
Instructions
Preheat oven to 350F. Line a muffin tin with cupcake liners.
In a large bowl whisk together the coconut flour, psyllium husk, baking powder and salt.
In a separate bowl beat together the sunflower seed butter, coconut oil, eggs, syrup, vanilla and milk until well combined and creamy.
Add the wet mix to the dry mix and beat until a dough forms.
Add in the blueberries and lemon zest and use a spatula to fold in.
Use a ¼ cup scoop per muffin. Bake in the center rack for 25- 30 minutes or until the muffins have risen, round and golden on top.
Remove from the oven and let cool. Store in an airtight container at room temperature for up to 5 days.
Recipe Notes:
You can also use Zero Syrup which is vegetable glycerin (a sugar alcohol) and monk fruit or Honest Syrup made of vegetable fiber and monk fruit. While the latter is free of sugar alcohols which is ideal for some, it is high very high in total carbs (fiber). Use 1/4 to 1/3  cup in this recipe instead of Yacon Syrup.
Nutrition
Serving Size: 1 muffin
Calories: 176.2
Fat: 12.7g
Carbohydrates: 10.4g
Fiber: 6.5g
Protein: 5.2g
Keywords: coconut flour blueberry muffins