It had been quite a while since I baked a paleo cake. Mostly due to my reoccurring Whole30's. What's a Whole30? It's a 30-day paleo cleanse of sorts. No processed foods at all, no sugar of any kind, no alcohol, no treats, etc. It's a great re-set for bad eating habits. I've done three. My bad habits, like mindless snacking, sneak up on me.
Anywho… about this cake! I made a decadent paleo chocolate cake using plantains!
The Occasion
With my husband's impending birthday, I wanted to make something special. Justin wanted chocolate cake. Ok, babe, you got it!
Plantains came to mind. I've been seeing a lot of nice plantain bread and brownies. This cake is also coconut free for those coconut haters out there (weirdos) and I imagine, easily made egg free with the use of a flax or gelatin egg. I looked at an old plantain muffin recipe and worked off that, the result was pretty awesome.
Another awesome thing about this cake is that I used actual chocolate bars to make it chocolate instead of just buying cocoa powder. Why? My grocery store NEVER has quality cacao powder but it does have organic dark chocolate bars, I used Green & Black's 70 Percent Dark Chocolate. This also makes it pro level chocolate lover chocolaty. Next time I want to try it with Lily's Sweets 70 Percent Dark Chocolate because I love it, and no sugar.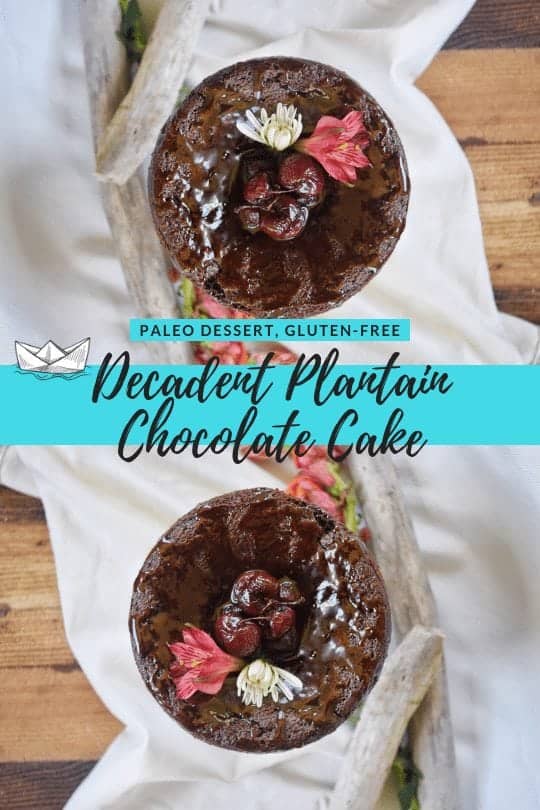 Decadent Paleo Chocolate Cake with Caramel Sauce
---
Author: Cristina Curp
Prep Time: 20
Cook Time: 35
Total Time: 55
Yield: 8 1x
Description
Made with plantains, coconut free and real food ingredients!
---
Scale
Ingredients
For the Cake
2 greenish-yellow plantains
2 large eggs
1/4 cup olive oil
1 tbsp coconut oil
1 cup hazelnut meal (or blanched almond meal)
1 1/2 tsp baking soda
1/2 tsp salt
1 tsp cinnamon
1 tsp ground coffee
2 bars, 7 oz dark chocolate
1/2 cup maple syrup
2 tbsp lemon juice
1/4 cup water
Caramel Sauce
1/2 cup coconut palm sugar
1/3 cup full fat, unsweetened, coconut milk
2 heaping tbsp Tin Star Foods Brown Butter Ghee
Pinch salt
---
Instructions
Pre-heat oven to 325F.
Grease 2 6′ cake molds with olive oil, I love Fat Daddio's 6 Inch x 3 Inch
In a food processor pulse together: hazelnut meal, chocolate bars, baking soda, salt, cinnamon and coffee. Pulse until well combined and the chocolate is ground up. Set aside.
Peel both plantains and add to your blender with the oils, egg, lemon juice, syrup, and water. Blend on medium, gradually bringing up to high power until smooth.
Add the dry mix into the blender, on medium-low speed.
Blend until just combined.
Divide the batter evenly between both cake molds.
Bake for 35- 40 minutes, depending on your oven, until the center is done, check with a toothpick.
Let cool for 10 minutes before removing from cake pans.
Let them finish cooling on a rack before dressing.
Top with caramel sauce, roasted cherries or coconut cream!
Caramel Sauce
Whisk all ingredients together in a sauce pot over medium heat.
Bring to a simmer, continue whisking until sauce thickens enough to coat a spoon when inserted.
Remove from heat.
Smear on cake, layer and drizzle over the top.
Recipe Notes:
If you want to top with roasted cherries too… just place the cherries in a parchment paper lined baking sheet and bake along with the cake. When they are cooled enough to handle remove the pits. It's easier to pit them without having to cut them in half when they are cooked.
Keywords: decadent paleo chocolate cake