I used to be a chocolate purist. This Paleo Panna Cotta changed my mind. My desserts were always lava cakes, hold the fruit sauce. Brownies, chocolate chip cookies, even just a piece of dark chocolate. How things have changed. Now, a veteran of the paleo lifestyle, a Whole30 doer, an autoimmune protocol success, I likes my desserts nutrient-dense, lightly sweet, and delicate, most of the time. I still love chocolate.
Enter this Paleo Panna Cotta!
Why bay leaves you to ask? Many moons ago, I found myself at a Supper Club dinner. A pretty hipster, fantastically elite dinner party, hosted at a home, where the guests pay for a lavish multi-course meal and great conversation. The Cellar Door. It was lovely, the menu was inventive and the company entertaining. My favorite part of the night, however, was the dessert. Bay Leaf Panna Cotta. Traditionally prepared with cream and sugar, the flavor of the bay leaf just teased my palate. Everyone was left wondering what this faint, yet familiar flavor was. Bay leaf! Present in so many foods we eat, yet never singled out. I have wanted to re-create it ever since. While the coconut flavor in the milk masks its gentle flavor a little, it's still there, and it adds a touch of nostalgia to the dish.
What's a Panna Cotta without it's topping?
I wanted to keep in the theme of simple, yet elegant. Cherries were on my mind as I had just made roasted cherries and vegetables the night before. How could I incorporate the cherries I roasted and ghee to my present project? At first, I thought of simply melting Tin Star Brown Butter Ghee and browning the cherries in it. The flavor of this special ghee needs no alteration. It compliments everything it touches. Yet the mouthfeel of melted ghee on cream might not be pleasant, I needed something thicker, without competing with the silkiness of the pannacotta.
Caramel Sauce Heaven!
With three well-thought-out ingredients, the aroma and flavor of this caramel sauce are like no other. Add in the perfect tartness of the roasted cherries and let this elegant dessert take you away!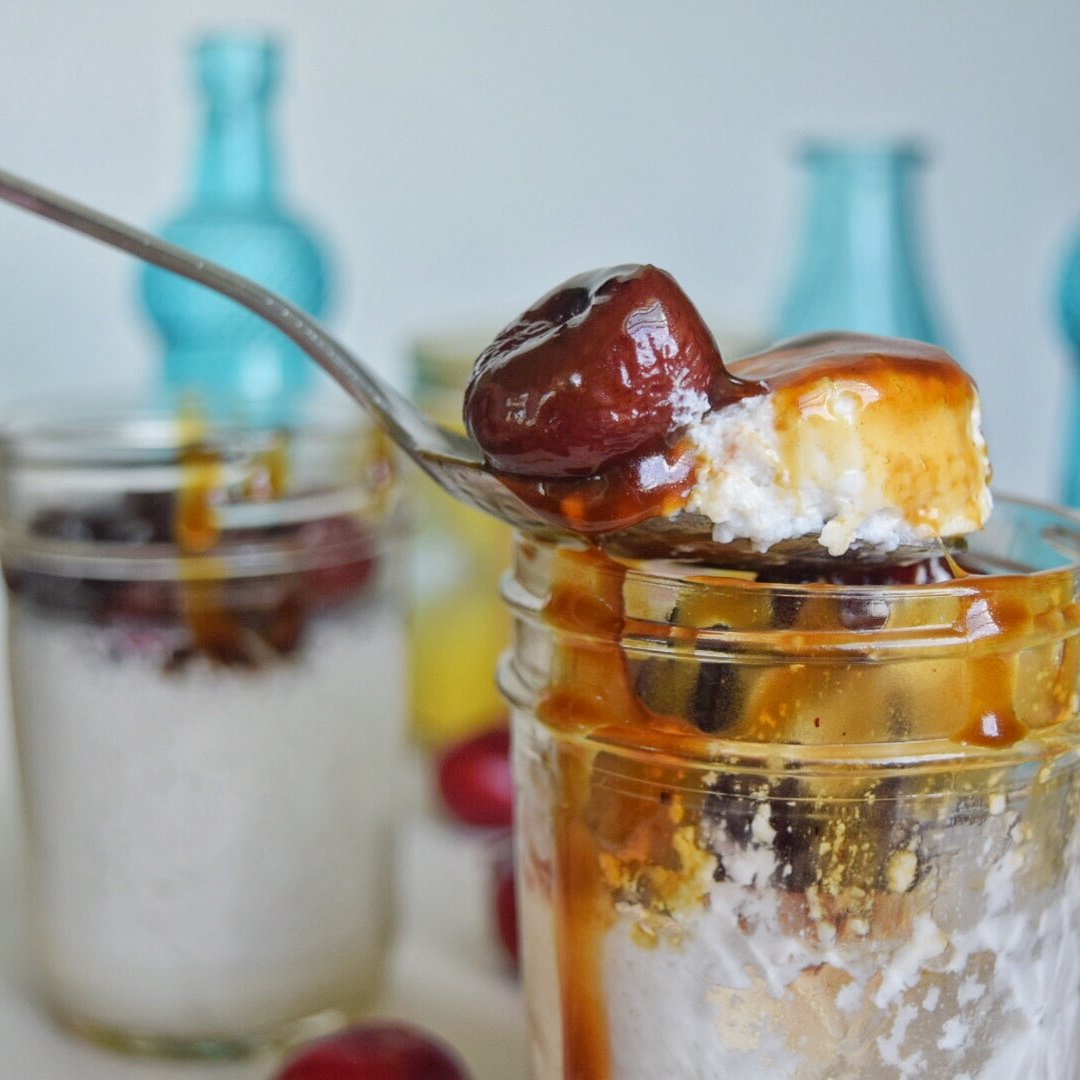 Paleo Panna Cotta
---
Author: Cristina Curp
Prep Time: 35
Total Time: 35 minutes
Yield: 4 1x
Category: dessert
Method: egg free
Cuisine: Italain
Description
Paleo Pannacotta with Caramel Sauce
---
Scale
Ingredients
Panna Cotta
1 can full-fat coconut milk (unsweetened)
1.5 tsp unflavored beef gelatin, I use Vital Proteins (green can)
6 bay leaves
1 tsp maple syrup
a pinch of salt
Cherries
1 cup of fresh Rainier cherries
Sheet Pan
Parchment paper
Caramel Sauce
1/2 cup coconut palm sugar
1/3 cup coconut milk
2 heaping tbsp Tin Star Foods Brown Butter Ghee
Pinch salt
---
Instructions
Prepare the bay leaf infused coconut milk up to two days ahead. To do this open can of coconut milk and add in bay leaves. Cover and return to fridge. Let them steep for at least 24 hours.
Pour the coconut milk into a saucepan, separate 2 tablespoons of milk and put in a small ramekin. Sprinkle the gelatin over the 2 tablespoons of milk and let it bloom (firm up).
In the meantime, bring the coconut milk on the stovetop to a simmer. Then use a slotted spoon to remove the bay leaves.
Lower the heat and whisk in the bloomed gelatin until it has fully dissolved.
Remove the pot from heat, and while stirring add in maple syrup and salt.
Keep stirring until well combined and the mixture is smooth.
Pour the coconut milk mix into eight-ounce mason jars, 3/4 of the way full.
Let the jars set in the fridge for 3-4 hours or overnight.
While your panna cotta sets, roast the cherries!
Place your cherries on a sheet pan lined with parchment paper.
Turn oven to 350F. Place cherries in the oven and roast for 35 minutes.
Remove from the oven and allow to cool before pitting. It will be a lot easier to remove the pits from cooked cherries (pro tip).
Make the caramel sauce before serving so it's still warm!
In a small sauce pot combine the coconut palm sugar, coconut milk, ghee and salt.
Heat on medium heat, whisking continuously for 9-12 minutes.
It will come to a simmer. Keep whisking until sauce thickens.
Check with a spoon, when the caramel coats the spoon well, it's ready.
If not, let it simmer until it does.
Don't worry, time will fly by as you enjoy the ridiculous smell of the ghee and sugar melting! Let the caramel cool off a little before assembling jars.
Top each jar with 4-5 cherries, then drizzle a tablespoon of caramel sauce over it.
You will have extra caramel sauce. Store in the fridge on a jar until you need it again (waffles, cupcakes, etc). To heat submerge in warm water until it loosens.
Nutrition
Serving Size: 1 jar
Calories: 326
Sugar: 37g
Fat: 19g
Carbohydrates: 41g
Fiber: 2g
Protein: 2g
Keywords: paleo panna cotta