This is one of those quick & easy dinners that taste amazing.
I made these crispy chicken thighs in a rush before heading to the gym, when we had dinner at 7pm, I was doing a little celebratory dance at how delicious they were. I just knew I had to share it with all of you. So, I made them again the next day, wrote down the recipe & photographed it all. You're welcome!
Cooking wine is a no-no on Whole30, so if you're on a Whole30, use White Wine Vinegar, which is compliant.
For my AIPers…. good news, the alcohol burns off during cooking so cooking with wine is OK even during the elimination phase (The Paleo Mom says so), you will also need to use coconut flour or tapioca vs the almond meal. However, these crispy chicken thighs with roasted brussel sprouts will be a hit!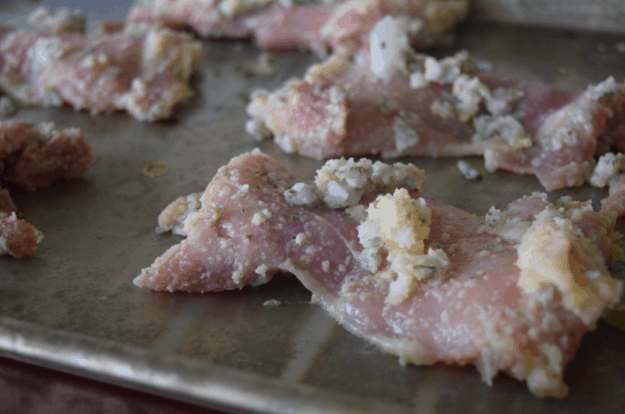 My neighbor, Bettina, she makes the best-roasted veggies, being Vegan and all, she's definitely the authority of vegetables. Her no-fail method is shaken in a gallon sized ziplock with garlic, oil & salt. It always works. So I tried her method with this meal.
The thighs aren't breaded really, but the coconut oil & almond meal bake little tarragon clusters that crisp over the thighs. The sprouts are soft with crispy outer leaves. If you're planning on leftovers, make extra.
Everyone had second helpings in this house! These crispy chicken thighs with roasted brussel sprouts are really a no-fail family favorite and sversatilele. Perfect for various dietarpreferenceses.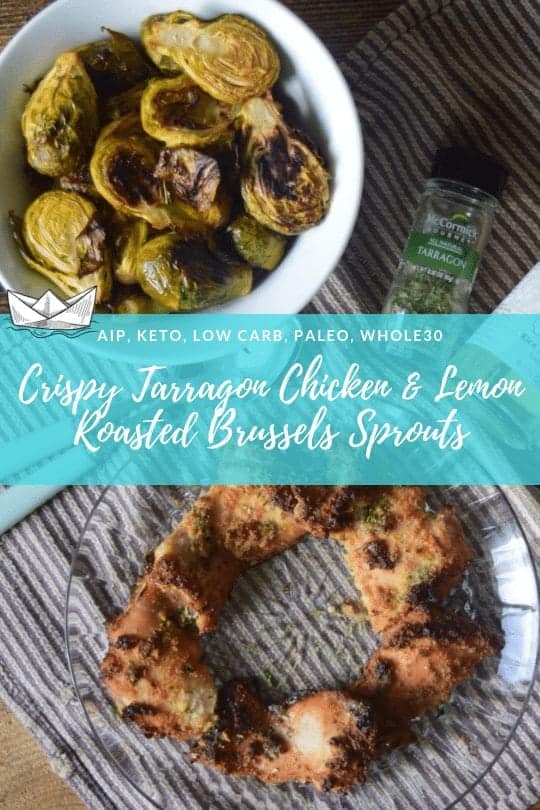 Crispy Tarragon Chicken Thighs & Perfect Lemon Roasted Brussel Sprouts
---
Author: Cristina Curp
Prep Time: 10
Cook Time: 35
Total Time: 45
Yield: 6 1x
Category: Entree
Method: Oven
Cuisine: American
Description
Easy oven dinner!
---
Scale
Ingredients
Chicken Thighs
6–8 boneless, skinless chicken thighs
2 tbsp coconut oil
1 tbsp dried tarragon
1 tsp pink Himalayan salt
3 tbsp Mirin or white wine vinegar
2 tbsp blanched almond meal (use tapioca or coconut flour for AIP)
Lemony Brussel Sprouts
2lbs large brussel sprouts, halved
4–5 cloves garlic, minced
1 lemon, juiced
1 tsp Himalayan salt
1 tbsp coconut oil or olive oil
1 gallon sized ziploc bag
---
Instructions
Pre-heat oven to 400F.
In a large bowl, mix together coconut oil, Himalayan salt, tarragon & mirin in a bowl. Add in chicken thighs and mix well, coating the chicken evenly.
In a large ziplock bag combine the brussels, lemon juice, garlic, salt and oil. Shake really well.
Back to the chicken,  add in the almond meal, toss.
Arrange thighs on a baking sheet, laying them flay and not overlapping.
Spread Brussels out on the second sheet pan.
Place chicken sheet pan & brussels sprouts sheet pan in the oven.
Chicken on the middle rack, sprouts directly below it.
Roast at 400F for 35-40 minutes or until everything is nicely browned.
Hit with the broiler for 2 minutes before removing from oven.
Nutrition
Serving Size: 1/6 of reciep
Calories: 345
Fat: 22
Carbohydrates: 20
Fiber: 6
Protein: 23
Keywords: Chicken Thighs Brussel sprouts