Have you ever had fried okra? How about GLUTEN FREE FRIED OKRA?? It's so delicious. A Southern Food Classic this side dish or snack is perfect dipped in ranch or hot sauce. I grew up in Miami where okra grows locally, it's like a weed and we use it in a lot of dishes, even Cuban dishes. Okra's name in Spanish or at least, in Cuba is quimbombo (kim-bo-m-bo). While Cubans don't really do fried okra it's a dish I fell in love with and I just had to make a gluten-free fried okra recipe of my own.
Table of Contents
Why is Okra Slimy?
Okra has a natural mucilage, made of prebiotic fibers, which is beneficial to your gut! When frying okra, you don't really have to worry about the slimy factor. Although when using okra for other applications, a trick I learned from my Mama, was to soak it in in ice water.
Other than being gut for your gut, okra is also really high in Vitamin C. Vit C is a powerful antioxidant, immune booster, and also helps boost collagen production. Make this comfort food know this gluten free fried okra is really good for you!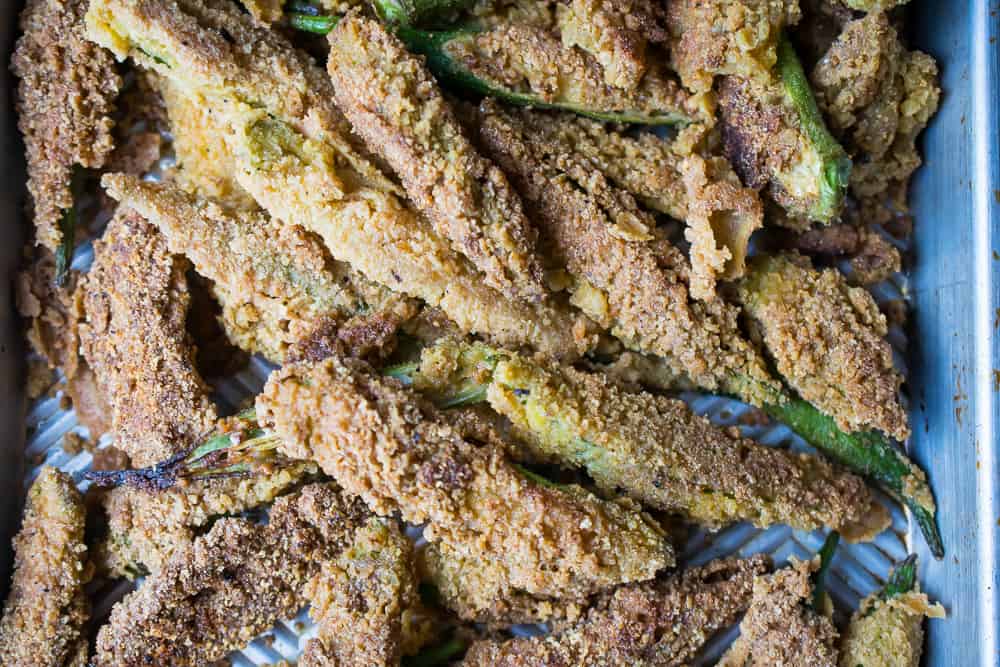 Can I Make This Keto?
Sure you can make this gluten-free fried okra even lower carb! The pork rind panko I use on these is a great allergen-free and low carb breading and per serving this recipe is pretty low carb already. To make it keto you can skip the cassava flour and use 1/4 cup coconut flour and 1/4 cup collagen.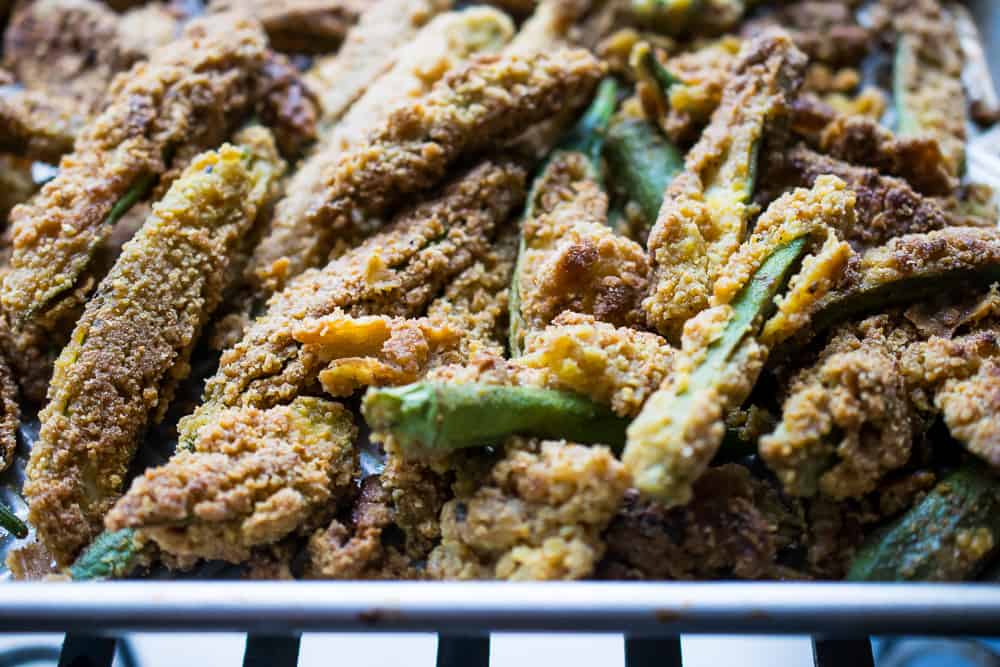 Substitutions
If you don't have cassava flour you may use tapioca starch, arrowroot powder or rice flour. If you don't have pork rinds or pork panko or just don't eat pork you may use almond meal or hazelnut meal. The batter is meant to replace a buttermilk batter, which creates this thick white coat on the okra before you bread it in the panko. Makes a great base for breading with a really awesome result. The addition of adobo is magical, a perfect influence from my cultura!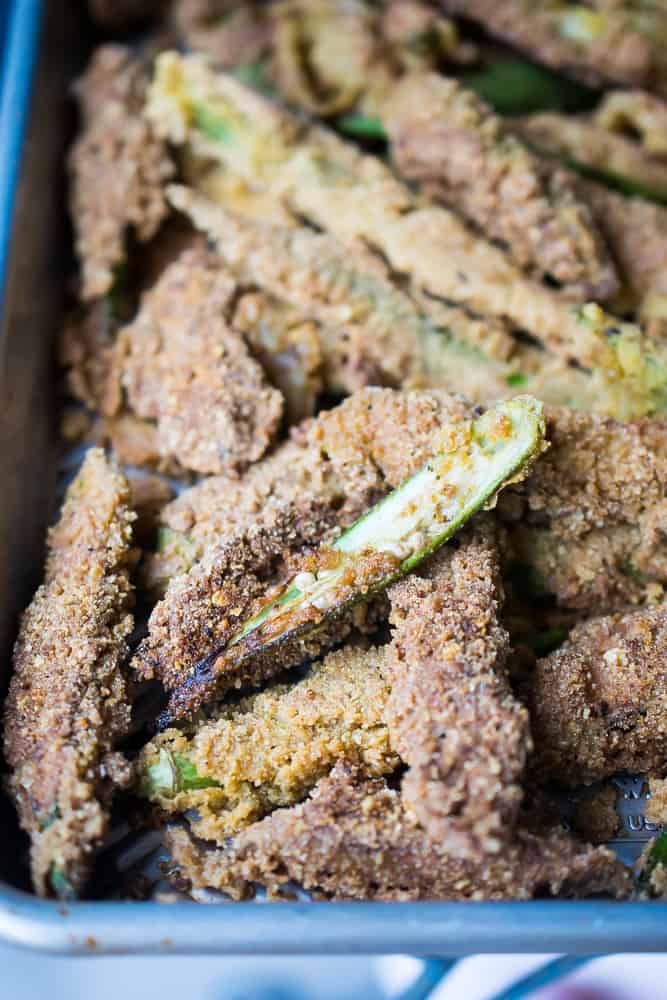 Oils for Frying
So yeah, you have to fry the okra, I don't really deep fry, but I'm a fan of a shallow fry in a big cast iron. For this gluten-free fried okra skip the canola, or any "vegetable" oil, which are all seed-based and rancid omega-6 inflammatory messes. I like using lard, tallow, olive oil, or coconut oil. Read up on healthy fats here.
This Recipe.
These okra fries or gluten-free fried okra are super crunchy with a thick coat of breaking that is pretty sturdy. It might come off a piece or two (especially if you don't heat your oil properly). It's savory, salty, and just such a hearty snack or side.
Shop Ingredients: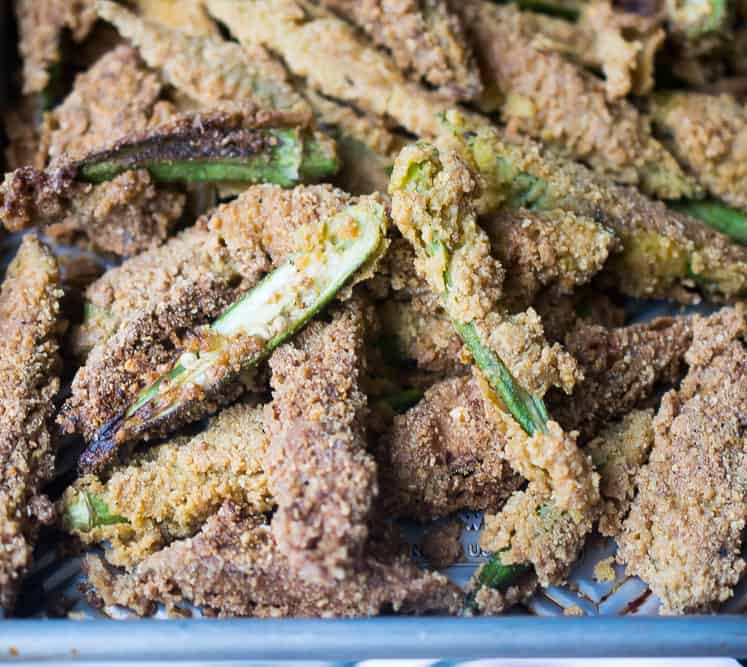 Gluten Free Fried Okra (grain free, paleo, coconut free)
---
Author: Cristina Curp
Prep Time: 25
Cook Time: 18
Total Time: 43 minutes
Yield: 6 1x
Category: sides
Method: fry
Cuisine: fusion
Description
Perfectly crispy gluten free fried okra!
---
Scale
Ingredients
1 pound fresh okra
2 cups pork panko
1/2 cup cassava flour (or other starchy flour)
2 teaspoon adobo
1/2 teaspoon fine salt
1 cup mayo
2 eggs
2 tablespoon milk
1 tablespoon mustard
Lard, tallow, olive oil or coconut oil for frying
---
Instructions
Heat a 12″ inch deep skillet or dutch oven over medium heat, with about 2 cups of oil in it. You need enough to make an inch deep of oil for frying.
While the pan heats, slice your okra in half lengthwise. Then mix all of the dry ingredients (flour, pansko, adobo, salt) in large bowl with a whisk. In a second bowl mix  the wet ingredients (mayo, eggs, mylk, mustard).
Once the oil is hot, ready to fry (a wooden spoon inserted should make is sizzle), begin coating the okra. Dip each piece, one by one in the wet mix then in the dry mixm then put it in the oil. You will need to fry in a few batches, don't crowd the pot.
Fry the okra for 2-3 minutes each side until golden brown. Remove from the oil using tongs or a fork and place on a paper towel-lined dish. Repeat until all of the okra is fried.
You can keep the done okra in a warm oven while you fry the rest.
Serve hot with your favorite dipping sauce. We love this as a side dish to grilled fish or pulled pork.
Recipe Notes:
See post for substitutions. 
Nutrition
Serving Size: 1/6 recipe
Calories: 272.5
Fat: 22g
Carbohydrates: 14.9g
Fiber: 3.1g
Protein: 8.9g
Keywords: gluten free fried okra, paleo fried okra