Crispy ground beef is a way of life around here. Crispy ground beef salad is a major game changer! Not sure why more folks don't put ground beef on salads, save for taco salads, but this Thai flavored dish is your new favorite.
Bonus, it's seasonal! So let's get into the details of this Thai themed ground beef salad.
Citrus Season
Citrus is such a bright, fresh fruit, you don't really think snow when you think of citrus, but it's a winter fruit. More than just a good source of Vitamin C, citrus zest also packs calcium and bioflavonoids which are immune boosting and anti-inflammatory. Colorful foods, like fruit, are also high in phytochemicals that can do all sorts of cool things like fight against cancer.
Skip the bottled juice when cooking. Using a whole orange where you can take advantage of the zest which is so nutrient dense and hand squeeze the orange to use the juice in your cooking is a great, and balanced way to incorporate some fruit into your low carb lifestyle.
This ground beef salad is a low carb winter staple! Bold flavors, and nutrient dense you will love how you feel when you eat this.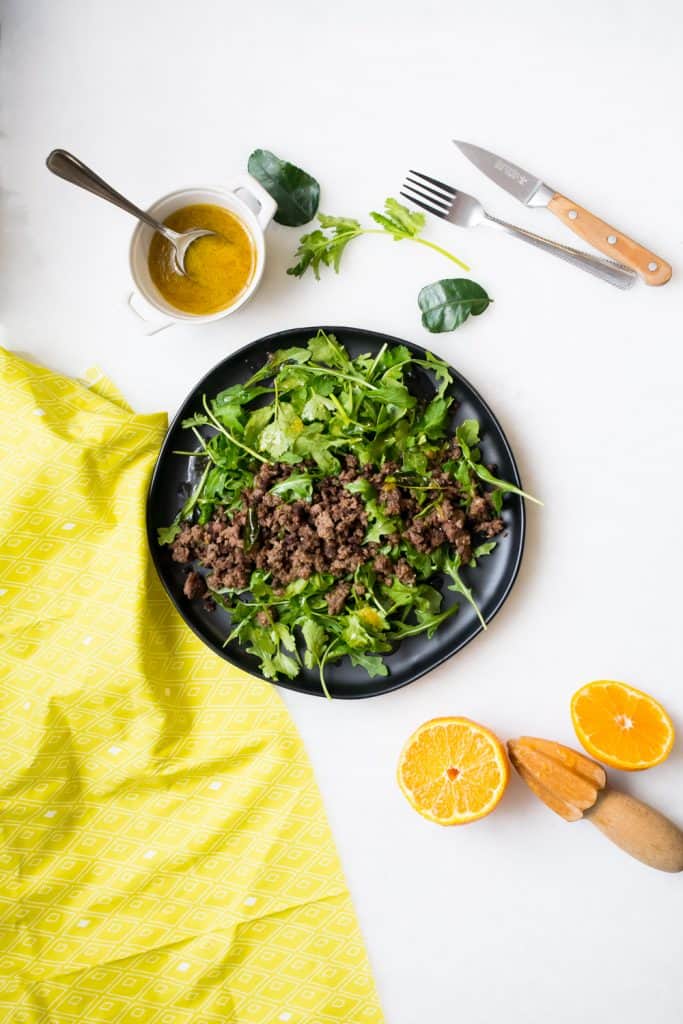 Beef is Boss
Yup, grass-fed beef is high in omega 3, CLA's (which reduce cardiovascular risk) and important fat-soluble vitamins A and E. I trust Butcher Box to deliver grass fed, grass finished beef to my door. You can get a special offer with them HERE.
While I believe quality meat is an important part of a healthy diet, let's not forget the greens! Did you know that the heme iron from red meat, what gives it it's color, has been linked to cancer and other diseases? Get this though, the chlorophyll in green plants, like arugula, Heme induced cytotoxic events. So, eat your greens folks! (sources)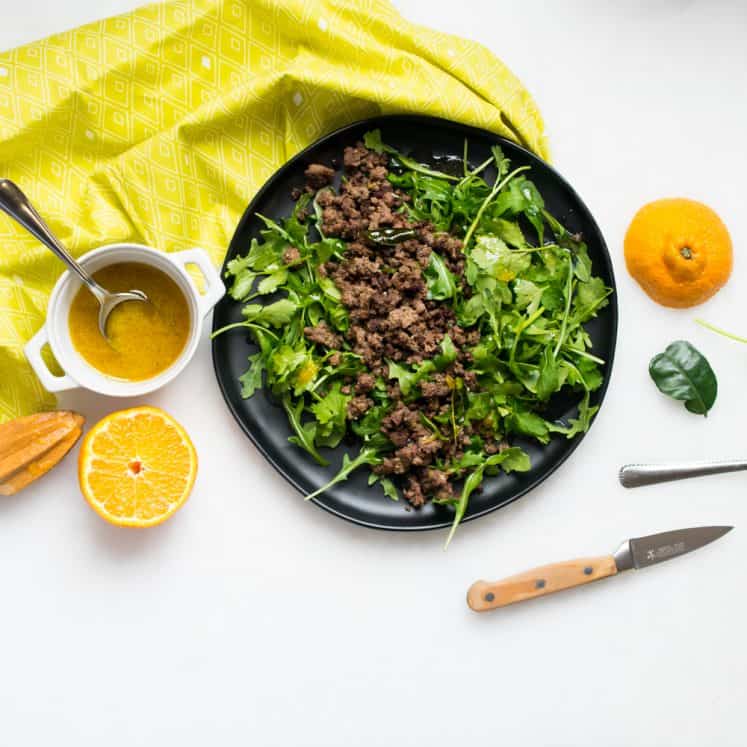 Citrus Ground Beef Salad (Keto, Paleo, Egg Free)
---
Author: Cristina Curp
Prep Time: 8
Cook Time: 10
Total Time: 18 minutes
Yield: 2 Salads 1x
Category: Entree
Method: One Skillet
Cuisine: Seasonal
Description
A delicious, low carb and a nutrient dense winter salad with bold Thai flavors!
---
Scale
Ingredients
For the Thai Beef:
2 tablespoons extra virgin olive oil
2 teaspoons minced garlic
2 lime leaves (Thai lime leaves or kefir lime leaves) or 1 lime zested
1 teaspoon ground cumin
1 teaspoon ground ginger
1 teaspoon fine salt
zest of one orange
1 tablespoon fish sauce
1 pound grass fed ground beef
For the Orange Vinaigrette:
3 tablespoons of juice squeezed from your orange
2 tablespoons extra virgin olive oil
1/4 teaspoons fine salt
1/4 teaspoon ground black pepper
1 tablespoon toasted sesame seed oil
For the Salad:
4 cups fresh arugula
8 sprigs fresh cilantro
---
Instructions
Heat a large skillet over medium heat.
Drizzle the olive oil in the skillet and when it comes to temperature, add in the minced garlic, lime leaves, cumin, ginger, salt, and orange zest. Cook here, toasting and lightly browning until very aromatic.
Add in the fish sauce and stir to unstick any seasoning from the skillet.
Crumble in the ground beef and cook, breaking up and stirring with a spatula until browned (about 5 minutes). Then keep cooking, stirring occasionally for another 5 to 8 minutes until parts of the beef are very crispy.
While the beef cooks mix the orange juice with the salt and pepper and whisk in the olive oil and sesame oil to combine.
Place the arugula and cilantro on two plates. 2 cups of greens for each person and 4 springs per plate, you may leave them whole or tear then with your hands.
Spoon the crispy beef over the greens, 1 cup cooked beef per person then spoon the dressing liberally over each dish. Enjoy!
Recipe Notes:
Awesome additions:
Avocado
Toasted Cashews
Pumpkin Seeds
Nutrition
Serving Size: 1 salad
Calories: 749
Fat: 58
Carbohydrates: 7
Fiber: 2
Protein: 47
Keywords: ground beef salad