There's just something about big, composed bowls, full to the brim with colorful veggies, saucy goodness, and hearty protein. It's definitely my favorite way to put together a meal. This bowl however has a slightly different anatomy than your basic Buddha bowl. It's a Spiced Beef Bowl with Veggies all over!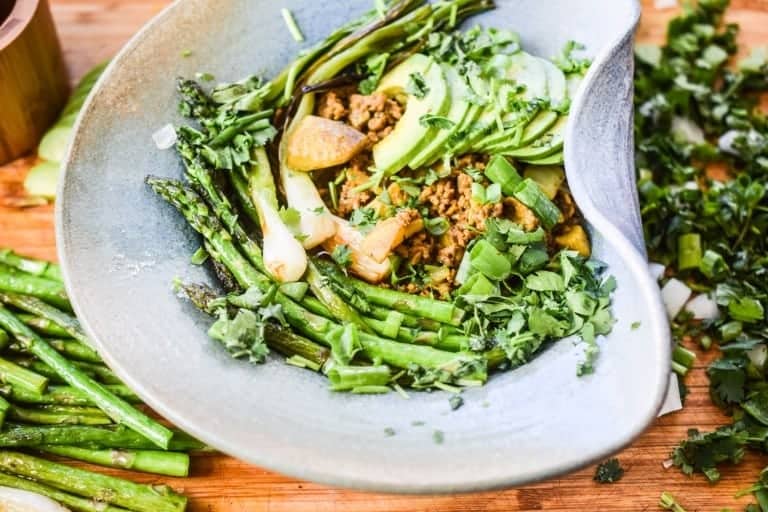 How To Build a Bowl
The base is a creamy mixture of browned beef with artichoke hearts and onion. Seasoned with garam masala, Chinese five-spice, pink salt, and black pepper and cooked down with bone broth and coconut milk.  Piled on top are simply seared vegetables. Asparagus and green onion cook quickly and lend themselves perfectly to the robust flavors of this dish. Avocado, cilantro, and a squeeze of lemon are optional, but highly recommended!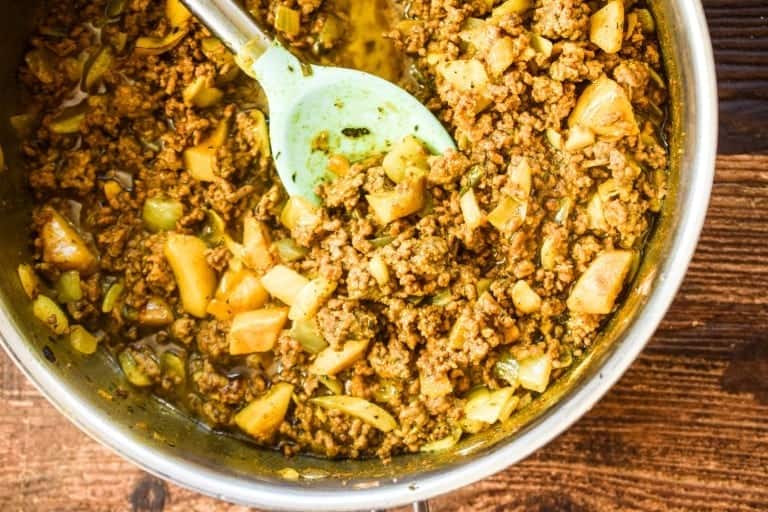 Life with a Little Spice
I used Primal Palate Garam Masala + Chinese Five Spice for this recipe. I love their products. These spice blend are not AIP, but they are nightshade-free. However, Primal Palate does make a few AIP spice blends…. my favorite is the Super Gyro…. it's like crack. Seriously, I put it on EVERYTHING… until I run out. Anyway… you can find their products in some stores, or on their website HERE. Or you can get them on Amazon Prime HERE (AIP)  or HERE (TASTE OF ASIA). I used two skillets, a cutting board, knife, tongs and a spatula for this dinner. Not too shabby. You can use one skillet if you really want to, but it will take longer to get dinner on the table. Just sayin'. Up to you! So, here it goes!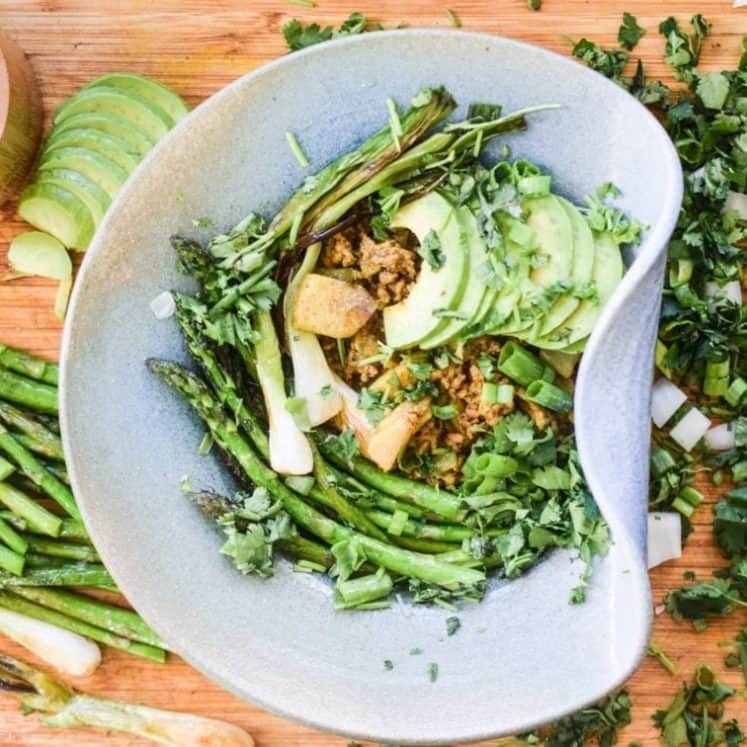 Spiced Beef Bowl
---
Author: Cristina Curp
Prep Time: 15 minutes
Cook Time: 20 minutes
Total Time: 35 minutes
Yield: 6 servings 1x
Category: entree
Method: skillet
Cuisine: fusion
Diet: Gluten Free
Description
Grain free, protein packed power bowl
---
Scale
Ingredients
2 tbsp grass fed butter (or coconut oil)
1 large sweet onion
8oz grilled artichoke hearts
2lbs 85% lean ground beef
1 tsp garam masala
1/2 tsp Chinese five spice
1 tsp black pepper
2 tsp pink salt
1/2 cup broth
1/2 cup coconut milk (full fat, canned)
For the seared vegetables
12 asparagus spears, trimmed (I cut off almost half of the stalk)
8 stalks green onion (trim the tops so they will fit into the skillet, save them)
2 tbsp coconut oil
more salt, to taste
1 ripe hass avocado
1/2 cup minced cilantro
---
Instructions
Heat a large skillet over medium heat, this will take 8-10 minutes, especially if you're using cast iron or multi-clad skillets. Use this time to peel and dice your onion.
Once the skillet is hot, you can test this by sprinkling some water in it, when it beads you know it's ready. Add in the butter and then the onion. Cook, stirring often until tender, about 6 minutes.
Next add in the ground beef, break it up with your hands as you add it in, don't just throw in the block of beef. Quickly begin to stir and continue to break it apart with the spatula (or a whisk).
Add in all the seasoning and mix in. When the beef is browned add in the artichoke hearts. If yours come in water, drain the water before adding them in. Stir well and bring the heat up to medium high. Keep stirring for another 5 minutes. At this point set a second skillet to heat for the veggies.
The beef mixture should be a nice dark brown by now and their might be some build up on the bottom of the skillet, that's good! Now add in the broth, as you stir it in, scrape the bottom of the skillet to un-stick all the goodness from the bottom and mix it in to the liquid.
Bring to a simmer, let the broth reduce by half. While this is simmering Let's make those veggies. The skillet should be hot by now, so add in the coconut oil. Then add in all of half of the asparagus, depending on the size of your skillet. Sprinkle with salt, like salt bae, for way up high. Let them sit for 3 minutes, then turn over. Repeat. Remove from heat. Do the same thing with your green onions.
Okay! Back to the beef. Add in the coconut milk, stir in and remove from heat. Let it sit for a few minutes, you can take this time to finish up the seared veggies.
Set those on a platter or cutting board. Ladle your beef and artichokes into 4 bowls. Arrange asparagus and green onion around the edges. Sprinkle with cilantro. If you're adding avocado, this is the time to halve it, remove the seed. Peel the skin off by pulling back on it carefully. Place it cut side down on the cutting board. Slice it horizontally and gently slant in down. Then use your knife to pick up quarters of it and place it on your bowls.
Boom. You're a Spiced Bowl Making Boss!
Nutrition
Serving Size: 1 bowl
Calories: 512
Fat: 37g
Carbohydrates: 14g
Fiber: 5g
Protein: 32g
Keywords: spiced beef bowls