Anatomy of a Low Carb Power Bowl: We all know that everything tastes better in a bowl. It's science.
Bowls allow you to combine hot and cold, fresh and cooked, tender and crispy and mix it all together with the sauce.
That's right, the glue to any power bowl is a good sauce. Sauces are the MVPs of a good ketogenic diet. A fabulous flavor-boosting – nutrient dense vessel for your fat. At the bottom of this post, I'm sharing a recipe for the perfect power bowl sauce. Chimichurri Avocado Cream. Yes!
But first, lets talk shop. How do you create the perfect bowl… that isn't full of grains??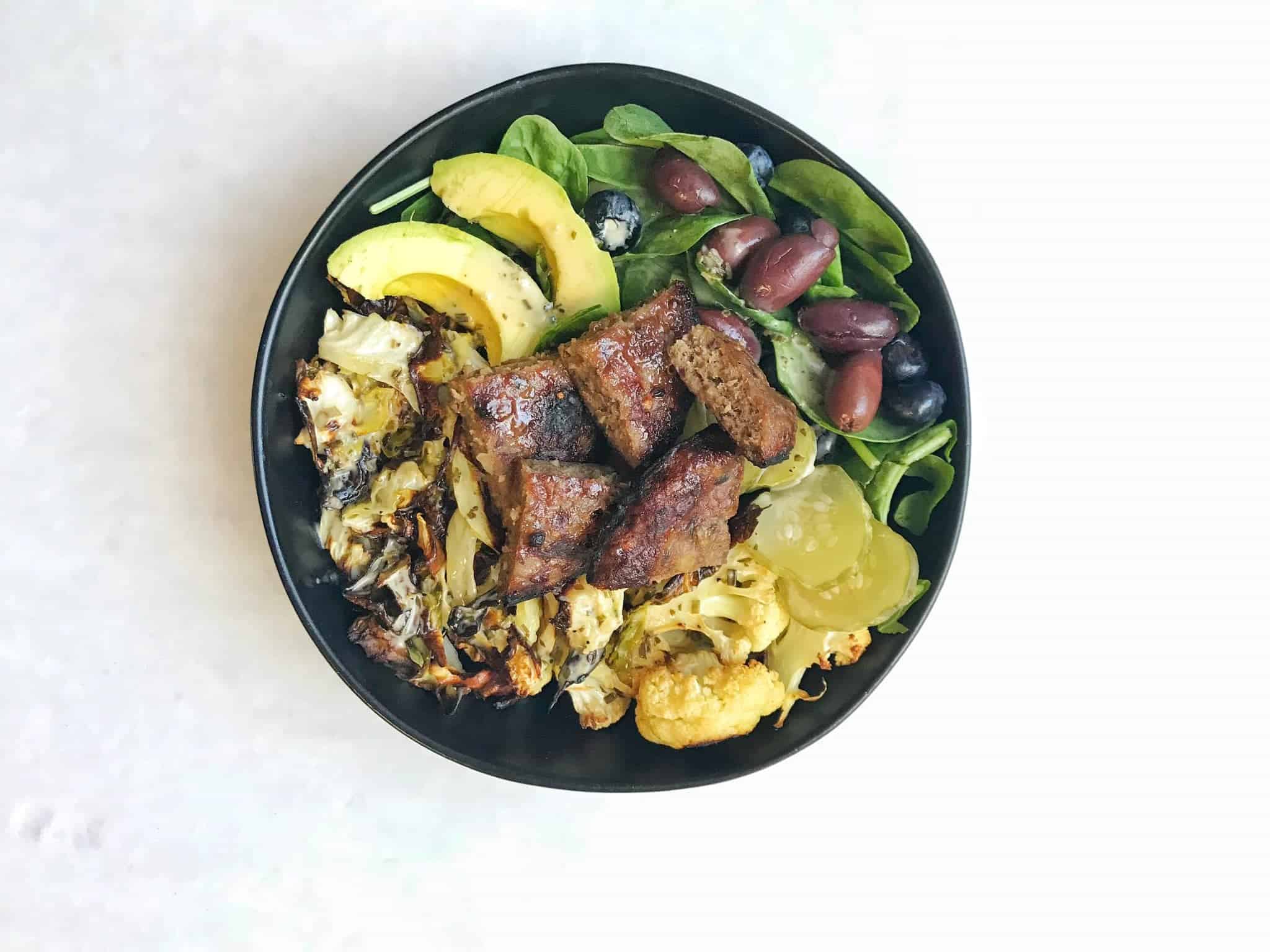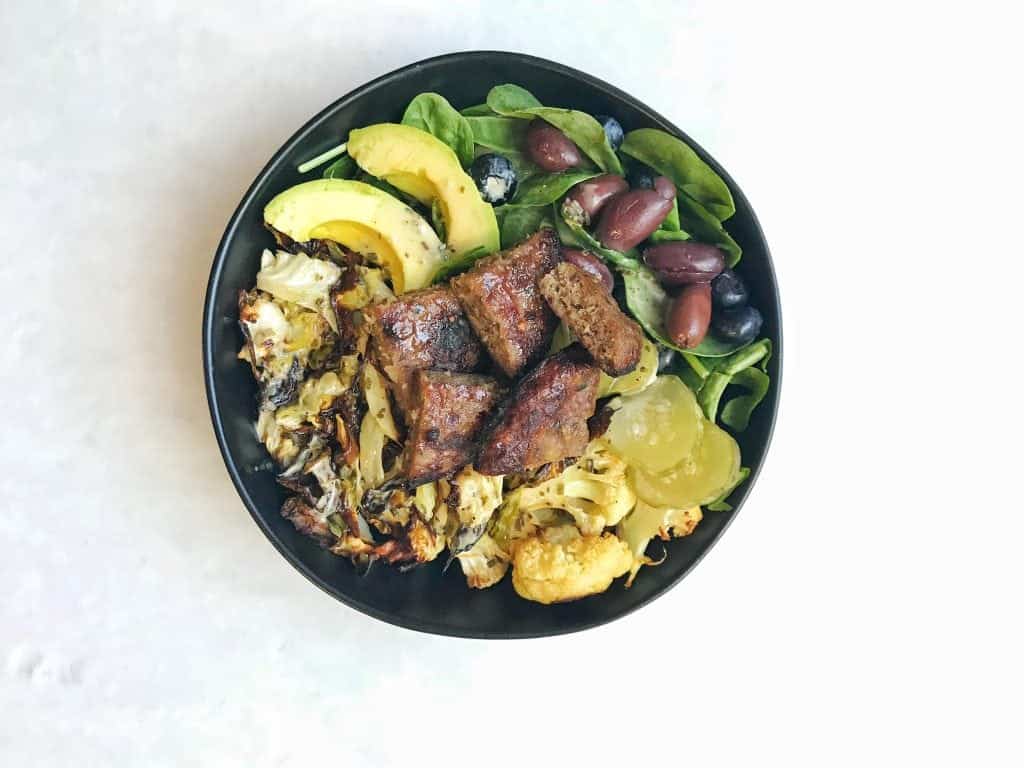 The Base:
First, we need a base. A vegetable that will be the bulk of this meal. Something that takes up space in the bowl and that will help fill you up. Something with a texture that can be made in a hands-off manner (ie. Instant pot or oven). Something that has a good texture. Roasted veggies. Noodles, or noodle like foods. So let's check out our most viable options and how to make them!
Roasted Cauliflower Rice: toss on a sheet pan with avocado oil, salt and garlic powder. Toss and spread out. Roast at 400F. for 20-30 minutes.
Roasted Diced Vegetables: toss on a sheet pan with avocado oil, salt, and garlic powder. Toss and spread out. Roast at 400F. for 35-40  minutes.
Pressure Cooker Pumpkin: quarter an acorn squash or kabocha squash, seed it and put in in the pressure cooker with 1 cup water. Cook on high for 10 minutes. Remove, spoon out tender meat. Drizzle with oil and salt.
Pressure Cooker or Roasted Spaghetti Squash: poke holes in your squash, put the whole squash in the pressure cooker with 1 cup water. Cook on high for 10-15 minutes. Carefully remove. halve, seed and then use forks to pull out the "spaghetti". Toss with olive oil, salt, pepper.
Crispy Cauliflower Pilaf (coming soon)
Crispy Broccoli: cut into florets, toss with avocado oil, garlic powder, salt and massage oil and seasoning into florets. Spread out on a sheet pan, florets facing down. Roast at 400F, 30-40 minutes.
Shredded Cabbage: toss on a sheet pan with avocado oil, salt, and garlic powder. Toss and spread out. Roast at 400F. for 35-40  minutes.
Shirataki Noodles: open bag and drain fluid. Soak the noodles in cool water. Rinse then drain. Saute in coconut oil over high heat. Add a splash of coconut aminos, salt and pepper.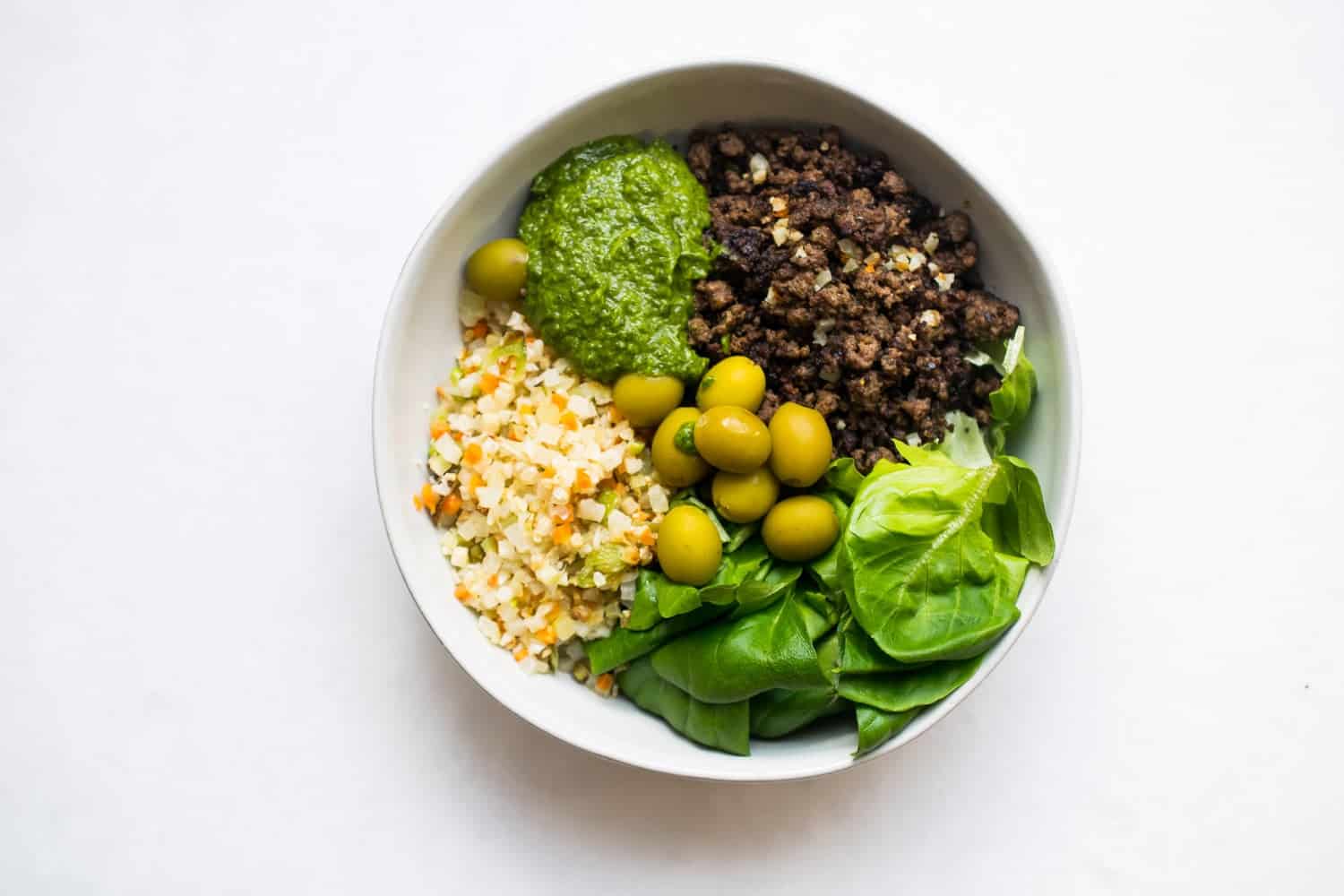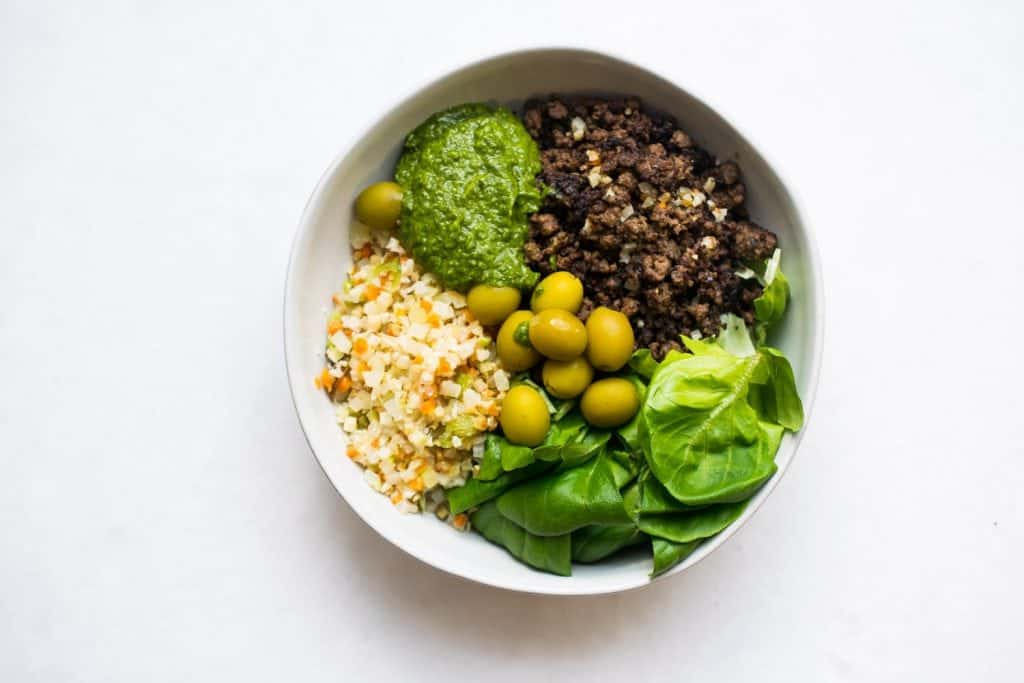 The Greens
You need something green. It's a rule. I often like 2-3 green components. For example a green base and a green sauce too… but I'm getting ahead of myself. You want something fresh, crisp, and preferably raw. But some crispy kale works too.
My favorite green for bowls is arugula. It's spicy, it's soft. Arugula is the best.
Chopped baby spinach! Mild in flavor and texture.
Shredded lettuce, the vanilla of greens.
Massaged kale, see Made Whole for details.
Shredded cabbage, you can even get fancy with purple cabbage.
Or you can get REALLLLLYYY creative with chards, endive, radicchio etc. I'm not a huge fan of the bitter greens served raw, but they are nutritious.

Ferments, Citrus, and other delicious tangy things…
A Touch of Sweet
Fresh berries
Go with roasted root veggies for a carb up or add diced apples
Add a splash of coconut aminos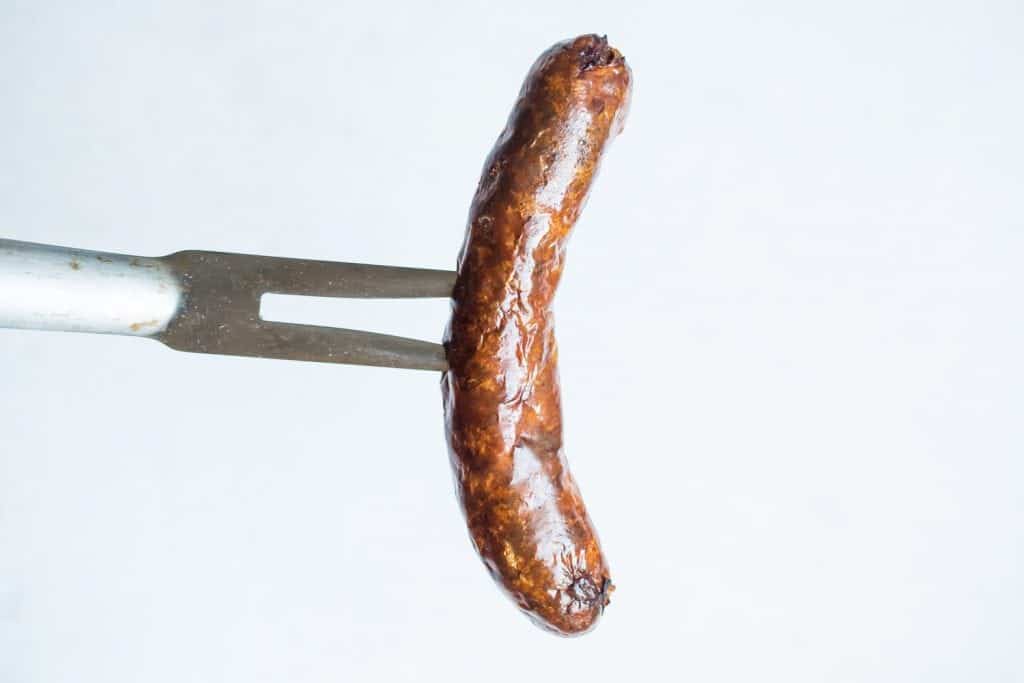 Proteins!
I like to go shredded or go crispy. But you know me… I usually go crispy!
Since these bowls have so many components I like to use easy protein or leftovers to cut down on prep. Leftover shredded meats, crisped up in a cast iron are awesome.
Meal prep roasted chicken, ground beef or even canned salmon work. You can add fried or hard-boiled eggs, even a bunch of scrambled eggs.
But my all-time favorite proteins for power bowls… bratwurst or frozen burger patties! I like my brats crispy, I roast them in the oven along with the base and oh- em- gee. 400F, tossed in avocado oil. 35-40 minutes. Get it.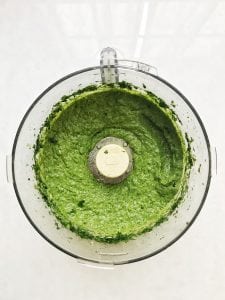 Fats!
Sauce: like the one below, ranch dressing or your favorite sauce!
Mayo: you can make homemade or use primal Kitchen
Avocado: diced up or made into guac!
Assembly!
The base of your bowl should be half greens and half base veggies.
Then you add the tangy component in a small amount on one side, the sweet component to the other. Protein on top and finish off with a healthy dose of fat!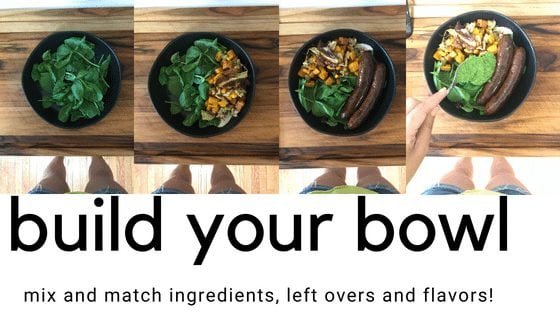 Creamy Avocado Chimichurri Sauce
---
Author: Cristina Curp
Prep Time: 5
Total Time: 5 minutes
Yield: 1 cup 1x
Category: sauces
Method: no cook
Cuisine: Latin
Description
The perfect tangy herb sauce for your low carb power bowls
---
Scale
Ingredients
2 bunches of fresh parsley
5 cloves garlic, peeled
1 large, ripe avocado
¼ cup coconut vinegar or apple cider vinegar
Juice of 1 lemon
½ teaspoon salt
½ cup olive oil
---
Instructions
Pulse parsley in food processor until fine mince. Add garlic, avocado, and pulse for 20 seconds.
Add in the lemon juice, vinegar, and salt. Blend on high while you drizzle in the oil slowly, until thick and smooth.
Store in a jar in the fridge for 2-3 days. Or freeze, thaw in the fridge overnight.
Nutrition
Serving Size: 1 tablespoon
Calories: 88
Fat: 7g
Carbohydrates: 5g
Fiber: 2g
Protein: 2g