Sugar-free pickled beets and carrots are not to be unappreciated! These are so easy to make, have great flavor and are the perfect addition to salads and snacks.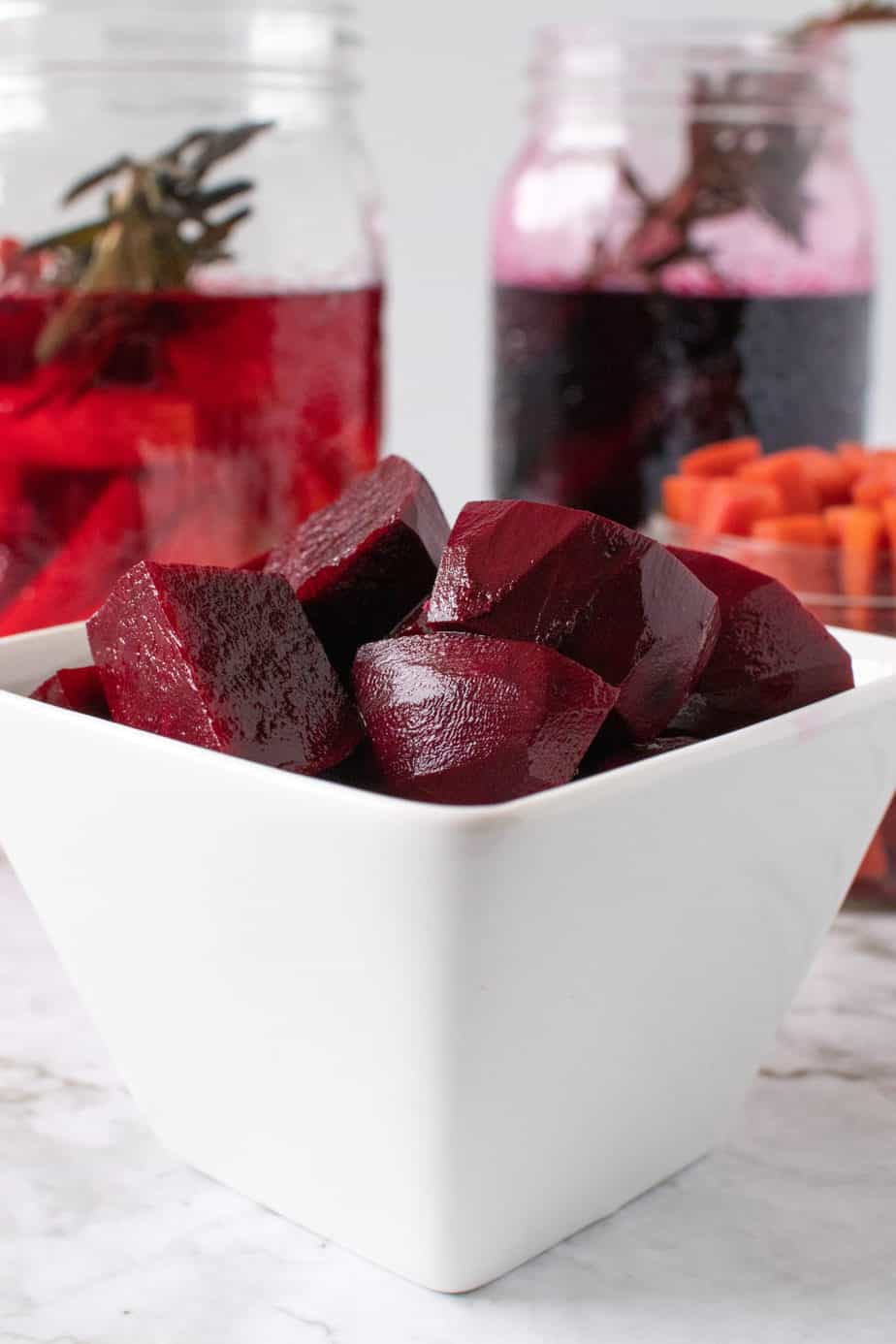 The Snack You Need
These sugar-free pickled beets are squeaky clean, paleo, Whole30, and yes! Even great for a low carb and keto diet. They have been absolute lifesavers during my AIP KETO RESET! Red onions are a staple in my kitchen as is obvious by my Instagram feed (@thecastawaykitchen), along with Garlic Confit. Both highly coveted recipes appear in my first book Made Whole. Adding these sugar-free pickled veggies to your rotation is an easy way to add color and nutrients to your plate.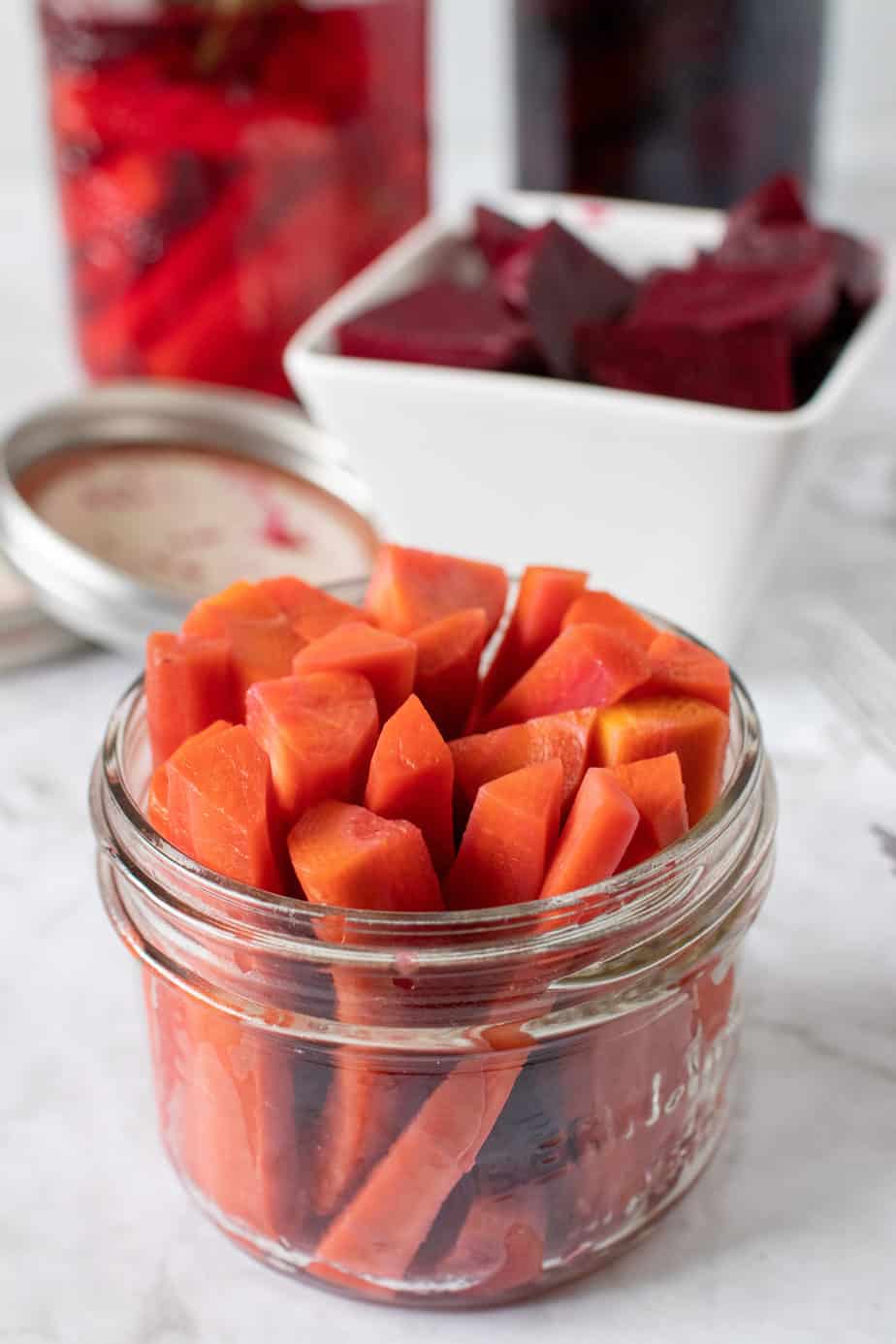 Simple Ingredients for Easy Pickled Beets and Carrots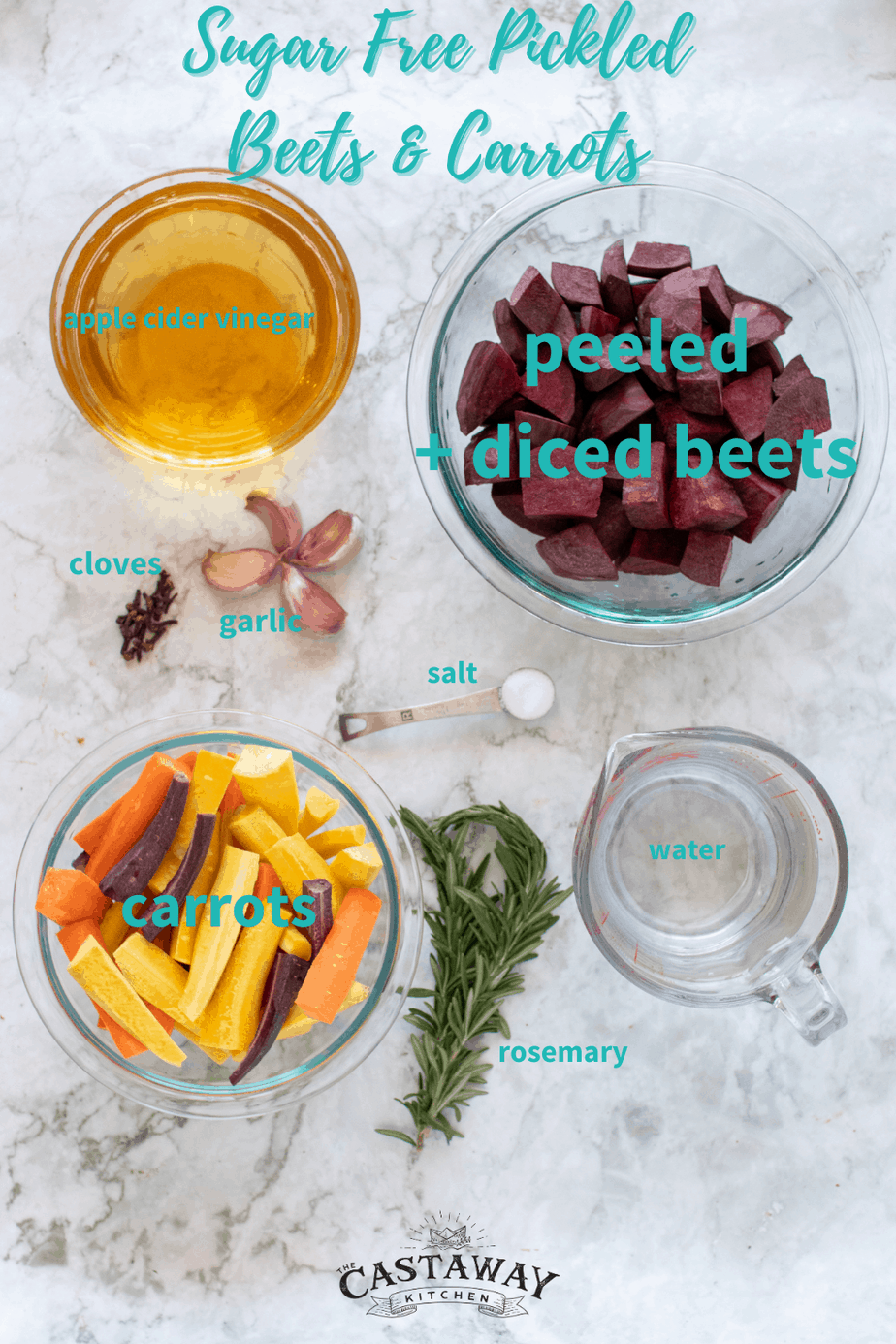 I'm always a sucker for pretty produce. If you can find golden beets, or stripped beets go for it, they're just so pretty! But regular ol' red beets work well too and are just as delicious.
Same for the carrots, I like rainbow carrots, but any carrots will do!
You need apple cider vinegar, I use Braggs with the Mother, the mother simply means strands of protein (which contain enzymes and beneficial bacteria) in organic apple cider vinegar which consists of cellulose and acetic acid.
Rosemary, garlic and clove give these sugar free pickled beets and carrots their flavor! No sugar needed, these root veggies bring their own sweetness.
Step by Step Pickled Veggies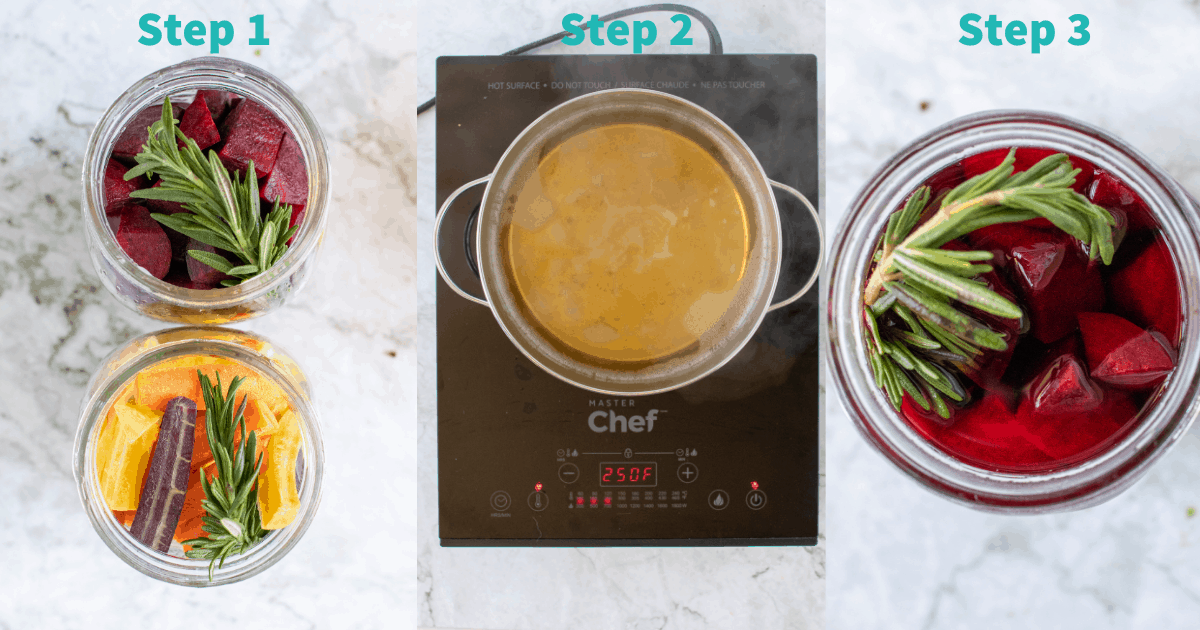 Peel and cut your vegetables and put them in sterilized mason jars. Add 2 cloves garlic to each jar, 1 clove, and a sprig of rosemary.
In a saucepot over medium heat, simmer the water, vinegar, and salt, until the salt is dissolved.
Pour the brine over the vegetables and let it sit at room temperature with the lid open for 30 minutes.
Then close the lid and put them in the fridge. These are quick-pickled beets and carrots. They retain their crunch and taste tangy. If you want instructions for canning beets, check out this process, just use my ingredients.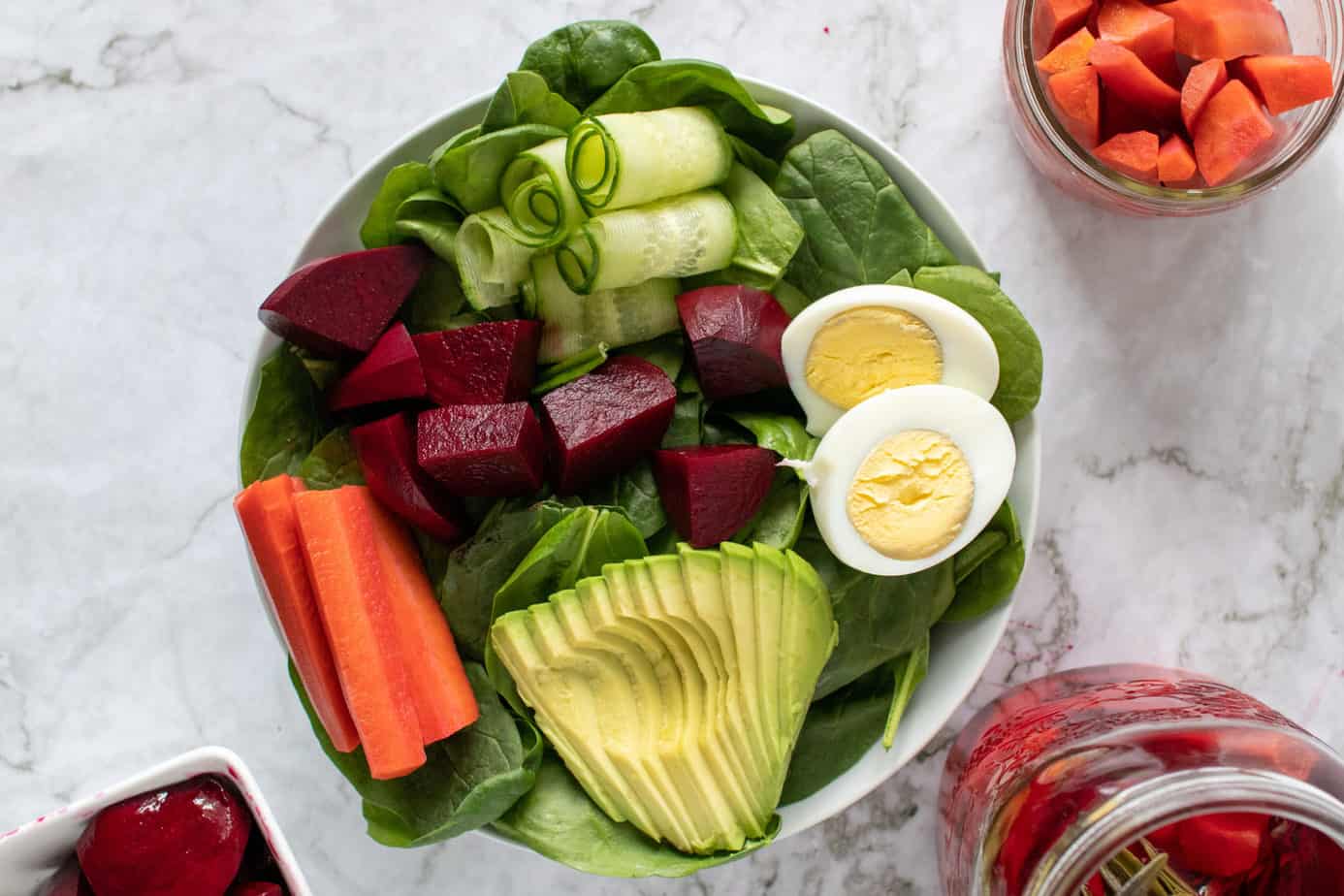 Why Veggies Rule!
Beets are about 13g of carbs per cup, but about 1/3-1/2 of these babies are more than sufficient to add color to your plate, salad or to dip in pate (my favorite way to eat them). However, they deliver a healthy dose of potassium, folate, and vitamin C!
Carrots are about 10 grams of carbs for two medium carrots, these pickled carrots are cut into carrot stick so a serving of 4 sticks will be about 5 grams of carbs, and carrots have Vitamin A, beta-carotene, calcium, and potassium!
I don't know about you, but I rather eat my veggies (and offal) than take a whole bunch of supplements for the rest of my life. Nature truly provides everything we need to thrive and these colorful root veggies are a great way to get them in. These Sugar-Free Pickled Beets are the perfect way to get nutrients on your plate!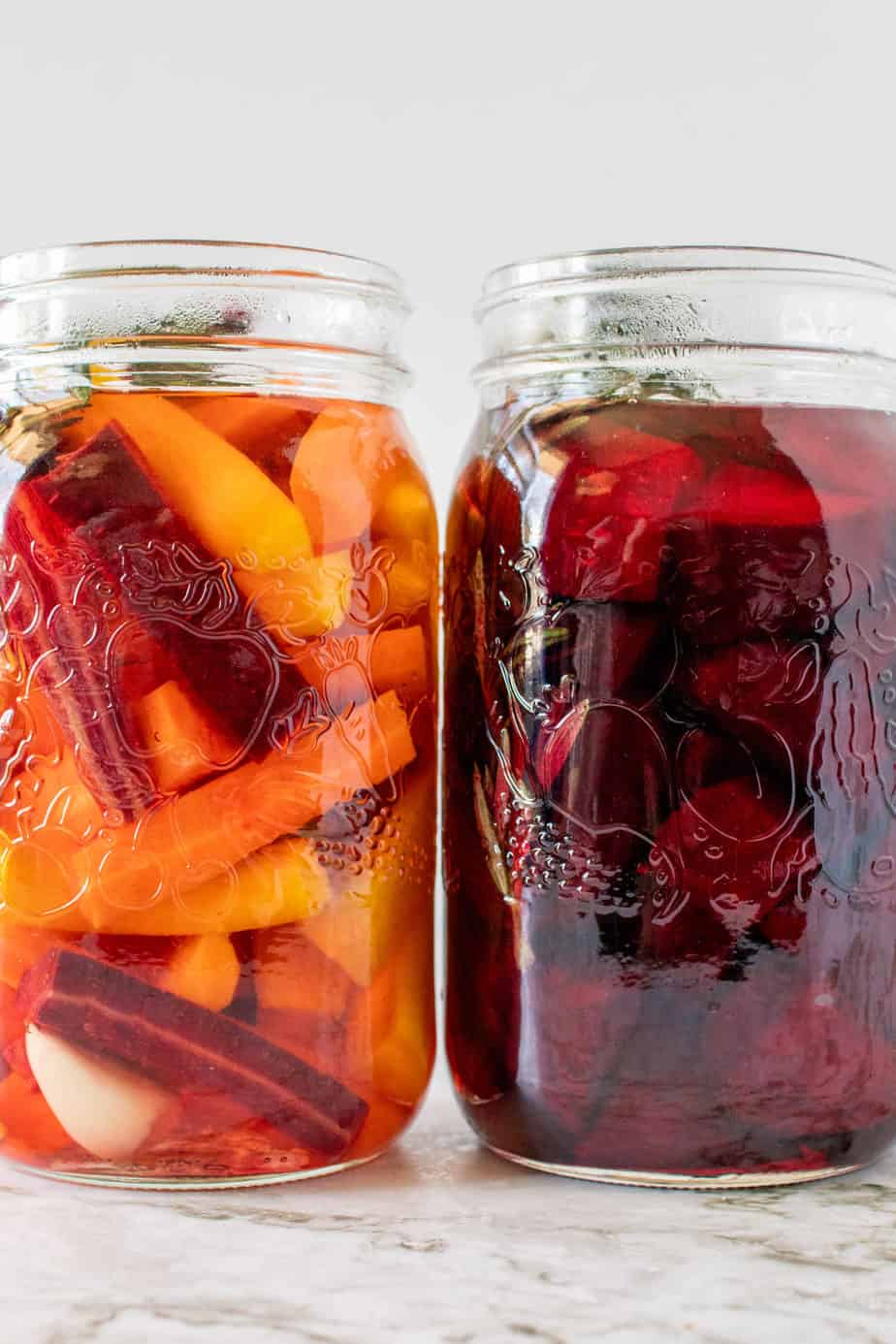 How To Enjoy Sugar Free Pickled Beets (and Carrots)
I love slicing up some beets over my salad or using carrots or beets to scoop up pate or other fatty dips. They are a great burger or taco topper and add a huge pop of color to any plate! They are tender and tangy, and for some reason, the pickling process really brings out their natural sweetness!I was lucky enough to get some beautiful farm-fresh beets for this. I used golden beets and Chioggia beets (the stripped or peppermint beets). I find them to be less earthy! I also used rainbow carrots… for well.. fun and color!I have a theory that if you eat by color, the more color the better, the more nutritious your meal will be!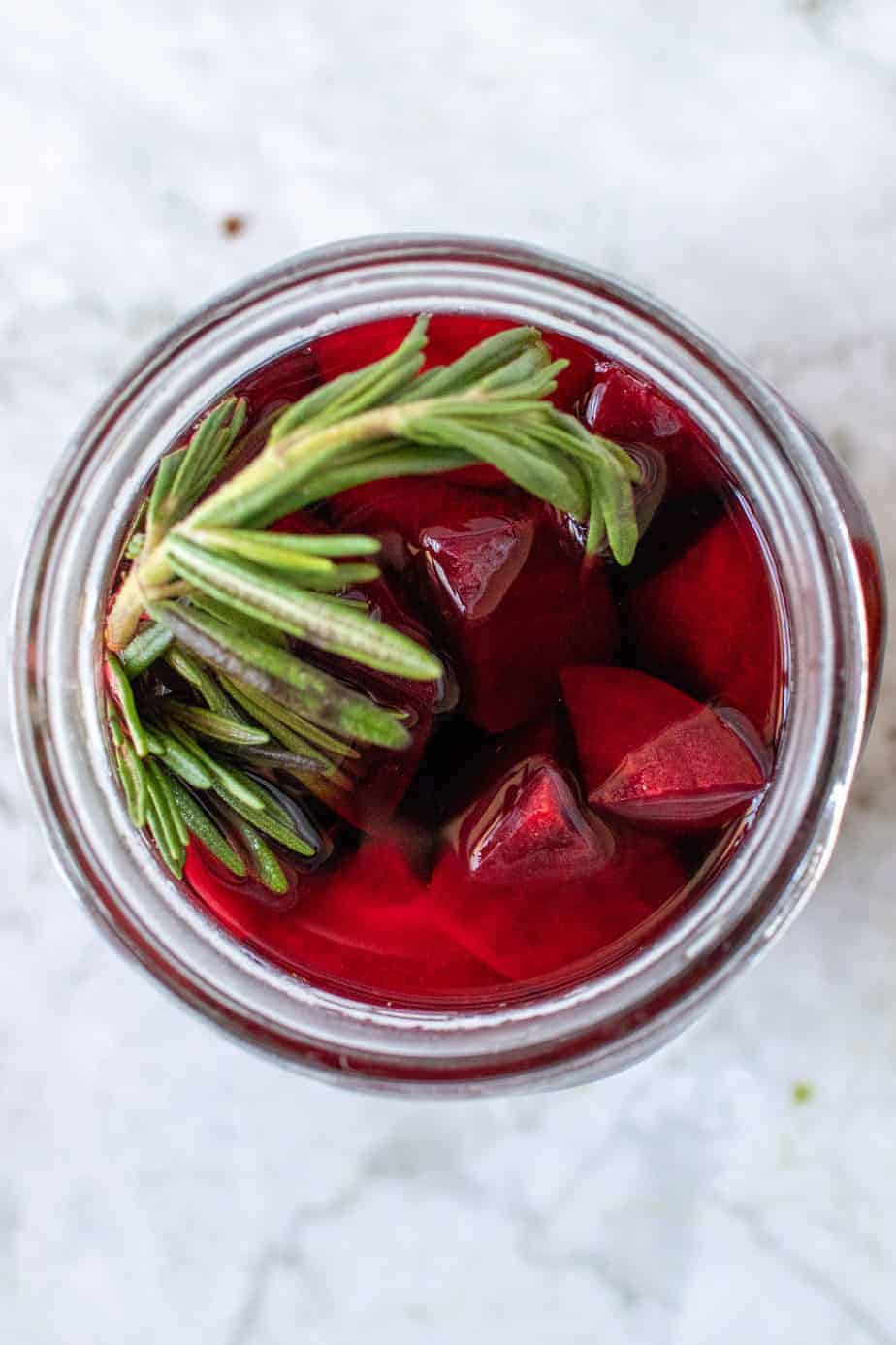 Frequently Asked Questions
Can I store these in the pantry?
No, these are quick-pickled beets. If you want to can them they need to be processed, meaning once the jars are full, and sealed, they need to be boiled. This post explains that process.
Are they sweet like the ones I buy at the store?
No, regular pickled beets have a ton of sugar! A lot! Once you start eating paleo your palate changes. These are crisp, bright and tangy!
Can I can these using your recipe?
Absolutely. I will include instructions in the recipe card.
Can I add sugar or sweetener to this recipe?
Yes, you can add a few drops of stevia or 1 cup of your preferred sweetener for a more traditional pickled veggie!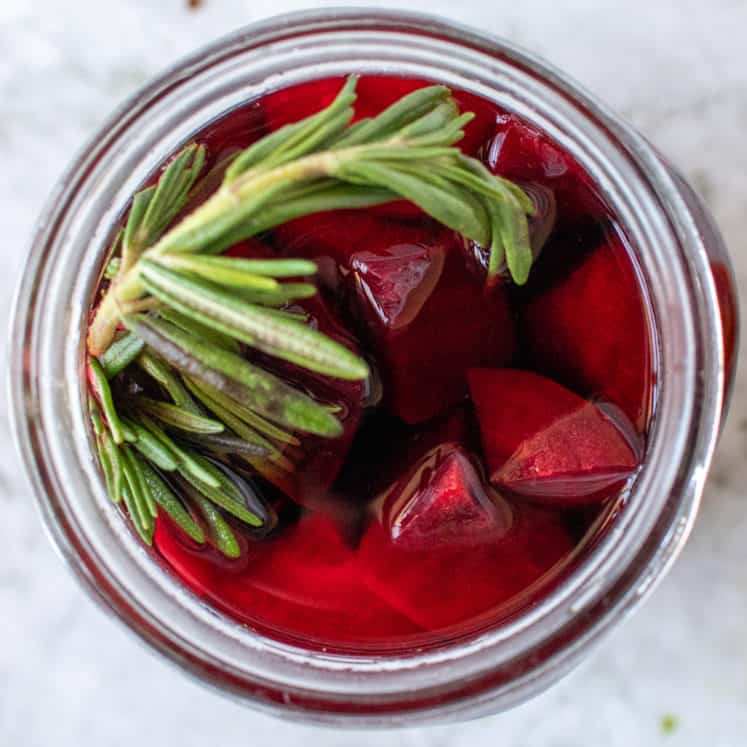 Sugar Free Pickled Beets and Carrots
---
Author: Cristina Curp
Prep Time: 10
Cook Time: 10
Total Time: 20 minutes
Yield: 2 quarts 1x
Category: Snacks
Method: Pickled
Cuisine: American
Diet: Gluten Free
Description
A quick pickle recipe for your beets and carrots without sugar!
---
Scale
Ingredients
2–3 cups peeled and diced beets 
4–6 carrots, peeled and cut into sticks
2 cups filtered water
2 cups apple cider vinegar
1 teaspoon fine salt
4 cloves garlic
2 cloves
2 sprigs fresh dill or rosemary, optional
---
Instructions
Quick Pickle Instructions
Add the beets to a sterilized quart-sized jar. Add the carrots to another. Add 2 cloves garlic, 1 clove, and 1 sprig of herbs to each jar as well.
Heat the water and vinegar over medium heat in a 2-quart saucepot. Add in the salt.
Bring to a light simmer and stir until salt is dissolved for about 8 minutes.
Pour the brine into the jars until the veggies are submerged.
Let them sit out for 30 minutes on the counter. Then cover with a tight-fitting lid and store in the fridge.
Always use a clean fork to retrieve veggies, and these will last several weeks.
Canning Instructions
Start by boiling your beets and carrots for a few minutes. Then draining and placing in sterilized jars (see notes for how to do this). 
Make the brine as instructed above, and pour it over the veggies. Close with a tight-fitting lid.
Bring a large pot of water to boil, with a rack on the bottom, put the jars in the boiling water (carefully), you want the water to come up to an inch from the top. Process for 10-15 minutes.
Remove from the water, let cool, and store in a cool, dry place. 
Recipe Notes:
The best way to sterilize a mason jar for pickling and canning is to submerge it in boiling water. A great tip to have a large pot of water with boiling water for this purpose and later to process the jars. 
Nutrition
Serving Size: 1/4 cup
Calories: 45
Fat: 0g
Carbohydrates: 9.3g
Fiber: 1.3g
Protein: 1.2g
Keywords: sugar free pickled beets