I love meals like this.
They're easy to make, they taste PHENOMENAL, and you feel AMAZING! I've been deep into recipe development lately… I have a big project I'm working on now, which I can't talk about yet… but it's got my creative juices flowing and I'm loving the meals I am making lately.
Even I get into slumps.
I cook all day, every day and sometimes it burns me out. Sometimes I wish I could press an easy button for dinner…. but folks… I don't have that option. Better yet… I CHOSE to not give in. If I need easy I will scramble some eggs for dinner, what I won't do is call up Papa Johns. I've discovered that what is worth it to me and what is now… easy, homemade meal… worth it. Easy, delivery pizza that will incur gluten, nightshade and dairy reaction… NOT WORTH IT. Not to mention, it would likely start up a whole vicious cycle of bad choices.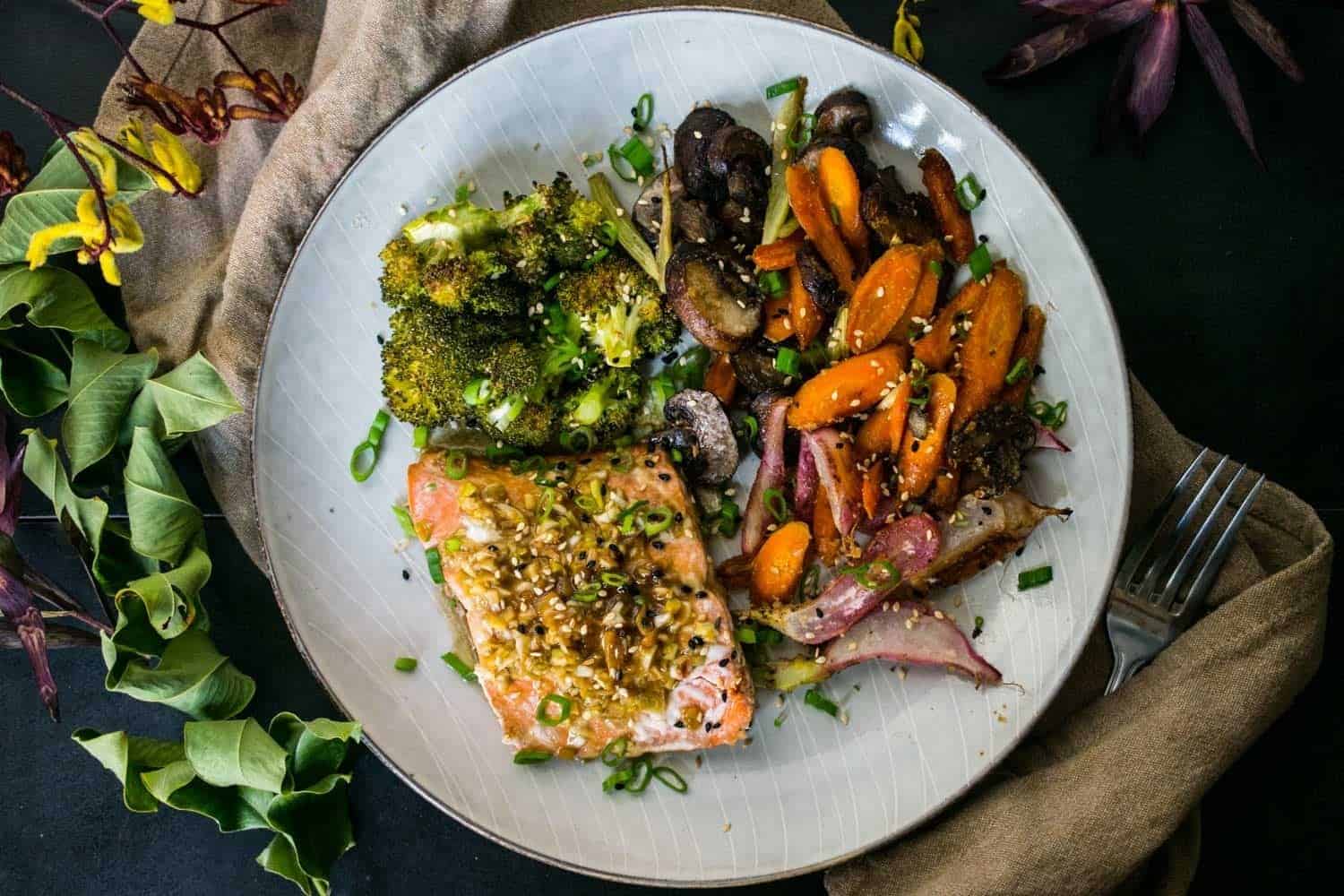 None of this has been easy for me.…I have had to fight, claw, push and try, try, try for every little victory. I don't lose weight easily. I don't heal easily. I have had to give it 110% for three years and I'm still going. Maybe those hardships were a blessing in disguise. Maybe if it had all been easy for me I would have reverted back to my old ways. Maybe the need to never give up, never fall off the proverbial wagon is what ingrained this lifestyle… it's etched in stone. Don't get me wrong, I throw the occasional pity party, but in the grand scheme of things, I've built the life I wanted, and it all started with changing my eating habits.
There is something extremely LIBERATING about not being on a diet, and this just being the way I eat.
Meals like this… they make this journey doable… and enjoyable!
This meal is super family friendly, my kiddo loved the salmon cooked this way and roasting the veggies like this makes sure you can make a variety of veggies without serving anyone something they don't like (ie. my husband hates mushrooms).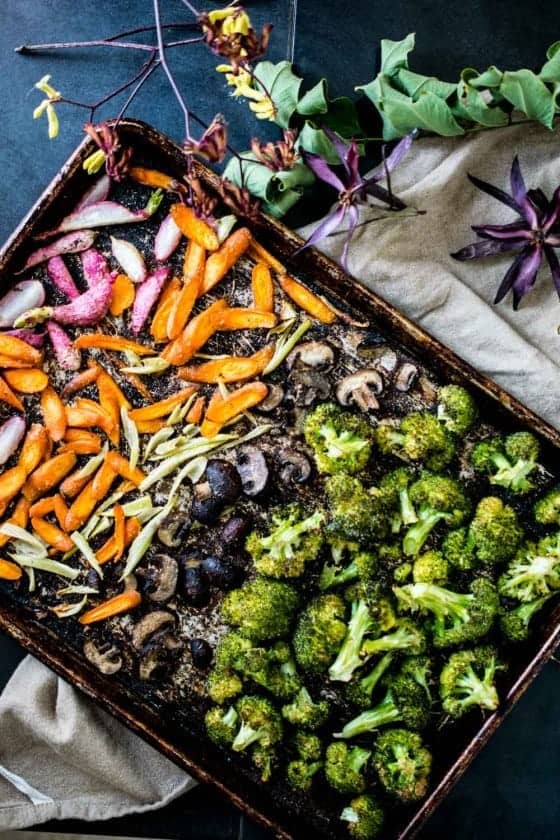 Ginger Glaze Salmon with Rainbow Roasted Veggies (Whole30, Paleo, Low Carb)
---
Author: Cristina Curp
Prep Time: 10
Cook Time: 30
Total Time: 40 minutes
Yield: 4 servings 1x
Category: Entree
Method: Oven
Cuisine: Asian Inspired
Description
Colorful and delicious ginger glazed salmon! A weeknight meal!
---
Scale
Ingredients
For the Salmon + Glaze
4 filets (about 1lb total)
4 bulbs green onion, minced (save the green stalks for garnish)
½ lemon, juiced
1 tbsp. minced ginger
4 cloves garlic, minced
½ tsp minced lemongrass (green part)
1 tbsp. compliant Dijon mustard (I use this one)
3 tbsp. coconut aminos
2 tbsp. coconut oil, divided (I use this one)
A little salt (I use this one)
For the Veggies:
1 crown broccoli cut into florets
6 baby bella mushrooms, sliced
4 medium carrots, sliced
6 radishes, cut in half
4 ribs celery, sliced
4 cloves garlic, minced
1 tsp salt
1 tsp black pepper
1 tsp garlic powder
3 tbsp. coconut oil
Splash of Red Boat Fish Sauce
---
Instructions
Heat your oven to 400F. Have one rack in the center and one on the bottom.
Arrange your veggies in a row on a sheet pan. Sprinkle with seasonings and drizzle with fish sauce and coconut oil. Bake on the middle rack for 30 minutes.
Mix all of the ginger glaze ingredients in a small bowl.
Pat your salmon dry, sprinkle a little salt over the fish. When there is about 10 minutes left on your veggies, heat a cast iron skillet over medium heat until it comes to temperature. Add in the remaining tablespoon of fat. Place your salmon skin side down on the hot skillet. Cook here for 4 minutes. Then spoon the glaze over the salmon and pop the skillet in the oven on the bottom rack. Cook for another 4 minutes.
Remove everything from the oven, serve, dig in! I like to spoon the extra sauce from the skillet over the fish once it's plated!
Nutrition
Serving Size: 4
Calories: 438
Fat: 27g
Carbohydrates: 17g
Fiber: 7g
Protein: 36g
Keywords: Ginger Glaze Salmon