Cinco De Mayo
I used to be huge on 5 de Mayo…maybe because it involved a lot of tequila and dancing. What can I say? There was a Senor Frogs in the neighborhood. But really, I spent a lot of time in Mexico as a kid, my grandmother's best friends from Cuba married a Mexican man and they lived in Guadalajara. We spend several summers visiting them. So I'm quire aware of the fact that 5 de Mayo is bigger deal in the US. Which is cool. I mean, we ALL love tacos, margaritas, chips and salsa! More than 33 million Americans come from Mexican decent, our cultures are interwoven! And I'm all about those big ol' melting pots! Now in the food blog sphere… any reason to make delicious food and photograph it… I'm in!
Whole30 Tacos?
What how do you taco when you can't have tortillas? Not even paleo tortillas? Or cheese… or in may case tomatoes, salsa, or anything spicy! GASP! Well… thank you Taco Bell for the inspiration to this paleo-fied, Whole30 compliant, low carb… and TASTY AF taco. Yeah… ever since I saw that fried chicken Taco Bell commercial I was itching to make myself a healthy version of it. So I did. And it was delicious. The chicken is reminiscent of milanesa. Pounded till thin and tender then breaded. Yum!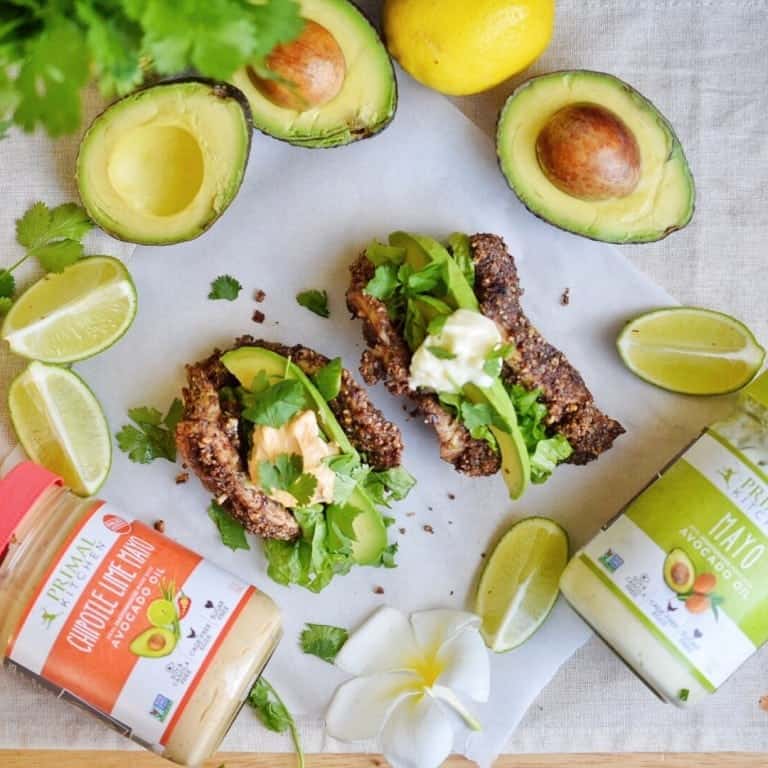 The Giveaway
If you haven't been on Instagram, which you should, I post a lot of purdy pictures there… you'll know I'm running giveaways all month with Whole30 Approved brands. Super awesome right?First up is Primal Kitchen! Because I could not pass up such a play on words…I am bilingual after all ? 5 de Mayo.. MAYO… MAYONNAISE! It's just to good! Or at least for this ol' cheeseball.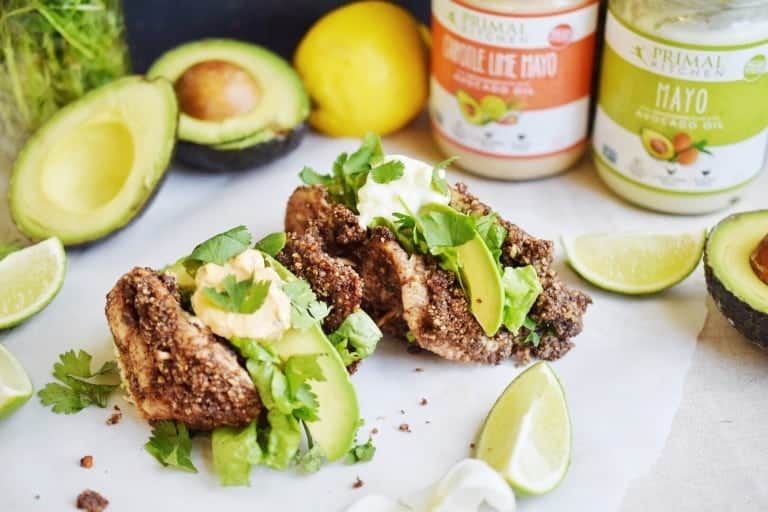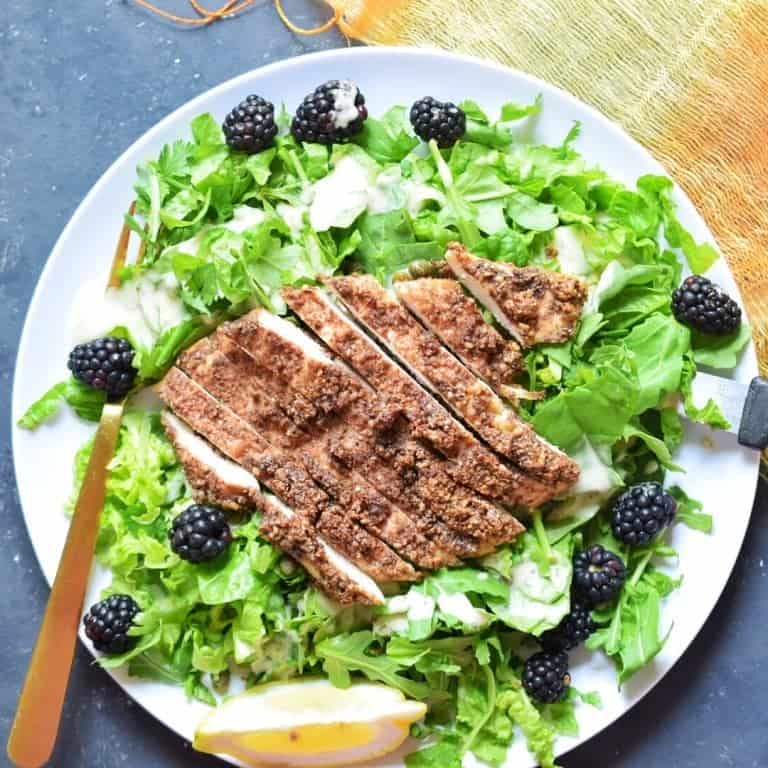 Other giveaways coming up… 6 pack of Bare Bones Broth... a box of Pederson Farms Sugar Free Ready to Eat BACON!… The whole line of PRE brands grass fed beef products … AND Tin Star Foods Ghee!!!! Whoop Whoop!
Naked Crispy Chicken Taco (Whole30, Low Carb/Keto, Paleo)
---
Author: Cristina Curp, NTP
Prep Time: 20 minutes
Cook Time: 30 minutes
Total Time: 50 minutes
Yield: 4 1x
Category: Dinner
Method: Bake
Cuisine: American
Diet: Gluten Free
Description
Like Taco Bell? You're going to love these naked tacos!
---
Scale
Ingredients
Crispy Chicken Taco Shell
2 boneless skinless chicken breast
1 egg
1 tsp vinegar
2 tsp water
1 cup whole pecans
1 cup whole cashews
2 tbsp taco seasoning (Primal Palate has a good one!)
Nigthshade Free Taco Seasoning
1 tsp salt
2 tsp black pepper
1 tsp cumin
1 tsp cocoa
1 tsp garlic powder
1 tsp ginger
1 tsp thyme
Taco Fillings
Shredded lettuce
Sliced Avocado
Cilantro
Primal Kitchen Mayo
---
Instructions
Pre-heat oven to 425F
In a food processor combine the nuts and all the seasoning. Pulse until fine and crumbly. Pour out on to a plate.
Butterfly your chicken breasts and cut in to two pieces each. You will have 4 chicken fillets.
Lay them flat on a cutting board. Cover with parchment paper and pound to flatten. If you don't have a kitchen mallet, use a small, heavy sauce pot. Bang, bang, bang.
In a bowl, whisk together the egg, vinegar and water.
Dredge the chicken in the egg mix then press down on each side in the nut mix.
Place on a sheet pan. Repeat with all 4 pieces.
Bake for 15 minutes.
Remove from the oven and carefully use toothpicks or skewers to prop your chicken pieces up at the sides so they look taco-ish.
Bake another 10 minutes.
Remove from the oven and let it cool. Not to worry if they aren't standing up right, as long as you can hold them in your hand you can taco.
Fill them up with greens, avo, cilantro and mayo. Enjoy!
Ps. This chicken is also fabulous over a salad with PK ranch!
Nutrition
Serving Size: 1 taco
Calories: 800
Fat: 46g
Carbohydrates: 10g
Fiber: 1g
Protein: 90g