At some point when you are making a number of substitutions for a dish, like this keto-friendly, dairy-free, green bean casserole, you just have to take some creative liberty. You might be hesitant about the ingredient list, but this paleo green bean casserole blows the traditional versions out of the water! It's got a combination of amazing flavors and textures that will satisfy your taste buds and wow your guests.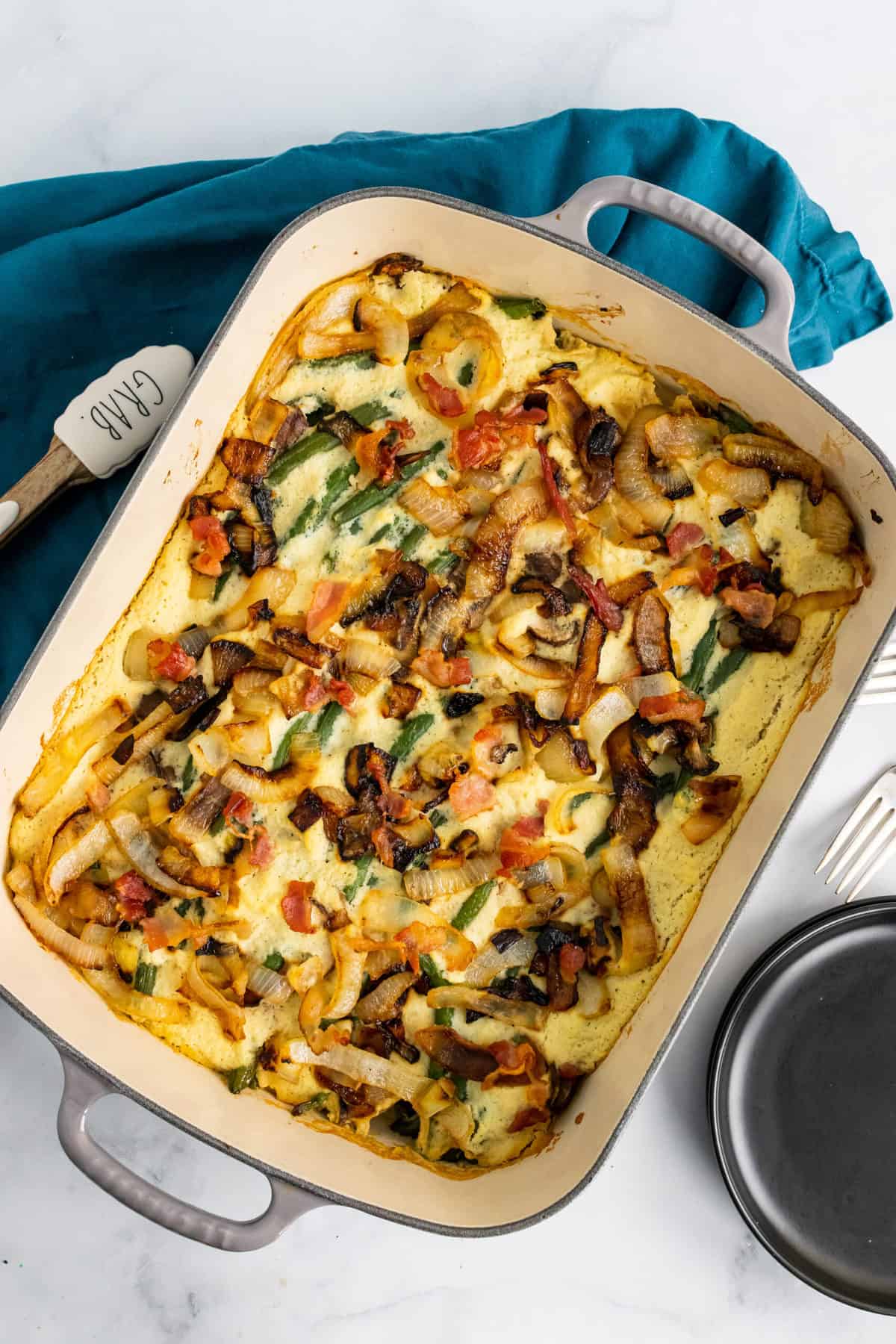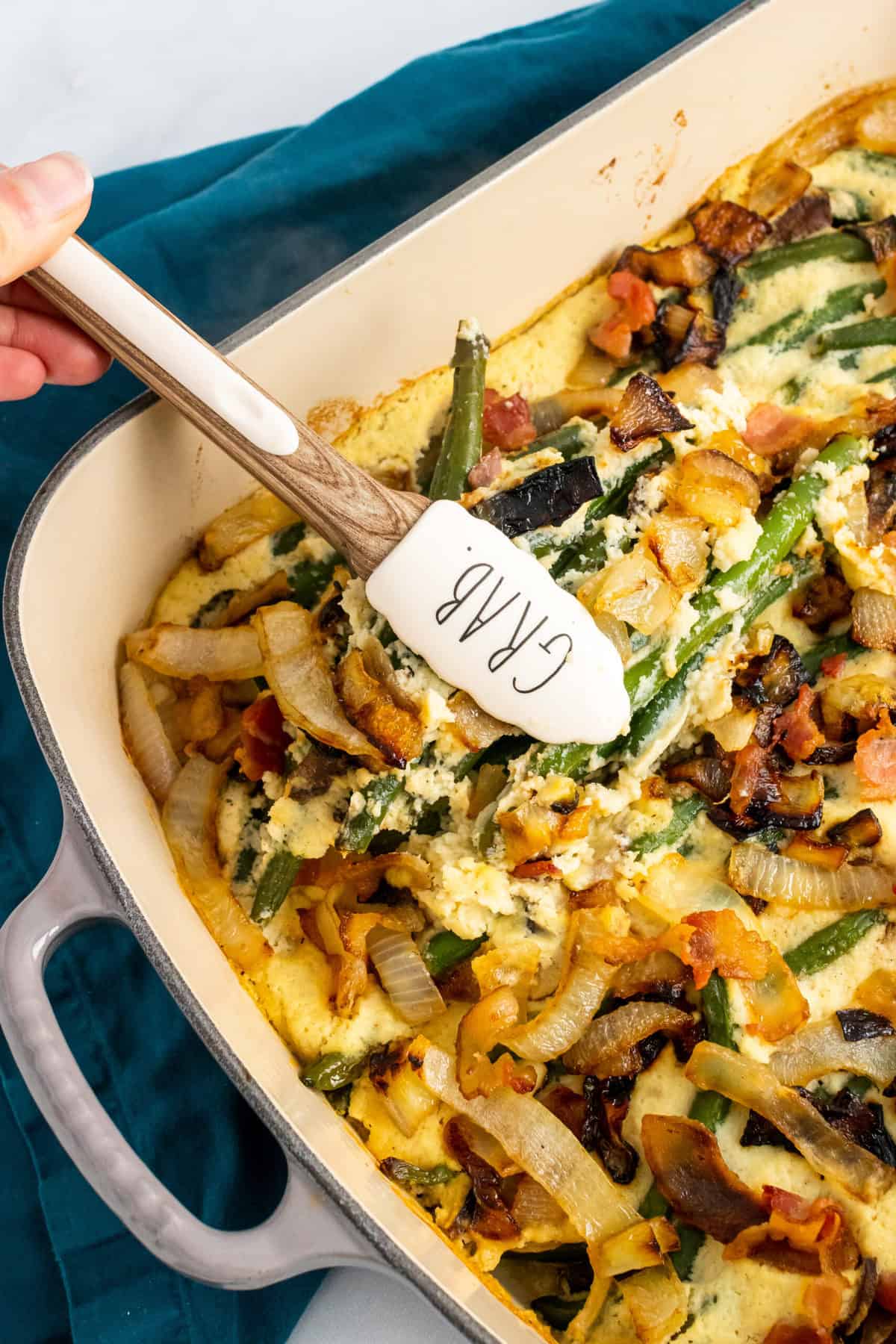 A New Classic
It's creamy, it's crispy. This green bean casserole has all the key components. Most of all, it's not a total pain in the butt to make. You will swoon, this low-carb green bean casserole is the new classic. It's super easy to make and truly decadent. The bechamel-like cauliflower cream among the crispy roasted green beans and bacon then smothered on sauteed onions will win over your hearts and bellies!
Grab Your Ingredients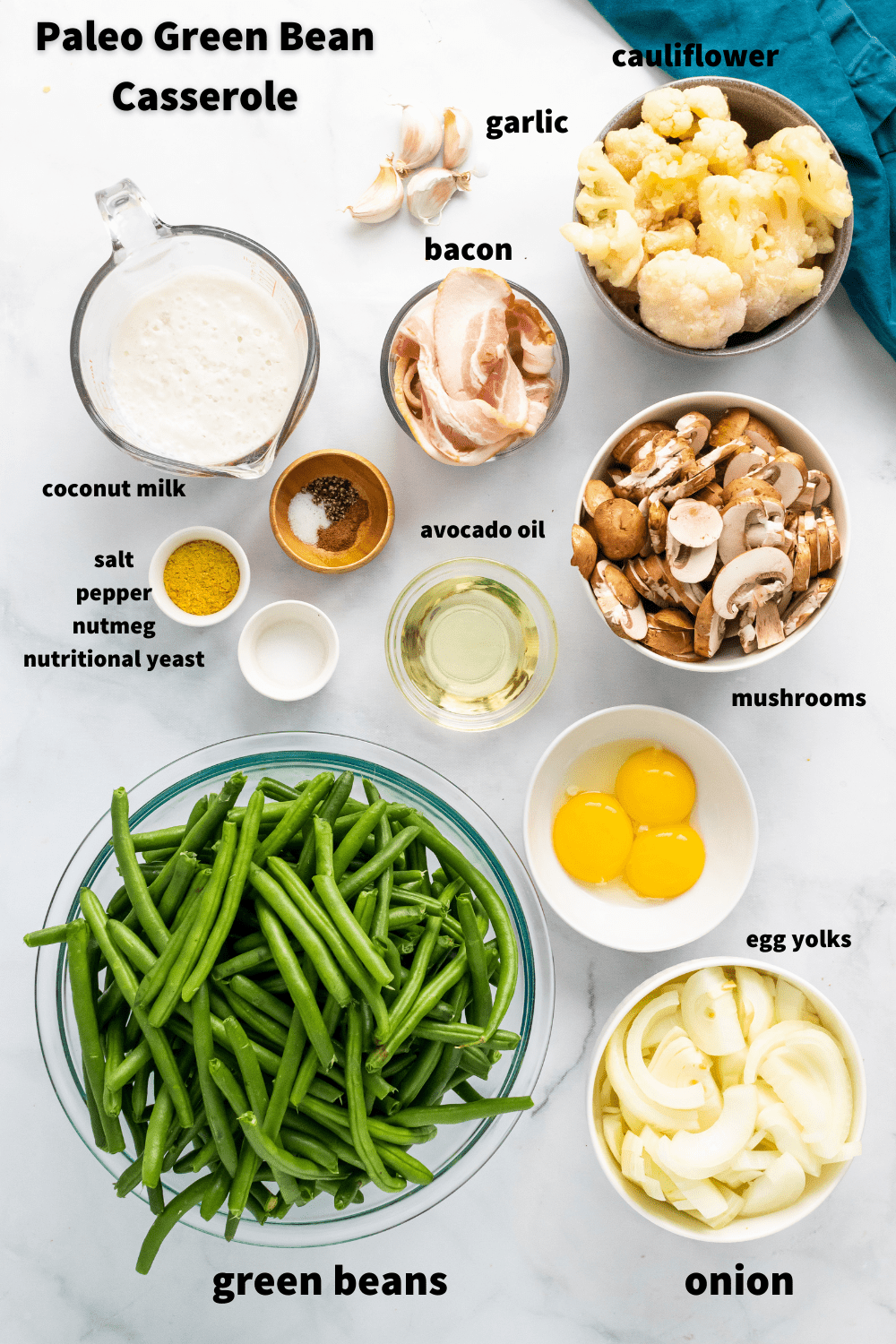 The best part about this Whole30 compliant, paleo Green Bean Casserole is that the ingredients are super simple. They're whole food ingredients, not a can of cream of mushroom insight.
Green beans, of course, fresh and trimmed for this casserole.
Cauliflower which makes the base of the sauce.
Coconut milk or cashew cream for the sauce too.
Egg yolks to thicken it the sauce, which cook in the hot blenderm mix.
Nutritional yeast to give it that dairy like flavor and umami!
Bacon for crisp and saltiness to mimic the tradtitional fried onions.
Onions which we sautee insted of fry, but trust me it works, as they lend a bit of sweetness and loads of flavor.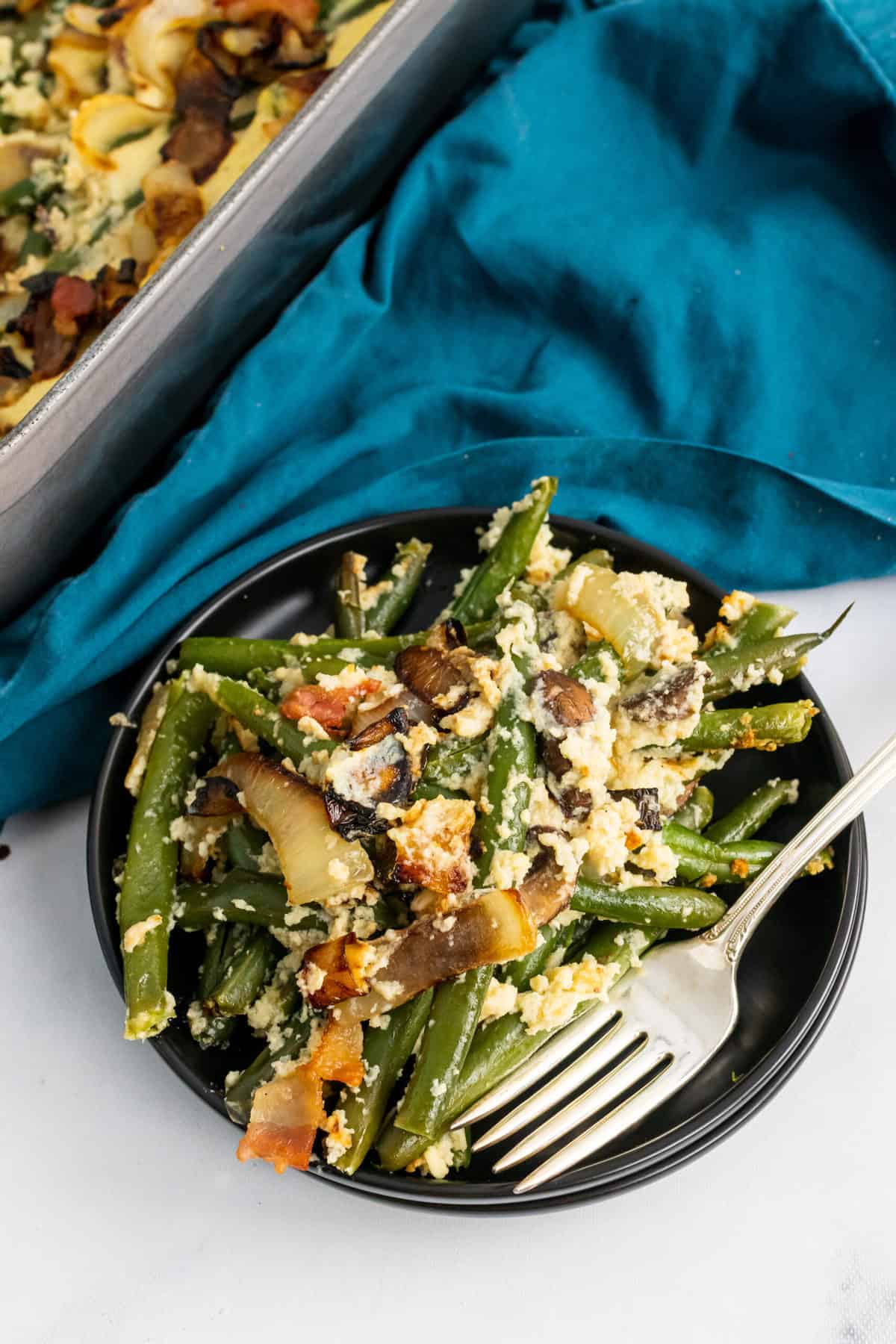 Step by Step Paleo Casserole
Start by Steaming the cauliflower and garlic.
Then you arrange the green beans on a sheet pan vertically in rows.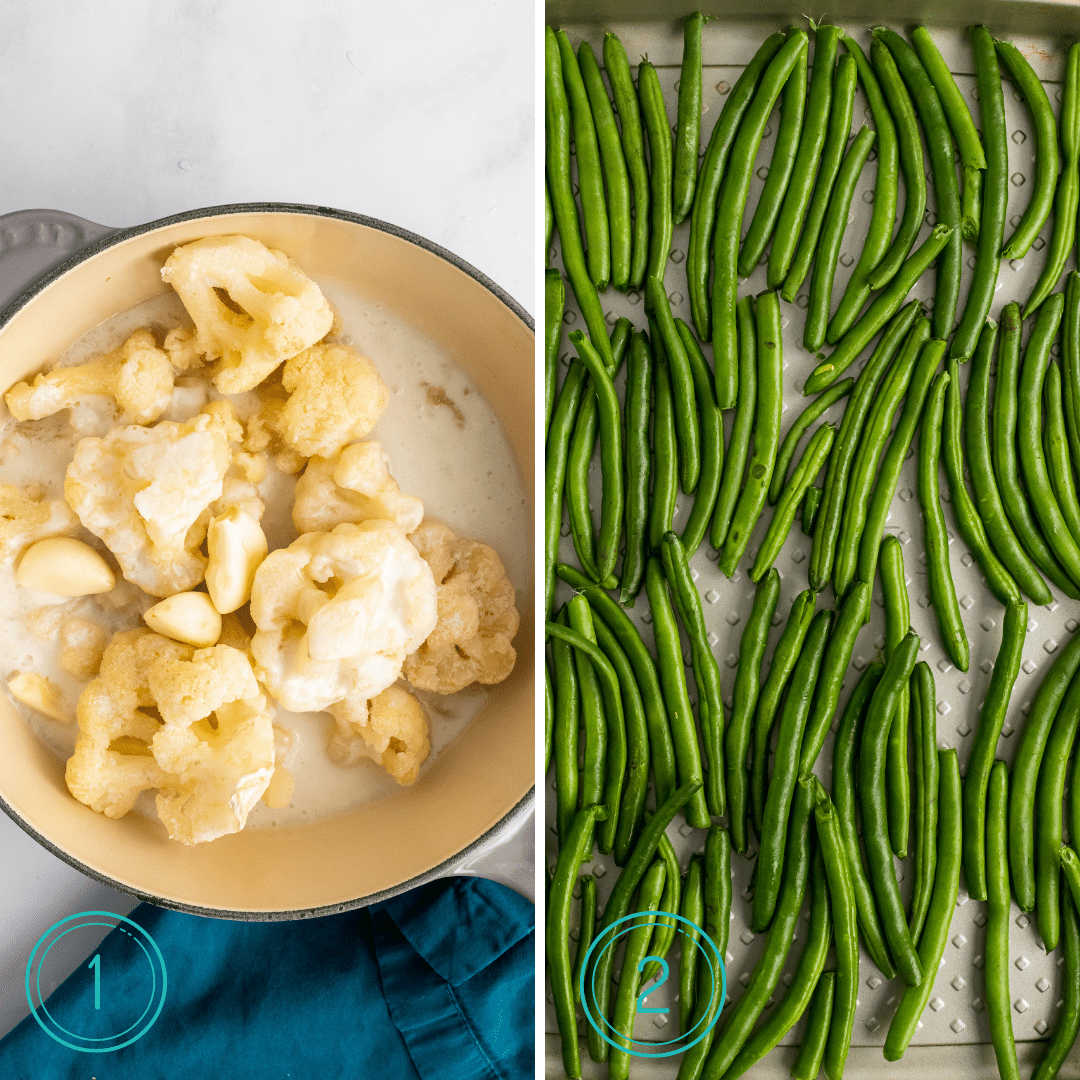 Sprinkle the green beans with sliced mushrooms.
Add the chopped bacon all over and set to roast until crispy.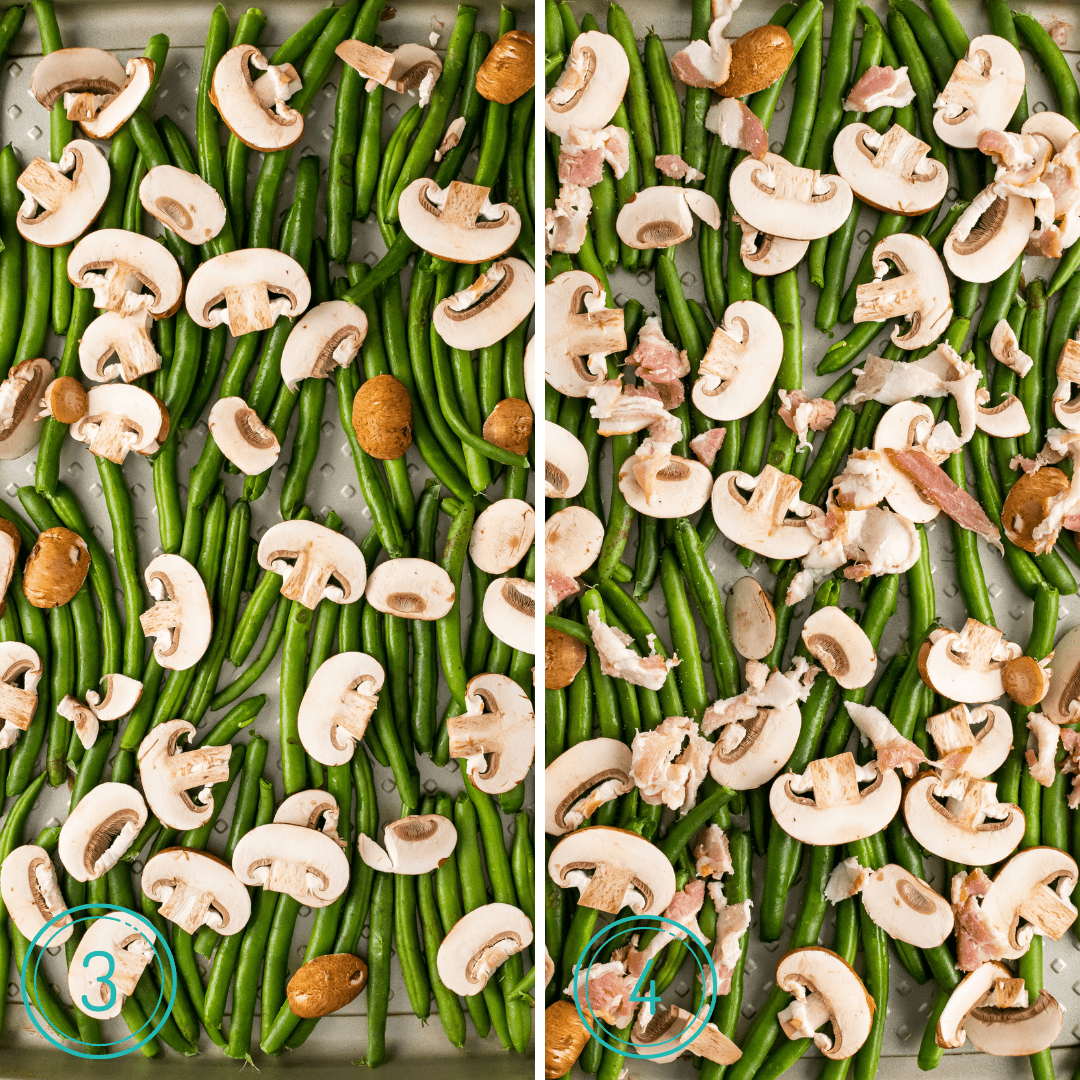 Set the onions to cook down in a skillet while the green beans roast.
Then combine the steamed cauliflower an garlic with coconut milk and seasonings in a blender.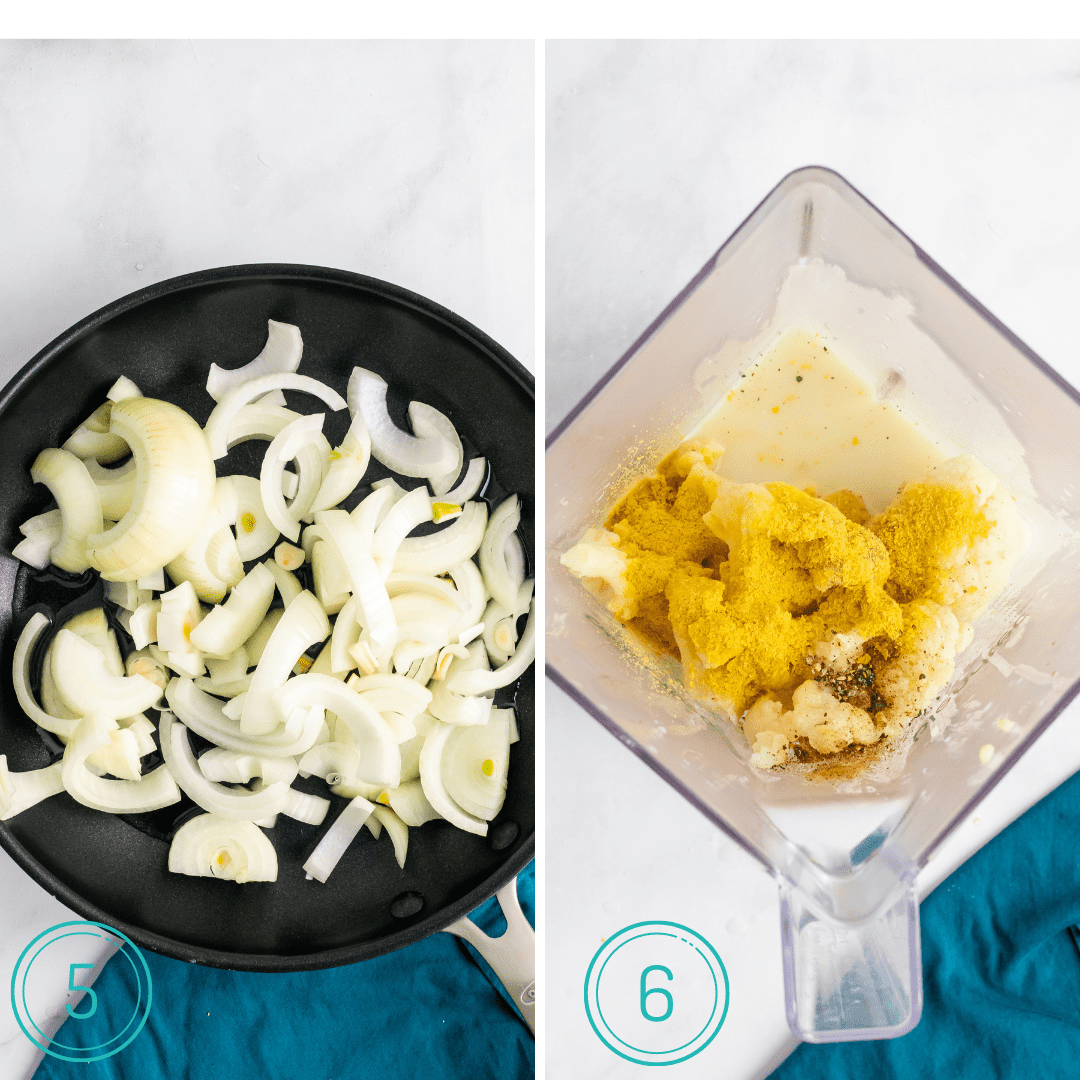 Blend it until smooth.
Add in the yolks slowly while the hot mix blends to cook them.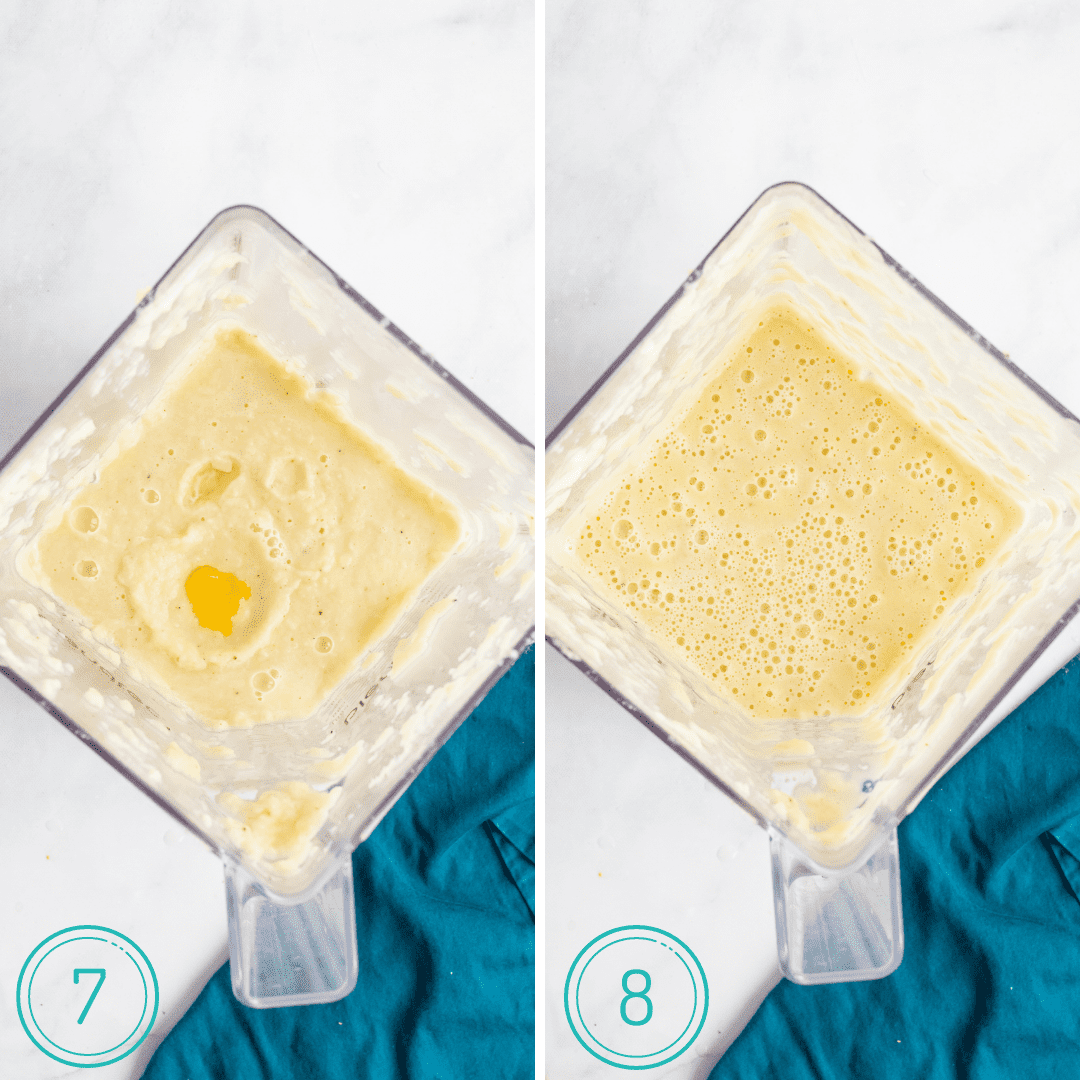 Remove the crispy green beans with bacon and mushrooms from the oven.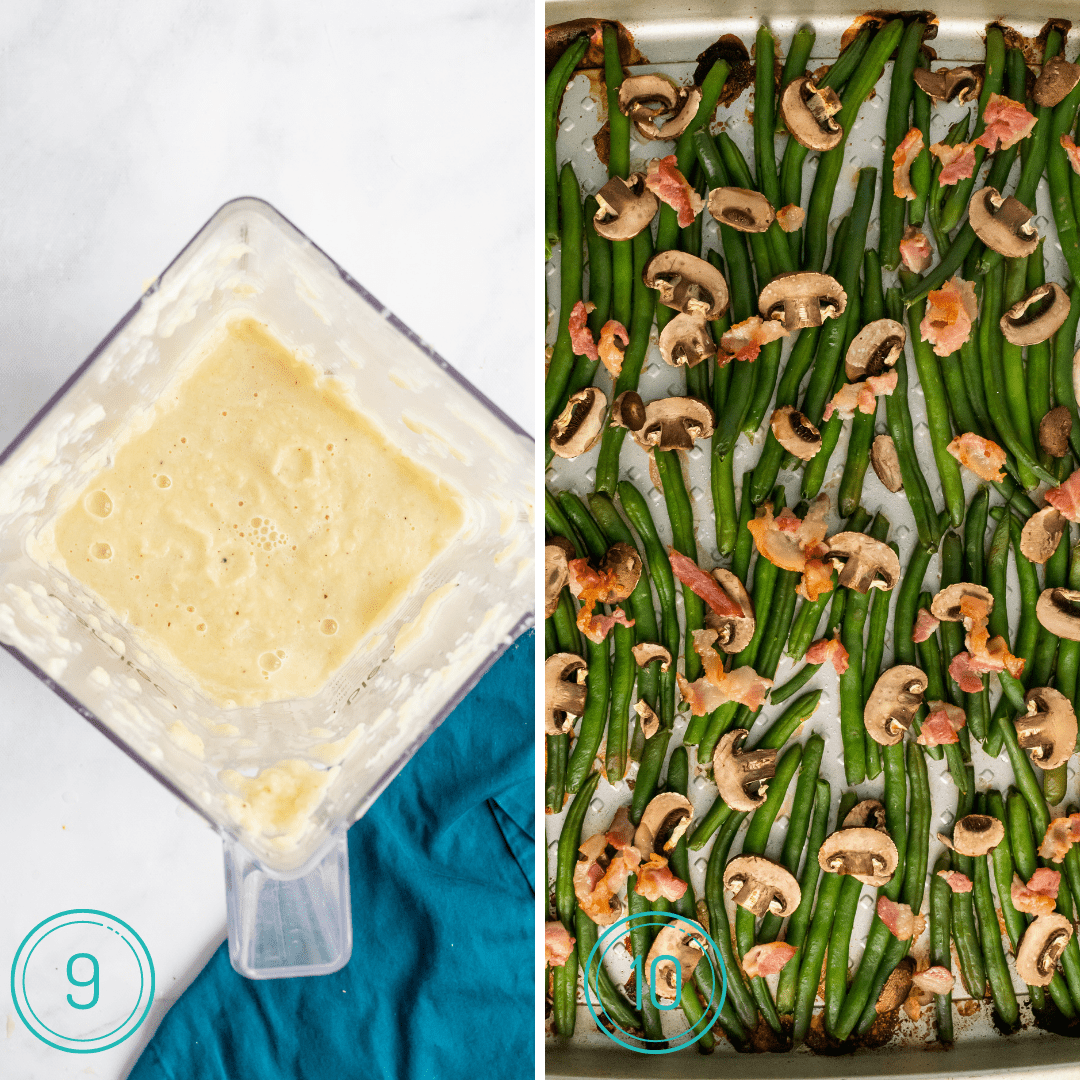 Transfer the green beans to a casserole dish with the bacon and mushrooms.
Pour the cauliflower bechamel all over the green beans in the casserole dish.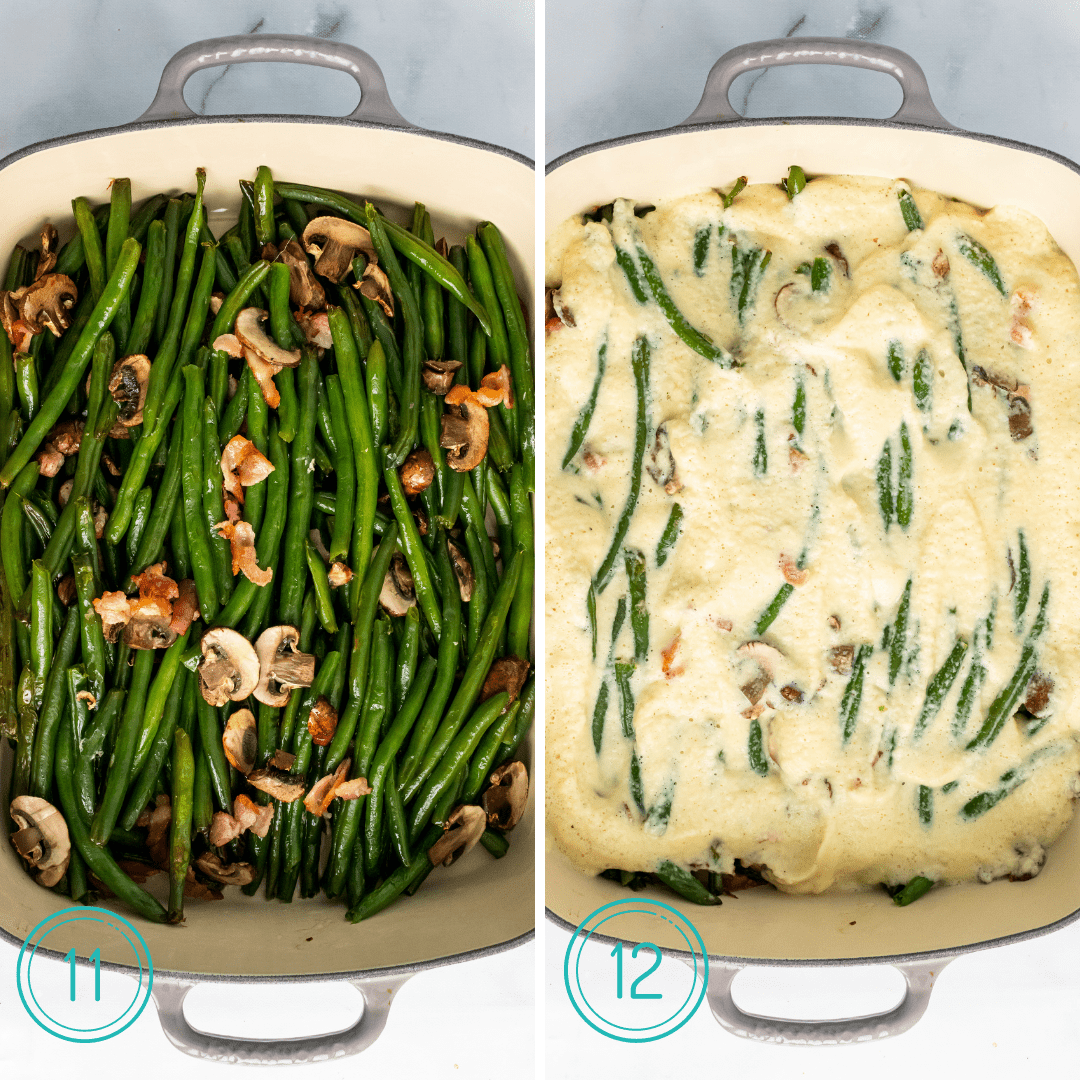 Top with sauteed onions and half of the bacon and onions. Then bake until golden brown.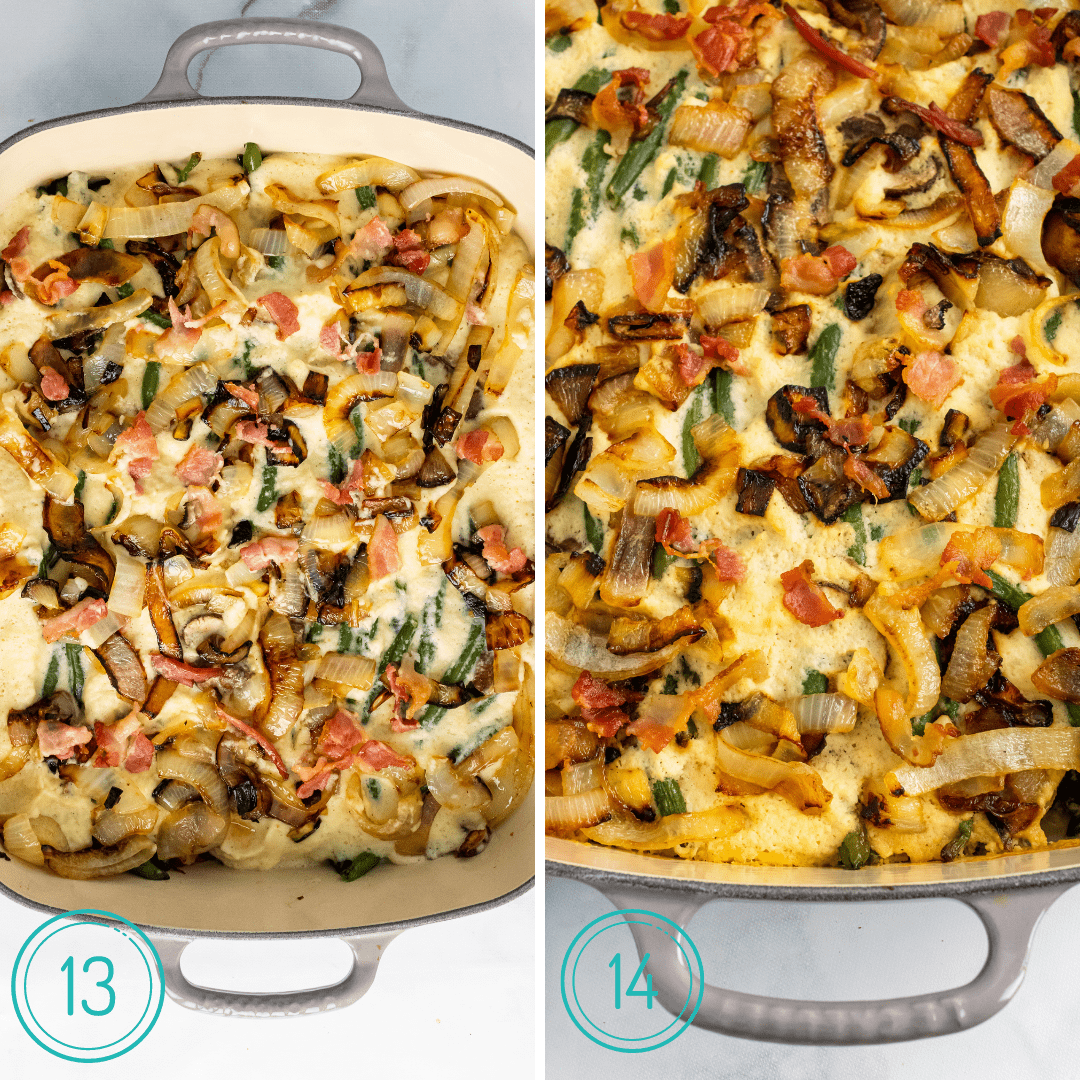 Frequently Asked Questions
Can I make this ahead of time?
Yes, this casserole can be assembled ahead and just baked to serve. It lasts really well.
Can I skip the eggs?
You can use agar agar, about 1 teaspoon to thicken the cauliflower instead if you're egg-free.
Does this recipe work if I double or triple it?
Absolutely, just add 30 minutes to the baking time!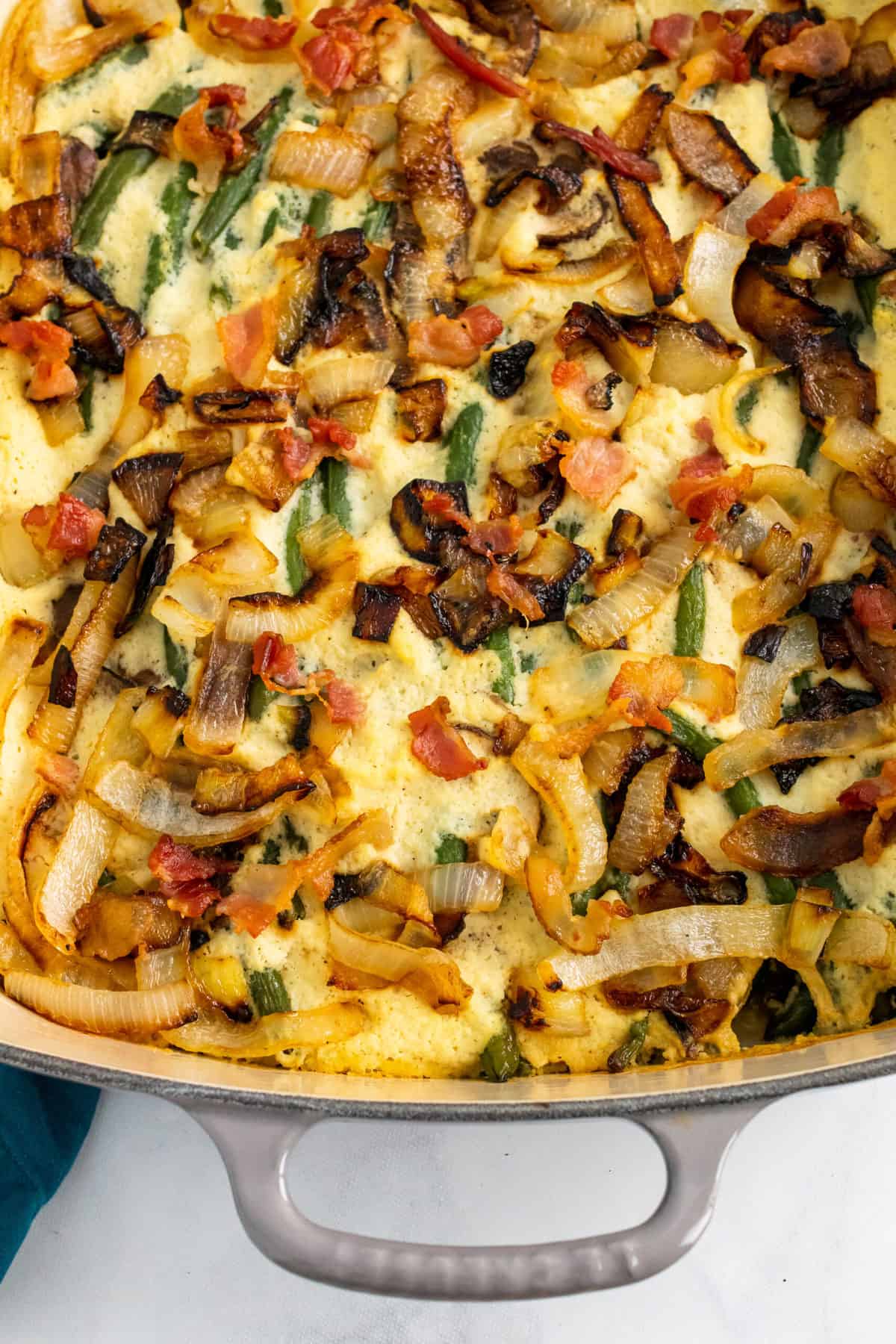 More Recipes You Might Enjoy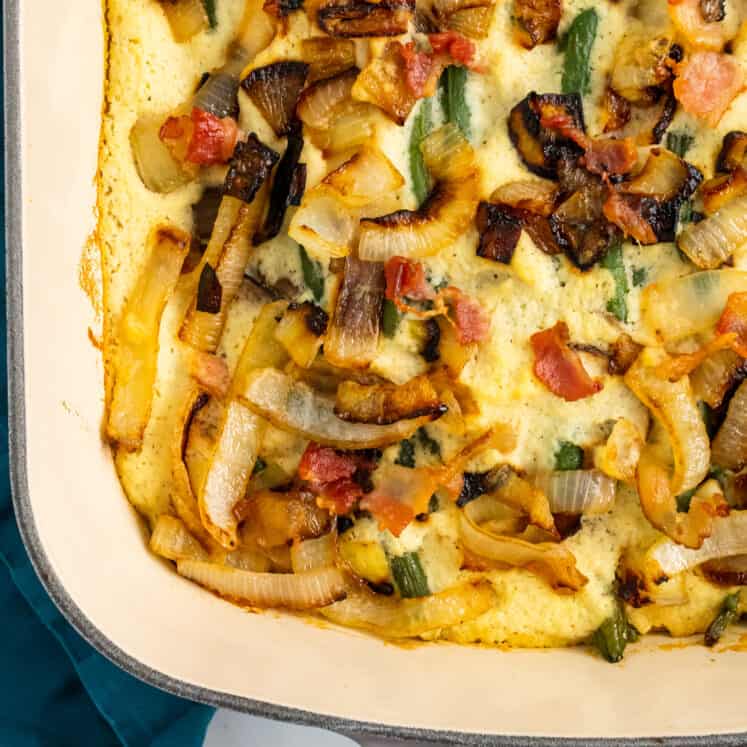 Paleo Green Bean Casserole
---
Author: Cristina Curp, FNTP
Prep Time: 15
Cook Time: 45
Total Time: 1 hour
Yield: 6 1x
Category: Side Dish
Method: Oven
Cuisine: Thanksgiving
Diet: Gluten Free
Description
A healthy twist on a Thanksgiving Classic that everyone will love!
---
Scale
Ingredients
The Green Beans
2 pounds green beans,fresh, trimmed
5 slices sugar free bacon
2 cups sliced cremini mushrooms
The Onions
2 cups sliced onion, 1/4 inch thick slices
¼ teaspoon salt
3 tablespoons avocado oil or butter
The Sauce
2 cups diced cauliflower
1 cup coconut milk
4 cloves garlic
½ teaspoon salt
½ teaspoon black pepper
¼ teaspoon nutmeg
1 tablespoon nutritional yeast
3 egg yolks
---
Instructions
Pre-heat your oven to 400F.
Combine the cauliflower, garlic cloves and coconut milk in a sauce pot, cover with a lid and heat over medium heat. Cook here until the cauliflower is fork tender.
In the meantime, arrange your green beans side by side vertically in rows, in one flat layer over 2 sheet pans. Sprinkle the mushrooms all over. Cut the bacon into small pieces and distribute it evenly over all of the veggies. Sprinkle with a pinch of salt. Roast for 20 minutes, middle and bottom rack. Rotate the pans after 10 minutes.
In the meantime heat a large skillet over medium heat. Add in the oil or butter then the onions. Sprinkle in the salt. Use tongs or forks to gently toss. Then cover with a tight fitting lid. Stir every 5 minutes until green beans are ready. They will begin to get tender, then translucent, then browned and finally soft and sweet with some toasty bits!
By now the cauliflower should be soft. Carefully transfer all the contents of the sauce pot to a blender. Add in the seasoning and the nutritional yeast. Blend on high until smooth, add in a little bit of water or broth if needed. Then add in the egg yolk one at a time until fully combined
When the green beans are ready remove them from the oven. They will be browned and crunchy, try not to eat them all.
Arrange them in a casserole dish, I like to arrange them in little bunches with the greens beans (with the mushrooms and bacon pieces) all facing the same way, makes it easier to serve. Pick a few pieces of bacon out and set them aside.
Pour the cream sauce all over the green beans and use a spatula to spread it out. Then top with the caramelized onions and those bacon pieces you set aside.
Pop the casserole in the oven and bake for 20 minutes.
Remove from the oven, and serve!
Recipe Notes:
If you can't eat eggs, use 1 teaspoon agar agar to thicken the cauliflower cream
You can make the components, and assemble this ahead of time, and then just bake to serve.
Nutrition
Serving Size: 1/6 recipe
Calories: 190
Fat: 10.4g
Carbohydrates: 15.1g
Fiber: 6.5g
Protein: 9g
Keywords: paleo green bean casserole