When it comes to dairy alternatives tree nuts and coconuts rule, but what if you can't have either? Homemade Tiger Nut Milk is your new best friend! It's delicious and nutritious and VERY allergen-friendly! This milk works great in baking, cooking or just in your morning coffee. It's slightly sweet and nutty, a really tasty alternative.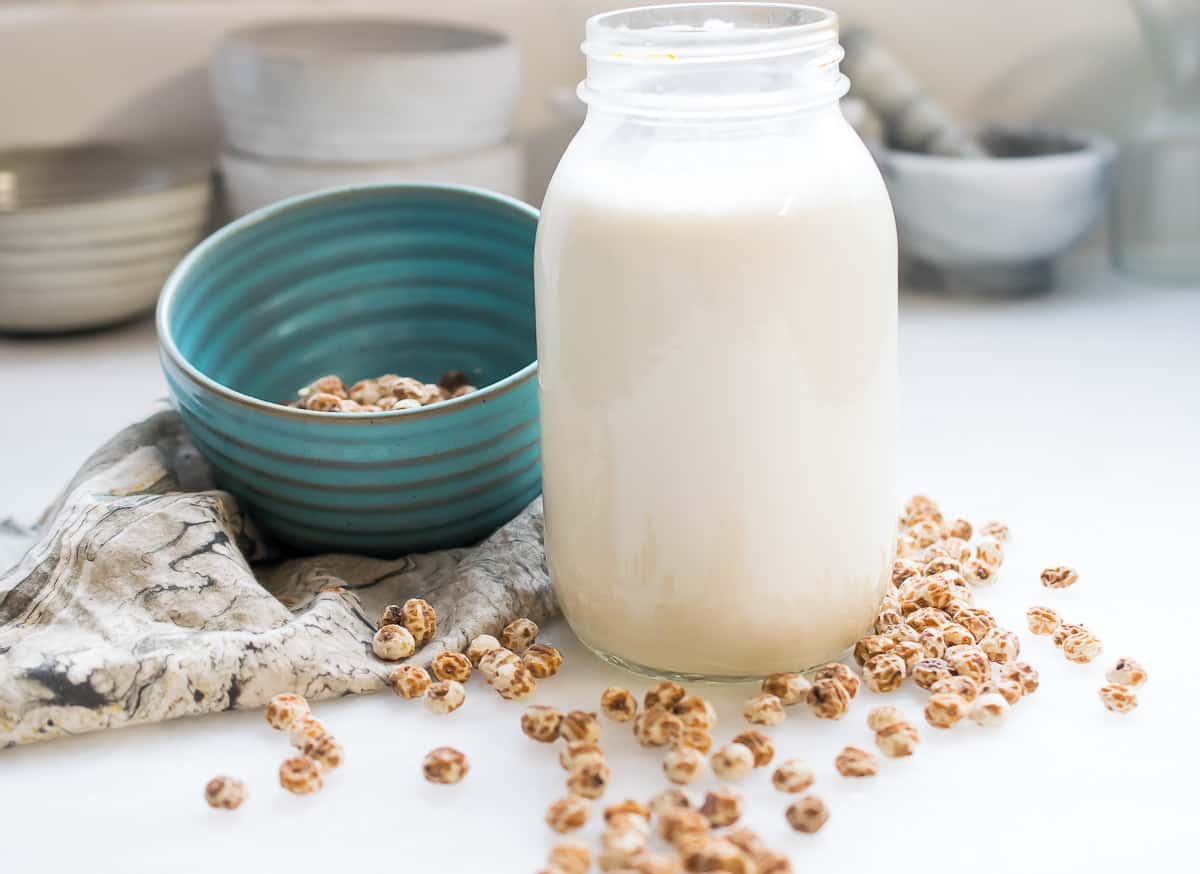 Why Homemade Tiger Nut Milk Works
Tiger nuts and tiger nut milk are great for paleo, vegan, keto, AIP, low fodmap diets! They're rich in minerals, Vitamin E and are touted to have lots of benefits. And guess what?! They're not nuts at all! Tiger nuts are actually a tiny root vegetable! Deceptive name, but really awesome little vegetable. They have a flavor very similar to almond milk- naturally a little sweet, milky, and slightly nutty. The simplicity of this recipe is where it's at- with just tiger nuts and water you get a delicious milk alternative that can be there for you even with some of the most intensive allergen protocols. But of course, every BODY is different. Try tiger nuts and see if they are right for you!
Grab Your Ingredients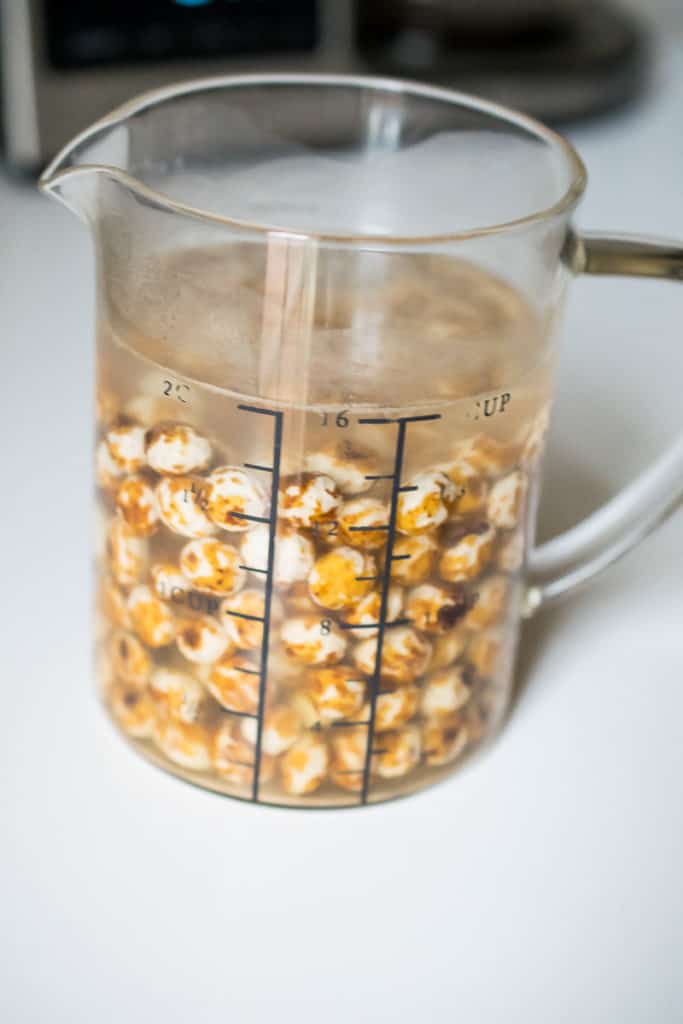 Peeled Tiger Nuts:, I get Anthony's Goods bag. It's $11 and will make about 6-7 cups of tiger nut milk or just over 2 liters. That's comparable to Elmhurst, which is the best nut milk on the market, just water, and nuts. So it doesn't cost more to make homemade tiger nut milk. Although they are pricey.
Water: This is the only other ingredient. If you have filtered water, use it. You will also need a nut milk bag or cheesecloth to strain it. I like the Ellie's Best Nut Milk Bags. They're easy to clean.
How Do You Make Tiger Nut Milk?
It's so simple and you only need three ingredients! Tiger nuts, water, and a pinch of salt. That's it.
You start by soaking them overnight with a pinch of salt. This helps soften them and can reduce anti-nutrients.
Then you rinse them and blend with fresh, filtered water.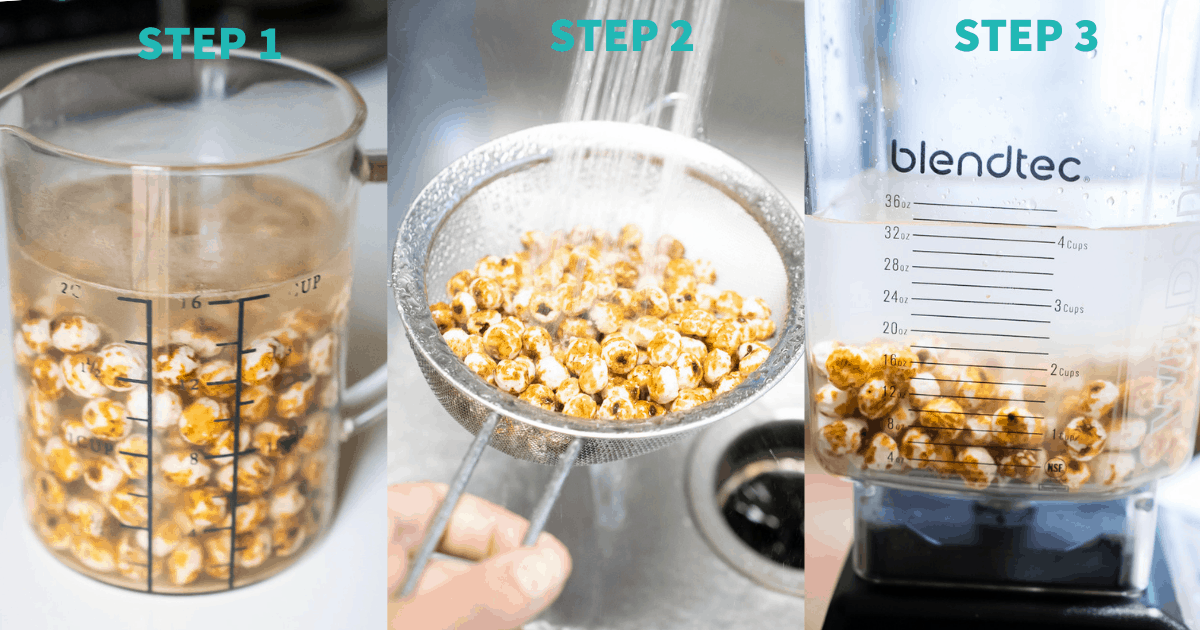 Once blended, it will look frothy, creamy and a lot like almond milk. Just like homemade almond milk, you need to use a nut milk bag to strain your tiger nut milk.
Pour your homemade tiger nut milk through a nut milk bag and squeeze it in to a large bowl or pitcher. Then into a mason jar.
Close with a tight fitting lid and store in the fridge!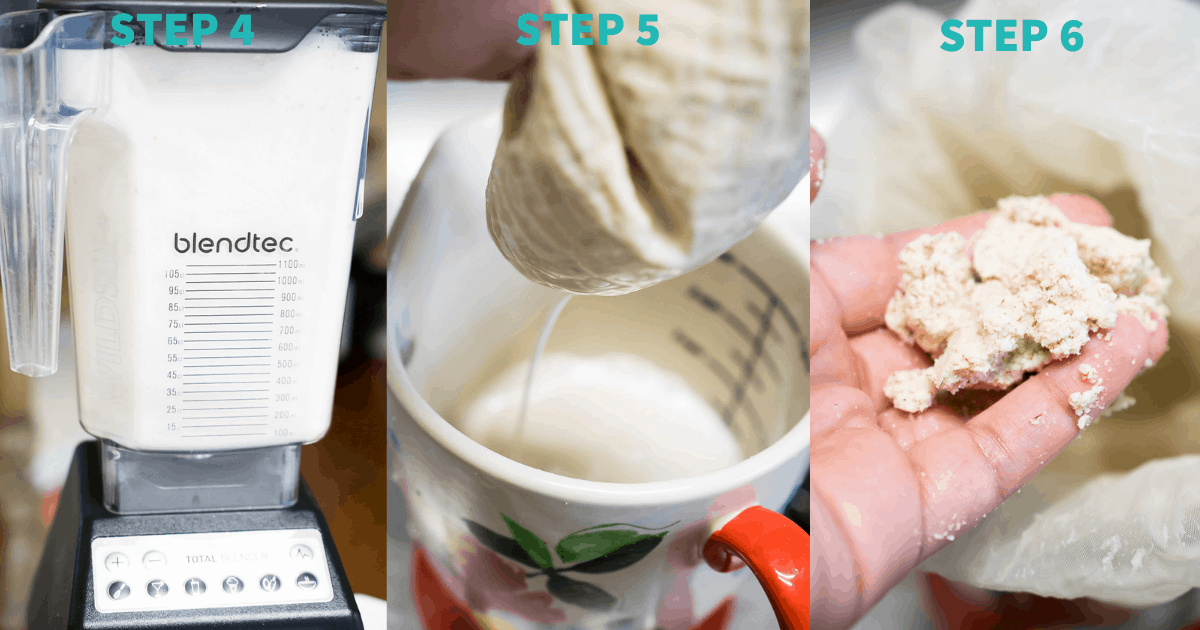 There will be a pulp left behind. This will be mostly fiber. You can save it, dry it and use it to bake or cook with. You can also add it to your compost! Now you're ready to use your tiger nut milk in coffee, tea or smoothies!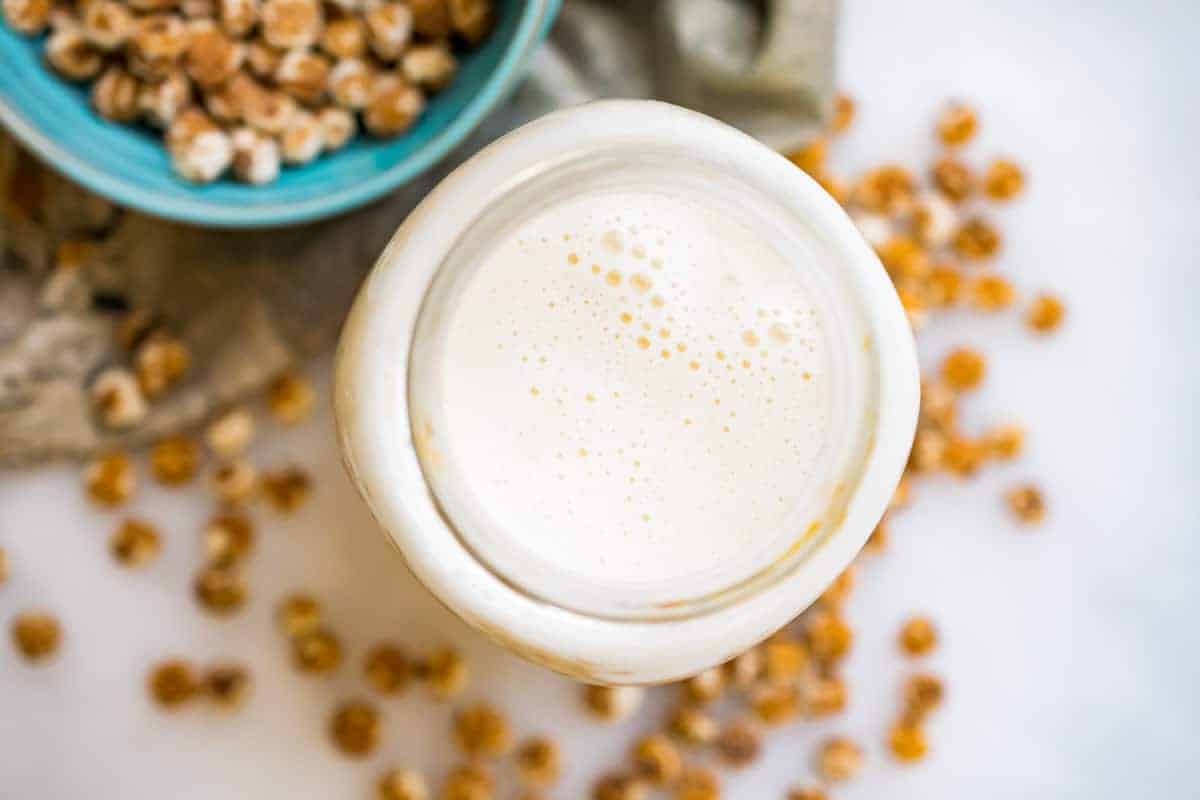 Learning More About Tiger Nuts
Tiger nuts (cyperus esculentus L.) are little root vegetables. These tiny, tough root vegetables have been cultivated by humans for a long time. This study claims that an early species of hominin, living in Africa a million or so years ago ate a diet compromised 80% of root vegetables and grasses, among those tubers… tiger nuts! (source) Not sure our ancestors were making homemade tiger nut milk, but thanks to blenders, we sure are!
These little tubers grow underground to the yellow nutsedge, and some folks know them as being weeds! NPR did some digging into tiger nuts and found the following: "What records remain from antiquity suggest that tiger nuts were used medicinally and eaten as treats. The roasted, crushed tubers were eaten with honey, according to work by Moshe Negbi, a former botanist at the Hebrew University of Jerusalem. Theophrastus, an ancient Greek botanist, wrote about boiled, sweet tiger nuts in Historia Plantarum. By the 13th century, records from present-day Valencia, Spain, show that tubers were being used to create a drink called horchata de chufa, "an ancestor of the horchata drunk nowadays," according to researchers at the Polytechnic University of Valencia." (source)
Are Tiger Nuts Good For You?
Like all things nutrition, the answer is, it depends. As I said above, they work well in paleo, keto, AIP, vegan and low fodmaps diets. They are rich in resistant starch, a prebiotic which feeds beneficial gut bacteria. However, if you have SIBO or don't do well with large amounts of fiber in your diet, your gut might not love tiger nuts. The good news is that even if you can't eat them, the homemade tiger nut milk will be okay for you because the fiber is strained out. One study found that tiger nut milk raised glutathione production in rats. So that's cool. Tiger nuts are also rich in phytonutrients (source).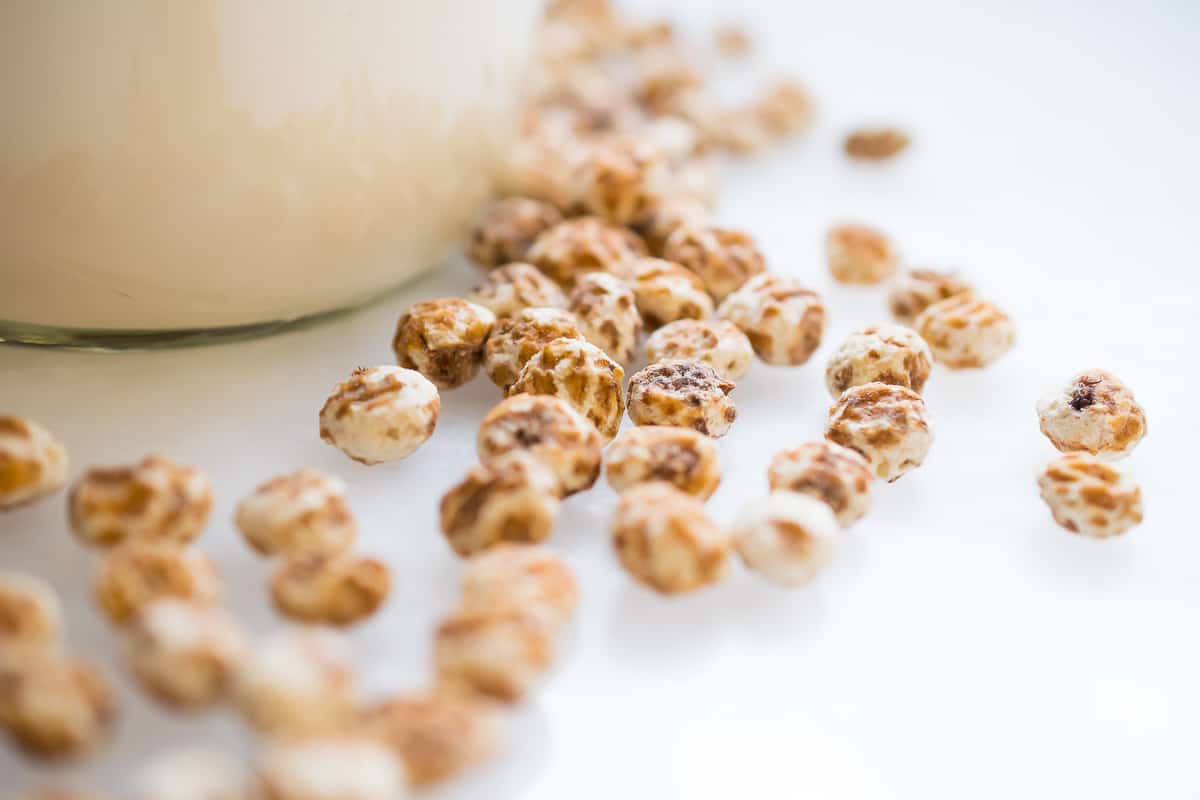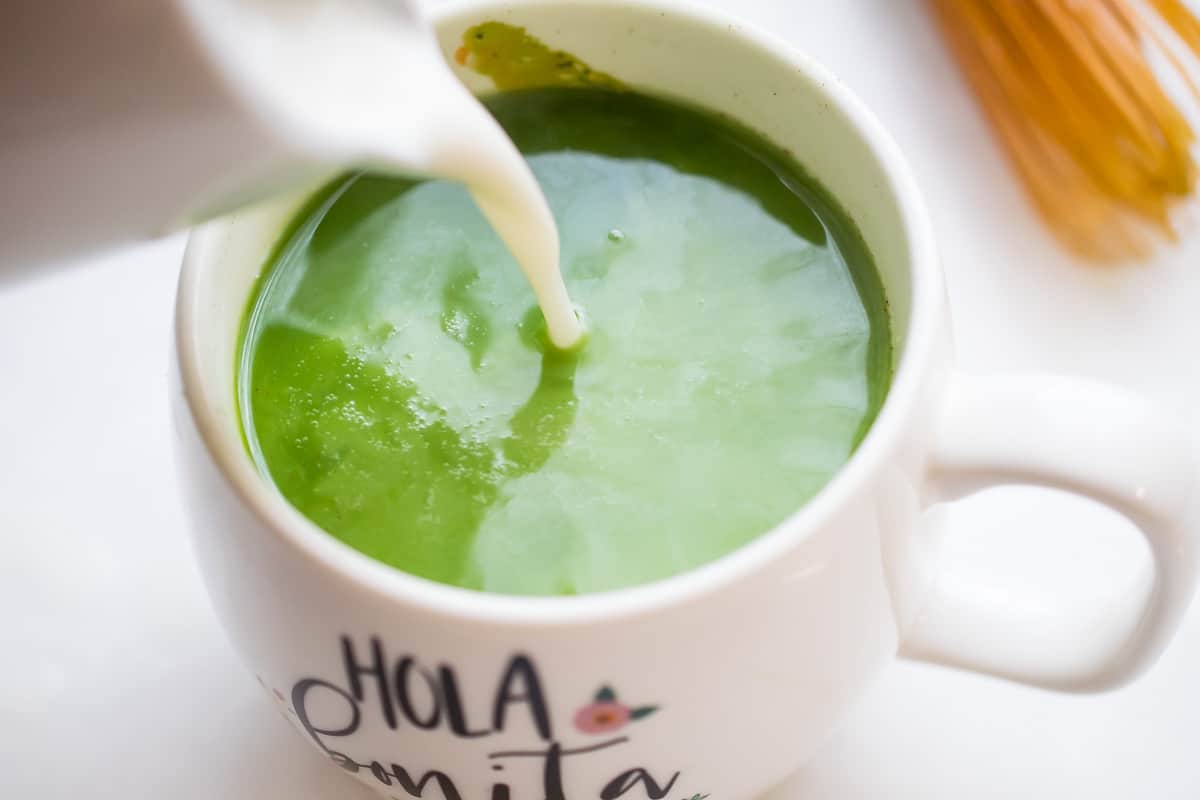 Frequently Asked Questions
Where do you get nut milk bag?
I got mine on Amazon, this one. You can also use cheese cloth. A fine mesh sieve won't be fine enough.
How long does it last in the fridge?
Store it in a clean, air tight jar in the fridge and it will last a week.
Can you freeze it?
Yes, you can freeze it in ice cube trays and thaw as needed.
Is it good for cooking?
Yes, you can use it for cooking. Although it's not a replacement for coconut cream in some recipes because it's not thick enough.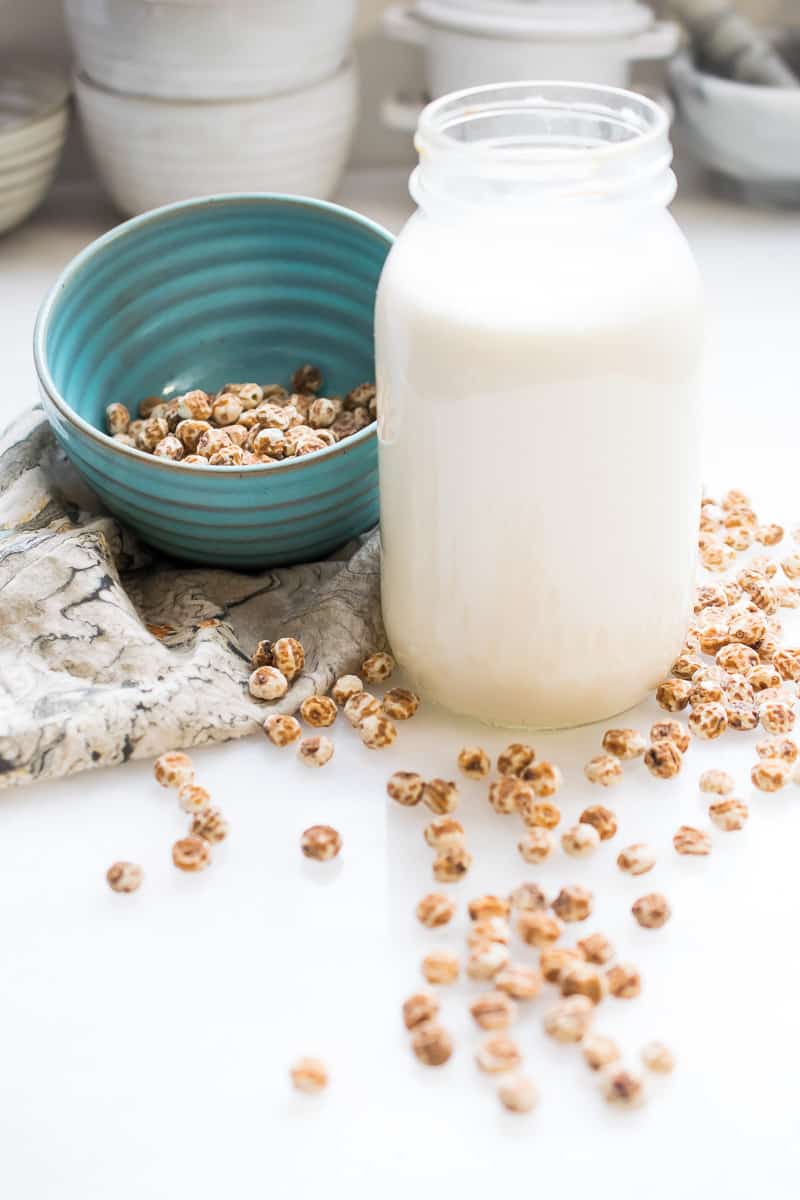 More Tiger Nut Recipes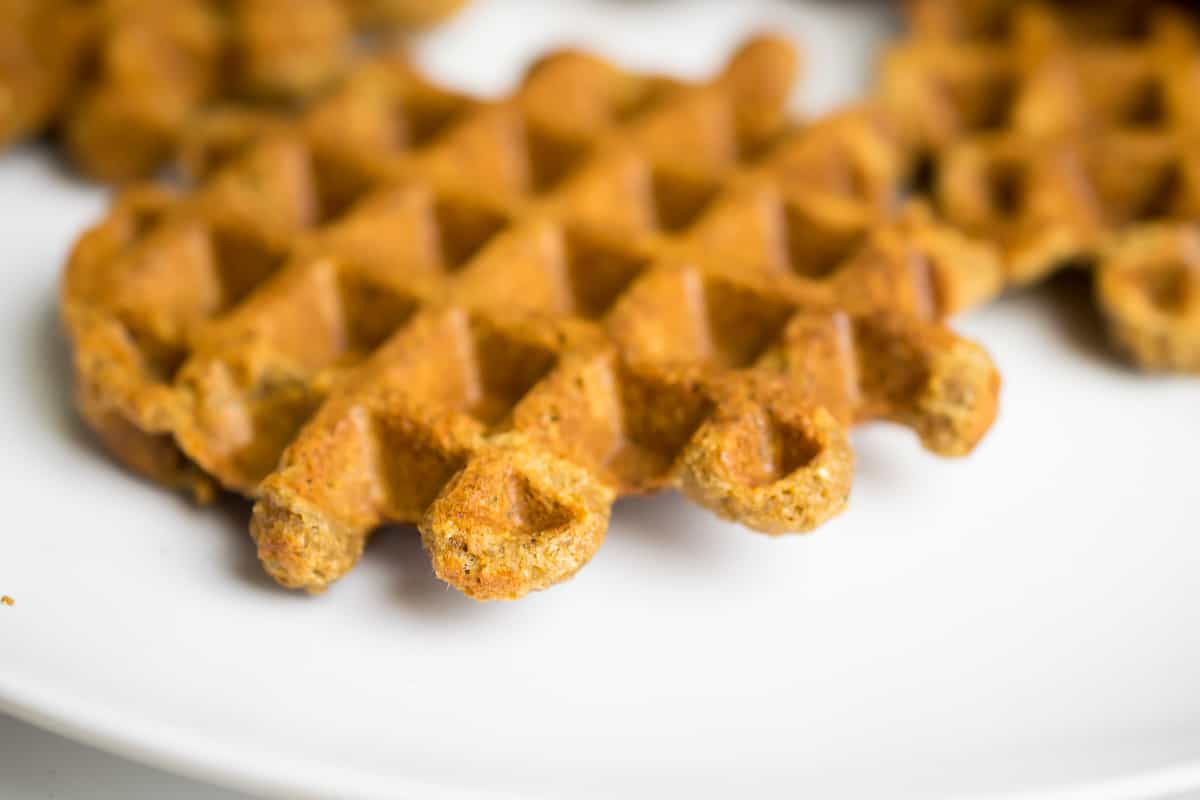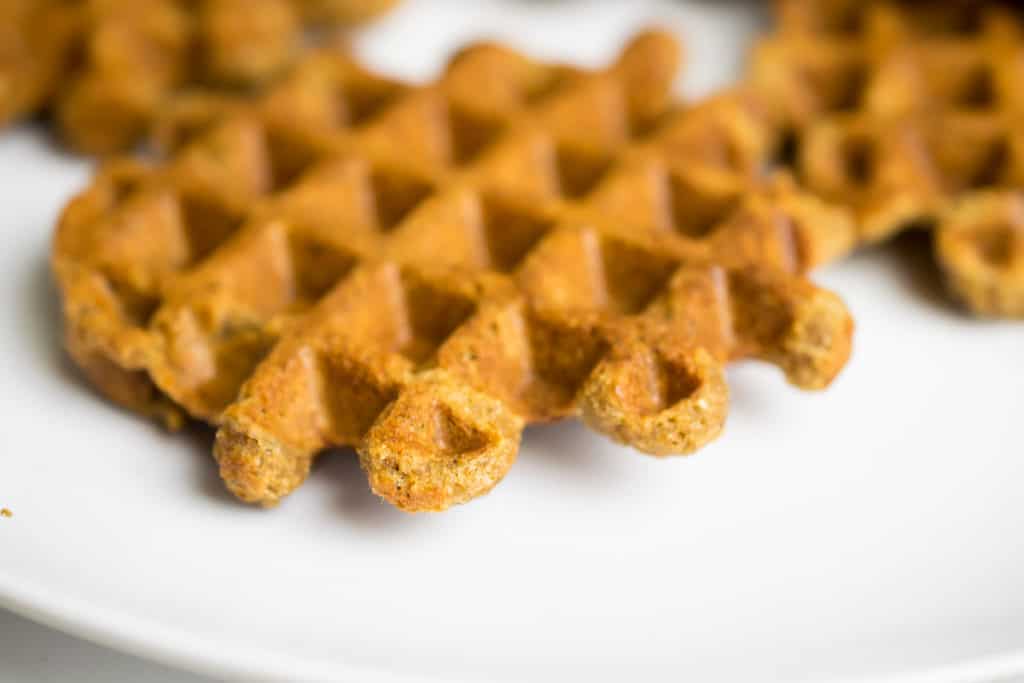 AIP Crispy Waffles, made with tiger nut flour and green banana flour. Recipe here.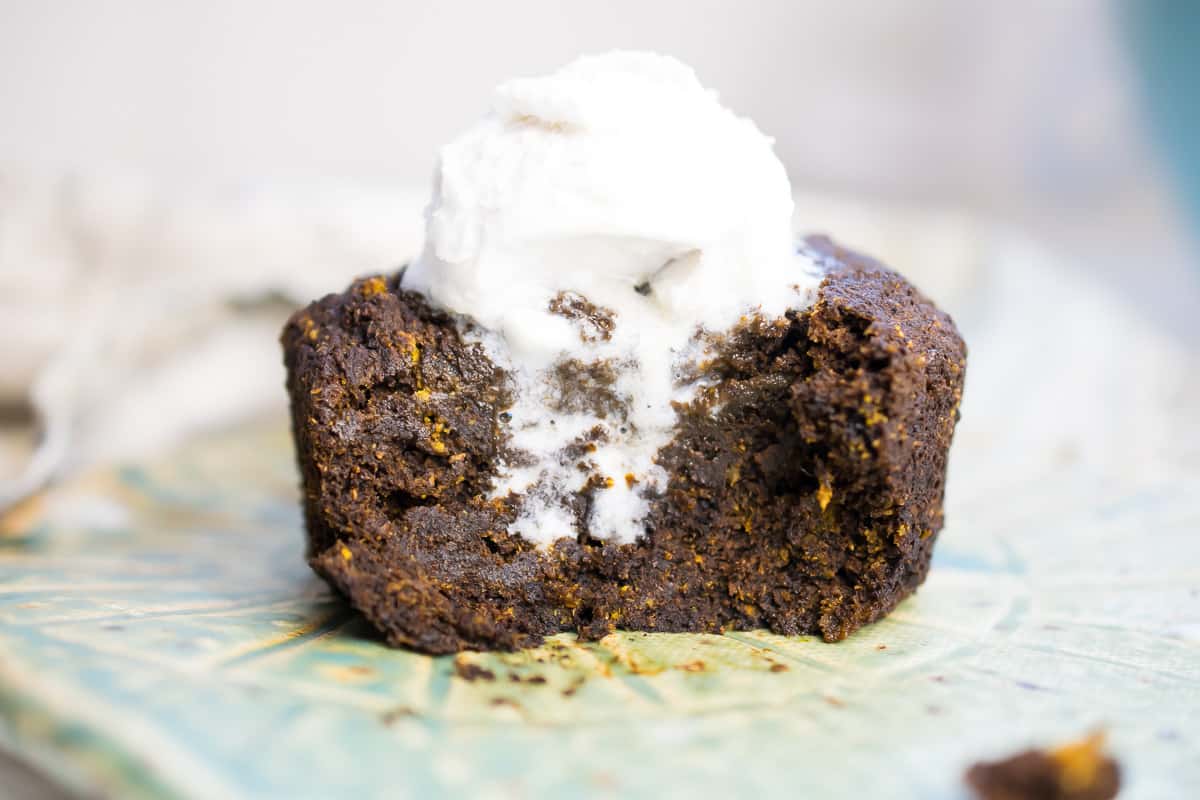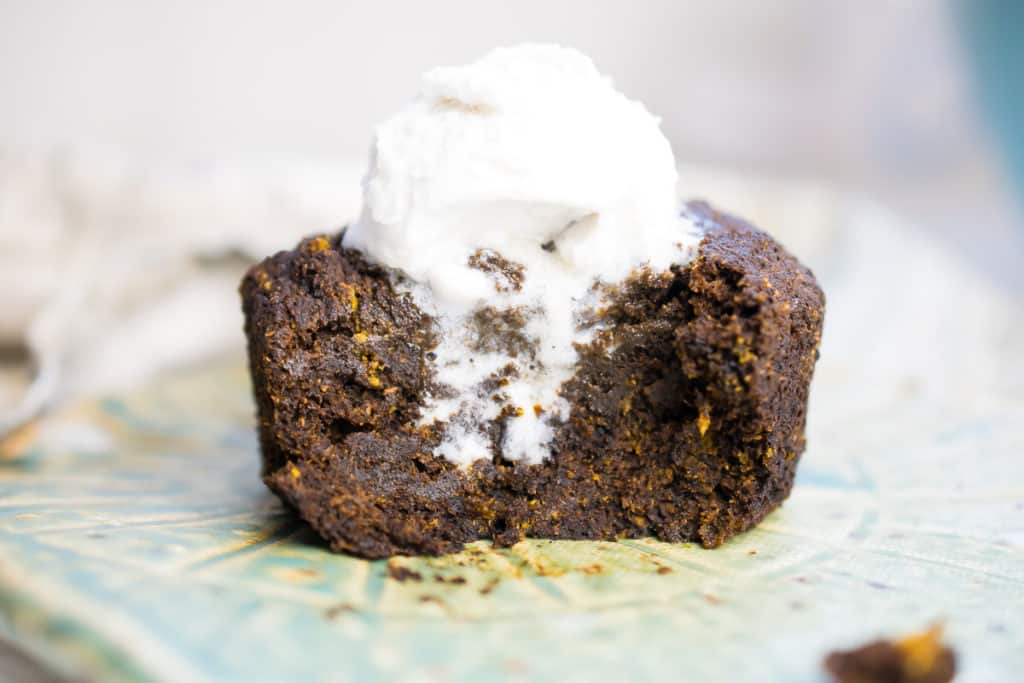 AIP Mug Cake, made with tiger nut flour, pumpkin puree, and carob powder. Such an easy treat. Recipe here.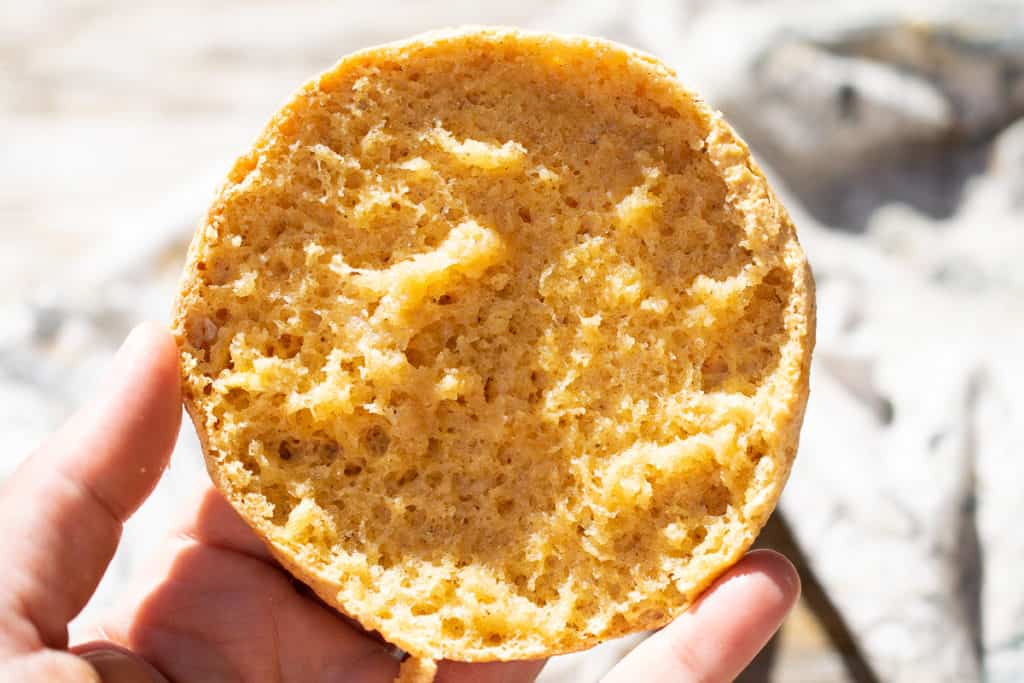 Plantain and tiger nut flour English muffin! AIP and egg-free and so yum! Recipe here.
Homemade Tiger Nut Milk (nut free, dairy free, coconut free mylk)
---
Author: Cristina Curp, FNTP
Prep Time: 5 minutes (plus soaking time)
Cook Time: 10 minutes
Total Time: 15 minutes
Yield: 3 cups 1x
Category: Beverage
Method: Blend
Cuisine: AIP
Diet: Gluten Free
Description
A healthy alternative to milk that's coconut and nut free!
---
Scale
Ingredients
1 1/2 cups peeled tiger nuts
3 cups filtered water (more for soaking)
pinch of salt
Tools
---
Instructions
Soak your tiger nuts in water with a pinch of salt for 24 hours.
Drain and rinse them.
Add them to the blender with 3 cups of fresh, filtered water.
Blend on high for 1 minute.
Strain through a nut milk bag into a pitcher. Pour the strained milk into a 3 cup (liter) mason jar. Store in the fridge up to a week.
Nutrition
Serving Size: 1/4 cup
Calories: 52
Fat: 4.5g
Saturated Fat: 1g
Carbohydrates: 2g
Fiber: 1g
Protein: 1.5g
Keywords: homemade tiger nut milk