These AIP waffles are super crispy and easy to make! No nuts, no eggs and full of goodness that is ready in 25 minutes! I also kept these cassava and coconut free because it gives my AIP family variety. Whip out the mini dash and bowl, you're going to love these super crispy AIP waffles.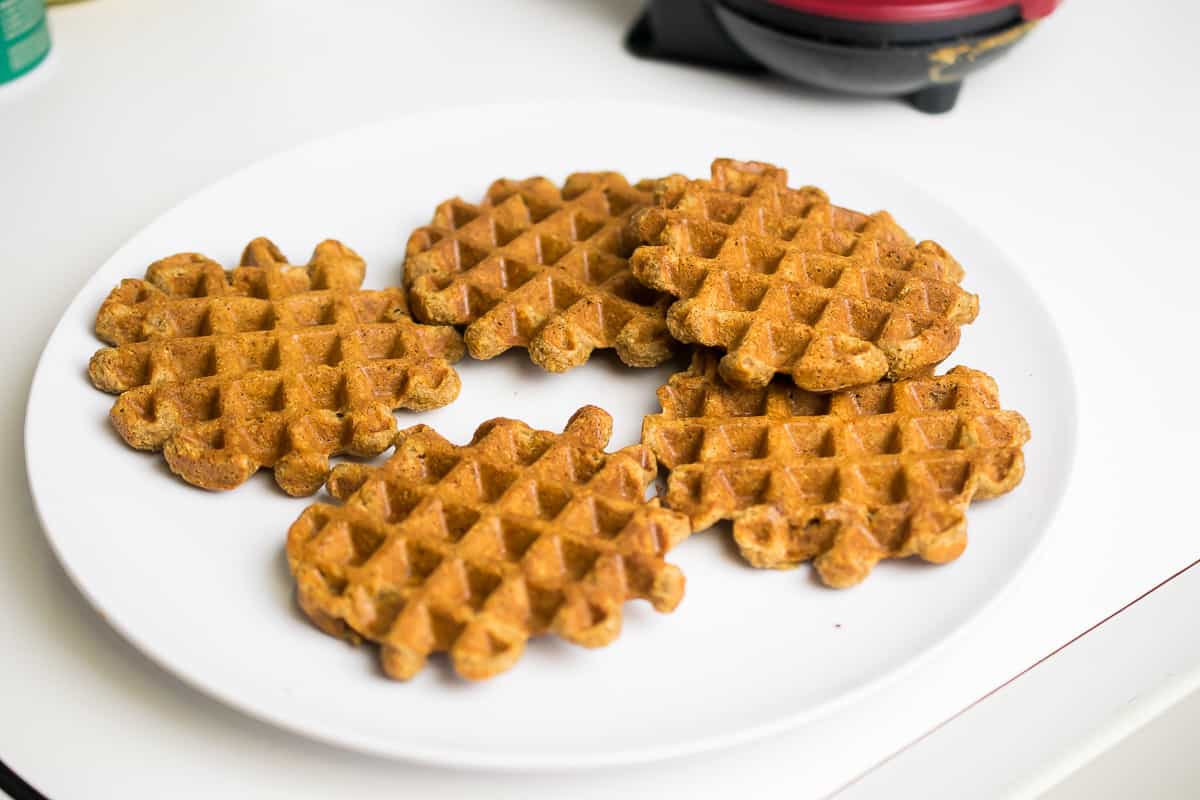 Why This Recipe Works (Without Cassava or Coconut)
A lot of grain-free and nut-free flours tend to leave baked goods very gummy. Not this recipe. It's made with tigernut, green banana, and the secret ingredient – sparkling water. It's a thick batter that caramelizes in the waffle maker and as it cools it hardens to a crispy waffle. They take a little finesse, so be sure to read the tips and tricks section.
The reason I made these AIP Crispy Waffles coconut and cassava free is that there are SO MANY options WITH coconut and cassava out there. Yes, those flours are easier to find, but many folks on AIP can't have coconut, which can be very hard. Also, a great many don't digest cassava flour well either. I know I don't (hello bloat). Luckily, not only are these extra allergen-friendly, they're extra delicious too! So crispy! Learn more about AIP here.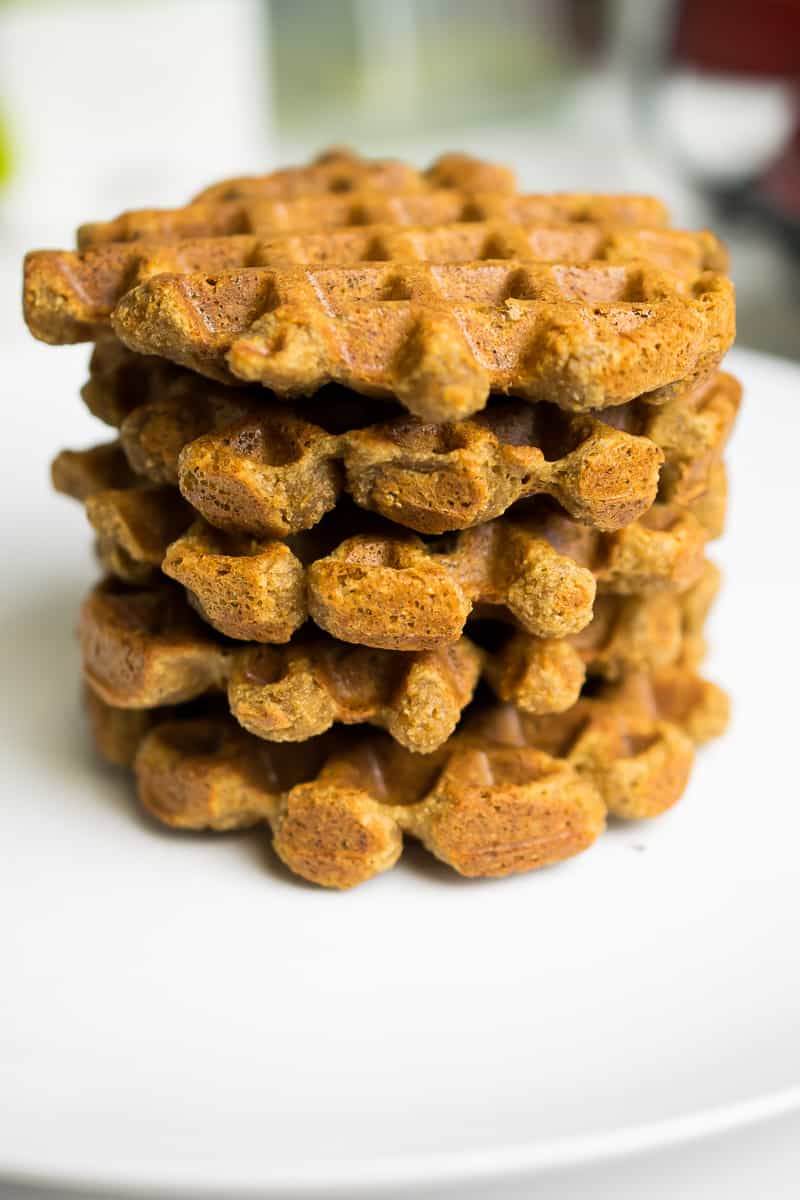 Grab Your (Specialty) Ingredients
Yes. In AIP baking in general, specialty ingredients are kind of the standard. I found the Green Banana Flour in the grocery store, but the TigerNut Flour I order from Thrive Market. I have not played with any substitutions because these recipes tend to be finicky. When you find a combination that works, it just works.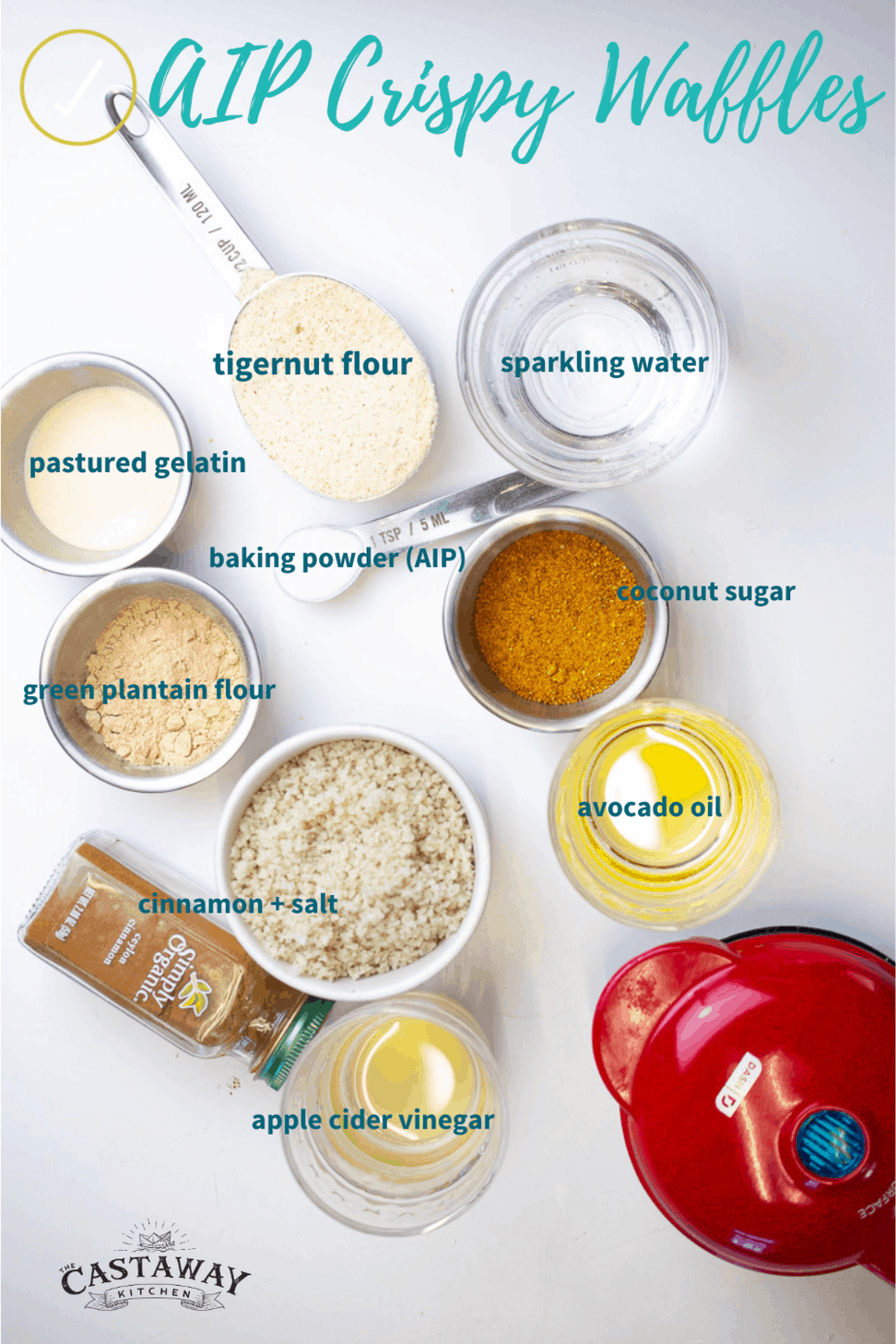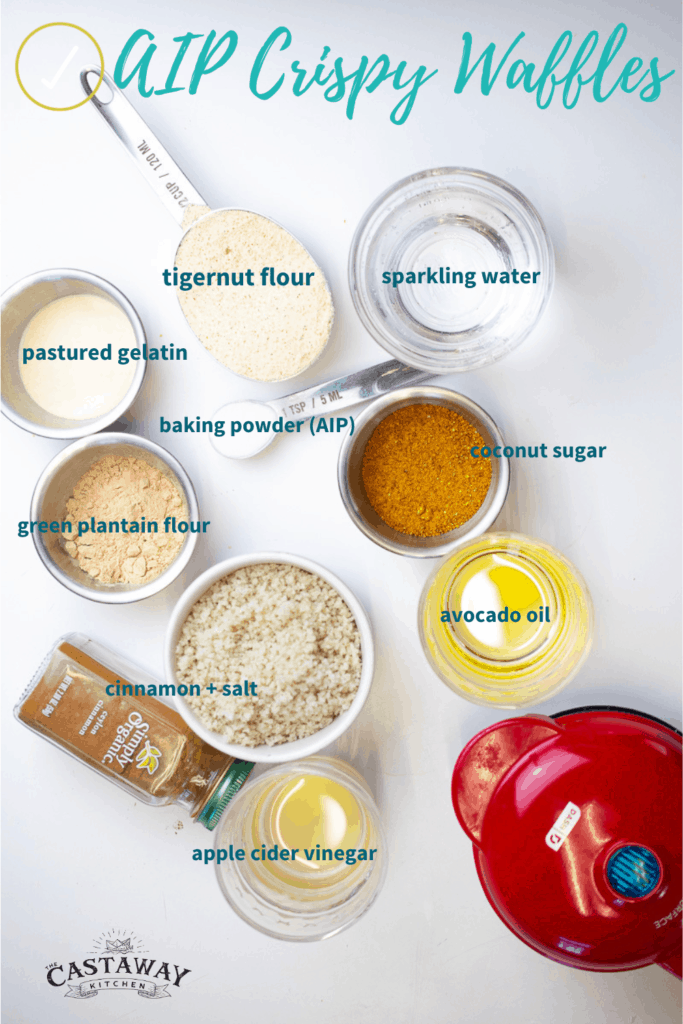 Making AIP Crispy Waffles Step by Step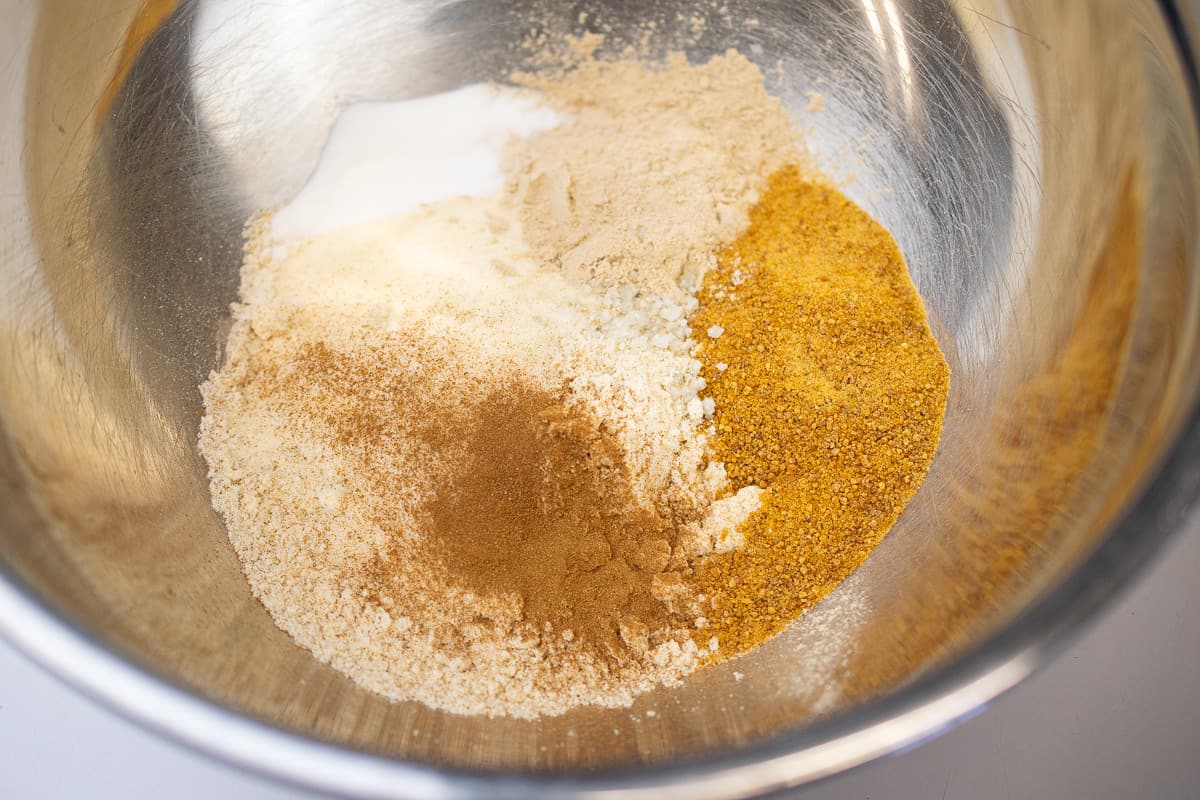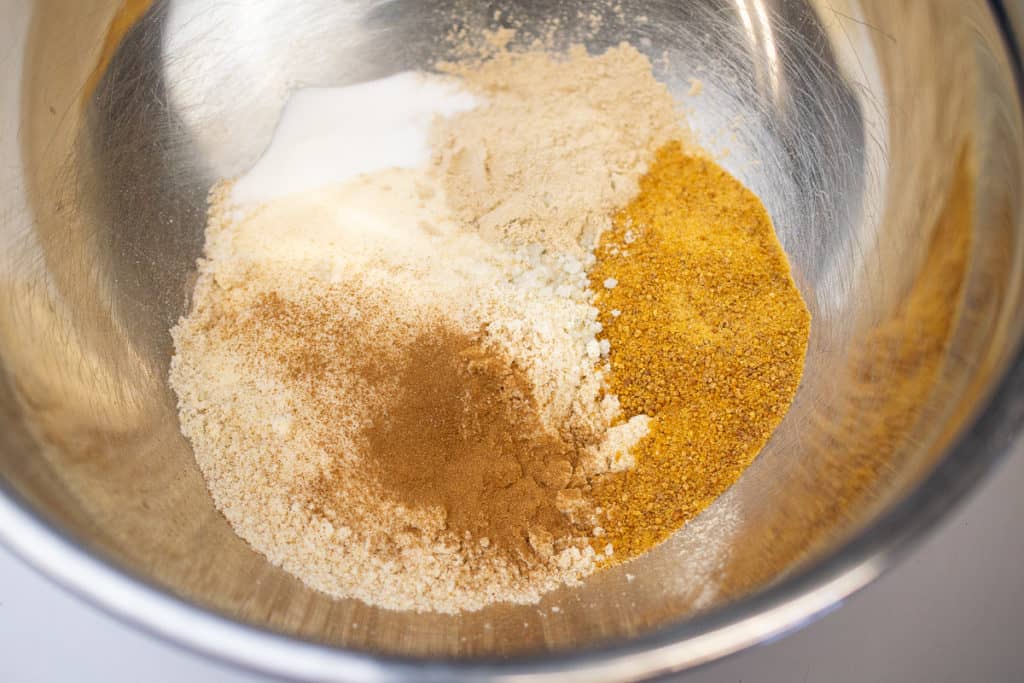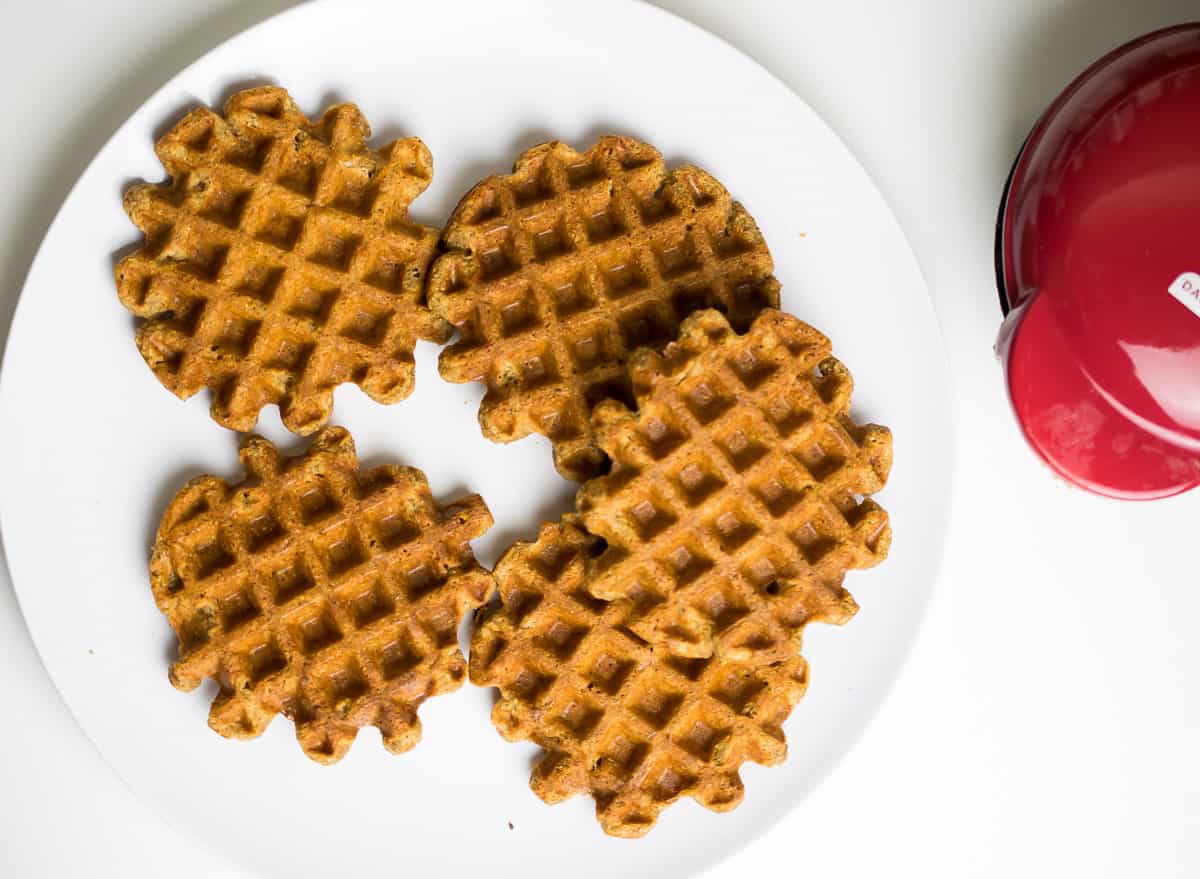 Frequently Asked Questions
Can I make these into pancakes?
No, I tried. It didn't go well.
Why do they look toasty but feel soft?
When you're taking them out of the iron, they will still feel soft, yes, so be careful or you will deform them. Put them flat on a plate and give them 30 seconds and as it cools just a little bit they get super crispy.
Why is my waffle deformed?
It will harden in the shape it's in when you take it out of the iron. For pretty waffles use the tip of a spatula or fork to gently lift and lay flat on a plate.
Can I use coconut flour instead of tigernut flour?
I haven't tested that yet, but someone reported that sweet potato flour worked well for them!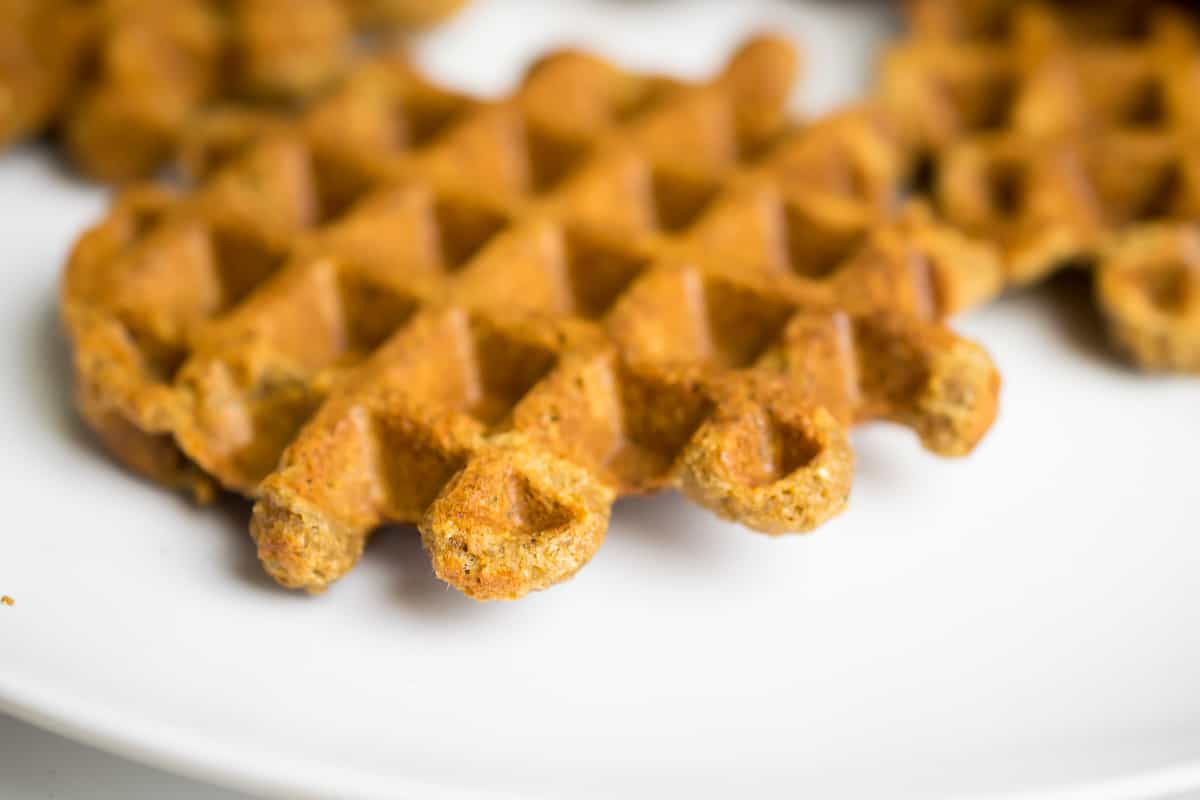 Tips and Tricks
Use a mini-dash or mini waffle iron. These don't work well in Belgium waffle irons.
Don't overdo the liquid. That's why I instruct you to add 2 tbsp of water at a time. The batter will be fluid at first but it will get thick as the flours absorb the fluid. Too much water will make the mix prone to deforming, and they will take longer to cook.
Great the iron lightly before each waffle.
Wait until the mini waffle iron is fully heated before putting the batter in.
Use a timer! These need to cook for 4 minutes per waffle. That's longer than you think. Put a timer on.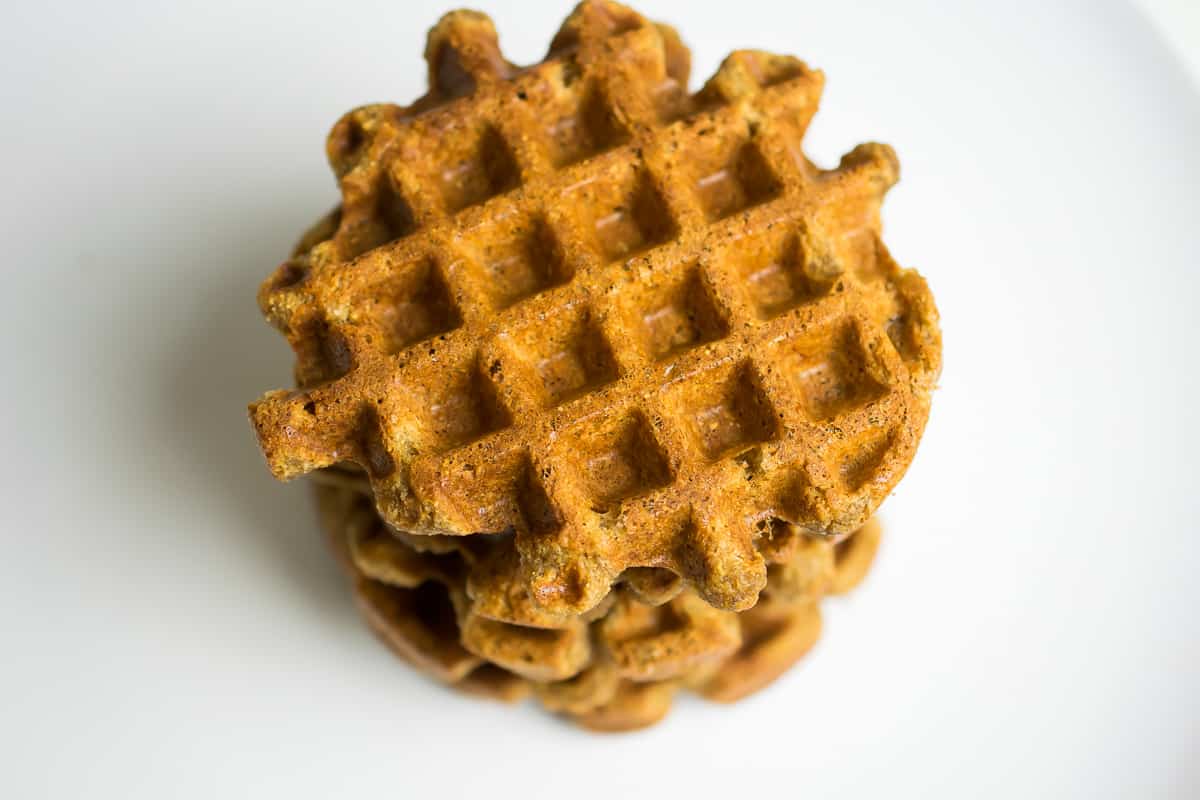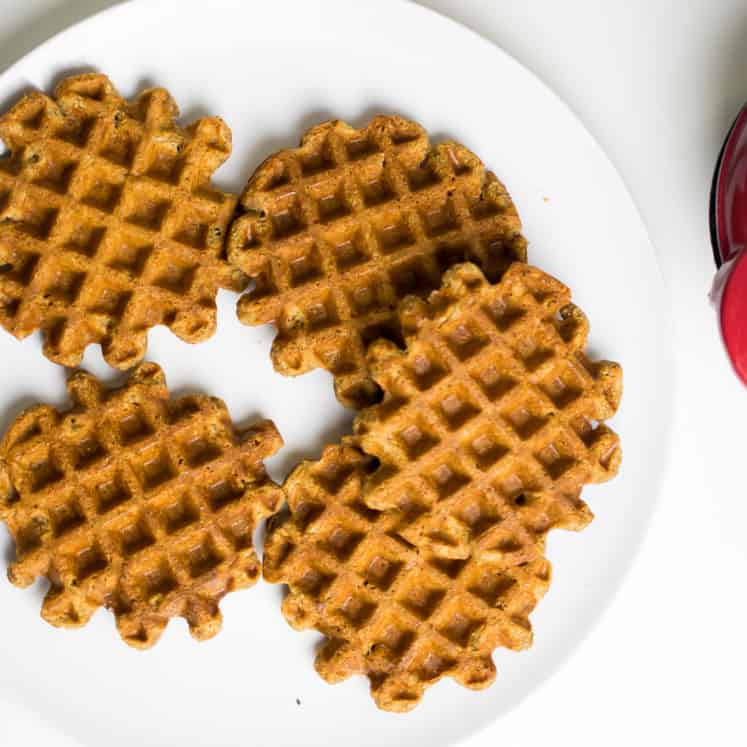 Crispy AIP Waffles
---
Author: Cristina Curp, FNTP
Prep Time: 5 minutes
Cook Time: 20 minutes
Total Time: 25 minutes
Yield: 6 waffles 1x
Category: Breakfast
Method: Waffle
Cuisine: AIP
Diet: Gluten Free
Description
A super easy and super crispy AIP Waffle Recipes!
---
---
Instructions
Heat your mini waffle iron.
In a large bowl whisk together all of the dry ingredients.
Add in the avocado oil and whisk well, then the vinegar and repeat. The mix will be crumbly.
Slowly add in the sparkling water, 2 tablespoons at a time, letting it fully incorporate before adding more. Only add as much as you need so the batter is the consistency of pudding.
Grease the waffle iron and put 2 tablespoons of batter in the center. Close it and let it cook for 4 minutes without opening it.
Open the iron, the waffle should be a deep golden to dark brown color. It will feel soft and a little sticky. Very carefully, with the tip of a fork or spatula remove it from the iron and place it on a plate. It will firm up and be crispy within a minute!
Repeat with the remaining batter, lightly greasing the iron between waffles. Makes 6-7.
Recipe Notes:
Read the FAQ's and Tips and Tricks! 
Nutrition
Serving Size: 1 Waffle
Calories: 118
Fat: 6.9g
Carbohydrates: 13.5g
Fiber: 3.6g
Protein: 0.8g
Keywords: AIP Crispy Waffles