Crispy on the outside and soft on the inside, these AIP English Muffins have a wonderful texture! The inside is chewy but not gummy and the bottom get's a lovely crunch. This paleo and allergen free recipe can double as a bread roll or burger bun too!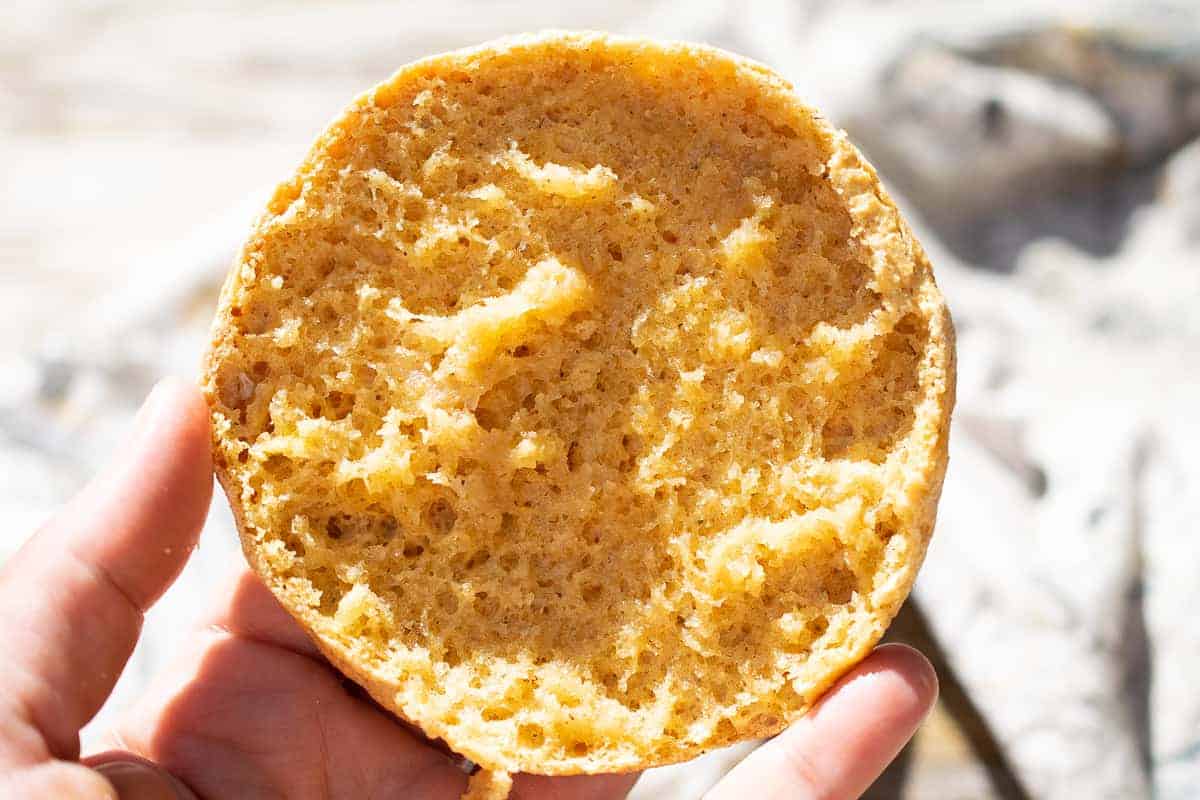 Why This Recipe Works
Oh bread… you make my heart sing. A warm piece of good bread can really make or break a dish. This recipe offers a fantastic grain-free, egg-free, nut-free option for when you need that doughy goodness. The green plantain lends a natural sweetness to the bread, while the tiger nut flour gives that traditional English muffin grainy finish. Now, how well your AIP breads turn out depend on how well you follow instructions and your skill level. Baking takes practice! Don't give up. I am REALLY happy with how this recipe turned out. Even though I was actually aiming for a burger bun, and these AIP English Muffins can definitely moonlight as a bun or roll, their texture is very English Muffin. A toasty exterior with a hole-y and soft inside. Very delicious!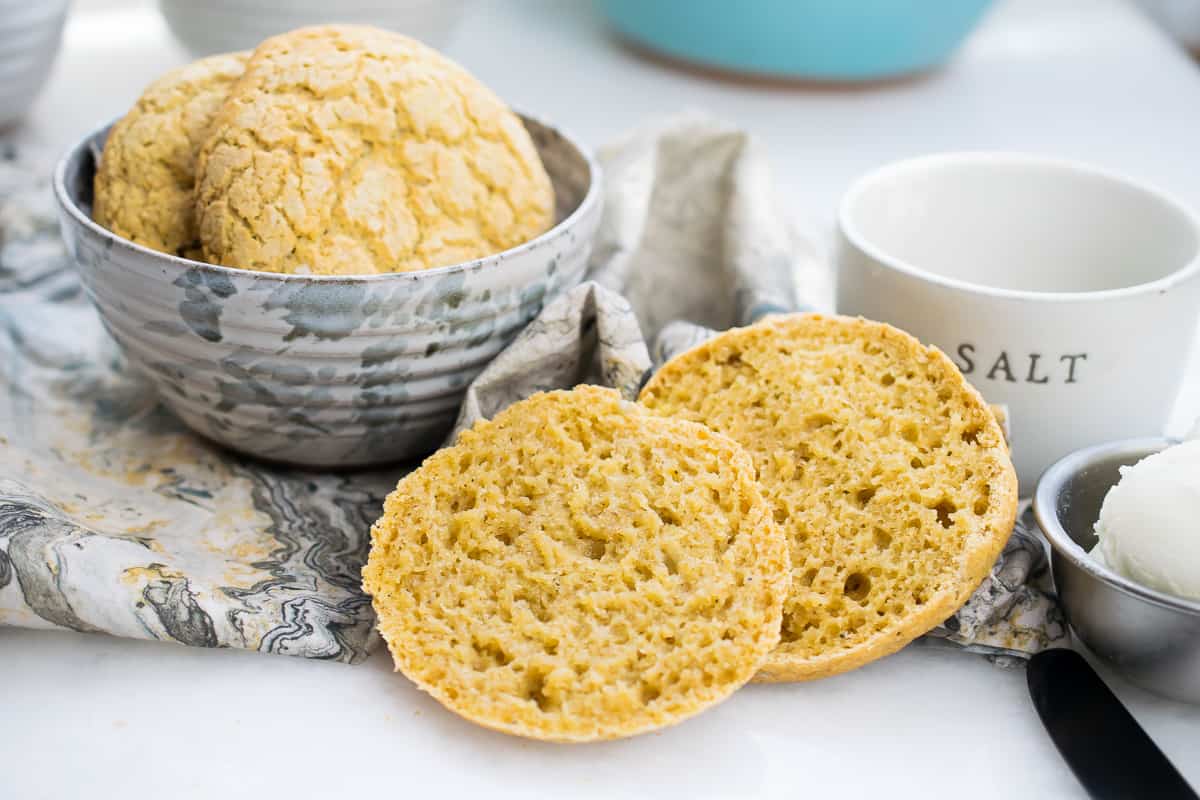 Grab Your Ingredients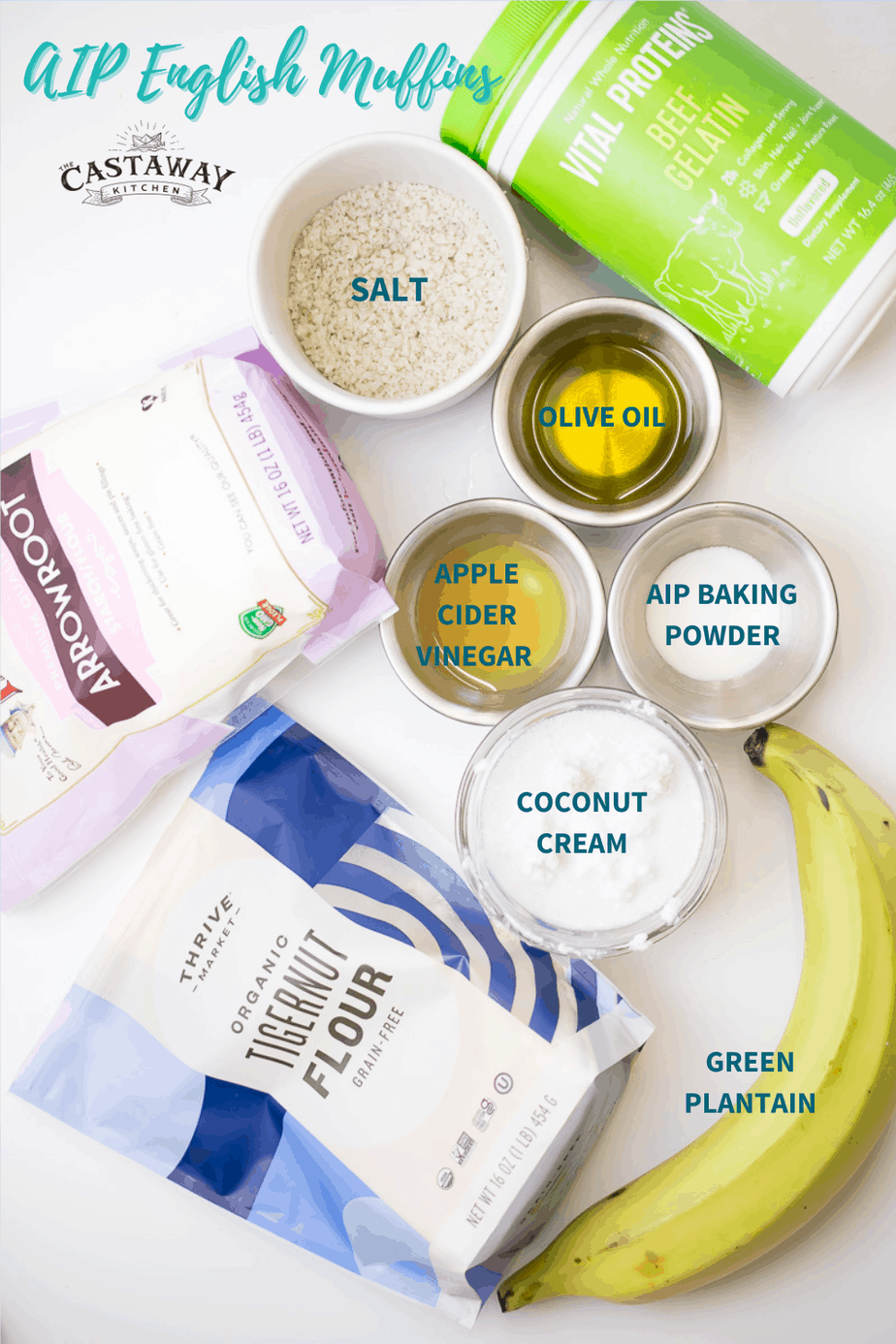 When it comes to AIP baking it's important to stick to the ingredients listed. We're making English muffins without grains, eggs, nuts, or dairy. Plantains are involved. It's going to get weird. AIP baking is the epitome of food science and science is specific. Cooking is art, baking is science. Stick to the script.
If you're going to make AIP English Muffins be sure to have the following on hand.
A very green plantain, a yellow plantain will be too sweet. I love using whole ingredients in baking and plantains, specifically green ones have a lot of benefits like prebiotic starch.
Arrowroot starch, this adds stretch to the dough.
Tigernut flour for body and texture.
Pastured beef gelatin for nutrition and consistency.
Apple cider vinegar also aids in rising.
AIP baking powder which consists of equal parts cream of tartar, baking soda, and arrowroot starch sifted together. You can find my recipe here to do it yourself or purchase THIS paleo, AIP baking powder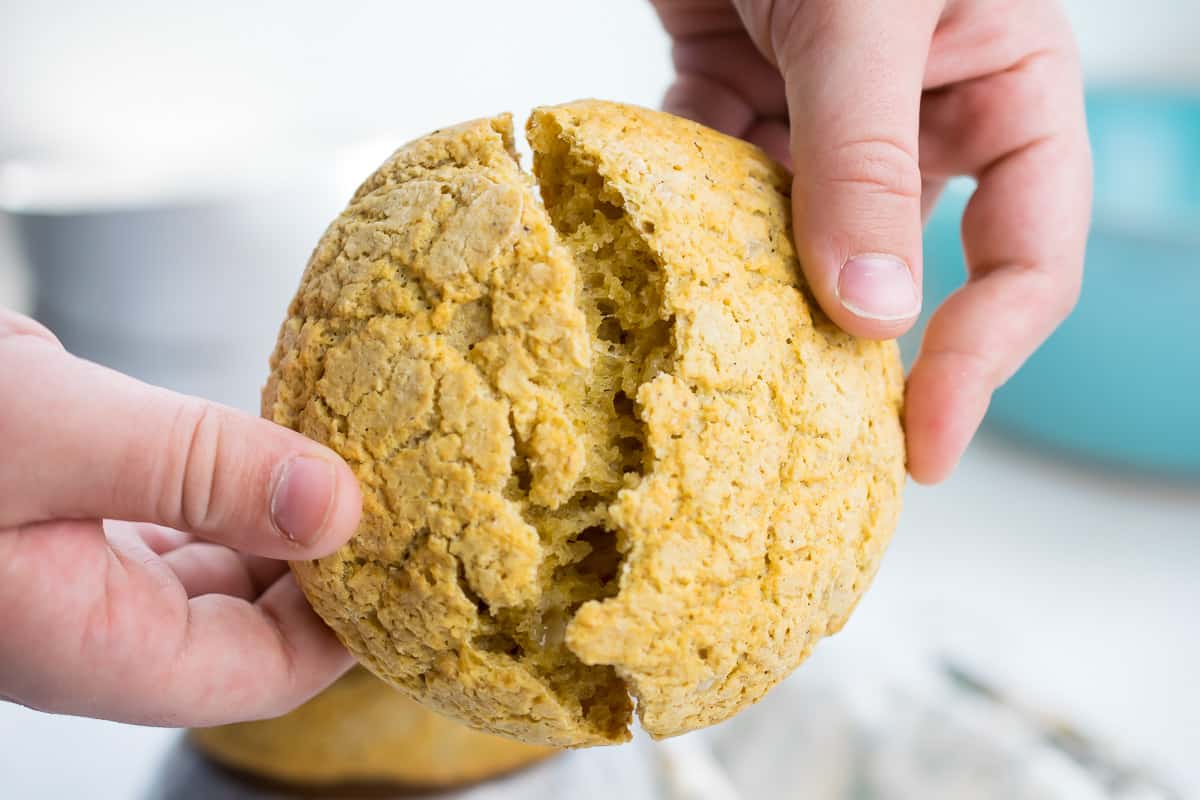 Step By Step AIP English Muffins
You want to start by mixing the vinegar with the coconut cream (coconut milk) and setting it aside. This will make a buttermilk. Then, whisk together the dry ingredients.
Once those things are done, blend the plantain with the buttermilk and olive oil.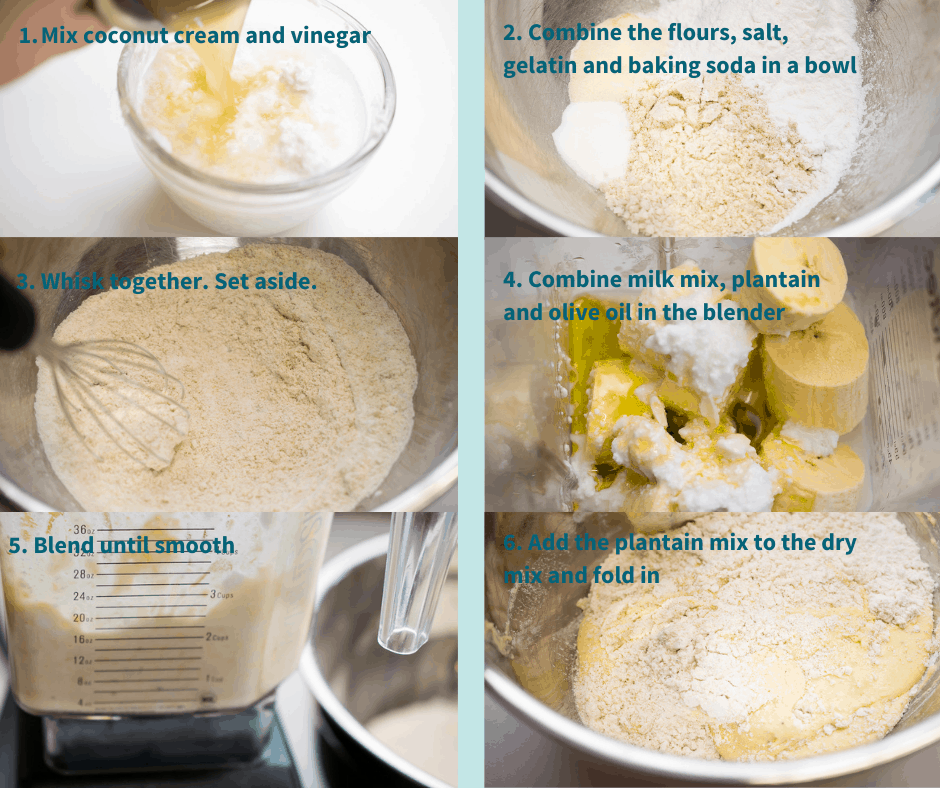 Next, fold the wet mix into the dry mix. Use a spatula to scrape all the of the plantain mix into the bowl with the flour mix and tilt the bowl with one hand while you fold with the other.
When the mix is fully incorporated, meaning there are no more pockets of dry flour left, let it rest for 10 minutes in a warm place in the kitchen (by the pre-heated oven is good).
After 10 minutes you will notice the mix firmed up into a dough and got a little fluffy. Touch it with your finger, you will notice it's a little sticky.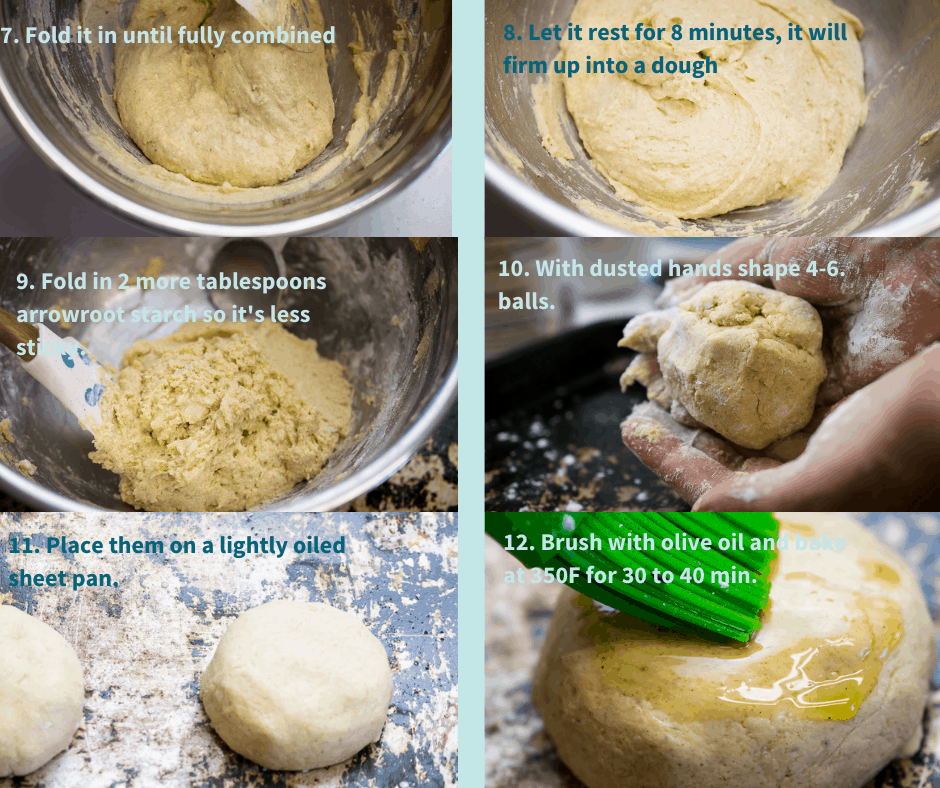 Then Add 2 tablespoons of arrowroot starch to the mix and fold in, it get a nice stretchy dough consistency.
After this texture is achieved, with dusted hands grab some and roll it in to a ball and place on a lightly oiled sheet pan.
Bake for 30 to 40 minutes at 350F on the middle rack.
The AIP English Muffins will be lightly golden and firm to the touch when done.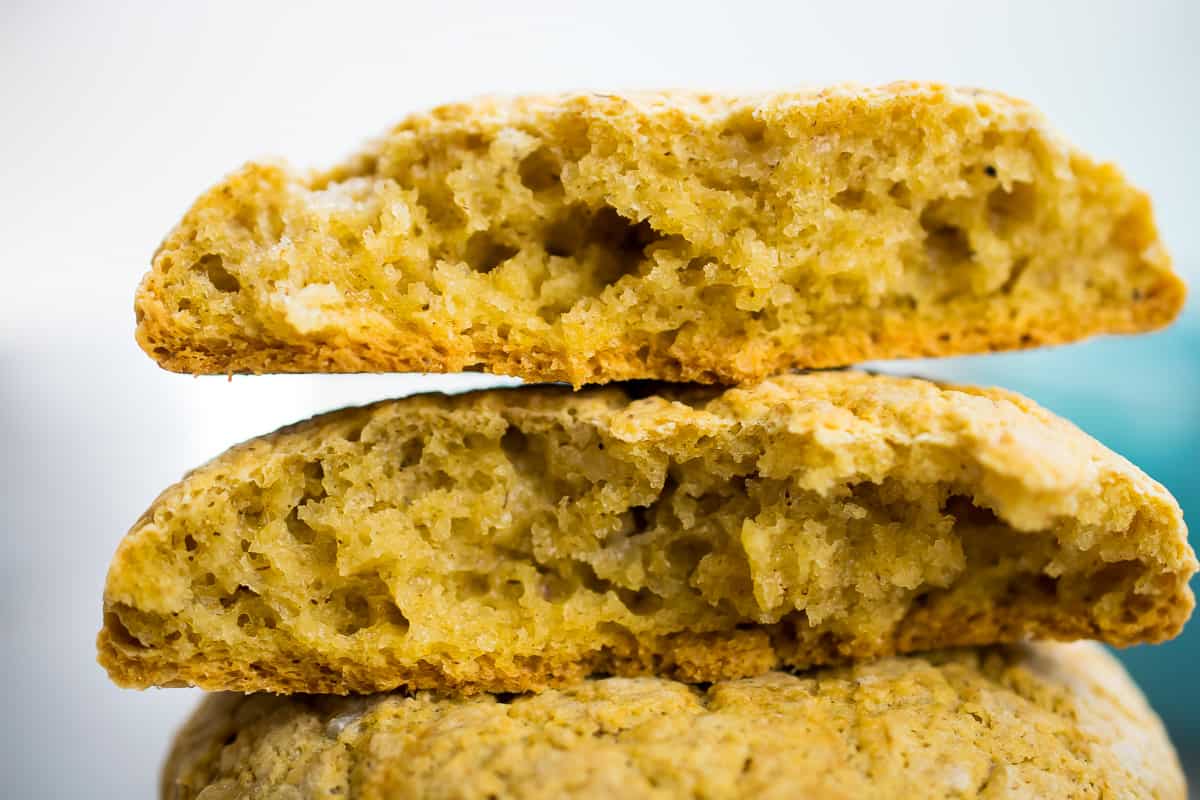 Tips and Tricks
I want you to be successful making this recipe, I want that for all my recipes. Creating these recipes takes a lot of time and I feel a great responsibility to my readers. Thus, it is important to me that you don't waste your time or your money. So here are my tips and tricks for AIP English Muffin success:
Make sure to measure all your ingredients out ahead of time. This is called mise en place (meez ahn plahs) is a French term for setting up before you cook. It will help things go smoothly and frankly make it more fun.
Pick the right plantain. You want a big one that is light green, not yellow or blackening.
Go slow! Don't rush, there are no time restraints on this recipe.
If you don't have a high-powered blender, use your food processor to blend up the plantain.
Always sift your flours before using in grain-free baking.
Let the breads cool before cutting them open!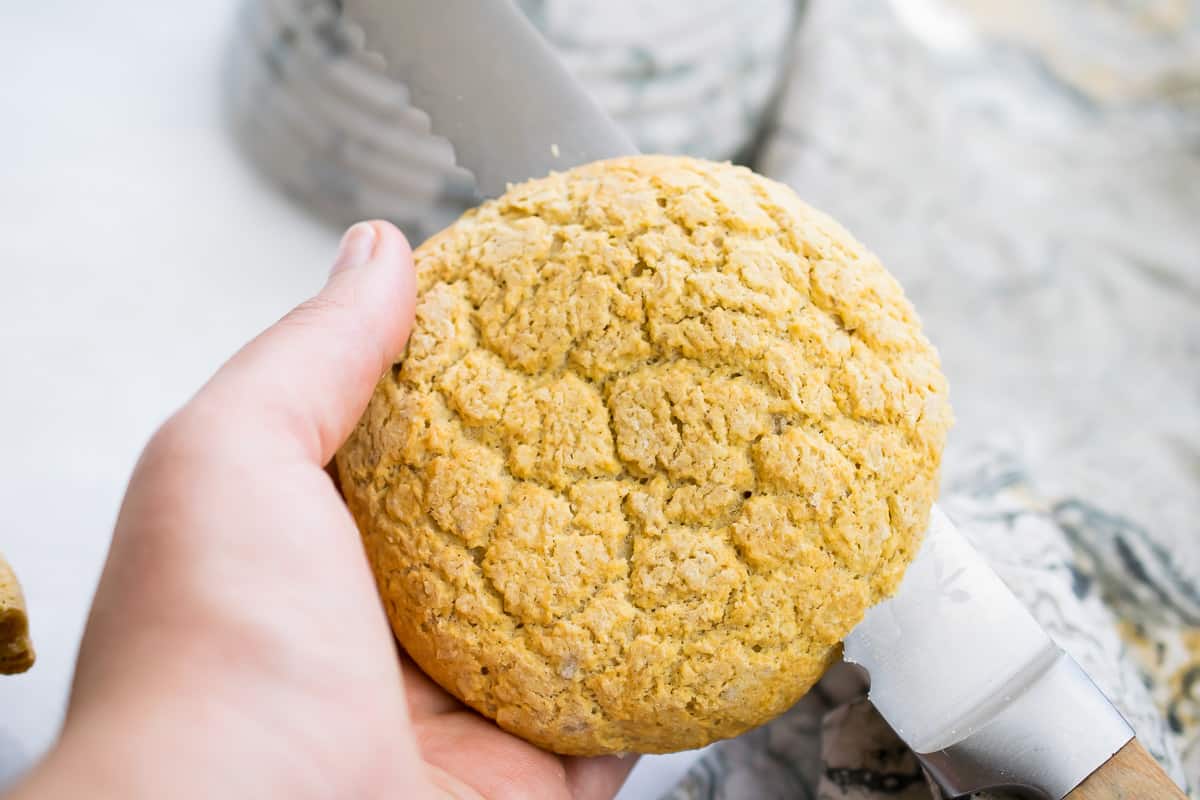 Frequently Asked Questions
Can I use tapioca starch instead of arrowroot?
Tapioca starch might not hold up with the apple cider vinegar in the recipe. Arrowroot has the benefit that acids don't break it down.
Can I use green banana flour instead of plantain?
Unfortunately no, it's not the same. Using the whole plantain is imperative for this recipe.
Where do you get green plantains?
The produce sections at Wegman's, Safeway, and Whole Foods where I am now, Alexandria, VA carry plantains. Latin markets will always have them on hand too!
These look big. Can I make them smaller?
They are quite big, yes, you can easily make 6 or 8 mini AIP English Muffins. Bake time will vary. Watch them. When they are lightly golden and firm to the touch, they're ready.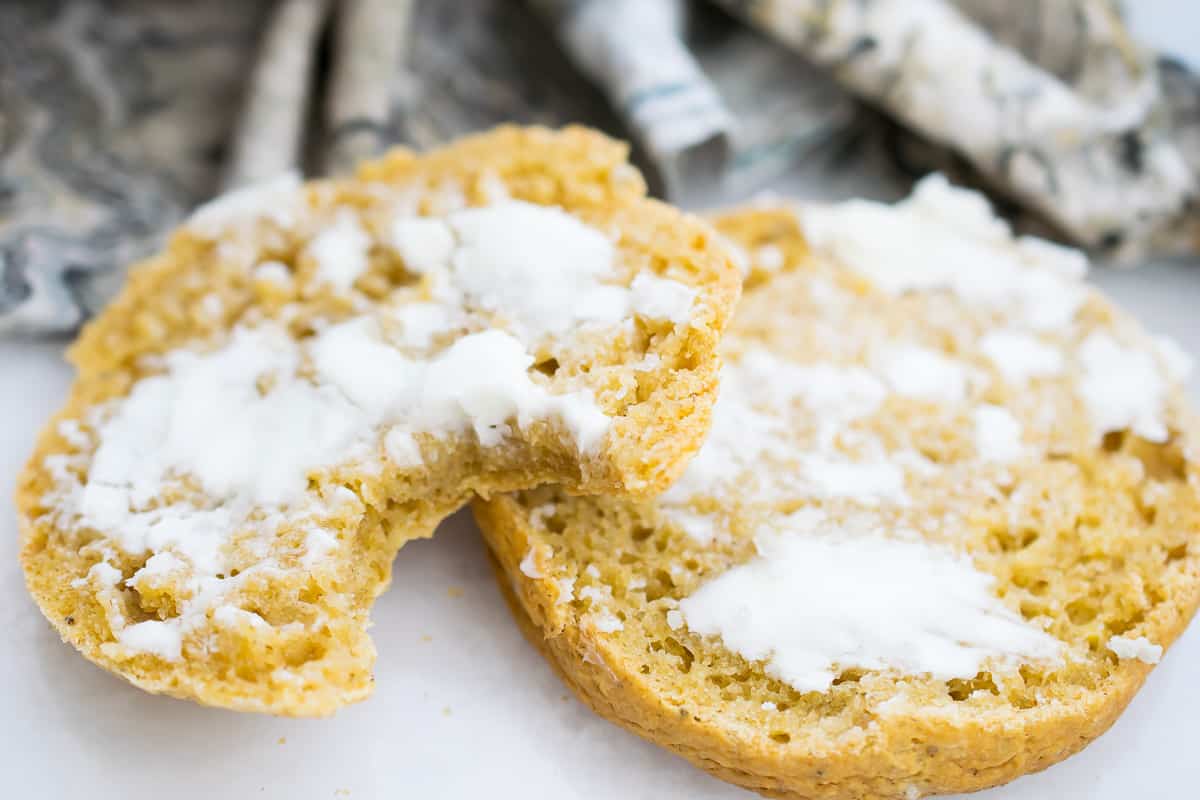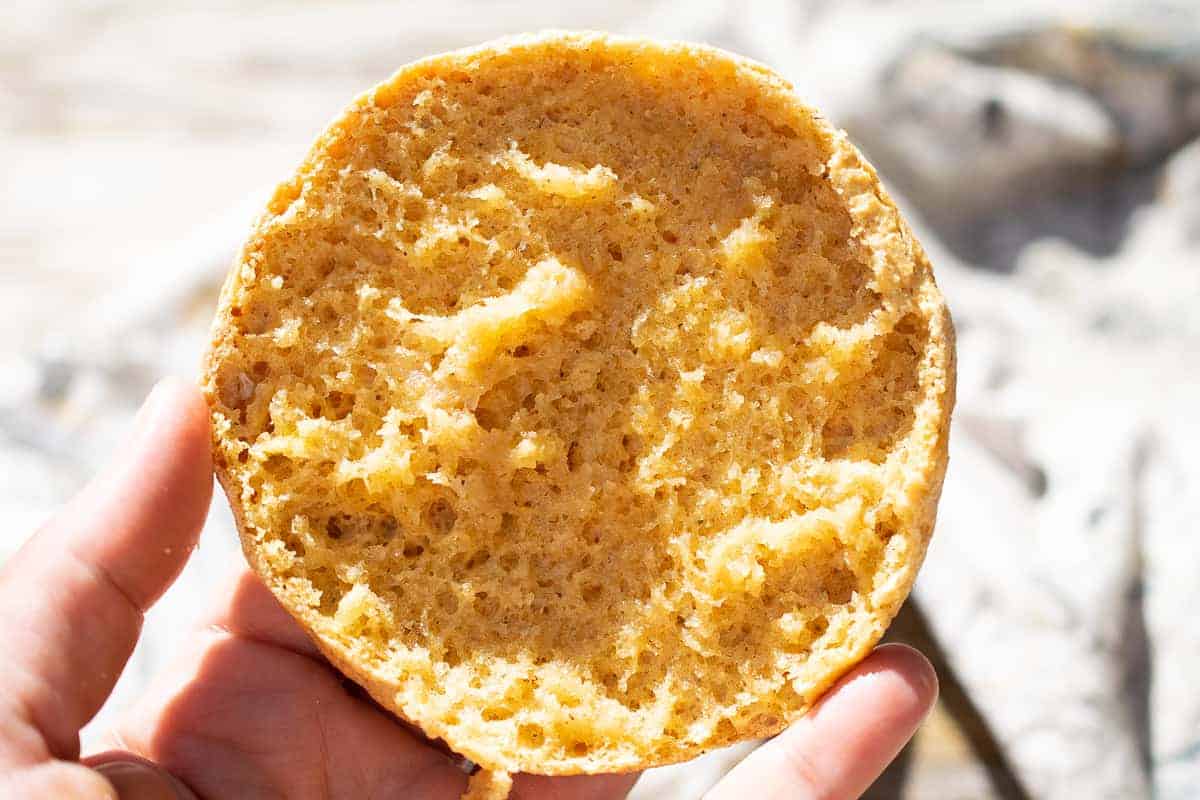 AIP English Muffins (grain free, egg free, nut free)
---
Author: Cristina Curp, FNTP
Prep Time: 10 minutes
Cook Time: 40 minutes
Total Time: 50 minutes
Yield: 4 English Muffins 1x
Category: Bread
Method: Baking
Cuisine: AIP
Diet: Gluten Free
Description
AIP English Muffins with a nice crusty outisde and soft inside!
---
---
Instructions
Add the vinegar to the coconut cream and set aside. Preheat the oven to 350F and lightly oil a sheet pan or line with parchment paper.
In a large bowl whisk together the tigernut, arrowroot, gelatin, baking powder and salt.
In a. blender puree the green plantain with the coconut milk mix and olive oil. Use a spatula to scrape that mix into the bowl with the flour.
Fold, do mot mix. Tilt the bowl with one hand and use the other to wield the spatula, folding the flour mix into the plantain mix until fully incorporated.
Let the dough sit for 10 minutes to thicken, set it in a warm area of the kitchen. Once it's thickened up it will look nice and fluffly, but still feel a little sticky. Add in 2 tablespoons more arrowroot starch and use the spatula to fold it to a pliable dough, gently. Don't over mix.
Use dusted hands to shape 4-6 balls. Place them on the sheet pan, set 3 inches apart as they will spread.
Bake for 35-40 minutes (depending on oven or bun size). When the English muffins are a nice golden color and very firm to the touch remove them from the oven.
Let them cool completely before cutting open or the center will be gooey.
Enjoy! Great with salted palm oil shortening and salt smeared on top. Store in an airtight container on the counter for 3 days.
Recipe Notes:
Stirring and mixing both denote a more vigorous action. Folding is usually used for items where something has previously been whipped (such as egg whites or cream) or where tenderness is desired and thus less mixing is advisable (muffins & biscuits). Source
READ THE TIPS AND TRICKS AND THE FAQ's SECTION! 
Nutrition
Serving Size: 1 bun
Calories: 315.1
Fat: 17.1g
Carbohydrates: 37.7g
Fiber: 3.5g
Protein: 3g
Keywords: AIP English Muffins