How to do Keto Dairy Free
Keto is the latest rage in the health and wellness community. The more people migrate from paleo to keto, or the more people that find how well keto works for them, the more people who find they need to do keto without dairy.
Back when I began keto there were zero dairy-free resources! I was all alone, and a little scared.
Now, I've lost count of the amazing resources available to keto goers with food intolerances. But as this has been my personal way to keto, I am happy to share my very own GUIDE TO DAIRY FREE KETO!
First thing's first… What is this keto?
The ketogenic diet promotes the metabolic state of ketosis. When you are in ketosis your liver produces ketones, which will use dietary and/or stored body fat to create energy. In the absence of carbohydrates in your diet, and stored glycogen in your body, you body will burn fat for energy. So, instead of your body pumping out insulin constantly which shuttles blood sugar (glucose) into cells for fuel you will now use fat.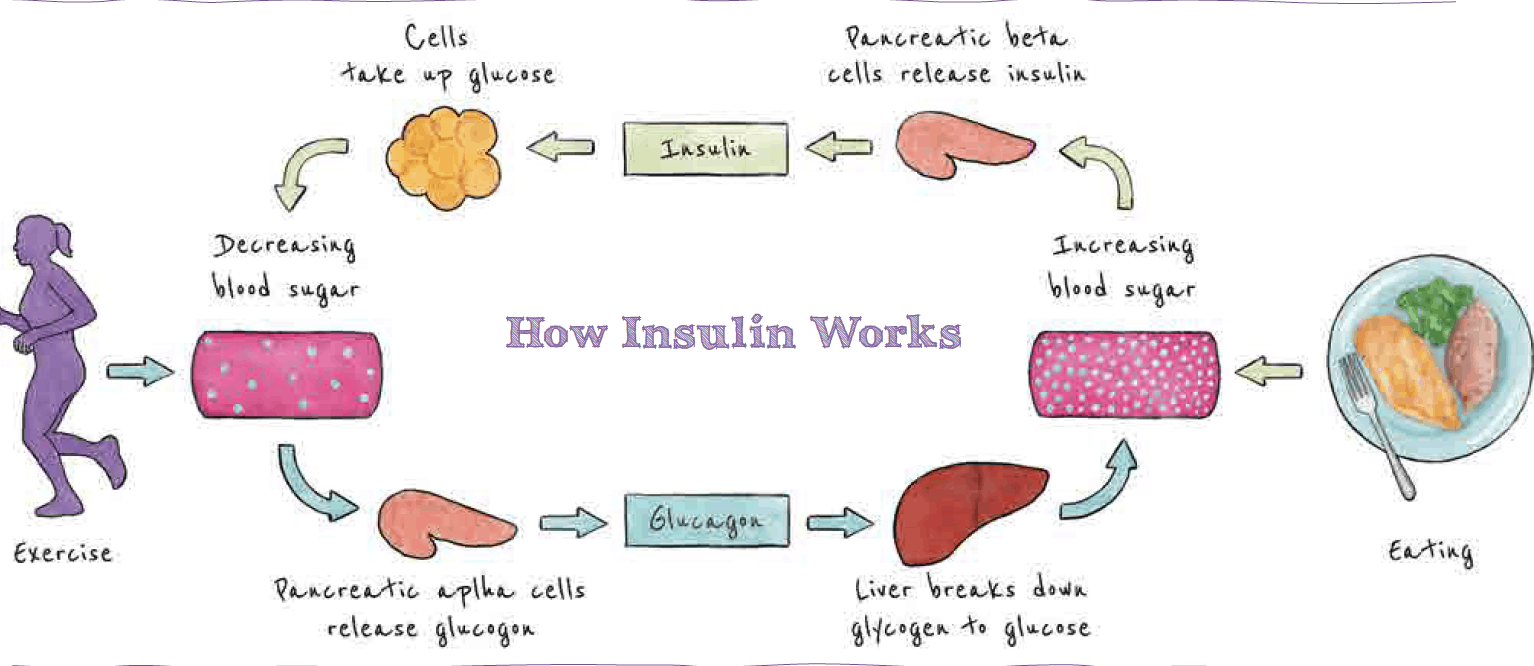 When your body has depleted glycogen stores and is not getting glucose from dietary sources, the pancreas will release glucagon (instead of insulin), which stimulates lipolysis (fat metabolism). Tapping into stored body fat (as well as using dietary fat) lets the body create ketones which are anti-inflammatory and clean fuel for your brain (source). Fat also burns slower, meaning you have sustained energy. Think of sugar (glucose) as kindling, fast-burning fuel, and fat as the logs on a fire, slow-burning.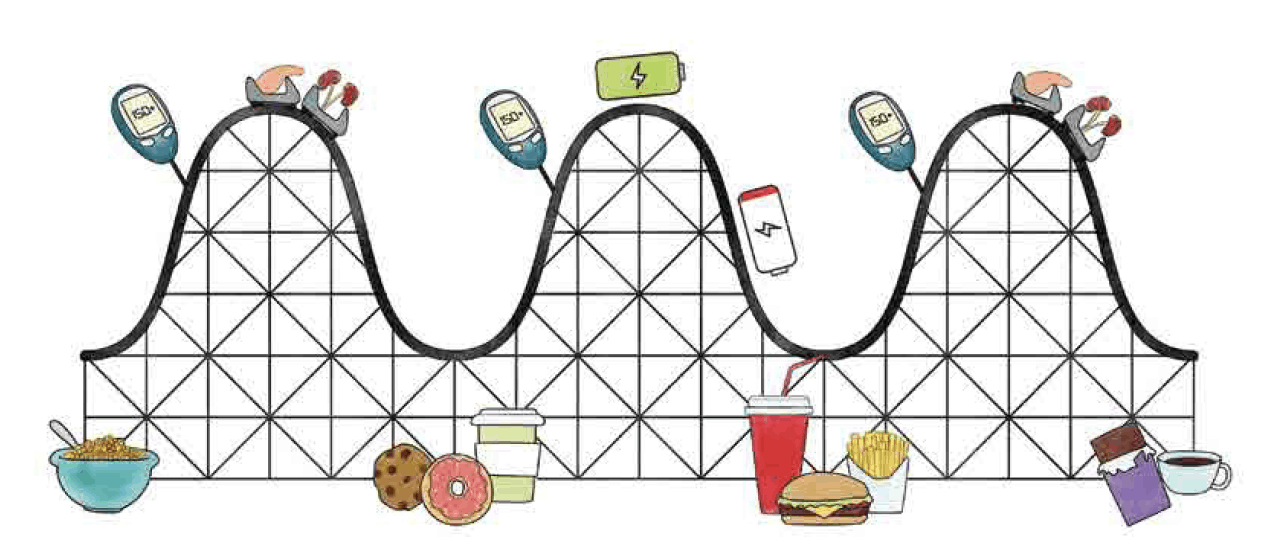 The benefit of slow-burning energy is that you don't have spikes and falls of energy. You stay satisfied much longer, with no need to refuel every few hours. Beyond that, there are many studies that attest to the healing aspects of a ketogenic diet (reversing Type2 diabetes, reducing inflammation, etc). Used for over 100 years in clinical settings to treat neurological disorders, a ketogenic diet is very powerful.
It also has many faces. Folks keto in many different ways. While the medical ketogenic diet needs to be very high in fat (brain fuel) and very low in carbs (sometimes in efforts to starve tumors!)….. a more casual keto diet is being used by many people to find a healthy body weight, experience better energy, mental clarity, and athletic performance. (1, 2, 3)
Recommended Dairy-Free Keto Books
What do I eat on Dairy-Free Keto?
Quality animal proteins, eggs, bacon, coconut, green vegetables will be most of what you eat. No need to eat tons of cheese to get fat into your diet. Chicken thighs, ribeye steaks, pork shoulders all have plenty of fat. Add some good sauces to your plate, sauces made with anti-inflammatory fats like avocado oil mayo, coconut milk curry and Sunshine sauce and you will be cruising on your keto lifestyle.
Fats: Olive Oil, Rendered Bacon Fat, Coconut Oil, Bacon, Tallow, Duck Fat, Mayo, Avocado
Proteins: Ground Beef, Eggs, Chicken Thighs, Rib Eye, Salmon, Pork Shoulder, Sardines, Liver, Bratwurst, etc
Super Foods: Organ Meat, Broccoli, Cauliflower, Kale, Spinach, Bok Choy, Mustard Greens
Aim to eat foods that you enjoy! Don't skimp on flavor. I love citrus, herbs and seasonings to keep my meals fun and varied.
DON'T FORGET THE ELECTROLYTES! I add a pinch of Redmond Real Salt to my water throughout the day, keeping my sodium levels and trace minerals in check.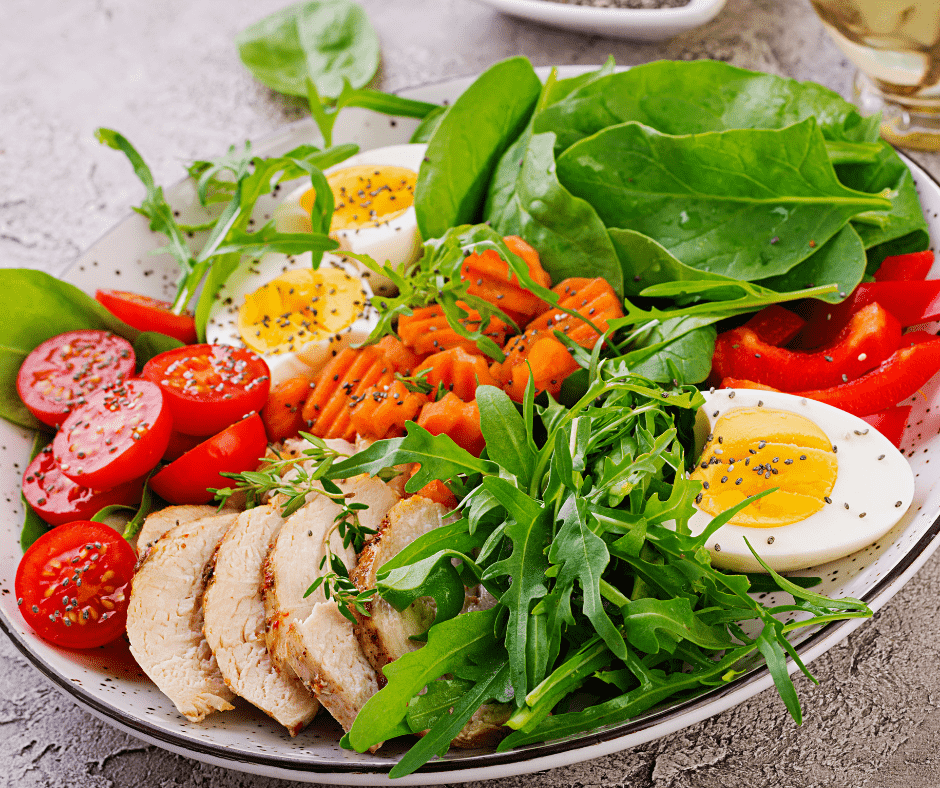 The Macros
Some people put a strong emphasis on hitting macronutrient goals to get into ketosis or stay there. The traditional keto macronutrient ratios are:
80% fat, 15% protein, 5% carbs, with a total carb limit of 20g total.
However, I usually do something like
70% fat, 20% protein and 10% carbs (from vegetables), my total carbohydrate range is between 30-50g/day.
I track total carbs, not net carbs (carbs – fiber). I also don't partake in too many keto breads, treats, etc… I feel if your carbs are from vegetables, it's not imperative to restrict them as much. But that's just me.
Being in ketosis isn't only about not eating carbs. Many people enjoy a ketogenic state, despite their diet. They practice fasting or are very active. Once you're out of stored glycogen, your body will go into ketosis, period. It's a survival mechanism humans have tapped into since the beginning of time. There are many ways to get there.
Bonus on a dairy-free keto, and usually a more whole food keto… you know, broccoli isn't going to kick you out of ketosis.
Set your protein goal (.5g-1g per lb of body weight), set your carb limit (20-50 g total/day), the rest of your calories come from fat, eat as much or as little as you need to feel food. That can range from 80g to 200g a day depending on your needs!
Need meal plans to stay on track? Check these out!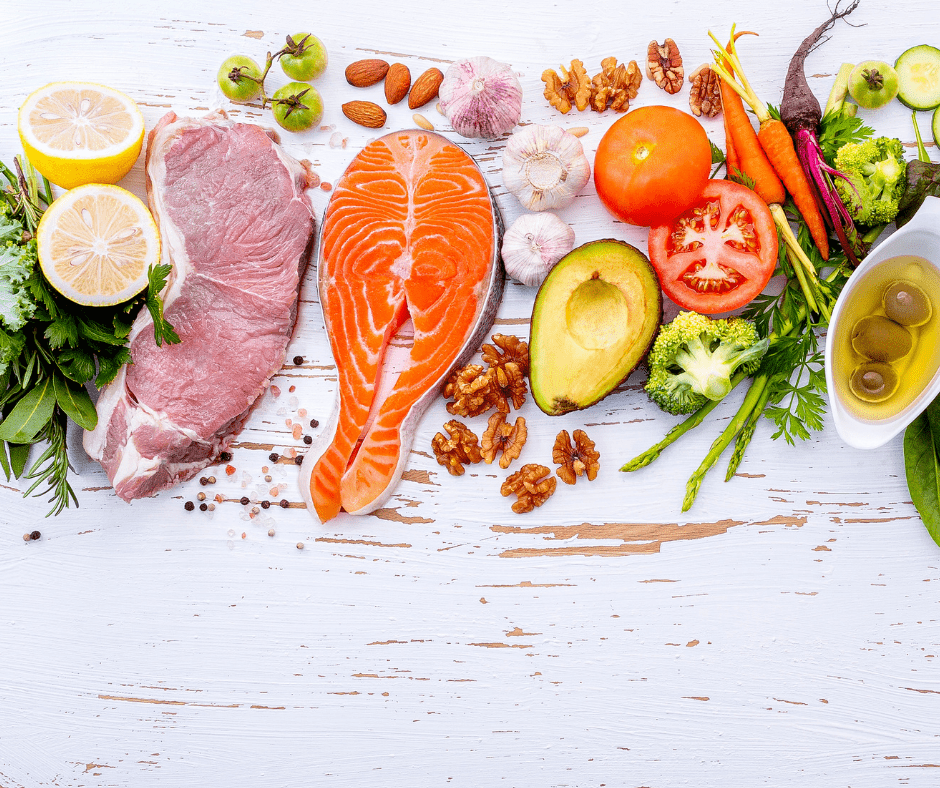 Fat Adapted
When you first lower your carbs and up your dietary fat intake, your body will go through a transition. It will have to learn to use fat as fuel before glucose. This may take a few weeks or a few months. Once you have trained your body to prefer fat as fuel, you're fat-adapted (4).
Being fat adapted is nice because your cravings will subside, you will have more energy and your meals will be very satisfying. Also, you have a little more wiggle room when it comes to what you eat, and it kicking you out of ketosis. Again, ketosis is a metabolic state. Some people, like Cross Fitters, can eat 80-100 grams of carbs a day and be in ketosis because of their demanding physical activity. They have metabolic flexibility, going in and out of ketosis without skipping a beat. Our bodies will always use a measure of glucose, even making it out of protein if need be, so don't go hating on glucose, it's there for a reason. We just don't need to overeat sugar and carbs all day every day like most of us do on a standard American diet (SAD).
To learn more about why blood sugar regulation is so important and the benefits of being metabolically flexible, read this book.
Keto in 1, 2, 3….
Omit all starches + sugar from your diet to include grain, beans, tubers, sweeteners, most fruit, potatoes, oatmeal, sweet peas, pasta, etc.
Replace these foods with healthy fat and above ground vegetables, mostly green ones. Eat plenty of avocado, olives, coconut oil, rendered animal fats.
Make sure you're getting in enough protein. .5g-1g per pound of your body weight. Strive to source quality proteins not to ingest inflammatory corn, grains, antibiotics and hormones via your animal proteins.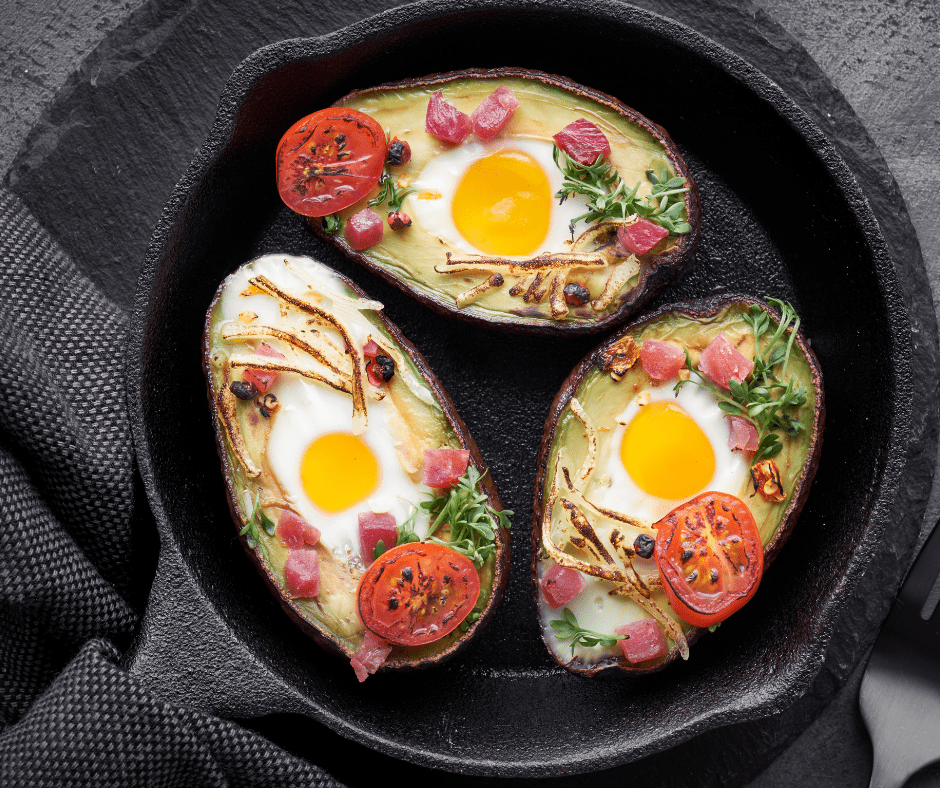 Troubleshooting
Because you don't retain water when you eat low carb, you need to make sure you hydrate and get in electrolytes.
Drink water with a pinch of Real Salt salt and a squeeze of lemon
Take an electrolyte supplement. I also like Iodine drops because unrefined salt doesn't have added iodine. Those with autoimmune thyroid conditions should talk to their doctor before taking iodine.
If you have a lot of weight to lose and start dropping pounds fast you will need to help your body detox. We store a lot of crap in our body fat.
Having trouble digesting fats? This happens. After a lifetime of low-fat, high-fiber foods our body forgets!
Make sure you drink enough water. Make sure you eat enough. Fat can be very satiating, but the fast road to hormone imbalance, hair loss, and adrenal fatigue are not eating enough.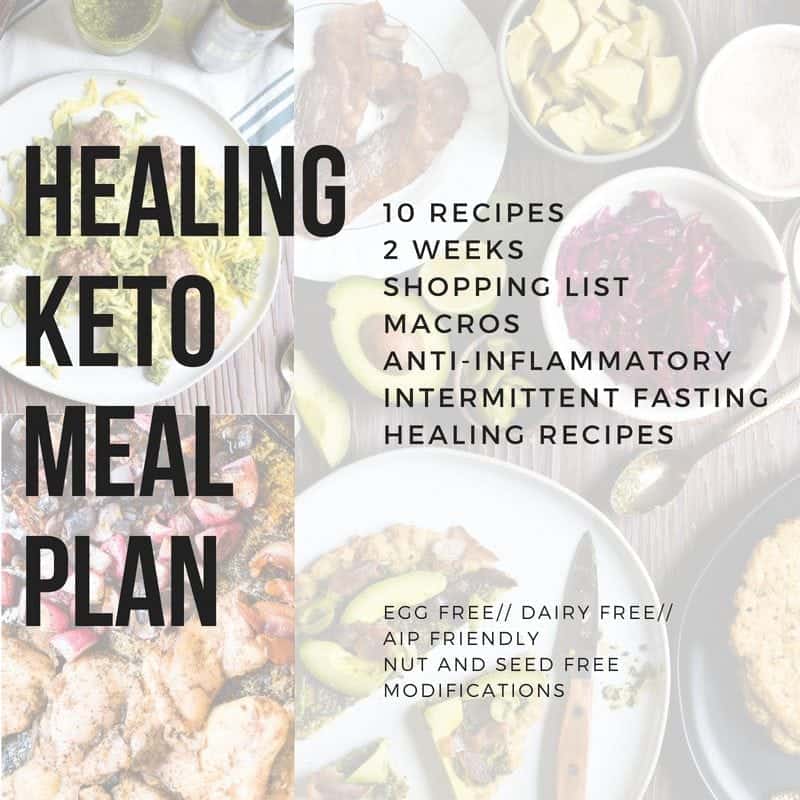 Beyond Plants and Animals
Because keto with a paleo twist (an emphasis on whole, ingredient foods) is amazing and all. But sometimes we just want the damn dairy free keto cookie. I like using coconut flour and flax seed meal for baking. Fine ground almond flour is effective, but easy to over consume. Nuts consumed in large amounts can be inflammatory. Proceed with caution.
Dark chocolate is my BFF. I stick to 80% dark or higher. You can also get stevia-sweetened dark chocolate.
Creating meals that stratify cravings is fine, it's a need, it's what I do for a living. This is meant to be a lifestyle change. It's forever. So you bet your ass we're going to eat delicious foods. It's all about getting creative with cooking. Some of my most popular recipes are: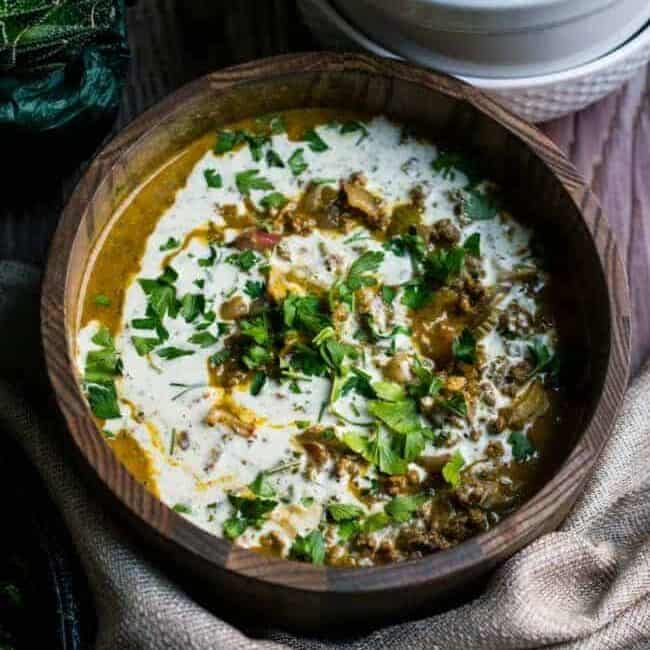 Keto and ______
AIP? Nut-Free? Whole30? Etc, etc, etc.
It can be done. You can eat however you want. It's your body. You figure out what works best for you.
My book, MADE WHOLE is dairy, nut, and nightshade-free with 100+ AIP options. It also contains over 70 pages of health, nutritional, and lifestyle information. Check it out HERE. 

Frequently Asked Questions
What do I put in my coffee? I'm partial to my Dairy-Free Coffee Creamer. Some folks like Nutpods. Coconut Milk. Collagen. Cinnamon. Drink it black.
Favorite Pizza Recipe? My Crispy Chicken Meatza or this cauliflower crust from Perfect Keto (but also by me lol).
Do I use sweeteners? Which ones? Yes. On occasion, I use Stevia Glycerite. Swerve or Lakanto. I recently started using Lakanto. I prefer it over Swerve, by a lot! However, I try to use no sweetener or use Stevia first (to keep things paleo). Lakanto and Swerve are both made with erythritol that is sugar alcohols from fermented corn. Allulose is actually really delicious.