This delicious Dairy FreeCaesar Dressing Recipe tastes like the old traditional kind. Healthy fats, a creamy texture, and no dairy! The perfect umami flavor for a keto or Whole30 salad.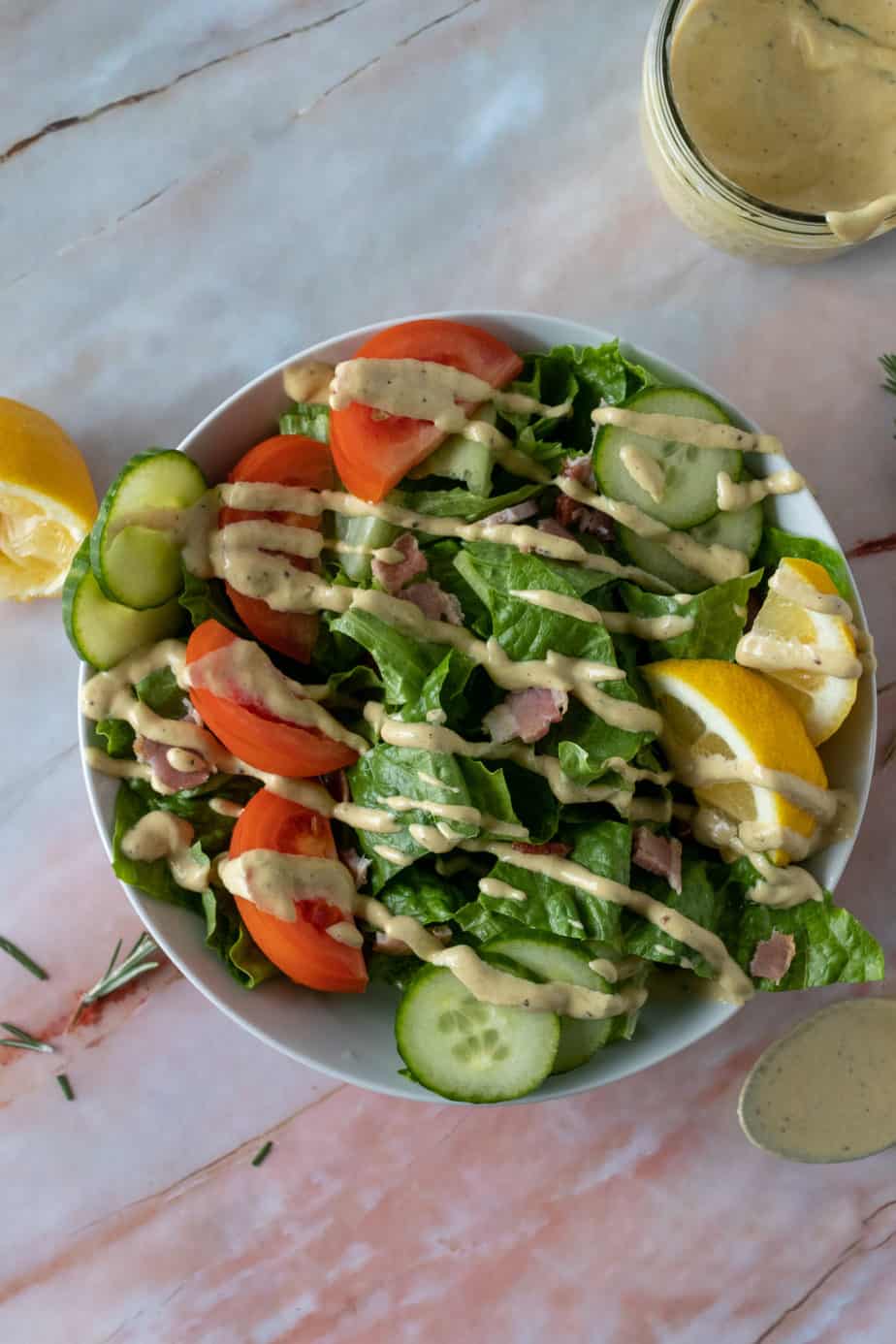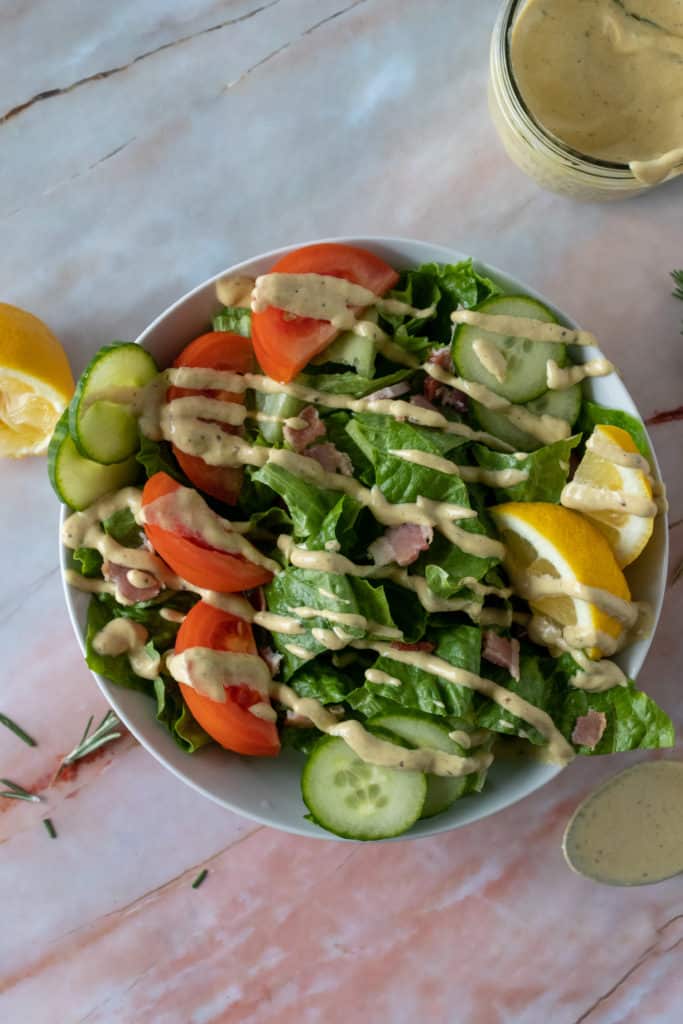 Table of Contents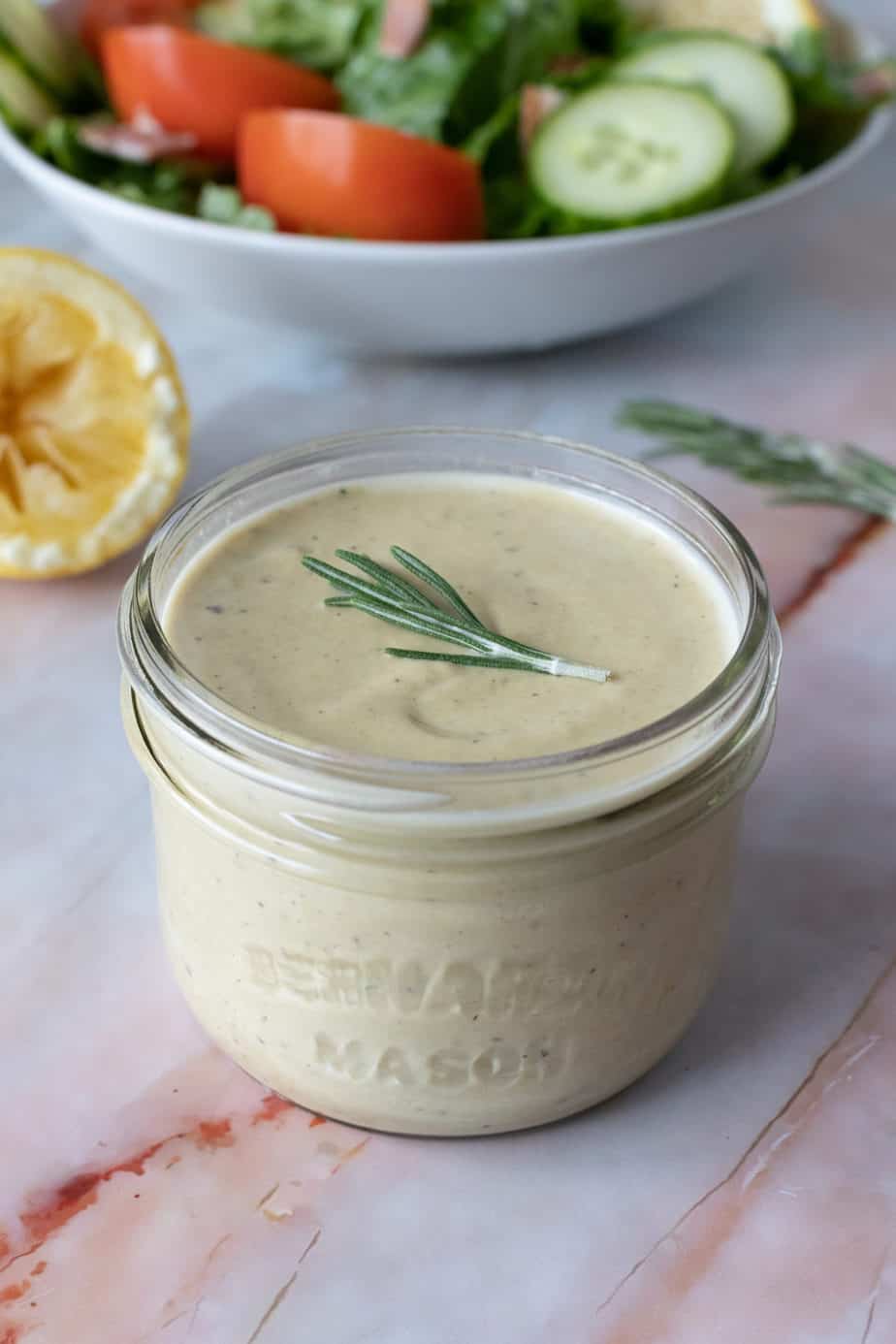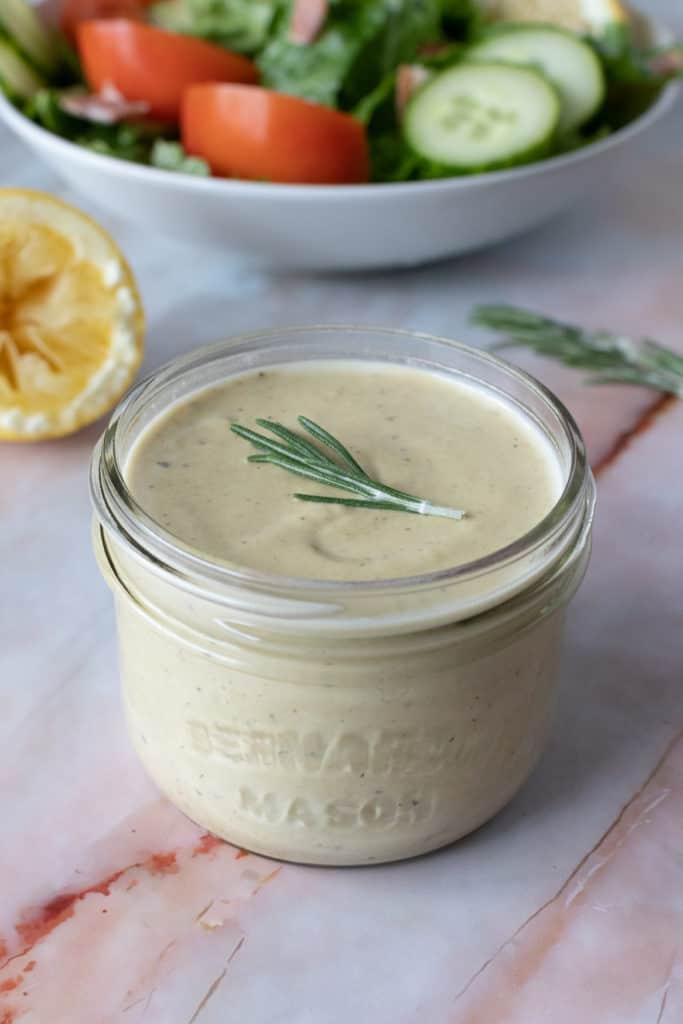 Anti-Inflammatory Dairy-Free Caesar Dressing
If you've been watching me on social media, you know I'm on a huge OMEGA 3 kick. I got my levels tested and they were off. Omega 6 was three times higher than my Omega 3 and that's not good. Omega 6 fatty acids help produce Prostaglandiss 1 + 3 a hormone-like substance in our body, present in every cell. The reason you have swelling at trauma sites. Important for healing, but too much can cause too much inflammation!
Omega 3 fatty acids help product Prostaglandin 2, much like 1 and 3… but P2 and anti-inflammatory and comes in once P 1 and 3 have inflamed the affected area to protect it, important P2 comes in to heal. Guess what's high in OMEGA 3… ANCHOVIES! The secret ingredient to a legit Caesar salad! Enjoy this dairy-free Caesar salad dressing as part of a healthy meal and know you're getting in some delicious nutrition!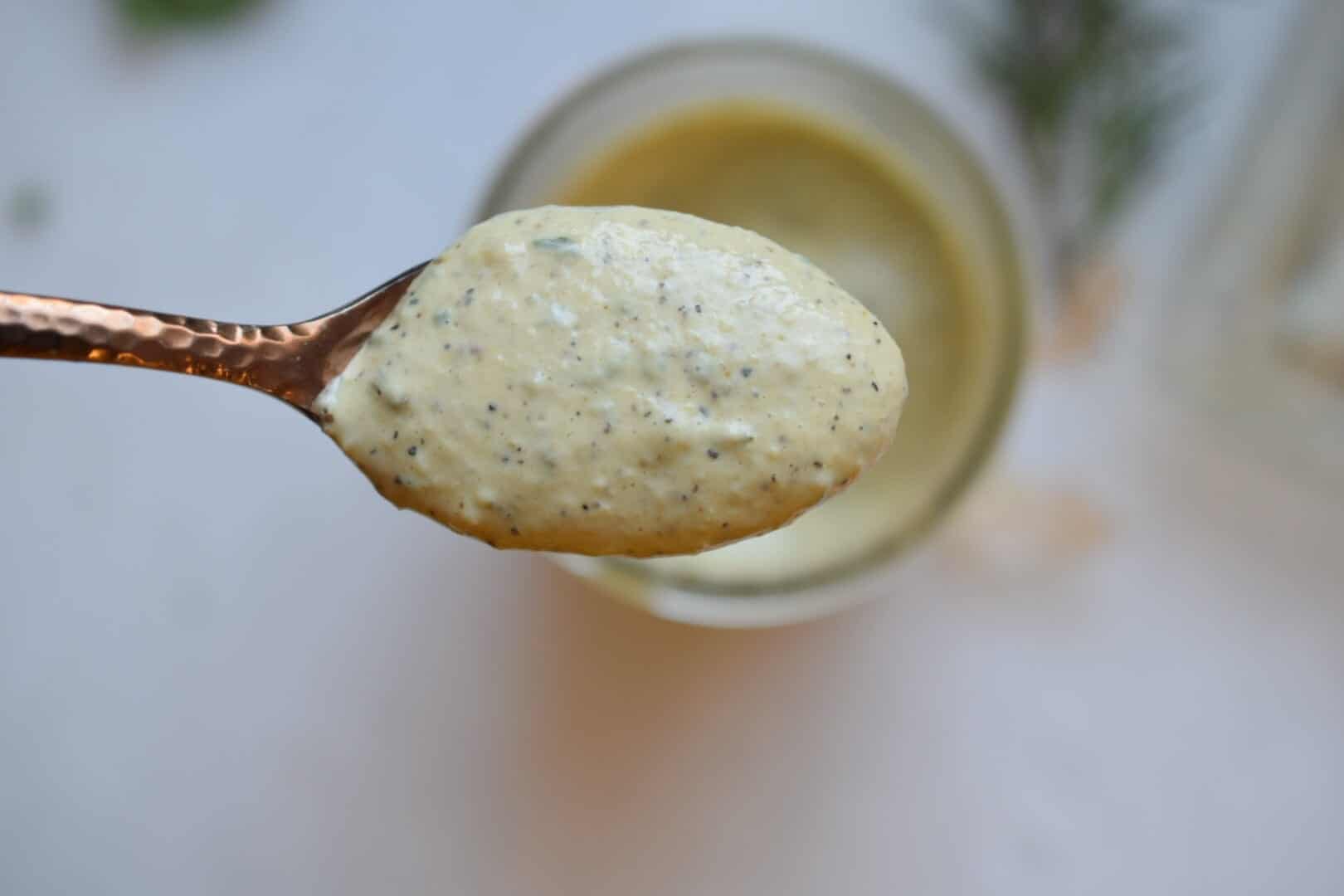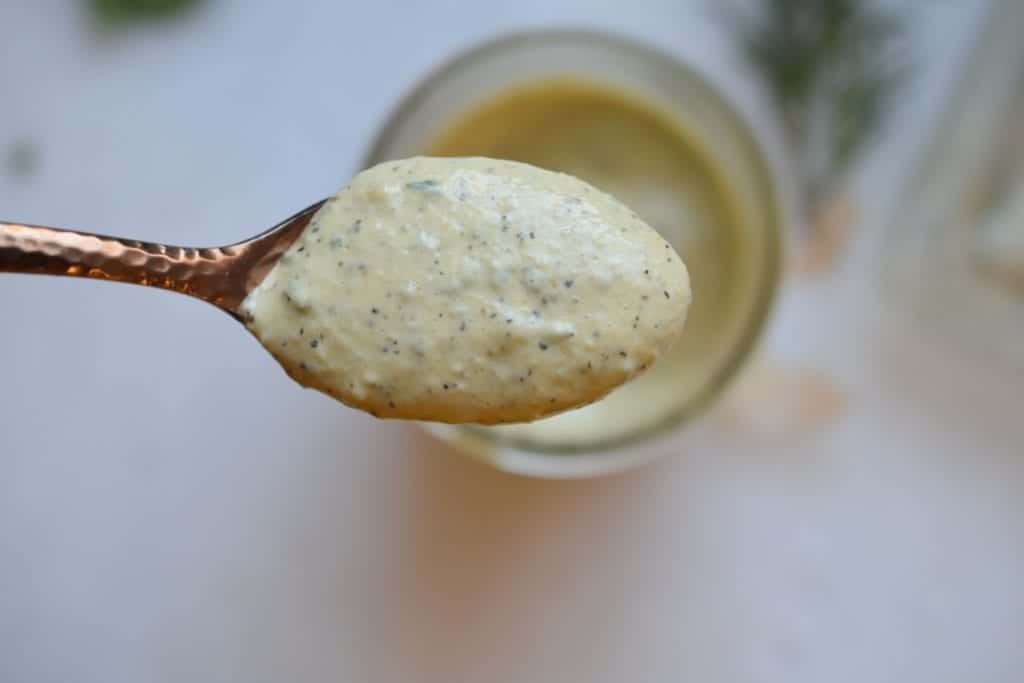 Dairy-Free Caesar Ingredients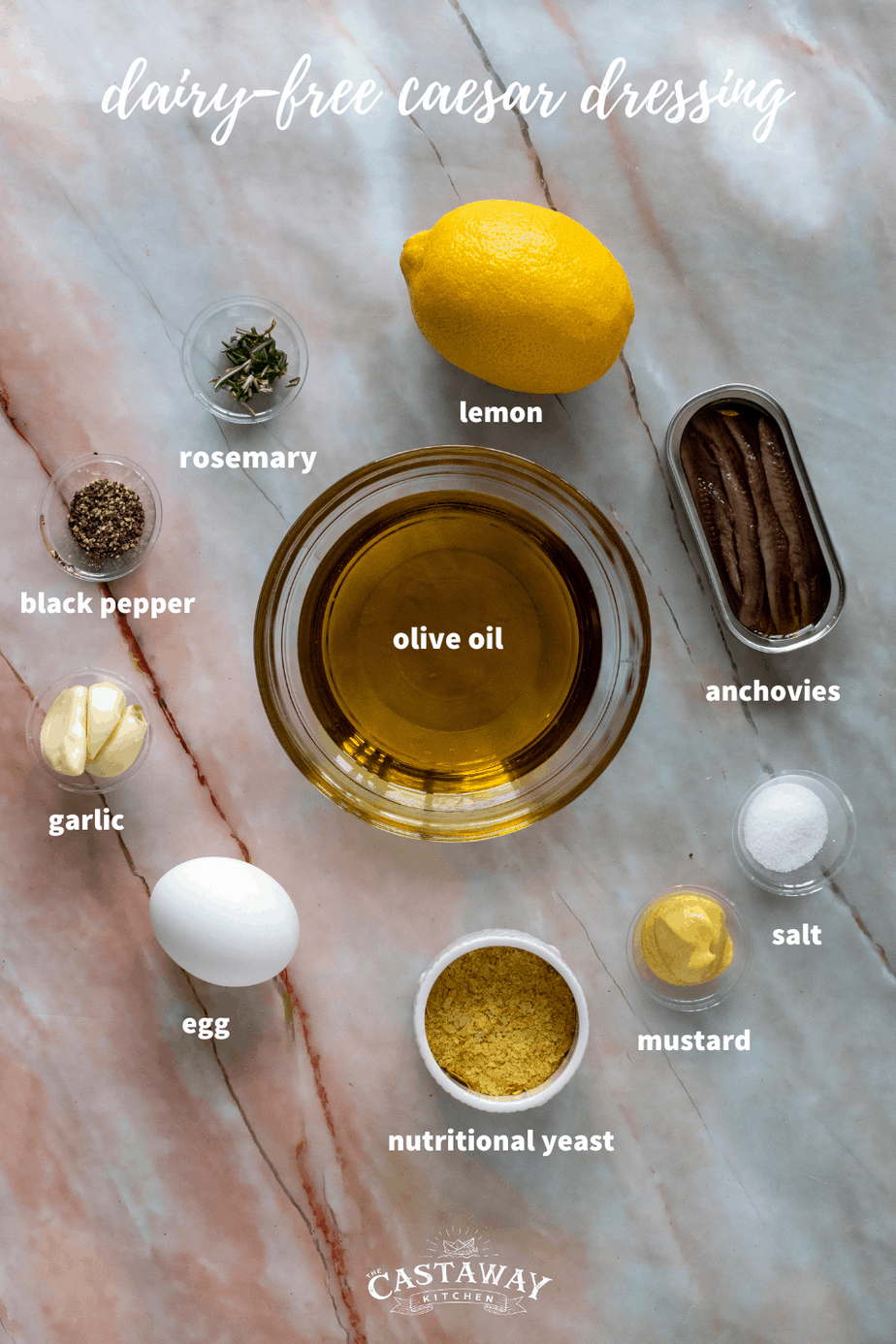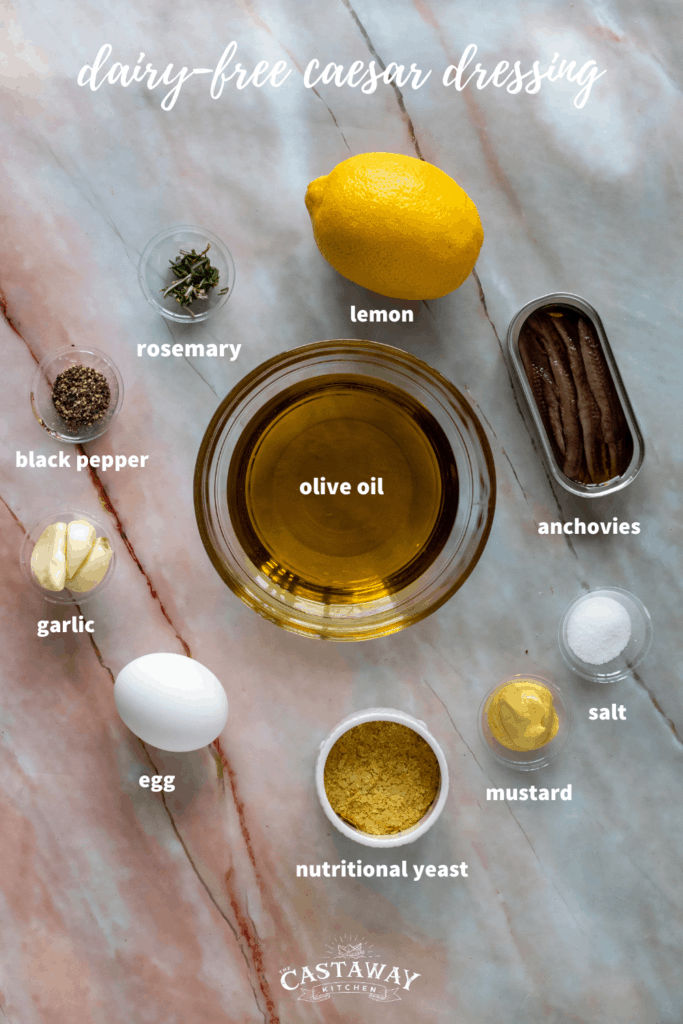 Anchovies are the secret ingredient in classic Caesar dressing and this recipe only deviates from that in the dairy. Don't skip these!
Nutritional Yeast substitutes for parmesan and adds great color and cheesy flavor.
Use good quality olive oil to get the benefit of healthy fats.
Fresh rosemary, unrefined salt, dijon, garlic, and black pepper for a flavor combination you won't soon forget!
Step by Step Recipe Pics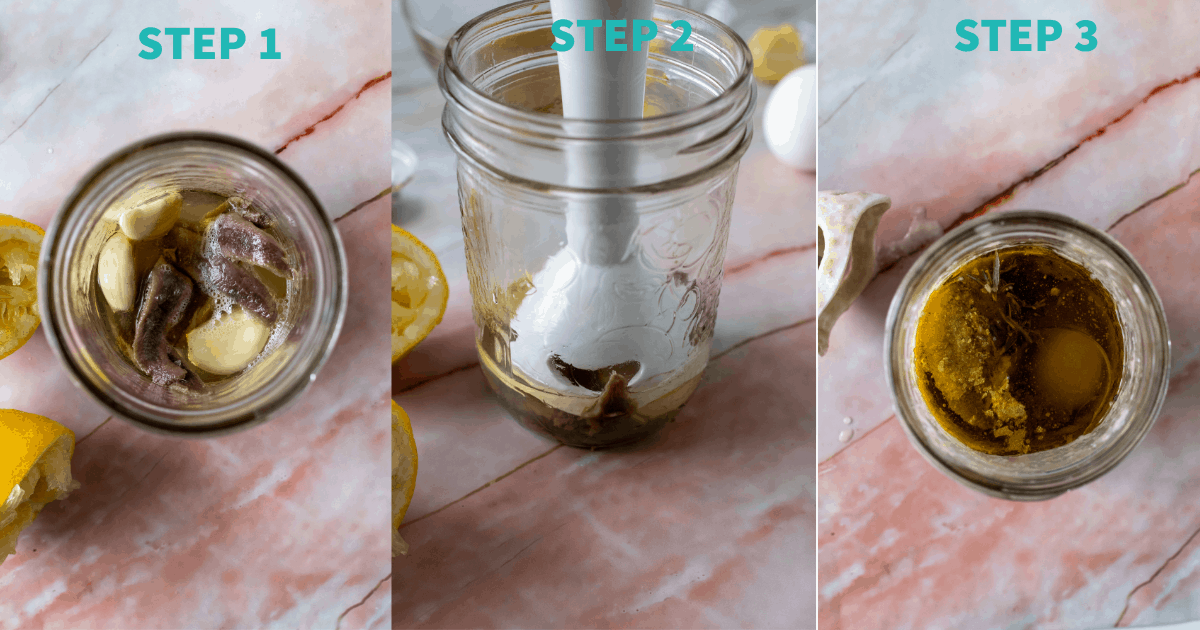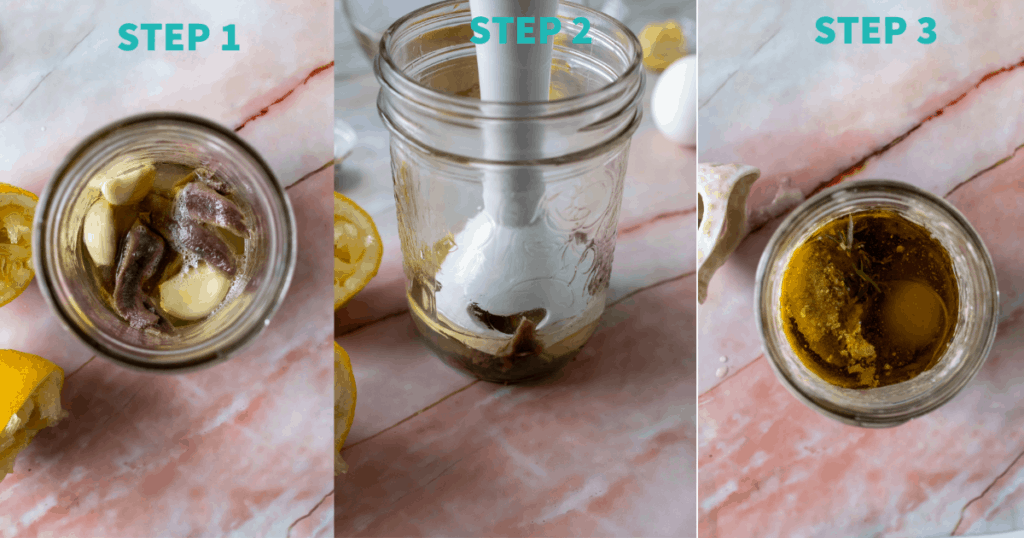 Start by combining the anchovies, garlic and lemon and puree until a paste forms! Then add in the oil, egg and mustard and stick the blender back in.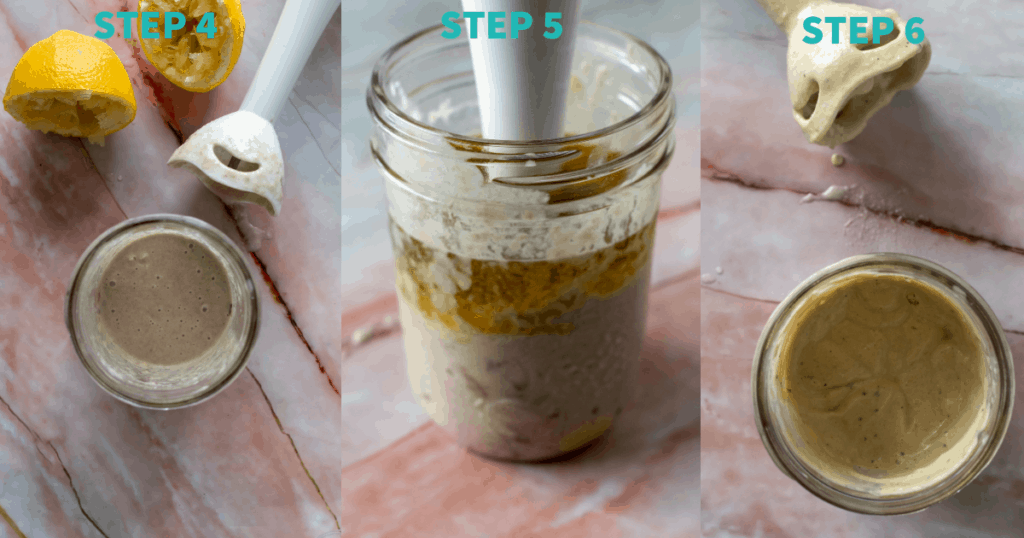 Mix for a bit then add in the salt, black pepper, and nutritional yeast and keep blending until it's thick and creamy, almost a mayo-like consistency. Toss with salad, or close with a tight-fitting lid and store in the fridge.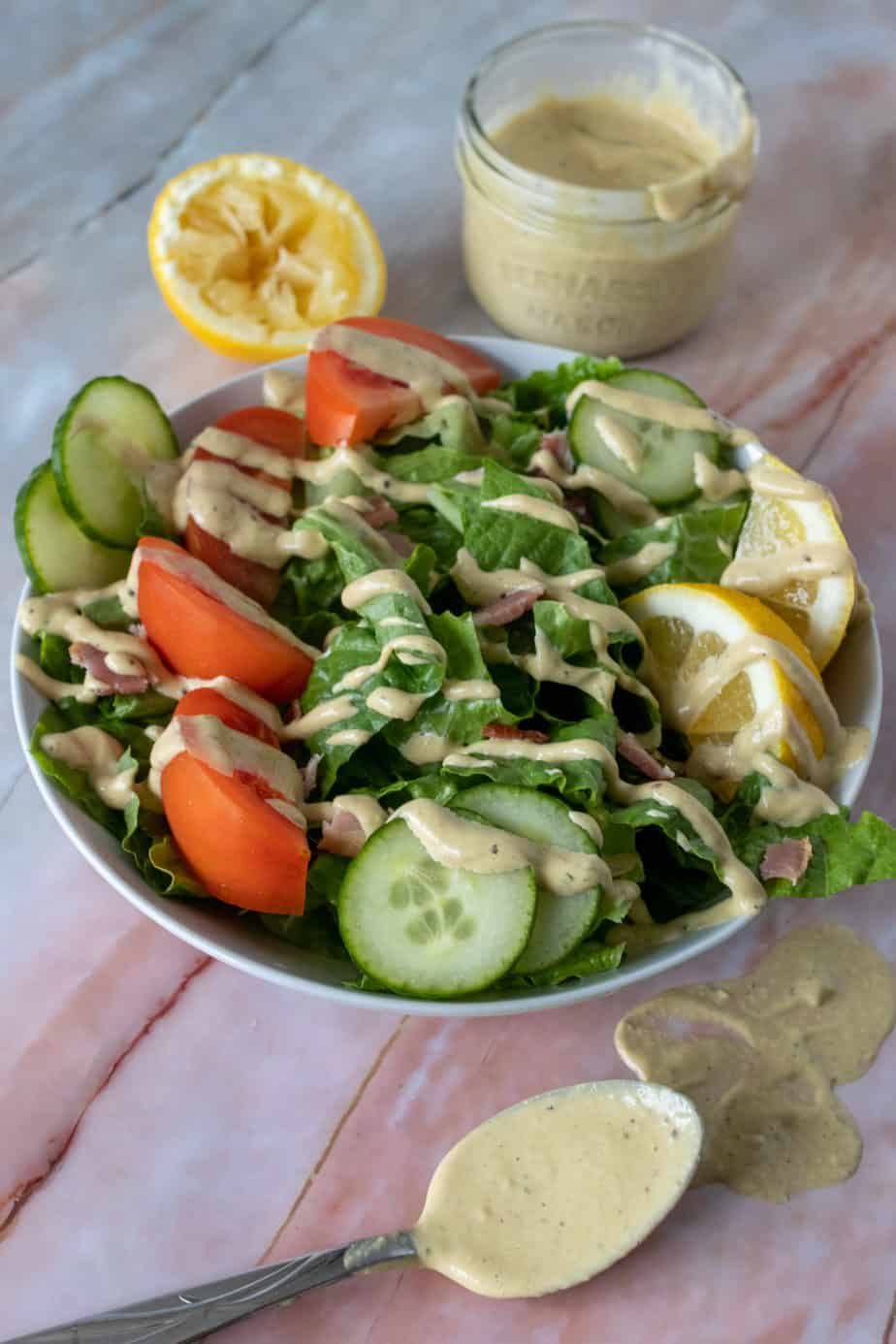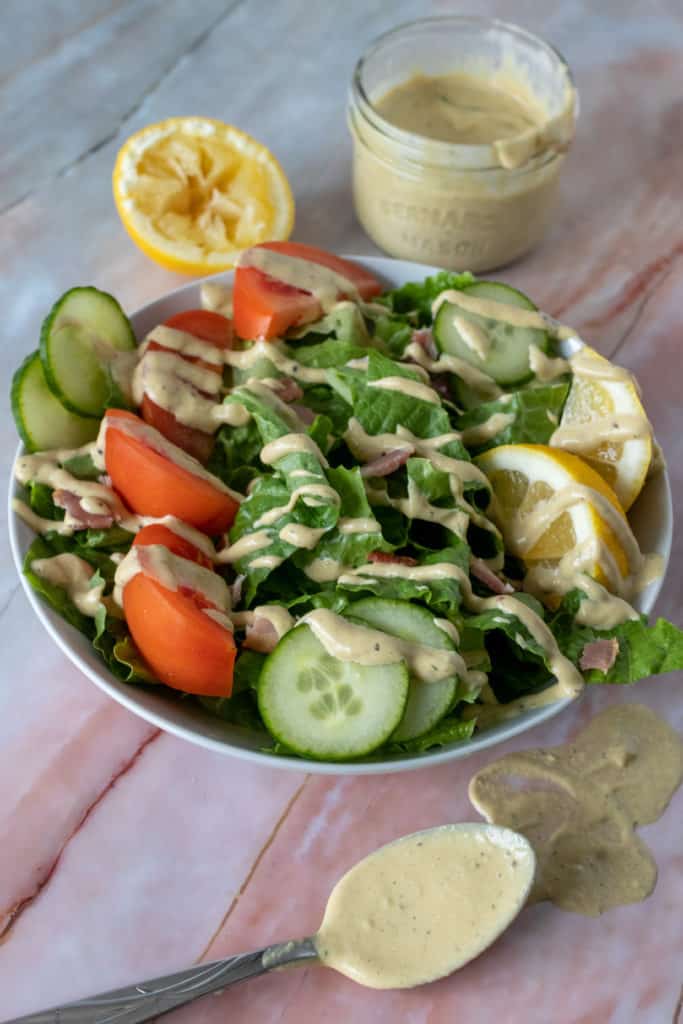 Frequently Asked Questions
Can I use only egg yolks for this?
Yes, you can use 2-3 egg yolks for this super creamy dressing.
What if I skip the anchovy?
The magic of this recipe is in the anchovies! You could use 1 tbsp fish sauce, but it won't be as good, in my opinion.
Can I use avocado oil instead of olive oil?
Yes!
Can I make this AIP?
Yes! You can use avocado or coconut cream instead of egg, omit the black pepper and dijon. Add in 1 tsp horseradish.
How long does this last in the fridge?
Up to 10 days if you always use a clean spoon to serve it and close it with a tight fitting lid.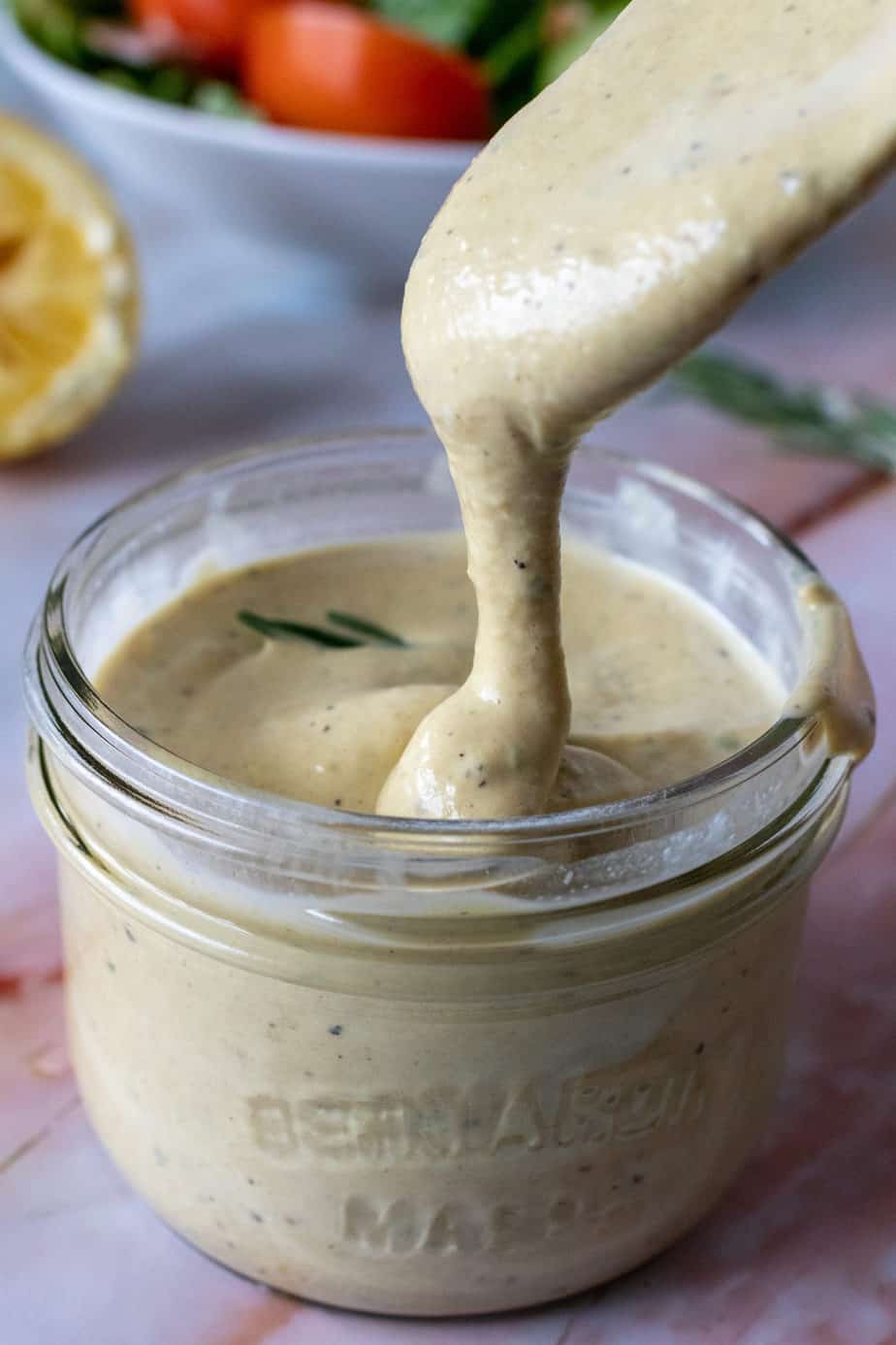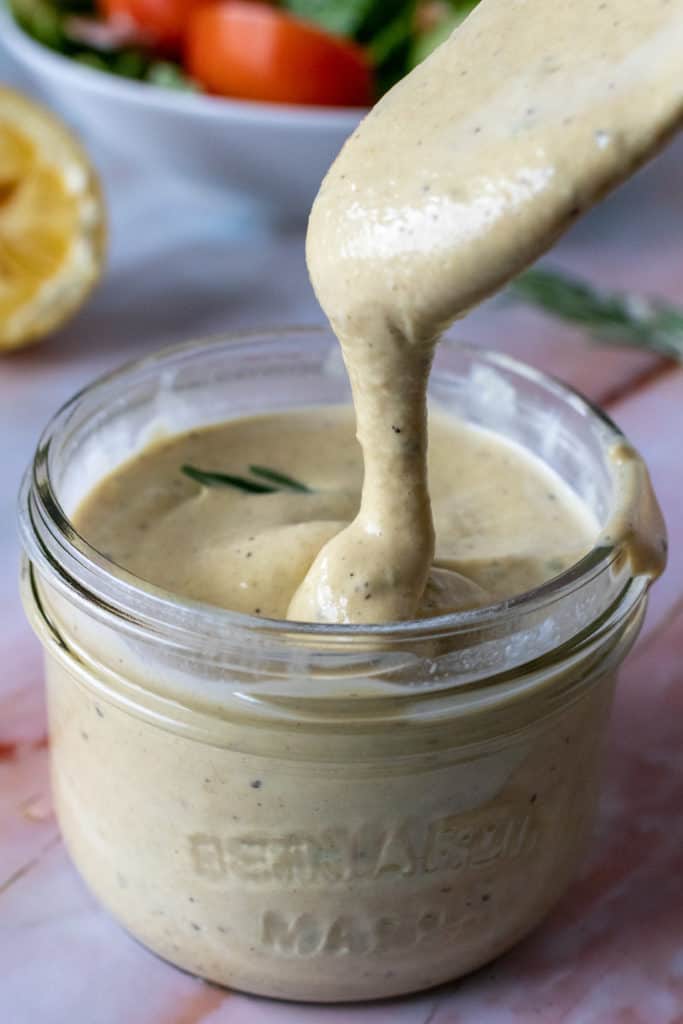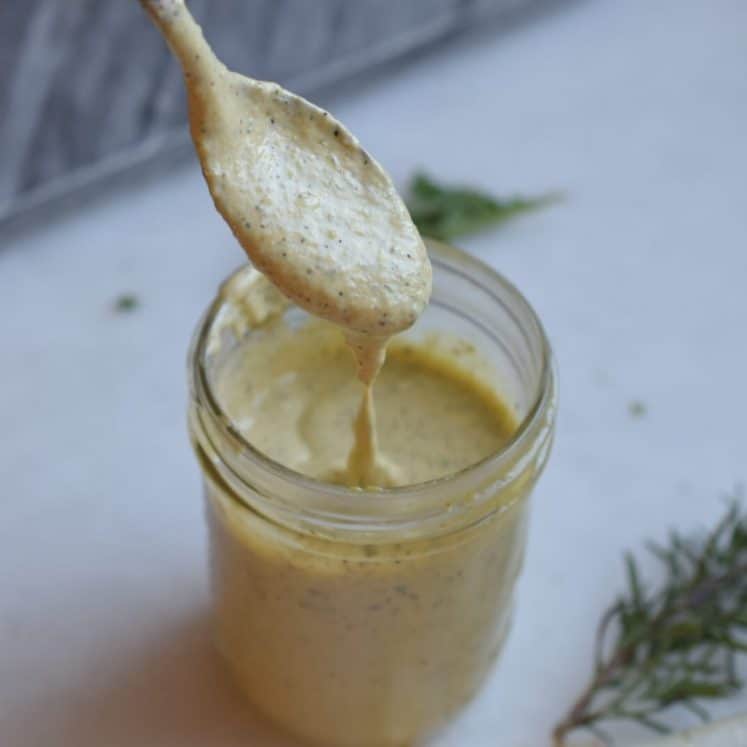 Dairy Free Caesar Salad
---
Author: Cristina Curp
Prep Time: 10
Total Time: 10
Yield: 16 ounces 1x
Category: Sauce
Method: Blender
Cuisine: American
Description
The best dairy free caesar salad dressing perfect for keto, paleo or Whole30! 
---
Scale
Ingredients
8 anchovy fillets in olive oil
3 cloves garlic
juice of lemon
1 whole egg ( or 1/4 cup coconut cream for egg free)
2 teaspoon dijon
3/4 cup extra virgin olive oil
3 tablespoons nutritional yeast
1 teaspoon black pepper
1 teaspoon fine salt
optional 1/2 teaspoon minced fresh rosemary
---
Instructions
Combine the anchovy fillets, garlic and lemon juice in a mason jar. Insert the immersion blender until and blend until paste forms.
Remove the immersion blender and add in the egg, dijon, olive oil, and nutritional yeast, blend to mix. 
Pause, and add in salt and pepper and the rosemary and keep mixing until smooth and thick, 
Store in the jar in the fridge for up to 10 days.
Add 2-4 tablespoons to your salads, use to dip your proteins!
Nutrition
Serving Size: 1 ounce
Calories: 103
Fat: 11g
Carbohydrates: 1g
Fiber: 0g
Protein: 1g
Keywords: dairy free Caesar dressing