This year Thanksgiving kind of came out of nowhere. We knew we would be jetlagged & unprepared, but I didn't realize how much so. We arrived after 13 hours of travel, from a time zone 6 hours away, just 36 hours before the festivities. Luckily my neighbors were kind enough to extend an invitation to their table. I brought this Paleo Pumpkin Pie.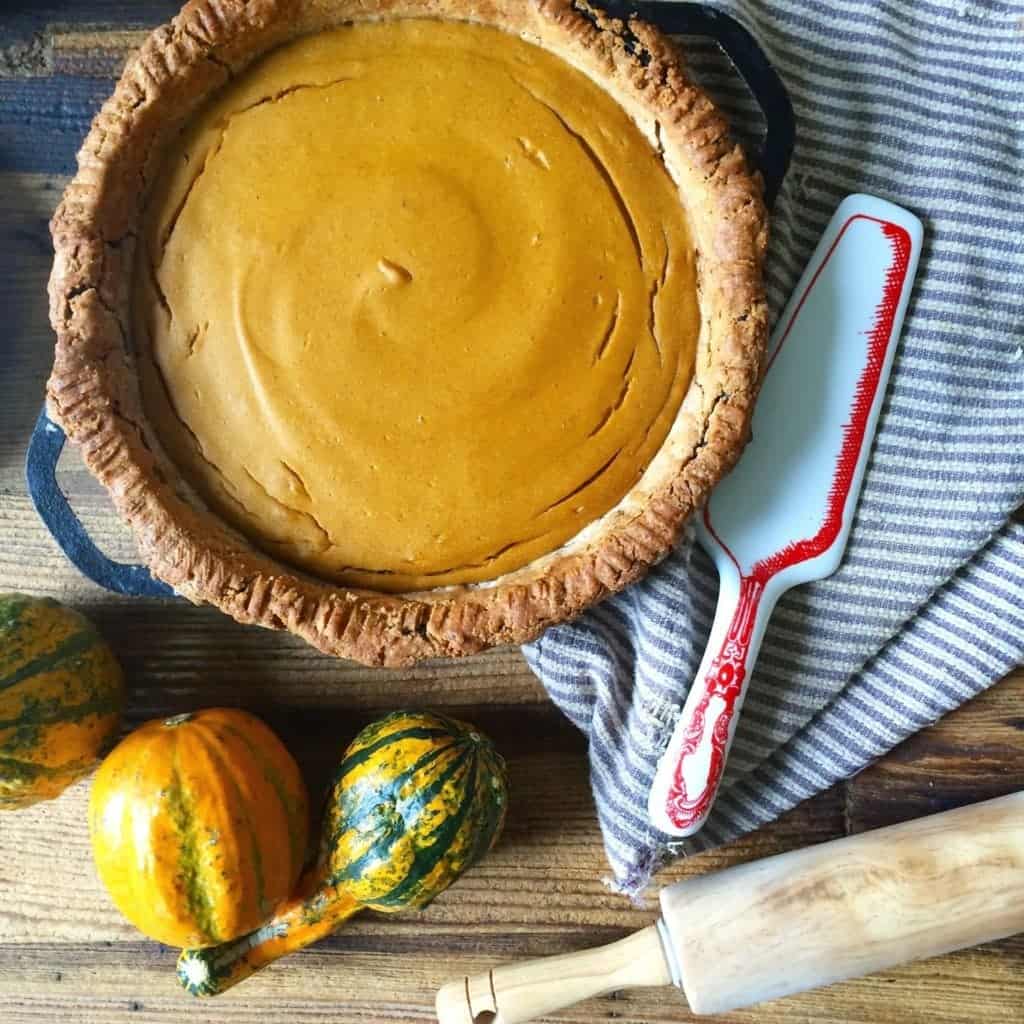 Considering my food restrictions, and custom, of course, I managed a trip to the grocery store to make something to bring with us. Since I was already being spared the hassle of the turkey, I opted for a simple easy roast, persimmon & celery pork tenderloin, along with a paleo pumpkin pie.
Since my last post was of pork, I'm sharing the pie recipe. I'm especially proud of it! Pie has always been kind of a nemesis of mine. I can never get the dough to not crack, and while this one is not picture perfect, it is still a beauty & absolutely delicious! I hope you enjoy hi
100% PALEO, sweetened only with 5 dates, made with gut healing, clean ingredients, this dessert is sure to win a spot on at any holiday table.
Healthiest, Super Delicious, Paleo Pumpkin Pie!
---
Prep Time: 1
Cook Time: 45
Total Time: 46
Description
Paleo Pumpkin Pie!
---
Scale
Ingredients
Crust, recipe adapted from the Food Republic
1 cup hazelnut meal
1/2 cup coconut flour
1/2 cup tapioca flour + more for dusting
3/4 cup cold lard, cut into 1 inch chunks
1 tbsp cold water
1 egg
1 egg white + water (egg wash)
pinch salt
For Filling:
2 cups roasted Kabocha squash, seeded, no skin
(I halve, seed and roast it at 400F for 30minutes, let cool and spoon out meat. 1 will do)
1 ripe persimmon
5 soaked dates, pitted (soak overnight)
1/2 cup full fat coconut milk
1 tbsp coconut oil
1 tbsp Great Lakes Beef gelatin
2 eggs
1 egg yolk (from the egg wash)
pinch fine sea salt
1/2 tsp cinnamon
1/2 tsp ginger
1/4 tsp nutmeg
pinch ground clove
1 vanilla bean scrapping
---
Instructions
For Crust:
Sift together flours & salt.
Cut lard into flour by pulsing together in food processor until it looks like wet sand.
Add in egg and pulse until it forms into a ball.
Remove from food processor and wrap in plastic, refrigerate for 30 minutes.
Separate two large sheets of parchment paper.
Place on counter and dust with tapioca flour.
Place the ball in center and pat down into a disk.
Dust the disk with tapioca flour and cover with the second sheet.
Use a rolling pin to roll out into a 10″ circle.
Roll gently in an outward motion.
Remove top sheet & carefully place the crust into pie pan.
If it cracks, use fingertips to repair the cracks, wet them, it will help.
Fold excess over the edge and use a fork to gently imprint on it.
Brush with egg wash.
In 1/4 inch pattern make holes with a fork in the dough to prevent bubbling.
Bake at 400F for 10 minutes. Remove and let cool to the touch.
For filling:
In a blender: puree pumpkin, persimmon, dates, coconut milk & oil until smooth.
You may need to use prod to keep it moving.
Add in spices, salt, vanilla & gelatin, blend in until smooth.
Add in egg and blend until smooth.
Pour into cooled crust.
Bake at 350F for 30 minutes. Let cool to room temperature before serving.
Enjoy! I didn't make any, but coconut whipped cream would be pretty sexy on this pie too!