This post was created in partnership with StarKist E.V.O.O.™. All opinions are my own.
It's time to get really creative with your pantry! I challenge you to create a delicious meal with 5 pantry staples! I made this Paleo Tuna Pot Pie – I didn't think I could do it, you know me, I love a long ingredient list. Thanks to handy dandy and super delicious StarKist E.V.O.O. pouches I've been eating like a queen with just a handful of ingredients.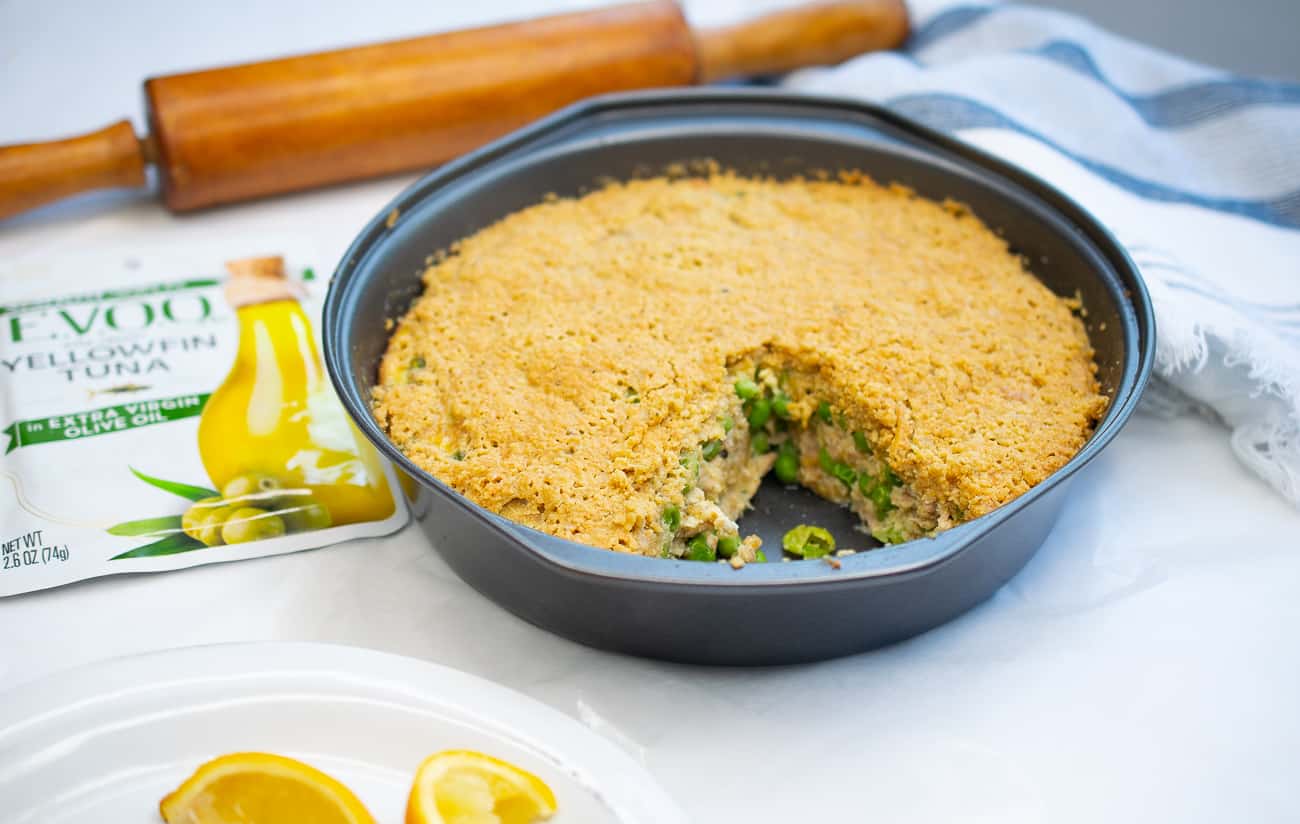 Table of Contents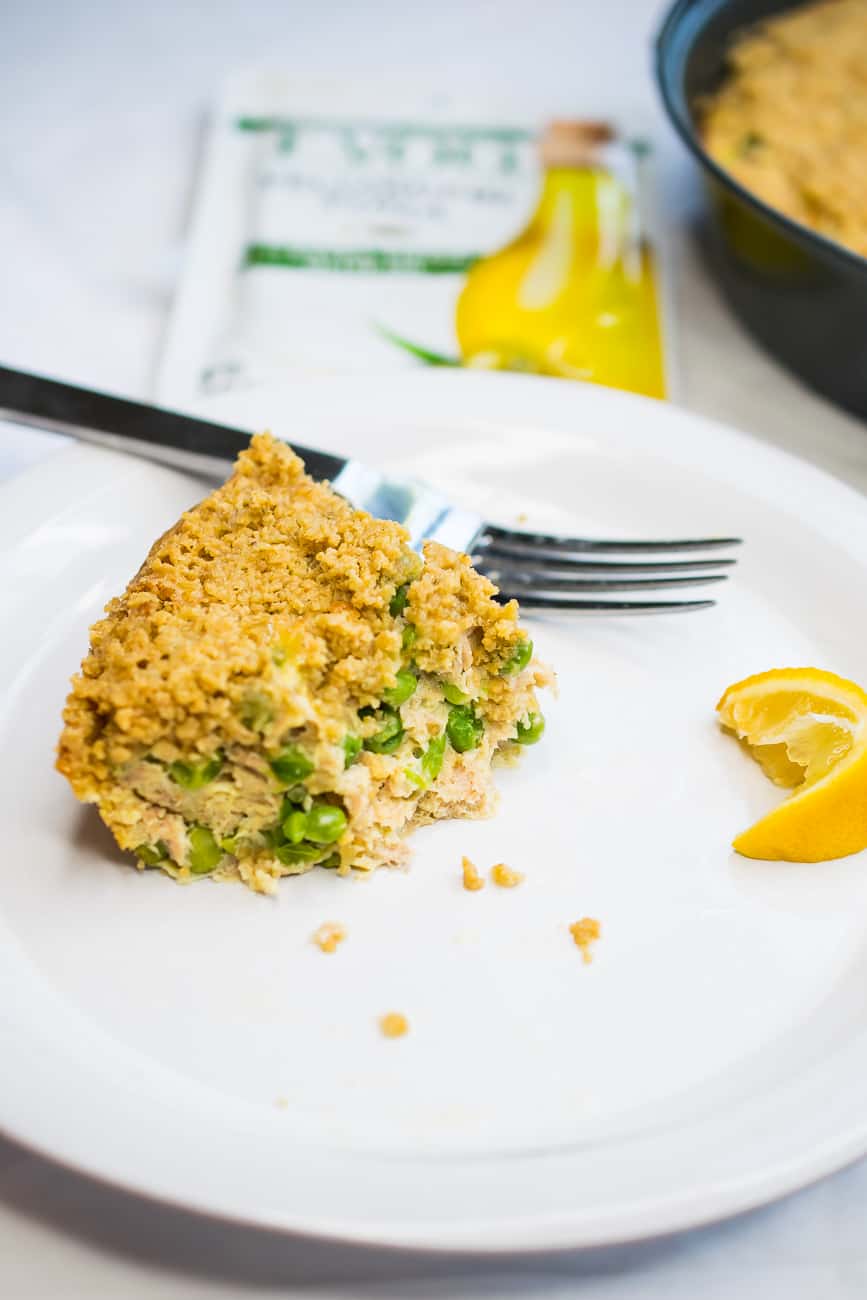 Nutrient Density Pie
You know I am all about nutrient density. The benefits of healthy fats and several servings of seafood a week are undeniable. Look at the Mediterranean, we often hold their diet as the standard for a balanced healthy approach. May is Mediterranean Diet Month, so it's the perfect time to get down with more seafood and olive oil. Both of which I've written about the benefits before. This Paleo Tuna Pot Pie is the perfect marriage between good to eat and good for you!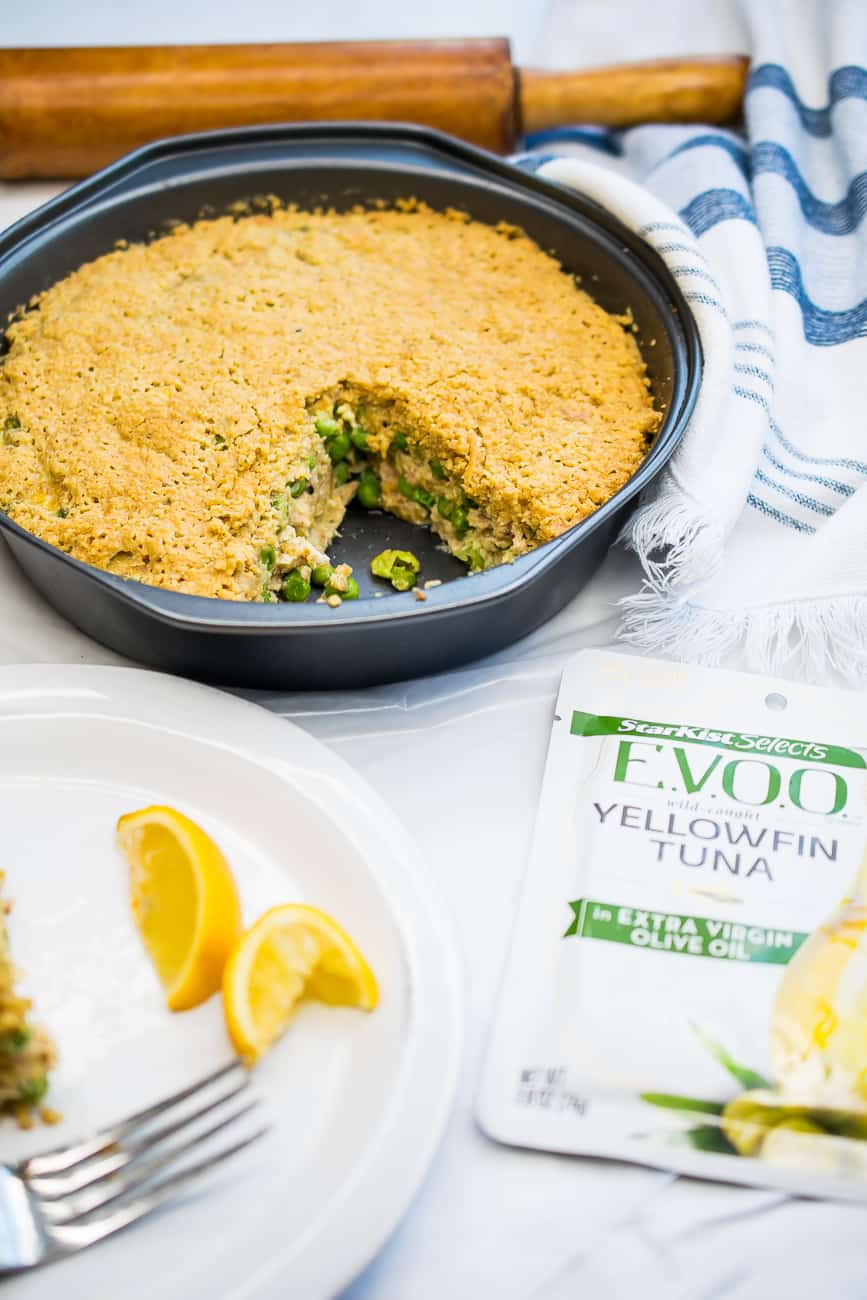 StarKist E.V.O.O. Wild Caught Pink Salmon in Olive Oil and Wild Caught Yellow Fun Tuna in Olive Olive has become my go-to. Allergen-free, high in omega-3, paleo, keto, and all wild-caught. Yes, please. Bonus, you can't beat the accessibility and price point.
I love the balance of flavor in these little pouches, not too salty, just the right amount of olive oil, and the fish is tender and flaky. I've been making all sorts of delicious creations but the cream of the crop- this Paleo Tuna Pot Pie!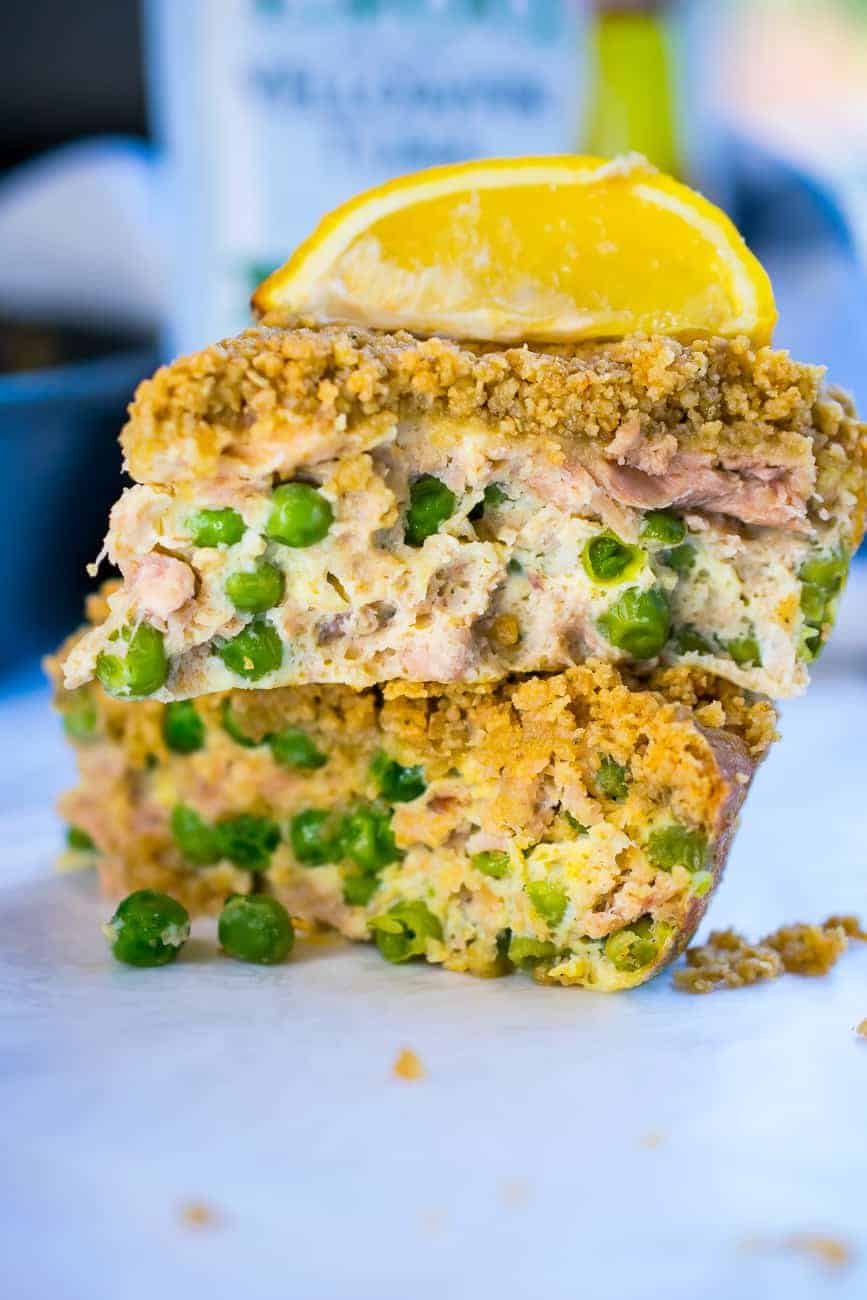 Easy Ingredients
A 5 Ingredient Recipe that's healthy and delicious? Yes, please. I nailed this 5 Ingredient Pantry Challenge! Okay, so I went a little over the 5 ingredient limit, but it's totally worth it for this Paleo Tuna Pot Pie. The filling is pure protein, made with StarKist E.V.O.O.™ Wild-Caught Yellowfin Tuna in Extra Virgin Olive Oil, frozen peas (ok, not the pantry, but close), pastured eggs, and the crust is made with grain-free crackers (use your favorite) and ghee!
You can make this Tuna Pot Pie, gluten-free, grain-free, paleo, primal, keto… whatever your heart desired. It's a versatile recipe that revolves around the protein-packed filling.
Pantry Items
Frozen Peas
Ghee or Butter
Grain-Free/ Gluten-Free Crackers (or crackers of choice)
Seasonings
Dairy-Free Milk (or milk of choice)
Fresh Items:
Eggs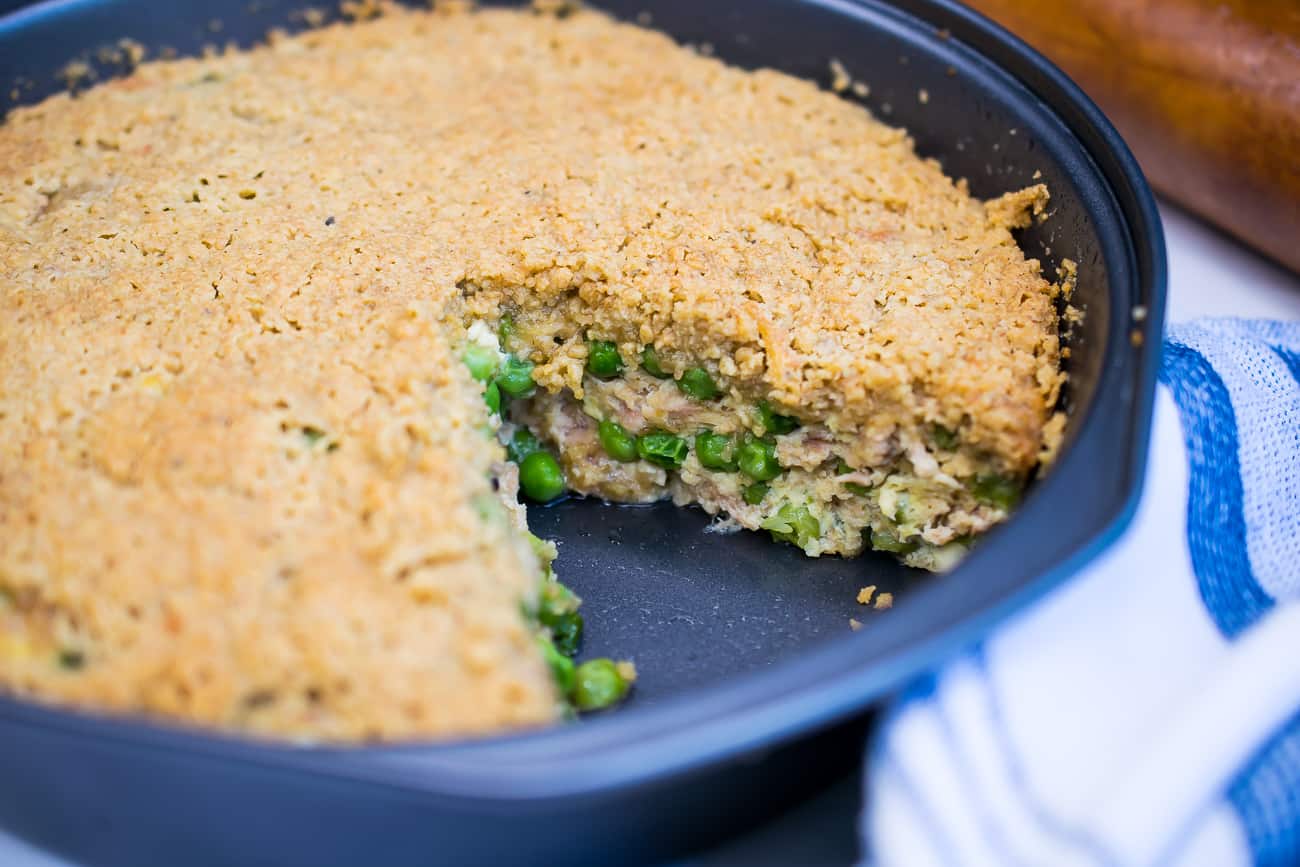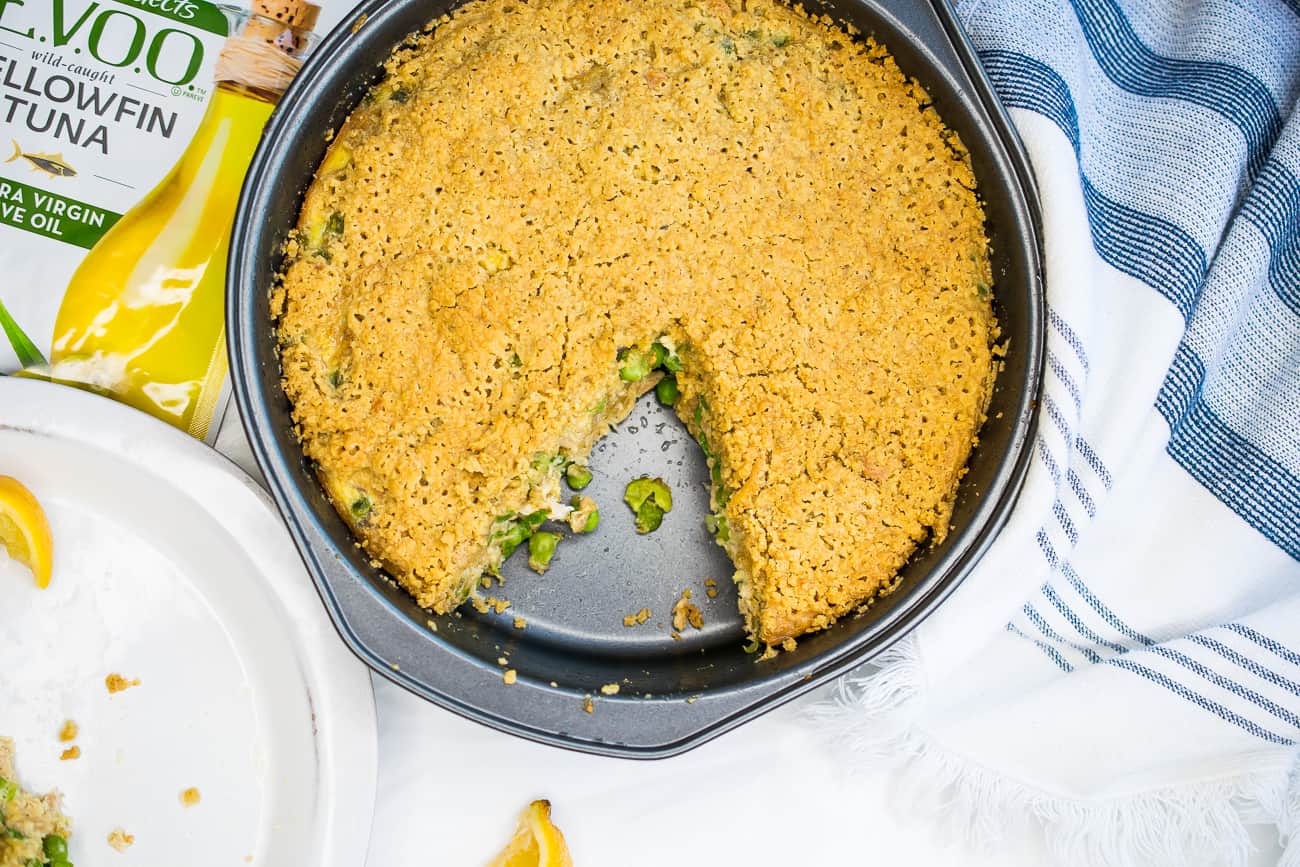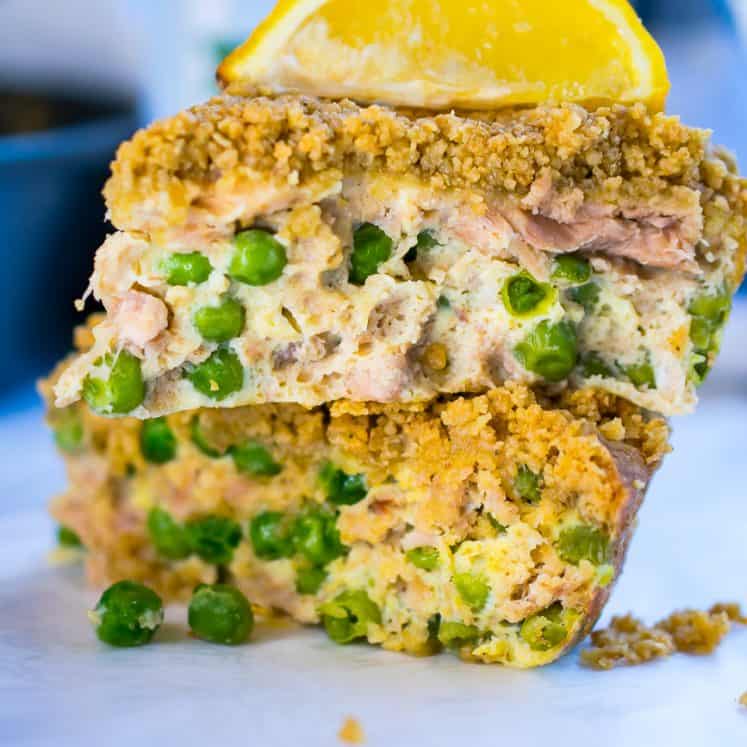 Easy Paleo Tuna Pot Pie
---
Author: Cristina Curp
Prep Time: 10 mintues
Cook Time: 30 minutes
Total Time: 15 minute
Yield: 1 pie 1x
Category: casserole
Method: bake
Cuisine: American
Description
Comfort food made easy, healthy and delicious!
---
Scale
Ingredients
Filling:
4 large eggs
1/3 cup milk of choice
½ teaspoon salt
1/2 teaspoon white pepper
1 teaspoon mustard powder
1 ½ cup thawed and drained frozen peas
For the Crust
4 ounces paleo crackers
¼ cup ghee
---
Instructions
Preheat oven to 375. Lightly grease an 8" baking dish.
In a large bowl flake the tuna until a fine crumb.
Add in the eggs and milk and whisk to combine. Add in the seasonings continue to mix.
Fold in the peas using a spatula. Transfer to the baking dish.
Make the crust. Pulse the crackers in a food processor until crumbled. Add in the ghee and pulse until the mix resembles wet.
Use a spatula to transfer the dough to parchment paper, shape a ball. Cover with a second sheet of parchment paper and roll out to the size of the baking dish.
Remove the top sheet of parchment paper. Flip the dough onto the pie and peel off the remaining parchment paper. Bake in the oven for 30 minutes or until the center is set and the crust is golden brown.
Remove from the oven. Let cool a few minutes. Cut into 6 slices. Enjoy!
Recipe Notes:
Nutritional Info is based on the exact ingredients I used. Depending on which variation of Starkist E.V.O.O. you use and which grain free/paleo crackers you use the may vary.
Nutrition
Serving Size: 1/6 recipe
Calories: 374
Fat: 25.3g
Carbohydrates: 15g
Fiber: 3g
Protein: 20.2g
Keywords: Paleo Tuna Pot Pie