Pan-Fried Glazed TOFU?! Yes! The best ever, pan-fried with a sweet and savory garlic ginger glaze. A delicious dairy-free foodie dream, ready in 30 minutes.
Table of Contents
The best tofu recipe ever
If you've never had good tofu before, you don't know what you're missing, but this recipe is here to let you know. Glazed and pan fried until crispy and caramelized, with Asian inspired flavors that really bring out the sweet, salty, nutty flavors of my favorite quality organic non-GMO tofu … there's really nothing better to satisfy a tofu craving.
The key to good tofu is making sure you let it dry out before you pan fry it. This way, you get a good sear on the outside, giving a nice textural contrast to the softer inside.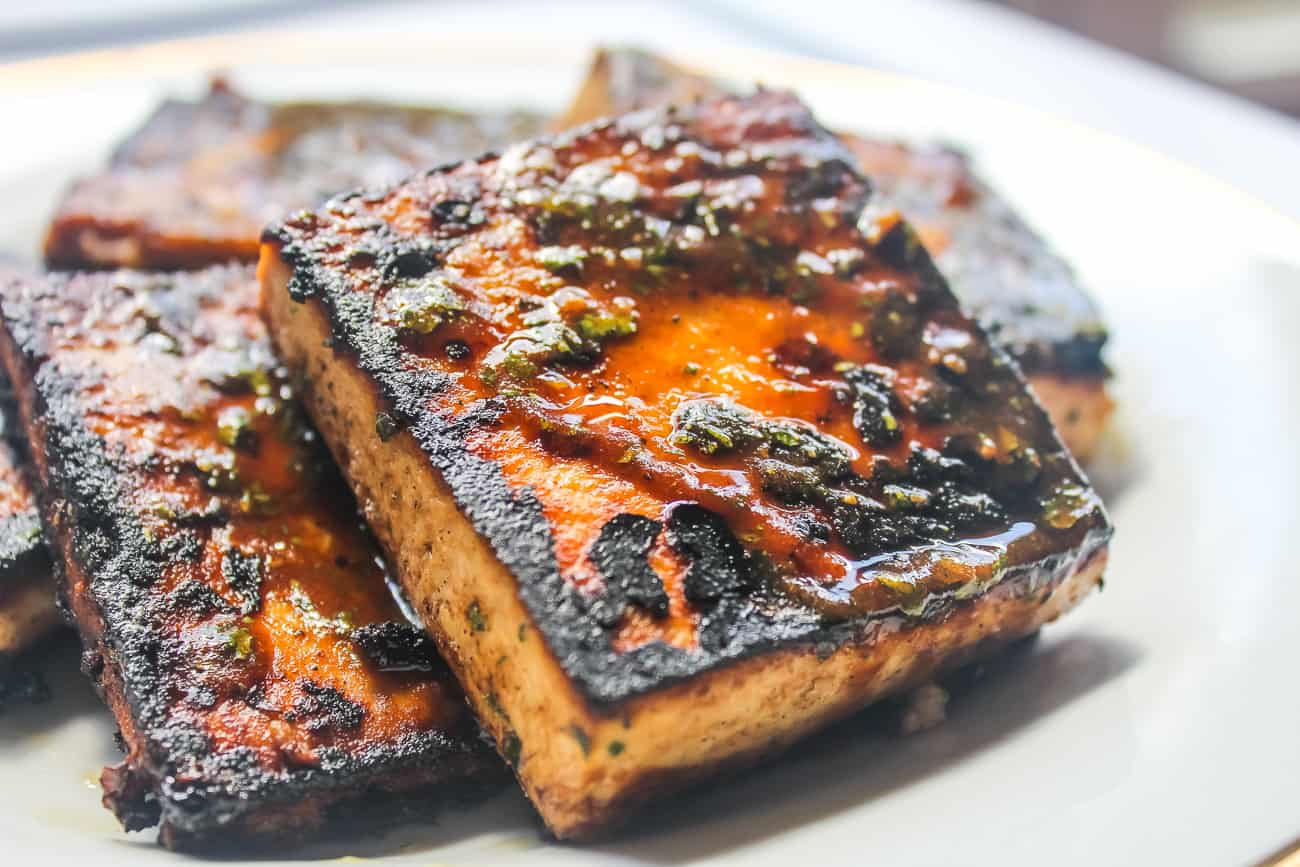 Why I'm posting this easy tofu recipe
If you read "tofu recipe" and "vegan" and then had to check to make sure you're still on The Castaway Kitchen, don't worry. Yup, I made tofu. I ate it and it came out so good I am posting the recipe here on my blog. This website is home to over 250 paleo, AIP and keto recipes. This Pan-Fried Glazed Tofu recipe is the first on my website to have 1) soy and 2) beans (because soy is bean) and tofu is made of beans. Although the recipe isn't exactly vegan because I used fish sauce and ghee… but you know what I mean.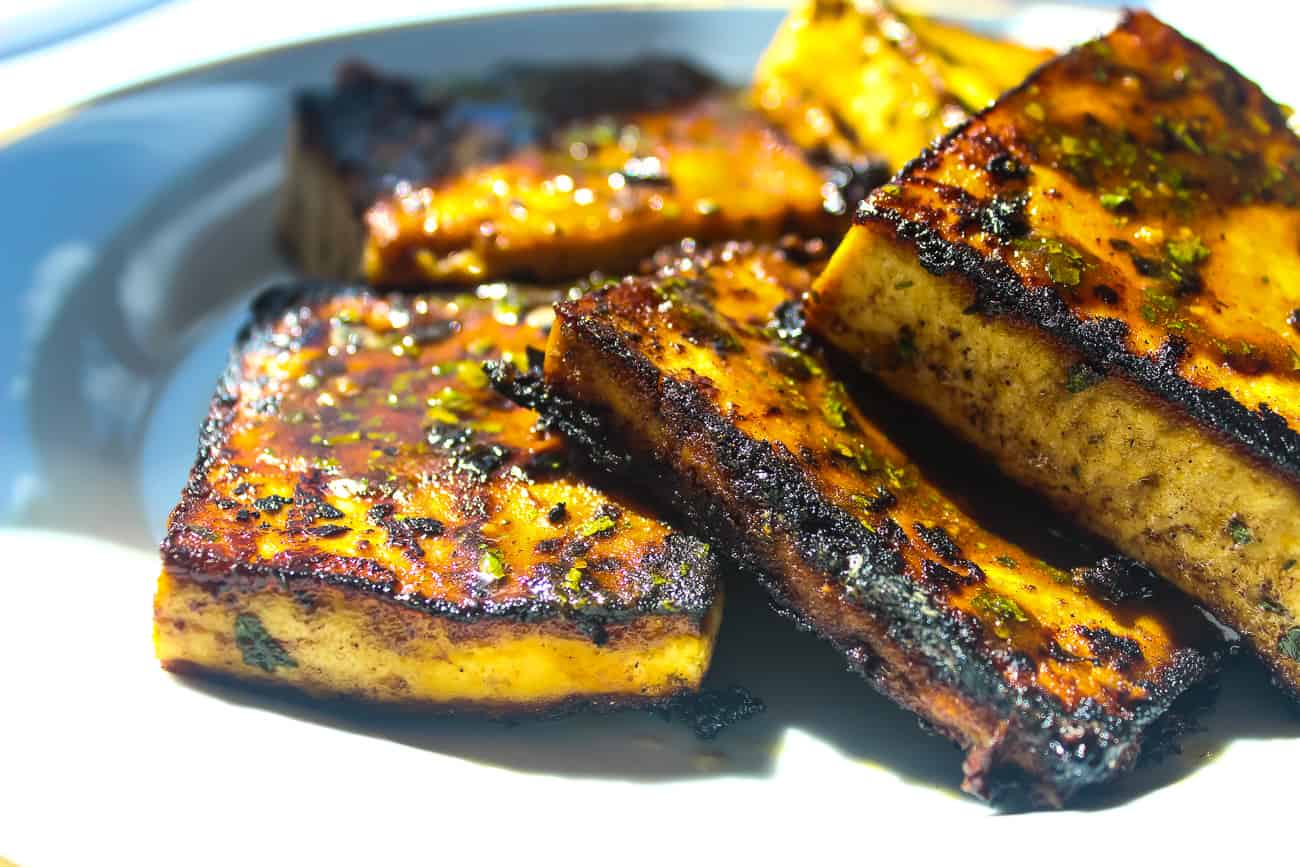 I'm not here to convince you to eat tofu or not. I was just really, REALLY craving it. So I started cooking tofu, and it feels good. I am not reacting to it, and I'm digesting it really well. If you have been here long enough, you know that I'm not about restriction for the sake of restriction and that I have been working on healing my body with the goal of FLEXIBILITY AND RESILIENCY.
Also, I'm a foodie! I always will be and it's fun to work with new ingredients. I haven't cooked tofu in over 6 years, but I've always liked it. So before I give you this Pan-Fried Glazed Tofu recipe I want to give you a quick tofu 101.
Feel free to skip to the bottom for the recipe 😉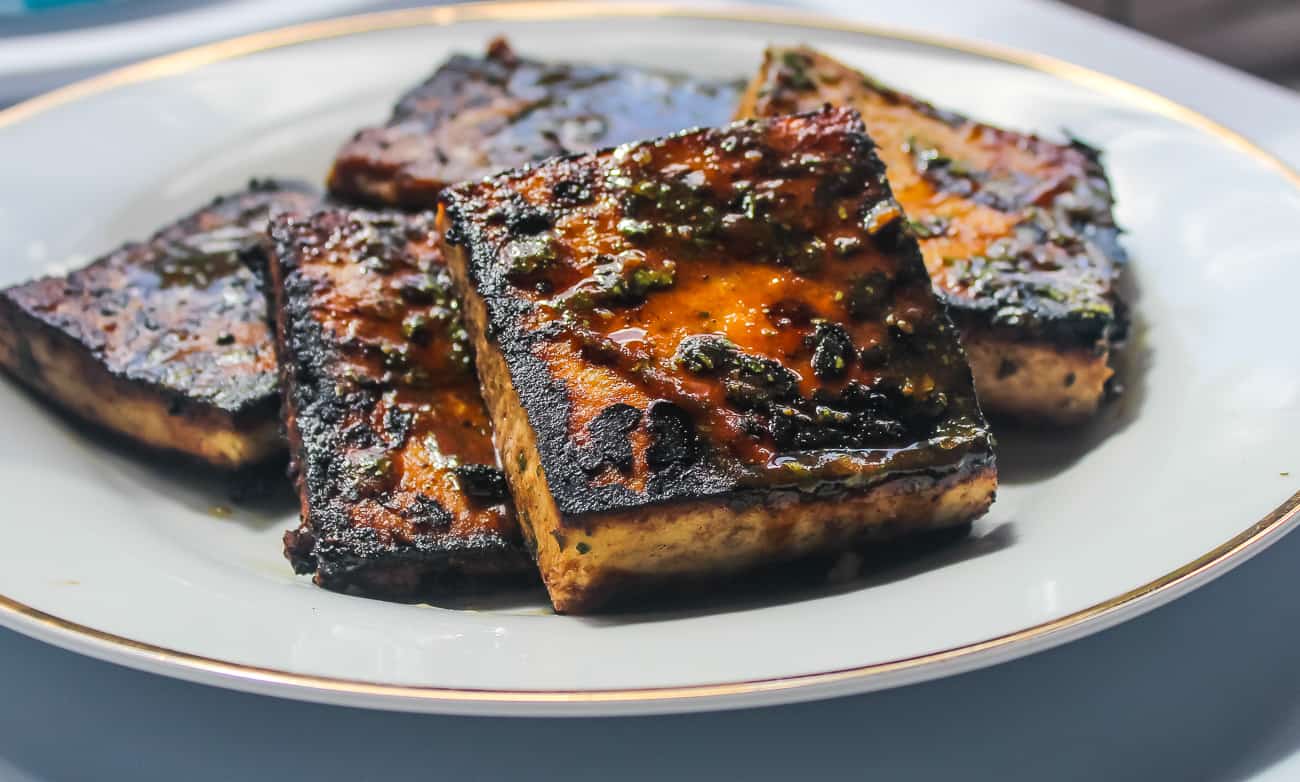 What is Tofu?
Tofu is a soybean curd made from soy milk or soybean paste. It's coagulated and then pressed into a block. The ground-up soybeans are mixed with unrefined salt or salt and calcium and magnesium to create the curdling effect. While various types of fermented soy have been part of Asian diets for tens of thousands of years, tofu came on the scene about 2,000 years ago. It's not a highly processed food, and the variations in tofu depend on how the beans are curdled and how much the tofu is pressed. You can make tofu at home, too!
What tofu should you buy?
I prefer non-GMO, organic extra firm tofu, and that's exactly what I used for this Pan-Fried Glazed Tofu. I always get non-GMO tofu; soya bean is the #1 genetically modified crop in the world. Like most things these days, it's been perverted, and I believe that GMO soy impacts the body differently than non-GMO soy.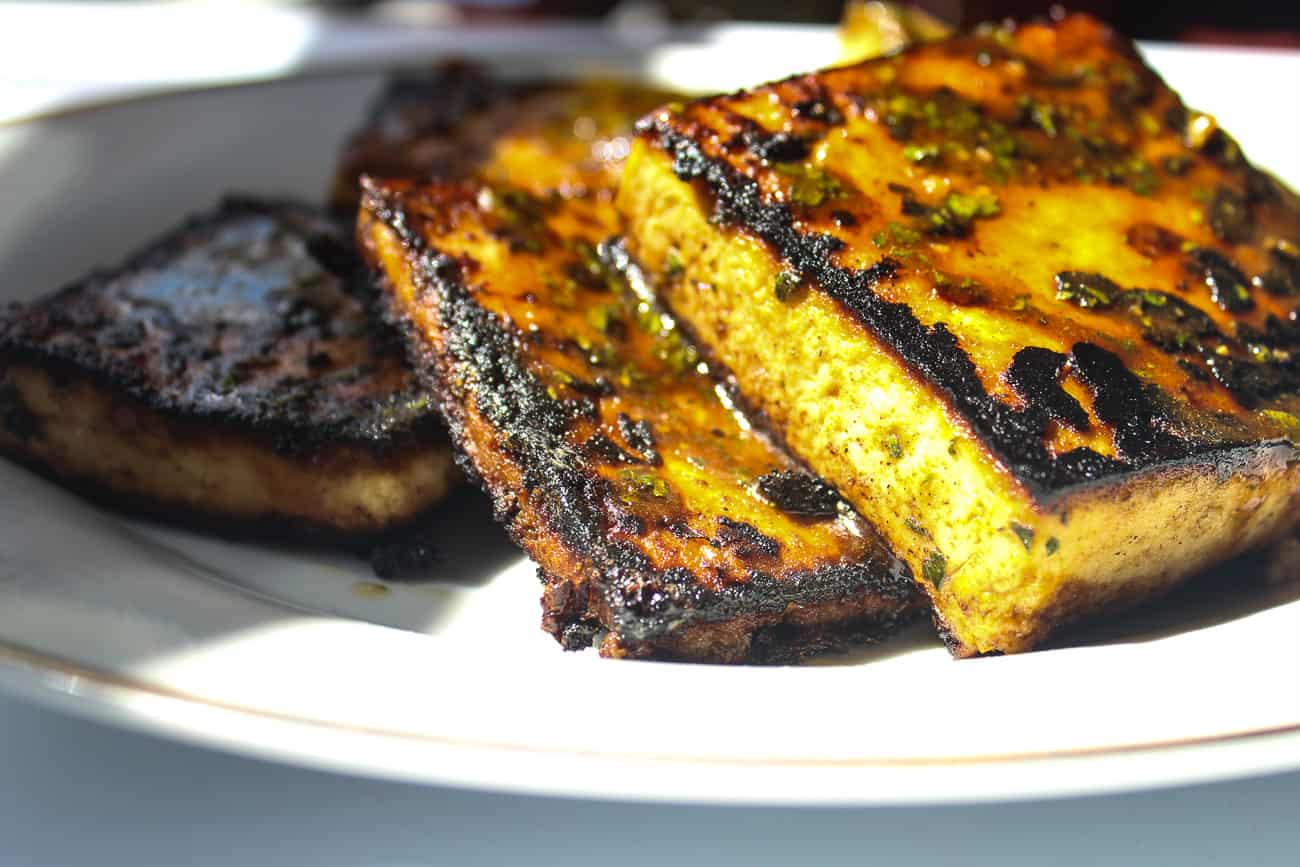 Estrogen in tofu: what's the deal?
I always heard that soy has estrogen, and it's true. There are naturally occurring estrogen compounds in soy, but that does not mean that it will impact your hormone levels, like most things in nutrition the true answer is IT DEPENDS. Here is what the studies say…
Effects of soy on pre- and postmenopausal women
"Experiments were conducted in pre- and postmenopausal women to examine whether dietary isoflavones from soy behave as estrogen agonists, antagonists or have no effect on the estrogen-sensitive pituitary…. Each subject consumed 50 g textured soy protein containing 60 mg total isoflavones daily for 10-14 d. Baseline estradiol concentrations were consistent among study periods. In both pre- and postmenopausal women, soy consumption did not affect mean baseline or peak luteinizing hormone (LH) concentrations, indicating a lack of estrogen-like effect at the level of the pituitary. However, in postmenopausal subjects, mean LH secretion decreased after discontinuing soy, suggesting a residual estrogenic effect." (source)
Possible beneficial effects of soy on serum estrogens
"The studies in women have provided modest support for beneficial effects. One cross-sectional study showed serum estrogens to be inversely associated with soy intake. Seven soy intervention studies controlled for phase of menstrual cycle. These studies provided 32-200 mg/d of isoflavones and generally showed decreased midcycle plasma gonadotropins and trends toward increased menstrual cycle length and decreased blood concentrations of estradiol, progesterone and sex hormone-binding globulin. A few studies also showed decreased urinary estrogens and increased ratios of urinary 2-(OH) to 16alpha-(OH) and 2-(OH) to 4-(OH) estrogens. Soy and isoflavone consumption does not seem to affect the endometrium in premenopausal women, although there have been weak estrogenic effects reported in the breast. Thus, studies in women have mostly been consistent with beneficial effects, although the magnitude of the effects is quite small and of uncertain significance." (source)
Soy protein effects on women versus men
"Dietary soy protein improves flow-mediated arterial dilation of postmenopausal women but worsens that of men" (source)
Cancer-preventive effects of soy in postmenopausal women
"Data suggest that both isoflavones and other soy constituents may exert cancer-preventive effects in postmenopausal women by altering estrogen metabolism away from genotoxic metabolites toward inactive metabolites." (source)
Too much soy can have adverse effects
This article makes the case that too much soy is bad for you, especially children and women of reproductive age, and I think like everything, moderation. It's not meant to be in all of our food. Soy is found in all processed foods, but since I don't eat soy in other forms, I know that adding tofu to my diet, I can regulate my soy intake and feel safe doing so.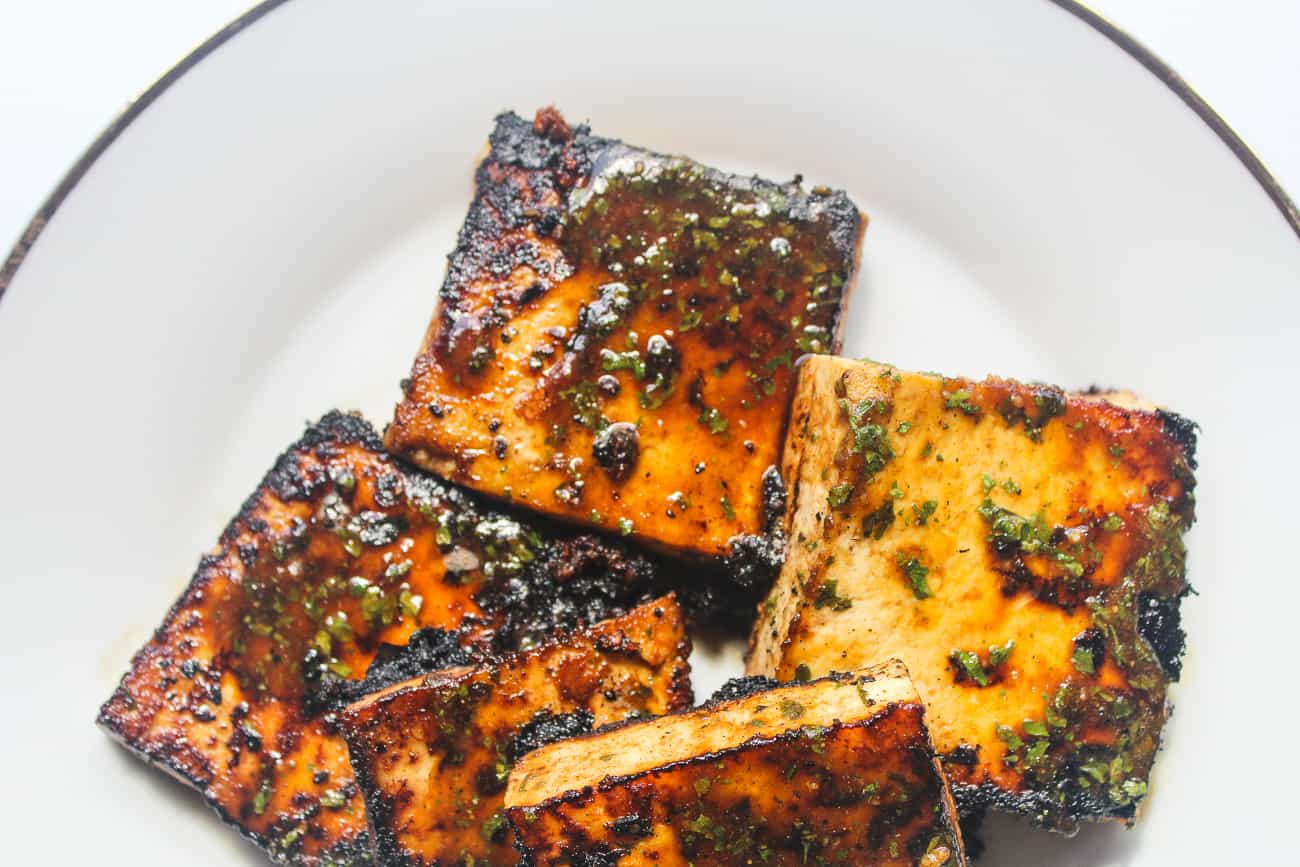 Is tofu healthy?
Verdict: IT DEPENDS, and it's up to you! If you do well with tofu and want to try to cook it deliciously, then this is the recipe for you! This Pan Fried Glazed Tofu is truly tasty! Enjoy!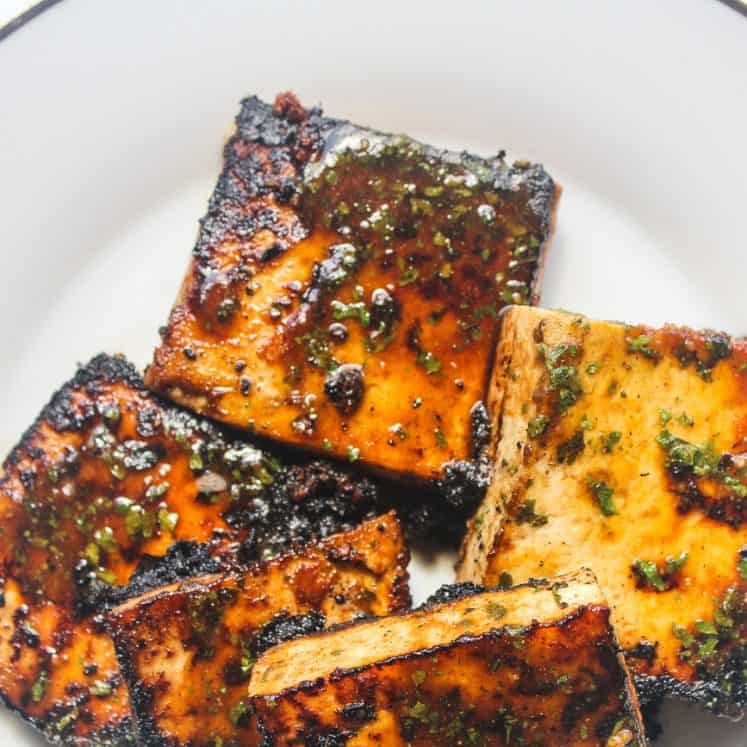 Pan Fried Glazed Tofu (Dairy Free, Vegan, 30 Minute Meal)
---
Author: Cristina Curp
Prep Time: 20 minutes
Cook Time: 10 minutes
Total Time: 30 minutes
Yield: 3 servings 1x
Category: Entree
Method: Fry
Cuisine: Asian
Description
Delicious, easy, sweet and tangy tofu
---
Scale
Ingredients
Ingredients:
Marinade:
1/4 cup coconut aminos
1 tablespoon fish sauce (or plum sauce)
1 tablespoon garlic powder
1 tablespoon onion powder
2 teaspoons minced garlic 
1 tablespoon ginger ground
1 teaspoon dried parsley
1/2  teaspoon ground black pepper
1/2 teaspoon Chinese five-spice
For cooking:
2–4 tablespoons ghee or extra virgin olive oil
---
Instructions
Drain the tofu and wrap in kitchen towel to dry out. Let them sit there for a few minutes while you make the marinade.
In a small bowl mix together, the marinade ingredients. Give the tofu a gentle squeeze then unwrap and put in the bowl with the marinade, turning over the pieces to coat well in sauce. 
Let it sit for 5 to 10 minutes.
Heat a skillet over medium heat add 2 tablespoons ghee or olive oil. Put the tofu pieces in the skillet, reserving any leftover marinade in the bowl.
Fry for 5 minutes. Drizzle the remaining ghee or olive oil in the skillet and flip the pieces over and fry for another 4-5 minutes, adding the leftover marinade over the tofu in the last 2 minutes. Serve hot!
Goes great over my Grain Free Sushi Rice or with Plantain Flatbread.
Recipe Notes:
net carbs per serving: 14.4g | To make this lower carb use gluten-free tamari with a few drops of stevia instead of the coconut aminos. 
Nutrition
Serving Size: 1 serving
Calories: 271
Fat: 15.7g
Carbohydrates: 16.9g
Fiber: 2.5g
Protein: 14.9g
Keywords: tofu recipe, easy tofu recipe, 30 minute meal, vegan recipe, the best tofu recipe